After several busy weeks I finally had the chance to take out my D-Tracker again on Sunday. It was my first ride with the new ECU & my first opportunity to test out my rear Trailmax tire on some dirt. Armed with my GT Rider Mae Hong Son Loop map I headed up the 107 with the intention of doing some exploring around Chiang Dao. On the way the D-Tracker with it's new ECU seemed to have a little more pick-up than I recalled, but I had hardly ridden it for about 3 weeks so it was tough to tell.
First I decided to turn left at Mae Na & head up towards Pakhia. This section of road was covered well by thailasse in his report from last year (
https://www.gt-rider.com/thailand-motorc ... t4225.html
) but I'll add some pics since the road's looking pretty different now than it did last August.
The turnoff to Pakhia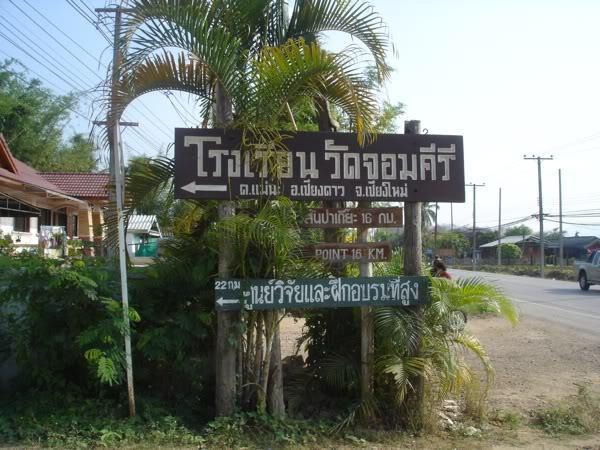 How great to have clear skies & views again!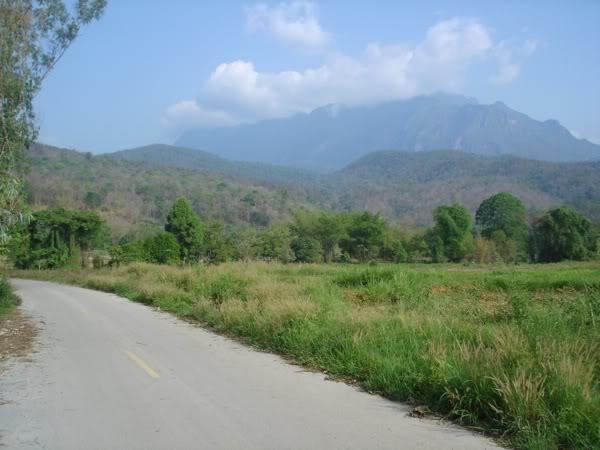 It's soon a very pleasant dirt road winding upwards through forest, the surface is uneven but not loose or difficult.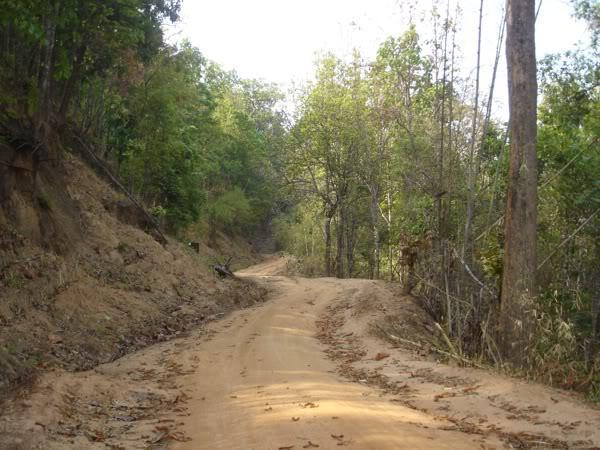 This is the first of several sleepy villages I passed. Actually, except for Pakhia every village looked just about empty.
More nice dirt for a while til I hit the checkpoint.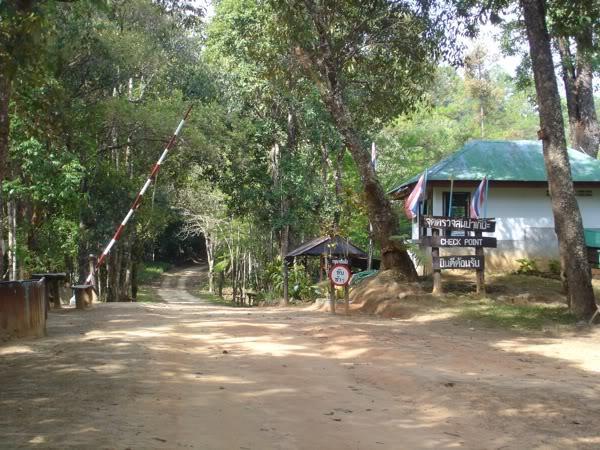 At this point I still wasn't sure which road I was on, but the friendly guy manning the checkpoint told me that I could continue straight ahead & eventually end up at Mae Taman. Now I had a mission.
There were several forks in the road but I kept following signs for the Mae Taman Headwaters Management Office (?), the sign on the right here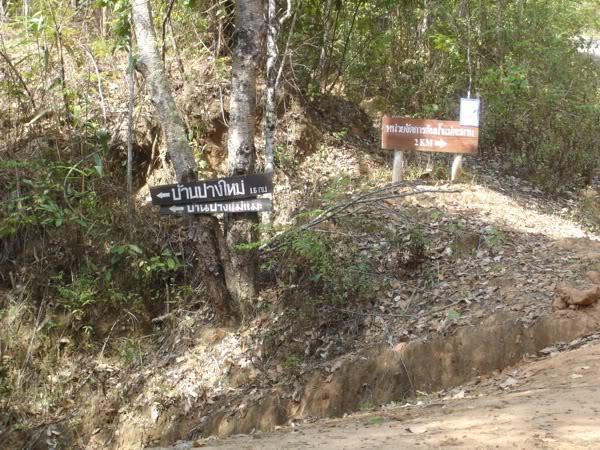 At this junction I turned right for a quick visit to Pakhia.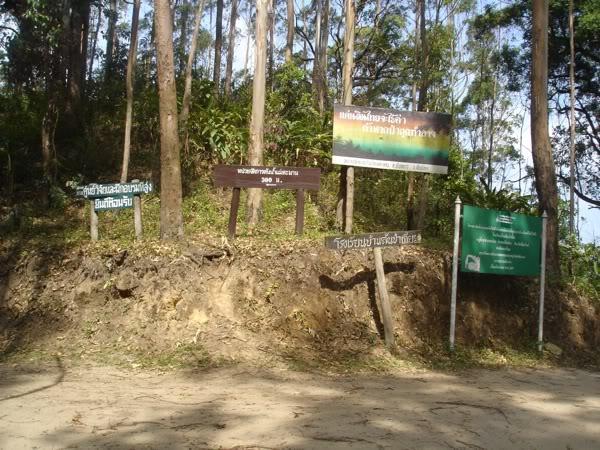 Along the way were great views of Doi Luang & Pakhia itself.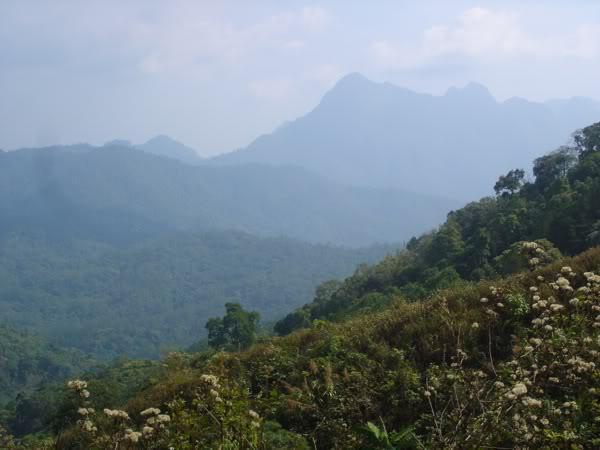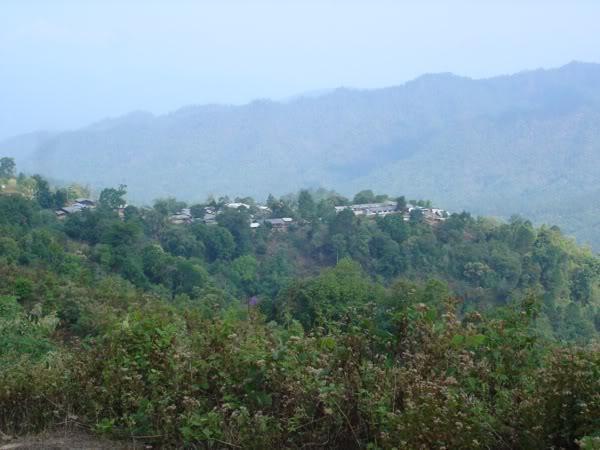 After a Pepsi & some refueling in Pakhia (40 Baht/liter), it was back up the mountain, where I soon came across the Headwaters Management Office, a well-tended collection of buildings high on the ridge.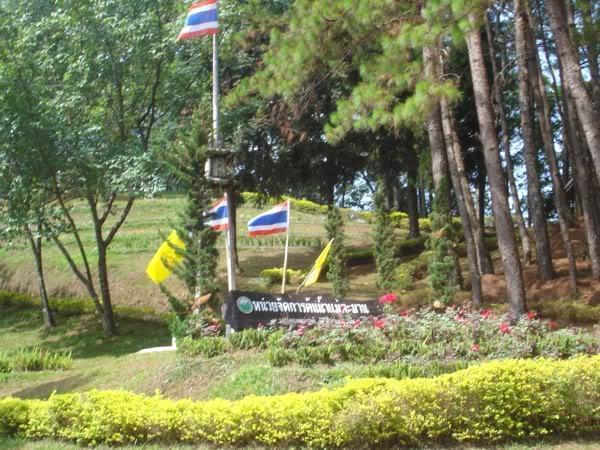 Another guy here assured me that if I continued on & kept to my left, I'd end up at Mae Taman. And here's where my adventure began. Up to this point my new tire was performing well. I hadn't noticed much change in grip but I was comfortable and may be riding with a little more confidence on the loose, steep parts.
From here the road narrowed and got noticeably rougher.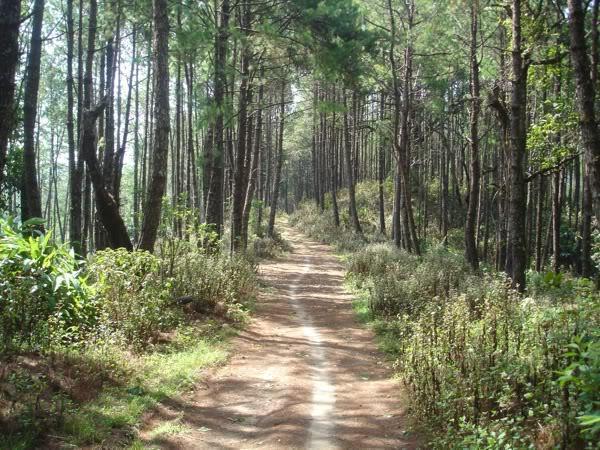 I was climbing along the ridge & just beginning to think that maybe I was getting in over my head when I spontaneously performed a freestyle attempted de-restriction of my D-Tracker. In other words, I dropped the bike, going up this loose & rutted incline.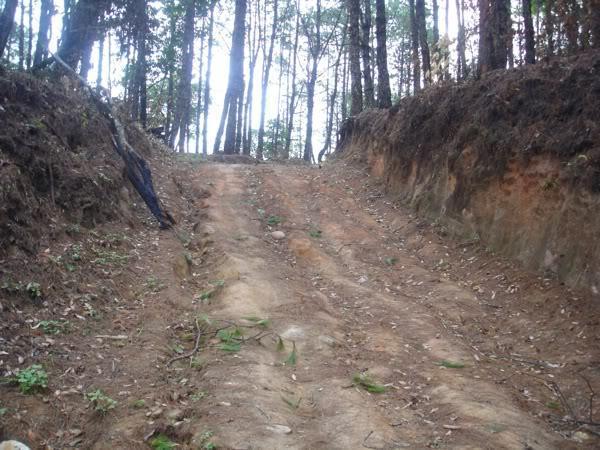 It doesn't look like much in the pic, probably it wouldn't look like much to most of you in person, but I got caught taking a bad line & when I tried to change it the bike ended up on its side. No problem, it was a soft landing & neither of us was hurt. On the second try I made it up without difficulty.
The rocky, rough road continued along the ridge & I was a little jittery but managed OK. And there were some fantastic views.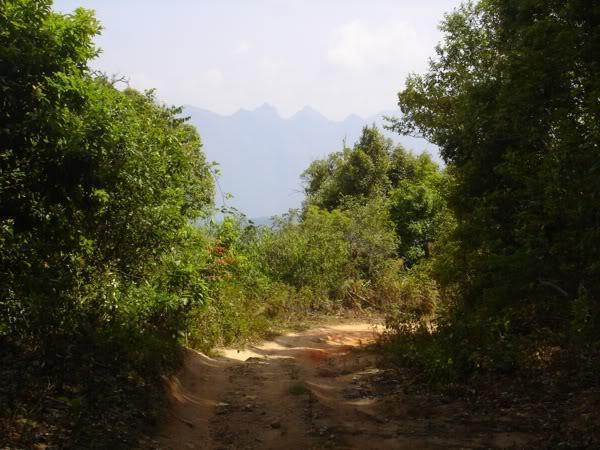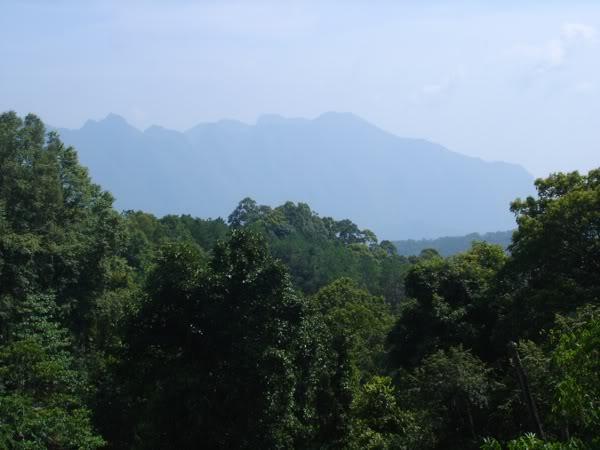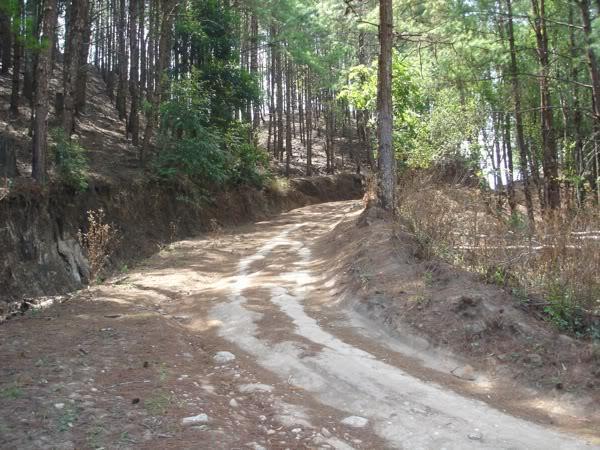 Eventually I came to another unsigned fork in the road. I didn't take a picture but it was about 1 or 2 km after I passed under a large tree that had fallen across the road. "Keep left" I remembered, and so I did. It turns out that to get to Mae Taman I should have kept right. From here the road descended in a series of steep switchbacks, past another empty village.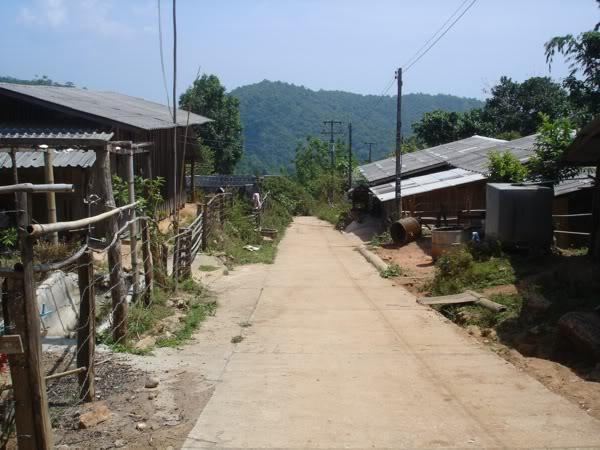 And eventually I emerged onto a slab road at Mae Mae, greeted by the temple nagas.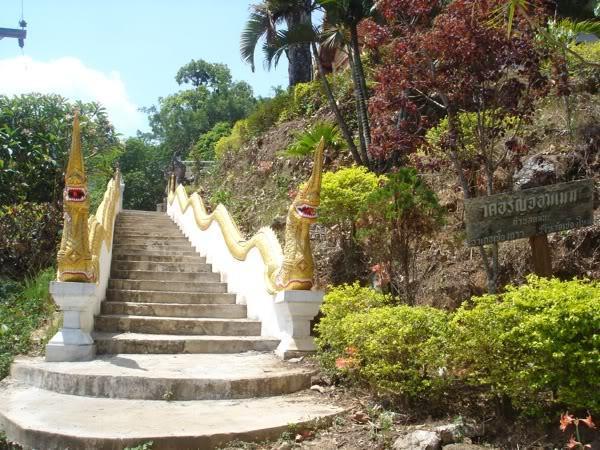 By now I'd been on the mountain for a few hours & was ready to head back down, unfortunately it wasn't so simple. At the T by the nagas I had a choice of turning left (downhill) or right (uphill). I chose left & the result was another half hour or so of trying out various roads only to have them deteriorate back into loose dirt or dead end. I did stumble across a weird, also empty, resort-type place that had another great vista.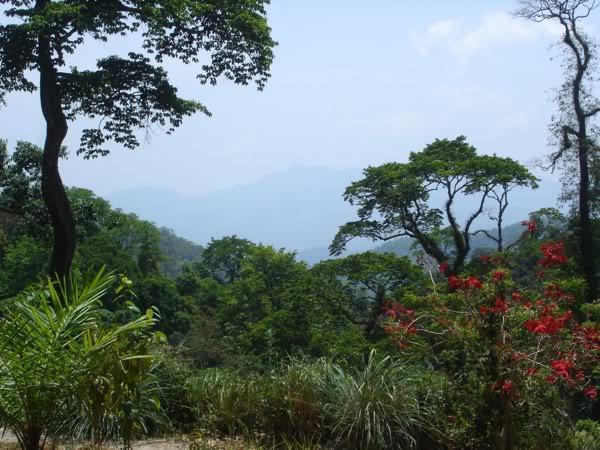 Backtracking to Mae Mae I found an actual, living human being who set me on the right road to Chiang Dao. From here it was a windy slab road, nothing spectacular but a pleasant ride.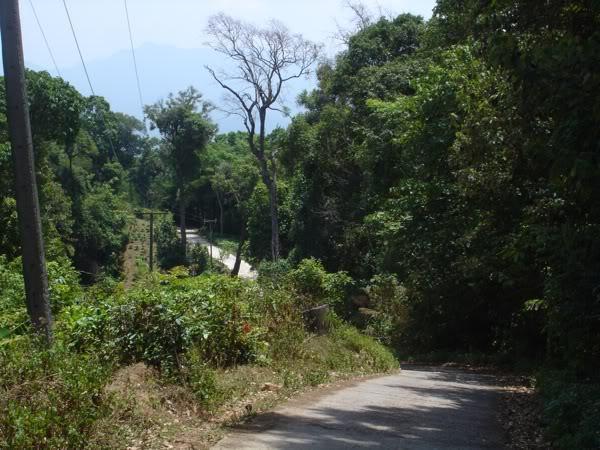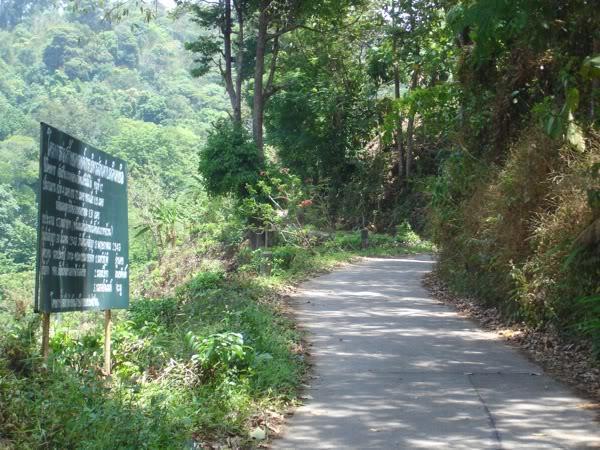 I came to this junction and headed downhill.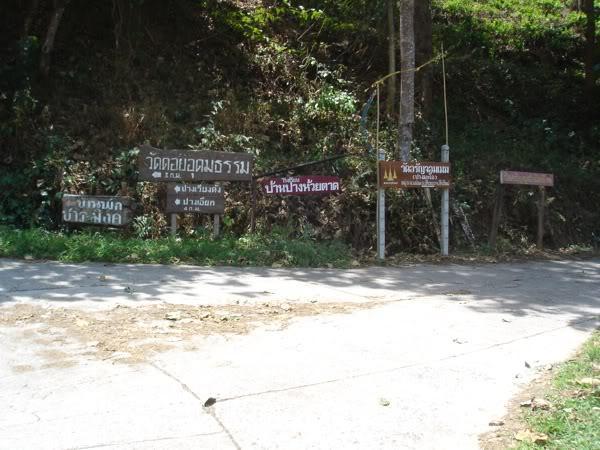 If you wanted to do this loop the other way, you'd take a right here, and a left just past the temple in Mae Mae.
Finally I passed this pretty little lake and emerged onto the 107 just opposite the big police checkpoint.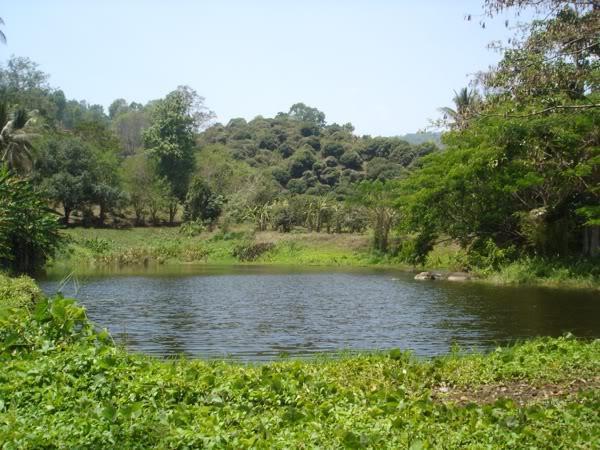 On the way home, it was time for me to test the new ECU & see if my attempted de-restriction had worked. The result - a top speed of 115 & revs stuck around 7000, same as before.
All in all, it was a nice ride & I learned alot about my bike & my own capabilites as a rider. Most practically, I learned that dotted line roads on the GT Rider maps are probably not for me, not at this point. The way up to Pakhia is easily doable on a D-Tracker with no off-road skills required. And if you're looking for a more adventurous & bumpy, scenic trip along a high ridge with awesome views, I can recommend the whole loop.