Day 1: Sat 4th July: Mae Sarieng to Na Doi
Day 2: Sun 56th July: Na Doi to Mae Sarieng
The Team:
Ben Kemp - HiLux Tiger D4D 4WD
Jon Ingi, 3 Karen headmen, and Thai guide Bobby
The mission: Attending meetings at 4 Karen villages in Mae Ngao Valley.
Wet Season is serious for the people of Mae Ngao. As far as Mae Luei the 30+kms of single lane road is primarily cement, with some dirt sections. In Cold / Hot Seasons, its possible to drive as far as Na Doi with a sturdy 2 wheel drive vehicle. From Na Doi to Sob Khong its all rough, rutted dirt, and there are some extremely steep twisty sections where low-range 4WD is essential. In Wet Season, getting the 20kms from Mae Leui to Na Doi is a significant undertaking. Beyond there is almost impossible, and traffic up and down the valley is by long-tailed boat. So, getting to a meeting at Sob Khong is a major adventure!
We spent Friday night in Mae Sarieng, where Jon predicted he'd suffer after eating too much green curry. That comment haunted him for a couple of days thereafter! Saturday, he was feeling bad on departure, but toughed it out to Mae Luei ok. The trip from Mae Leui to Na Doi was very difficult, and the village headmen expressed reservations about the Dunlop All-Terrain tyres ability to drag the Hilux to Na Doi. A couple of Thai guys turned up in Hilux with identical tyres, heading up to service solar panels at Na Doi. They had a winch. The decision was made to give it a go, and we ended up with some extra passengers to help push if things got out of hand...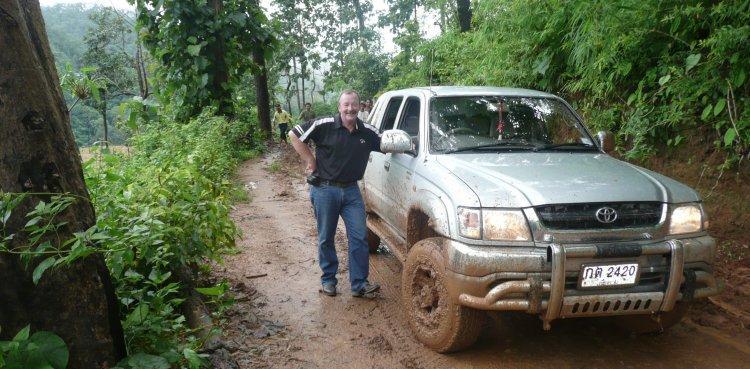 The first section was the worst - God knows how we got up the first deeply rutted hill, through a sea of mud and wet red clay! Actually, we got stuck on this hill coming DOWN it on the return leg the following day!!! I've driven 4WD's for 40 years - Landrovers, Hiluxs', Nissan Terranos', Landcruisers etc... and this was one of the shittiest tracks I've ever driven on, and thats saying something, coming from the West Coast of the South Island NZ, where we get 150 inches of rain a year and mud is endemic! That red clay is something else, when its wet... damn! Coming downhill onto a narrow bridge, its slicker than snot on a doorknob - the rear-end breaks away, and you're left delicately feeding power on to straighten the truck up as you reach the bridge approach...
We made it the 20kms to Na Doi in a couple of hours, but Jon's health was in severe decline! A nasty bout of food poisoning, projectile vomiting, white as a sheet, and the doctor's summoned to save him. I pointed out that at least if he died, the ground was soft after the heavy rains so a quick burial before he started to smell would be no problem... I can't repeat his exact words in response to that unsympathetic bit of kiwi humour...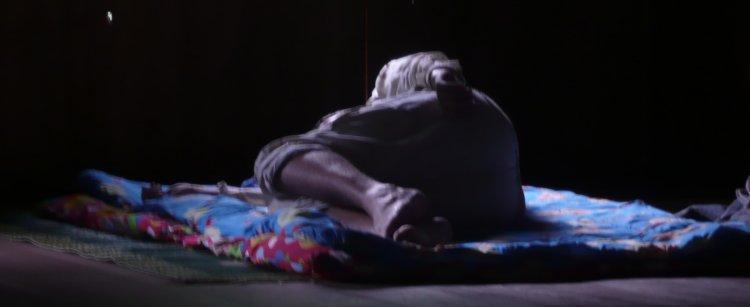 Anyway, we left him prone and suffering in the headman's house, in the care of the local doctor... and set forth by boat up to Sob Khong for the first meeting...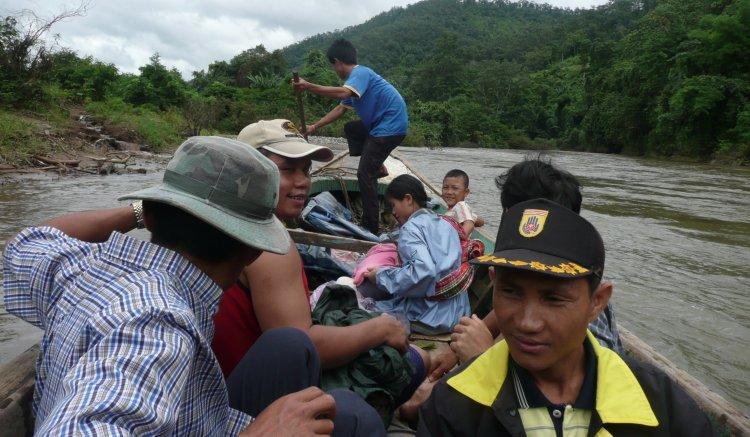 The smallest passenger was having a nice day too...

Here, you can see the debris from a recent flood event - in some places, logs and branches were piled at least 2 metres above the days water level. A bridge we drove over a few weeks ago, on a side-stream a few kms below Sob Khong, fell victim to this flood!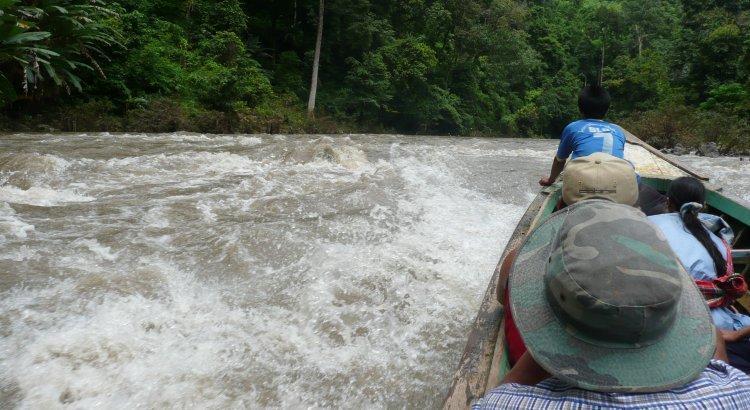 Boat trips on flooded rivers through jungle-covered mountains... not a bad way to spend an hour or so! Note the boulder protruding through the white water - this is not a journey without some risks... it would not be good to forget THIS hazard on the way down!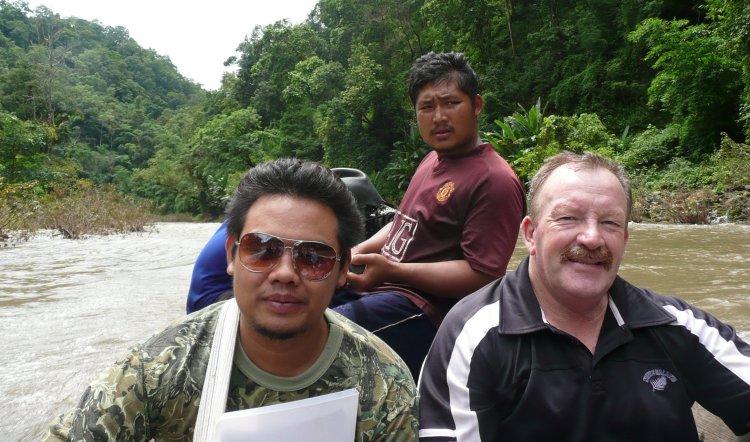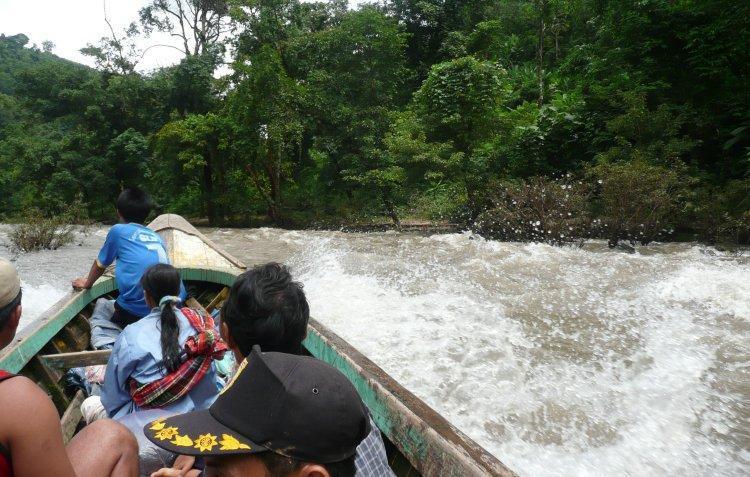 We are not the only boat on the river today...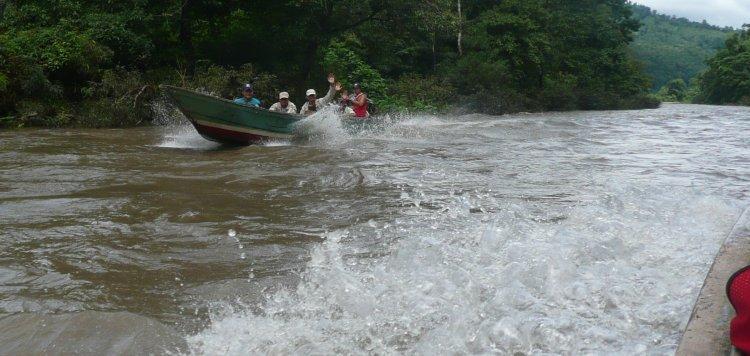 The wall of boulders 250 metres downstream of Sob Khong village marks the end of the trip up, and we make our way into "town."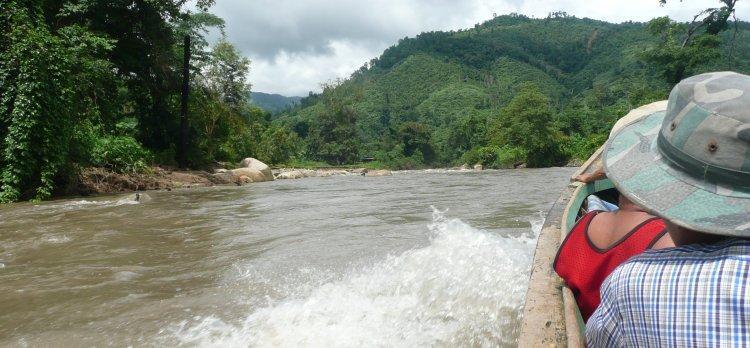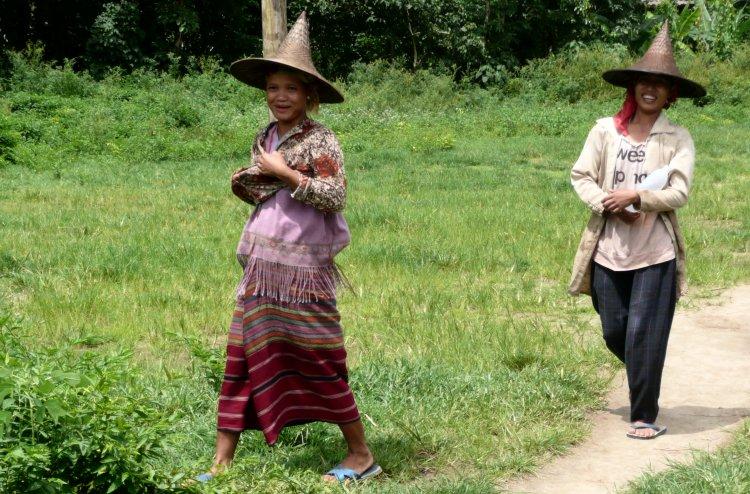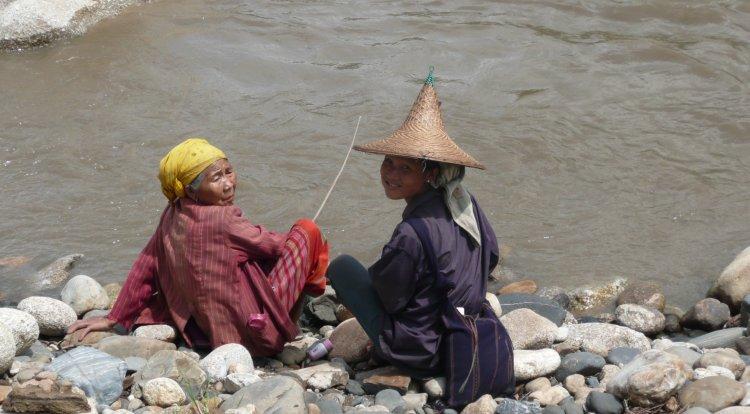 After our meeting here, we return down to Na Doi, and drive over to Um Loh for the 2nd meeting, late in the afternoon. The locals are very impressed with the tents we are planning on using for accommodation in the valley!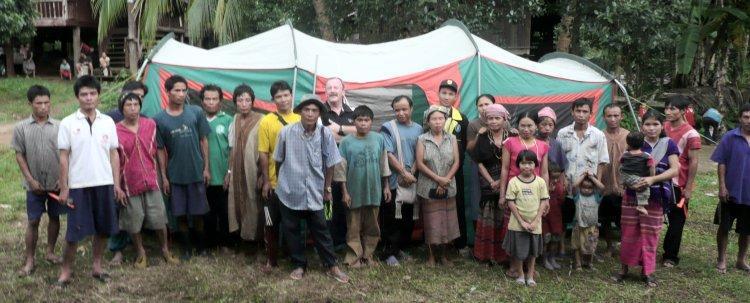 Next day, after a meeting at Na Doi, we set off on the return 20km to Mae Luei, with not a little apprehension. Heavy overnight rain meant the track would be waterlogged, greasy, and dangerous. This time, khun Suvit the headman from Na Doi is with us, along with 4 young Karen guys to provide some muscle in the event of problems... And to be honest, although it was predominantly downhill, the trip back was to prove far more difficult than the trip up. The couple of off-camber uphill corners that had caused us to slide badly on the way in proved no problem going out.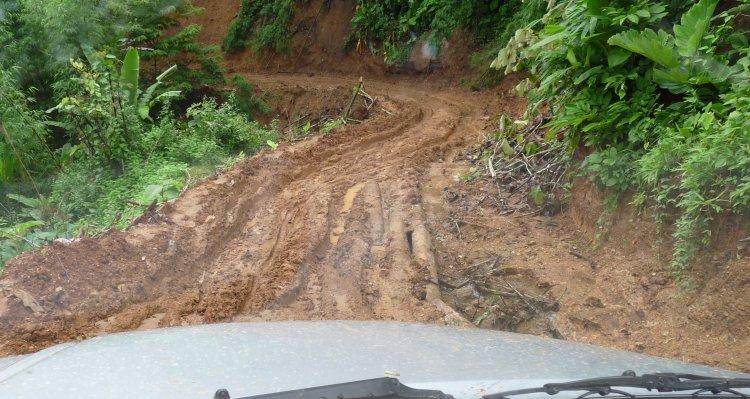 However, we struggled on a couple of short steep sections with no texture - pure red clay, lubricated with heavy rain - your worst nightmare with the compromise All-Terrain tyres! Basically, when the tyre company says "all-terrain" they really mean its better than a road tyre in the mud, and better than a mud tyre on the road... But basically, bloody useless when you've got a mix of mud and water on top of hard clay...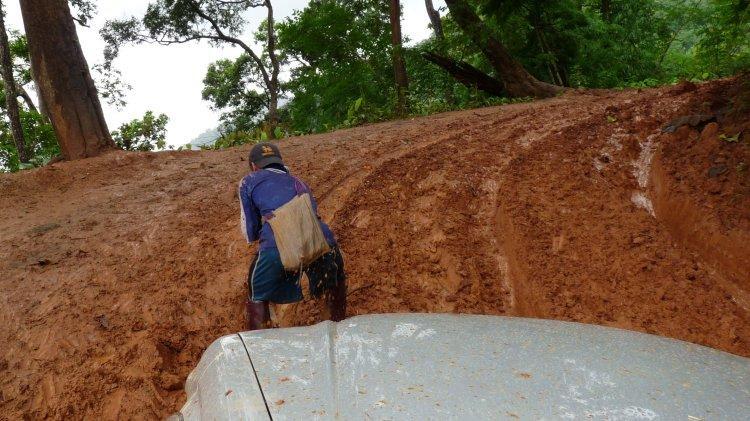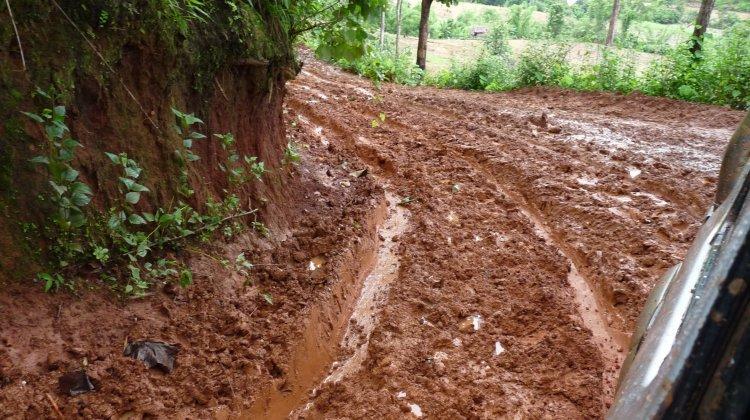 On these sections, one of the Karen boys was chipping notches into the clay ruts, the other were pushing, and we inched our way upwards to the top. A bit like climbing up a sheet of ice with your finger and toe nails! Everyone outside was covered in mud from head to foot - wildly spinning all-terrain tyres on a careering 4WD will do that to anyone standing anywhere near - and if you're pushing it, you ARE gonna get seriously dirty! A quick team photo after triumphing over the first major hurdle, and onwards!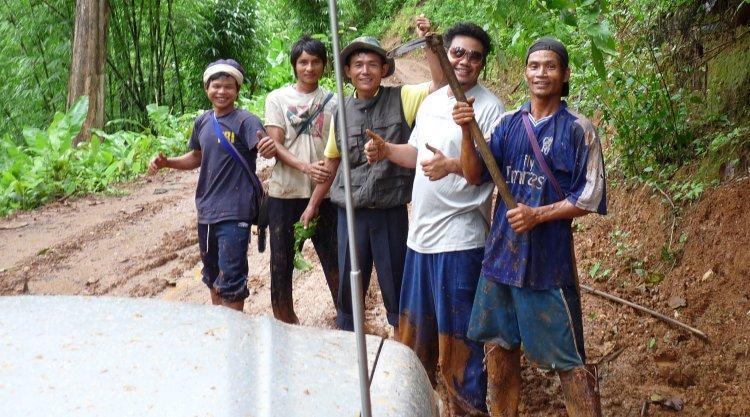 A couple of kms out of Mae Luei, on the worst of the previous day's uphill sections, we get totally bellied going down, primarily because we lost momentum when the weight of the mud we were pushing sheared off the bracket holding the dinky little nudge-bars on the front of the truck.
Both driver's side wheels are bereft of traction, we're sitting on diffs, sump and running boards... Bugger!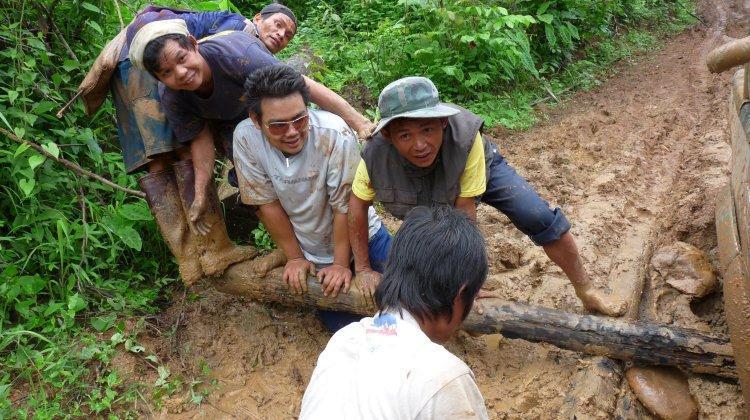 Lost an hour there, levering the Hilux upwards and getting some timber and stones under the wheels, but eventually we are free, and rolling... Getting to the bottom of the hill is one thing - looking forwards at the next section is another! The headman tells us to go hard - we leave them plodding along behind as we barrel off through the mud and logs....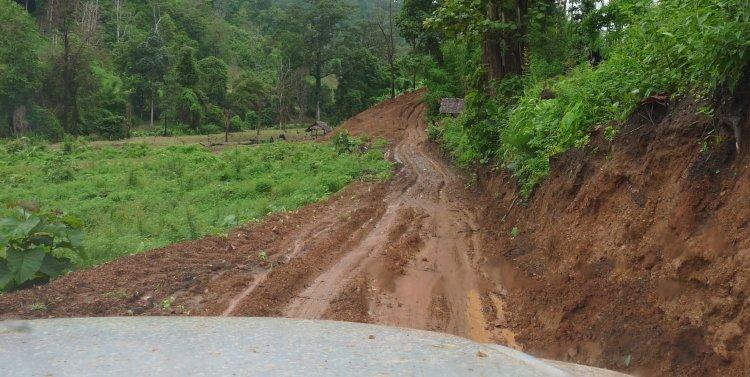 Second gear, full noise, and much to my surprise, we buck and spin and slide our way to the top without a push needed!
However, after three hours of effort, the tough stuff comes to an end and we're safely on the outskirts of Mae Luei.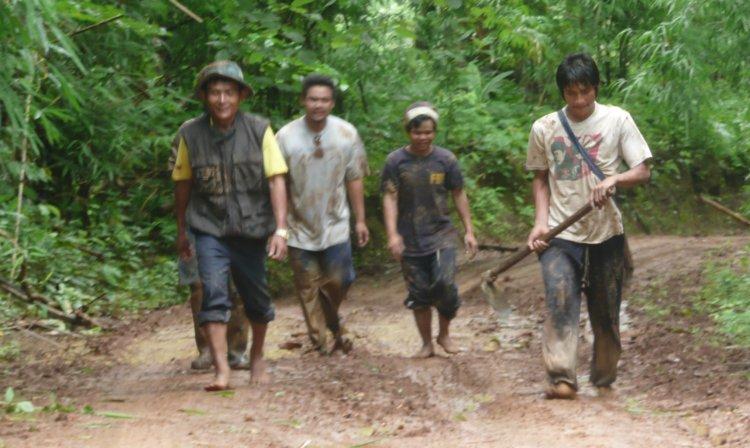 The rest of the mud-splattered team arrives at the top of the rise, and four boys from Na Doi shake hands, accept a days wages with big grins - and set out on the long trudge 20kms back home through the mud! Tough guys, these Karen people - its great working with them, because nothing is too difficult!
The last meeting in the valley, at Mae Luei, is as successful as the first, and our mission is accomplished with unanimous approval.