A new Kawasaki ER-6n was desperately waiting for an inauguration tour, to complete the first 1000 km before an oil change. A couple of days ago, on another bike, I had "short cut" the Mae Hong Son loop, missing Mae Sariang in favor of the Mae Au Kho sunflower fields, after Khun Yuam, and a return through Mae Chaem and Doi Inthanon. Mae Sariang was thus an attractive destination, with a return trip to Chiangmai through Mae Sot and some mountain roads.
I started a Saturday morning, on the monotonous roads from Chiangmai to Chomtong already loaded with minibuses, many of them probably bound for the sunflower fields. After Chomtong the traffic on route 108 became lighter, the road more interesting and definitively lovable after the city of Hot.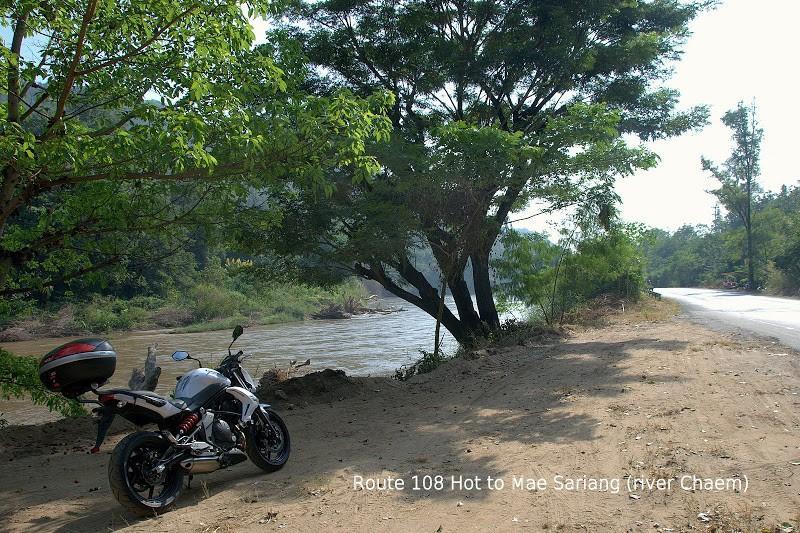 The restaurant of "Ob Luang national park" does not serve fresh coffee, but without breakfast since departure, I made an exception for some Nescafé and cakes, keeping my options open for the arrival in Mae Sariang.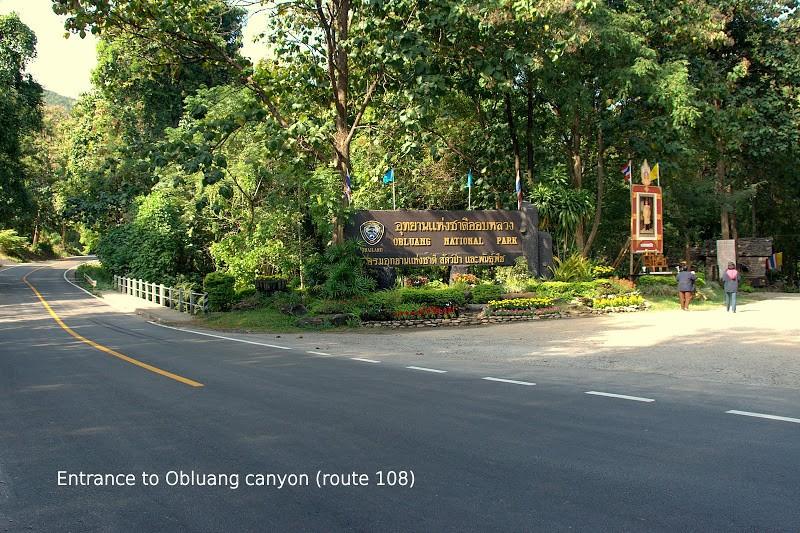 Sometimes winding, sometimes straight, sometimes along a river or in the shadow of the forest route 108 to Mae Sariang is a very enjoyable ride.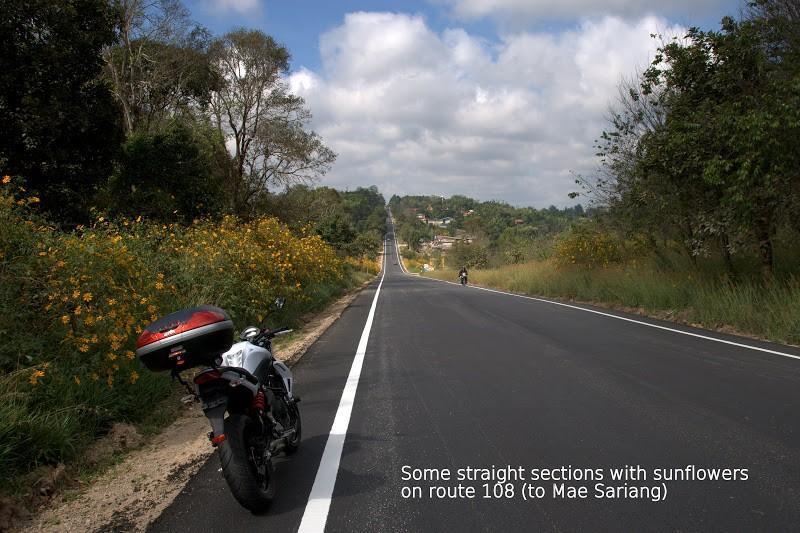 November is the month of the Mexican sunflower in Mae Hong Son province. Hotels are overbooked with visitors attracted by the yellow carpets covering the mountains, particularly near Khun Yuam. On the map, I could read that route 108 should also have an attractive field to visit, in Mae Ho. Following signs, I lost my way on the hills, with yellow flowers on both sides but no real fields, like the one in Mae Au Ko.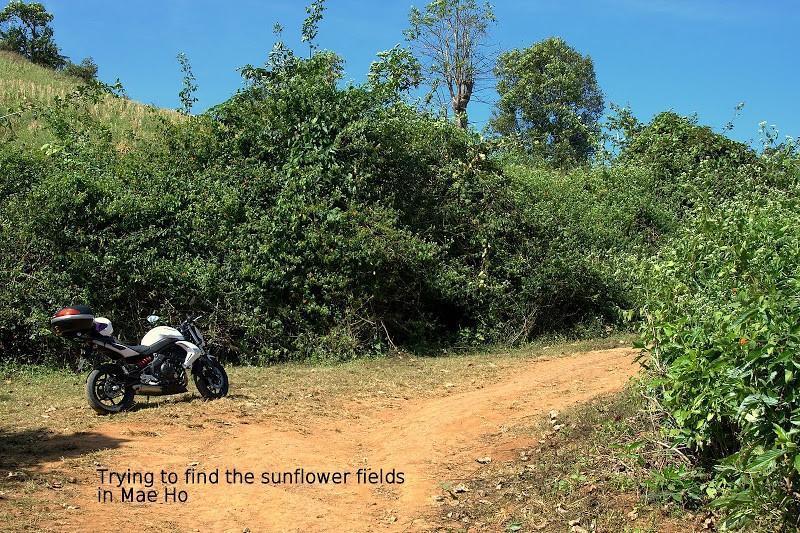 Nevertheless, and despite the reduced number of flowers, I do not regret the side loop away from route 108, as the scenery in Mae Ho was also fabulous.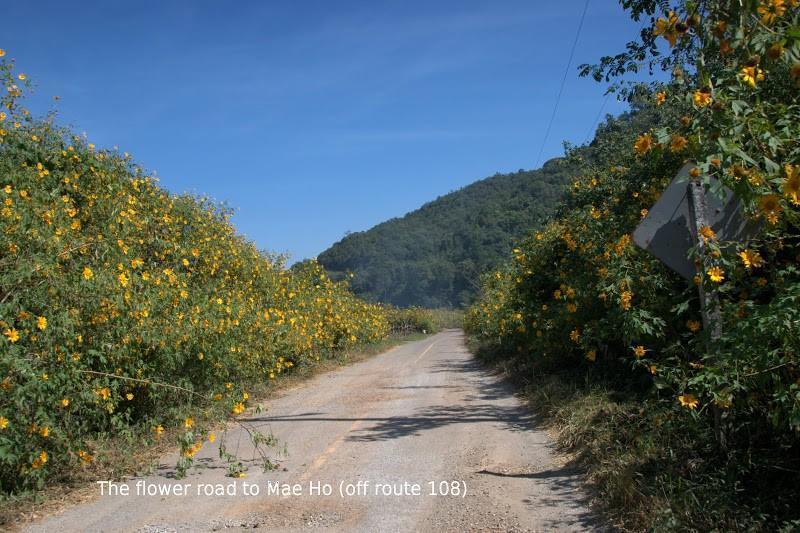 Finally, after 220 kilometres (from Maerim/Chiangmai), I could settle down in a guest house in Mae Sariang, on the river front, and enjoy fresh coffee in a neighbouring restaurant. I found similarities between Mae Sariang and Chiang Khan, on the shores of the Mekong river, in Loei province. Both are small sleepy cities, with hotels and guest houses facing the water, backpacking tourists and lazy dreamers, on terraces, watching the slow flow of time with a couple of drinks. In the evening there is always a possibility to get some beer and to listen to live music, often Thai or Western country songs.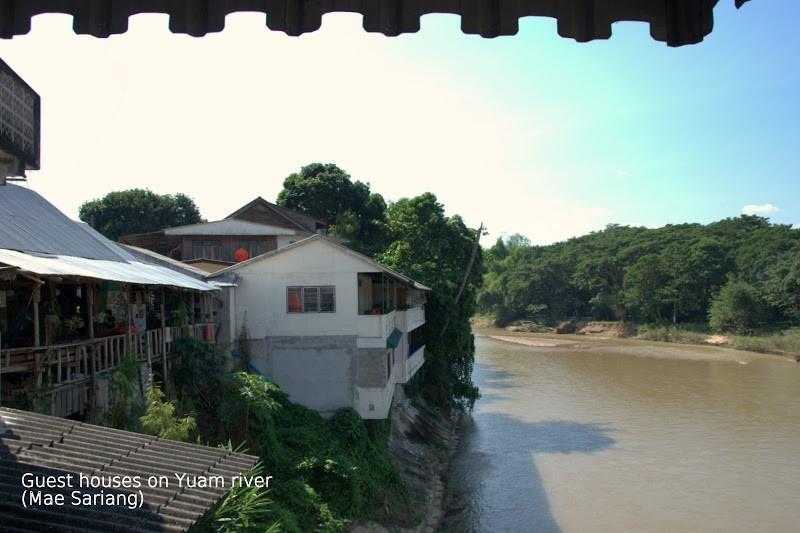 Salawin national park is only a couple of kilometres outside Mae Sariang. I had decided to spend the afternoon there and to ride some trails to admire the surroundings of the park. Unfortunately, there was no way to get in with a road bike. The guard advised me to go back and rent something more suitable or, alternatively, to drive 50 kilometres on route 1194 to reach Ban Mae Sam Lae and to go on a boat trip.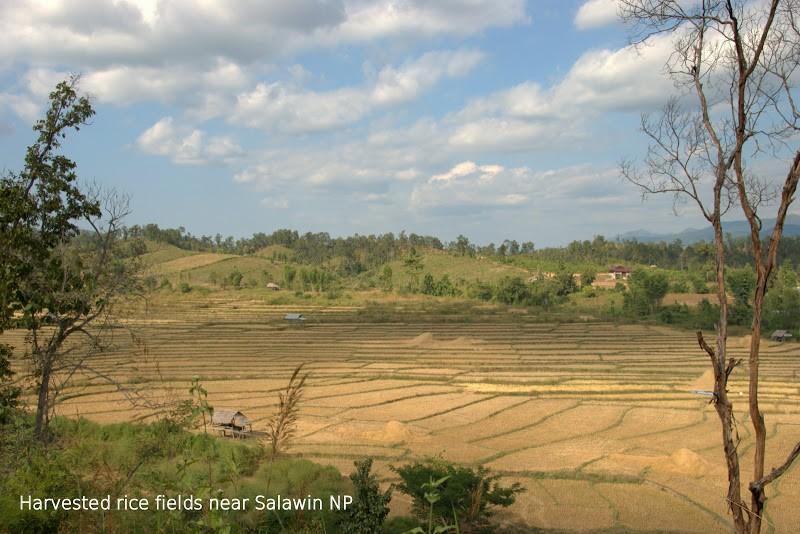 It was too late to drive all the way down route 1194 and I decided to make a short excursion, just to scout some neighbourhoods on the other shore of the Salawin river.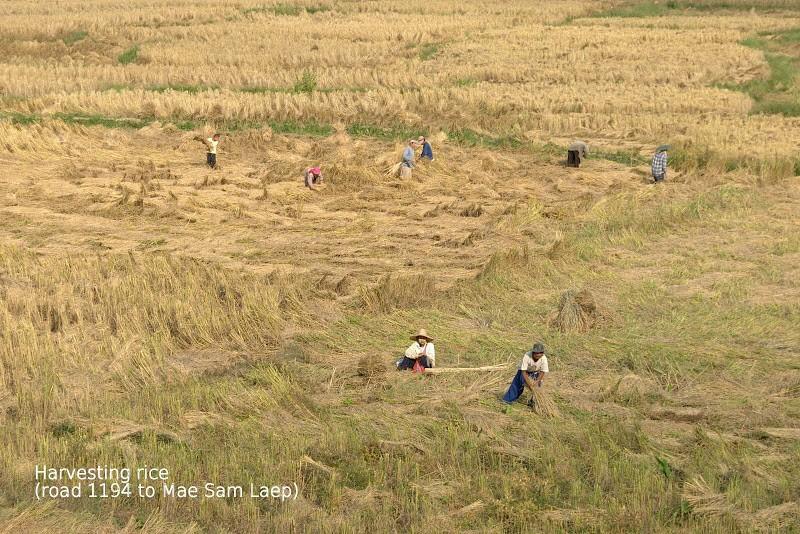 Sunday, I get up in the fresh hours of the early morning and made a stop at the 7/Eleven, the only "bar" open at that time. Monks were walking for alms in deserted streets and the road to the hill was still enveloped in mist.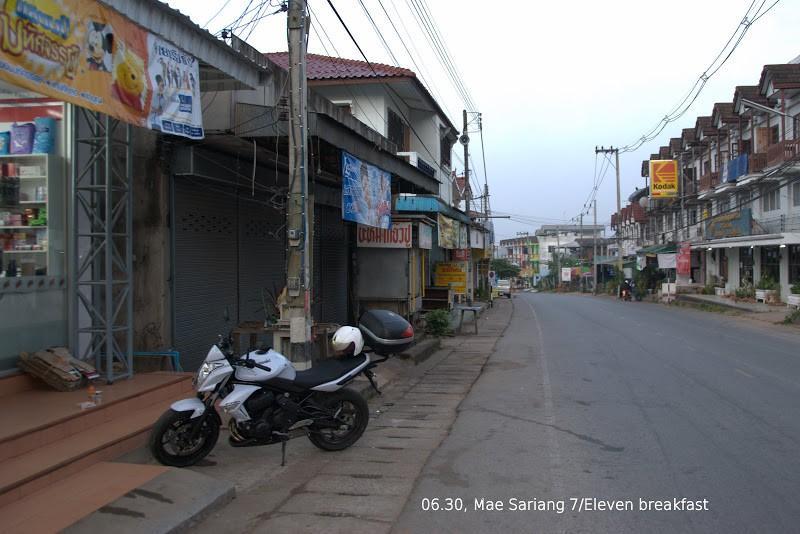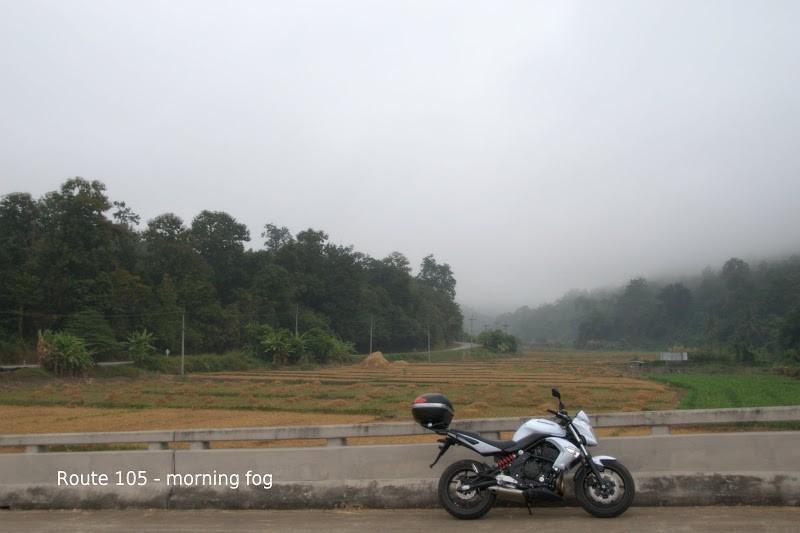 Climbing the mountains, on route 105, through the early hours fog, in the shade of a dark jungle and on less than even pavements is exciting, but for me, not a high-speed experience. Soon the altitude and a stronger sun dissipated the mist and I reached Mae Song, for a second, full rice, breakfast. The road on that sector is renovated and allows a faster ride. A Bangkok "Kawa" group, riding the opposite way, stopped at the same rest place. They were invited overnight by the Chiangmai dealer.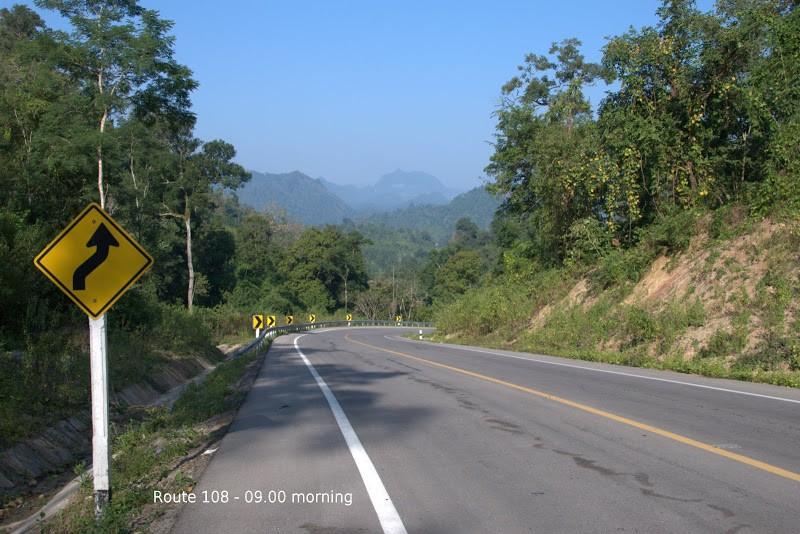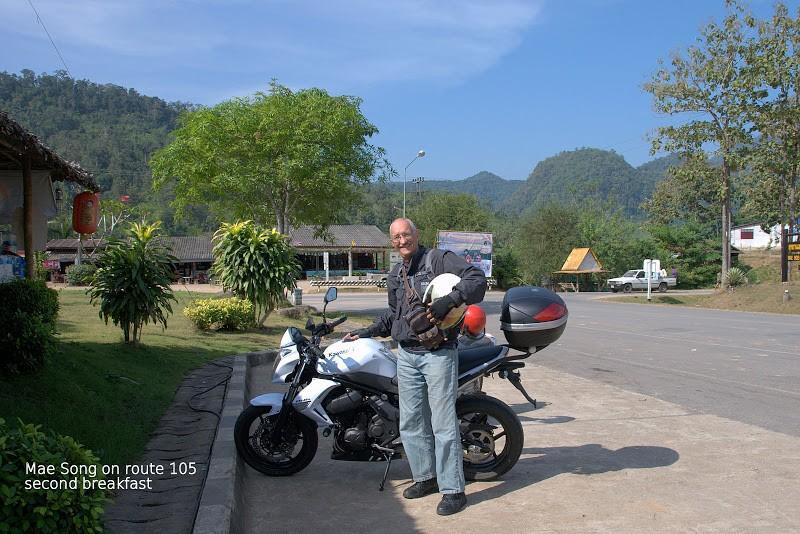 Mae La refugee village, the largest settlement on Thai-Burmese border, is about one hour drive before Mae Sot (57 km), in Tha Song Yang district. An estimated 30,000 to 40,000 people are living there. It is just on the shore of route 105 and worth a slow drive and some stops for pictures and smiles. The thatched roof houses, encroached on the hill, give a romantic representation of the settlement. The view of children playing near barbed wires (probably more to keep unwanted visitors out than themselves in) are drawing a more realistic picture of the hardship of people displaced by war.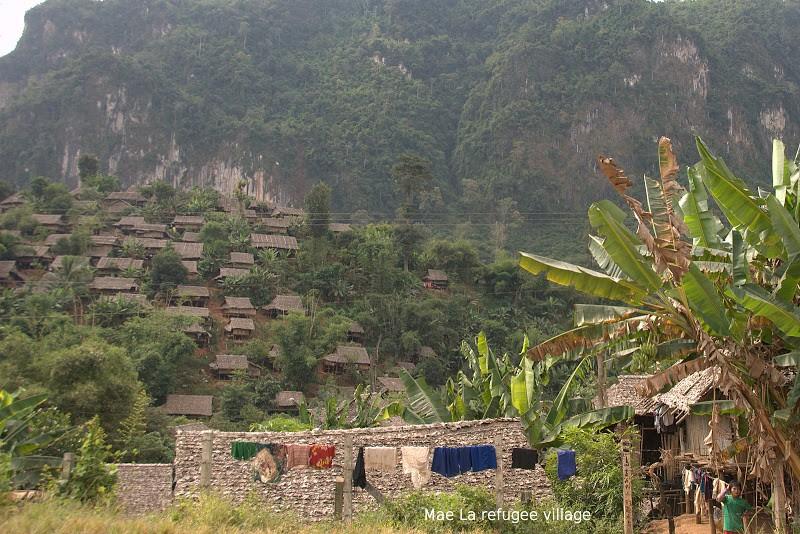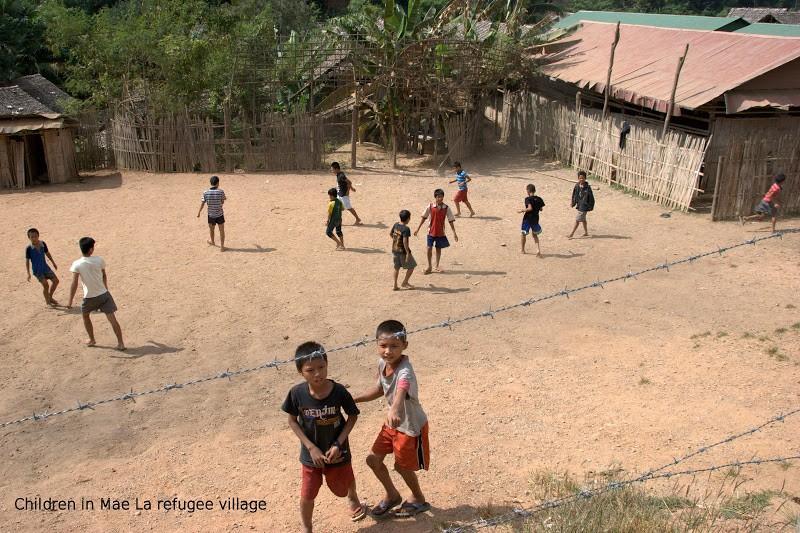 The trip from Mae Sarian to Mae Sot is about 220 km and I arrived at noon. My first visit was for the Friendship Bridge to Myanmar. It is a link to the city of Myawadi, over the Moei river. The traffic "under the bridge" is also very interesting. A constant stream of people are crossing, in both directions, by mean of huge rubber inner tubes, floating from shore to shore. They are guided by swimmers who, amazingly enough, are the only one wet in the process. These easy-going "ferry boats", avoid all immigration and custom formalities, of course under the nose of military guards.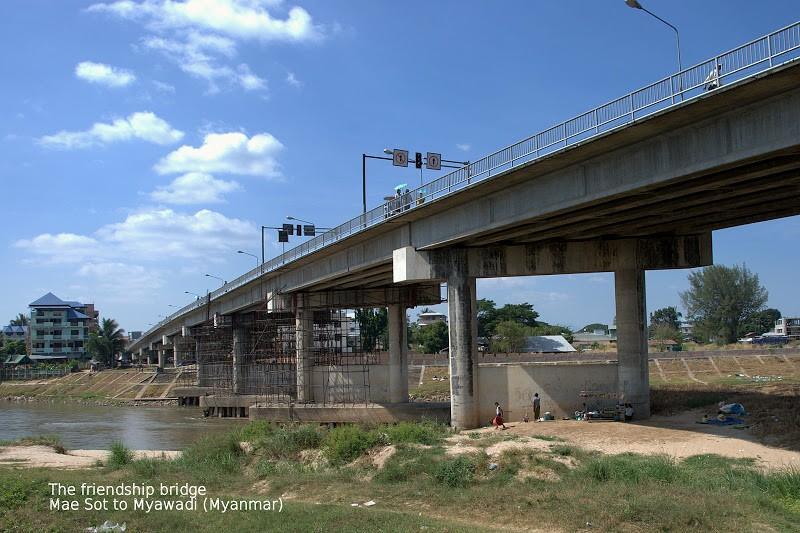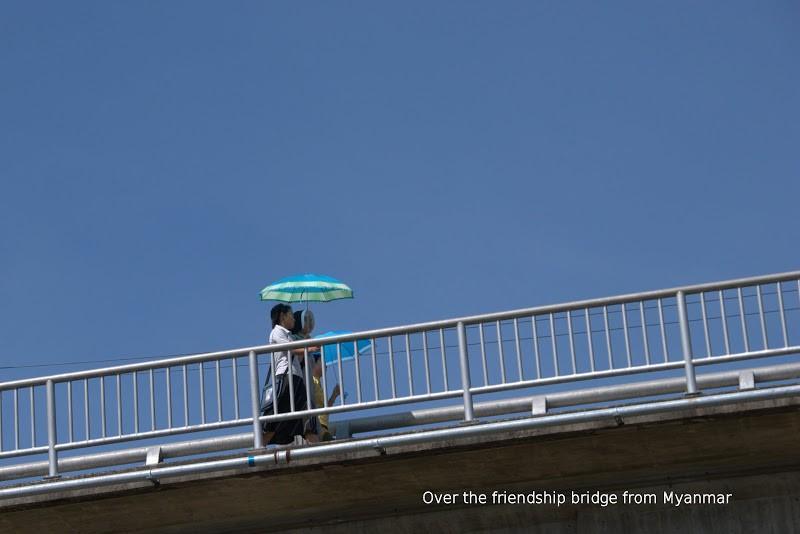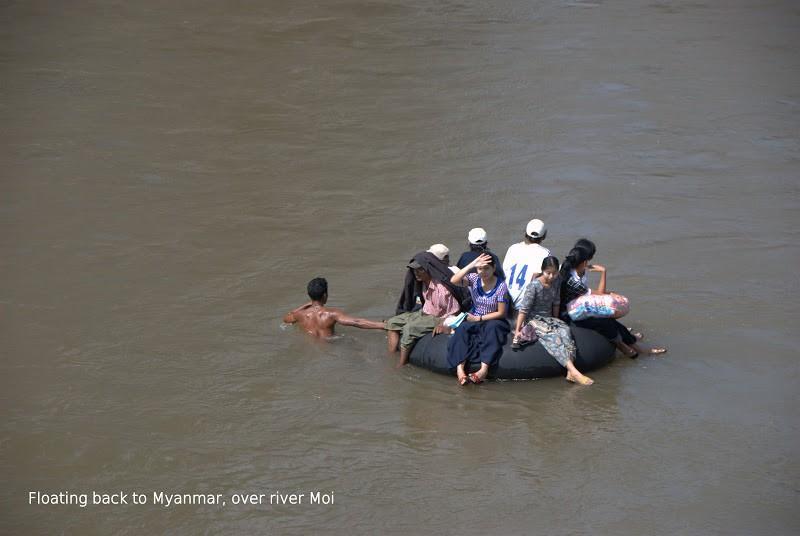 The small border town of Mae Sot has an astonishing cultural diversity. Many ethnies and various religions are represented. The cries of a muezzin might well serve as a morning call whilst traditional clothing help to differentiate people in the streets. The diversity of scripts (Thai, Burmese and Chinese) and the various languages spoken are unique, interesting but also challenging. Most of the time, when asking for a direction in Thai, the answer is only an amazed grin. The city has large day and night markets in addition to the hall, near the border bridge, selling all sort of foreign goods. It is possible to cross to Myanmar for a short visit and also to get a visa stamp.
Higher on the mountain, the fog dissipated and I could enjoy some lovely panoramas. The traffic on route 105 was not too heavy and three lanes of a well paved road allow a smooth riding. Nevertheless, it is necessary to count with the usual "short cutter", all type of vehicles considering to be entitles to two and half lanes, out of three, particularly in the curves. This is nothing new and we face similar problems on many other streets.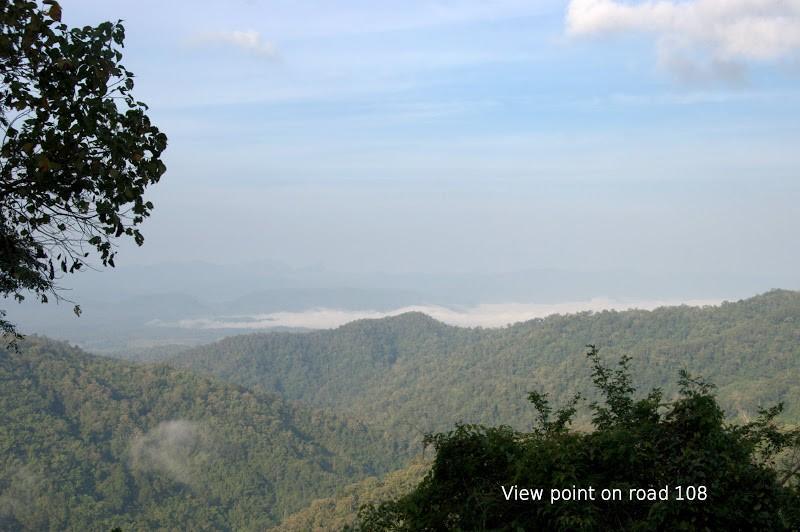 A "Hilltribe Cultural Center (Doi Muser)" is located on the mountain, between Mae sot and Tak. It certainly deserves a visit, needing more time than just a stop over. Alternatively, a hill-tribe market offers an opportunity to sample delicious food and all kind of locally grown fruits. It's worth to fill thespace of the Givi box and take some home. The main attraction, as often in Thailand, are the people. They are easy-going and always happy to chat and joke, particularly with Farangs (if we are at least able to stutter a couple of Thai words).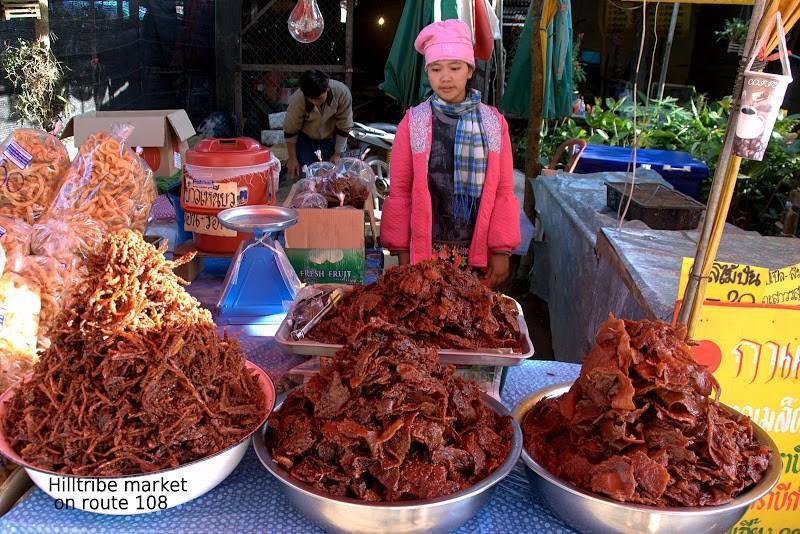 Down in the plain, a bridge crossing Ping river leads to the city of Tak. I had not scheduled to stop there and drove down the waterfront and up in the middle of the city, to get a first impression of the provincial capital.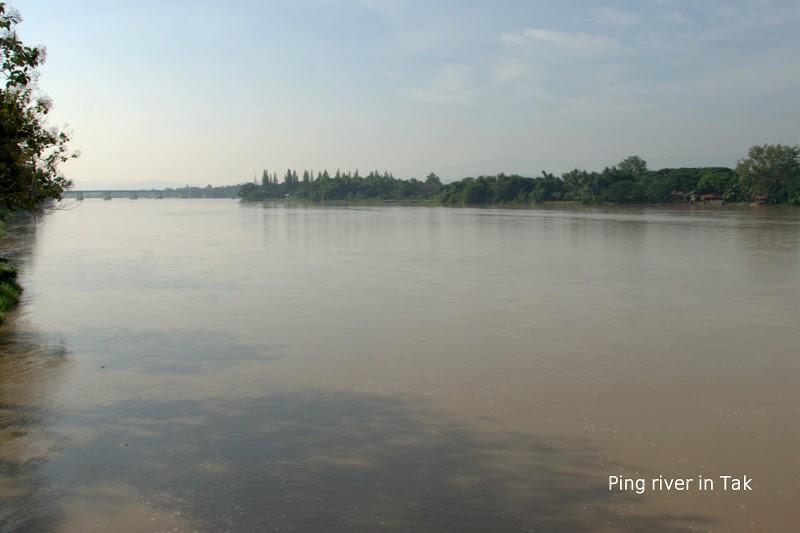 After a sector on fast lanes, from Mae Sot to Tak, I was looking for more "village" atmosphere and country roads. Route 1107, following the Ping river on the West side, toward Sam Ngao and the Bhumipol dam was just right. A couple of small settlements, ubiquitous dogs playing hide ans seek with vehicles or sleeping in the middle of the roads, some curves, great river views and rice fields with variation from tender new green to mature yellow, ready for harvest are some of the simple pleasures offered on that links.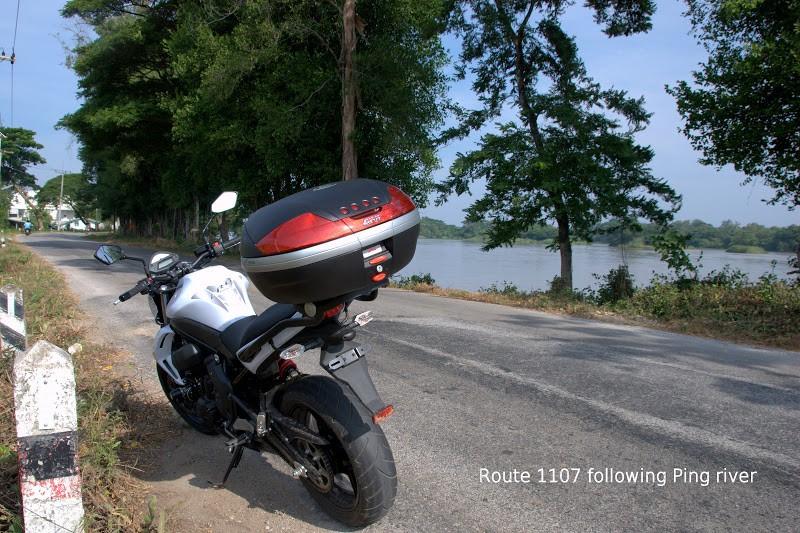 The destination of route 1107 is Bhumipol dam (Kheuan Phumiphon) on Ping river. With 154 meters it is the highest in Southeast Asia. The big lake behind the wall is a popular destination with charter boats offering cruises to temples.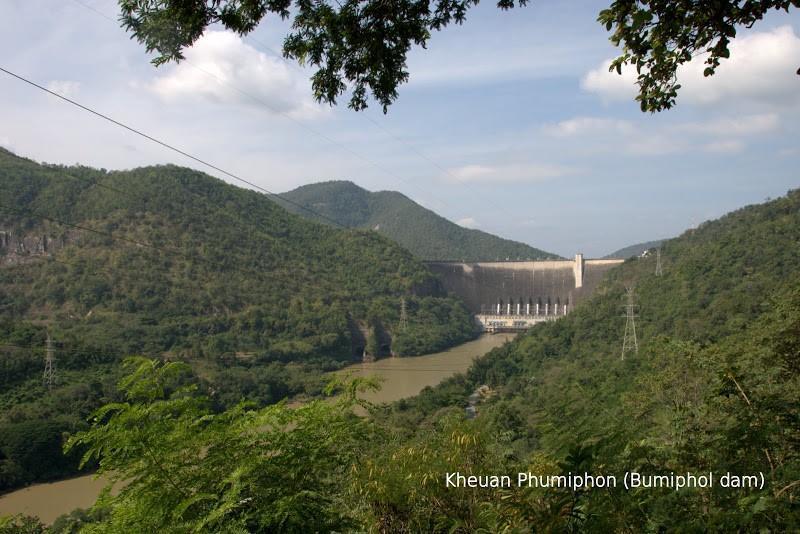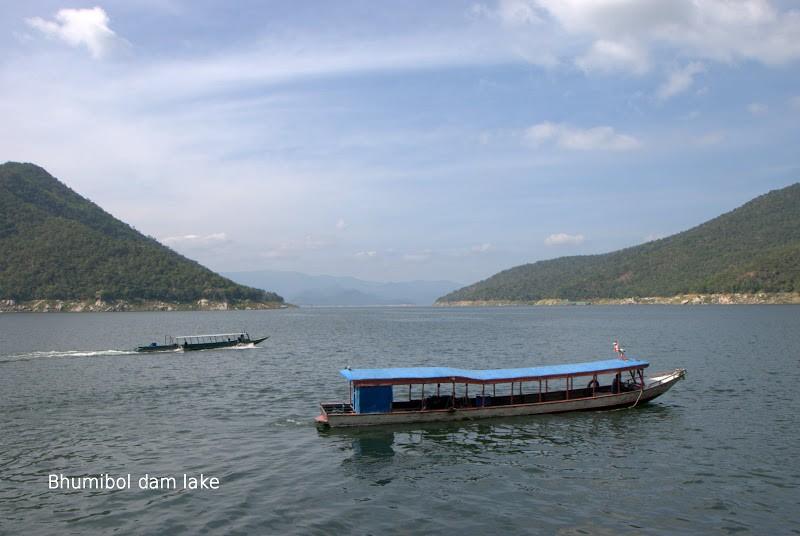 The journey back leads to route 1. The sector after Ban Tak and till Thoen is very patchy and bumping. It is best avoided after a heavy lunch, but even with an empty stomach I was bored to have my backpacks and camera jumping up and down. I happily left this highway for route 106. This is again a lovely ride with all sort of landscapes and type of roads. It begins with long shady segments and changes to winding forest roads till Li. The rest of the journey, back to Changmai, still on road 106, through Lamphun, is just a fast return way.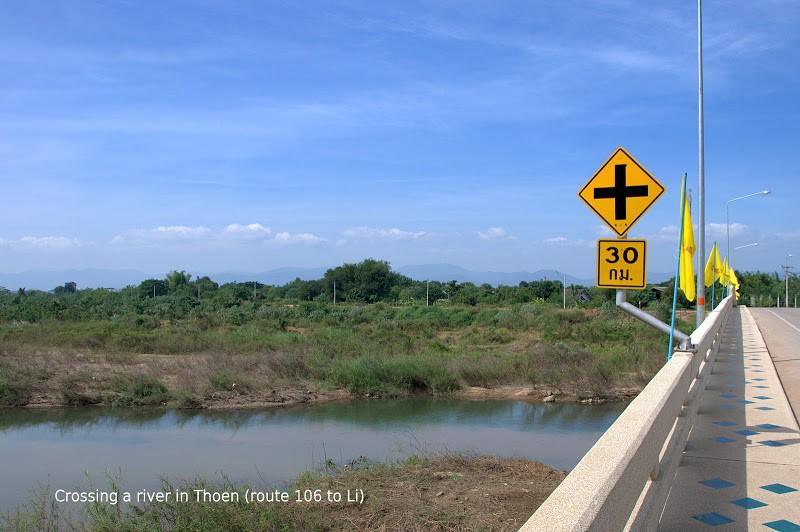 Finally, I have added 997 km to the bike's odometer and she was ready for service. I realize now that I have forgotten to speak about her! It is certainly because she is very discreet. For my purpose (as a touring biker) she is the greatest lady I ever met. Having the additional help of ABS adds to my pace of mind and to my pleasure to drift around Thailand.
Last edited: