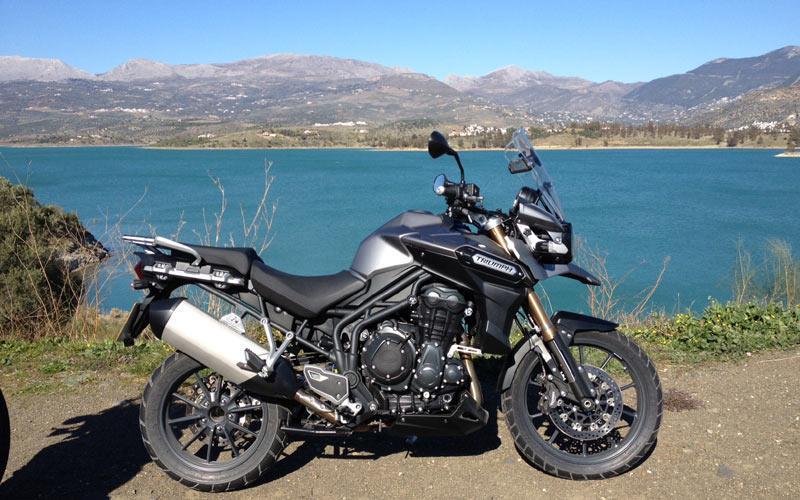 MCN Editor, Marc Potter, is at the world launch of the Triumph Tiger Explorer and here are his first thoughts.{B}
http://www.motorcyclenews.com/MCN/News/newsresults/First-rides-tests/2012/February/feb24triumphexplorer/?http://www.motorcyclenews.com/?utm_source=newsletter&utm_medium=emailnl&utm_campaign=MCNMCN
Newsletter Feb 29 (1)[/B]
"Triumph admits it is aiming the Tiger Explorer squarely at the BMW R1200GS, and claims higher spec for less money, better handling, more luggage carrying capacity and at 135bhp, more power from the three cylinder all-new 1215cc engine. "I'm about it ride it in the hills and fabulous mixed terrain near Malaga in Spain and will feed back my thoughts on how it handles later on today."

UPDATE, 09:24
"I've just done 30 miles on the new bike and first impressions suggest that this bike is as Triumph said - aimed squarely at the BMW R1200GS."No lightweight at 259kg fully fuelled compared to the BMW R1200GS at 225kg fully fuelled but the handling and accuracy of the steering defies it's weight.
"The motor is incredibly torquey, meaning you hardly rev after 5000-6000rpm and the riding position is one of the most comfortable in the adventure class and possibly tourer class."

UPDATE, 12:29
"I've now covered 100 miles on the bike and have to say I am massively impressed. It doesn't do anything staggeringly better than its rivals but as a package it takes adventure touring bikes to a new level.
"You hardly have to ever stress the engine but when you do it's got loads more get up and go than the BMW R1200GS and although you wouldn't want to put it on a track day the handling is extremely neutral and it's almost as quick to change direction as a Ducati Multistrada, though certainly not as sporty as that bike. But then it's not meant to be.
"It's going to be fascinating to see how the new Triumph compares to the Honda Crosstourer and the GS when we get them together for the full intensive group test next month. But if you put a deposit down on a new Triumph Tiger Explorer you've made a good choice."