http://s891.photobucket.com/albums/ac112/kf6vci/MHS%20Loop%20July%202010/
Northern Thailand was calling and I had to go, even though the Africa Twin is still in bad shape. (Still badly damaged from Simon aka Siinthai's deadly accident and then insult was added to injury when some "mechanic" thought he can improve on Honda R&D's experience when it comes to fairings. Moreover, months after paying the transfer hasn't been completed yet either :x . She will require serious TLC and a
Bike Whisperer
, now that she is parked underground. At least she can gossip with some other big bikes at Champs Elysees Condominium. How do bikes talk about their owners? Many are long-suffering, no doubt!)
[photobucket:vgeacugm]http://i891.photobucket.com/albums/ac112/kf6vci/SimonsSiinthaiolddamagedAfricaTwin.jpg[/photobucket:vgeacugm]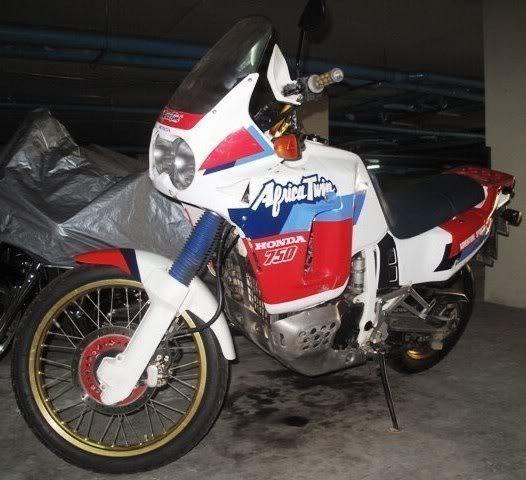 Let's see whether a photo gets actually
posted
? :?
Well, let's move on without photos
There is
Panklet Cafe
18 miles off the 107 on the beginning of the 1095. Well kept garden and an amazing menue with many hot meals and even cookies and shakes! Prices are fair, 35-40 for a warm meal and 40 Baht for the chocolate shake.
On the 108, when the clouds opened up and shed their load, I stopped at a blue sign in
Samnam
(nomen est omen = nam is water) and they let me park the bike under their roof, inside their restaurant. :thumbup: Then the lady of the house made a delicious omlette (kai jiaw) with petters and tomatos and she had the sauces, too. :clap: No farang rip-off: 100 Baht for 2 hot meals, 2 bottles of sparkling water and a can of Sprite. (I'll mail them some photos one way or another as they have a nice young boy)
Khun Yuam GH: 300 Baht
Big mistake, riding at night and during a down pour. The rain drops irritate the bare skin. My throat is still lobster red days later. And oncoming traffic is blinding. then there are the stones on the road which must be avoided, or else some involontary acrobatics are needed to stay on. (I was once thrown off a Vespa, riding on an icy road. The rear tire went and I corrected, then it slipped to the other side and I was thrown off like a Greenhorn Wonnabe Cowboy at a Rodeo).
The GH showed me a price list stating 450 B, but the proprietor said "300". In other words, prices are flexible and can be negotiated. The reason for praising this particular humble place is the soft matress and covered parking for bikes. After 8 pm, I only found one convenience store open. Cookies in many varieties (the nice pineapple ones were sold out but 1 pack 2 10 Baht).
In CNX, I stayed at different places: 120 Baht = sorry, it's a secret as the place is only a few hundred meters from the KAFE. Then there is CHADA House - 200 Baht, just as basic. Some more upscale GH named
Safe Court
, I think, was 350 for a fan room with a refrigerator (ask!! as not all rooms have this, aircon is 100 Baht extra) with two 10 Baht an hour internet cafes nearby, turning left or right. And then there is the Shangri-la. Here they won't let a biker ride up to Reception. Instead, park with the staff and use the stairs :thumbdown: For this trip, I packed throw-away clothes and shoes. Glad they didn't call security to escort me off the premises. Plastic flip flops complemented my "splendid" outfit. To make matters worse, a Thai friend's Harley shirt gift contained some crude sexual invitation (which the staff certainly understood)
Hope one day to figure out the differences in prices when it comes to massage and spa treatments. 2 hours might be anything from 300 to 3,000 Baht. Add some herbal scrub or hot stones and voila, it's a 10-bagger! Q: anyone tried the Lila Palor where released female prisoners are employed? Which reminds me to start learniung some Thai to have more of a conversation :think:
It's called the rainy season for a reason - come prepared as being soaked through and having water in one's shoes makes a masochist weep with pleasure
Sorry about the photos or the lack of them,
Chris