It already has been sometime (November 2008) but herewith the trip report of our MHS loop. The reason why we waited a little is that Happy Feet had done the same loop and posted his picture report and actual his pictures are better then ours. But since it has been some time since I saw a MHS loop report, herewith ours.
We in this story are Muzza, Michael (a friend from Holland) and me. Living in Bangkok we wanted to do the MHS loop for some time already and now with Muzza the proud owner of a new D-tracker and the D-trackers available for rent in Chiang Mai it was time to do so.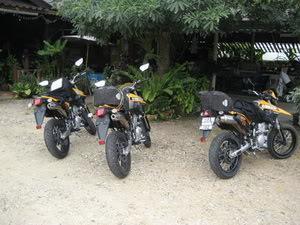 The D-trackers rented from POP
Flying in from BKK with our own gear we had some discussions with the ground staff if we could take our helmets in to the airplane but after we promised we would not put them on it was ok. A hotel was arranged and dinner was at the Kafe. We were lucky enough to meet Davidfl and Silverhawk. We were pleasantly surprised to discover that our previous postings were remembered. We had a nice chat and got some good tips from both for our upcoming trip (thanks guys).
Next morning it was up early and over to POP to get our bikes. They were brand new with one only having 400 km on the meter. POP and his people were professional and we were on our way in no time. After a nice cup of noodle along the 107 we took a left turn on to the 1095. Soon it was up in to the hills and the first curves were ahead of us. I am not sure if it was getting used to the bikes and the curves but the curves in the road to Pai looked more tight then between Pai and MHS or south of MHS.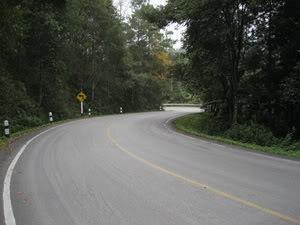 Road to Pai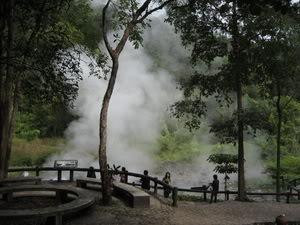 After a short stop at the hot springs we were on our way to Pai where we had lunch just before Pai at the bridge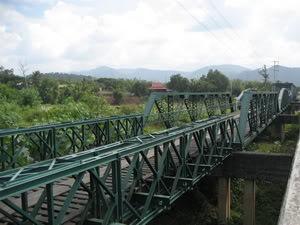 in a nice restaurant which served good food in a nice atmosphere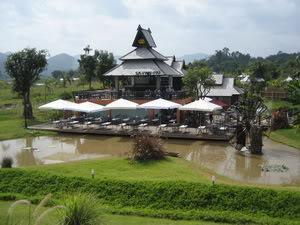 From there it was on our way to Pai and onwards to MHS. From my personal opinion the most beautiful part of the road from CM to MHS is the part leaving Pai towards MHS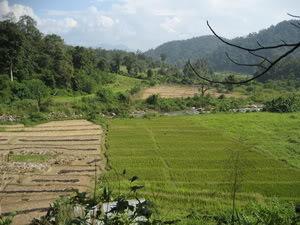 We were starting to get used to the D-trackers and were flying through the curves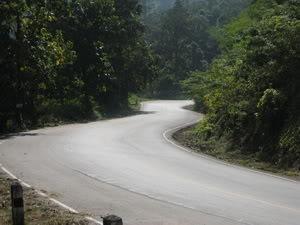 The weather was good, the road was good and the driving was perfect. Every motorbike driver should do the MHS loop ones in his/her life. It should be mandatory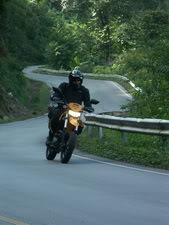 Here one more picture which is featuring in many reports but it is just to beautiful to leave out.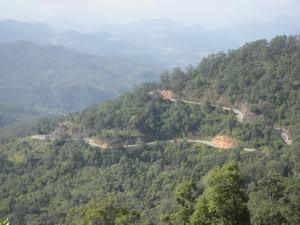 One hour before MHS we saw something moving on the road and when we came closer there was a family of wild boars crossing the road. They were as surprised to see 3 guys on a D-tracker as we were to see them.
After we gave them right of way it was on to MHS were we found that a festival was ongoing and all hotels were fully booked. After a deserved rest close to the temple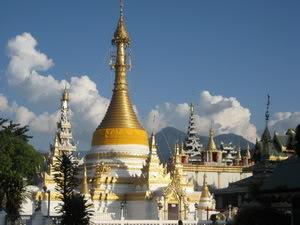 We went hotel hunting and finally found one with some rooms left 4 kilometer south of MHS. We dropped our gear and went back in town. After a very good massage (thanks for the tip David) we have a nice dinner and had a good night rest.
Second day we were up early and on our way to see the long necks. We went to the village north of MHS. It was more far away then we thought (schedule in enough time) but the trip itself was worth it as well. The village itself was very quiet and it looked that the villagers were just waking up for another day of modeling with the tourists.
They were nice enough and after a walk through the village we went on our way down south. We were flying high speed through the curves of the 106 and were in no time in Mae Sarieng. No pictures from this because we were too much enjoying ourselves driving. Here we took a left on to the 1263 to have a look at the Japanese sunflowers which were blooming in Mae Ho.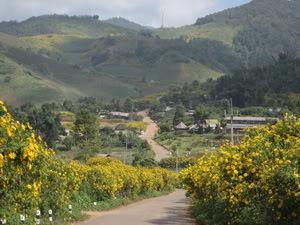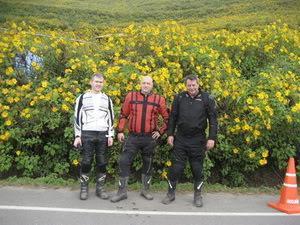 Although the flowers were abundant and beautiful it was very busy with cars, so careful driving. After a lunch amongst the flowers we drove out again and were on our way to Mae Chaem. The route was again very nice with lots of curves.
The road works ongoing forced us to slow down every now and then bit we had more then enough time and we were really enjoying ourselves. We arrived in Mae Chaem and stayed in what is said to be the only hotel in Thailand from where you can see Doi Suthep from the swimming pool. It was true and good to be in the pool with a beer. Evening was quiet with a good dinner and a couple of drinks with the talkative finish owner of the hotel.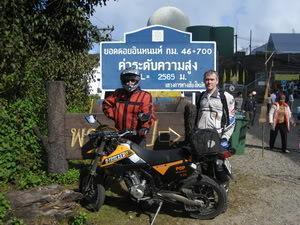 Next morning through the back roads from Mae Chaem to Doi Suthep. Again a very nice road through the mountains and jungle. On the top of Doi Suthep it was cold. It was so cold that a hotel was handing out free coffee and tea to keep everybody warm.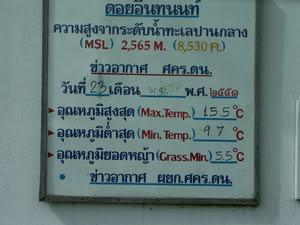 Down the mountain was a long and winding road with little cars and speeds well over 100 km/h. We were down very quickly. After a left turn on to the 1009 we took another left on the 1238 after a couple of kilometers. This is a very nice road although not in the best of conditions. First past the waterfall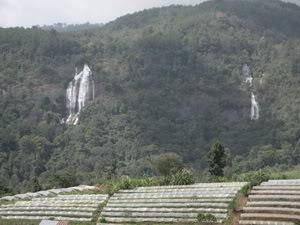 And then further up the road to the agricultural center. The road goes to the right at the entrance of the agricultural center but we entered and had lunch in the restaurant there. I must say that it was a surprising tasty lunch. After lunch we had some 5 km dirt road with some ruts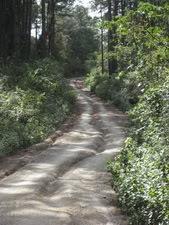 and then arrived back at the tarmac again. From here it was back to CM to get back to BKK and work. That was the only disappointing part of the trip.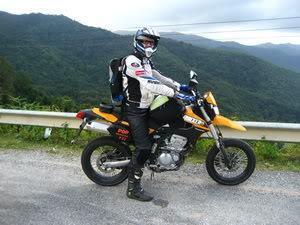 For all three of us it was the first time driving bike in the north but I am sure we will be back for more. Everybody thinking about doing I want to say to, do it, take a long weekend, hire a bike (POP was a good choice with good bikes and good prices) and go and enjoy. Three days will feel like much more and I am sure you will get hooked on driving in the north of Thailand