All-in-all, I think the best hotel I stayed in North Thailand was the Loei Palace Hotel. Everything that day just seemed to come together and when I needed to get off my bike and just lie down the hotel just appeared exactly where it should have been on the map. It was an example of the open plan kind where a few marble steps reached the reception and the rest of the hotel beyond opened up into a large airy atrium with the rooms rising above you in elliptical tiers.
As I stood completely filthy trying to complete the registration form with a damp shaking hand two of the staff appeared bearing silver trays with an iced drink on one and a hot towel on the other and I was left wondering what the service was like if you pitched up in a stretch limo and an Armani suit. My conclusion: no different. They suggested I park a very grimy CB750 on the marble step to one side and my luggage (ha! luggage - a small damp rucksack festooned with rain gear and maps) did not reappear until I had taken up residence in the room. I liked this place - even the gecko wriggling around the bathroom seemed to be friendly.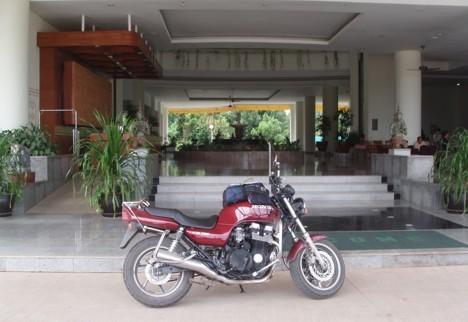 On reaching Loei I was on the return loop of about 10 days on the road that began in Chiang Mai. Last year I had come to North Thailand and trundled off on a number of smallish solo sorties and then found the GT-Rider website when I returned to London. This time around, I arrived unannounced at David's Kafe table and injected myself into the conversation. Successfully scaring everyone else away I got out the maps and we talked routes.
I wanted to contribute to the forum and relate some of my experiences but it's clear that the detailed info by the regulars about the routes and everyday conditions is not something I can match. So, I offer this more as an anthology. If you are reading this from afar and wonder if serious biking in North Thailand is a worthwhile holiday then perhaps this will help. If you like your answers quickly then for me it's a big yes.
My holiday format was the same as last year. Hire a big bike, rough it during the day braving the weather, the distances and the traffic and then stay in the best hotel I could find. Do it all again the next day and then, after a longish loop, stay a few days in Chiang Mai to regroup.
Mr Mechanic in Chiang Mai was the source of my transport last year so that's where I headed again. There was no messing around and I just went straight for a CB750 that I kept for the duration of the holiday. I can't say it was the best bike I've ever been on but it was sturdy and sported new tyres. The rear still had the red stripe of newness but I soon had that worn off. The machine itself was a tired old whore of the road whose front brakes chattered and it would slowly shake its head from side to side if you let go off the handlebars. And driving in Chiang Mai gives you plenty of reasons to let go and clap both hands over your eyes. But it went on and on, didn't have too much of a drinking habit, no extra lubrication was needed and at the end of the day my back still felt ok even if my hands shook with the exertion of its weight. Every little light, switch and instrument worked right down to the sidestand idiot lamp.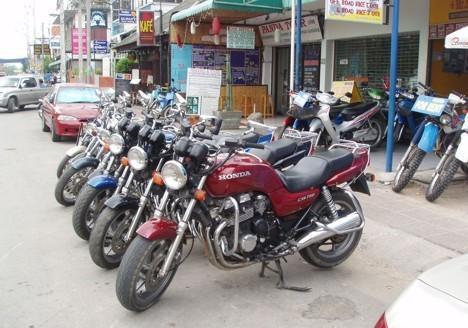 So I was off, first down to Lampang on the winding but wide Route 11. This is a fun drive where the advantage of a big bike plays out nicely against most of the other traffic. It's the inclines that slow everyone. Large trucks and poorly maintained diesels labour up the slopes emitting black clouds of fumes and even those in better condition have to drag up their mass with passengers and cargo. On the bike, you set the revs and let the grunt do the work. It's not really about speed but lack of effort until of course it rains, which of course it did. I had brought rain gear with me as last year when I bought some en-route the trousers ended somewhere about calf length and the sleeves at my elbows. Torrential stuff I pulled over and waited out but given very recent weather events I was lucky.
I had heard of a road (it might have been Route 1252, but I'm not sure) that crossed the mountains east of Chiang Mai and began in Jae Sorn National Park on the other side. I wanted to see if I could do a loop from Chiang Mai to Lampang to Chae Hom and then directly west across the mountains to Chiang Mai. What fun that turned out to be. Turning north from Lampang onto Route 1035 yielded another wide undulating road until it levelled out before reaching the park.
Sometimes I think I can push a decision too far and by the time I decided to turn around and get back onto conditions more suited to a top-heavy street machine I had negotiated the most ridiculous corners, hairpins, gradients, debris on the road and small rivers where nature had found the tarmac to be the path of least resistance. Congratulating yourself on the presence of mind to cut your losses and go back, by definition, still leaves you only half way there. Touring I thought, let's do some touring. Visit some towns, take some pictures and break a leg somewhere else. I got back down and headed north then east to Phayao. The bike and I became friends.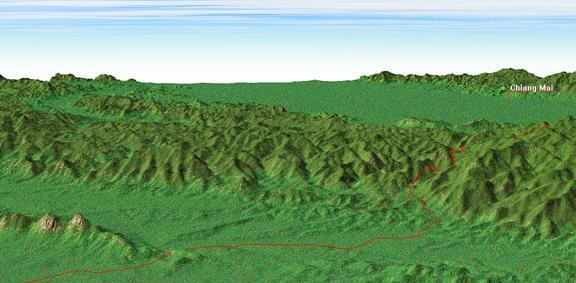 It's a great drive through the mountains on Route 12 to Phayou and the view offered by the rest point just before the descent begins is well worth breaking the rhythm of driving. You see right across the valley floor, where the lake languishes, to the town on the far side. On arriving at Phayao and looking back, the mountains appeared crushed by the low cloud that formed the canopy of the journey.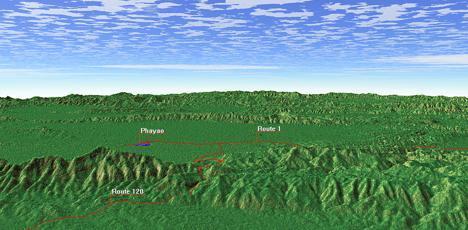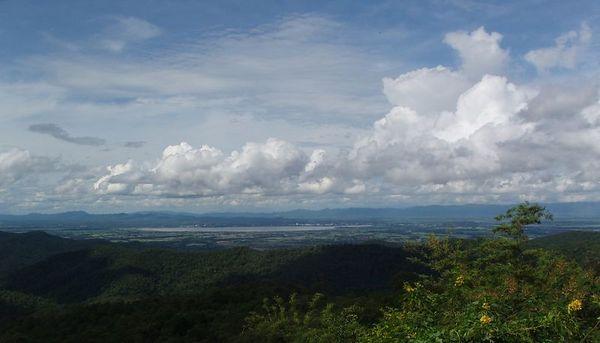 Generally, I didn't see much of the places I stopped over. Often I would arrive late afternoon and sort myself out in time to grab something good to eat before hitting the sack. Arriving at a tourist attraction on the bike just meant I had to carry everything on my back as I slogged around in the heat. I bet I missed a ton of stuff but then I did a ton of miles. Usually, when cleaned up I would do a leisurely tour; sort out the bike and then head back to the hotel. I was travelling with a small notebook computer and in the evening I would upload my GPS tracks and digital photos. It made it easy to write emails off-line, store them on a tiny USB flash memory and send them already complete from an Internet café.
There's no easy solution to travelling abroad on your own carrying everything you have with you and being safe. Last year I had prepared photocopies of all documents and I did the same this time around but with the added security of scanning everything and saving them on the USB memory. I had also sent them to myself at Hotmail so that if I lost absolutely everything (and I didn't have much, one rucksack and one bike) I could regenerate them from anywhere.
Phayao looked an interesting place but it was still early days of touring so I was keen to get back on the road. After staying one night at the Gateway Hotel which was ok, if a little shabby, I found Route 1 and stopped at Ngao for lunch. After that, it was an easy drive to Phrae (Route 103) and I was lucky to avoid a downpour on the open road as it happened as I was cruising around looking for a hotel. No problem there, just get off, find a dry nice place to sit and watch life for a bit in this marvellous place. Don't try this in the UK though; it can rain for days.
Now I decided to take things a bit easier and I stayed here for a couple of days. I would make this kind of decision arbitrarily with the quality of the hotel a contributing factor. This time my notebook computer played a role as it stopped working and I was faced every evening with the possibility of trying to find an obliging Internet café for my GPS and camera. I needed a set of Phillips jeweller's screwdrivers and where was I to get a set of them in the middle of this strange place with only English to help me? Everywhere, as it turned out. The hardware store right across the street from the hotel had a big sign advertising Phillips tools. My English, a little drawing and pointing to my watch produced the desired result. Luckily, the notebook yielded to a little maintenance or there would have been another trip across the street, this time for a hammer and only French required.
I try to prepare only enough to start things, be safe and after that see what happens. At this point leaving Phrae I decided it would be fun to visit the Friendship Bridge near Nong Khai and then turn west to follow the Mekong river. The drive to Nong Khai was accomplished in two stages. First getting to and then constantly pushing east from Phitsanulok through to Khon Kaen and then turning north to the Laos border crossing near Nong Khai.
The journey south to Phitsanulok from Phrae began on Route 11, a good prime road, but I was looking for more variation so I detoured west slightly until I found Route 101 to Sawankhalok. This passed through some lovely quiet countryside and even had a stretch of climbing and curves. Very soon after leaving Route 11 I passed an enormous reclining statue that just seemed to be in the middle of nowhere. To give you an idea of scale, in the photo there is a JCB digger middle left. Much later, the turn off from Route 101 onto Route 12 to Phitsanulok was a fairly dreary drive but short enough.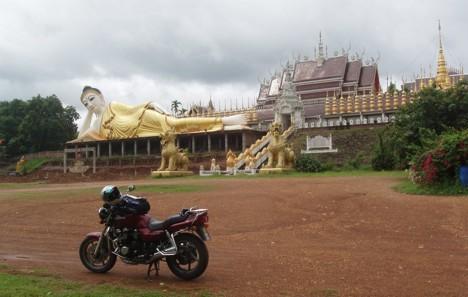 I spent a lot of time driving around this town and being tired I always seemed to be on the wrong side of the railway line with the main crossing points taking me through a busy market. Many times I drove past the old steam locomotive next to the railway station and the pernicious one-way systems would deposit me once again on the wrong side of the tracks or worse, across the multi-lane bridges that spanned the river. Eventually though, I got the hang of it and if the old adage familiarity breeds contempt applies, then I did prefer Phrae.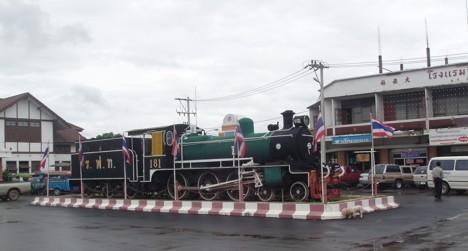 My map showed Route 12 was the only significant highway to Khon Kaen. It looked a bit bland to satisfy touring desires but it passed through some great rolling scenery complimented by many national parks. It turned out that I was able to maintain quite a decent pace and needed to, given the distance to Khon Kaen, but was I contented as well. After one night in the very nice Charoen Thani Princess Hotel I was ready to make the final haul to see the Friendship Bridge.
The next morning I left early along Route 2 taking the bypass around Udon Thani. This part of the country seemed much hotter and by midday I was ready to get off the blistering bike and rest so I took quite a bit of time out at the Friendship Bridge. The border control police were very obliging and let me drive part way along the bridge to get some photos but its camber yielded a disappointing result. I needed to get a side view with it spanning the two countries. Trolling around the area revealed the Tourist Office where I was given sterling service. Maps, information and water were all dispensed as I dried out in their air-conditioned office and sorted out myself. A very friendly lady with her daughter staffed it and they directed me onto Route 211 that passed under the bridge and then ran west alongside the Mekong River.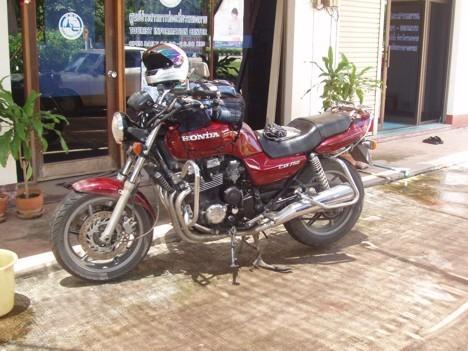 I loved this part of the whole touring experience. The road was definitely out of the way and it ran alongside the very wide, brown waters that slid east. There were many small villages each demarked with a green sign declaring City Limits. Perhaps by this time, after so many hot days solo on the road, I was going a bit tarmac crazy but the strains of Tina Turner's Nutbush City Limits would run around my head as I slowed down and passed through the brief thoroughfare of yet another Thai city. I always remember the despondent timbre and intonation of the Moog synthesiser. A marvellous song but sadly the great man Bob Moog passed away a few weeks ago.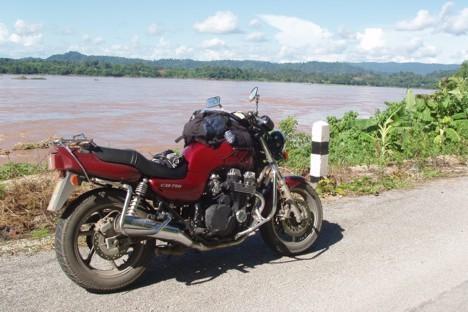 It was a wonderful drive west from the bridge. The road was fast in places, winding and undulating in others and almost always in sight of the languid river. On one of the fast sections I hurtled towards a thick black snake throwing large coils onto the road with its head in the air as it made for a crossing. I can only remember thinking that this will be a new experience, running down a snake on a motorbike. It seems the snake had the same thought because if there was ever an animal designed to execute a high speed U-turn, it was a snake. By the time I grabbed a handful of the brakes and jumped off to get a photo it was gone. I now think it was for the best as a little Google query later revealed that apparently Thailand is home to 135 species of snake with 85 of them being venomous AND the largest snake ever caught was in Thailand.
That 100Km or so of river driving was amongst the best biking experiences I have ever had. I finally left the river behind and headed south on Route 201 to Loei and even that road swept through some marvellous scenery.
And so I arrived at the Loei Palace Hotel beginning that morning from Khon Kaen. I stayed for a night but now think I should have stopped longer and done a little exploring. I liked the surrounding countryside and the town itself had a very distinctive fountain. The next morning, on leaving Leoi I was definitely on the return leg to Chiang Mai but had yet to retrace my path on the outward journey. That wouldn't happen until Route 203 from Loei intersected with Route 12 and I was on my way west back to Phitsanulok. En-route I changed my plans slightly.
I liked Route 203 as it began with a section of climbing and then seemed to follow a plateau.Staying on this road would have brought me to Lom Sak and the intersection with Route 12 but the driving and scenery was so good that I decided to postpone the major road stuff for as long as possible. My map indicated a small network of minor unlabelled routes and so I left Route 203 heading for Route 12 via towns Khok Klai, Nakhan Thai, Na Chan and finally Yaeng. This was wonderful and really I have done more of this secluded driving - maybe next time.
The weather was quite bad and the oppressive clouds were very low. I could see bands of rainfall meandering in the distance and would hope that the road looped away. In the end, I was forced to don my rain gear and I kept it on for the remainder of the day - to keep me clean if nothing else.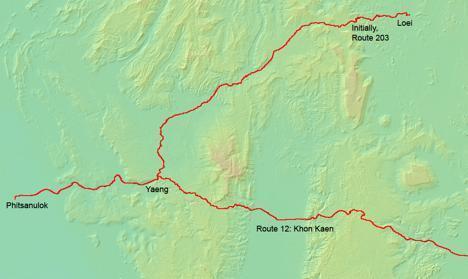 Once again I stayed in Phitsanulok and organised myself for the long hack back to Chiang Mai the next day. I was ready for a longer rest and so was prepared to forgo scenery for speed. I got onto Route 11 and kept the pace going until I took a late lunch at the Elephant School just outside Lampang. I had been there before last year but only for a quick break so this time around I decided to take in the full monty, sitting down for a meal and staying for the show. The place was teaming with schoolchildren and we all sat dutifully on the stone bleachers watching individual animals being put through their paces. The highlight was definitely the moment the mammut instructed an elephant to lean over the barrier and let rip several enormous roars. The kids ran around with their hands over their ears shrieking with gales of laughter and mock fear. I think it's easy for us to personify the behaviour of animals; perhaps the sensation of life within us is so vivid but if ever a beast looked as though it was having fun teasing children, it was that elephant. Later I stood in line with the children, as I too wanted to touch it.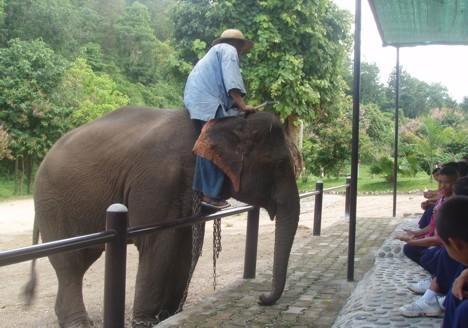 Back on Route 11 meant the next stop was Chiang Mai. I had expected an easy push back through the low mountains but not long after leaving the Elephant School I came across the scene of a terrible accident. It swung into view as the road rounded a long downhill lefthander and the first thing I saw was a blue van ploughed into the embankment on the left having shed much of its load. Just beyond was a large petrol tanker with its trailer, twisted and disjointed. There was a lot of debris on the road so I slowed watching out for glass and oil. At this point it dawned on me that it had happened only seconds before and no one had yet to stop.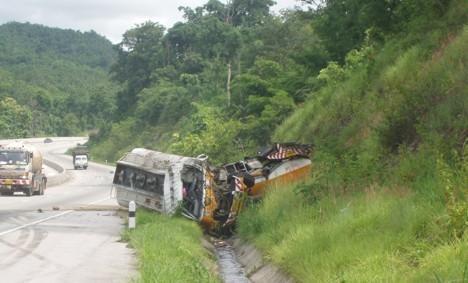 I must admit this whole episode tested my courage to the limit (read, I was very scared). The scene was rank with the heavy stench of gasoline and the air above the tanker shimmered in the heat as the volatile fuel poured from the ruptured vessels. A culvert at the side of the road directed the gas in a small river away from the road surface or there would have been much sliding around by passing traffic. And that was what amazed me; the traffic was allowed to pass within a few meters of this potential thermobaric bomb. It was everything I could do to prevent people, including the police, approaching operating mobile phones and radios. The tanker driver had been thrown from the cab that was almost crushed flat against the rear bulkhead and lay on the ground with at least a broken leg. I stayed for about an hour until after the ambulance departed and then I was glad to get back to Chiang Mai.
The whole trip had been quite an adventure.
To relate a slightly off topic experience, a few days later while still in rest mode I decided to try a little flying. There is a flying club in Lamphun with their friendly looking web page offering to hire Diamond Katanas. This is a very sleek aircraft where the view is relatively unrestricted by the low wings and the canopy edge is about knee height. I had done a bunch of hours in one over Bedfordshire, England and it seemed an ideal platform for interesting holiday photos. Unfortunately, it hadn't been certified for hire when I arrived but it was imminent. A Cessna 150 would have to do.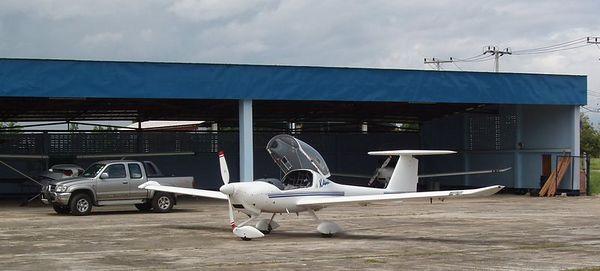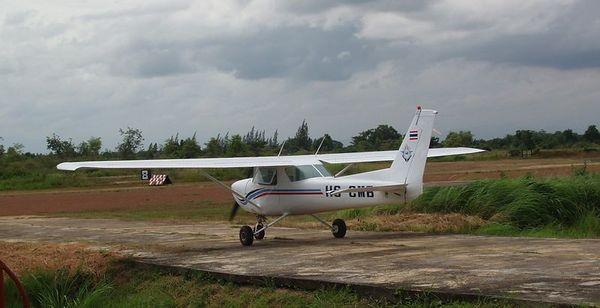 There were a small handful of students queuing up for their instruction and we swapped flying stories as we waited for our slot. The relaxed nature of the Thai culture manifest itself as we all stood at the end of the runway and watched the approach of a young girl on her second solo outing. Everything went well until the power was cut for the final glide when suddenly the wind picked up and she was blown over to the side. This will be interesting, I thought, although there was plenty of room beyond the runway perimeter but at the last moment she firewalled the throttle, held the aircraft level and then began a climb when the airspeed picked up. The flaps came up on the crosswind leg and she was off around the circuit for another go. The second time around the aircraft came down the glideslope like it was on rails and we cheered as she taxied past with us still standing on the runway. I think we all recognised that we were witness to good decision-making and determination but I can't imagine standing on a UK active runway to make such an observation. I won't describe my landing but I recommend a trip to the club for at least a fun flight if not instruction. On another bike trip, I stopped over at Pai and lodged very close to the airstrip. Given the terrain, I'm sure it would be a great cross-country flight from Lamphun to Pai.