I have been riding around Thailand for three years now but for some reason I never quite made it to the roads around Nan. Heard they were great but wanted to see for myself. So when the famous GT rider David said he wanted to do some mapping in the area, of course I had to invite myself along..... Late morning start out of the Bier Stube, no problem as the first day was not too long. David looked a little groggy, so I immediatley supected wine, women, and song.
Took the standard route north on 118 and then cut over on 120 to Phayao. Great weather, not hot or cold. Good riding tht especially dropping down off the mountains into Phayao. Out of Phayao and northeast to Chiang Kham. A quick lunch stop and then off south east on 1160, which then turns into 1148 ( THE ROAD !!!) I have ridden all over America and Canada but cannot recall riding on a rode that was more fun. I am sure this road was laid out by a closet Thai sport bike rider.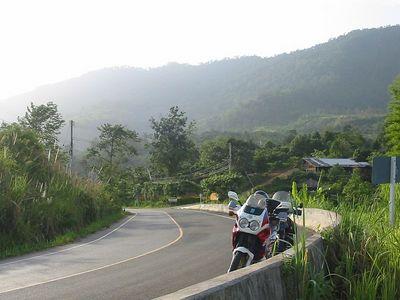 Up to the top of the ridge with big sweepers, and then down the backside with small tight banked turns that feel like a roller coaster.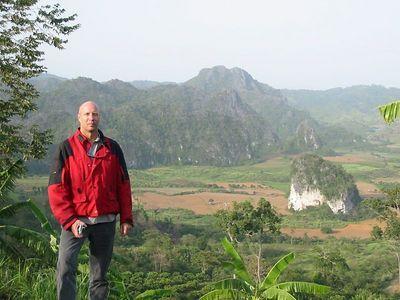 Every once in a great while a decreasing radius turn to keep you on your toes !!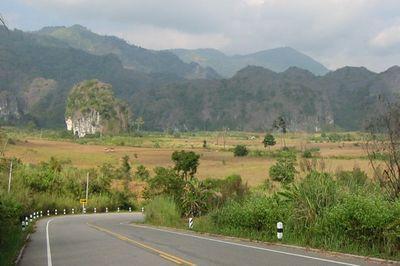 Thank god for power assisted ABS braking on my BMW Adventure. Came around a blind curve fast with David in front of me and the road briefly ceased to exist. It was torn up to put in a big drainage channel under the road. Then a dirt track went around it as a bypass. No signs, no warnings, and no cones..... Amazing Thailand. On to Pua where we spent the night. Pleasant accomadations at a small resort in town.
Next day out of Pua and head east to Bo Kluea.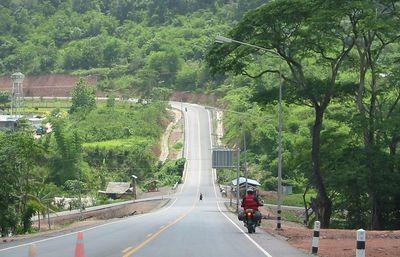 Great mountain scenery and some fun riding roads
as well, although the turns were a too tight to put on very much speed. A super motard might be the bike of choice for this section.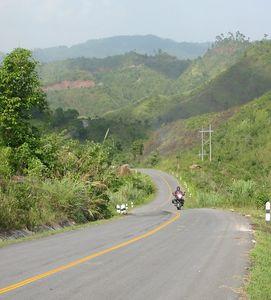 Spent an hour with David chatting up some nice girls at a roadside stand next to a small park. David's system of picking these stopping points seem to be predicated upon the general cuteness of the girls working there, rather then any bodily needs for food or drink.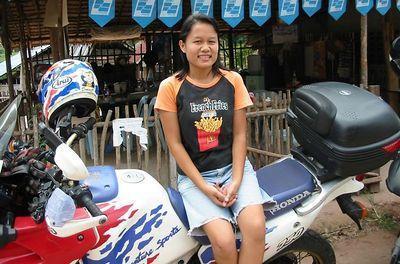 Oh well, works for me. Brief stop at Bo Kluea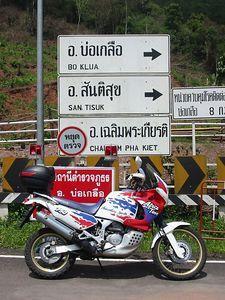 to see how they turn a underground salty well into the village livelyhood of producing salt. Lots of burning wood to evaporate out the water. Two kilos of bagged salt was about $ .50 USD. Then headed south towards Nan. Interesting riding on sort of a rough twisty road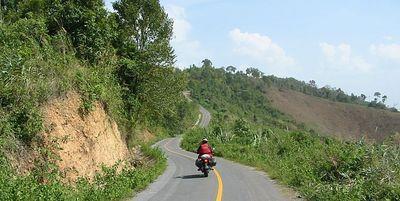 on the way down towards Nan. Once in Nan we went to a nice hotel that David knew. Popped for the VIP room at a whopping 700 baht. Had a great dinner with a friend of David that had a Italian restarant.
Next day up not too early and then off for home. Sort of south west on 101 to Phrae. Just a general winding mountain road with a fair amount of traffic on it. Keep your eyes open for Thais in a hurry passing into blind corners straight into you. We parted company in Lampang where I wanted to visit a friend of mine. Overall a great trip. People seemed extra friendly there, probably a result of not too many tourists. The area is a little bit off the beaten track. Come and check it out. Cheers Robert