The Idea
In 2011, together with 5 other friends, my wife and I went 2 up on the triple black to Yunnan Province, China. That journey took us till Shangri La County. The experience and scenery was really spectacular back then. However, our China guide casually mentioned that the views in Tibet and Xinjiang were much more stunning than what we have seen. That comment triggered the desire to find out how amazing the view is as how a local claimed. Yunnan was enchanting but I was determined to see China's best.
As soon as we completed our adventure in Yunnan, I started some sketch of plans on my next ride. Xinjiang seemed far fetch initially, but after few weeks of close study on the map, along with the countless emails exchange with our China fixer, I figured out 42 days should be sufficient.
Having had one riding experience in China and the costs involved, I knew that keeping the group small will result in having to pay a ridiculous amount of money. Well, if it is low cost to ride in China, Boten immigration would have been busy with riders from south. So i need to be realistic on the cost requesting the Chinese fixer every single breakdown of what we are forking out for.
Taken at Lijiang, Yunnan Province, China in 2011
https://www.gt-rider.com/thailand-motorcycle-forum/showthread.php/36059-Yunnan-Province-Southern-China
Preparation
Plenty of meetings were held. Initially we set on the number of participants to 12. Soon enough all 12 places were rapidly filling up . In the meantime, plenty of emails and phone calls were conversed with the Chinese fixer on the routes to be taken. Midway through the planning, a couple of riders expressed great interest to join the adventure. However, these riders could not afford to spare 42 days of leave. Thus, the entire plan was revamped with an additional 8 riders.
A new route was then planned. The entire group will ride from Singapore-Malaysia-Thailand-Laos-Yunnan Province-Sichuan Province-Qinghai Province-Xinjiang Province. The initial 12 riders will ride from Golmud to Kashgar via the Southern Silk Road to Karakoram Highway-Kashgar-Urumqi -Lhasa-Tibet-Everest Base-Kathmandu while the other 8 riders will break away from Golmud and head on to Lhasa-Tibet-Everest Base-Kathmandu.
As the fixer set on the dates for the documentations to be submitted, the team got around on countless of meetings and discussions on logistics and working out on the cost.
We also got around approaching distributors who's caught huge interest in our run and offered significant knock off rates in support of our expedition.
The countless gatherings, mass orders of parts and essentials, visits to embassies, delegation of tasks, application of necessary documents and at the same time shuffling with day time job that we are holding, There was never a single session where all the riders were present in any of the meetups. Not until the last gathering which was 5 days before departure.
15 August 2013 - The Advance Team
Our advance team of 3 left a day earlier where Fazlee and Kachuak on their 135ccs will be heading up on their own and rendezvous at Chiang Khong not after a little spin around the Golden Triangle. Yup you read it right, 2 mopeds along with the big trallies.
Doc Liang left the morning of 16th and will meet the rest later in Hatyai.
16 August 2013 - The Ride Began
16 August, the day of departure. Anwar had kindly offered to use Jurong West Sports Complex as the send off venue. A huge group turned up for the send off. Friends and families arrived that evening to bid the riders farewell and well-wishes. Very grateful we were.
17 August 2013 - Malaysian NSH - Hatyai - Chiangmai
Thailand's southern border of Dannok was busy as always on weekends so we opted out for "express service". RM15 should clear you off quickly and save you at least an hour of queuing up time. As soon as we cleared BKH - Danook border, we're headed for Hatyai Airport where the truck was waiting. The bikes will be transported to Chiang Khong and we flew to CNX on the same day. This arrangements allows us in preserving energy as our ride will only resume in Laos. Some had casually told me off that it's not adventure enough putting our rides on a truck. These people obviously haven't realized the effects of fatigue from serious long distance trips, and true enough, it started to affect us as we realized it later part of the journey. It's our 42 days and we chose our routes.
The boys had some time to explore Chiangmai. Lively city, big night bazaars and a great place to just explore the area. Some of our loved ones flew in to join us. But in the meantime, further north, the 2 mopeds traveled Northern Thailand.
Back in the south, in the wee hours along North South Highway.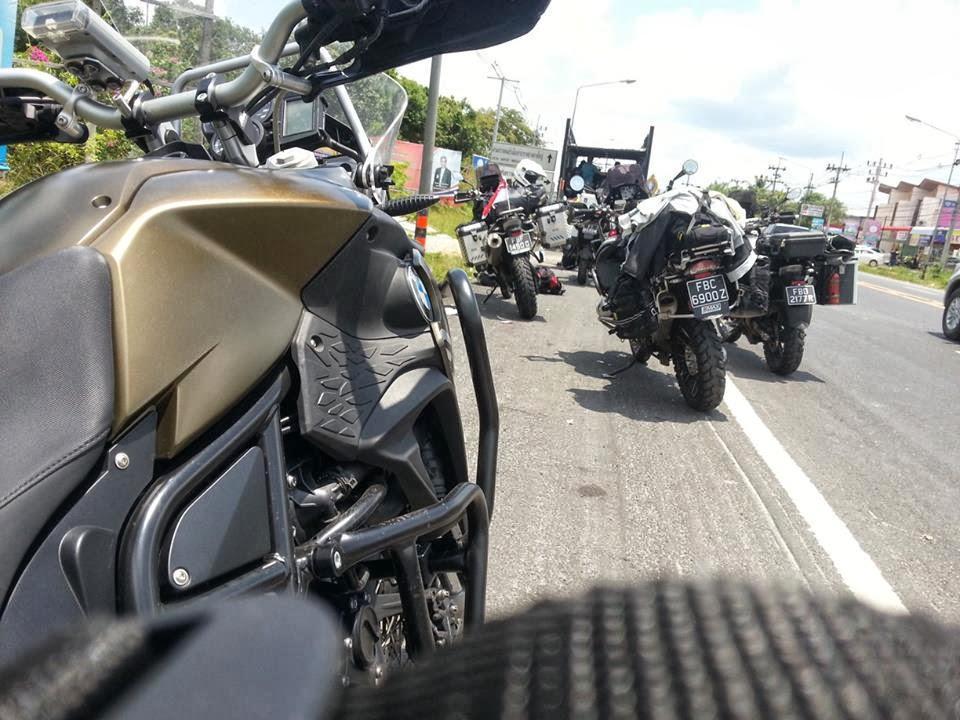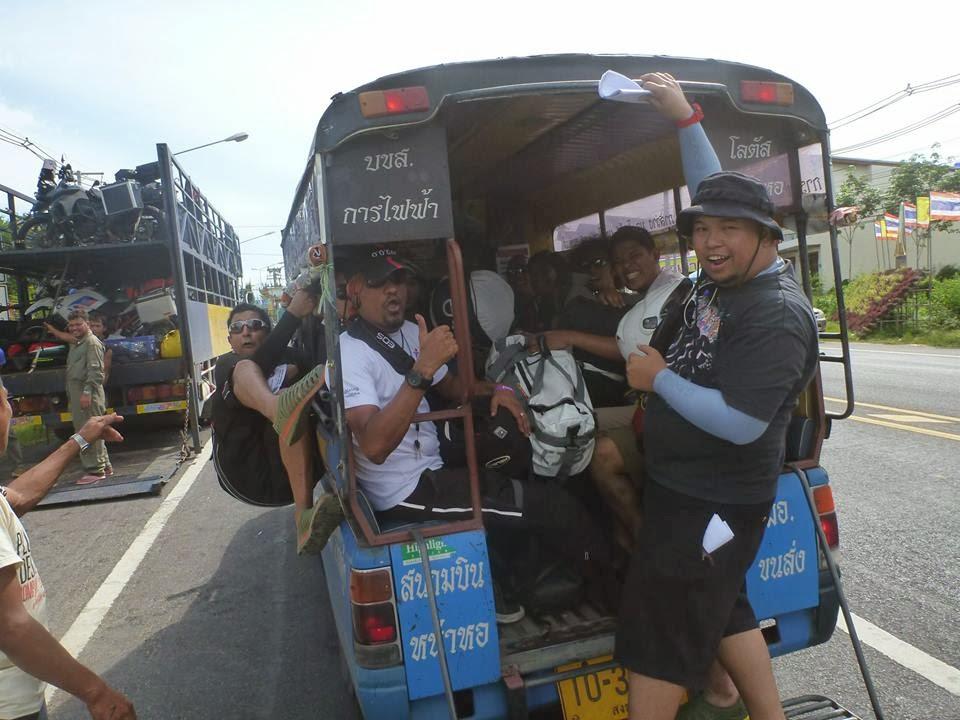 That afternoon, we caught a flight for Chiangmai while Vin and Zainal spent the night in Hatyai since there's a small glitch with another truck. They took an early flight the next day.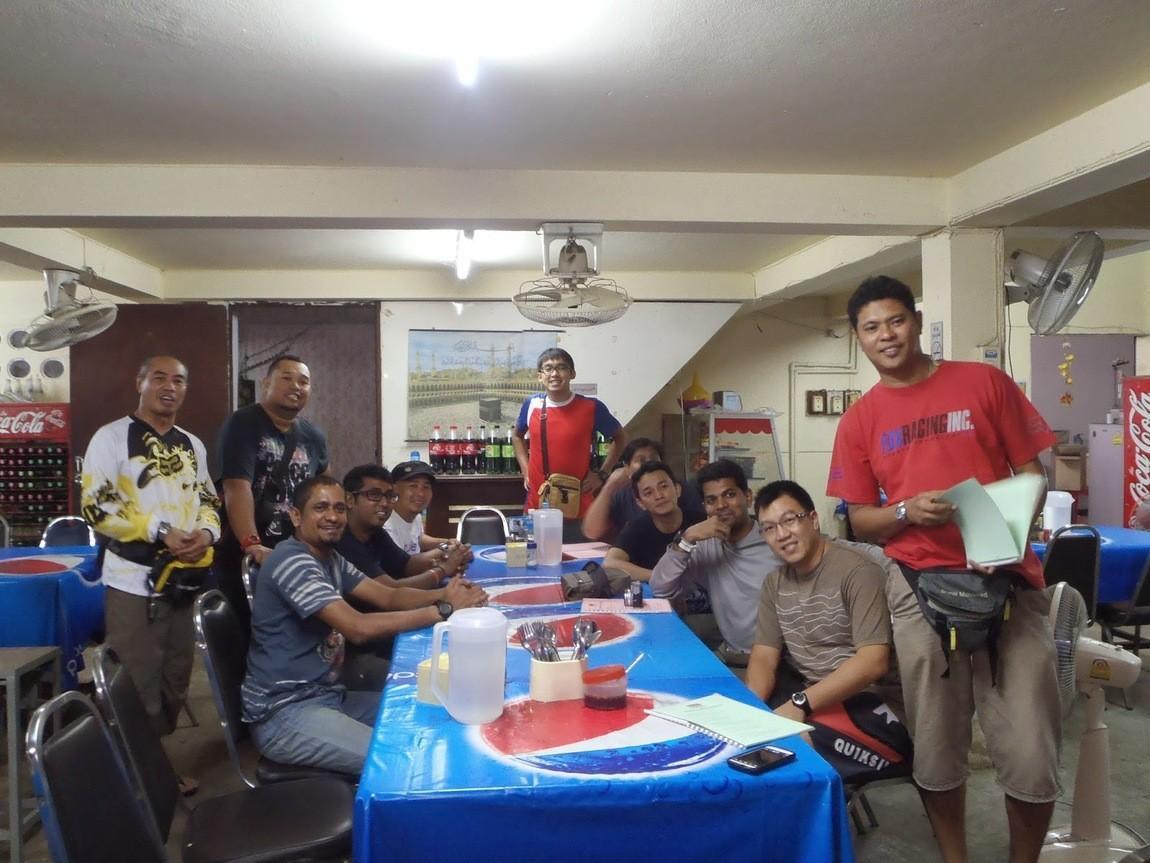 18 August 2013 - Chiangmai
Took the day for scrumptious Thai food plus visiting old friends.