The thought of riding along the pai river from muang khong to wiang heang had the muppets tingly all over. so we rented a truck from north wheels chiang mai. justin wasnt completely at ease with the honkys driving style though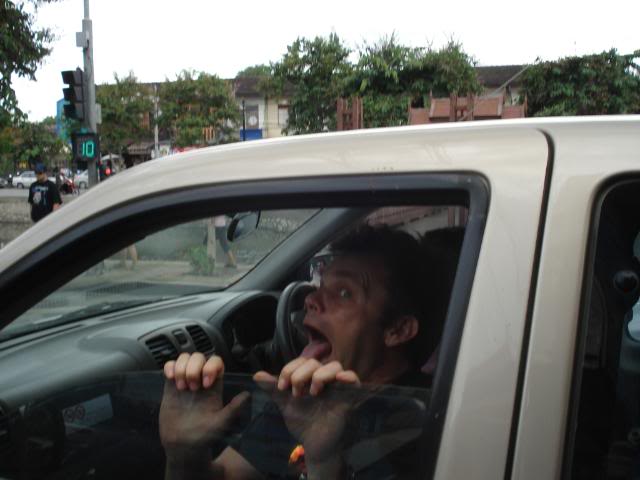 and headed on up to chiang dao for the night. we had looked at the map and figured 30mins to do the road over to muang khong. how worng we were what looked like a fairly straight run over was inf act a long run of continuos hairpin bends and narrow c road. it took us most of the morning and it was gone 11 by the time we hit muang khong.
we had lunch if as much to gain credence with the owner when we left our truck right in front of his shop. wouldnt want a 500,000baht pick up go missing would we.
after faffing around a bit more unloading and gearing up we were off onto the track
not 10kms into our trip and we came across our first problem. a long hanging footbridge crossing the river. i dont know of any motorcyclist that has gone acroosd this bridge and when we started to walk it and it started swinging and creaking there was no way i was taking my precious honda across there. so we headed for option b.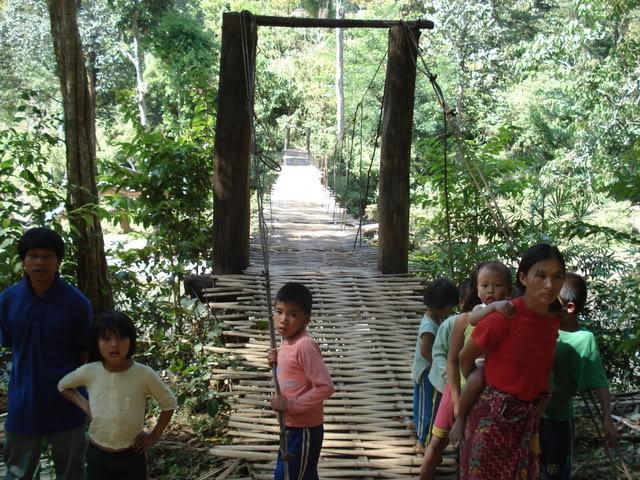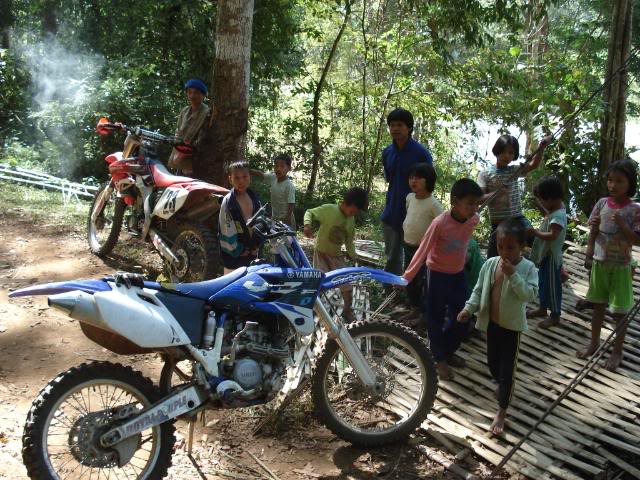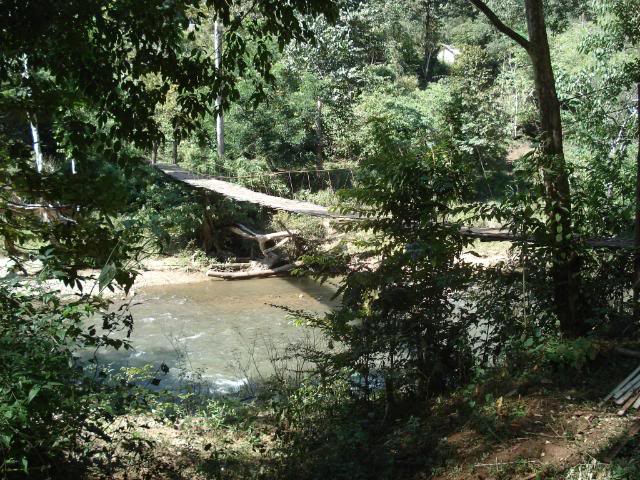 option b looked a little something like this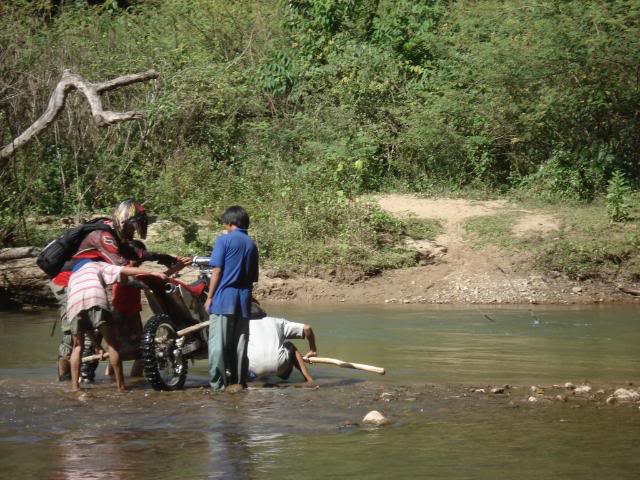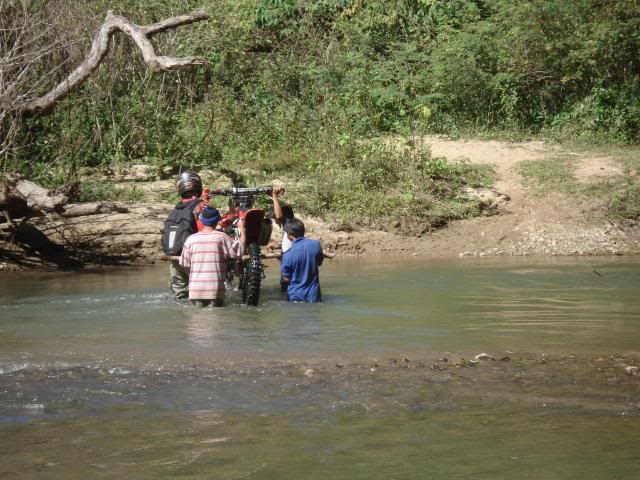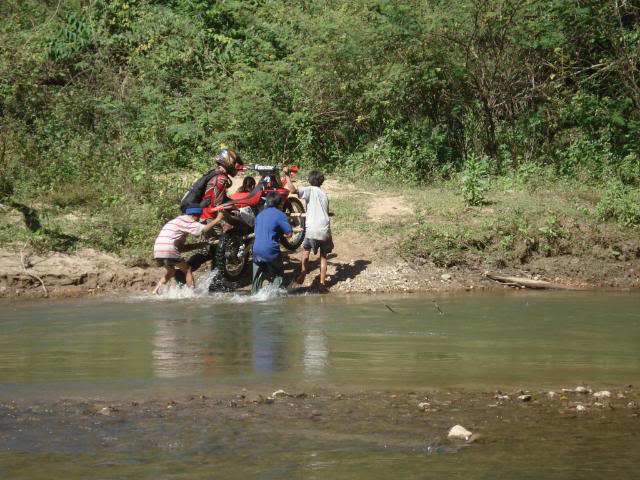 sticks were levered inbetween the spokes and even though it looks a little dodgy i didnt at one point fear the bike would go down. the loclas relieved of 200baht a bike for helping us whcih i had no problem paying as it was either that or back to the truck.
at the next crossing our californian friend was clearly feeling a little braver and announced he would conquer this raging river, to be fair the little yamaha made it further than his orange fairy did the other day but in the end same-ish result. i.e failure!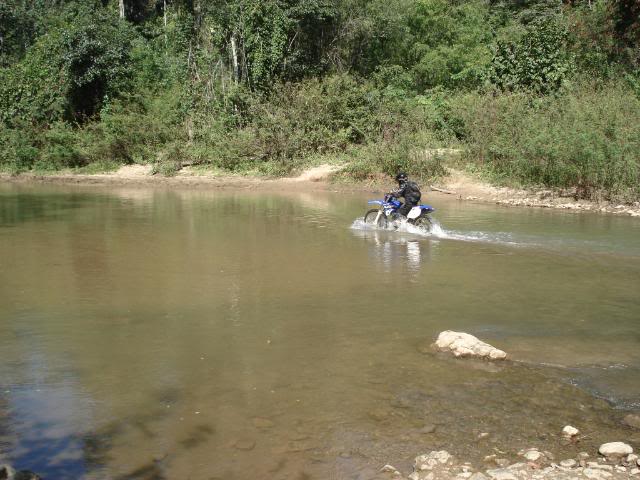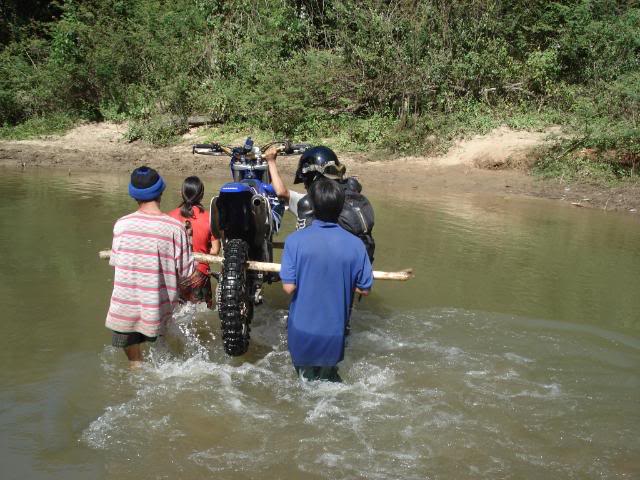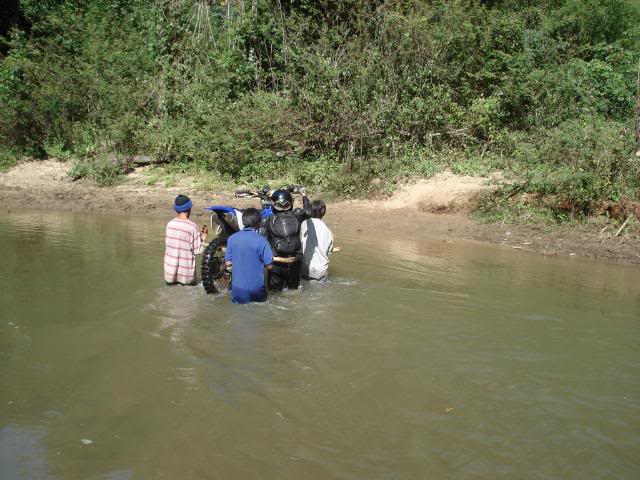 once this little episode was over we got down to real business letting loose the bikes on what has to be soime of the best rding off-road in the area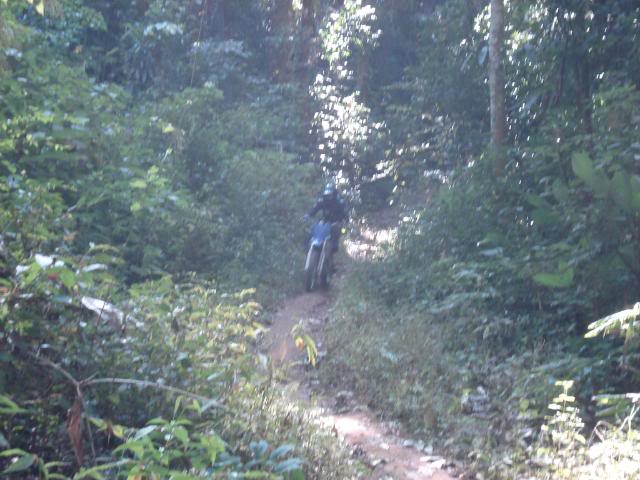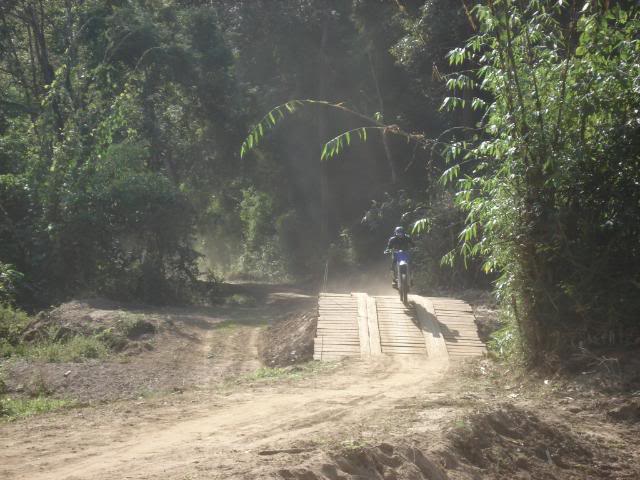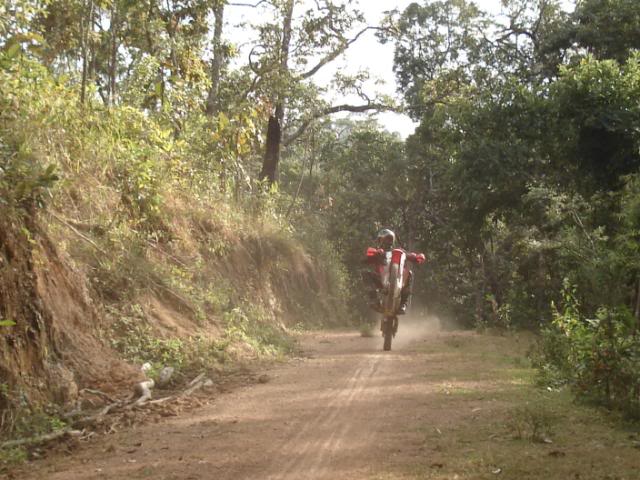 at this point the trail was awesome , grip was good, scenery was stunning, we werent loaded up with overnight gear either so were simply enjoying riding fast.
some great corners here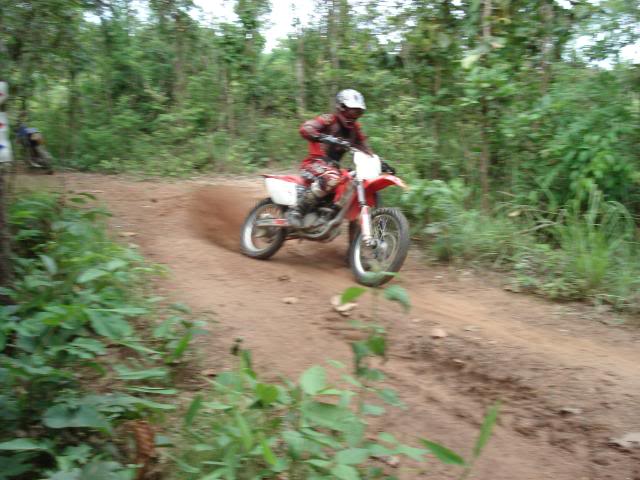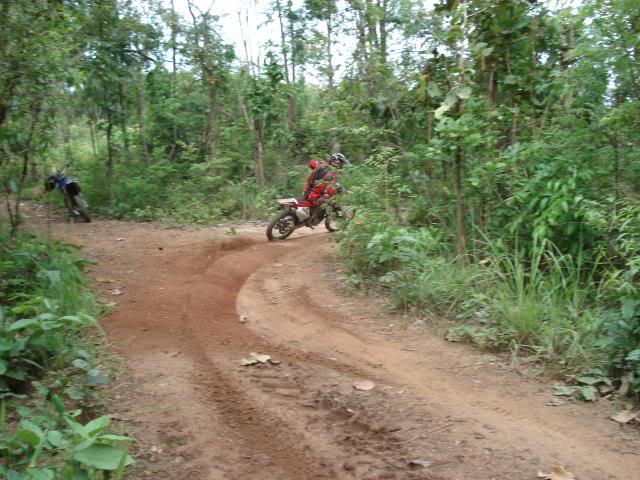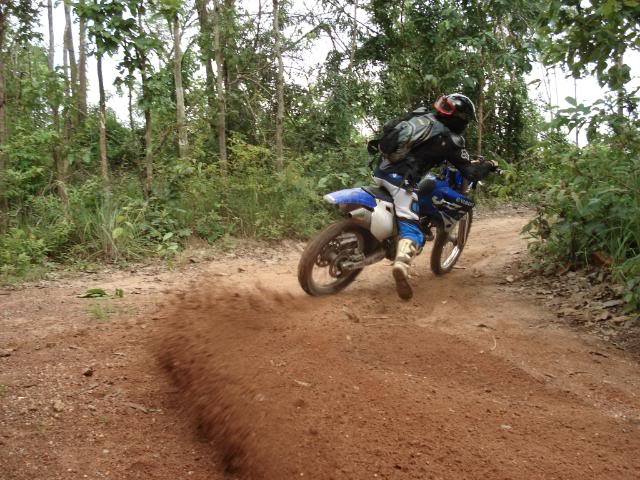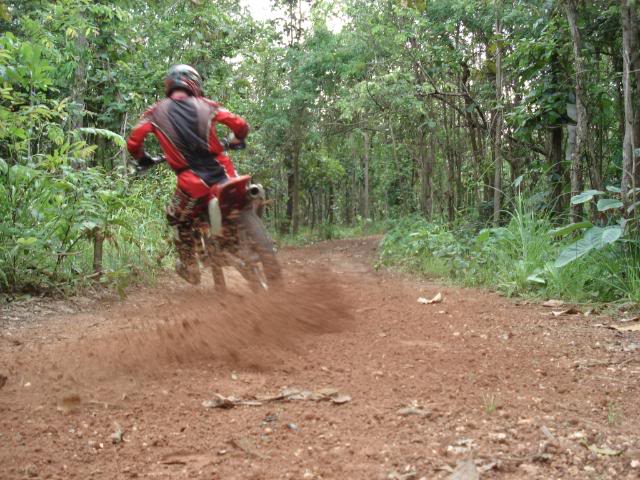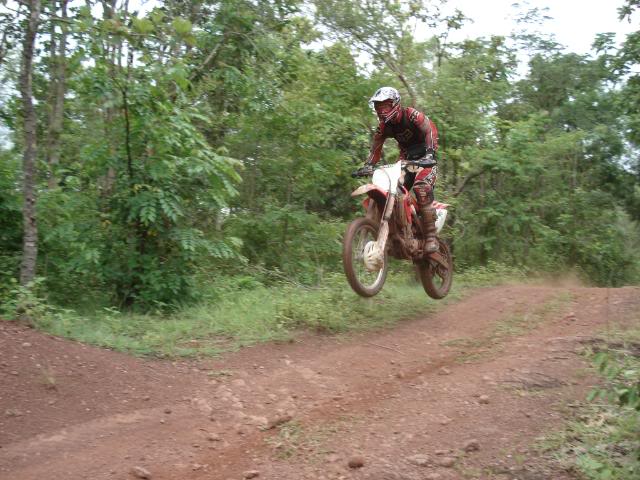 after latish tea in wiang heang we were faced with the choice of either riding back down through sam moen and the huai nam dang area or riding what we had just come through again. a resounding yes to going back down the same route had us off again for ther 30odd kilomtre dash.
going a bit slower this time round we took in more of the scenery, and remarkably not scared off by the sounds of our exhausts i came around one corner to be greeted by this little rotter. bignsmall thought it was an orangutan but i assured him it was infact the asian chimpanzee native to central and north thailand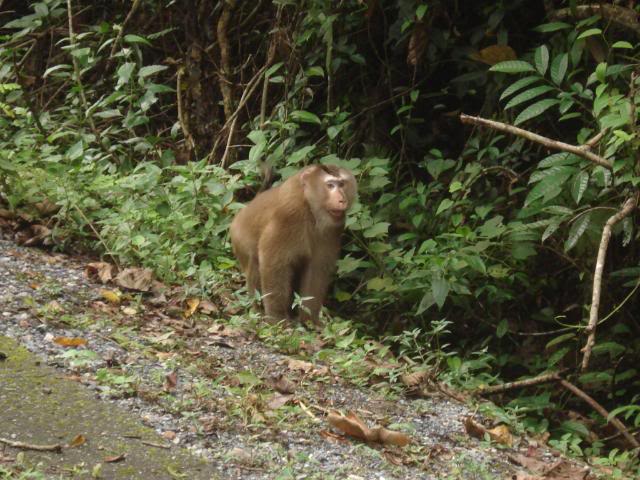 look at the way way the local david knight takes on the trails, this guy had great style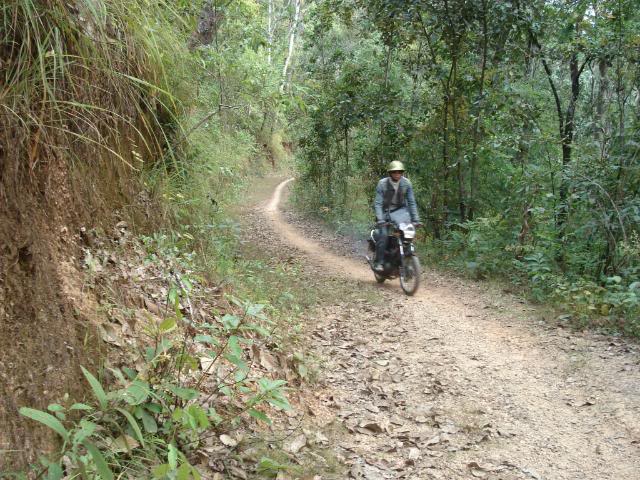 predictably there was some posing for the cameras aswell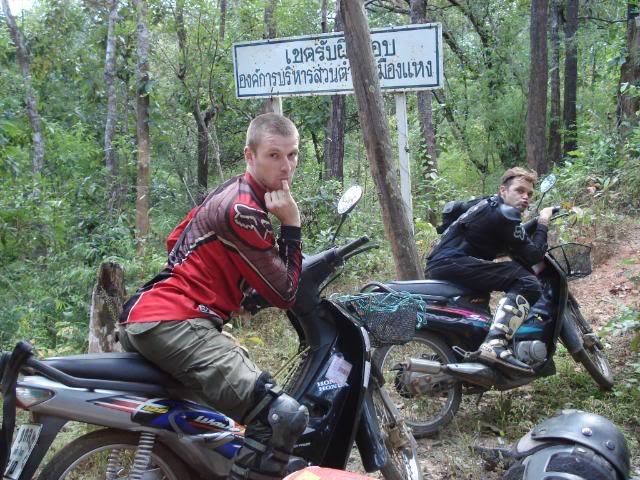 on our way back over the same river we had come along though there no-one to be seen. panick stricken the muppets decided to look for alternative ways across the river, nothing. any other trails, nope not unless we morphed into 2 mountain goats. panick struck in, even taking its toll on one local boy who felt our anxiety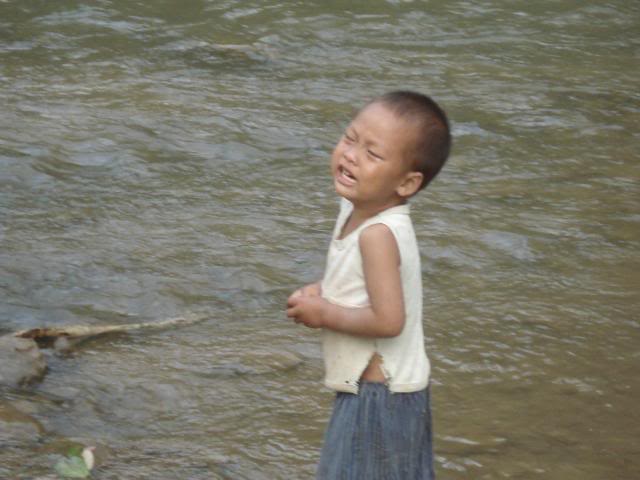 the only thing i could think of after our scrams and cries had gone unheard was to turn the bike on and rev the crap out of it until someone heard and came to rescue the stricken western explorers, eventually they arrived and helped us back across
justin lowering my bike down the bank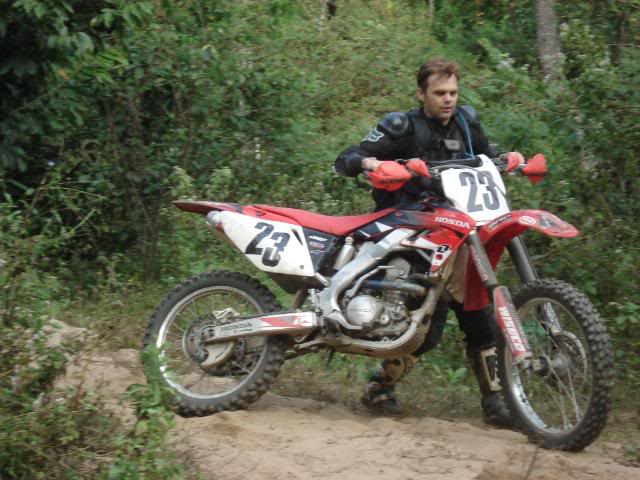 after this it was plain sailing back to muang khong and back into the rim doi resort in chiang dao for rest and recuperation muppets style.
the track is probably about 45mins riding time, not including river crossings of which there are 3. we were taking photos and gossiping so it took us about 5hours round trip. the trail is a ripper and anyone who enjoys offroading and lives in chiang mai who hasnt ridden it yet should be hung drawn and quartered, what are you waitng for guys get out there!!
maybe wait till dry season though! hate to see a bike dissapear down the river
over and out
the honky.