The 3rd day of muppeteering began at a gentle 9.30 from mae sai, we wandered out of town missing our one turn off for the morning in true hungover fashion, this then left us with a boring slog on the main road over to chiang saen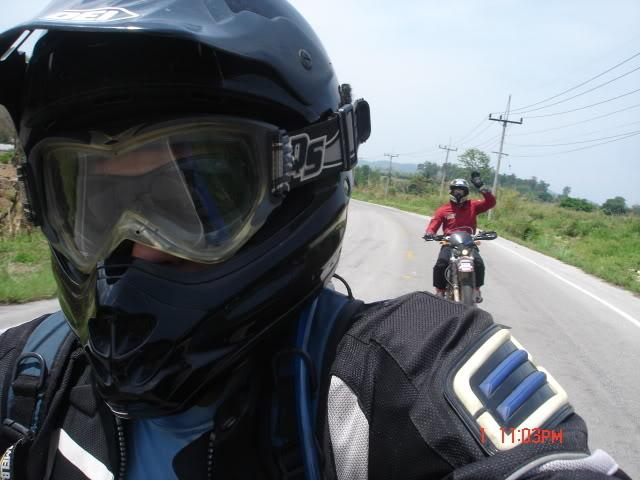 we stopped of for some brekkie in chiang saen and wasted another half hour so that justin could take some photos " for the folks back home in good ol' U.S of A" were his precise words i think. after chiang saen we headed over to ching khong on pretty flat roads again. however it was delightfully punctuated with views of the mekong river,
all fueled up again we set off in search of the 1155 to take us to wiang kaen, the only rest bite now from the midday heat was stopping off at some of justins ex-flames from his previous trips in these parts, whilst amusing at first in soon became annoying when every village became another half hour of flirting and playing with chain lube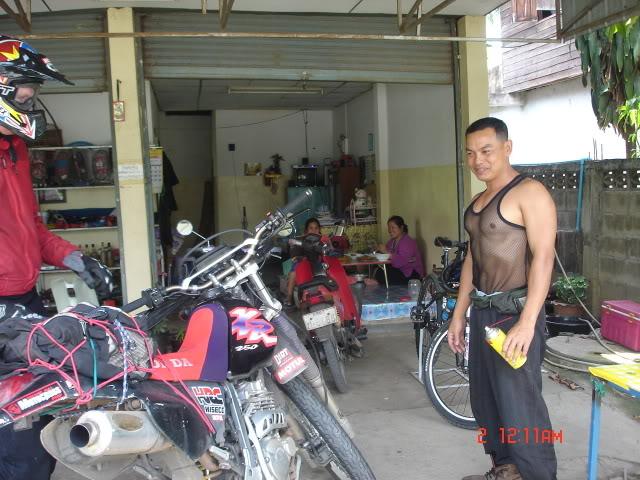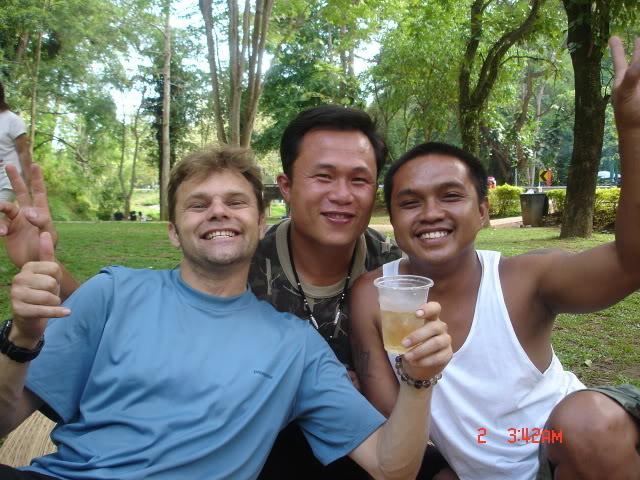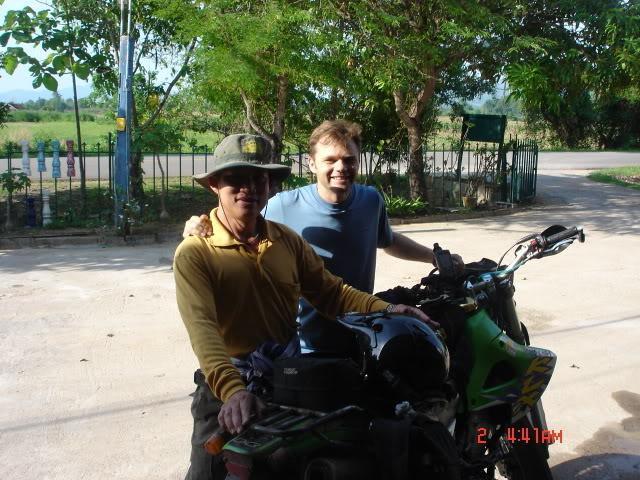 now on the 1155 and full speed ahead to pu chee fah we turned off up the hill at the village of pang hat, pu chee fah is well signposted here, the climb of the mountains began in erratic fashion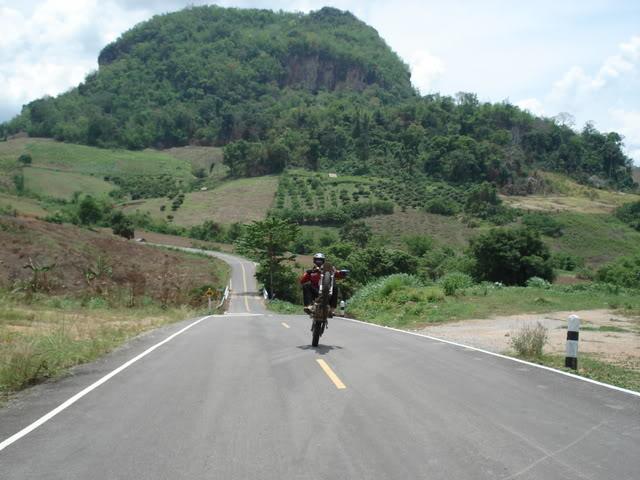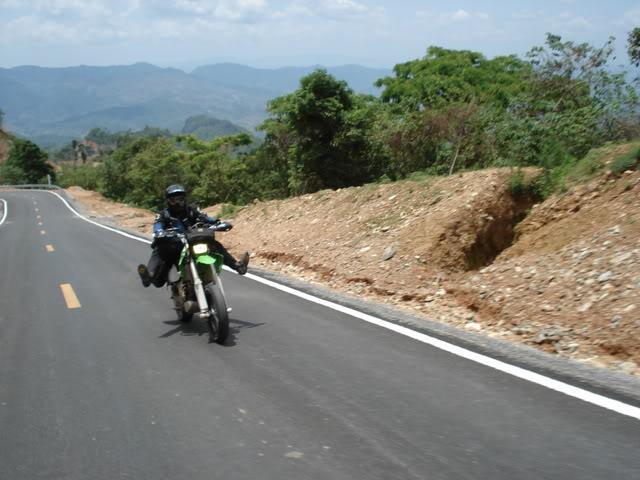 the drive now was stunning with mountain vistas that stretched for miles and with the clean air was a awesome drive, the drive was not without incident though as following a breathtaking chase down the mountain in pursuit of the green machine i was most unfortunate to clip a patch of gravel on the exit of the corner, my bike was ok thank god and i somehow threaded my way through the kilometre markers in some houdini of an escape from serious injury, my stunning SLEDGEHAMMER jacket though took the worst of the fall...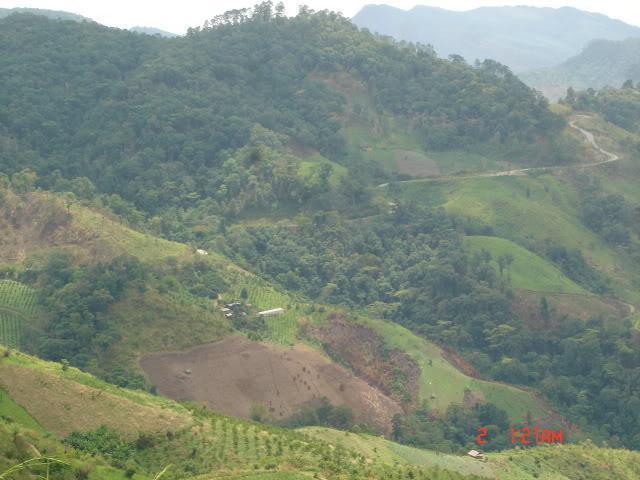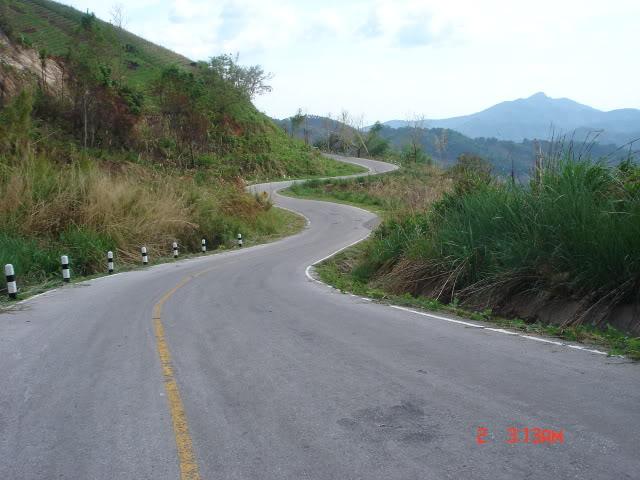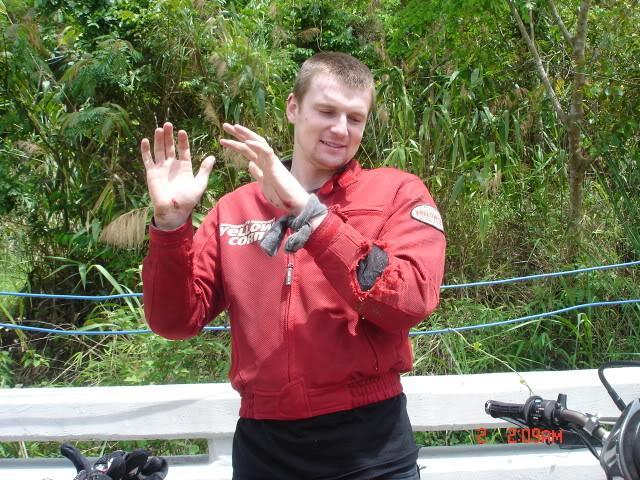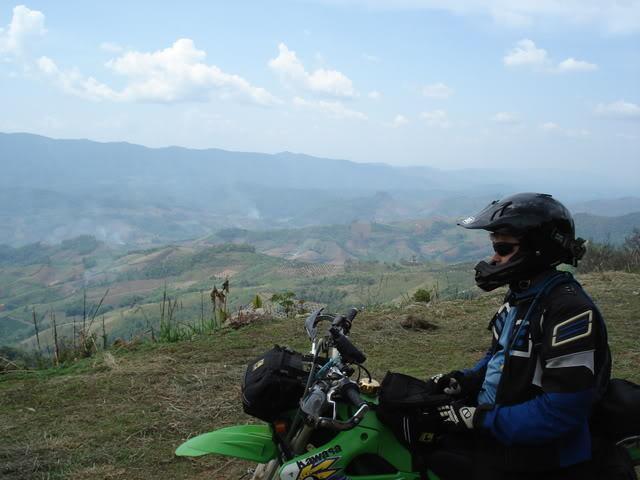 coming down from pu chee fah was a subdued affair for mne as i was still nursing a torn jacket and was miffed at the fact that the red honda was no match for the KLX of justin, scenery again was perfect, we descended onto route 1093, where we were in seach of the 1160 that would hook us up with 1148, after a great deal of direction asking we found our turning, it is signposted as the phu sang national park, and opens up with about 7-8kms of dirt before a section of tarmac and then dirt again up the hill...
the 1160 is another great road for dirt capable bikes...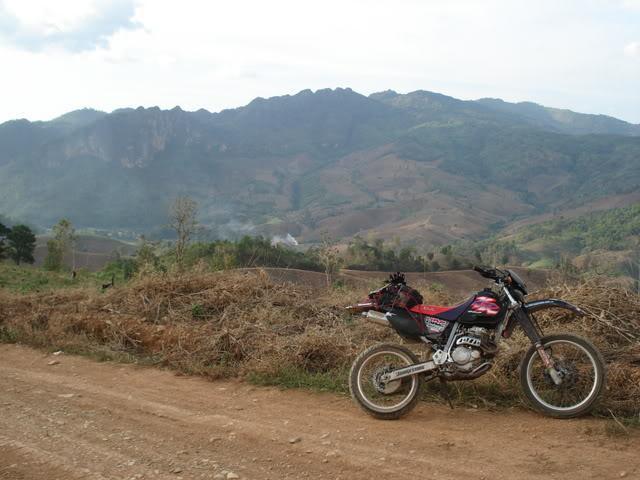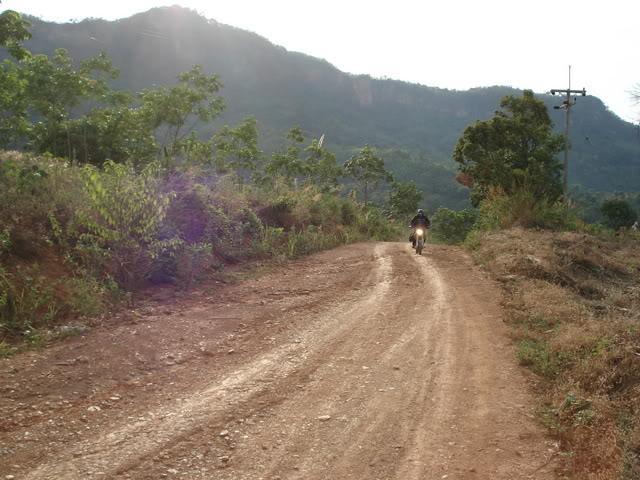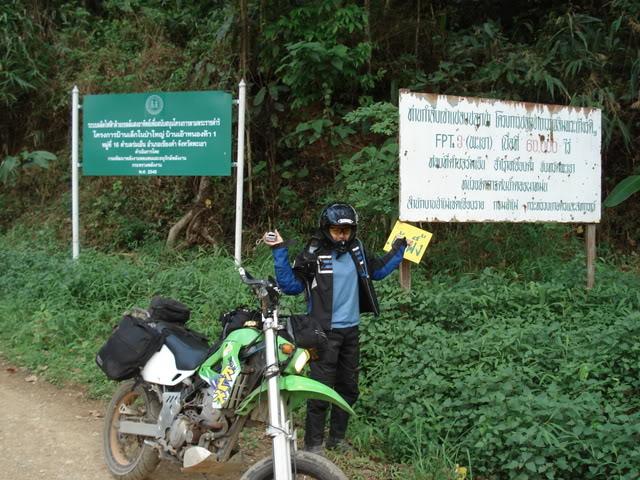 at this turning go right, we'd have paid good money to know that at the time!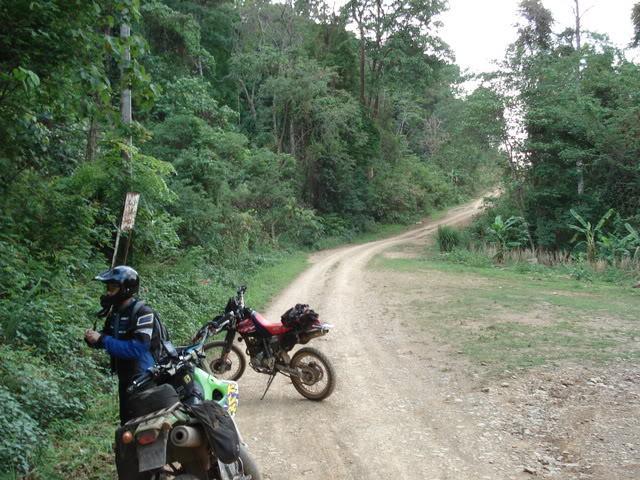 the rain had fallen here recently and altough we stayed dry justins front slick was beginning to become a hinderance....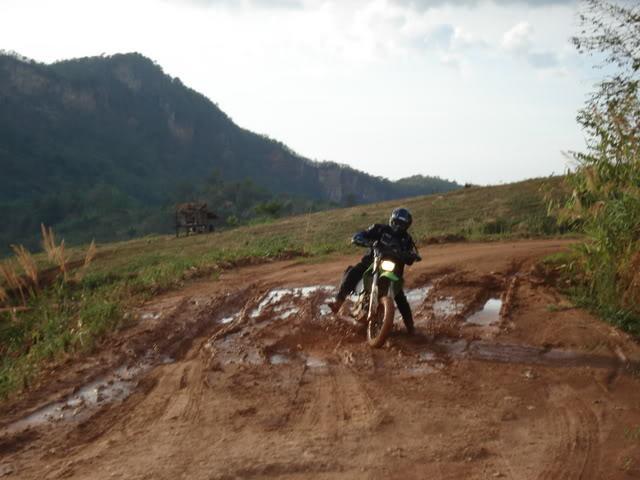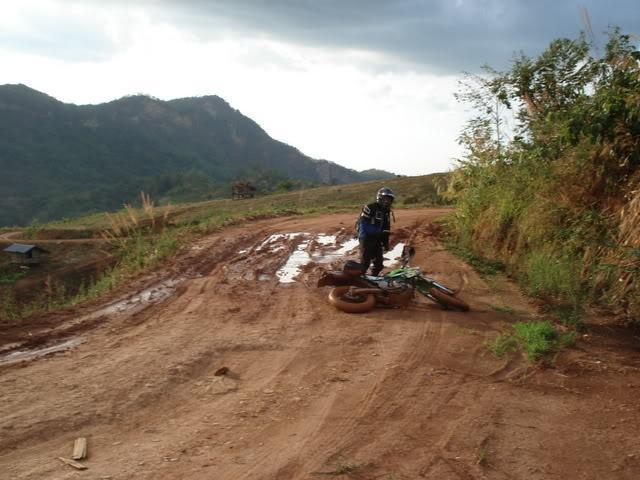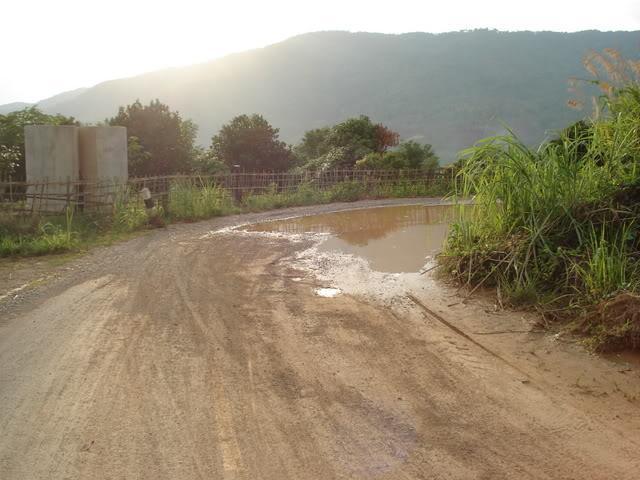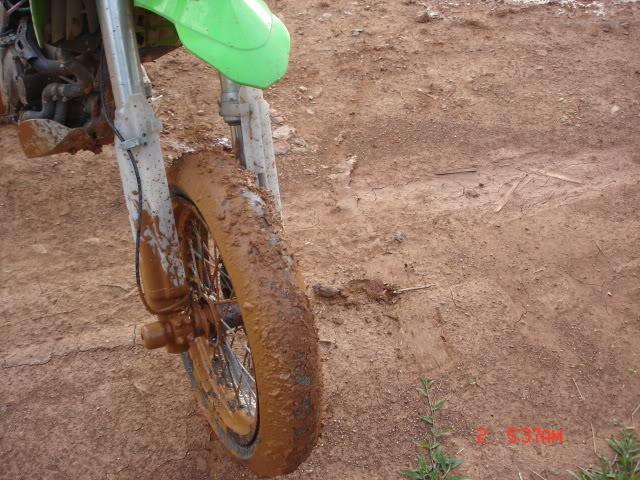 a mix-up at the team green pits in pang tham left justin really struggling for grip at turns 7 and 8, sack the strategist! what were they thinking??!!
jungle scenery and red jacket..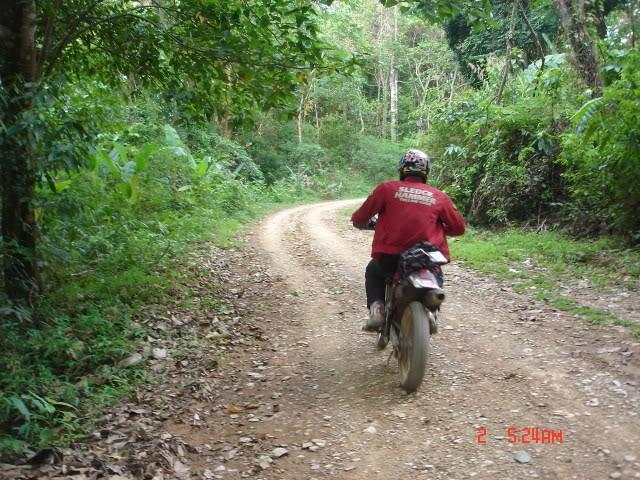 the 1160 did indeed hook us up with 1148, and apart from a brief shower we took to the corners with gusto for the last leg into nan province of what had been a long day..
arriving into pua at 8.15 we were both shattered having driven the last 65 kms in the dark, those of you who know justin will know he is no eagle and so he was following the shien from my headlight and in times of oncming traffic i would flash the back brake light to give justin something to aim for.. very energy sapping for both parties involved.. and here we are at the end ... we have hundreds of photos from this leg, so expect some more from justin from this day of tomfoolery!..