one of the biggest issues about owning a sportsbike here is finding somewhere to ride the thing, although many roads are scenically great aften they are covered in gravel and buffalo dung not conducive to high speed cornering im sure you'll agree.
i know that nan is supposed to be the number area in north thailand for road riding so i set off with the hope of finding great winding sticky roads.
i set off from chiang mai at around 11 and headed down the TT section to lampang making up for a latish start, an uneventfull ride out to uttaradit and then the 1047 east to nam pat. the 1047 started of with 2 sweeping corneres left then right but then petered out into a long drag al the way to nam pat.
i then went east on the 1239 with the aim of connecting to the 1268, 1239 starts of as an excellent surface for about 10kms as it twsists it way through very nice jungle and mountain vistas, the tarmac related fun was not to last however as the road then starts to develope areas of gravel on corners, scattered potholes, and general bumpiness, i saw no signs of construction either so it will porobably be like this for a while.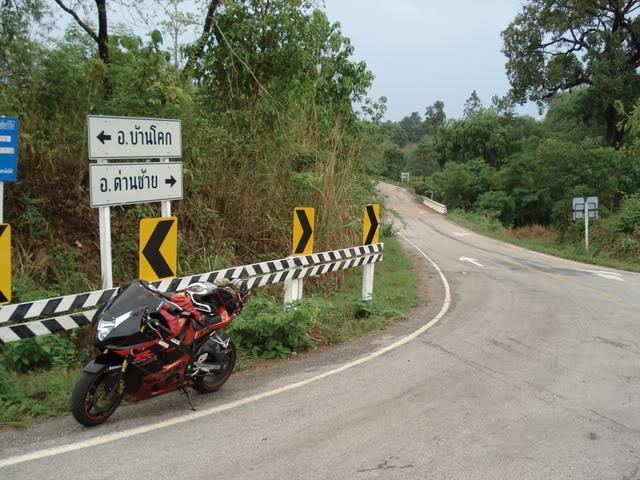 having said that a motard bike or a tourer would have no such slippery issues and would a be a lot more fun( anyone fancy selling a motarded ktm 525 please contact me, jean -marc??) i could swap you a pristine condidtion xr280+ id prob need a bit of cash aswell.
the 1268 starts of in the same fashion as the 1239 with variable road surfaces and general foliage litter on the road, there are a lot more villages lining the road than the 1239 which seems as though it was hacked straight out of the jungle, the surface inproves after ban khok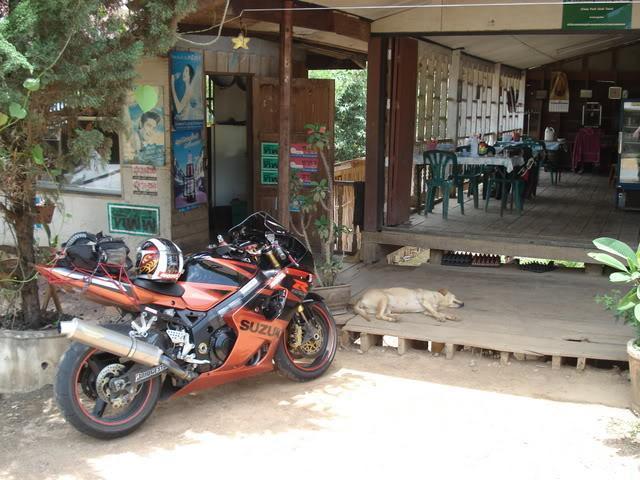 no i didnt run him over, i think he got bored when i started complaining about gravel and sand and potholes to the chef, why cant you improve your rural road surfaces so that foreign tourists on superbikes can have a good time thrashing round them? the chef looked confused...
but is mostly dead straight. having reached the option of either the 1241 or 1123 to meet up with pang hai i took a look at the blackening sky to my east and decided that the 1123 would be the better option, a great decision this turned out to be as i had my most fun since the number 11 down to lampang, the road is very good asphalt and it has sufficient corners for about 5kms to tittilate budding ricky racers. my fun was short lived mind you as when i reached the petrol station in pang hai and saw the entrabce to 1083 i thought a terrible mistake had been made as the black asphalt abruptly ended and red mud replaced it,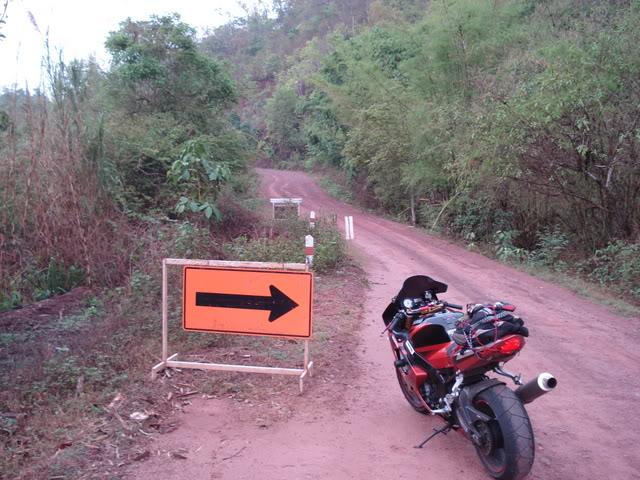 the villagers told me that is was only for 4-5kms so onwards i went.
heres me wishing i had the dirt tracking skills of the kentucky kid,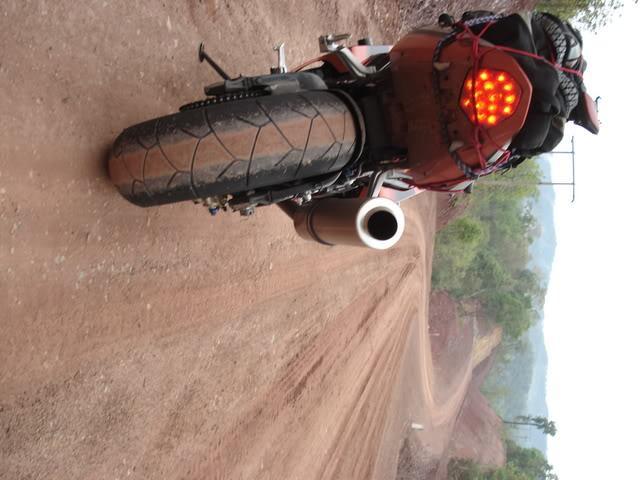 the 1083 is the quitest roads i have driven on i saw virtually no-one for 60kms of road,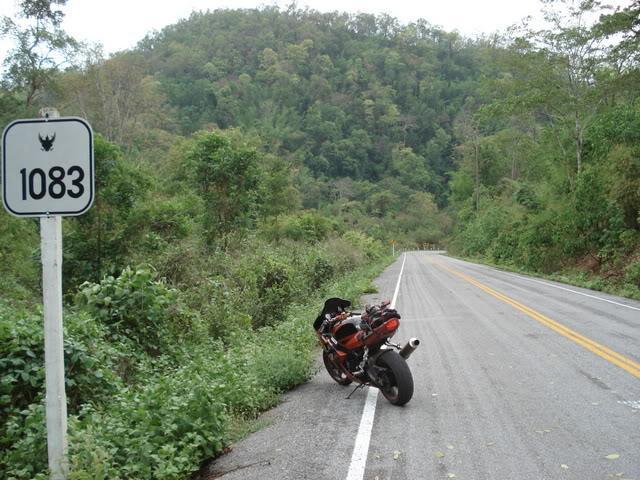 it is very remote out here and the scenery rocks,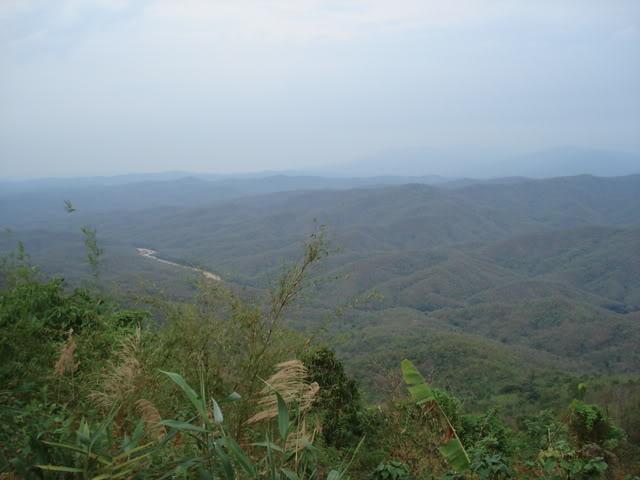 even the forestry barracks seemed unoccupied, villages had no-one in them. the surface isnt bad however it is dodgy enough to make you on your toes when you lean the bike over, mainly loose gravel was the problem, the road follows a ridegline then goes through forersted areas before dropping down to the town of na noi. i screwed up here as a bush was obscuring the road signs and i went left on the 1016 instead of right on the 1026, i soon realised as my 4 brain cells kicked into action and sluggishly informed me that the sun was setting on the wrong side if i was supposed to be heading north to nan. whoops.
the 1026 was ruined by the rain that was now falling, howver from what i could make out through the streams running dwon my visor was a very decent surface and twisty to go with it, however this time it was more a case of dreaming about that massage i was going to get in nan from the confines of my soaked helmet and leathers, ill defintiely be trying to get back for a crack a this beauty when its drier though.
the nest morning i was off on the 1169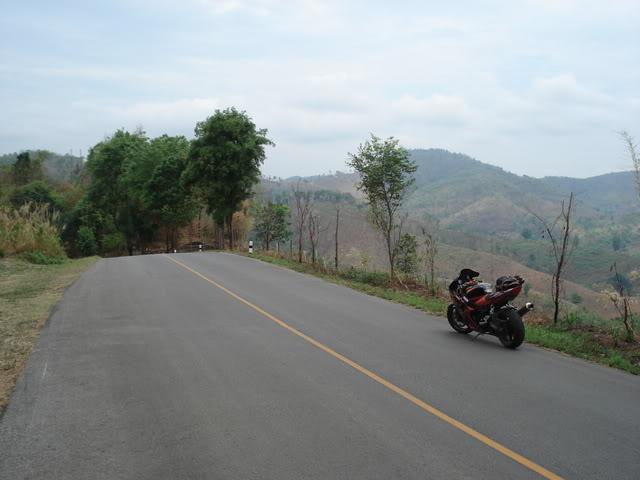 great twists and stellar views and a real rollercoaster ride on a ridgeline, before hooking up with thje 1081 and 1170 back to tha wang pha. every seasoned gt-rider knows what this little town means, yes thats right the start of the sumptous, road sent from heaven, forearm punishing 1148, this road needs to be ridden to be apprectiated so i wont bother with a another one of my useless descriptions, the surface is perfect, the views are amazing( so i hear), traffic is little and curves are a plenty. fantastic.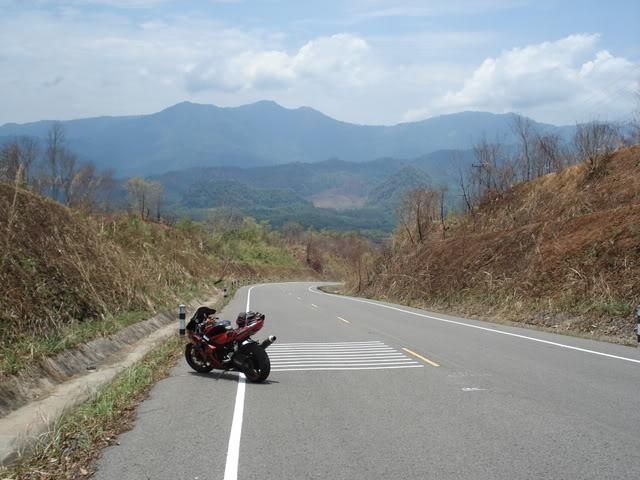 after the 1148 it was 1021 , 120 and 118 back to chiang mai. a boring slog except for about 15 kms of fantastic surface going up the hill on the eastern side of 120.
total kilometers -1011
total petrol in baht- 2100
conclusion for sportbike riding- stay in chiang kham or tha wang pha and keep riding 1148 until you are bored or go of the edge of a cliff.. the rest of the roads all pale in comparison and even if they do they are only for a few kms worth and take forever to get to them...
hope this is of some use to someone out there who is planning to ride in this area...