Oct 15, 2006
1,690
5
38
54
WARNING, THIS REPORT IS LONG.
It's hard to put 7days in short report, hope you like.
Nice to back home again, but let me tell you, it was blast again, 7day continues laughing, riding, eating, coffee & Coffeee and eating and drinking,, ok ok, you got the picture.
We got new buddy riding with us, HARRI THE FINN from korat, Harri it was nice to meet you and hope to ride with you again soon, maybe Udon Bike week.
So as usually I started from my trip towards Petchabun where estimated arrival abt 3pm,,then got message from Peter that he will be "Sneak" out from the office by 9.30am and heading road,, and Harri left Korat around noon time, we all should be in hotel similar times,
I took it slowly as it was hot like Pizza oven when entering to Khoen Kaen.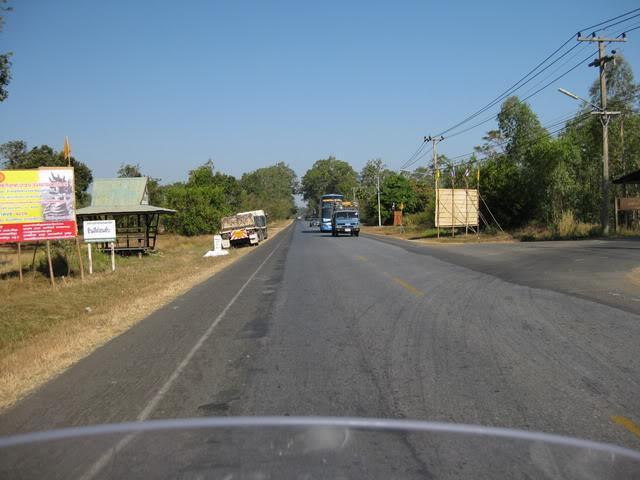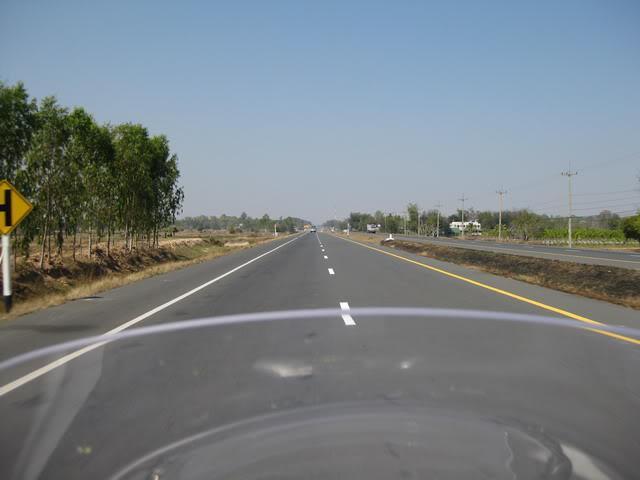 While approaching to KK(Khoen Kaen) I came a cross a lot's of these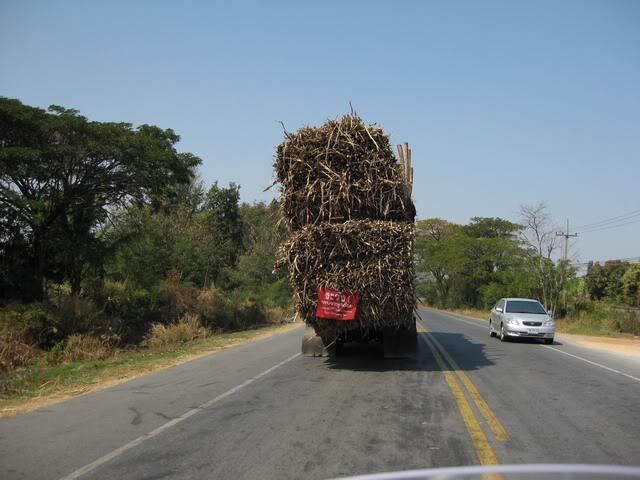 Not so much fun to drive behind it, but for report sake, I took a change 555
Here is nice vdo clip what I took for TONY,,when riding with cruise control
http://s165.photobucket.com/albums/u67/UbonM/Nan%20to%20Isaan%20Tour%2023-30%20Jan%2009/?action=view&current=MVI_0085.flv
Kid's, don't do this, it's just not safe.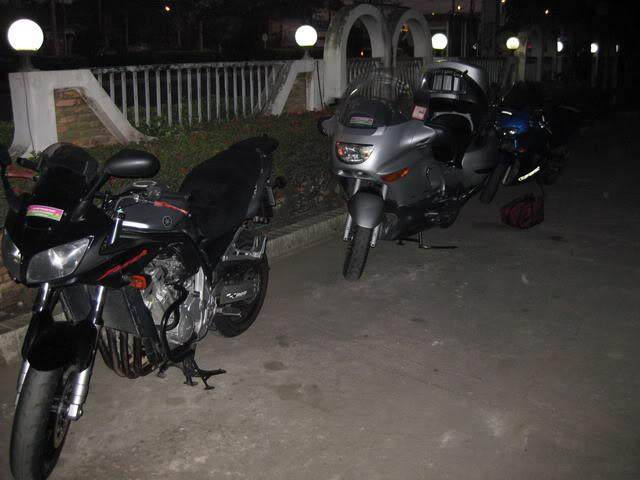 Line up in the Petchabun hotel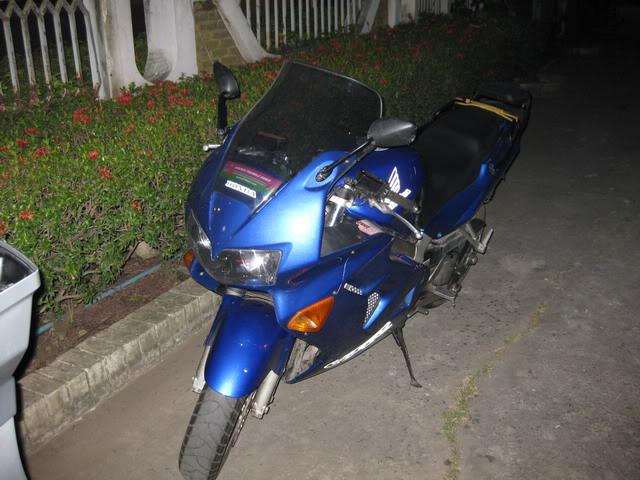 Harris ride,,
When I arrive to Hotel, those 2 lads where sitting they buttocks off and zipping "brown" fluid already, so my friendly middle finger greeting to them..
Next day we alter the plan already as Harri haven't been in Nan for a very long time, we decided to skip Uttaradit and head str8it to Nan, so off we go.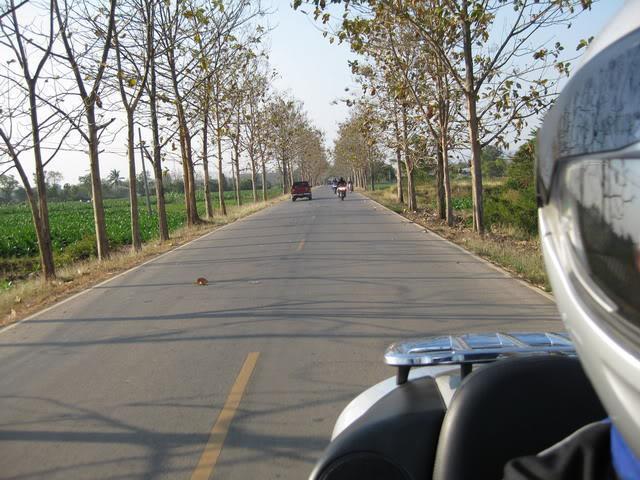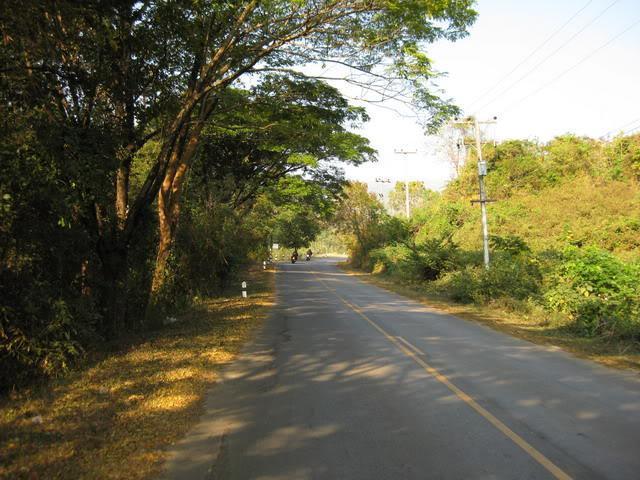 What nice colorful morning it was and not so cold actually +18 as we departed.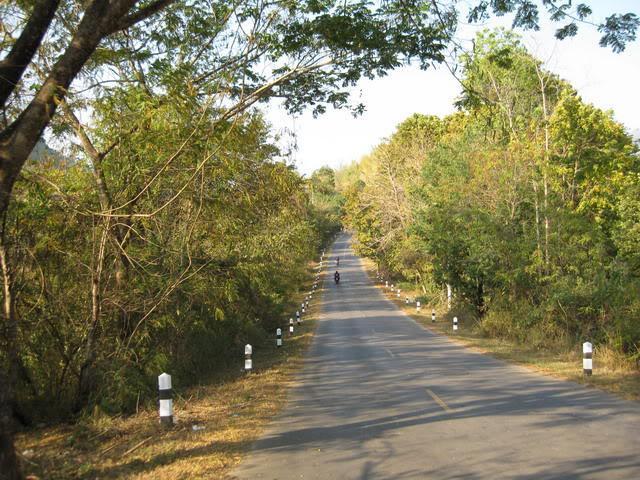 I godda pointed out that I'm not good on road number's or locations,,as GPS is running my life and I do not pay a tension so much where I am when riding in the group, so bear with me and Peter will give you exact details of location what follows, as I HAVE EXCLUSIVE PICTURES (and only) about my experiment. I think we too R#1268 via mountain and national parks, there was quite a lot of road construction work going on.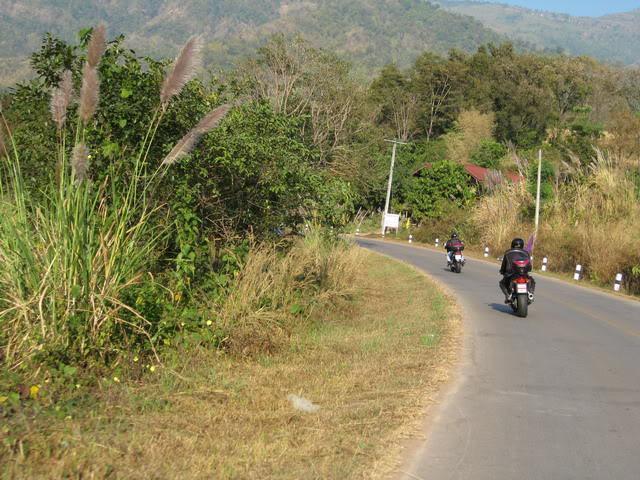 THEN IT HAPPENS…
Let me remind you, I ride 400kg PANZAR WAGEN, WHEN IT WANTS TO GO SOME WHERE, IT WILL GO and I'm just a passenger.
So on the mountain road, Peter was leading followed by Harri and I was behind them abt 50mets when IT happen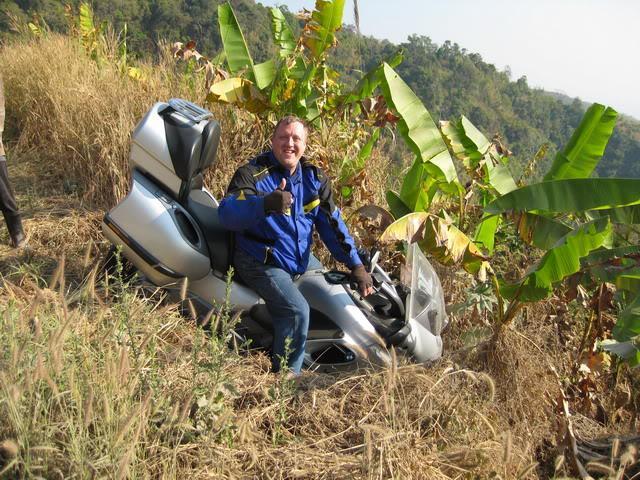 There was a lot of loose sand and I took most left side of the road and before I noticed there was this pile of sand and Panzar Wagen went top of it and then chosen to left hand side of it and the OFF we go, only thing I could Do was brake with handle bar as that uses ABS brakes in both, rear and front tyre,
LT slide full 1.5bike size into banana trees and my biggest concern was falling off as the "sloup" was 45decree angle str8it down abt 200-300Metrs,
I managed to keep bike upright, turned engine off and that time, ABS servos turn them selves off as well, so more pressure was needed to keep brakes on and bike not to going all the way down to hill,
Ones I was off and stopped, I horn, shouted as the guys pulling off in next bend but no change they heard me,,so I was all by my self, :cry:
In 35decree heat, helmet & Jacket on, squeezing brakes as my life depends of it, and then I realized that I was all by my self, complete silence,
I just couldn't let the bike go, so I was thinking by my self that will see how long it will take before next person comes,
It took 10 minutes before 1st personcar came and they stopped and lady came and asked if im ok (in Thai) and I said yes, but I need rope and car to get me out from here,
next thing was that I gave camera to lady and ask her to take a picture(she must think, what a crazy farang),
So it took 30minutes + 10men pushing + 1pick up pulling me back to the road and my surprise, NO any kind of damage to the bike what so ever.
During my ordeal I managed to send sms to peter what said "I'm off the road" but before the guys got it I was back the road again and it took me about 40minutes to join the Peter and Harri top of the mountain and took relaxing coffee and few well earned breath of fresh mountain air before continuing riding.
LESSON learned, when riding on mountain road, ride in the middle, and avoid Banana trees what are often found off the road.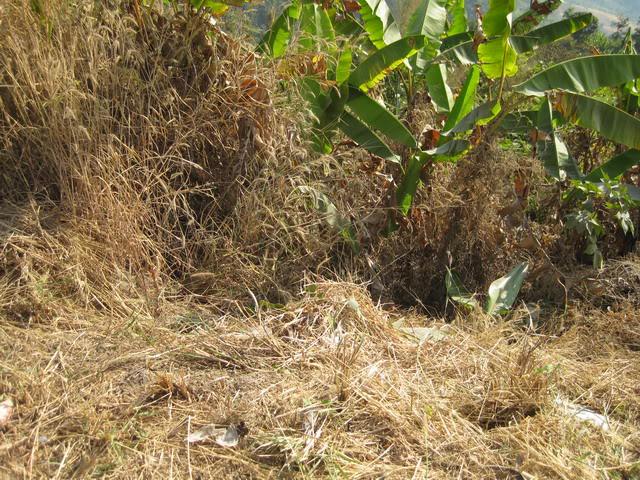 Place where bike was and there was this huge rock as well.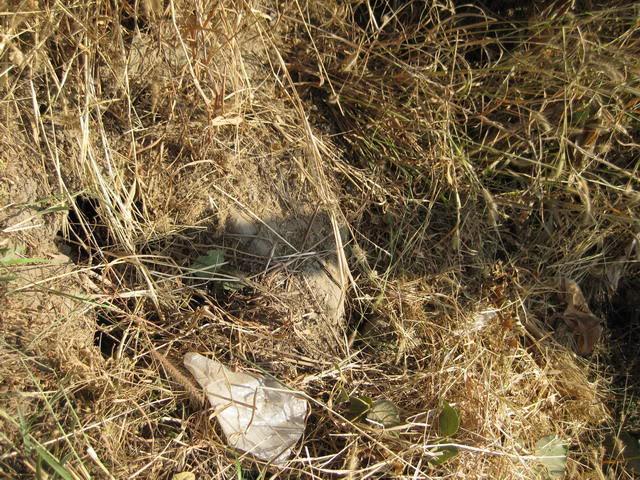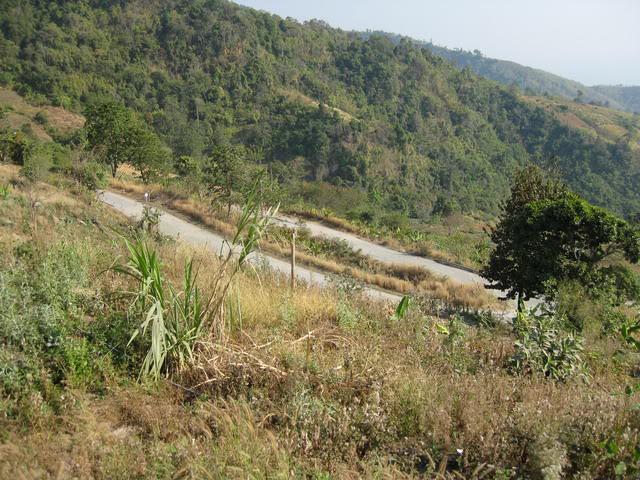 There was beautiful view on the top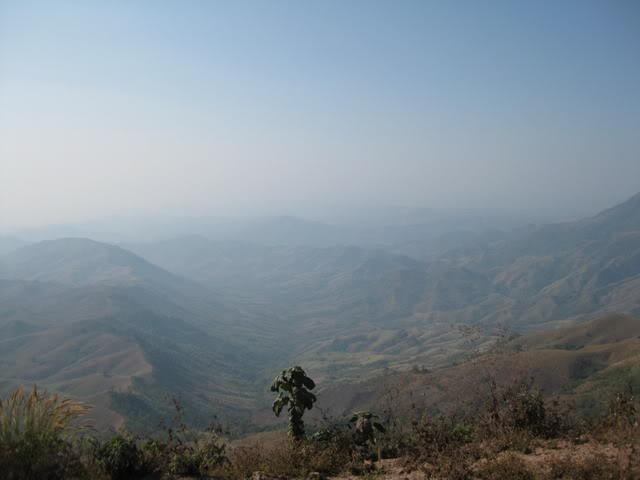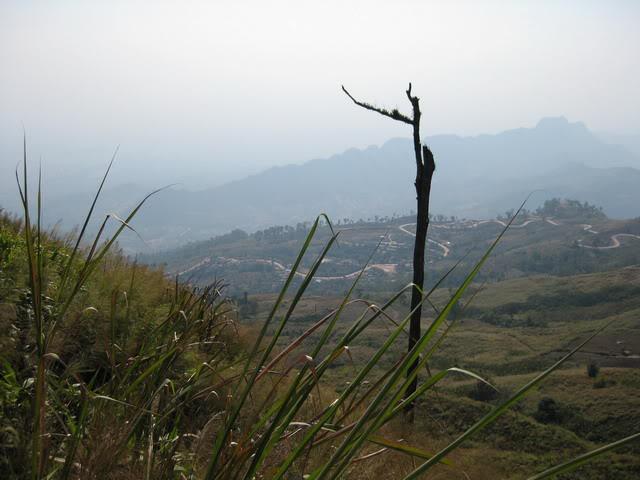 After that ordeal, Harri, the OFF road king, took permanent place behind me,,Thax Harri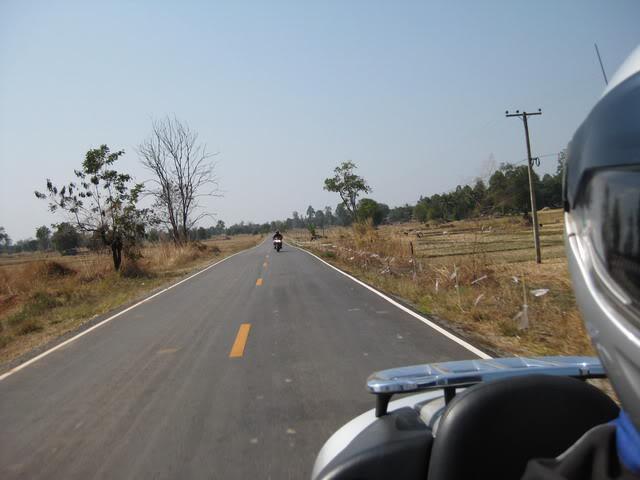 Then we stopped to this lovely place middle of nowhere to eat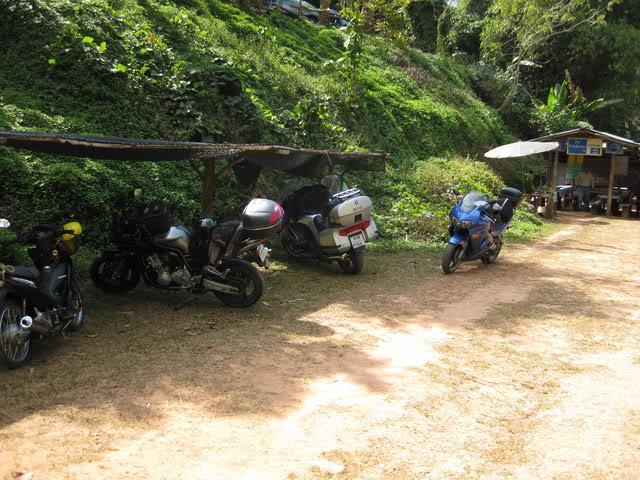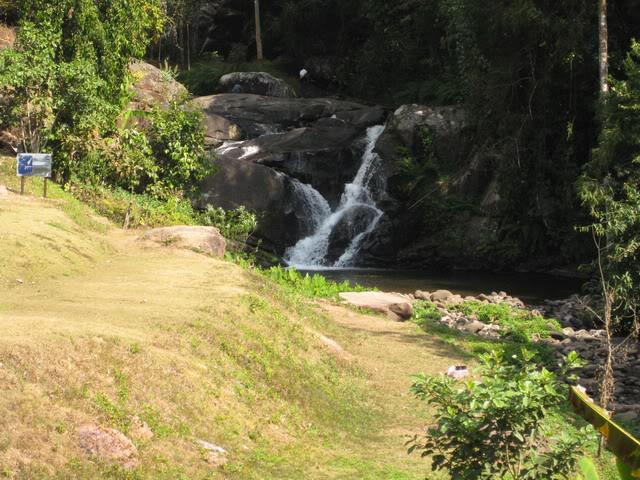 Then it was time for Brake in the middle of the bridge, we always choose appropriate place to stop, so we don't disturb the traffic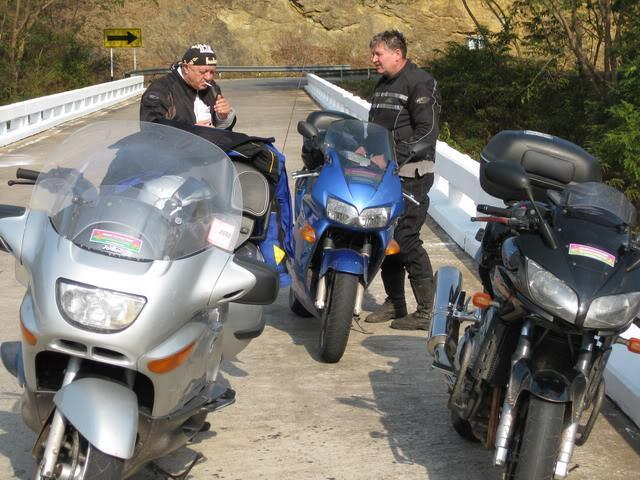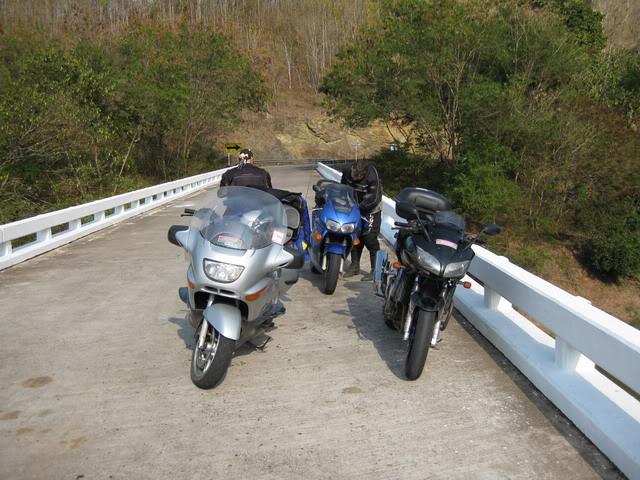 This scenery just follows us every where and I have 304 pictures what you can look in my photobucket I will post link to the end.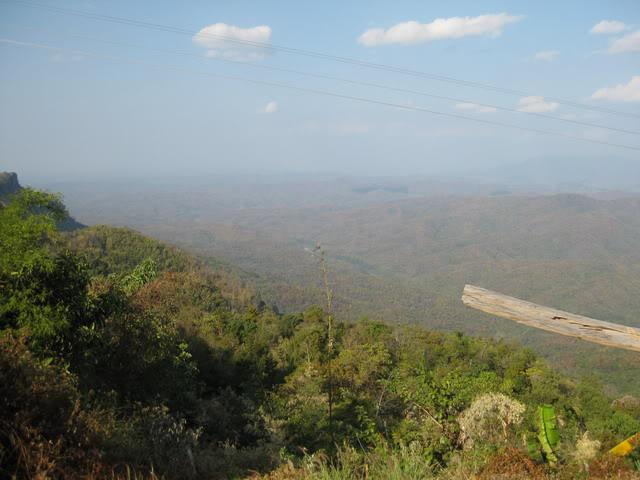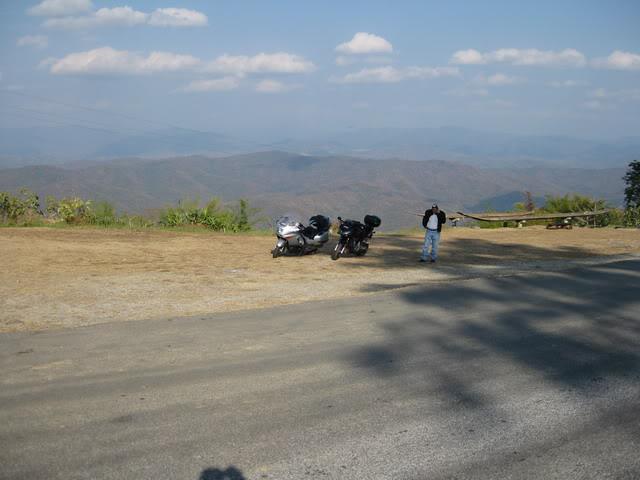 Then finally in NAN Guesthouse, Highly recommended bfast, rooms are nice clean and no tv or telephone.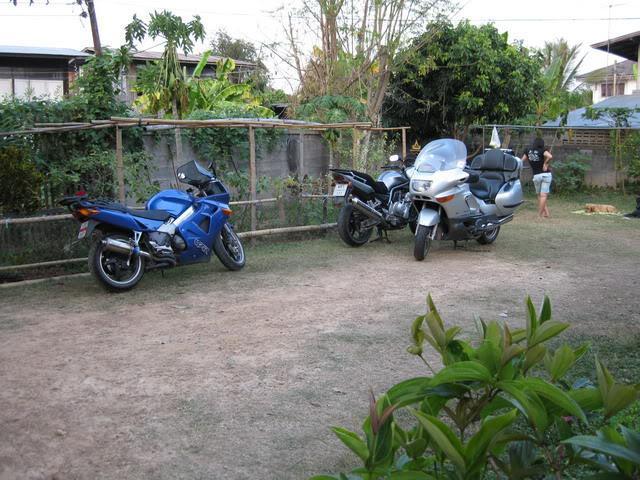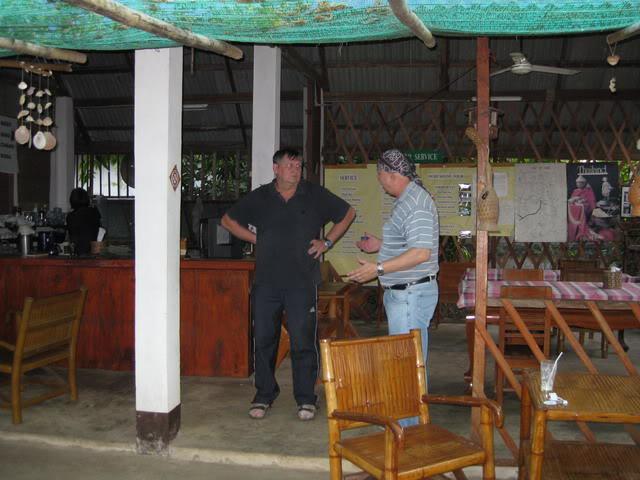 Harri's face say it all, "No way" you did that?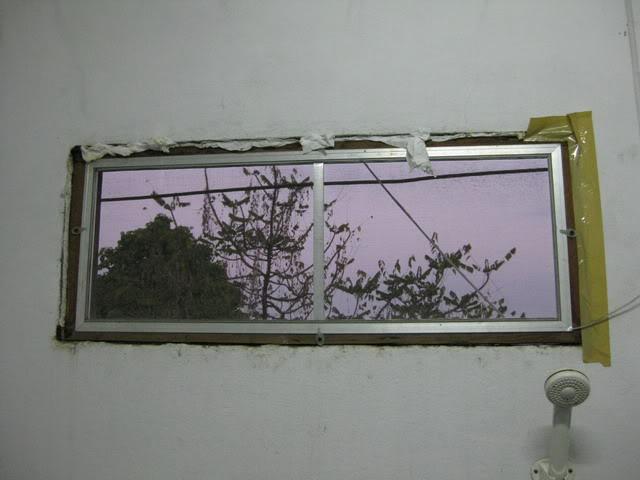 It keeps window in place,555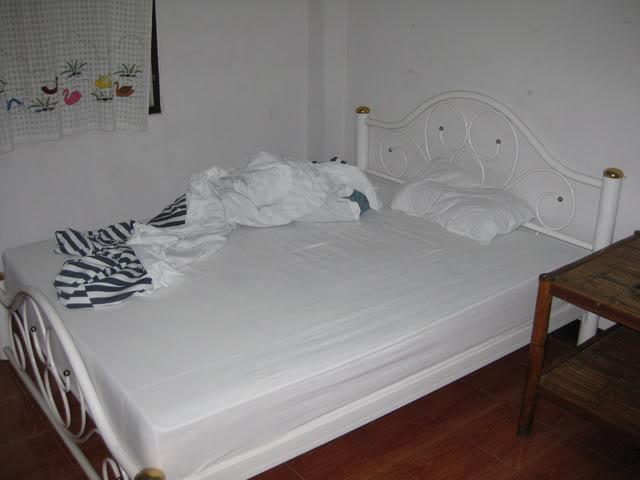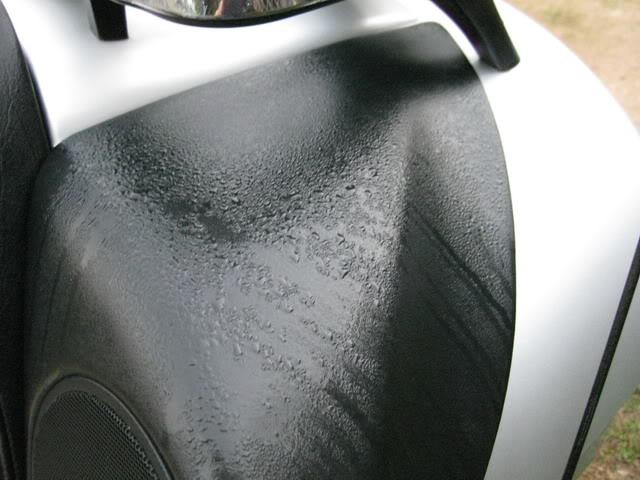 Misty morning next day, we where off to Doi Phuka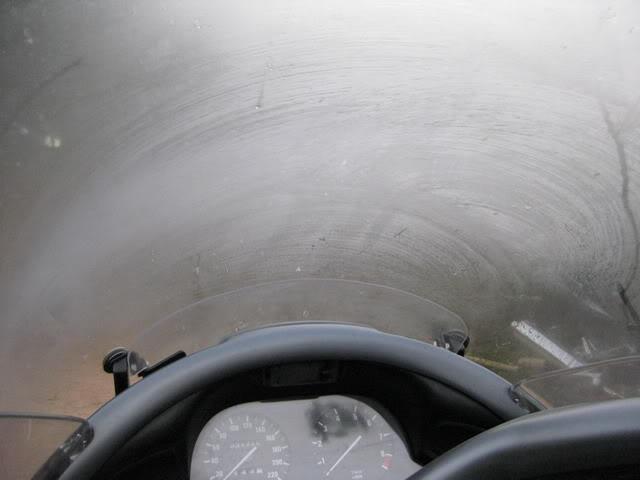 Can Some one tell me where are we going???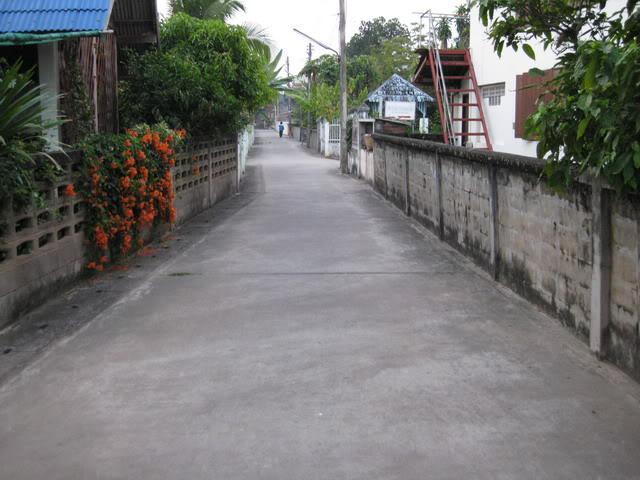 Road to Nan Guesthouse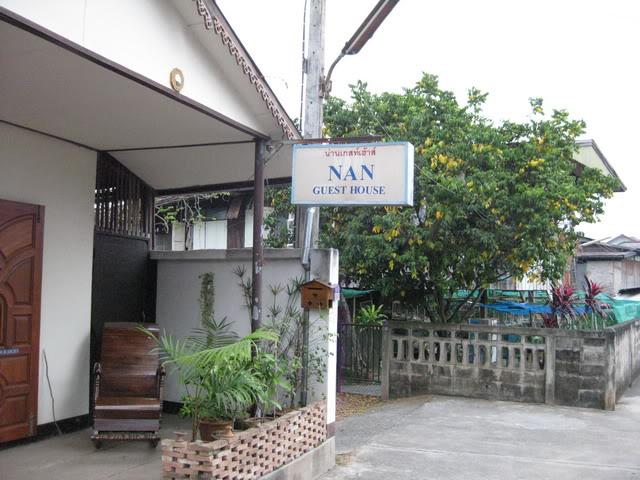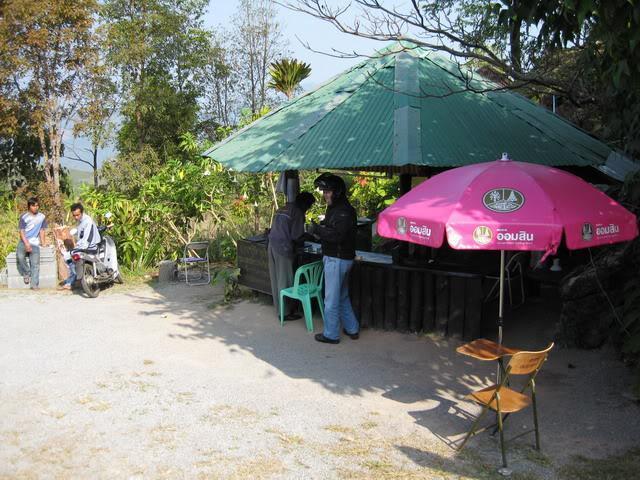 60THB per Farang entrance fee to National park, Note: he did try to get 660thb, but again little smile and driving license reduce it to normal level.
Picture taking opportunity, behind National park HQ, need to be driven pass the HQ top of the hill.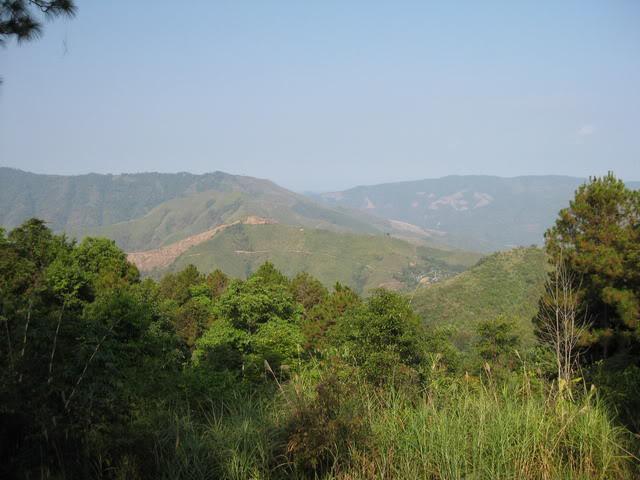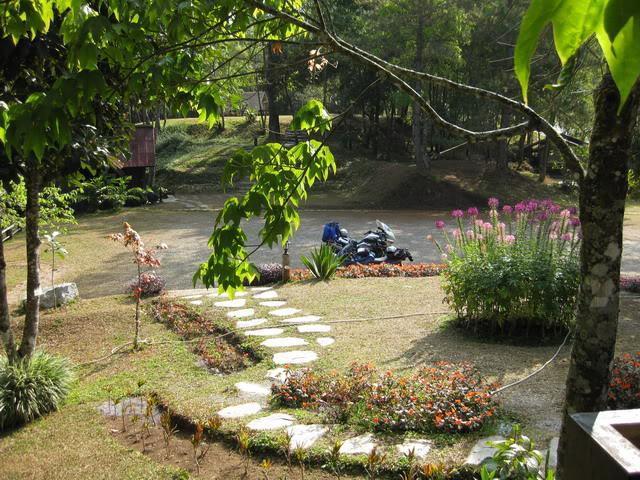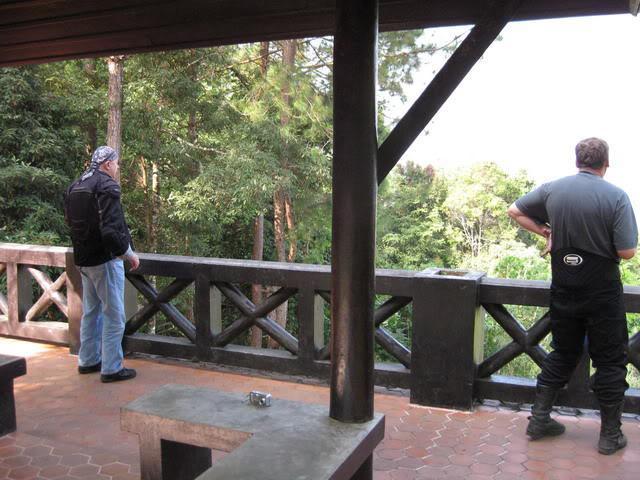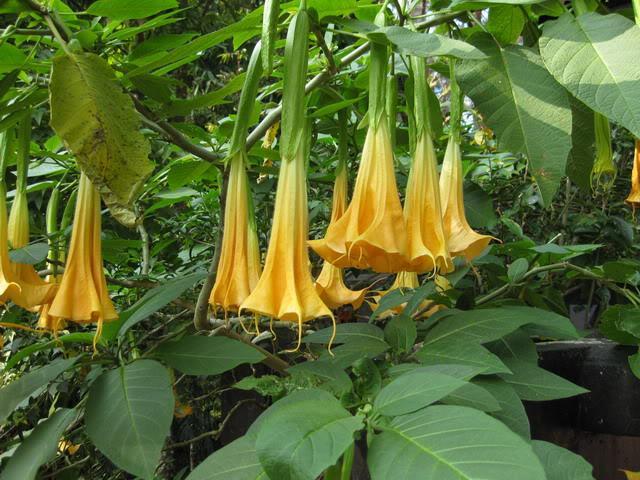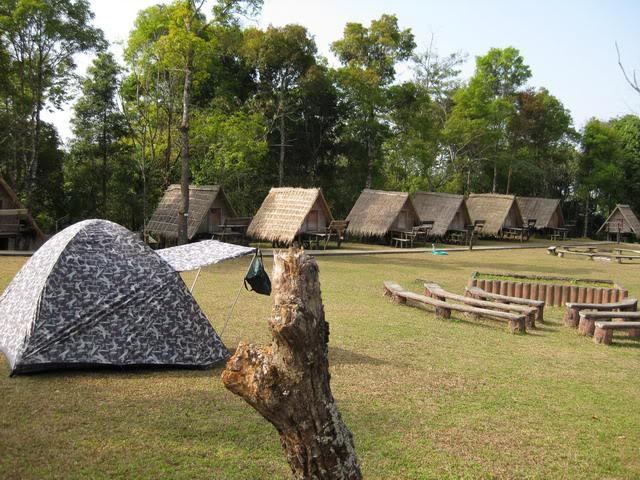 There was also very nice hut accommodation available with parking.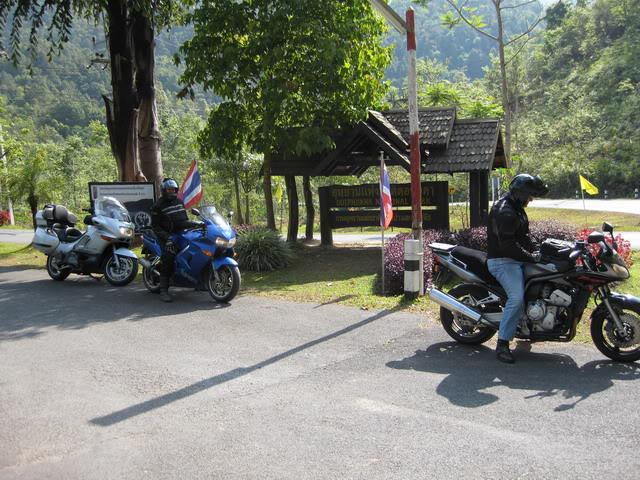 Must take pictures with NP sign.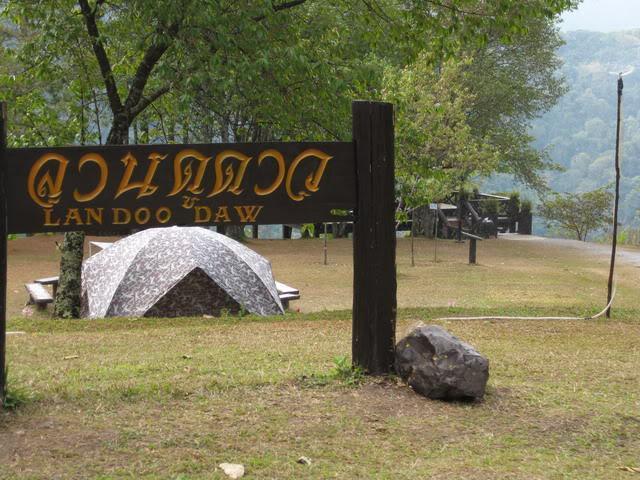 Never ending stops with multiple view point's and believe me,, it's worth to stop it's just so nice in there.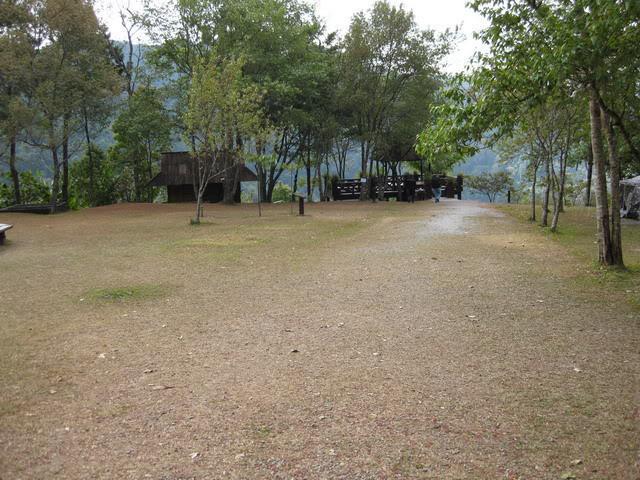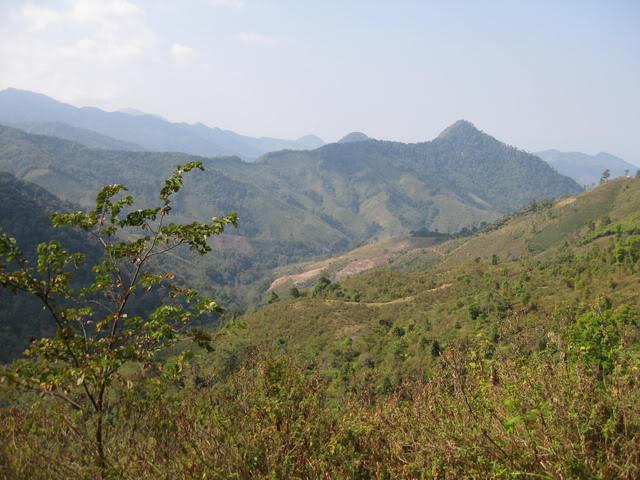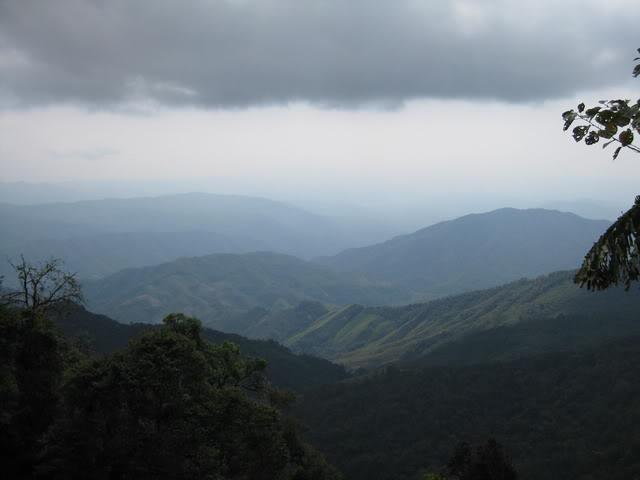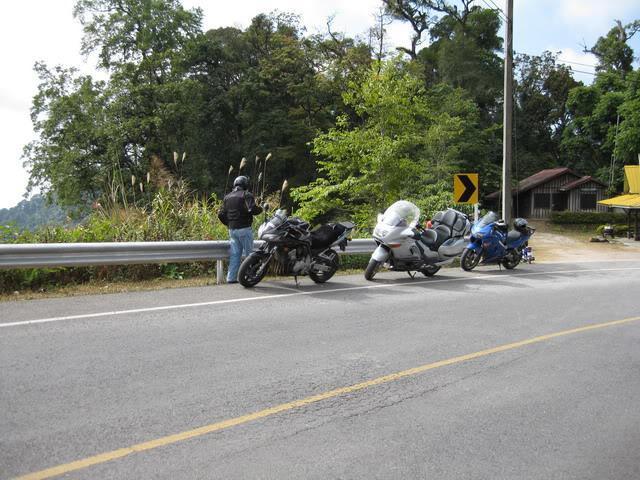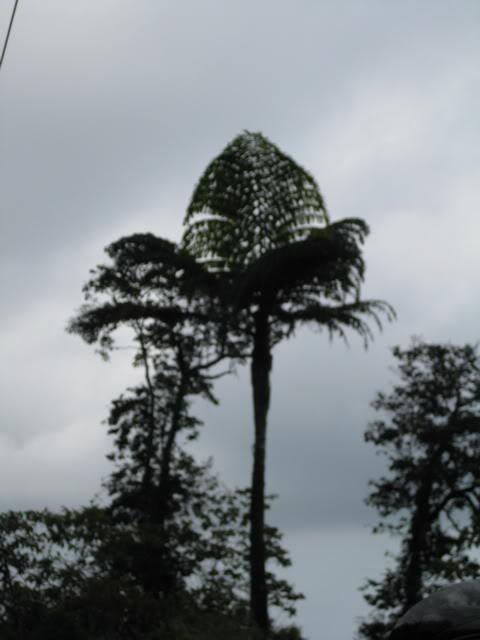 Ancient palm trees.
Top up other side of the national park.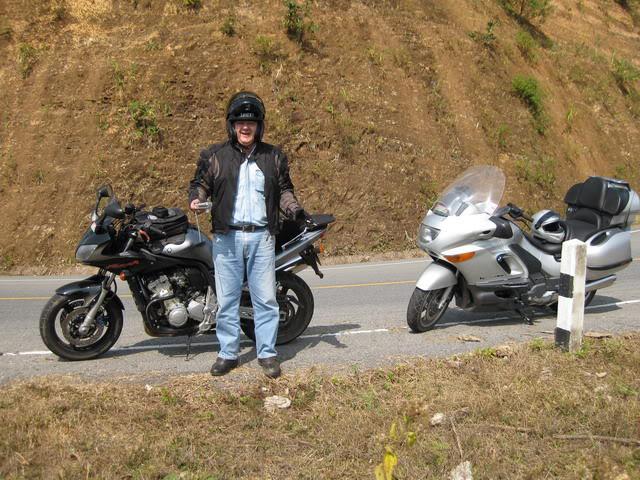 WHAT???????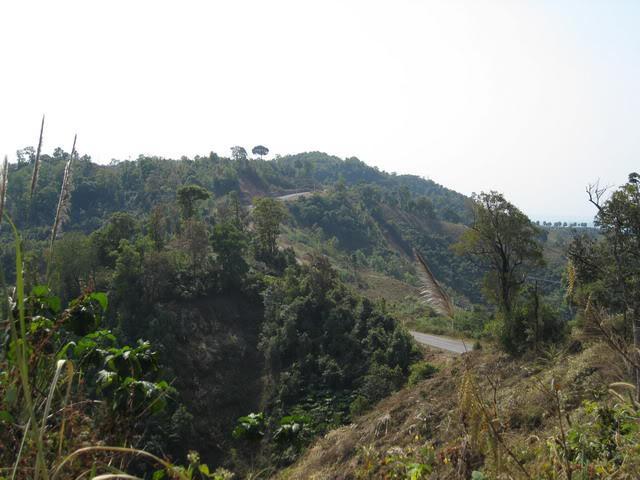 Stunning road's on the ridge line.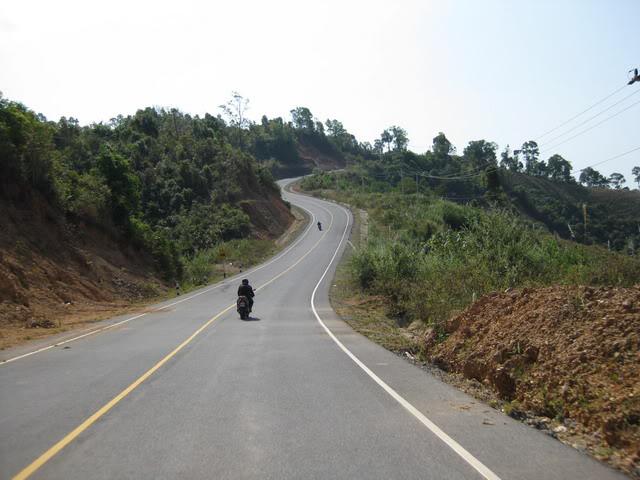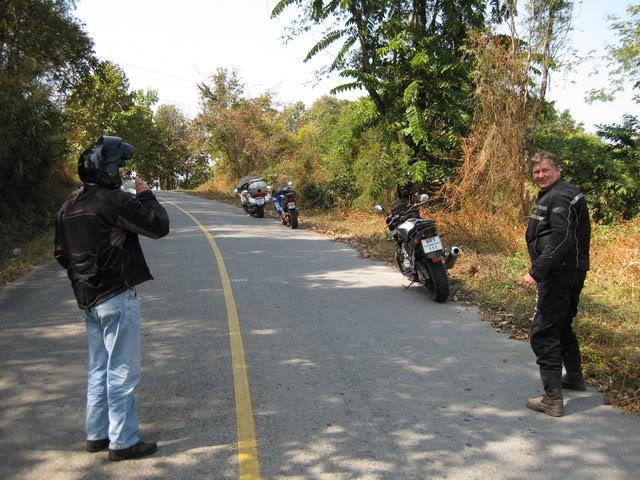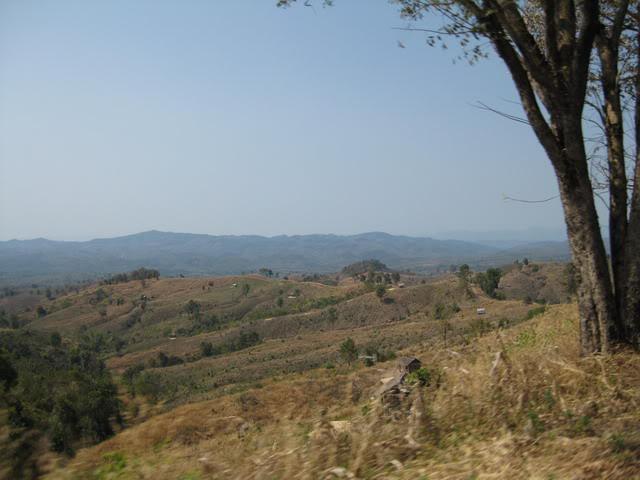 Then Back in Nan and it took only 08.00-1330 to us complete Doi Phuka, really nice day out there.
Then these guys keep on "sinking" they boat.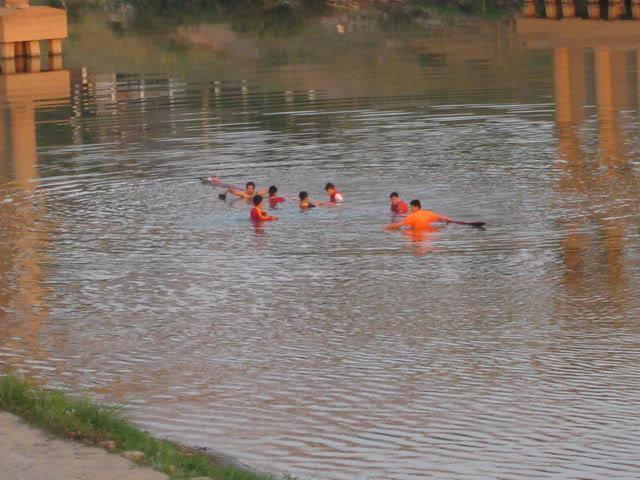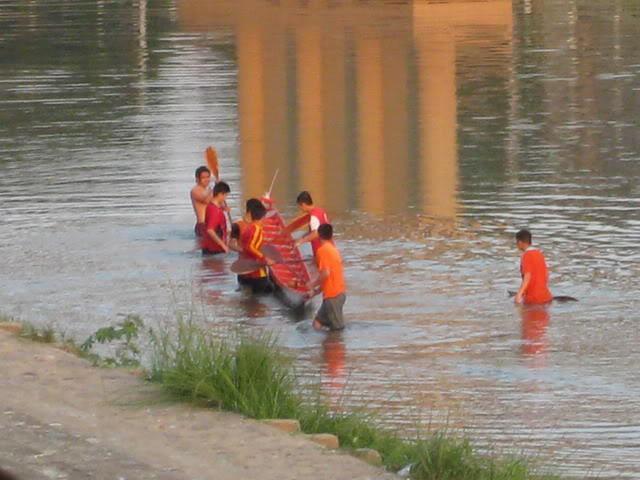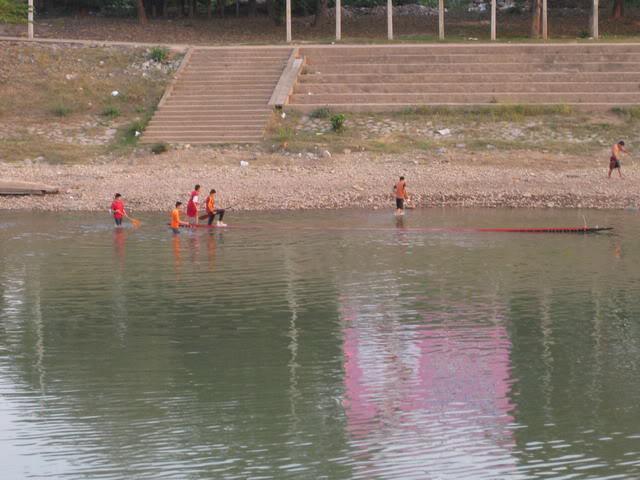 Almost forgot the pictures of food,, yes we did ate every day a lot..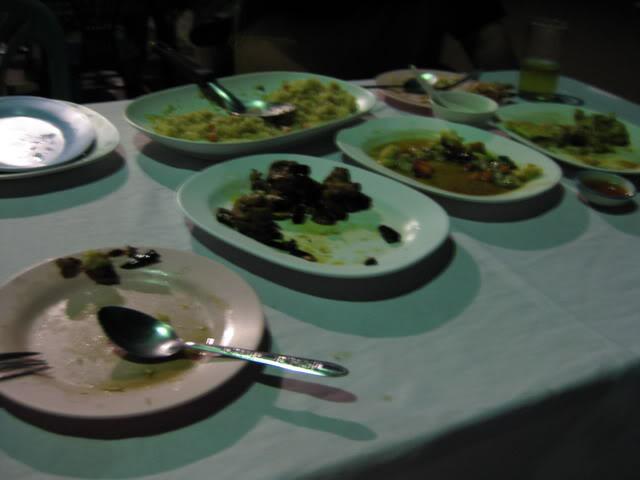 Then the Sunday morning came, and Harri must depart back to home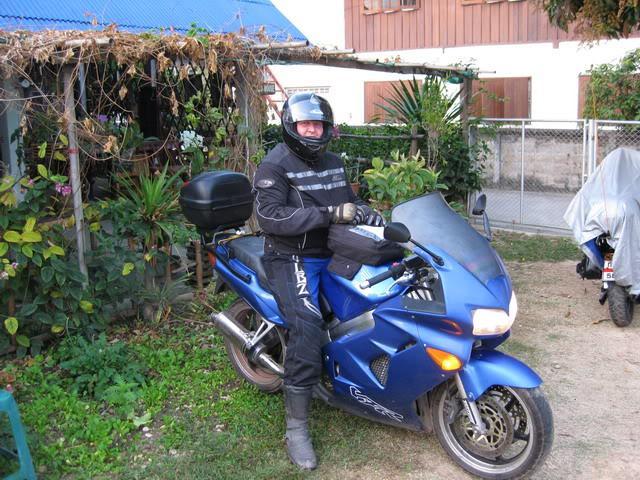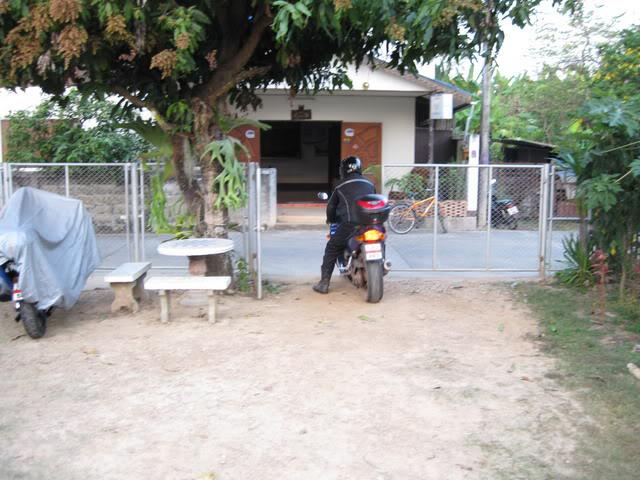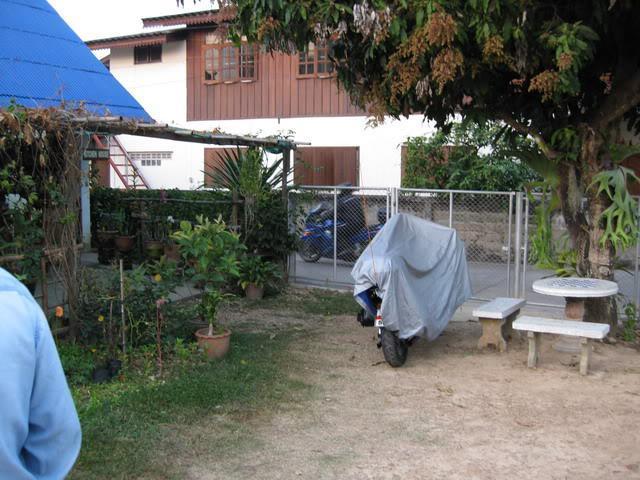 Leaving me and Peter to continue from Nan to Loie.
It was nice cool morning again as we departed.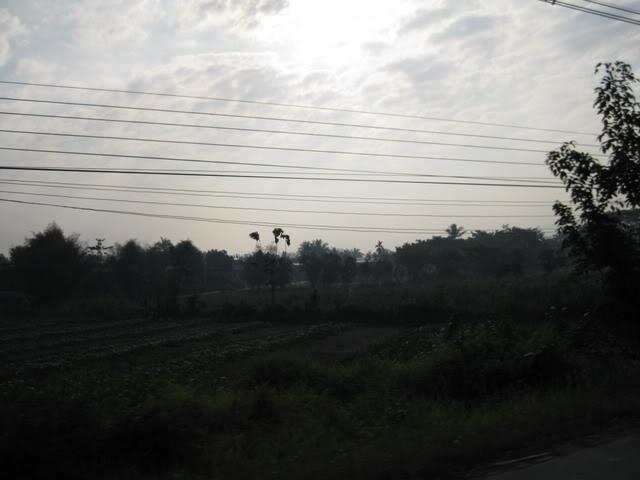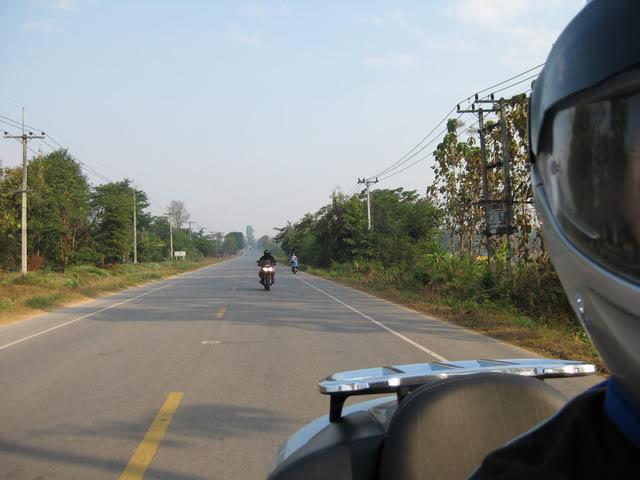 Then we arrived to village, what name no need any introduction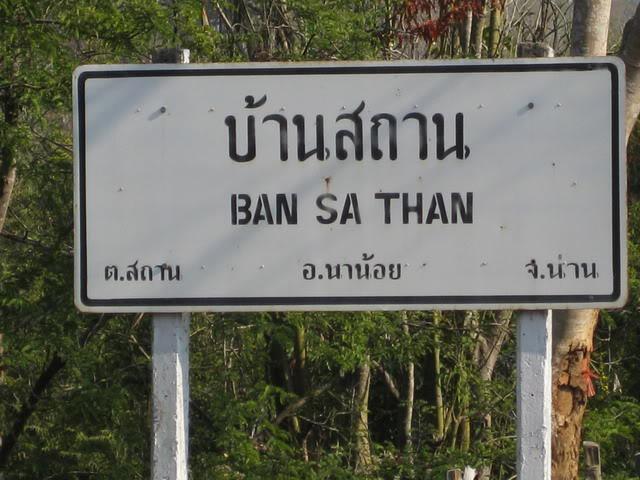 No real coffee in there,,,I think they drink Blood only…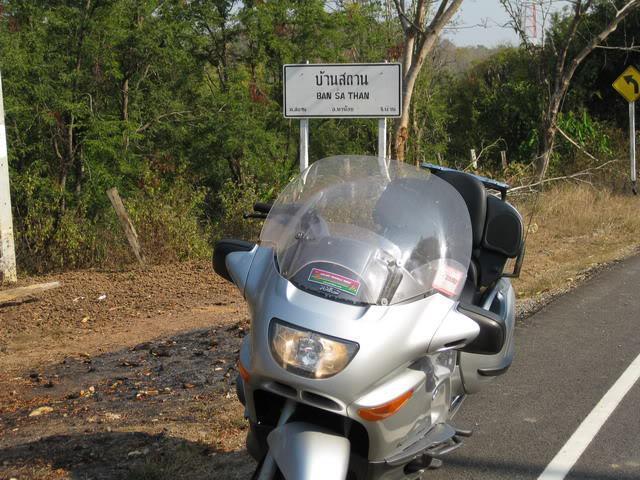 Then we took the road R#1026 to National park and ferry crossing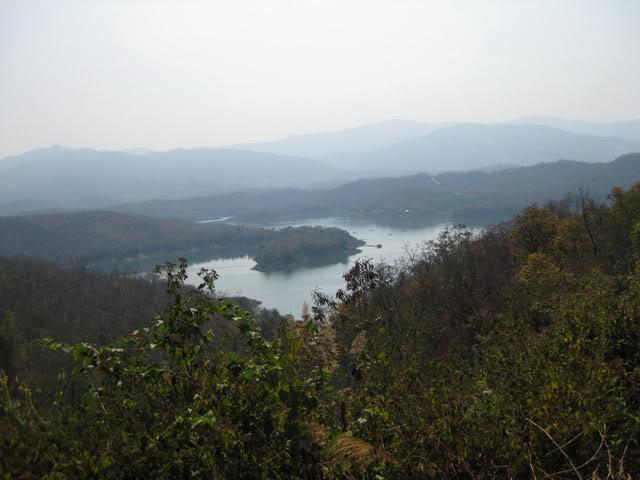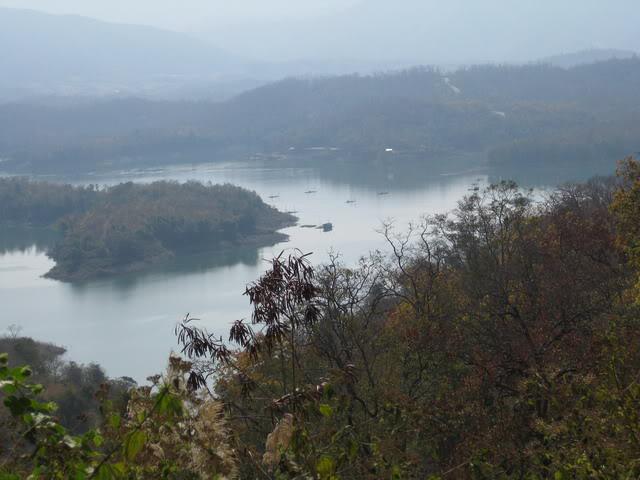 Remember this post when you are closing to Ferry crossing, you don't need to go all the way down to fisherman village as ferry is in different location, so TURN RIGHT here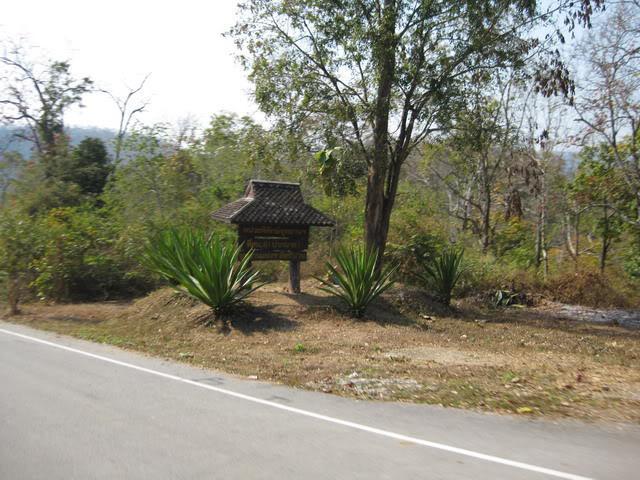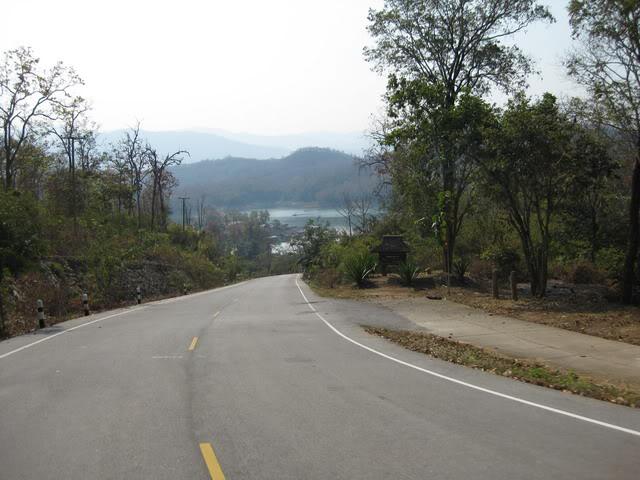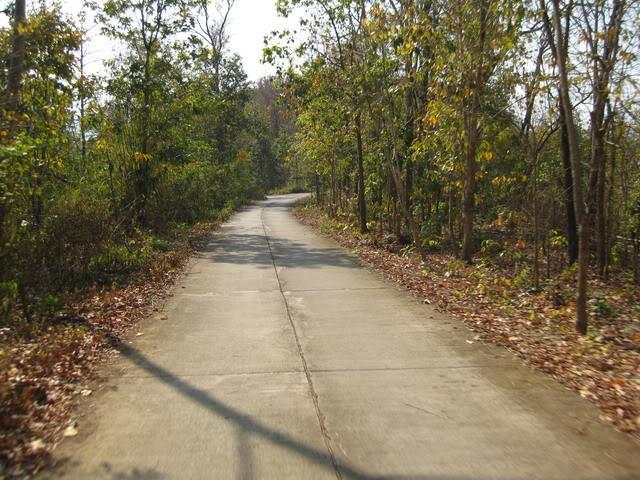 This is road to Ferry.
Again you need to get ticket from some of they houses in the left hand side before going down to ferry entry point, as we discovered that later, but lucky for us,ferry people had noticed us and came there and we could pay when entering the ferry 100THB each Bike+driver, NO more than that.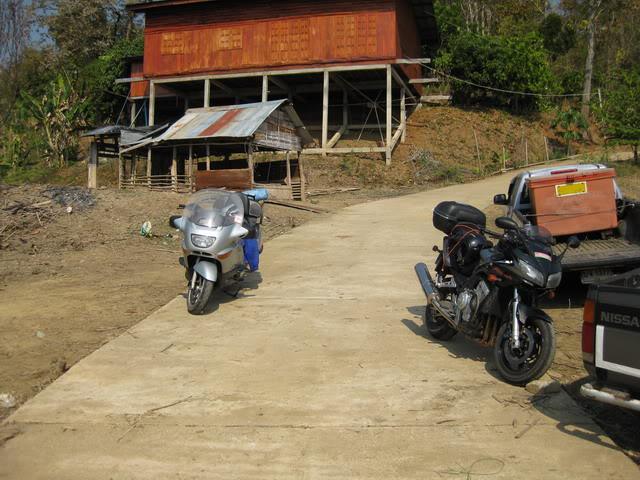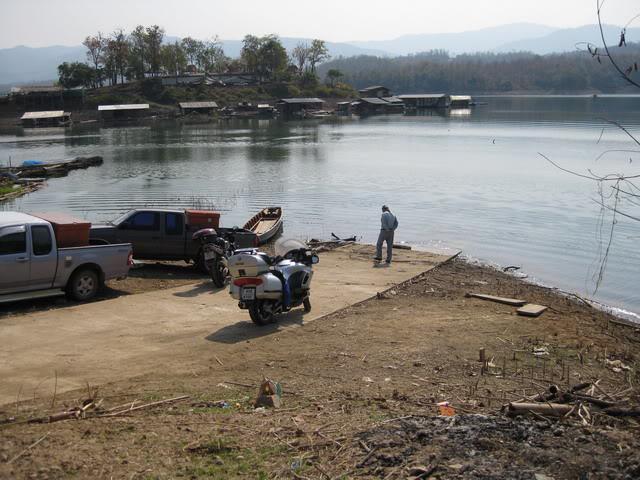 Entry point to ferry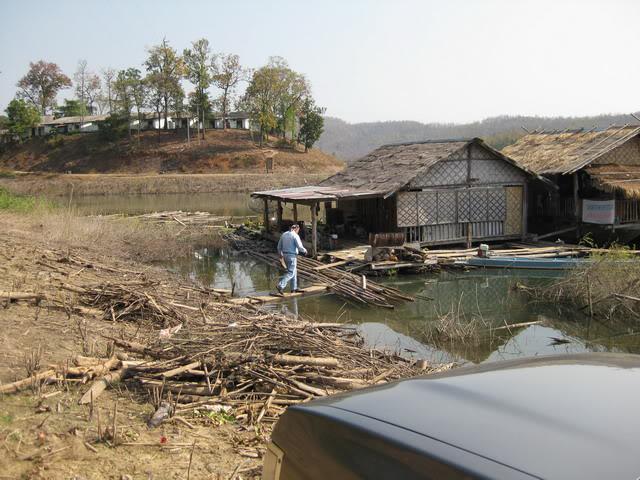 Peter is going to ask where to get ferry!!!!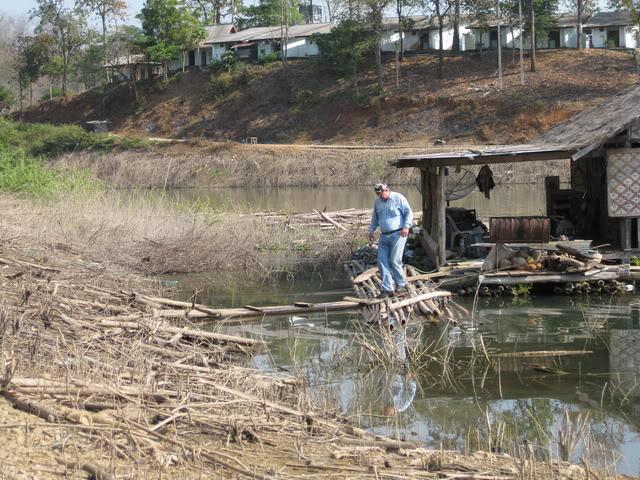 Lady there say go back,,to house on the left hand side, what house he ask? House top of the hill, and there was like 5 different houses, but no more details was given what house it's actually is,, but like said earlier, we where lucky that ferry people came there automatically.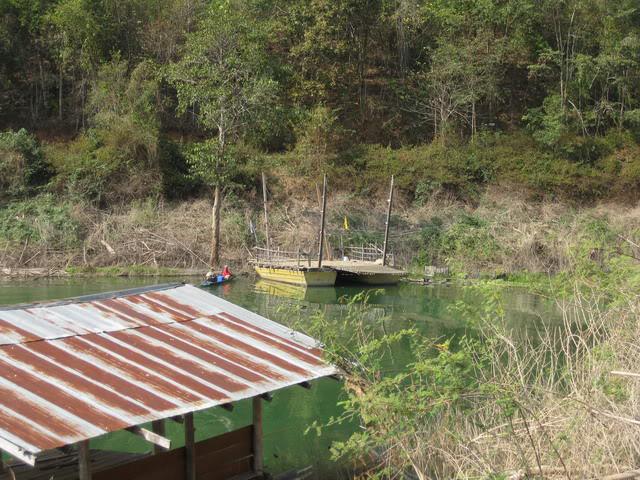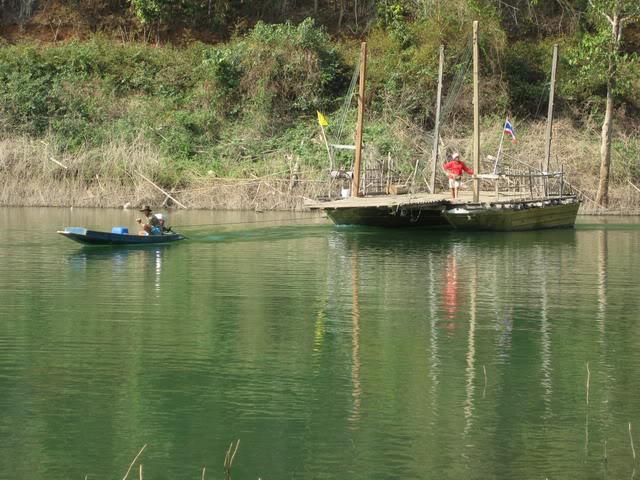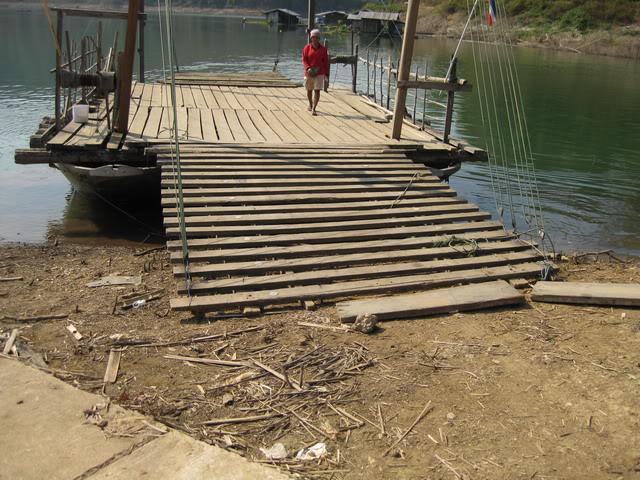 Ok, time to drive in there.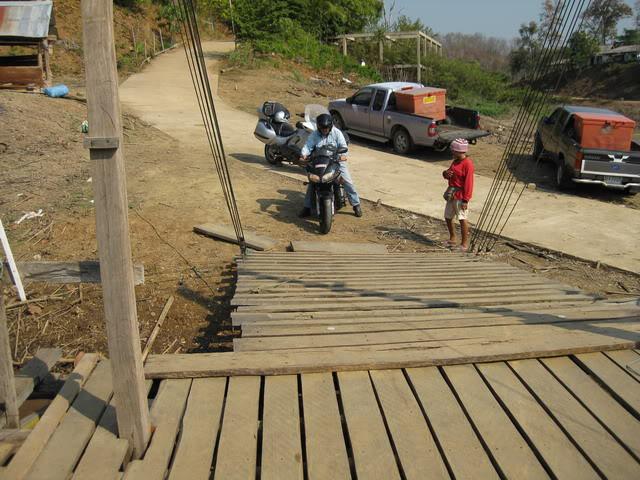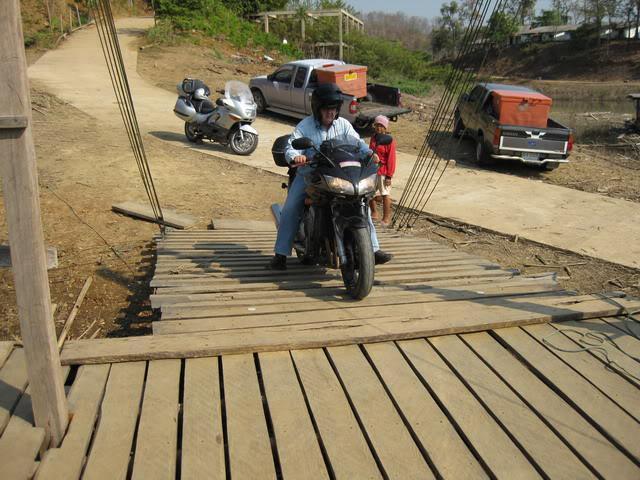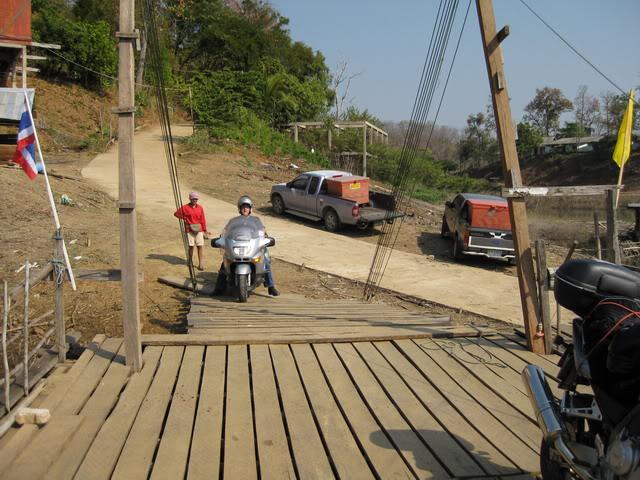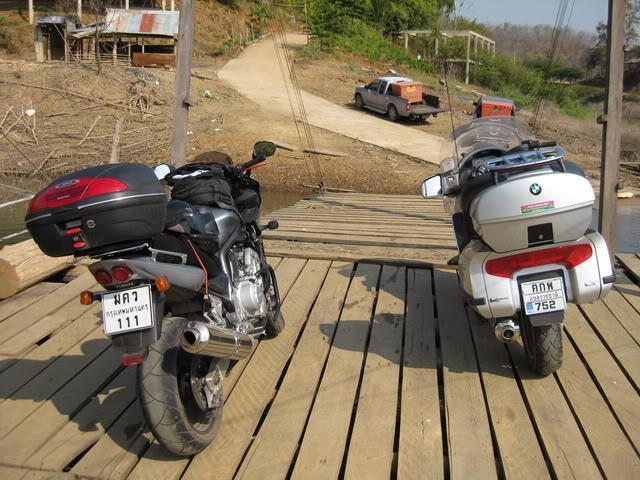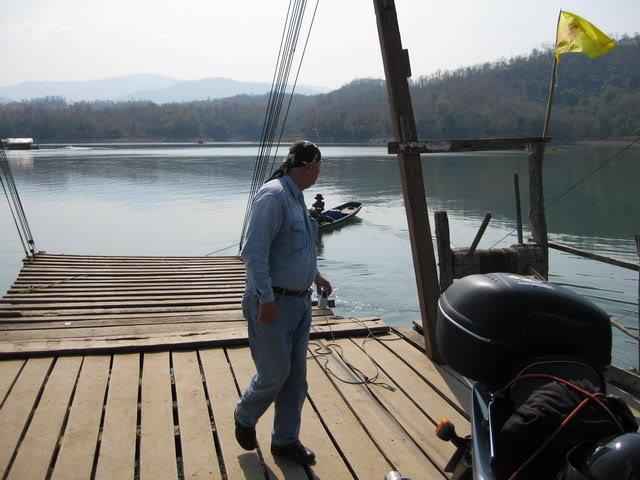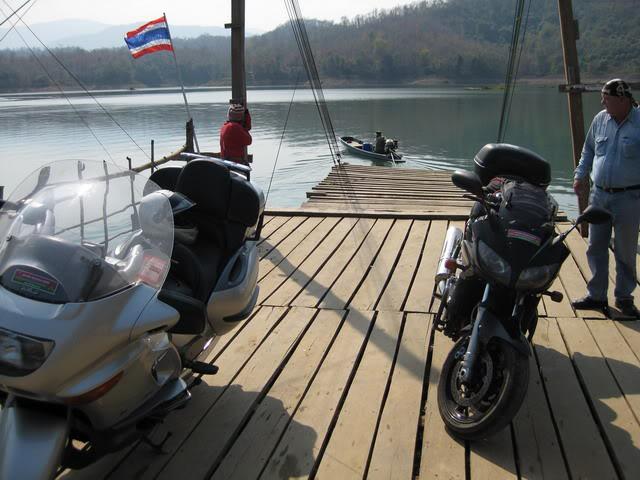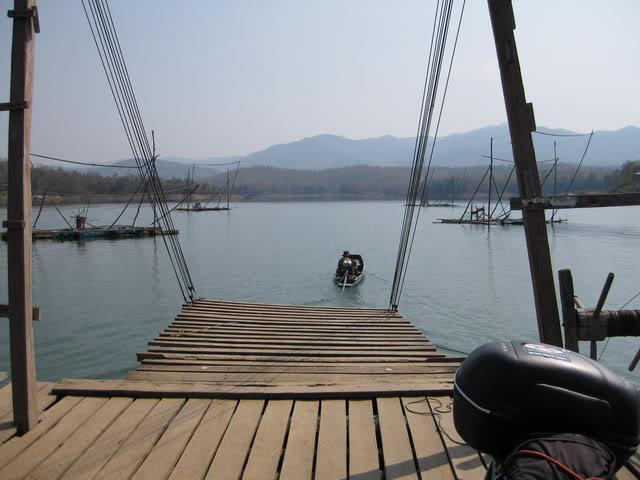 http://s165.photobucket.com/albums/u67/UbonM/Nan%20to%20Isaan%20Tour%2023-30%20Jan%2009/?action=view&current=MVI_0253.flv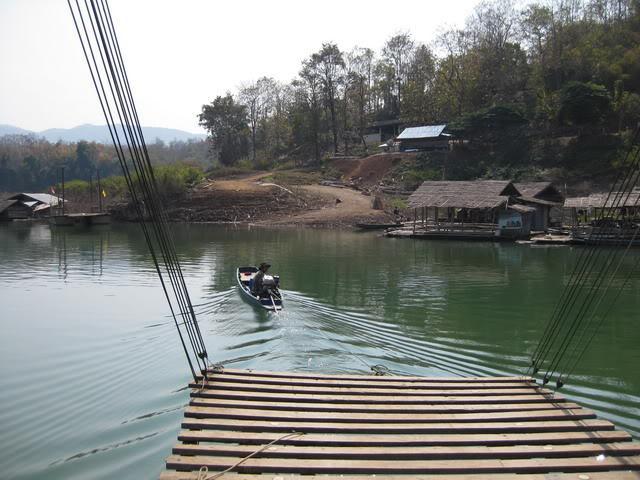 Entry point in other side, it took about 20minutes for crossing.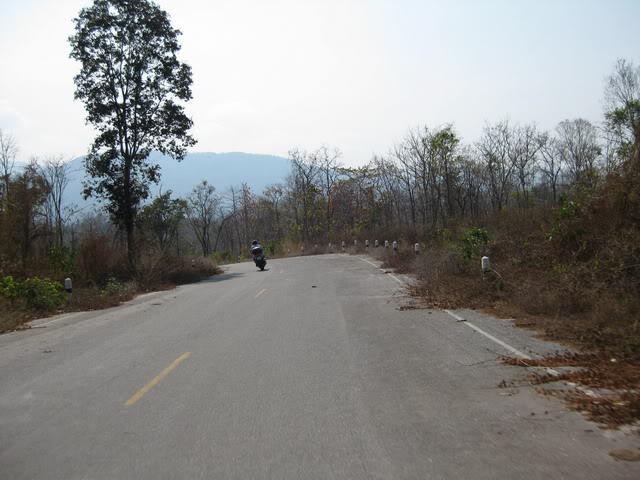 Road was really good on the other side beside the few km's road constructions section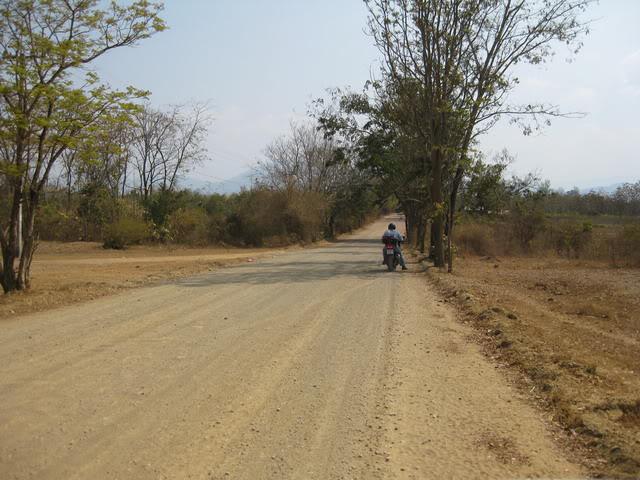 This shows how SMALL we are compare to our surrounding's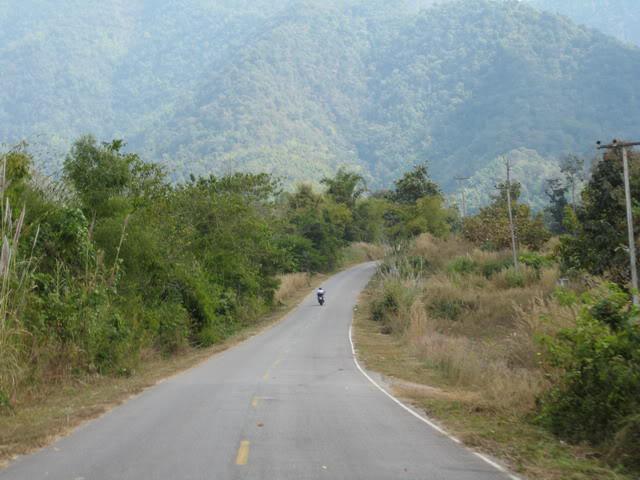 Then we took R#1239 to join #1268 and found this tranquility place just beside the road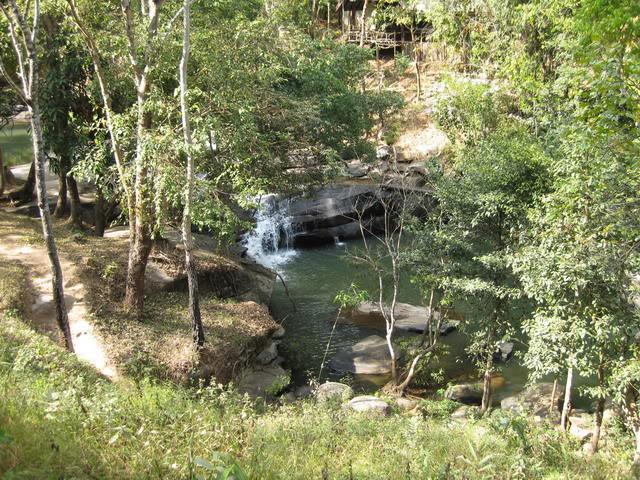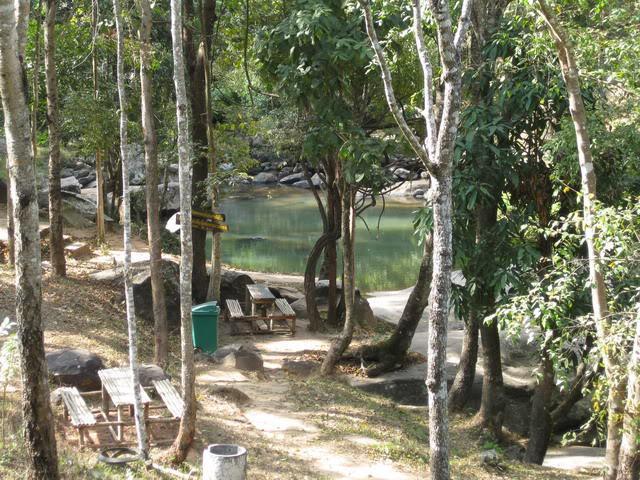 It was time for Coffee again, me and peter will not get enough coffee on the road, so frequent stops for it are MANDATORY.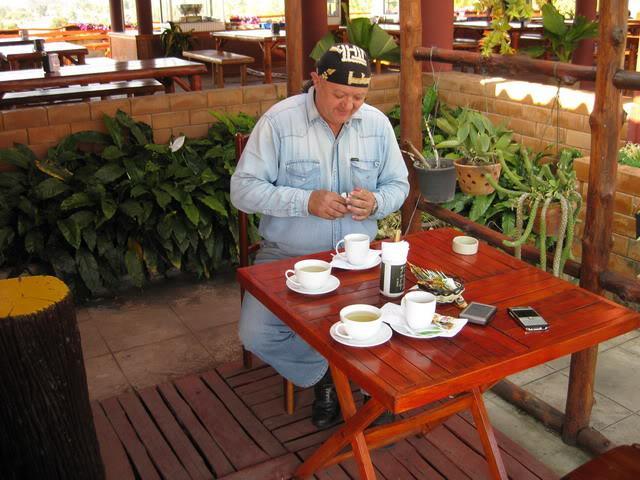 KING hotel in LOEI is highly recommended rooms this size 500THB and IF you are required to have massage there(in your room) Sai (not so str8it man) is your contact there,, he usually welcome guest's coming from parking side and you will recognize him (he took "special" eye to Peter) but Thai massage 2h 350thb, oil 2hrs 650thb(any extras are not included)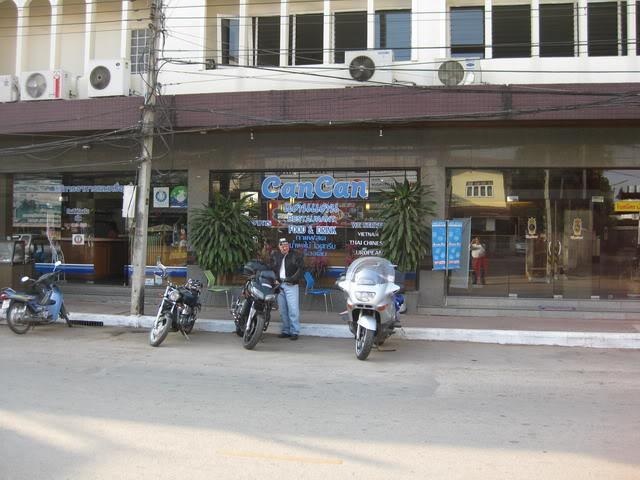 CanCan restaurant in hotel is very good and good priced as well.
Road from Loie to Sri Chiang Khan is highway and very fast driven, just before arrival Sri Chiang Khan nice Caltex gas station on the right hand side with good coffee and 3 musketeers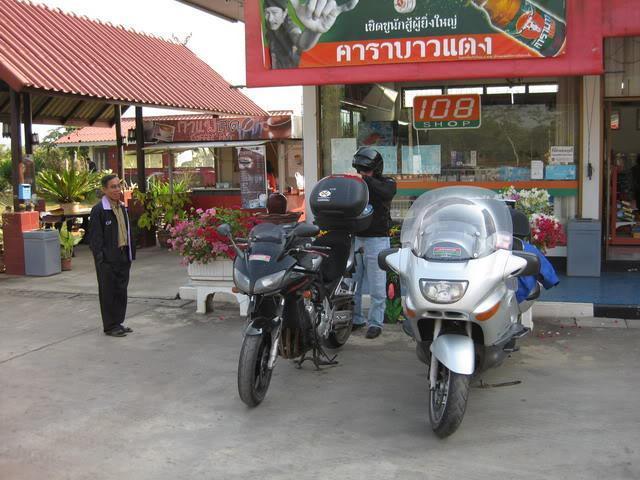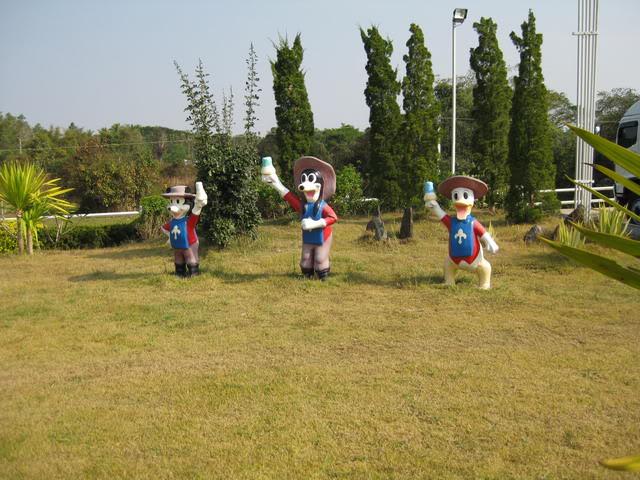 After that we headed to Udon thani following Mighty Mekhong,,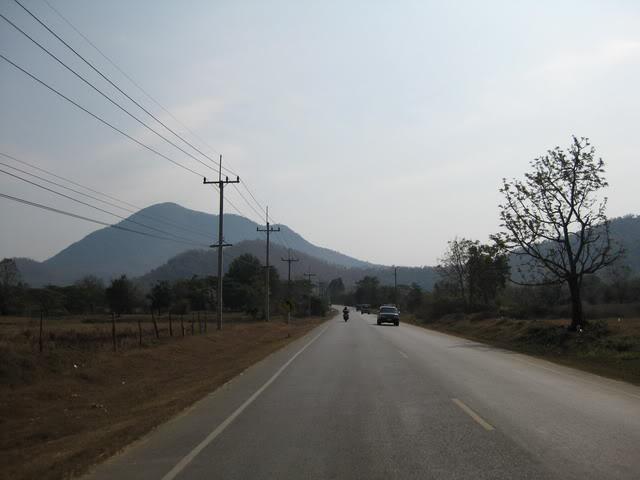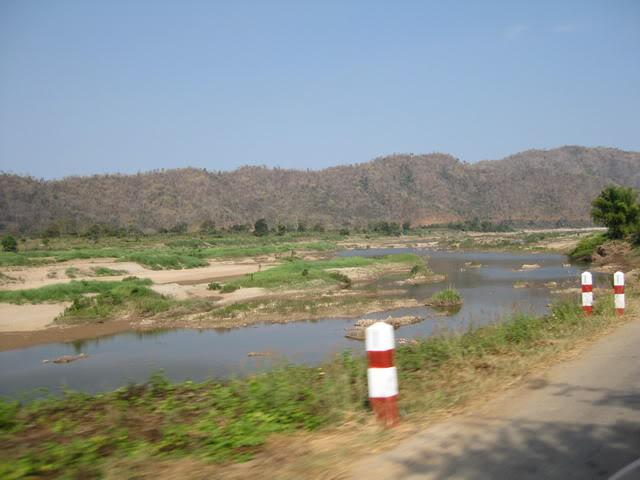 But some on has closed all water tabs, as there was almost NO water on this part at all..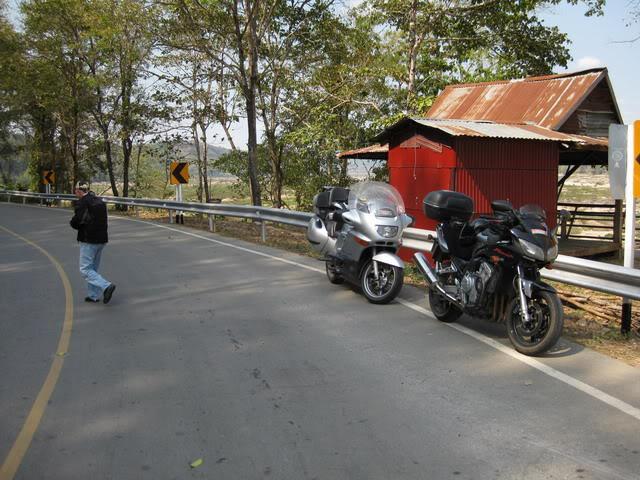 Finally we found water, but flow of "Mighty Mekhong was not there.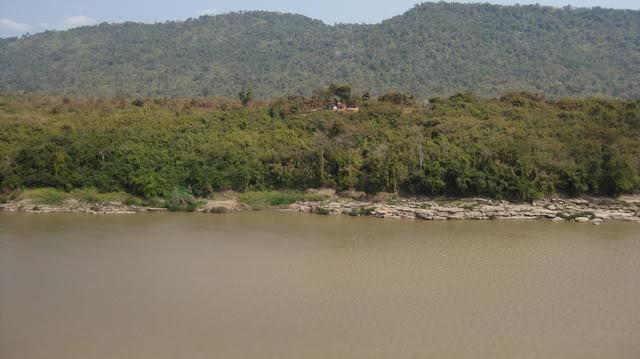 Noon time we decided to try Capt Slashes lunch place 7-11 and took some toast and chicken burger, Niice.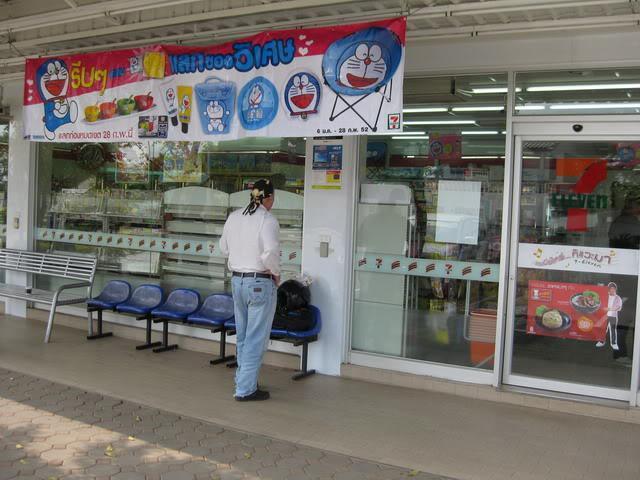 Getting closer to Our small de-tour from Tha Bo to road # 2020, 2098, 4041, 2314, 2263 to Udon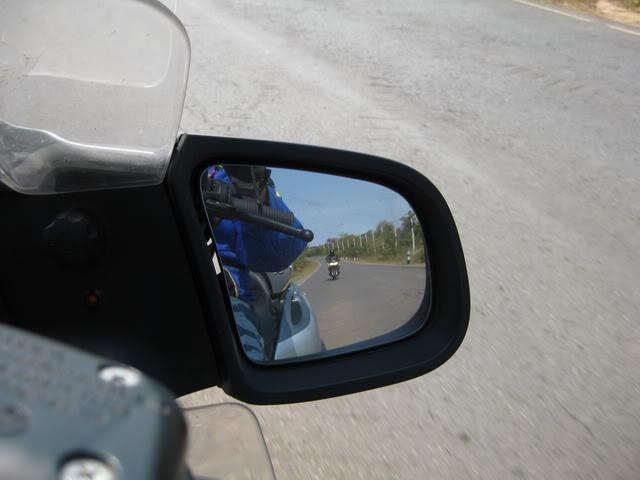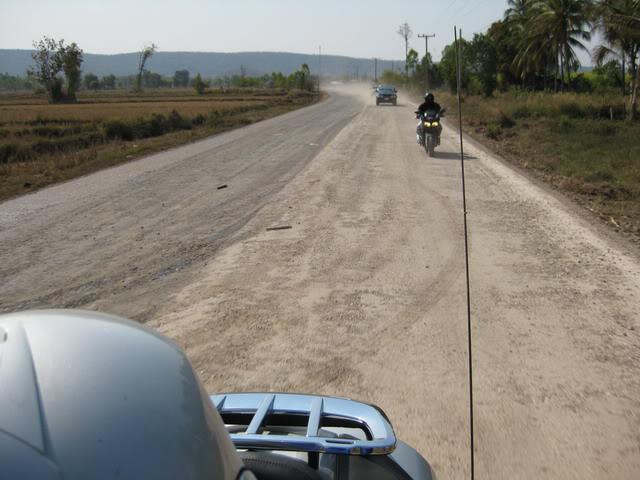 And WARNING of 4041 this I got as souvenir from it.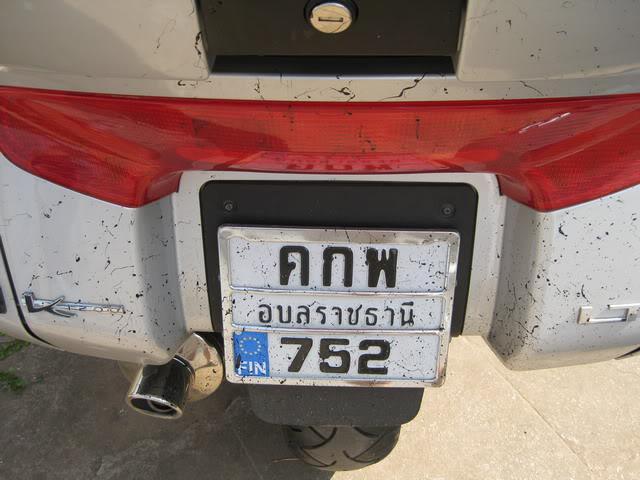 And Arrival to Our 2nd last destination Udon Thani, The City Lodge hotel (Free internet there as well)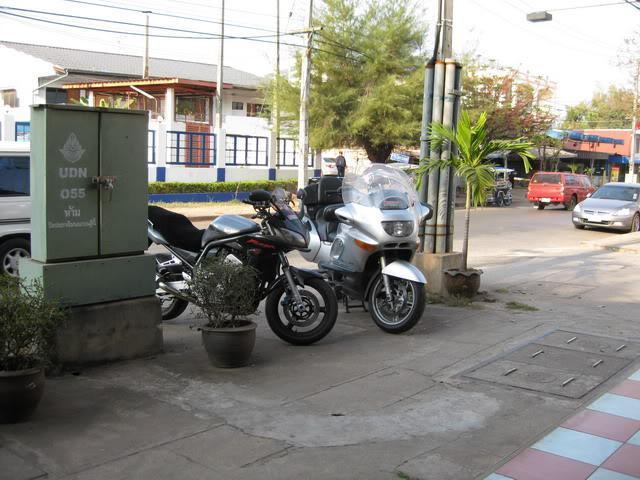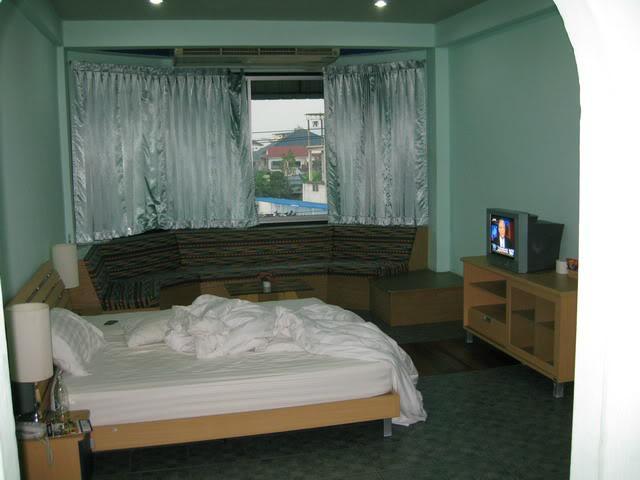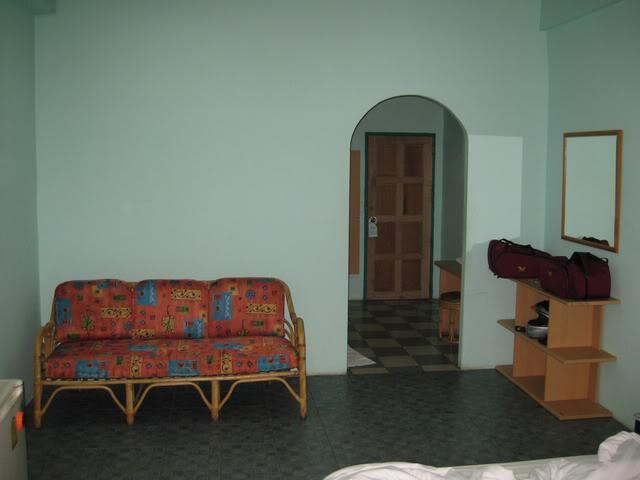 My room 800thb as it's big and standard room was 500thb, I took big room as I didn't want to walk up to top floor as I knew what is gonna happen tonight..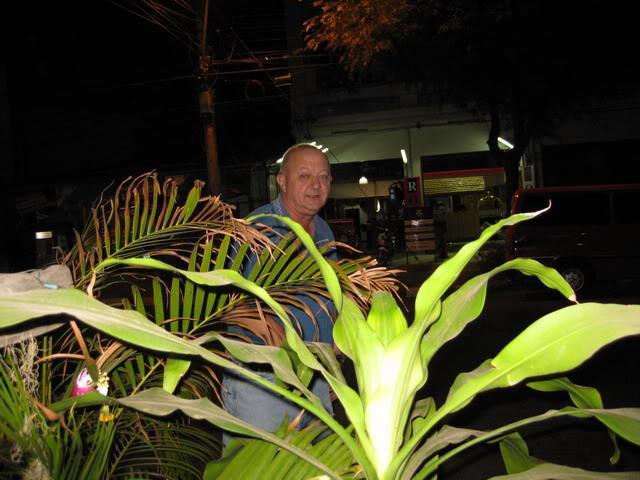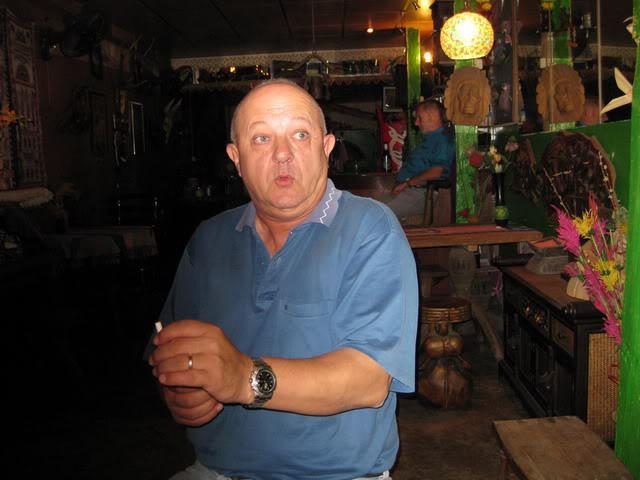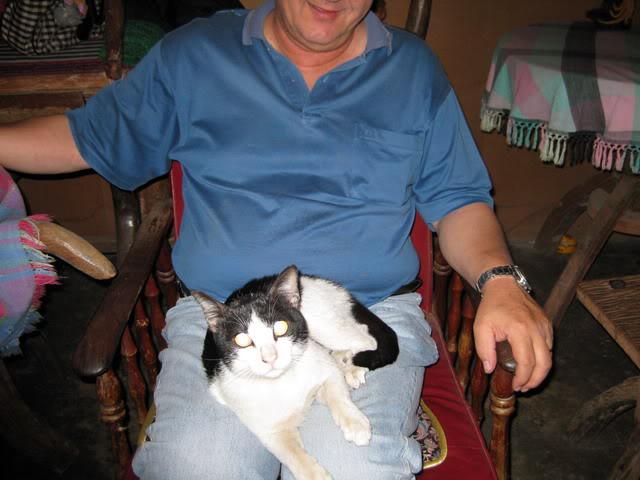 I don't know how or why but in every place we stood, pussy find's (smells) Peter or other way around…55555555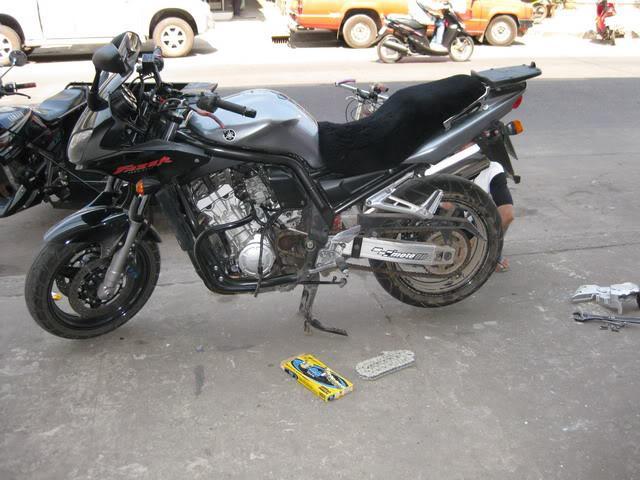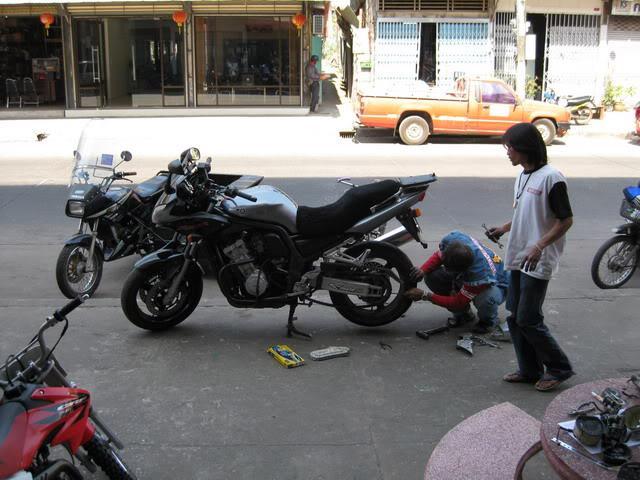 Fazer needs new chain.
If you are in Udon and fancy of good food or pint of beer(or more, as we did)
Irish Cock, sorry Clock is your place, waiter's (Peter will tell you more on those) and food are just awesome, bfast (full English) 180THB with black Budding.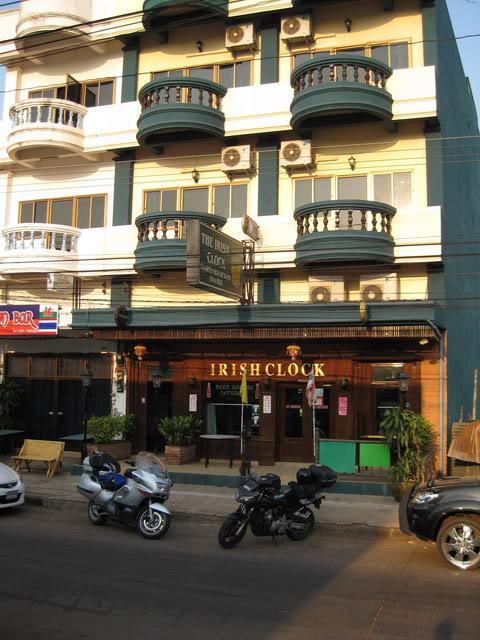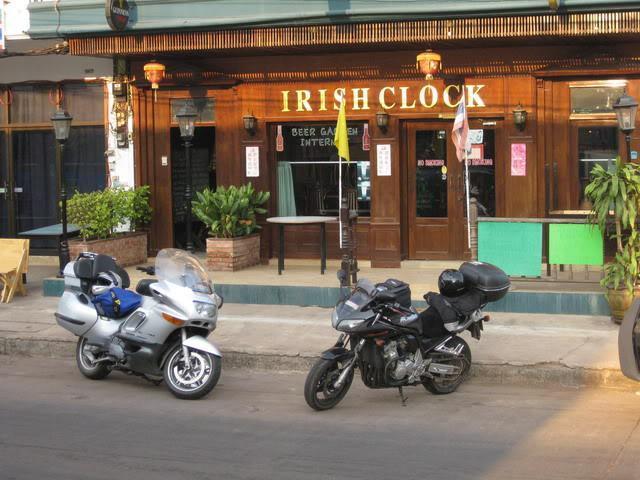 After full Bfast we where of toward Kalasin, fast highway with occasional police check point's, got stopped one's(Peter) for Drivers license, I didn't stop and they didn't mind of that, I waited Peter on the traffic lights just 100met away.
Then we found this marvelous Gas Station with nice French-Thai (allo-Allo) restaurant and meat + coffee comes with raspberry pastry.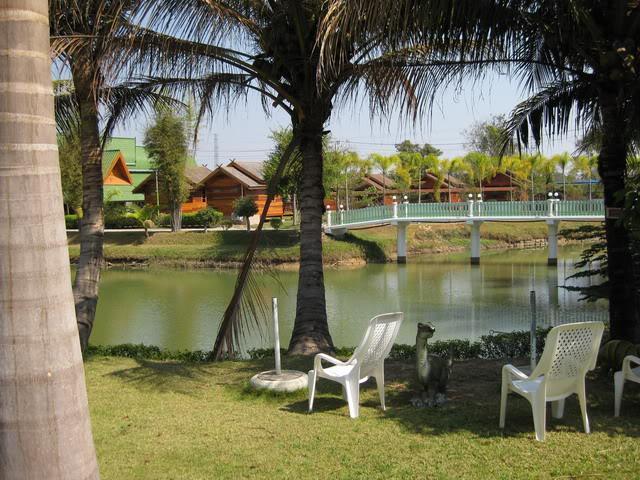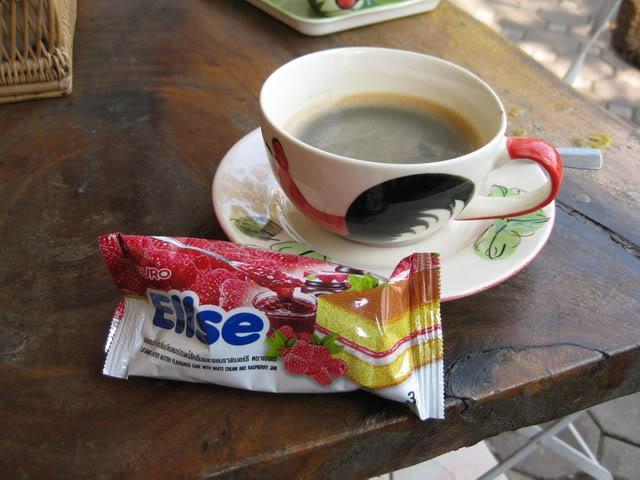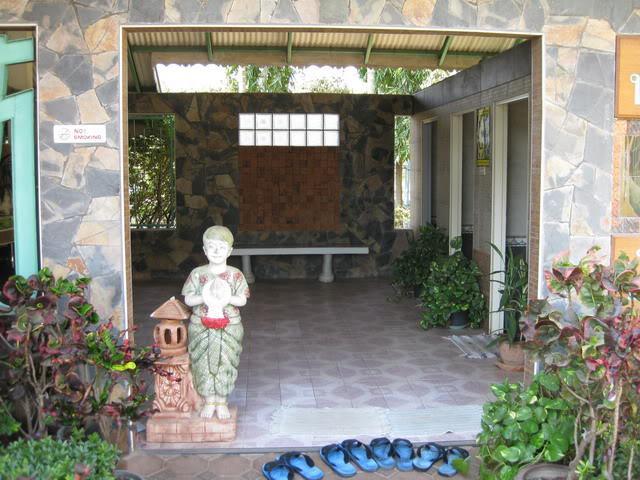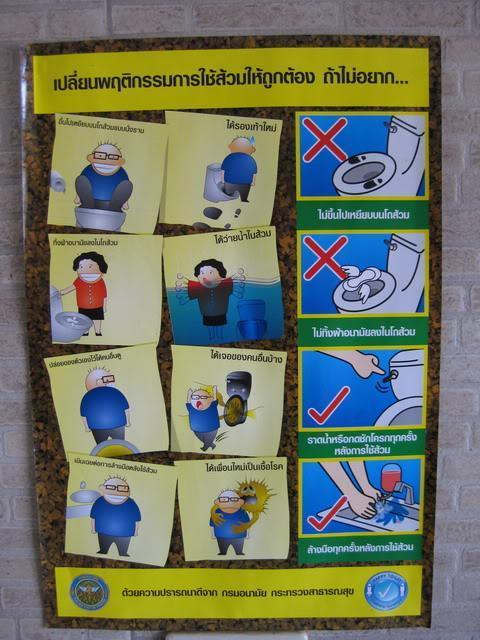 Also toilet education is there,,,,
Suddenly out of blue, Peter found his long lost Brother, and they crack of chatting..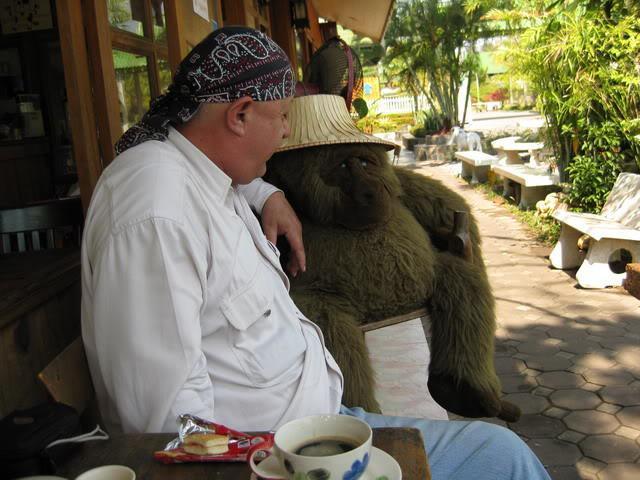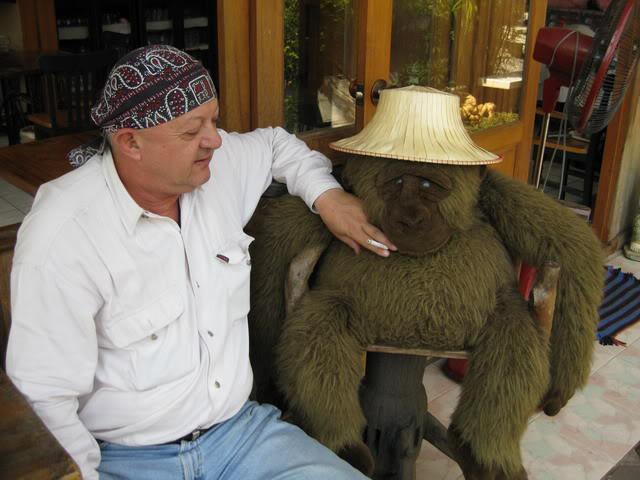 Like any good Brother, Peter offers him a smoke.
Right after that we got speeding (Really??????) cop said that we did 100kmh,,he must have something wrong in his NON existing radar as my Speedo showed 130Kmh, 555,, well after loooong talk and chatting about families end up paying him 100thb on the road and off we speeded again, right from there I took off abt 140kmh just showing to cops that we Can't ride 100kmh, that's just too slow….
Last night in this palace, bfast included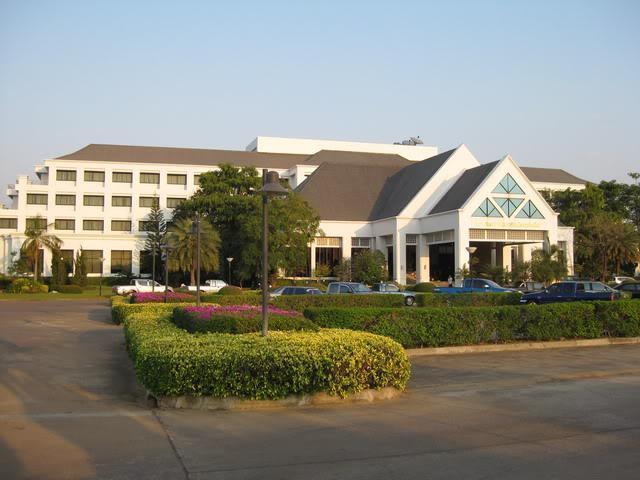 Petcharat Garden Hotel, nice rooms 540thb with huge pool and lot's and lot's of Horse piss(Chang)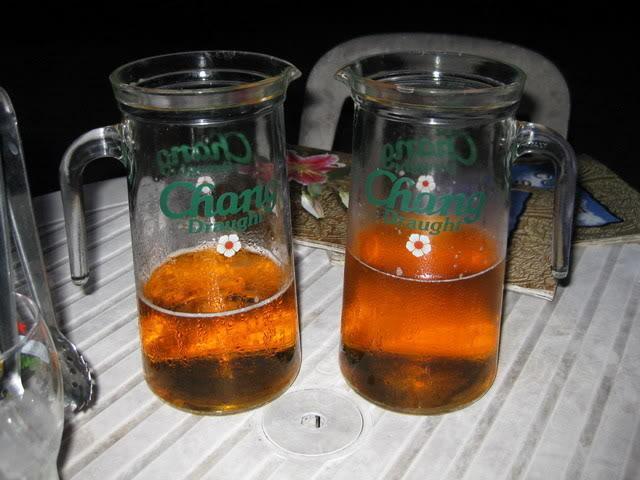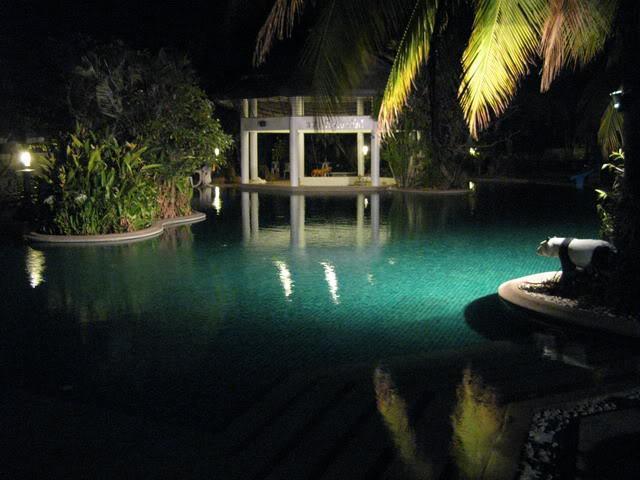 After abt 20Jugs of HP(horse,,ok you know what I mean by now)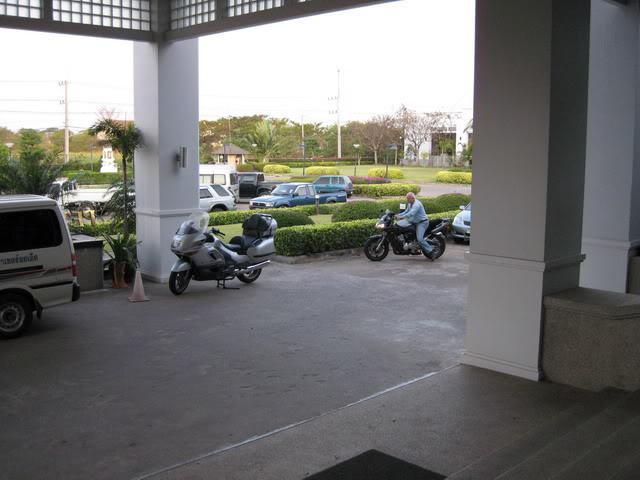 Time to go home,,, our last bfast and then on the road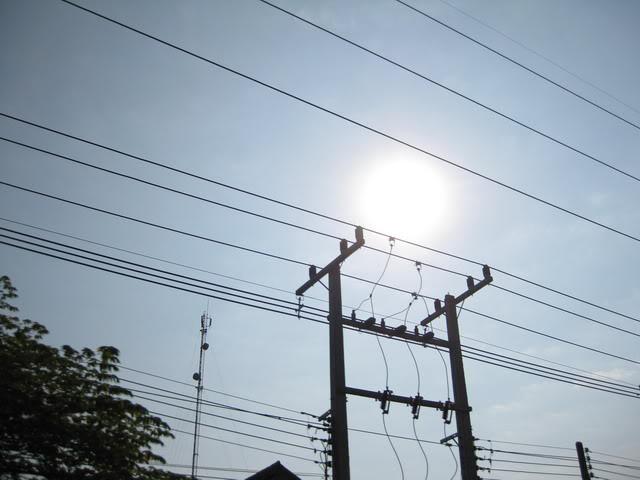 Isaan sun is boiling us.
Time of Separation, Junction of 2045-202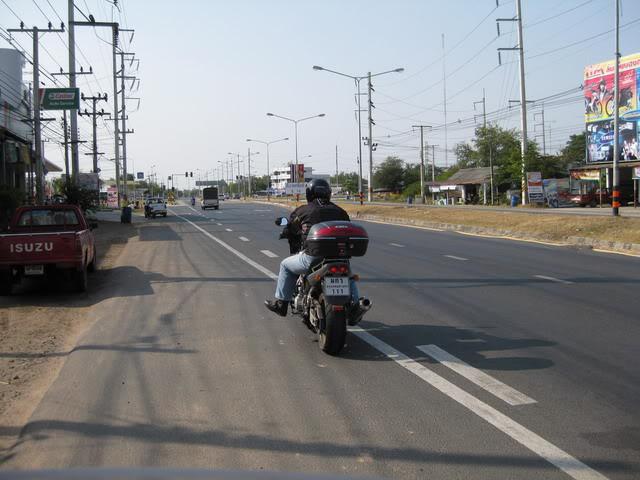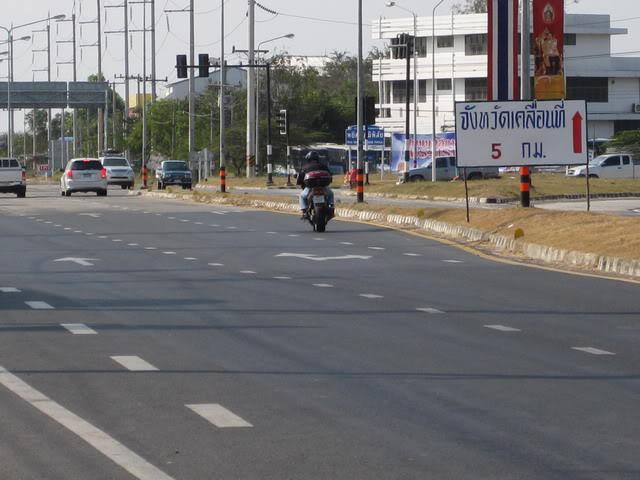 Thank you guys, it was fun again and see you on 6th when heading to Udon and other adventure….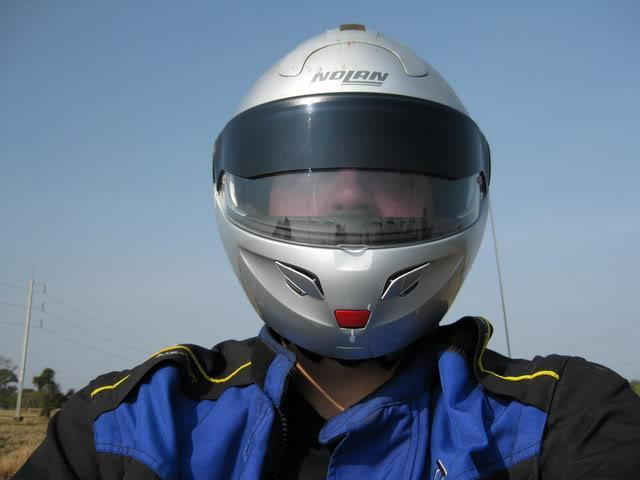 Road 202 is nice road but in some part very many pot holes and fixed pads, BEWARE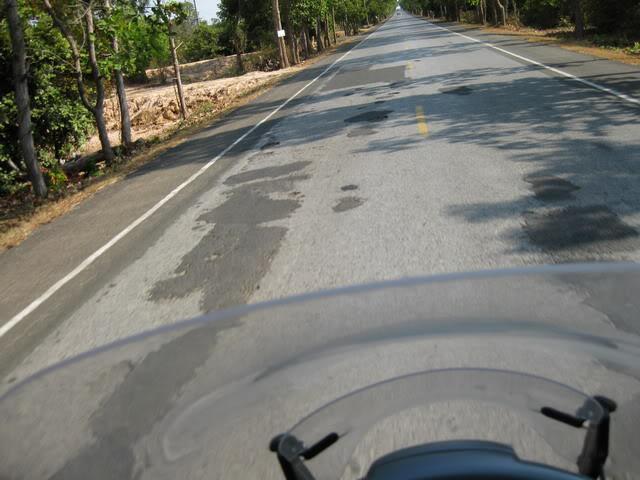 And these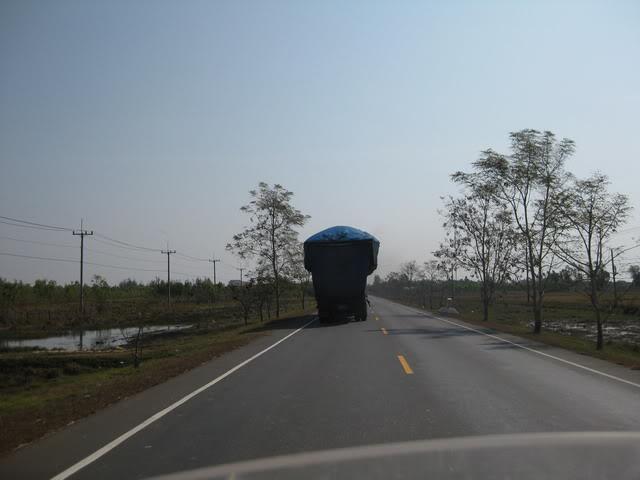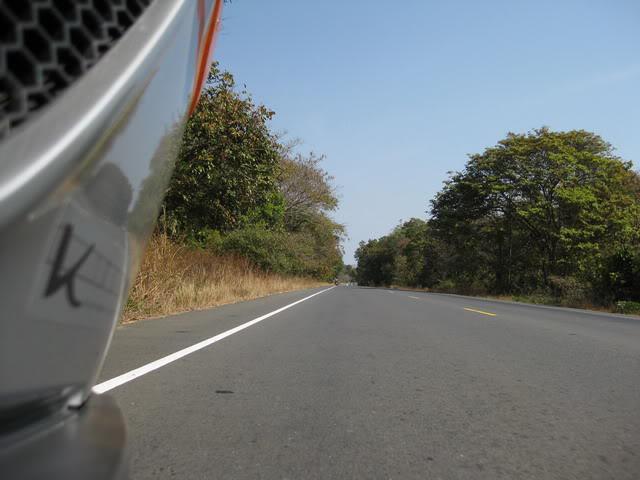 It was nice trip.
7days, 2533.3Km(bike trip meter) 2428.07Km (GPS trip)
Average moving speed (GPS) 71.2kmh
5towns, 100cups of coffee, less than 100 Jugs of beer (or maybe more, lost account), lots of laughs, what else we can ask,,looking forward our next ride, THANX GUYS.