Sep 19, 2006
2,307
310
83
There were a couple of Guys due for a Visa Run so what better way to do it than get a Group of Mates together for a Ride and do a Couple of Nights away on Fantastic Roads!!! Hence at the prompting of Pikey we left on Wednesday the 20th. First was the Ride up to Nan. Started out a bit Chaotic but finally managed to group up and off We went.
Pikey, Triumph Bonneville.
Ian, Triumph Tiger.
West, Honda Hornet.
Robert, Harley Davidson, ( Trick and Very Fast )
Richard, Africa Twin.
Duncan, KTM 640 Adventure.
We stopped in Mae Kachan to regroup and found the Skid Plate hanging off Duncan's KTM so repaired that before heading to Phayao.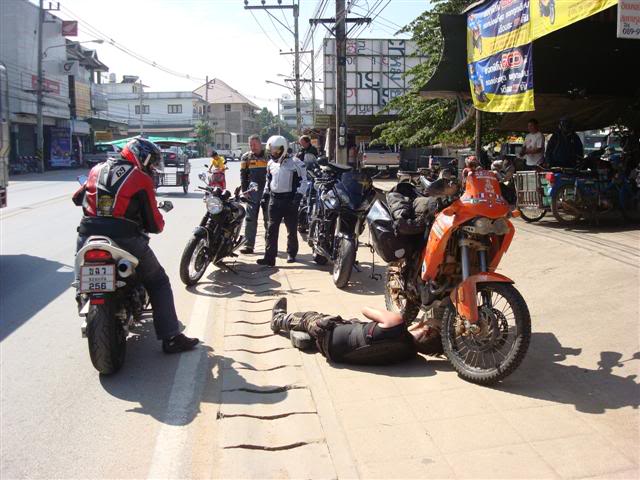 Had a Nice Lunch in Phayao. Here is Robert at the Restaurant.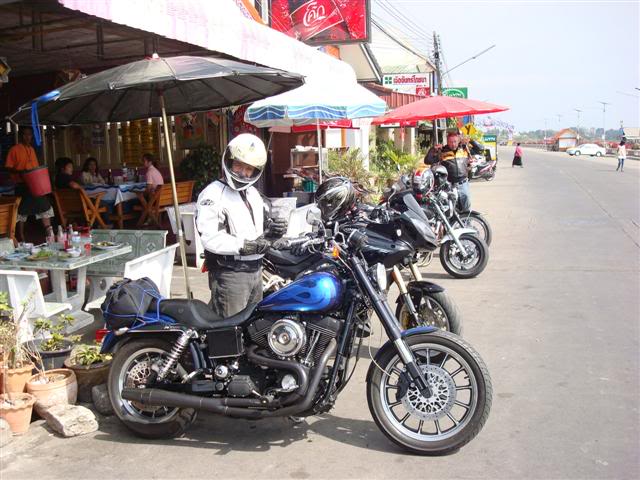 Off to Nan weaving through the different back Roads. Arrived at the Dhevaraj Hotel Checked in and Time for a Beer. For Some Reason this Hotel is listed under a different Name in the GPS which is Bloody annoying when You are trying to give directions to someone else :twisted: . Had a Good Time besides all the Walking around looking for some entertainment which is pretty Sparse :? ??? Eventually We meet up with Mark, Luke & the Infamous Hasa at the Dario's Pizza Place and took it from there!!! Seems their Trip had been delayed By a Crash doing a Wheel-stand, ( This was the first Crash of the Trip!!! ) but they were in Fine Form as usual so No Worries!!! Luke had His Helmet Cam on but unfortunately it Failed so I can't Post the Video of it, Sorry! Big Night Followed :lol: This added these Bikes:
Happy Feet, DRZ400M
Luke, DRZ400M
Hasa, ER6n
Next Day We slowly meet up over Breakfast and got ready to leave.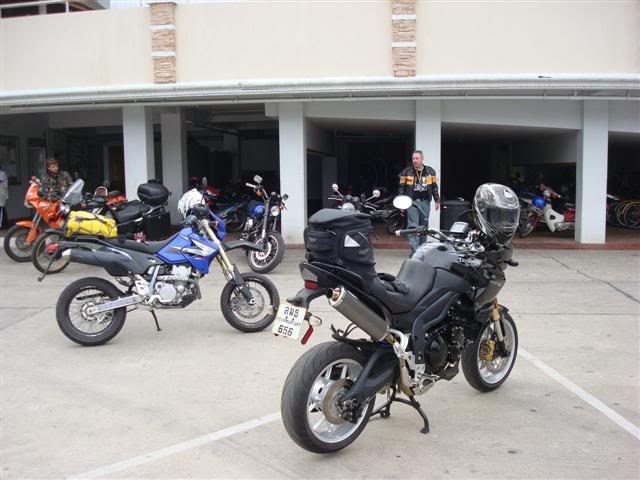 On the Road again. Great Stuff!!! We followed a couple of different Loops which I hadn't done which was nice. With Such a Cross section of Bikes and Riders we all spread out at Our own Pace. Along the Ridge Road Duncan was following Robert and happened to Close in on Pikey who slowed to take a Photo. Duncan had His view blocked and never noticed till to late and His Evasive action ended up Putting Him down and nearly collecting Pikey on His Bonnie!!! Lucky for Us He had His Helmet Cam on so Check Out this Great Video Clip of the Road and Crash:
[youtube:6bfwo3rf]
/youtube:6bfwo3rf]
This was Crash Number TWO!!! No one Hurt so off again. Had a lunch at Chiang Kham, Relaxing in the New Air-Con Kentucky Fried Chicken. It was decided to take a Ride up towards Phu Chi Fa as some of Us hadn't been on this Road. Started out very nice and stopped for a Photo of the Pusang Waterfall, Really Beautiful 8)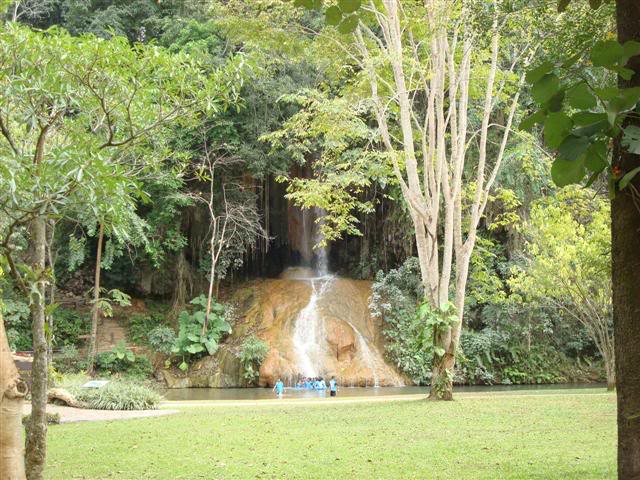 After this it started to Climb and Road conditions also started to Deteriorate, Narrow with lots of Sand and Gravel on the Corners :evil: Again we spaced out at Our own Pace. I followed Pikey and got some Photos.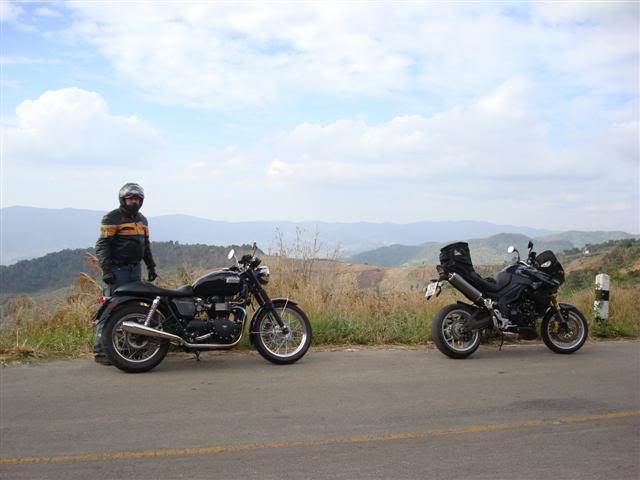 Everyone meet up again at the Crossroads of Lao U. This is a Very Scenic Ride, well worth the Excursion if You have time, but Be careful!!!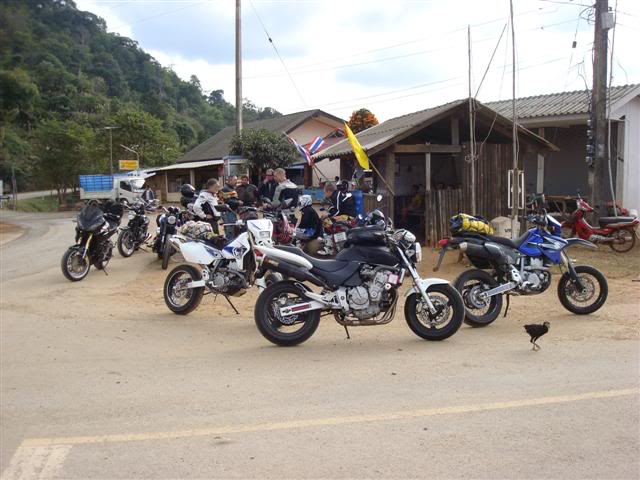 This Kid was making a good effort of Digging a Hole :? I laughed at the Old Bike, Not one Tyre yet a Huge Pile of Tyres beside it!!!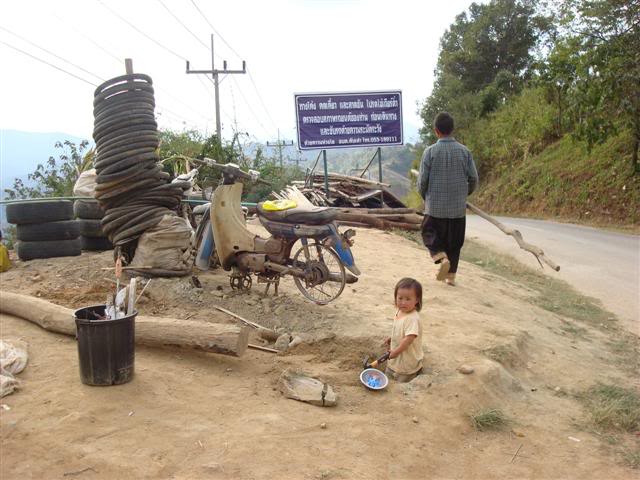 Myself and Mark aka "Happy Feet"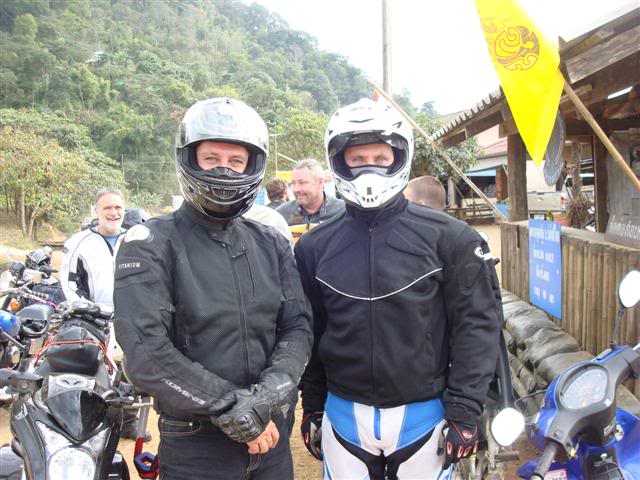 Off again in various little Groups. Great View as You drop off from this Lookout of the Road winding down to the Valley. Not five minutes later after this lovely section of Road i came down a Steep Hill followed by a Sharp Right hander, this corner was covered on the outside by fine Gravel :twisted: . There seemed a lot of Dust and as I looked over the Edge this is what i Saw, Crash Number THREE!!!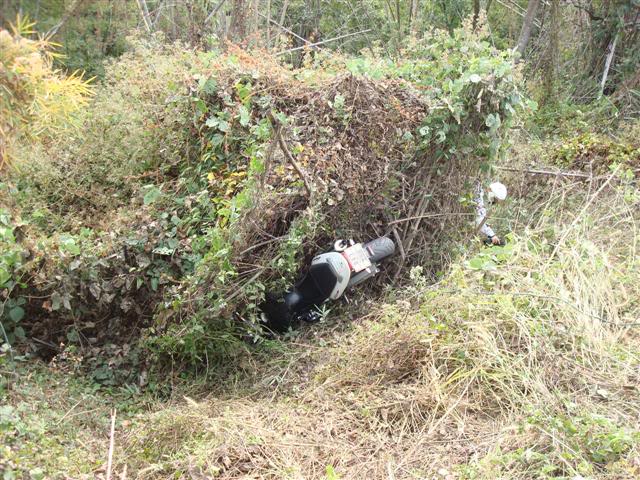 HELL I thought :shock: . Parked My Bike and Ran back to Try and Slow any unsuspected Bikes following!!! Seemed Like a Good Idea at the Time??? Who was next, Duncan and His KTM. Getting put off By Me waving My Arms He went wide also and Down He went, Crash Number FOUR!!! Holy Hell???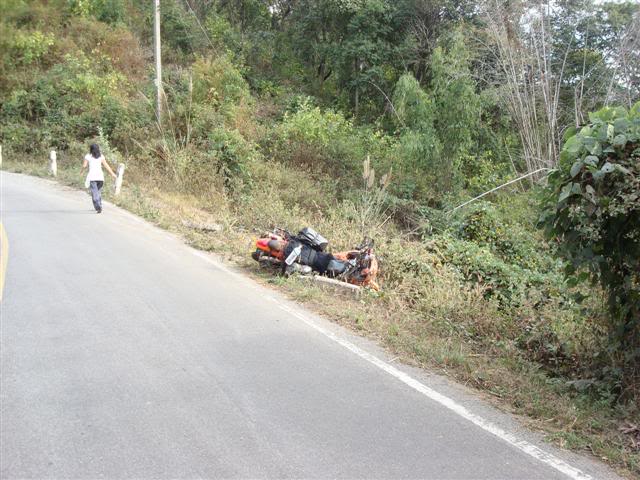 Everyone was Very Quiet and Concerned about West but Robert found Him behind a Clump of Scrub quite a distance from His Bike!!! He was up but badly Winded and took some Time to recover before he could Speak. Luckily had the Local Village Head turn up with a couple of Pickup full of Local Workers so they snapped into action and Helped Us recover West and the Bikes with Ropes and Man Power! It was Bloody Steep over this Bank 8) .
Here they get the KTM on its Wheels.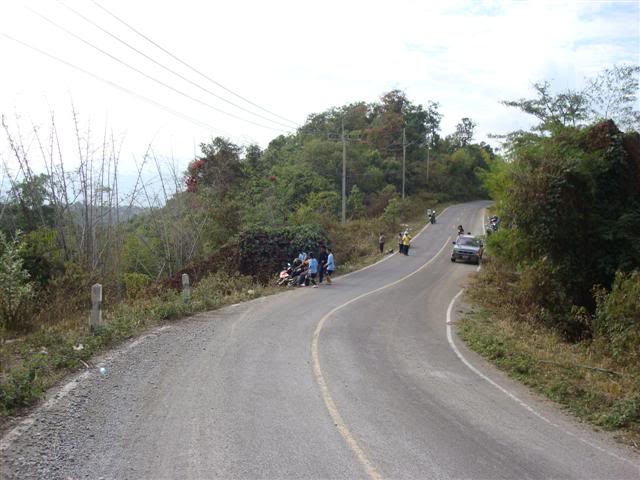 ***A little note to the KTM Thread here, No denying the Robustness of this KTM, He had crashed 3 times in 4 Days and besides scratches and cosmetic stuff it had no affect :wink: Something to Consider???
Here is West catching some Breath after We got Him back on the Road, One Tuff Bugger!!! :shock: His expression says it all!!!
*** Another Note Here, West is an Extremely Experienced Rider and Bloody Fast as some of You will know!!! He has Ridden all over the World and Rides Everyday on a fantastic array of the Various Bikes He owns!!! He is also an Active Member of the Track Scene in Thailand and Participates in Track Days on a Regular Basis so as such knows the Importance of Protective Gear. He had Full Armour, Top Boots, Gloves and Helmet plus a Full Leather Race Jacket!!! He snapped off 2 Concrete Posts and take a look at the knee on His Pants. All this and being thrown a good distance down a Very Steep Bank He was walking around supervising the Loading of His Bike!!! If He didn't have the Gear He did it would have been a Very different Story!!!***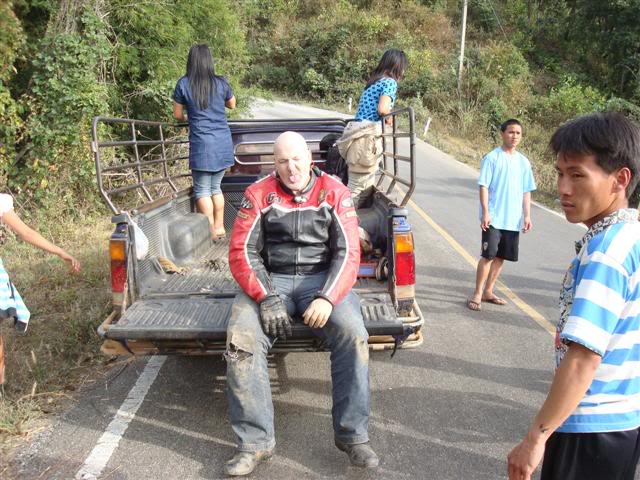 Getting the Hornet out.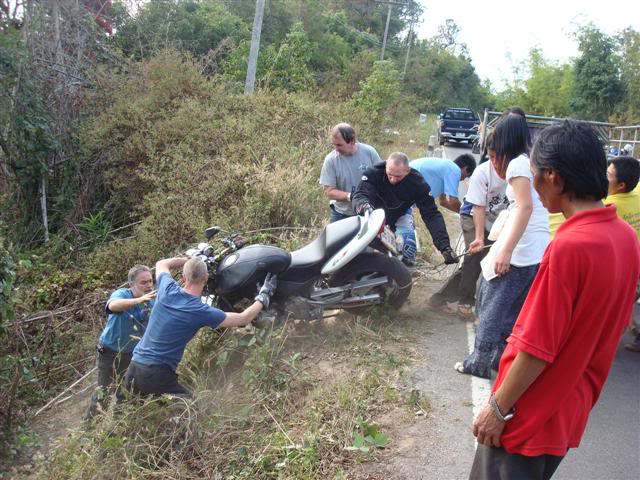 Considering the Crash the Bike wasn't really that Bad and looked Worse than it really Is. New Parts needed are Forks, Triple Clamps, Headlight & Mudguard. Pretty good all things considered.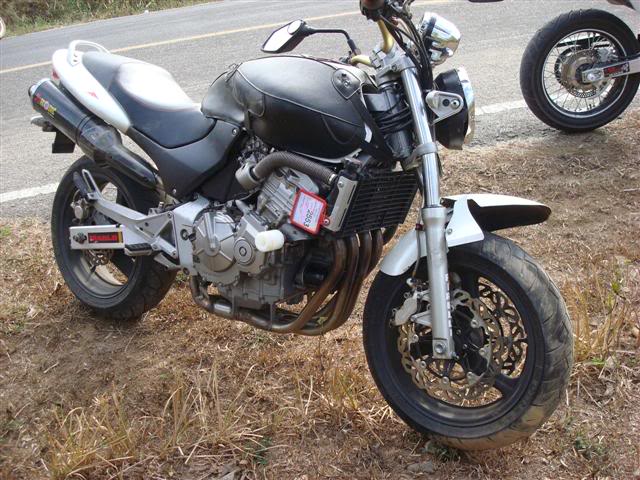 Loading the Bike on to a Local Pickup.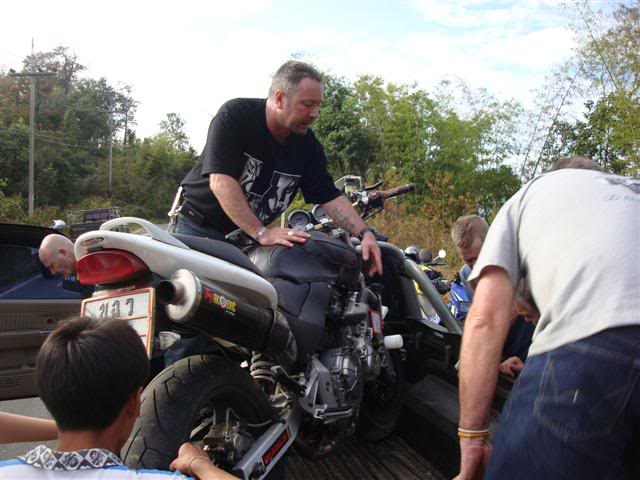 This is another Great thing about Thailand. Within 1/2 hour of the Accident everything had been sorted, Bike Loaded and a Local Guy accompanied by His Son were Driving West and His Bike the 4 + Hours back to Chiang Mai and His Home!!! Amazing I doubt it would be that Simple in Our Home Countries???
On Their Way!!!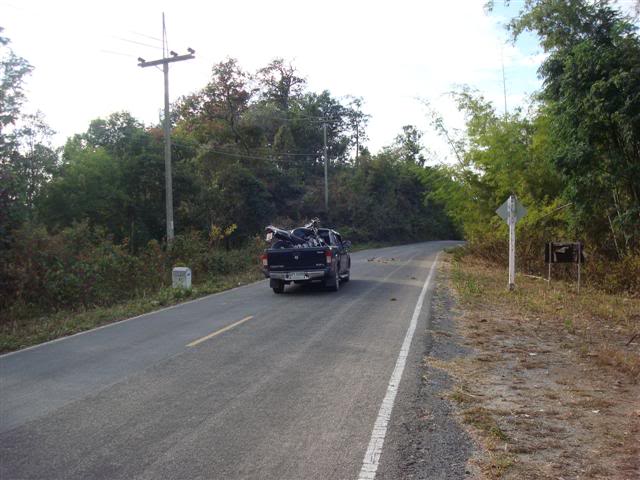 I thought I had better take a Short Video to Explain the Event and Complement the Photos so if You want to take a Look check here:
[youtube:6bfwo3rf]
/youtube:6bfwo3rf]
So that was it, Quiet again. The Remaining Riders mounted up and off to Chiang Rai in a rather Subdued Mood. Road conditions from here on weren't much anyway so a slow Ride. Once we arrived we all checked into a Variety of Places and Out for a Big Night in Chiang Rai!!! We were even Joined By "Sean of the Dead" The Night was to big to explain!!!
Next Morning I had things to do so Myself and Robert headed straight back to Chiang Mai while the others did their own thing once they actually Woke Up!!! :shock:
I have been on quite a lot of Rides and rarely any accidents to note so this one was a real Rare!!! And I wouldn't care to Repeat it!!! Lucky No One was seriously Hurt. All the Best Guys and Ride Safe!!!!