Administrator
Staff member
Subscribed
Jan 16, 2003
13,363
4,308
113
68
Coming soon.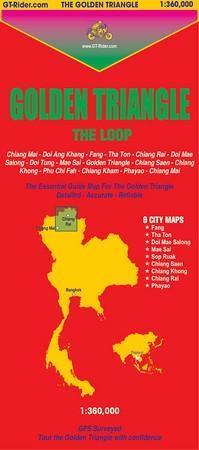 Claimed delivery to Chiang Mai 25th July 2008.
This is the best GT Rider map so far.
The Golden Triangle map has the topography shaded in very nicely to give the B&B map a run for its money.
MAP FEATURES:
9 CITY MAPS
Fang
Tha Ton
Doi Mae Salong
Mae Sai
Sop Ruak (Golden Triangle)
Chiang Saen
Chiang Khong
Phayao
Chiang Rai
PLUS ATTRACTIONS
6 Elephant camps
17 Waterfalls
7 Hot Springs
10 Caves
14 National Parks
24 Temples
85 Up-country resorts / guesthouses / hotels, in addition to the city accommodation
11 Up-country restaurants in addition to the city establishments
53 Other Points of Interest
8 Golf Courses
ROAD ELEVATION PROFILES
Profiles of the GT's greatest steepest winding motorcycling roads!
The map is available in both paper & plastic versions. The paper map retailing for 150 baht & the plastic map for 250 baht.
A special thanks to those supporters who advertised on the map.