Crossing into Laos at Huay Xai had been one of the easier border crossings. This trip everything was changed (28-Nov-05). When we tried approaching the customs officer in their office at the top of the hill (above the ferry landing), he wasn't even interested in processing us. He insisted we had to go to the "Tourist Office". As I was traveling with David and Mai from Chiang Khong she was doing the translating. I am not sure what was said, but he wasn't buying it and just brushed us off.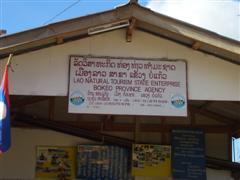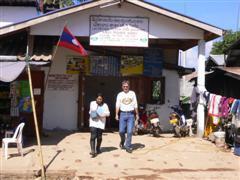 The tourist office, officially "Lao Natural Tourism State Enterprise" is located at the end of the road from the boat landing on the left side.
After some explaining of what we wanted a young Laos girl who could speak fair English told us she would have to take the copies of our bike registrations and Thai paperwork and process it at the office in town and issue us our mandatory insurance. This took all afternoon. She said sometimes it takes all day and we should try and send it over in advance. When I asked how long they had been doing it this way she said 4 years. I told her I had been across many times and never did this; she said I was doing it wrong before. In the past we were given our stickers at customs and we just took off. It appears they have gotten wiser.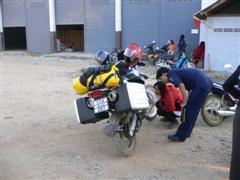 After she returned we had to follow her to a small "office" down the road which was just a small shack attached to what looked like a trucking company but was manned by customs officers. They physically inspected the bike numbers, checked the paperwork, and only then issued us our stickers for the motorcycles that are needed for traveling in Laos.
The custom's guys also insisted we could have no more than 2 weeks time allowed in Laos. They said that if we wanted an extension we would first have to return to Huay Xai (although our young lady friend from the office thought we could get it done at any customs office, as before). We then followed her into town where she made photocopies of all the paperwork (6 pages) and returned our copies. This all cost 2,000bt including insurance.
The office girl claims that they are trying to standardize the system at all border points and that this is the new system. Although later we were stopped at many checkpoints in Laos, our passports were checked but no one ever asked for these expensive and "important" papers.
Now……….. 2 weeks after we crossed, two experienced traveler friends ran into the same situation at this crossing but claim to have insisted they were not going to the tourist office and after some discussion were issued papers at customs for 150bt. They are not back yet so I don't know exactly how legal they were, or what paperwork was done. We will find out more when they return. For now it's still anyone's guess.
Dave Early
Ever notice that "What the Heck!" is usually the right answer?