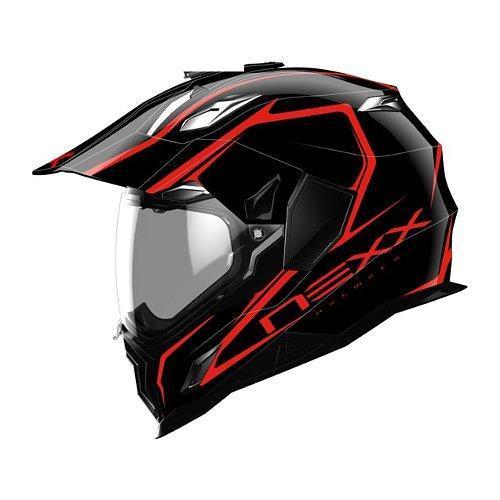 At present the market is pretty strong for dual sport helmets with manufacturers offering their own rendition of an off road, street design. Sales of dual sport motorcycles have increased, or street bikes with some trail riding capability so the demand does call for it. However, when manufacturers such as Shoei, Arai, Suomy and Icon who are all synonymous in their own right with off road and adventure helmets, it does leave other manufacturers just venturing into this market sector with a tough task to match!
Our new Nexx X.D1 arrived just 3 weeks ago – a Touratech clone and we've given it a 2,000 km plus test, but expectations were very high having personally owned the Nexx XR1R carbon. Despite a minor issue with the visor on XR1R model, the helmet itself was one hell of a shell! As for the new Nexx X.D1, many retailers and promoters are saying it is untouchable at this price rage. We're hoping they're right, as Nexx yet again have turned out a tasty looking lid! On first inspection one can see there has been a lot of thought put into this design with its almost stealth type appearance and sharp angles surfacing the helmet. The padding looks plush yet securely comforting and a double-D ring which provides excellent fitting flexibility for various shaped faces. It feels lighter than its 1550g and still light with an action camera attached. Fitting is tight yet comfortable just pushing my cheeks in a little while grasping the rear of my head firmly. I felt no uncomfortable pressure points with the fit, even with a microphone cable stuffed down the innards. So far so good!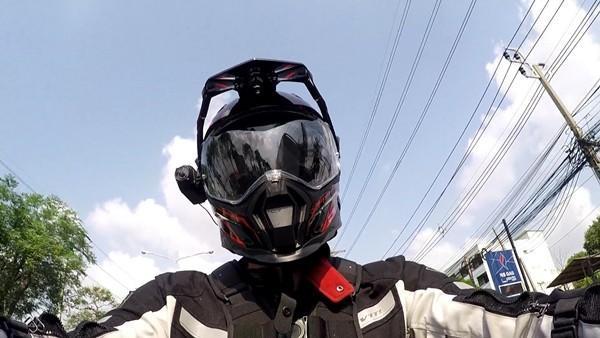 Something for the Weekend Sir!
With an array of quality helmets to choose from it leaves some looking to venture into this sector finding new and exciting ways to catch its customer. Flip-up designs, sun visors and other useful features. But how about action camera mounts? Whether motor vlogging or just catching your motoring moments or adventure weekends the fad has never been so popular. Action cameras have become more affordable and an absolute must in my opinion which Nexx seemed to have addressed this ever increasing fad. With adaptable mounting plates on both sides and a sliding clip plate which fixes under the peak attachment on the top, albeit useless on ours, the Nexx provides you with a variety of mounting solutions for your action camera. The peak can be taken off transforming the X.D1 into a street helmet or the visor taken out for use of MX goggles It's a neat touch it has to be said, particularly the camera mounts which saves from the sticky mess and the need to polish the helmet afterwards. No pun intended! Additionally, the peak is extendable with a clip and screw on extender which may offer a little more protection from the sun, but I'm not sure how it will hold up at high speed. An interchangeable chin vent allows you to swap between street and off road intake.
Keep your cool
Adequate venting is always an issue in sticky climates like Thailand, but the Nexx X.D1 does a fair job here, even with a balaclava worn underneath. There is a decent catchment of air which you can clearly sense on the temple of the forehead keeping you just that little bit cooler. I normally rinse and wring my balaclava in cold water to enhance the cooling effect, but a quick
test without it provides a good amount of airflow through the helmet.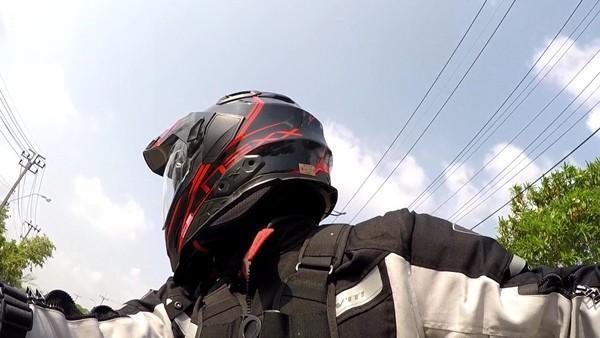 Down to the Nitti Gritty
Fancy action mounting plates and extendable peaks are all good and well, but how about the actual performance of the helmet? Well, it can only be described as the latest transformer movie. A movie where the trailers looks great capturing your attention with all the promo months before, only to realize all the best parts were shown in the 2 minute trailer. It is rather disappointing! On the street the helmet is fine to an extent, but anything beyond 80 kph with the mildest of breeze, the X.D1 is all over the place. Your head is pushed one way, then the other. Admittedly it is mild, but continuous and extremely annoying. It is near impossible to keep your head in a fixed position beyond 80 kph. While the bike buffeting and the type of screen your using will of course be a factor, we have to compare it to the previously tested
Caberg Tourmax Sonic
which suffered none of this until it reached speeds of over 120kph. Turn your head to the side for life-saver check is fine, until you want to return your head to the center position. On my latest 2 night tour while returning home, I cruised at 90kph down a straight road with trees lining either side when I was suddenly forced to the right. My head and neck were pushed one way, followed by the bike as my weight transferred.
The slightest of gaps between trees, or any other land buffeting device really lets you feel it. The drop-down visor is extremely fiddly. While the design of the helmet may look cool, there are far too many angles to fumble around with when wearing gloves in search of the slider. I am really stuck for positive things to say about this helmet, which leaves me slightly embarrassed with what to write. It's a good looking helmet, cool in fact, but it is rather average in terms of performance, and that's what really matters. Off road, the story is pretty much the same. I had every intention to upload an off road video using this helmet, but the sheer disappointment in its performance left me with little else to say. And unfortunately, this is where the story ends!
I'm sure there are others out there using this helmet and swear by it. But when promoters claim there to be nothing within its league for the price, and having achieved much better results with the cheaper Caberg, you really do hope for something good to write about! For now, I'll be hanging on to the Caberg Tourmax!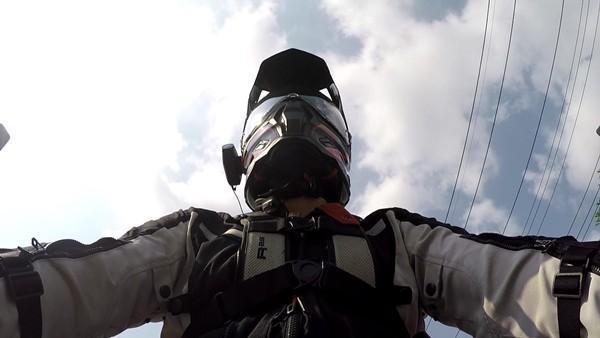 Farangmoto Rating 6/10
Price: 14 - 15,000 Baht
Positive
· Styling · Features · Comfort · Noise levels

Negatives
· Poor performance at speed