Fortunate to have VN plated bike, I was able to cross from VTE and return. The border process has gone down to about 10 minutes on each side or less depending on how many cars there are on the Lao side. It's a pleasure to ride in and out here.
This loop can be done in one day for those on big bikes but best enjoyed as an overnight in Chiang Khom, Loei or Sangkom depending on how many diversions you take.
Note: I have driven this way several times and some of the stops were done on previous trips.
Roads: 2 – 210 – 2263 – 2097 – 210 – 201 – 203 – 2399 – 2115 – 211 - 2
Bike: Sport Minsk, 125cc
Pax: Riding 2 up
Top Speed: Fantastic 70 kmph touching 75 at times when the wind was with us. Difficult to tell as it has no speedo or odometer.
Fuel: No problems anywhere.
Weather: Intermittent heavy downpours on the July 2006 trip.
Departing Nong Khai Mut Mee Guesthouse at 09:00 south on 2 to 2263 West, 3 km after the 210 junction north of Udon Thani. 2 is a dual carriage way and the Minsk was in the gutter lane all the way. 2263 about 22 km in runs along a nice lake, Huai Luang Dam and we stopped here for a while, nice, clean. The road was a little on the narrow side from time to time and only slight elevation changes. Traffic on a Friday was light
2097 junction is fairly easy to find but 2263 got to gravel for the last 3 km or so before joining south on 2097. There is a Y intersection at the end of the paved part and it matters little, left or right takes you to 2097. It had rained earlier and the way was not easy on the Minsk. 2097 down to 210.
210 going west there was considerable road construction on this trip compared to the last two times driving here. I could not tell any difference in the construction from three months ago compared to this trip. Construction does end around Na Klang(ish).
210 has a few places of interest to stop such as the 150 million year old shell fish museum/fake dinosaur park, Erawan Cave and slightly off 210 past the shellfish place is Phu Hin Lat Cho Fa, while uninteresting to us, the ride up there was beautiful.
The turn at 210 and 201 going up to Loei is well marked in Englik. Late lunch stop in Loei and then west on 203. We stopped for about 30 minutes at the Phu Ruea Wildlife Sanctuary but didn't feel like walking in the rain to see barking deer. On a previous trip on this run, I rode out further on 203 past Phu Ruea, 14 km is Chateau de Loei, beautiful but closed and since I was out this far off the loop went up the smll road to Pla Ba Falls. Great swim spot in the lower sections and few people here. The Winery is a large test production facility and from reports, the testing is free.
From here going back on 203 east about 11 km past Phu Ruea is the turn north on 2399, direction Tha Li and the Heuang River Bridge. Follow the signs for Tha Li as 2399 splits at a Y intersection and runs in two directions with the same road number. Tha Li offered a short ice cream stop before pushing on to Chiang Khan. 2399 kind of just turns into 2155 near the river and the sign for the Ton Rapids is a marker and when you come to a 4 way intersection, I chose straight on. The road was in poor condition but sections of paved road did appear sometimes. Fairly curvy and a scenic ride for sure. 15 km from Chiang Khan is the "biggest Buddha" in Thailand overlooking the border into Laos. While there is only one way into Chiang Khan, the road marker did switch back and forth from 2155 to 2154 at various markers. 2154 is south of here but I did stop and look at one marker on 2155 as I was confused and I guess they were installed on a late afternoon Friday or early Monday morning.
Getting in late afternoon in Chiang Khan, we opted for Sam's Guesthouse since the rooms are higher than anywhere else and offer a pretty good deal as it overlooks the Mekong. Secure bike parking inside the lobby overnight and the staff are not there a lot but it matters not.
Leaving out early we were on 211, one of my favorite roads in Asia. 211 rides right along the Mekong almost the entire way until Tha Bo and you have to look for the secondary roads along the larger towns like Si Chiang Mai, Sangkhom and Ban Muang to stay on the riverside.
Stops along this road for me include lunch at Poo-pae Restaurant in Sangkhom on the left after passing the Hospital. Great food and Sangkhom has changed a lot in the last year of riding thru as a number of new Guesthouse have popped up. Siam Bungalows are a descent choice but a short drive to Nong Khai from here but I have stayed here when I had the time.
Another stop that was a little time consuming was Na Yung Waterfall(near Sangkhom). 17 meter or so drop and an impressive view from the top, few tourists or Thai were there on both visits and the walking path up is clear to follow but not well cleared of vegetation.
Than Thip Waterfall is about 11 km to the east of Sangkhom, kinda boring but on a hot day, a good stop.
One of the most irritating places is 4 km outside of Tha Bo. The view along the riverbank over into VTE is great but when VTE is your destination and the road is an additional 60 odd km more……..
While I noted the name of this waterfall/Thai picnic area, keep losing it for some reason. 211 gets tight and the stop is impossible to miss. Eastbound it is on a left turning incline and at the crest on both sides are temporary markets. There seemed to be a large police/army/borderdudes there and incredibly there were over 500 people lulling around and the place was spotlessly clean.
The river ride along here is well worth any ride and should take as long as possible to arrive in Nong Khai. For those with an interest checking out two gigantic rock penis, across from Wat Seesomanook outside of Chiang Khon. I was moved to make an offering, prompted by my girlfriend.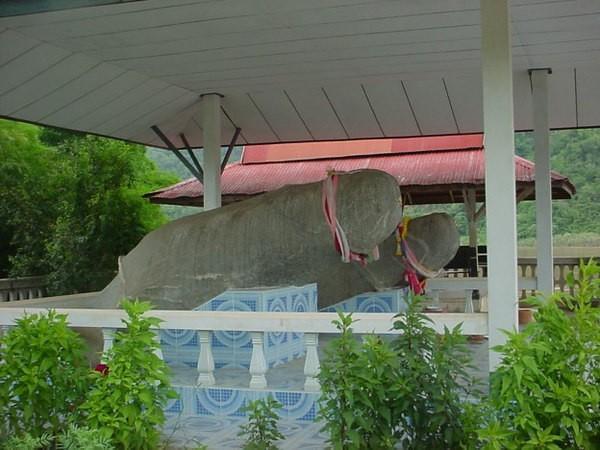 Road conditions on 211 vary from smooth paved to slightly chunky around towns and grooved pavement near to runoff sections. Traffic does get a bit more high speed after Tha Bo for the last 30 km leading to 2.
[}
]
Ride Safe