Excerpt:
"My quest for a Laughing Buddha image, allowed me to discover North Thailand, its fabulous biking itineraries, scenic landscapes and the cities of the Golden Triangle.
Rambling around North Thailand
first part : The quest for the Laughing Buddha
Prologue:
Friends, familiar with my "trip reports", will figure out the antecedence of this story. Pressed by newer endeavors, I left aside the pictures and notes of this journey, during two years. Now, I fancy to remember the good moments of this very first venture, another beginning after my retirement, a prelude to many cruises in Thailand and Laos.
The complete photo story can be found at :
Picasa Web Albums - Jurgen Chopard - NT 1 Quest fo...
Driving to Chiangrai
Would you travel thousands of kilometers for the sake of nostalgia, for the reminiscence of forgotten events and places changed behind recognition? When time is freely available, when calendars and clocks are just wall decorations, the slightest motivation suffice to jump on a bike. This is how I started my first trips around North Thailand.
As I stumbled upon a couple of faded pictures of a Laughing Buddha, I remembered the story behind these images. More than twenty years ago, during one of my first trips to Thailand, I had visited the Golden Triangle region with my son. In front of the fat man's statue, a local guide explained the benefits of throwing coins in his navel; it would secure a return to Thailand. I emptied my pocket of all "Baths" and, since then, spent most of my time in this country.
Retirement had provided me with enough leisure to ride tours on a bike and I acquired a venerable "AX1", to wander around the North. My first peregrination would include an homage to the Buddha's image who had opened the doors of Thailand for me. As I remembered, it was on a tourist's itinerary, somewhere around the "Golden Triangle", a popular place with an easy access.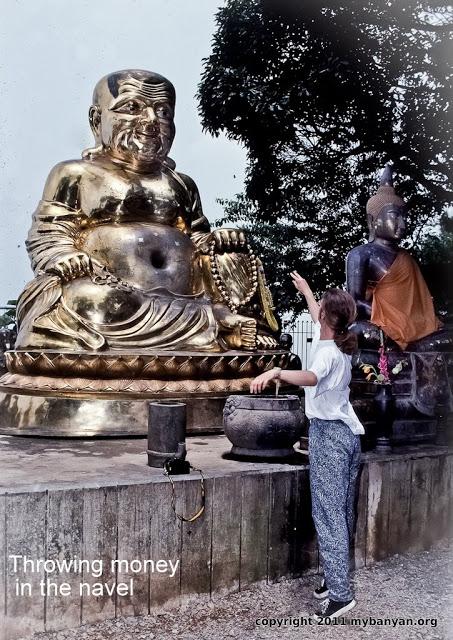 I have visited many Chinese culture countries were Laughing Buddhas are popular images, a legendary representations of a Zen master (Budhai), sometimes revered as Areya Matrey, the future Buddha. These was my only information, since finding my statue should be an easy task.
With a somewhat loose preparation for this trip, I was mostly flying blind. A small companion, the book from David Unkovich: « A motorcycle guide to the Golden Triangle »(1), was my only adviser. I got acquainted with the author, many years ago, and was uninformed about the existence of updated maps and online information. The guide had been published ten years earlier and was still a mine of relevant suggestions. I put it in my pocket and hit the road, unaware of the time involved to complete the quest.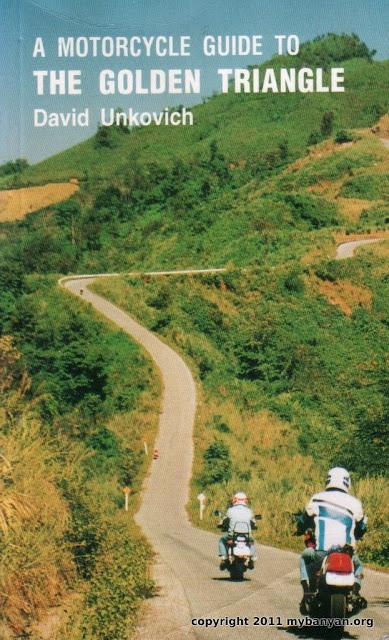 Sunday mornings are my favorite departure slots, as life and traffic are still sleepy around Chiangmai. My promenade started on a September day, leaving Maerim on route 107, toward Mae Taeng.
Half an hour later, as the majestic cliff of "Doi Chiang Dao" poked through smoky clouds, I stopped to take my first picture. The road was almost empty, except for packs of dogs, and I quickly reached "Krua Chiang Dao" restaurant, for breakfast.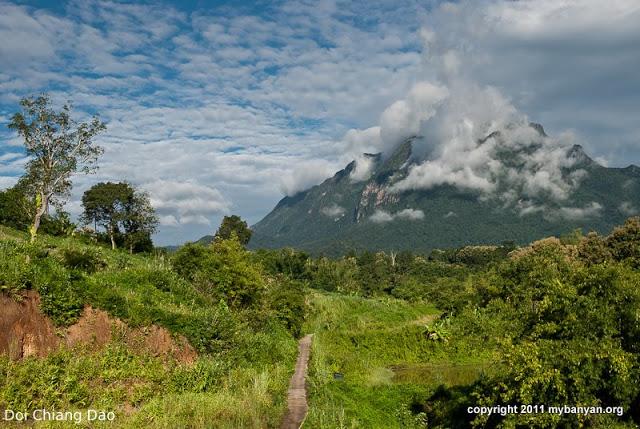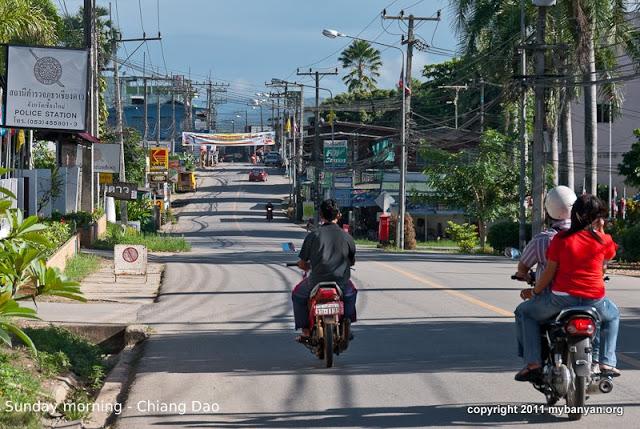 Impressive mountains and limestone cliffs draw a rugged and refreshing backdrop along the way. September is still rainy season and flocky clouds often punctuate the azure sky, bringing shade to the road and contrast into the pictures.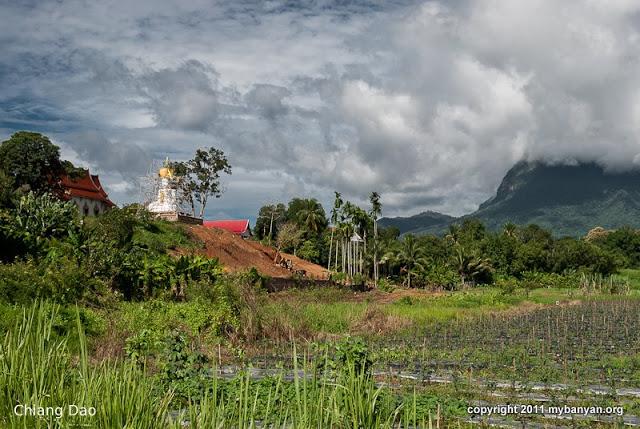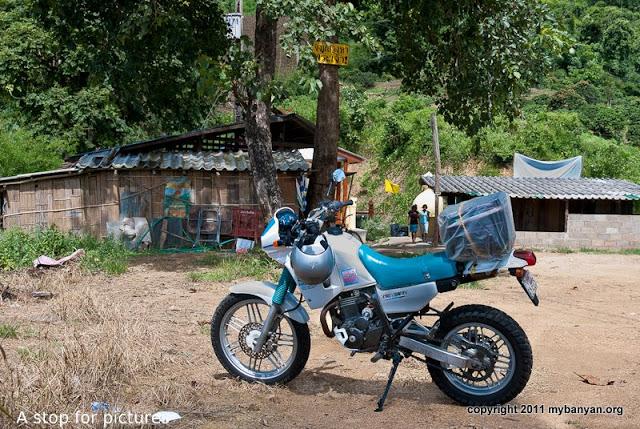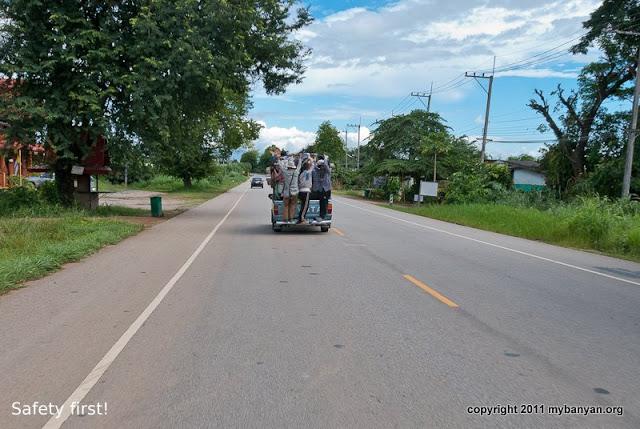 In Fang, I checked in to Chok Thani Hotel (200 THB), a place next to the main road. Later, without luggage, I toured the neighborhoods, enjoying the mountainous landscape. It was low season, and only the geysers animated the hot springs in Doi Pha Hom Pok National Park. On the way back I stopped at a fun "som tam" (papaya salad) stall for a nibble and, finally, visited Wat Jong Paen, a Shan style temple in the city.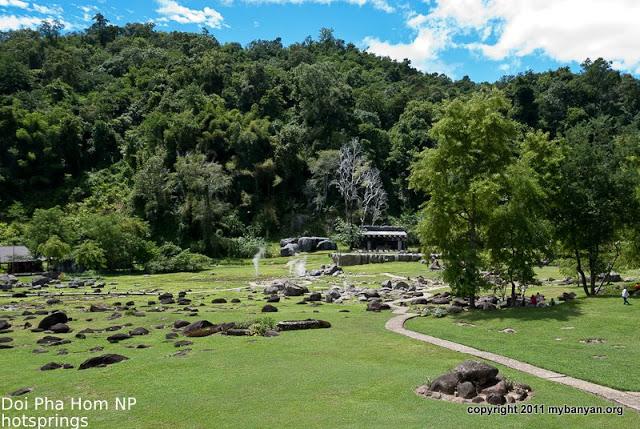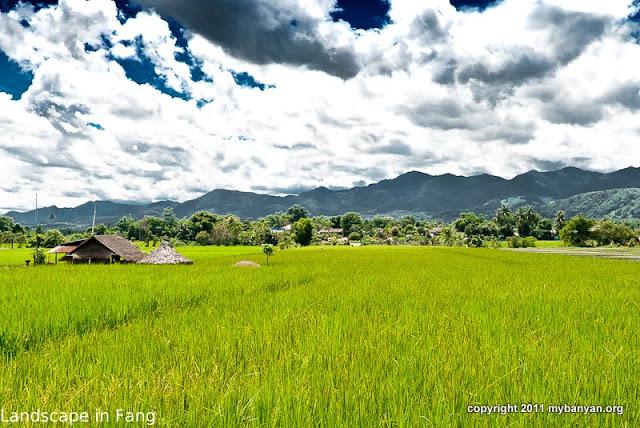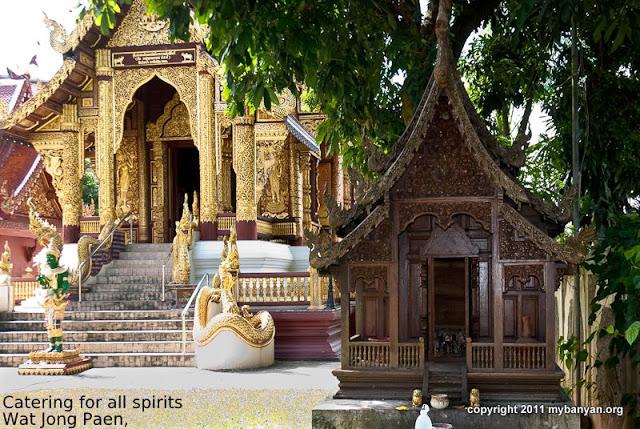 Night life in Chiang Dao is on the quiet side; even so a couple of hangouts provide food and, sometimes, basic entertainment. After patronizing some of these places, I was ready for an early sleep.
The glare of a sunny morning woke me up and I checked out quickly, as no breakfast was available in the hotel. After Fang, route 107 changes into route 1089, with scenic Tha Thon village just twenty five kilometers away. There, I stopped at "Sunshine Cafe", a cozy roadside shack, for coffee and "toasties".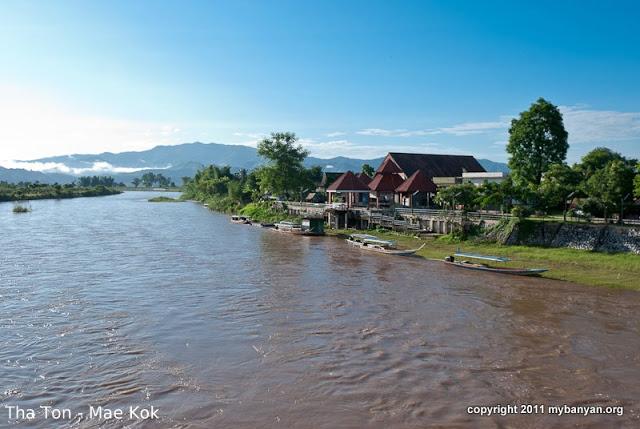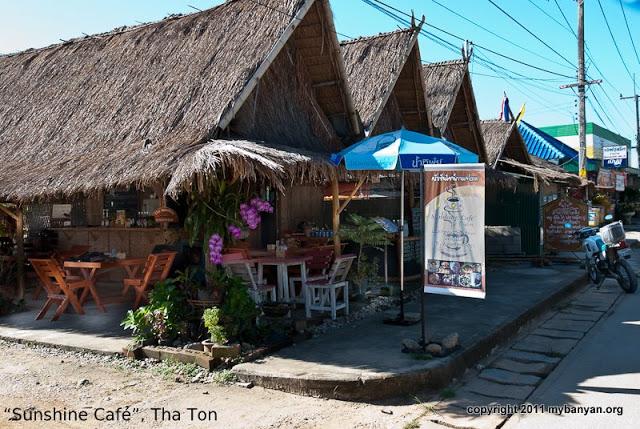 With a filled stomach, I drove to the hilltop temple. His colorful Kaew Chedi and a large white Nirandornchai Bhudda make it a popular landmark. My "shoebox" Laughing Buddha picture indicated a hillside location and Tha Thon, with a landing place for boat excursions on the Mae Kok river, is on many tourists path. This could well be the home of my statue.
The temple's compound is serene and surrounded by a lush forest. Several religious buildings and figures punctuate the nine levels of the complex. Some images are of Chinese inspiration, like a representation of Kuan Yin, the Bodhisattva of Compassion, and a Laughing Buddha. This one is standing and different from my picture.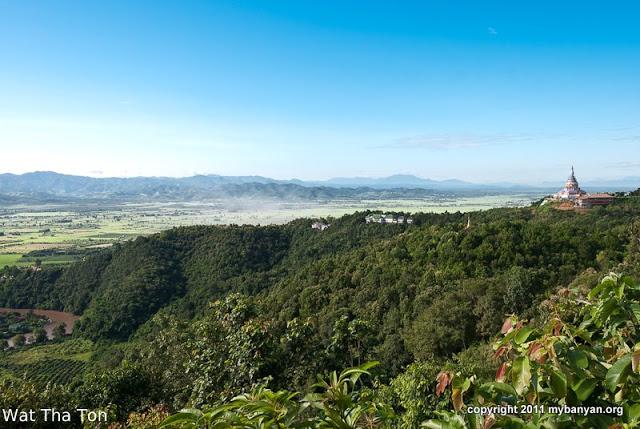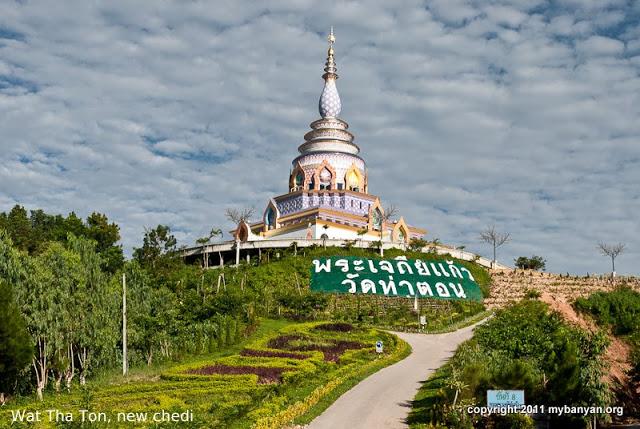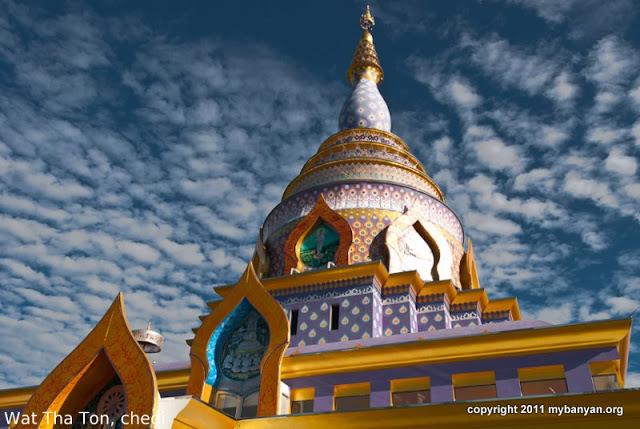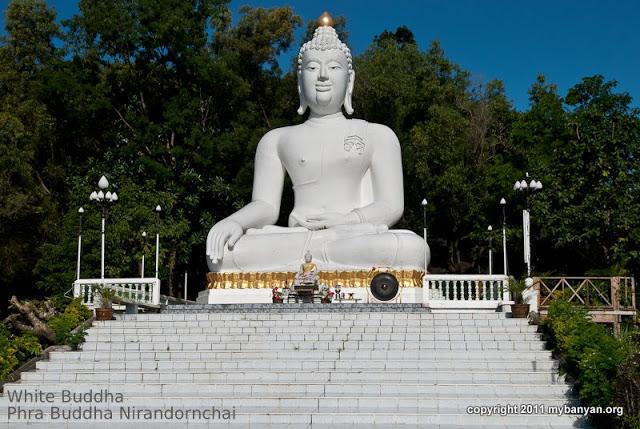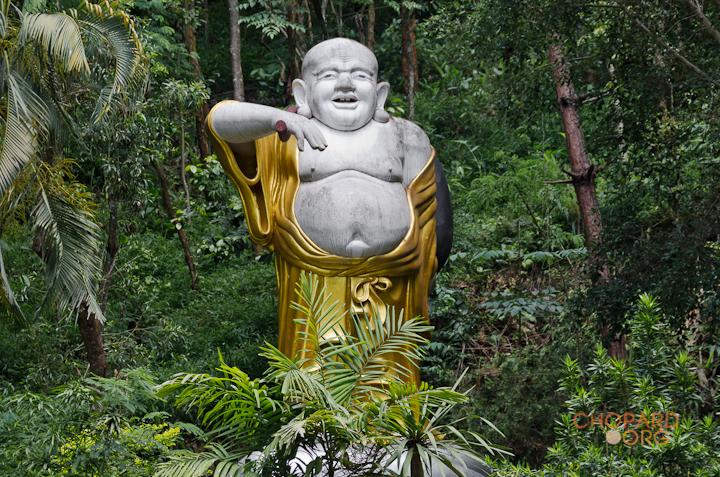 I enjoyed my visit to this colorful compound. The unhindered view from the summit of the hill is spectacular, and the panorama reaches from lush mountains, the border with Burma, to the meander of the Mae Kok river, flowing toward Chiang Rai.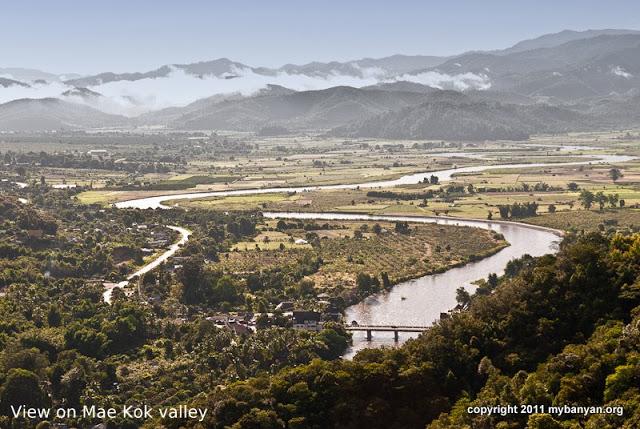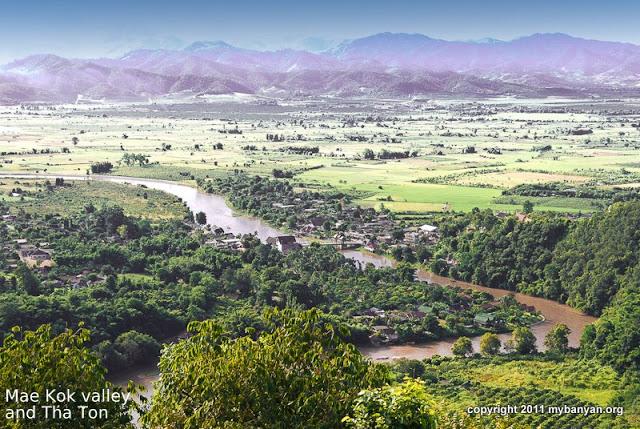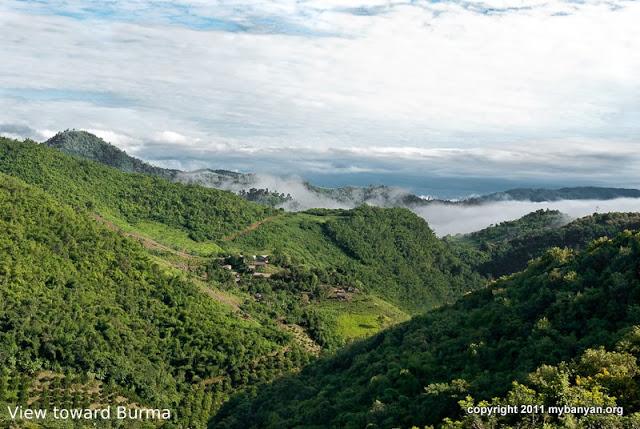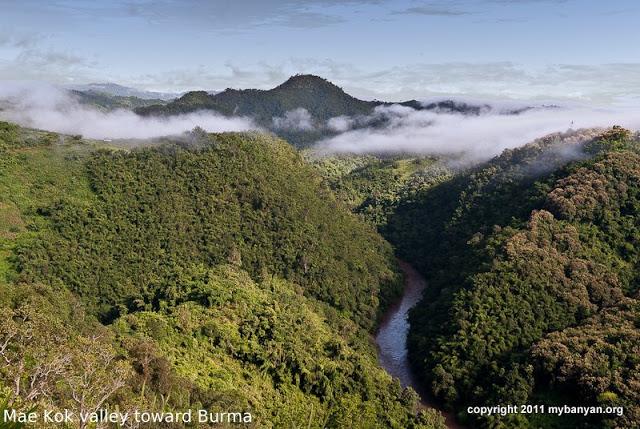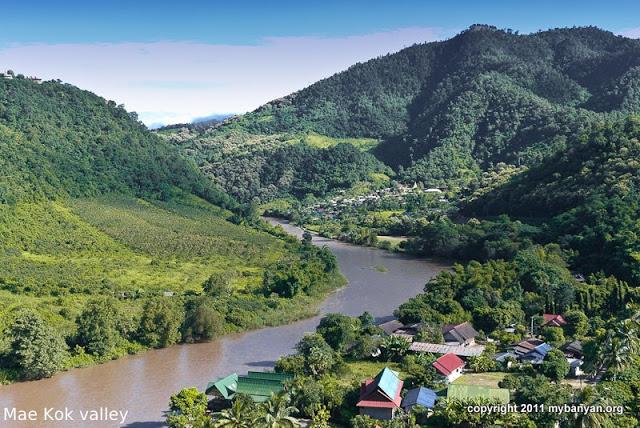 My destination was Chiang Rai and, at Kiu Sataa intersection, I took route 1234 for a loop through Doi Mae Salong, a "must" for bikers in the North, according to David's book.
As I climbed the hill, I became exhilarated about the trail. Eighteen years ago, I completed the legendary Mae Hong Son loop, but I was surprised to find more of such gorgeous itineraries. Thousands of kilometers later, I am still amazed about the spectacular roads of North Thailand.
When I reached the summit, I stopped at a small tea shop. My knowledge about the historic past of the region and the Kuomintang (KMT) immigration was basic. I tested my limited Mandarin vocabulary with success, even so the local Chinese community actually uses the Yunnanese dialect.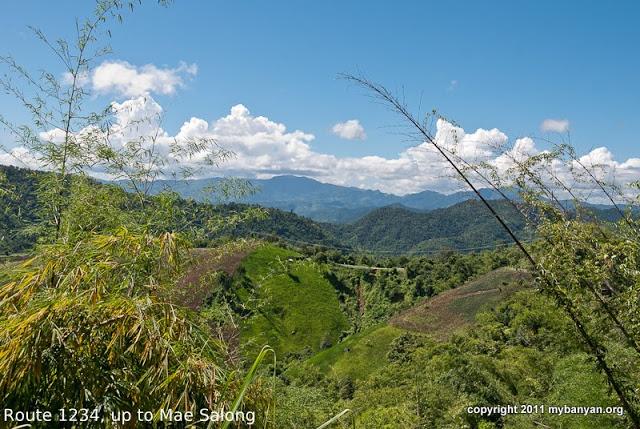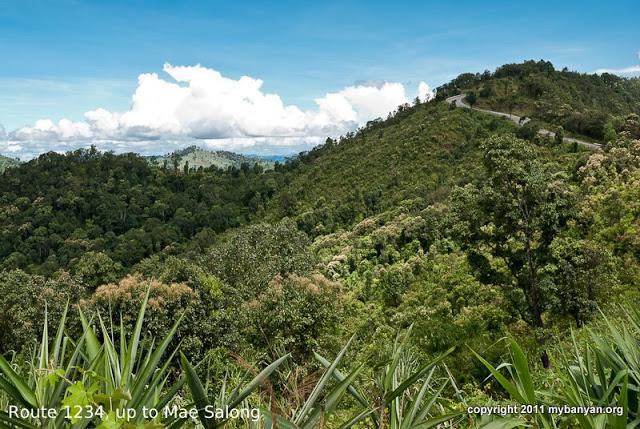 In Mae Salong, officially called Santikhiri, I climbed toward Phra Borom That temple, a higher viewpoint affording a panoramic sights of the mountainous environment.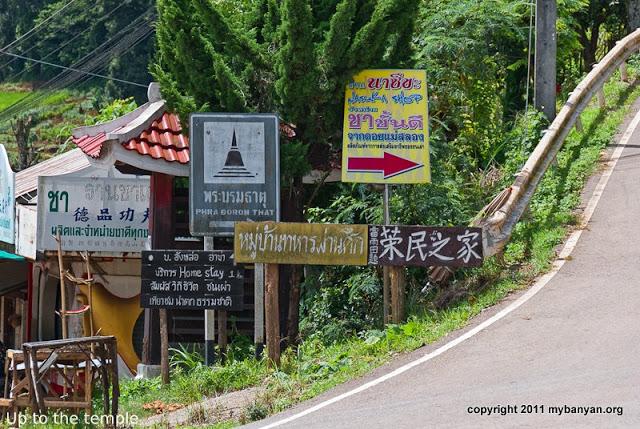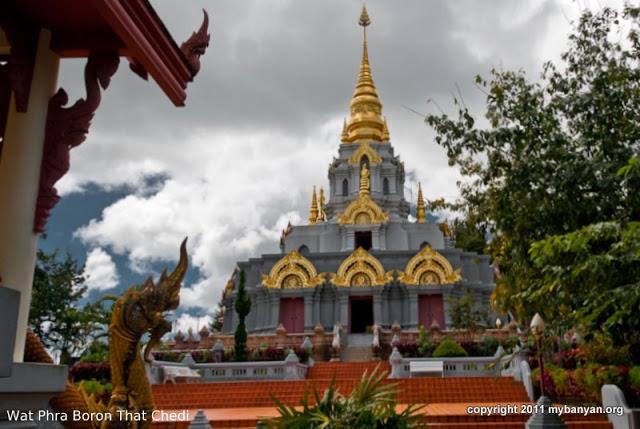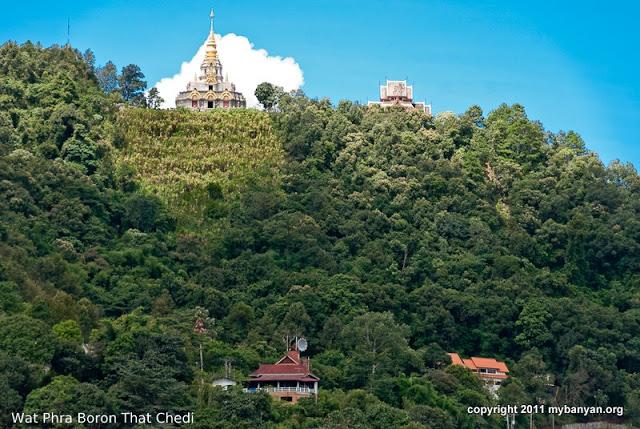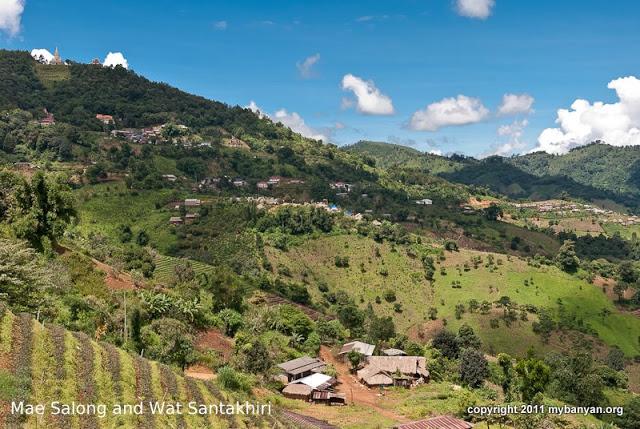 Mae Salong, a hillside "china town" has a unique blend of Thai and Yuannese heritages. Tourism, together with Olong tea plantations are now the most obvious activities around the, still remote, village. I only paid a short visit to the handicraft market, before gliding down, on route 1130, toward Pasang. It is worth to reserve more time, for a longer exploration of this place; I let this aside for another trip. The ride through this landscape, on the ridge of the mountain or gliding around steep curves, is exalting making me hum "country roads", begging not to take me home.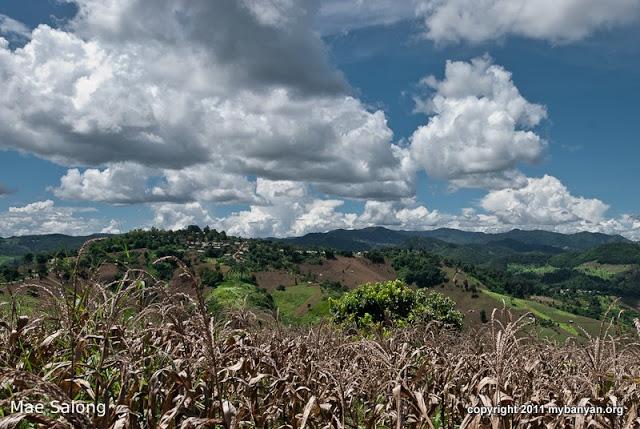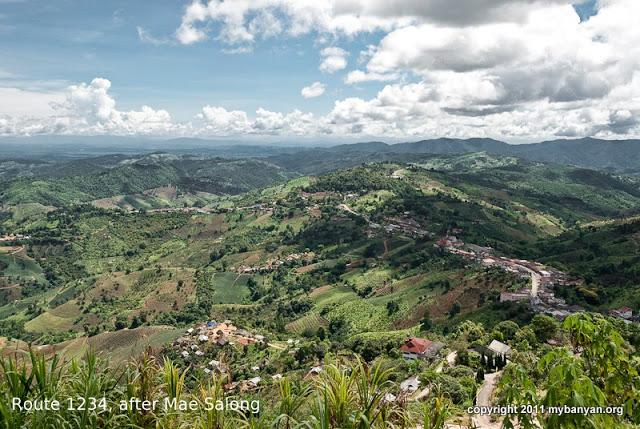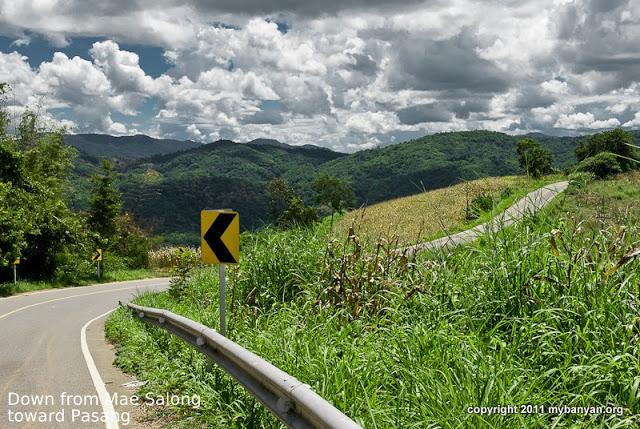 In Chiangrai, I checked in to Boonbundan guesthouse. The owner, operator of a small travel agency, recognized my Laughing Buddha, an image of "Sangkajai", located in Doi Thung's temple. I rejoiced about the news, as the "Flag Mountain", with the Royal Palace and Mae Fah Luang's Garden, makes an interesting excursion.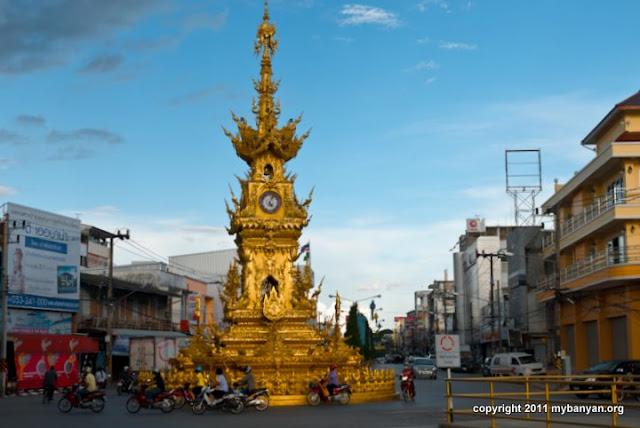 Mae Sai and Doi Thung
Persistent drumming woke me up in the middle of the night and the downpour lasted till the morning. Without a waterproof equipment, I was unable to start my journey. Hence, after breakfast, I grabbed a book and waited for better times.
Around ten o'clock the rain calmed down, allowing me to leave Chiang Rai, on Phahonyothin road (Highway 1), for a short ride to Mae Sai. I checked in to "Mae Sai Resort", a small guesthouse at the rim of the river. Being the only guest, I selected the nicest room, a bungalow hanging half over the Sai water. That night, I would have my head at the extreme North, farther than the official designed spot "Northern Most Point of Thailand".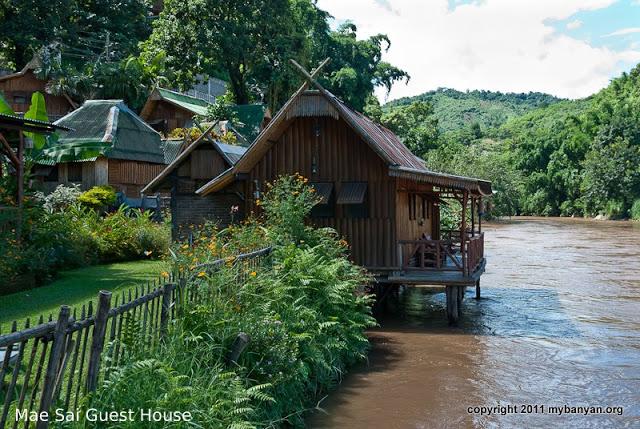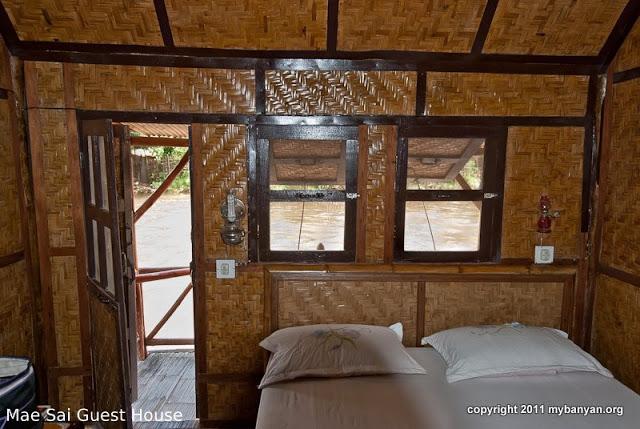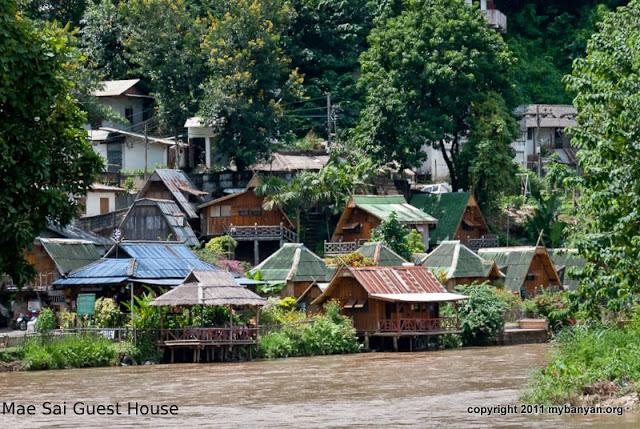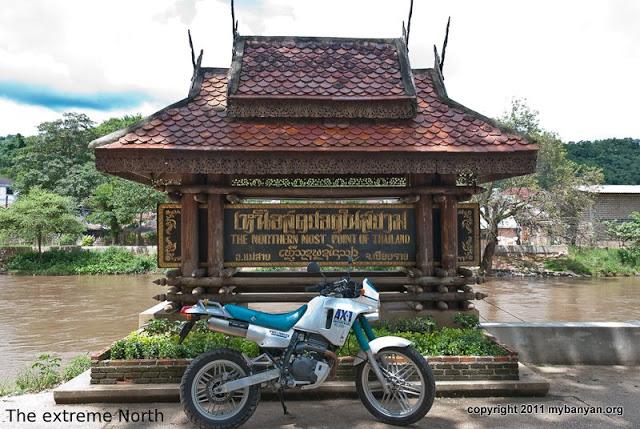 I spent part of the afternoon to drift around Mae Sai's neighborhood, particularly enjoying the scenery from the hill, toward the Burma's mountains.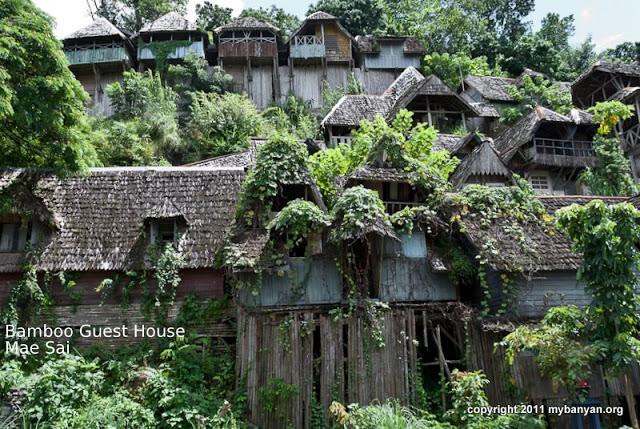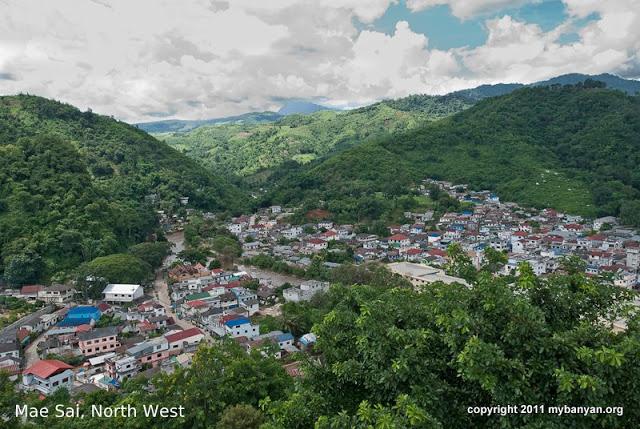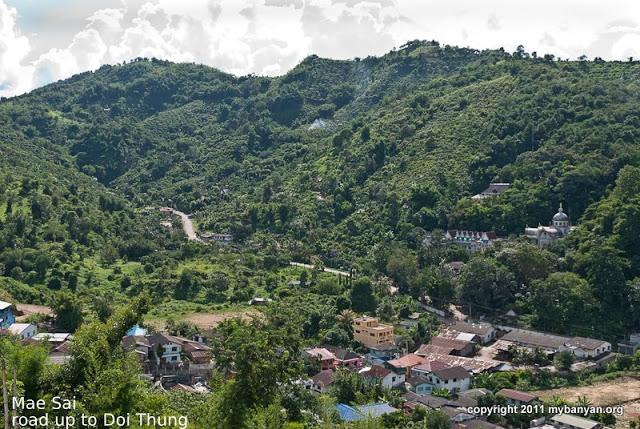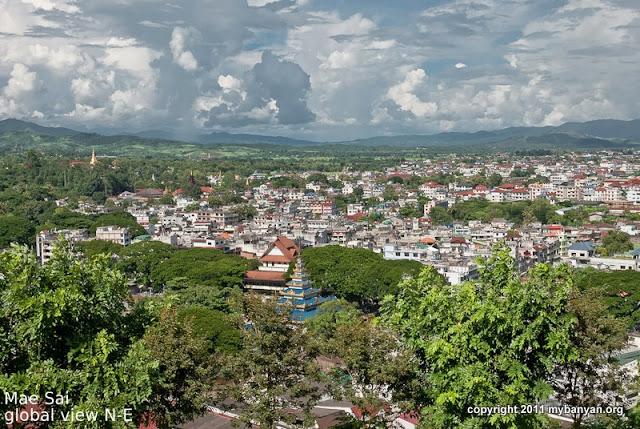 The bridge to Tachilek leads to an official, albeit limited, border crossing. It is frequently used for "visa runs" or to shop for Chinese goodies. The gate, on my twenty years old picture, still displayed the inscription:"The Union of Burma". The official English name of the country was changed into "Myanmar" in 1989.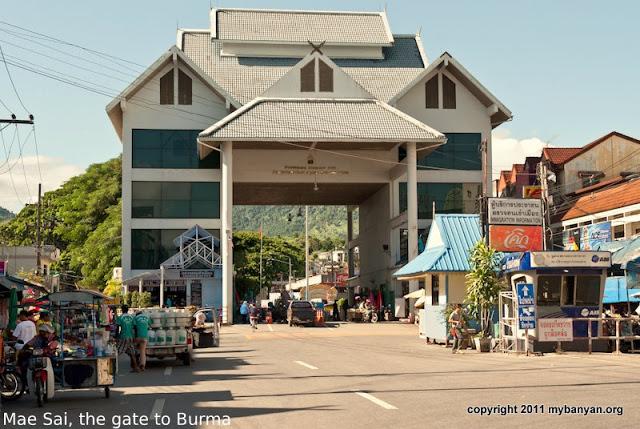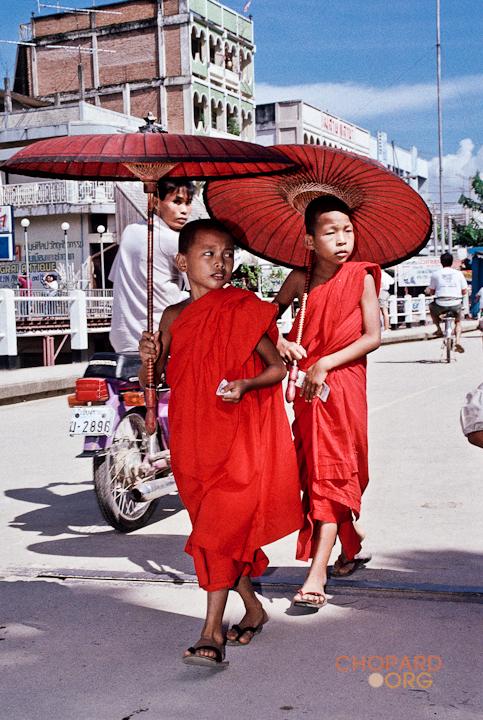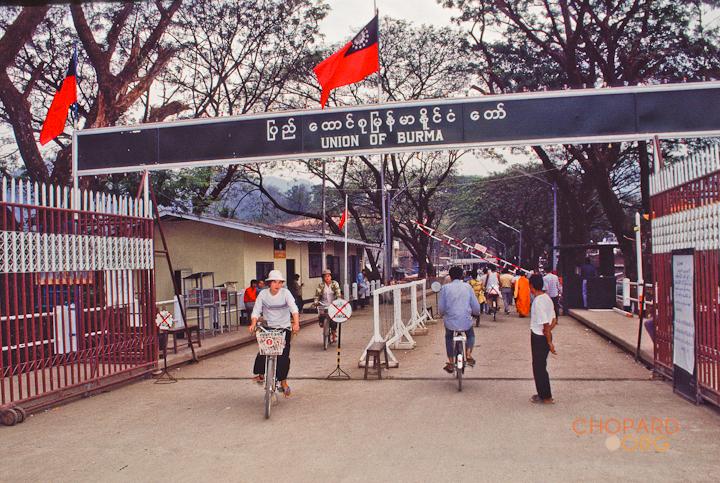 "It's Pardise here!", this appreciation came from two young travelers, driving rented scooters, as they checked in to the guesthouse. Sitting together for a chat and a drink brought a valuable diversion for the end of the afternoon.
Mae Sai has restaurants catering for all type of customers, but, in the low season the options are limited. Walking inside the covered market is another entertainment, leading through a potpourri of goods, from both sides of the border.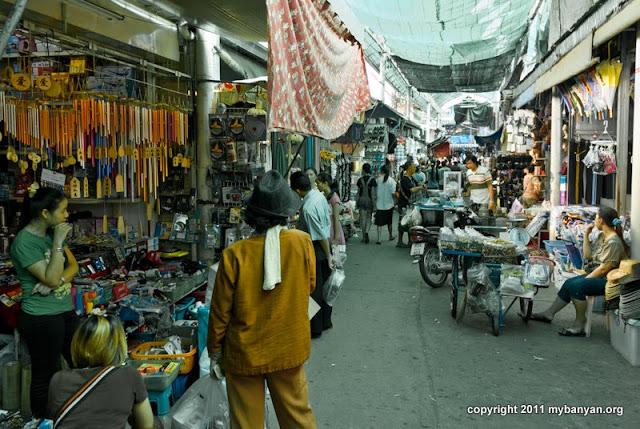 Stormy weather shacked my bungalow for an agitated night, making me wonder if the pillars were strong enough to resist the chasing stream. The morning, however, was calm and gray, without rain. I started the loop toward Doi Thung, beginning on "highway one", thus sparing the scenic mountain road for the drive back, in the afternoon.
When I passed Mae Fah Luang's garden, haze was still blanketing the landscape; hence I continued toward Doi Thung's summit, eager to meeting the Laughing Buddha again.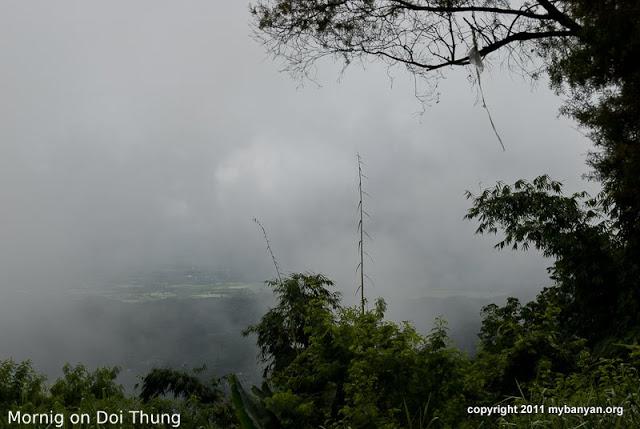 When I reached the temple's compound, I was disappointed, despite the majesty of the place. I found a statue from a fat holy-man called "Phra Sangkajai", with a familiar face, maybe casted by the same artist. This was the only similarity. My Laughing Buddha was on another background, at another location, with another look, even in colors. In addition, the Doi Thung's image was dressed in a fabric robe, with his navel covered.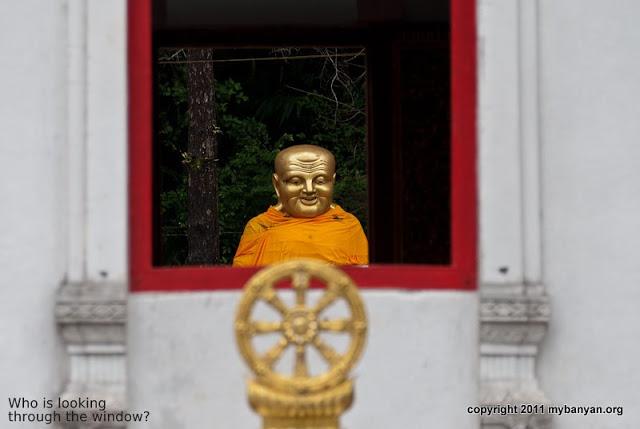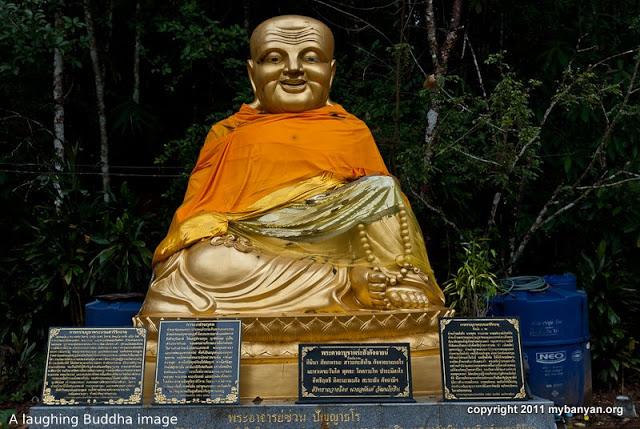 As I begun to drive back, I forgot the comment in David's book : "Warning: last 250 metres approach to Doi Tung temple extra steep".
Climbing, with a well loaded rear wheel, was a breeze. The way down would be different! I started in first gear, on a surface made slippery by the recent rain. Suddenly, in a sloppy curve the bike lost adherence and got out of hands. I had disturbing flashes of metal and plastic crashes, mixed with my cloth brushing the rugged tarmac. Something had to be done to delay the disaster. I pressed the clutch, letting go of everything and gained speed, as well as an upright position. Down the hill a large sand mount, piled by construction workers, seemed a convenient escape ramp. I was still at a distance, and aimed toward it, whilst gently pushing the breaks for some control. The rush produced a heavy noise, making people scream. Fortunately, the last metres were flat, allowing me to stop the bike, two wheels and to feet on the ground. As the spectators applauded, I hated the situation but was happy to come out of it without a bruise. Greeting the assistance, I quickly escaped from the place.
After Doi Thung's temple, route 1149, the link to Mae Sai, on the mountain ridge, is a scenic drive, affording panoramic views over the valley and the mountains boarding Burma.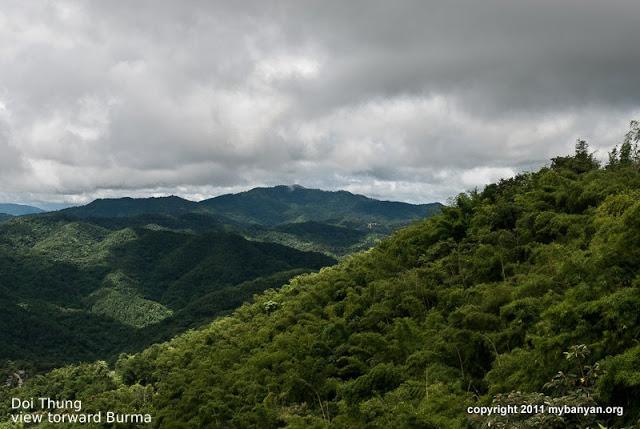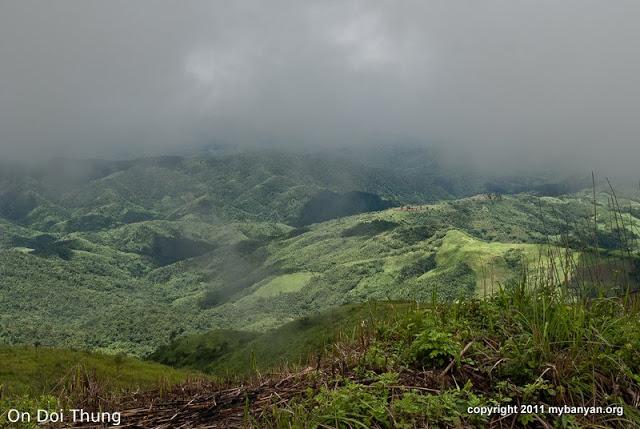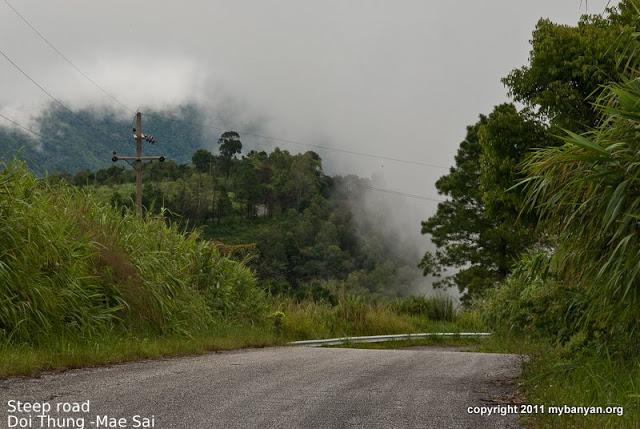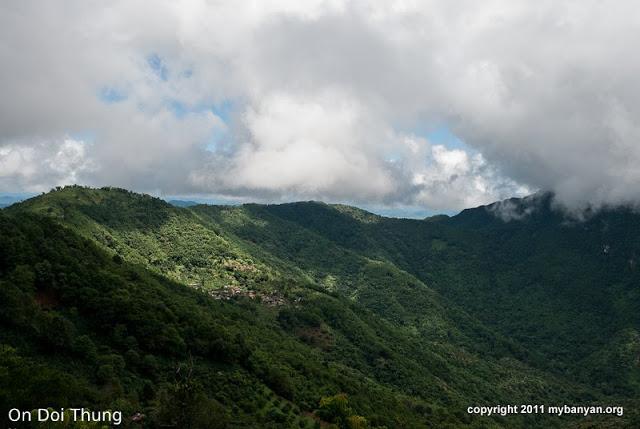 After my misfortune, the slippery pavement, on the narrow, steep and winding trail, made me particularly cautious. In a village, along the way, I met my young friends from the guesthouse. They were driving the loop in the opposite direction. One of them had bruises, as his mounts threw him to the tarmac, without an apparent reason. Wet conditions are big drawbacks for this, otherwise spectacular, ballade.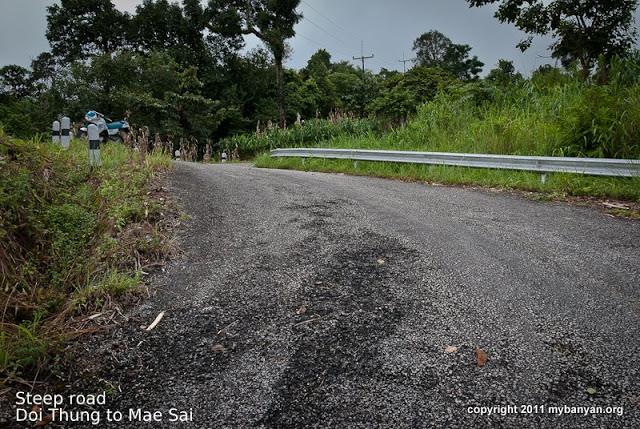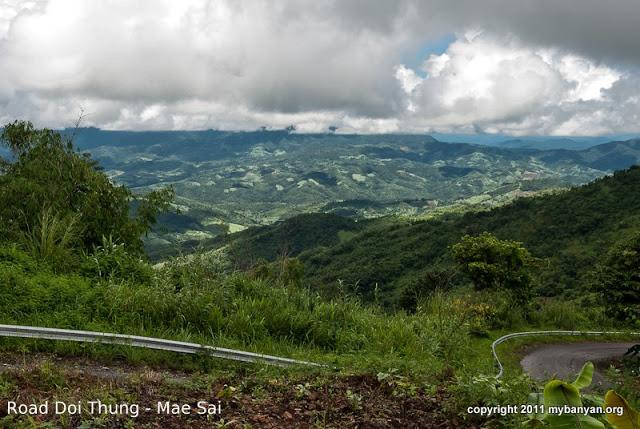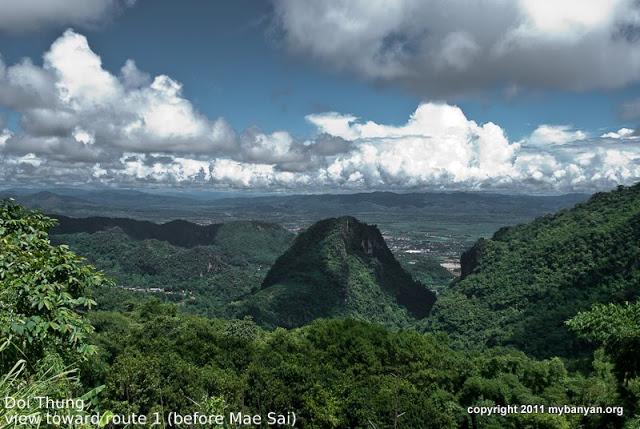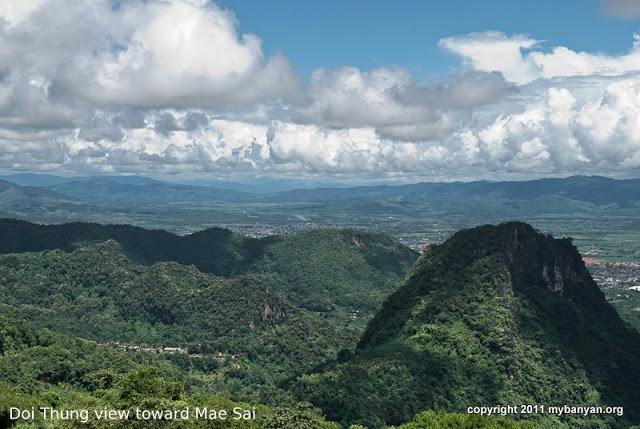 Temples near the Mekong
I left Mae Sai in the early morning, on route 1041, toward the Golden Triangle. It had been a long time since my last visit to Sop Ruak, therefore many places, recorded in my souvenir pictures, were now different.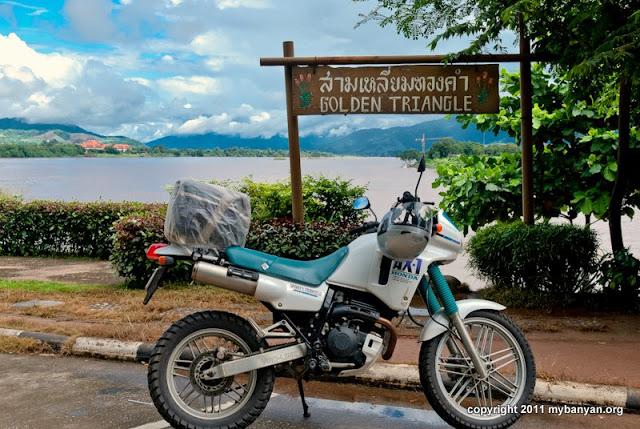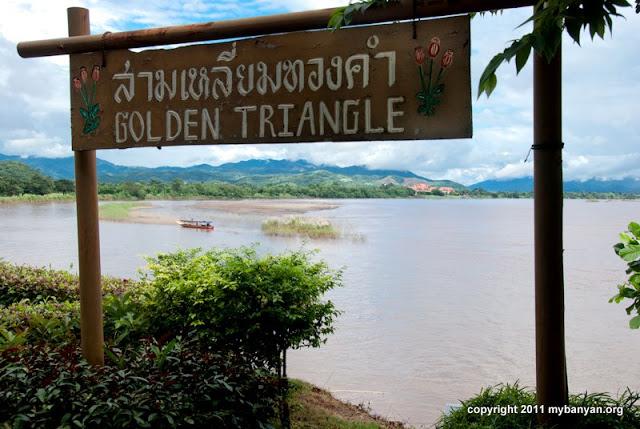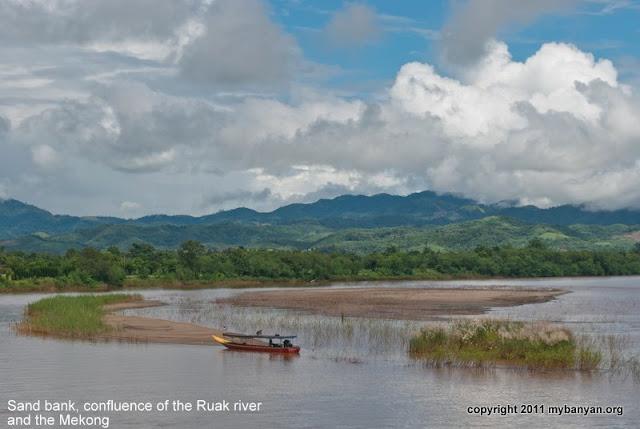 The sandbank, at the confluence of the Mekong with the Ruak river, marks the border of three countries, i.e. Thailand, Myanmar and Laos. Opium trade made the region infamous till recent years; this image is now improving. New landmarks, a museum, plenty of restaurants, small shops, a huge Buddha image and a gilded casino, winking from Laos, are notable changes, an evolution toward a full-fledged tourist attraction.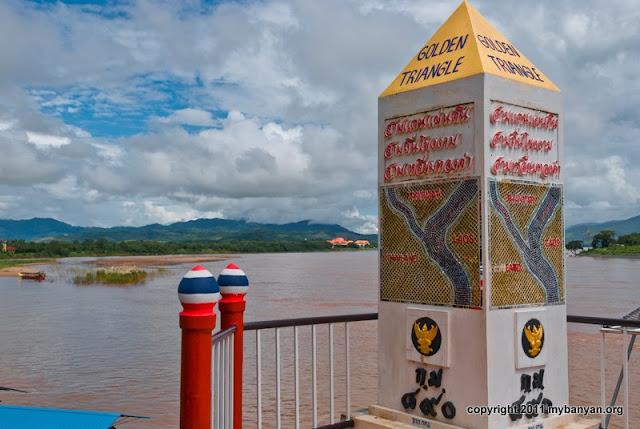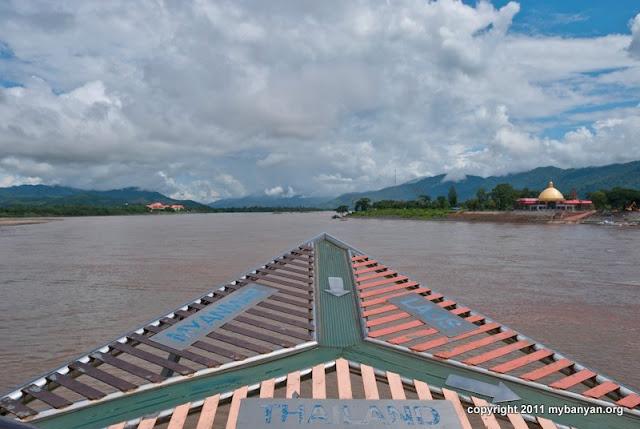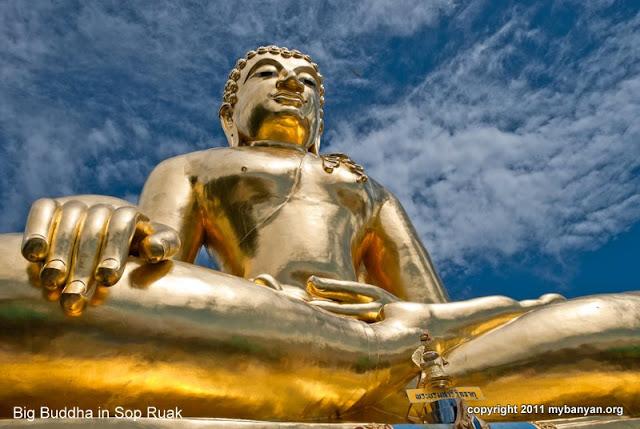 Wat Sop Ruak, the temple at the rim of the river, has a theatrical setting. A large Buddha image cruises on a treasure ship surrounded by elephants. The place host another holly statue, a fat one, with a hungry stomach fed by mechanical lines. It can soak entire purses of coins, without any spilling, whilst shouting: "ha, ha, ha, laughing Buddha", for every Bath spent in his navel.
Despite his similarities, this money glutton is far from the object of my quest. He is called "Sangkajai", the "Laughing Buddha". I only learned later about the confusion Thai people often make about these "Noble Men", both depicted with a big belly.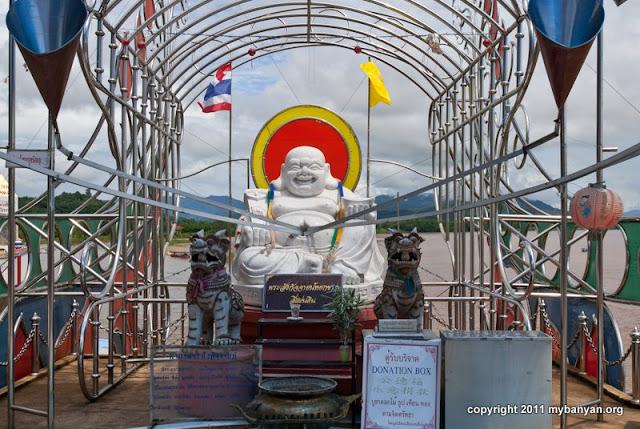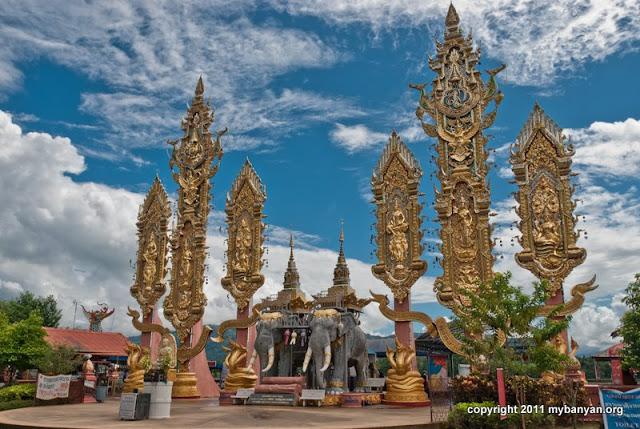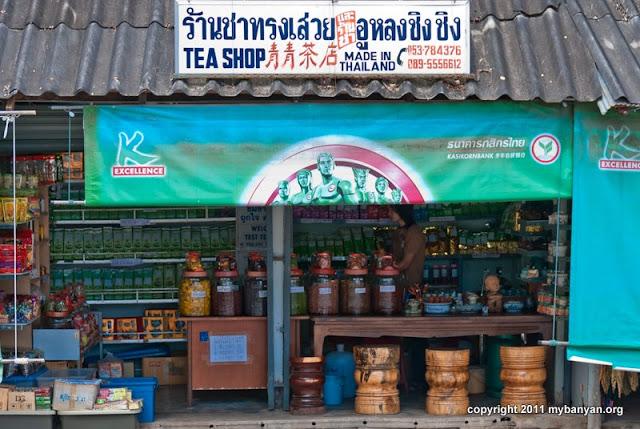 As implied by its Thai name, Wat Phra That Pu Khao is a hillside temple, in the middle of the city. I climbed up to check his Buddha images and to enjoy the higher view over the Golden Triangle. The panorama is worth the loop and I remembered heaving shot pictures of that landscape. My statue, however, was not there.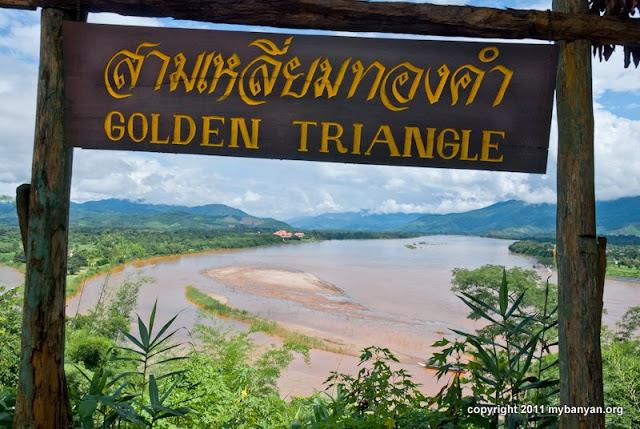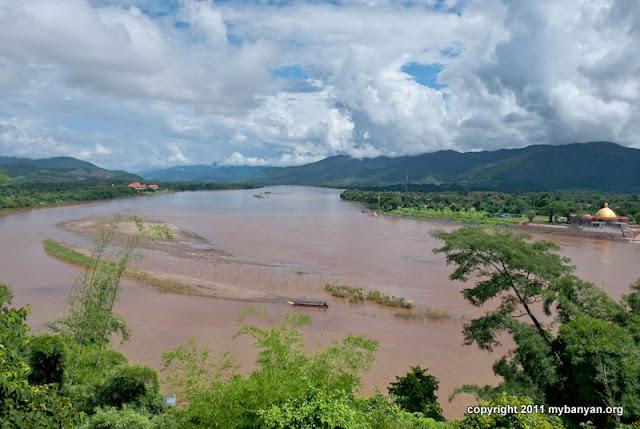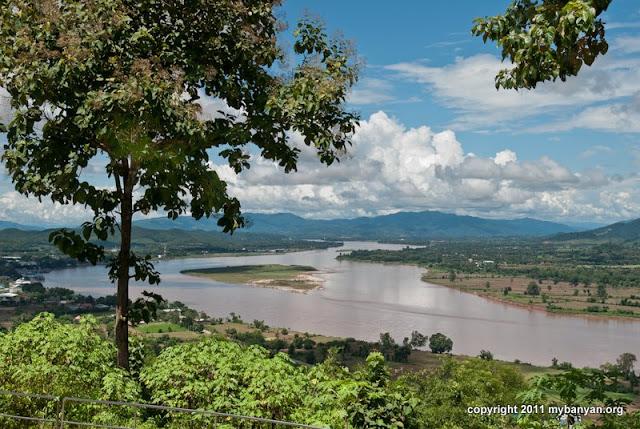 Twenty years after my last call to the region, and despite the help of pictures, my memory of the visited places had faded out. Soon I would have exhausted all possibilities, the last chance being the historic city of Chiang Saen. It is a starting point for short cruises on the Mekong, with two famous hillside temples. This was the farthest point reached during my former Golden Triangle trips.
Rambling on a paved road, along the old city walls, I wondered how to reach the hill of Wat Phra That Chom Kitty, when I met two youngsters riding a scooter. As they seemed to recognize the place of my photography, they showed me the way. Despite their kindness, I only found a related image, again a different one. Anyway, I enjoyed the ascension, as the panorama over the city and the Mekong is superb.
My last hope was Wat Phra That Pha Ngao, it is located four kilometers south of Chiang Saen. The large religious complex stretches to the hilltop, with an impressive white Chedi, affording again a spectacular view on the river and toward Laos.
In this temple, I found a representation of a corpulent holy man. I was also lucky to have a conversation with an erudite monk. He explained the differences between the Chinese-style image, in my picture, and Phra Sankadjai, a contemporary disciple of Lord Buddha, depicted in the statue in front of me. Unfortunately, my "Adjahn" was from Bangkok and had never met the object of my quest.
A consultation with the Abbot brought an amazing answer. He recognized part of the picture, advising me to look at Doi Suthep, in Chiangmai, next to my home. This temple is on most Northern Thailand itineraries and I have visited it many times, although not in recent years. I might have overseen this obvious possibility.
This was the temporary end of my quest. Although I enjoyed my trip through this fabulous region, I was disappointed about my mistake.
To plan my itinerary back, I took David's small guide out of my pocket, deciding to follow his advises and itineraries. As I jumped on my bike, ready to go, I met again with one of the young tourists from Mai Sai guest house, still riding his rented scooter. It's a small world for travelers!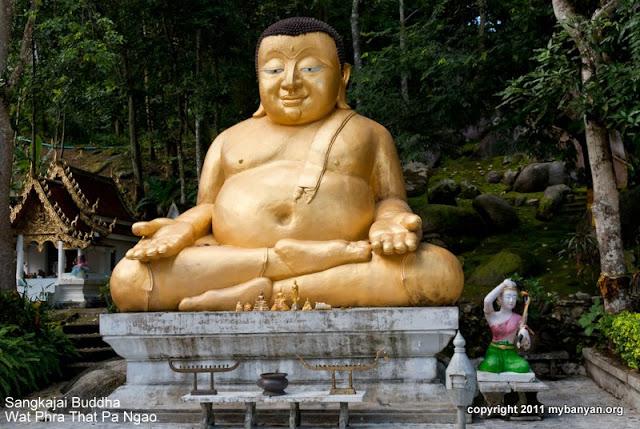 Epilogue: Two weeks later, back in Chiangmai, I rushed up Doi Suthep to finish the quest. My Laughing Buddha was nowhere to be found, hence I almost gave up meeting this statue again.
End of part one
– follow up story, the road back home: "Going by the Book" :
North Thailand - 2 The North by the Book
---------------------
PS:
my quest for a religious statue acquainted me with another holy man called "Phra Sankadjai".For reasons still to be clarified, he is often confounded, in Thailand, with the Laughing Buddha, called Budai in China. Similarities are in their corpulence and joyous mood; however, Budai has a wide grin, whilst Sankadjai is mostly just smiling.
There are other obvious differences:
Budai is always bald, Sankadjai should have some hair.
Budai wears a Chinese-style robe, with his navel uncovered (an invitation to throw coins); Sankadjai is draped in the traditional uttarasanga robe, usual in Thailand (covering one shoulder and his navel).
Budai often has attributes like prayer beads and a calicot, he is frequently depicted standing or walking.
These images show different holy men. The Laughing Buddha is a Chinese representation of a legendary Zen monk, sometimes considered a Bodhisattva, the reincarnation of Maitraya, the future Buddha. Phra Sankadjai, on his side, was Buddha's companion and disciple. As he was very handsome, the story says that he decided to transform his appearance, becoming physically less attractive.
Now, everytime I visit a temple and see a fat Buddha image (actually it is never a "historical" Buddha), I try to recognize the right monk. The text written under the statues are often misleading.
References:
Budai - Wikipedia, the free encyclopedia
http://www.religionfacts.com/buddhism/deities/laughing_buddha.htm
(1)
A motorcycle guide to the Golden Triangle
David Unkovich
Silkwormbooks, Chiangmai, 1998
----------------------------------------------------------------------------
Around North Thailand
Part 1 - The quest for the Lauging Buddha
Driving to Chiangrai
Mae Sai and Doi Thung
Temples near the Mekong

Part 2 - The North by the Book
Chiang Khong to Nan
Doi Pu Kha
Payao
Part 3 - A New Golden Triangle
Thoet Thai
Climbing to Doi Thung
The rim of the Mekong
Chiang Khon and the road back