With what started as a humble post on the GT-Rider forum.. grew into a full-fledged motorbike tour....
6 days, 6 bikes, 1 sidecar, 8 people, 1300kms and 2 offs… here is the story!
The itinerary
Day 1: Chiang Mai to Nan
Day 2: Nan to Pua & The Doi Phukka Loop
Day 3: Pua to Chiang Khong
Day 4: Chiang Khong to Mae Sai
Day 5: Mae Sai to Fang
Day 6: Fang to Chiang Mai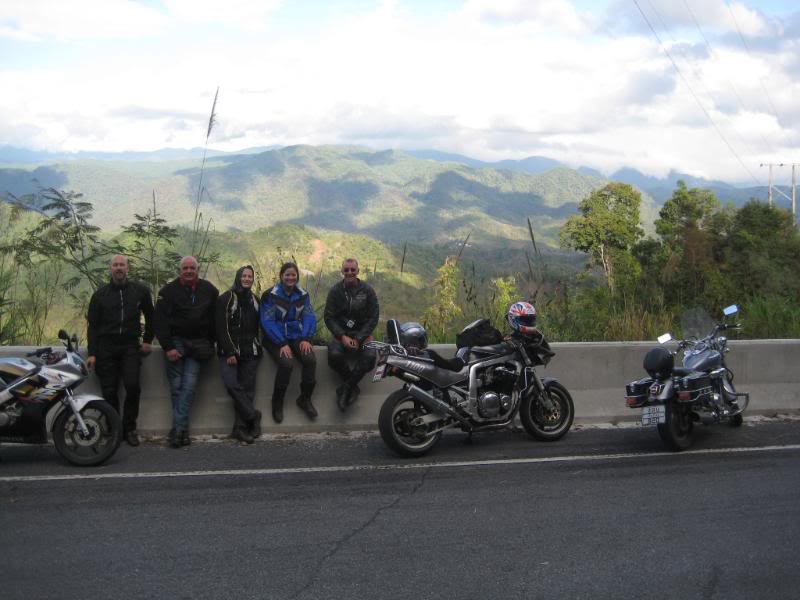 The subjects:
John
Bike: GSXR1100
Nationality: Australian living in Chiang Mai.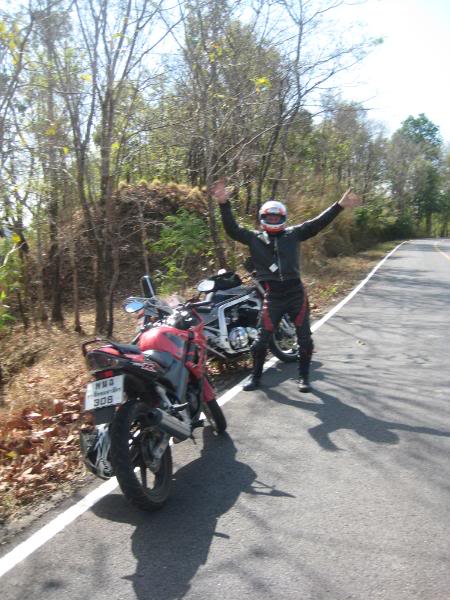 Steffi
Bike: Pillion with John
Nationality: German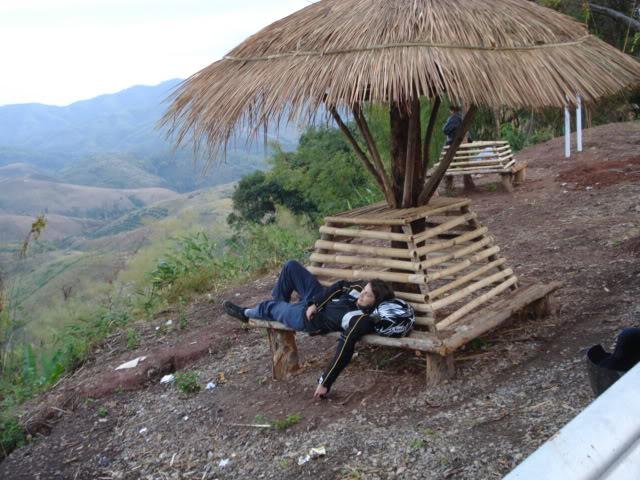 Michael
Bike: Phantom
Nationality: Aussie living in Chiang Mai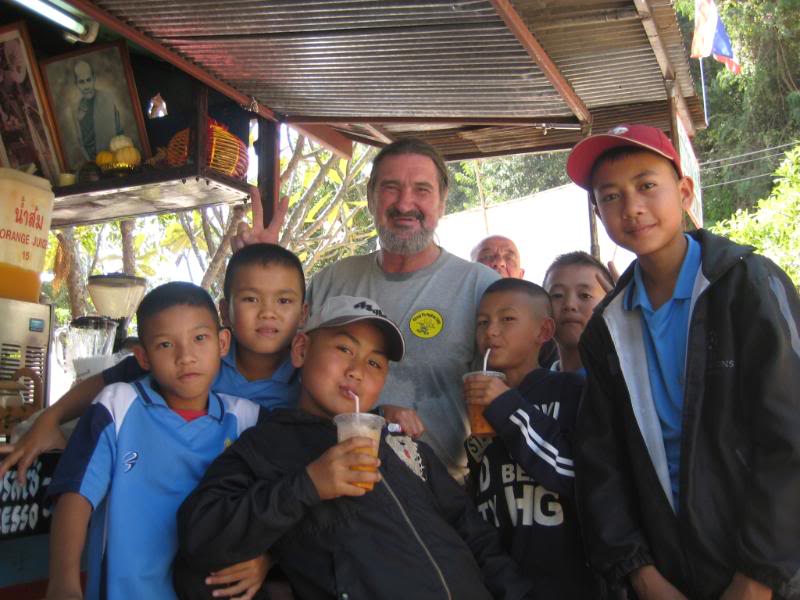 Franz
Bike: 400cc something
Nationality: German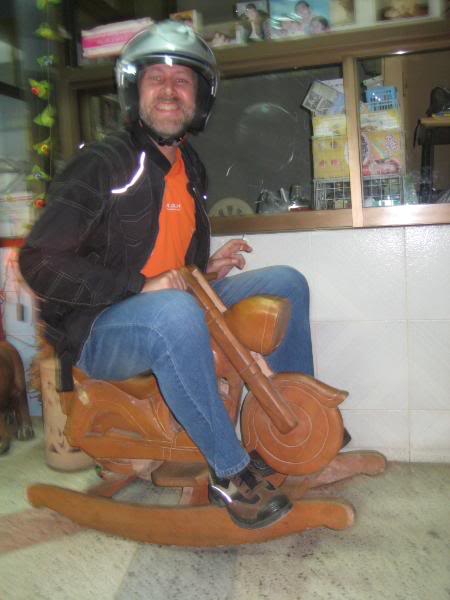 Pico
Bike: Honda Silverwing with Sidecar
Nationality: German living in Phuket

Sao
Bike: Pillion with Pico
Nationality: From Isan living in Phuket

Keith
Bike: Honda CBR150
Nationality: Isle of Man on a long holiday in Chiang Mai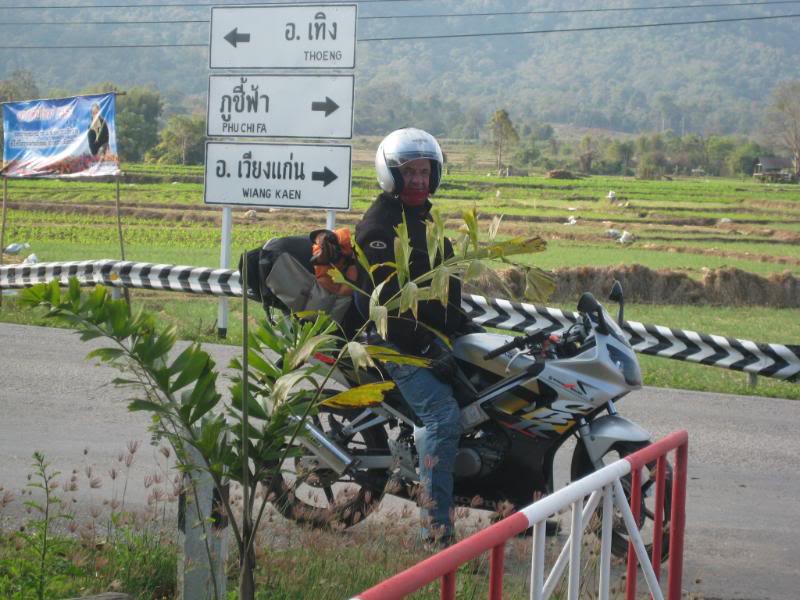 ME (Danielle)
Bike: Honda CBR150
Nationality: Australian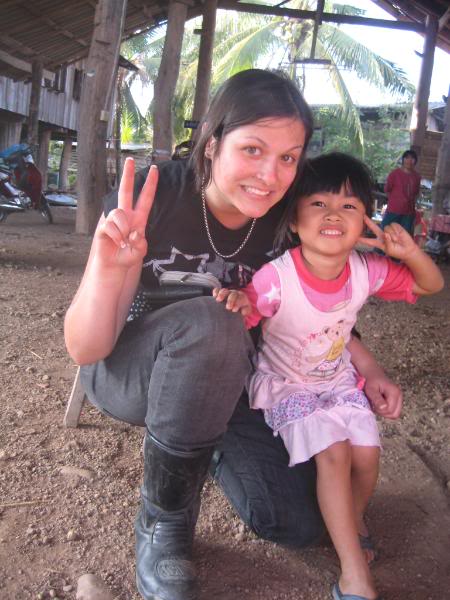 Day 1
With bike rental papers signed, bags packed and strapped onto the bikes, and all our gear on… we were ready to go! Finally! But.. first a quick stop at the servo, to fuel up and check tyres. Then a not so relaxing ride as we made our way out of Chiang Mai through some pretty serious traffic. We headed towards Mae Khachan on Highway 118 for 76kms and then took a right at highway 120 towards Phayao. It was good to be out of the city!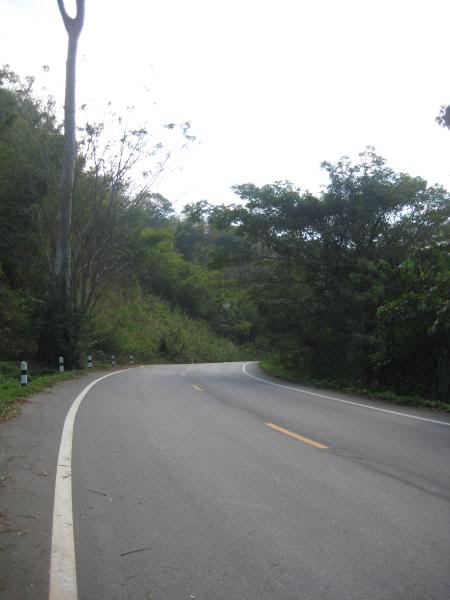 Here's a photo from our morning rest-stop at a small waterfall.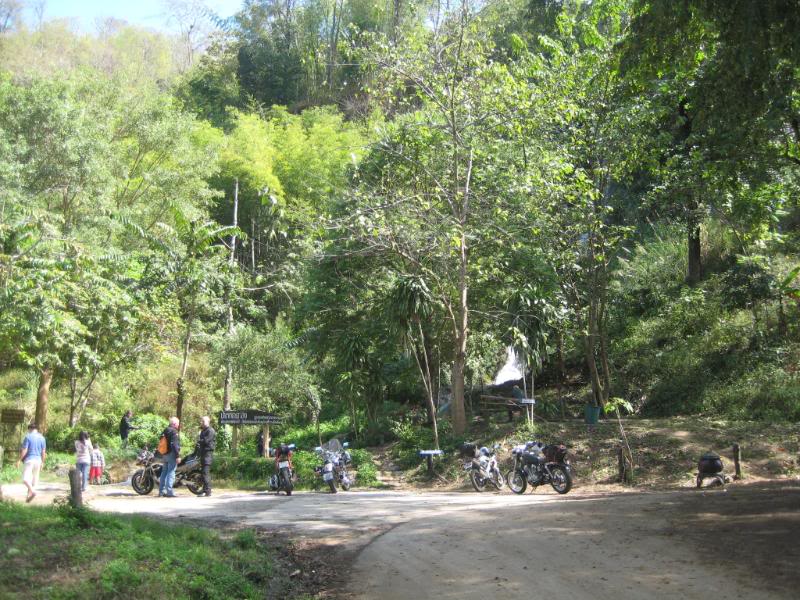 We stopped for lunch at a local café after we fuelled up. Yes we left the bikes at the servo, and actually used our legs to walk down the street to have a budget priced lunch! After eating, we didn't have to wait too long til Pico and Sao had caught up to the group (riding the silverwing with sidecar.) Regrouped, we rode on.
We then rode along highway 1021, highway 1251 and highway 1091. The weather was nowhere near as hot as I'd expected. I was fine riding along with jeans, t-shirt, and my new blue jacket with liner, which I'd bought at a market in Chiang Mai, freshly imported from China.
A nice rest stop in the afternoon was at a roadside stall in a small village. One little girl here remembered John from last time he rode through, and we stopped for a drink to rehydrate. I snapped a couple photos here.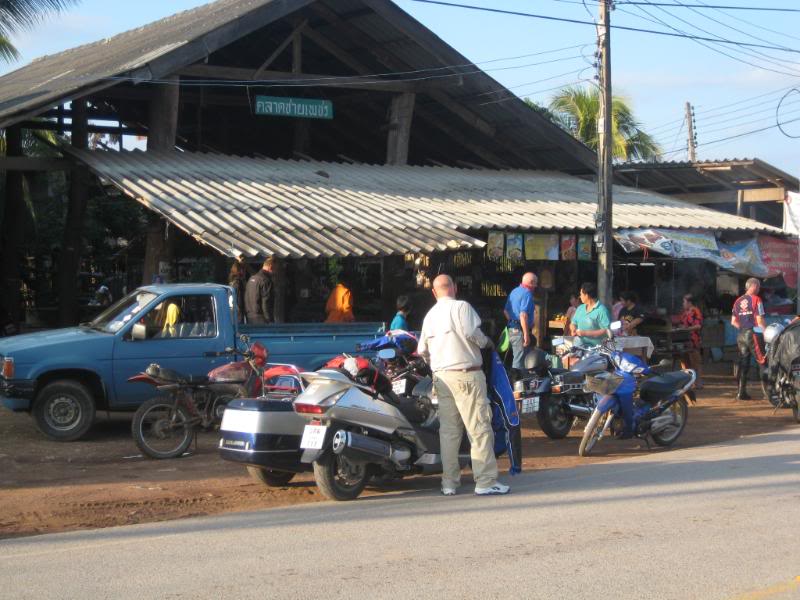 The dogs in Thailand aren't like Australian dogs. They like to sleep on the road, dart out in front of you, or just take themselves for an afternoon stroll like this one: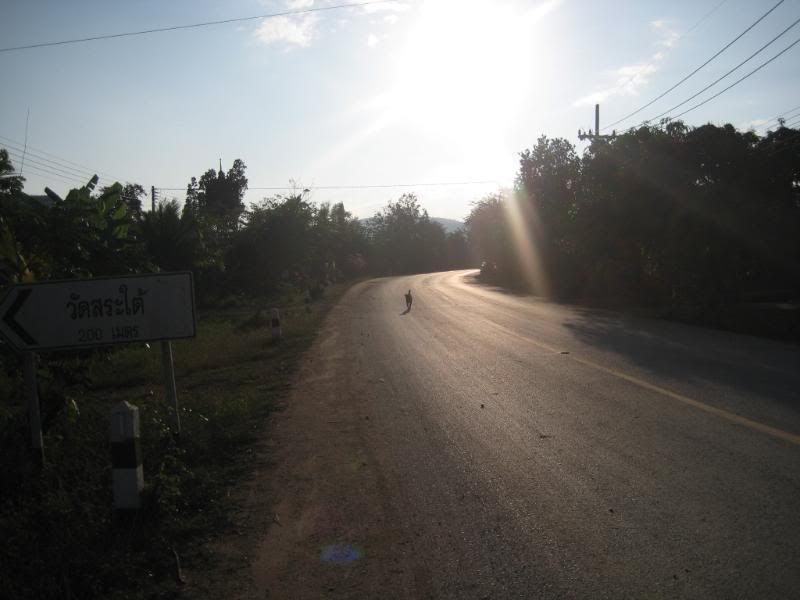 The last section (78kms) until Nan was, according to John, going to "give us a taste of things to come." These roads are great.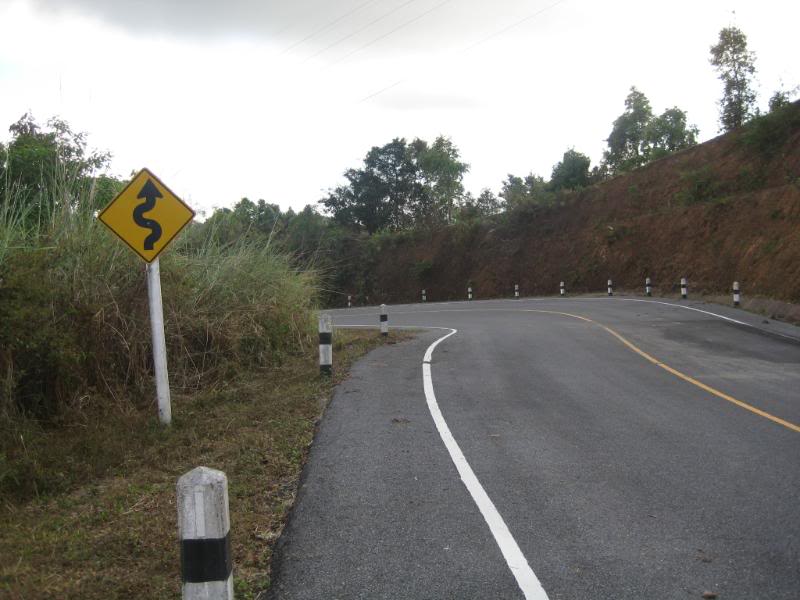 As it got darker, we entered "Nan", turned off the street into a posh looking hotel and parked the bikes undercover.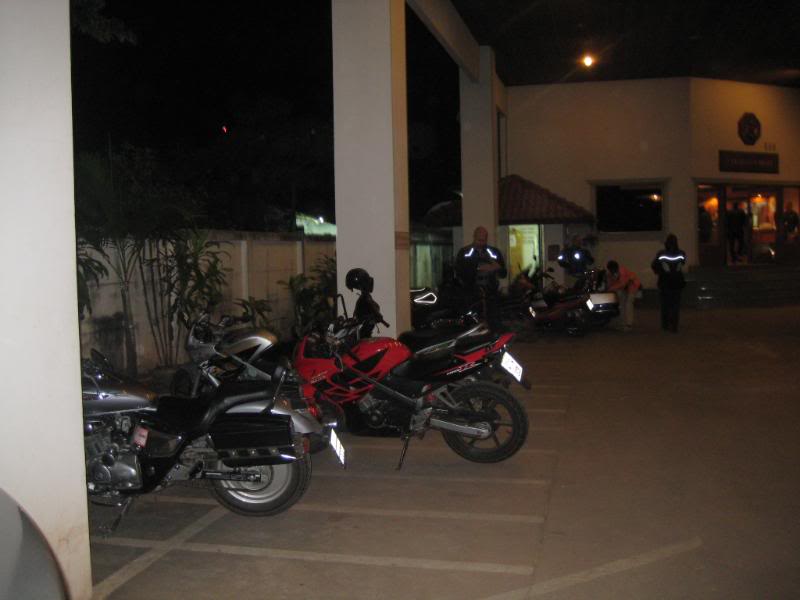 We checked in, Steffi and I opted to share a room. The rooms were fairly lush – but more on that later. We showered (and I put the same clothes back on, hooray for packing light!)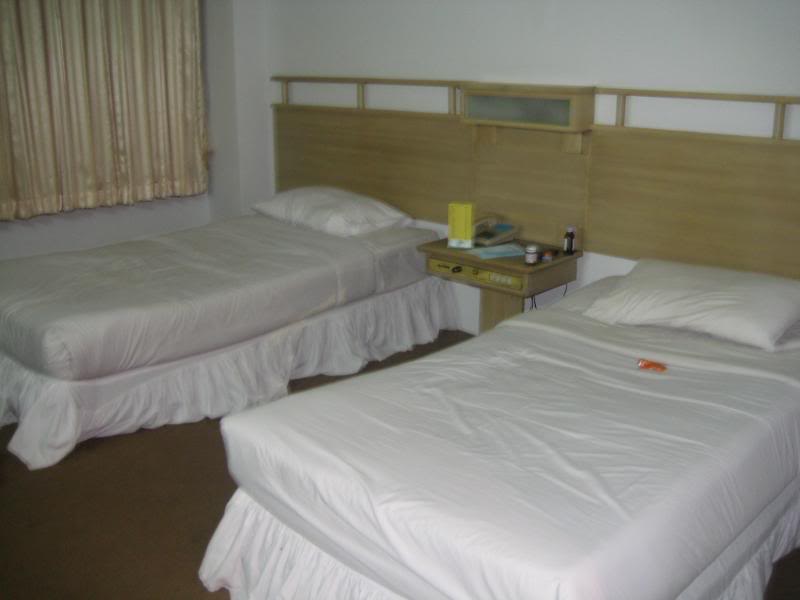 We then went out for dinner. By this stage I was totally exhausted. A whole day on the road.. it was dark by the time we got to Nan, and having not ridden for a good two weeks (whilst lapping up the sun on the islands of Thailand)- made for a very tired rider! Keeping my eyes open through dinner was a struggle. When the guys suggested more beers I screamed nooooooo! Bed!!! I was the only one drinking soda water! But I thought I should remain responsible, we had ridden to dinner, no helmets in true thai fashion, I figured the safety-hood would be sufficient  No alcohol until at least a couple more days getting used to the cbr150 and the awesome thai roads!!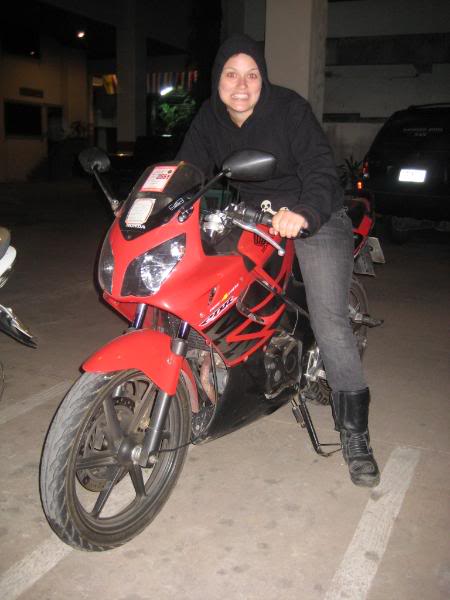 Steffi and I had already decided that a massage was on the cards and then sleep- so with that sorted it was safety-hood on and back to the hotel. We arranged a massage with reception but got a phone call 10 mins later saying no masseurs were available until 5am. "No sorry, I think I'll be asleep then!!" So determined to have our muscles pounded by some delicate thai hands, we ventured down the street, a whole 200m, to a place with flashy lights. The women didn't look too stoked to see us, and I realized later that it was probably a place where they get most of their money from foreigner men, demanding happy endings. They'd actually have to work for the money we were going to give them! They said 500baht, which we assumed was for both, as the hotel charges 600baht for 2, for in-room service.
Well I don't recommend this place, the lazy girls chatted the whole time and pretty much just rubbed oil over our backs in a half asses fashion, without actually massaging. After I'd taken my top off they literally had a giggle to each other cos they'd probably never seen nipple piercings in their life! And as I lay down, the girl patted my butt, said something in thai and they both laughed. Either they were jealous of my lacy black underwear.. or they wished they had a real booty like mine!!
After the massage, these girls had the cheek to turn around and say "no, that wasn't 500baht for both of you, it was 500baht EACH". Yeah, right. Well they didn't speak English, but that's what we understood they were trying to say. After a conversation which kind of dampened the mood a little, we handed over an extra 100baht and left.
Bed Time!!
...to be continued!!!