Excerpt
: An attractive mountain ride, passing Luang Prabang and Phonsavan, leads to historic Sam Nuea, in the Northeast of Laos. Curves, forests, hamlets and again curves, are on the travel menu, blessed with low traffic.
Northeast Laos – Sam Nuea loop
Part 1 – Luang Prabang and Mountain Roads
My other trip reports about Laos (see note 4)
From Nan to Oudomxai
Houa Phan province, with its capital Sam Nuea and the neighboring Viengxai are in every Laos history or adventure book. They symbolize national resistance for winners or an unappealing post victory hardship, for the others, including the royal family. In addition to its historic interest, the scenery and natural beauty of this remote region are enticing.
I had visited Xieng Khouang province and the "Plain of Jars" during another trip (see
https://www.gt-rider.com/thailand-motorcycle-forum/threads/33573-An-Easy-Road-to-Laos-3-Plain-of-Jars
), but the last stretch, to the remote northeast border, was still on my wish list.
Heavy and long lasting, the 2011 monsoon brought havoc to Thailand's central plains and to Bangkok. At the end of October, however, cooler days heralded the Winter and dry season. It was time to be on the road again.
The loop from Chiangmai to Sam Nuea can be driven in a circle or in a "figure eight", completed in both directions, clockwise or reverse. The itinerary passes the Laos cities of Houei Xai, Luang Namtha, Oudom Xai, Nong Kiau, Vieng Thong, Pakbeng, Luang Prabang, and Phonsavan, all possible stopover towns for the trip. Additional variations, are a voyage on the Mekong or a "jump" over dirt trails, between Houei Xai, Hongsa and Luang Prabang (the later are documented in various GT-Rider stories).
November is the beginning of the high season in Luang Prabang, therefore I choose to pass through it early, and planned my journey in a counter
clockwise circle.
On departure day, I was climbing route 118, from Chiangmai to Khun Chae NP, when a first downpour washed away my confidence in the sky's blue shade. Fortunately the clouds remained on the mountains and Mae Kachan was dry again.
After a compulsory "Amazon" coffee stop, a shortcut brought me to route 120, the smooth and scenic link to Wang Nuea and Phayao. At the summit, the foggy panorama and desolated view of ramshackle foodstalls contrasted with blooming Mexican sunflowers, glowing like candles. I enjoyed their company – a yellow ribbon tide all along my itinerary -- throughout the Laos mountains.
Down to Ing valley, I climbed again, on route 1091, toward Chiang Muan, Nan, and Chiang Klang; a well-documented itinerary. This city was my former stop-over, and again, I checked in to "Chiang Dao Resort".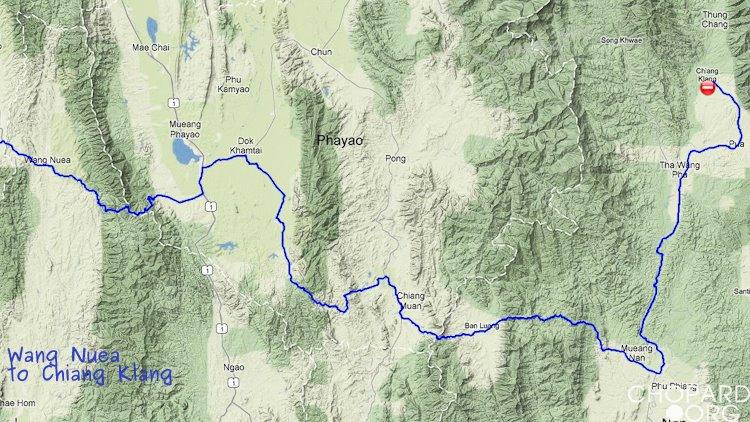 (for an alternative road to Chiang Klang and additional regional descriptions see:
https://www.gt-rider.com/thailand-motorcycle-forum/threads/33280-An-Easy-Road-to-Laos-1-Crosing-the-border
)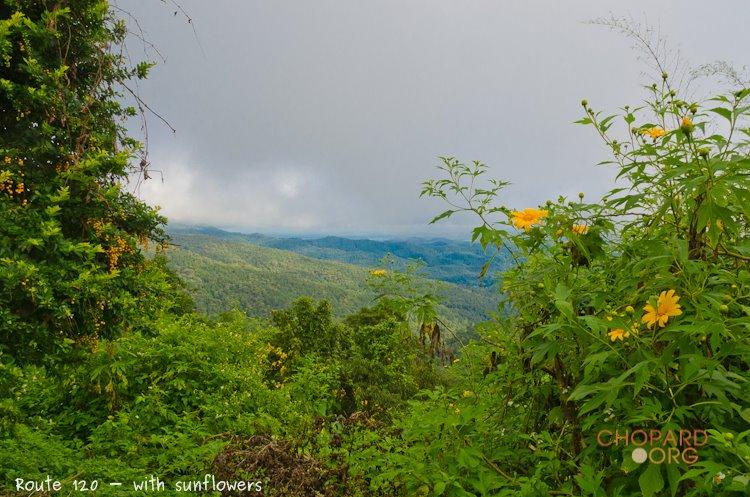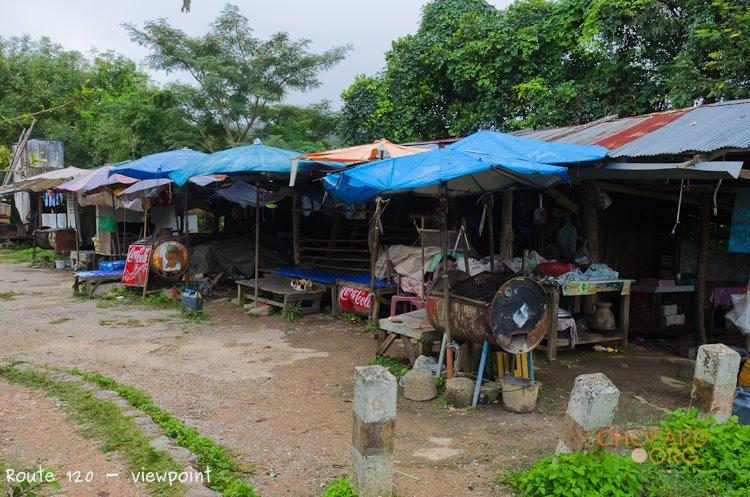 My usual restaurant, in Chiang Klang, was closed for renovation, leaving no other diner choice than a thatched karaoke den. Pua city, or even Nan, will probably be better stop-over choices for my next trips.
Early morning, after a 7-Eleven breakfast, I started the actual Laos loop, on route 1080 (Asian Highway 13) toward the border towns of Huay Kon (Thailand) and Muang Ngeun (Laos). Climbing through the fresh mountain air, on a smooth and scenic road, I progressed at good pace.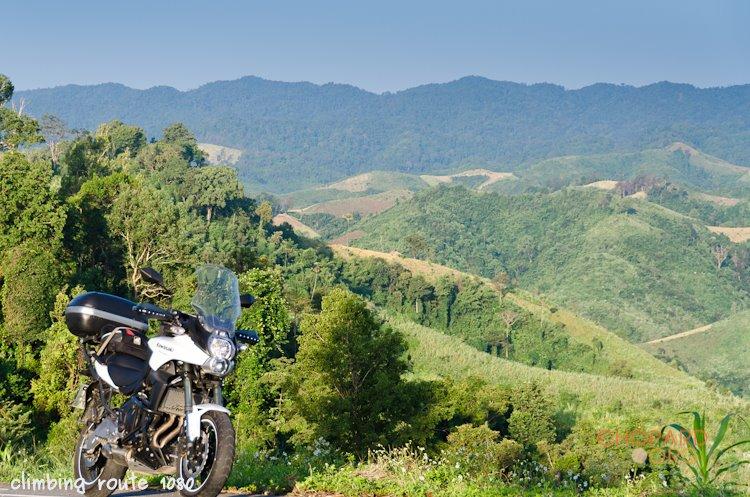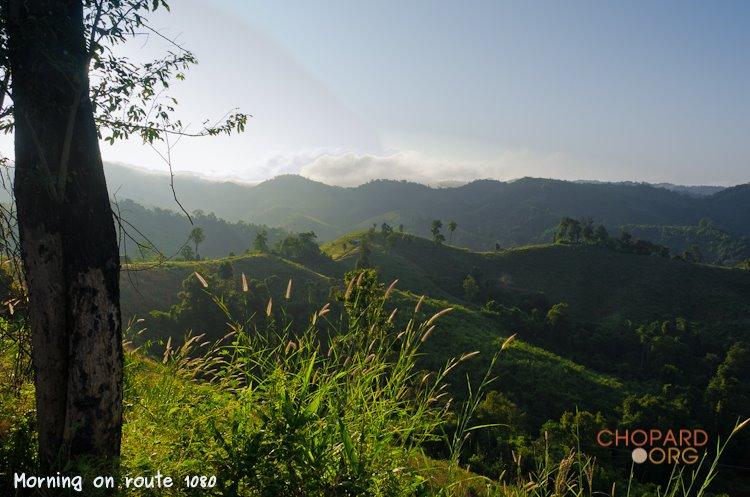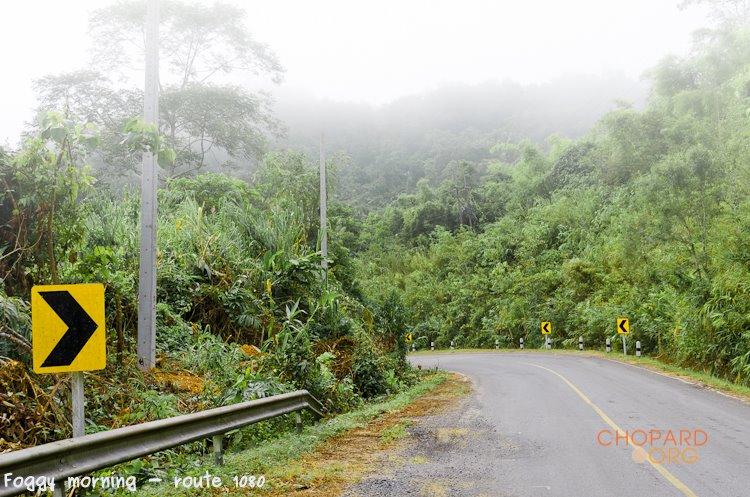 The last 15 kilometers of "Asian Highway 13" were worn out, under renovation and, finally, destroyed. A dense fog layer added another "interesting" component to the journey, but, despite these final hindrances, I arrived too early, as the frontier offices open only at eight o'clock.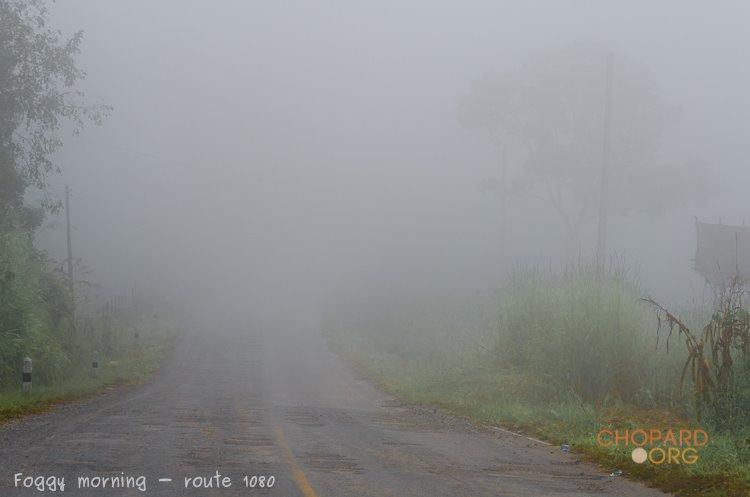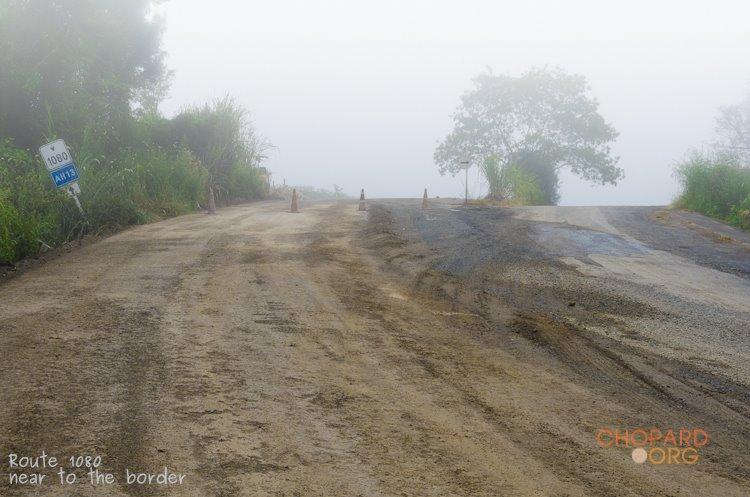 A group of Thai monks, on a pilgrimage to Luang Prabang, were also waiting to cross the border; I met them again, two days later, in the "Royal Capital".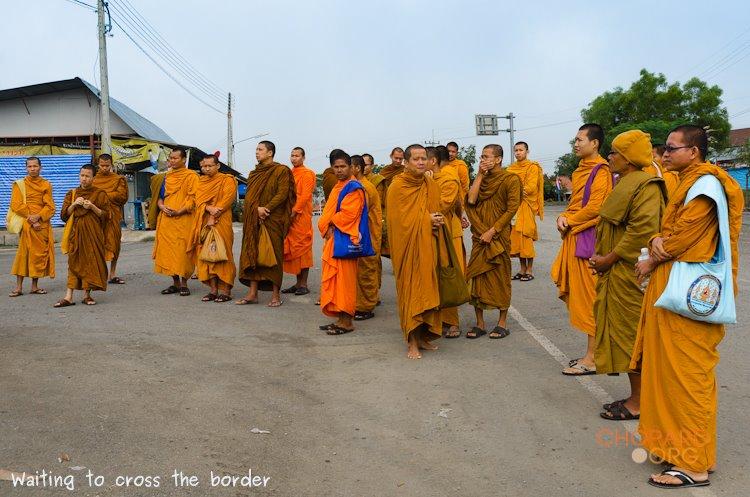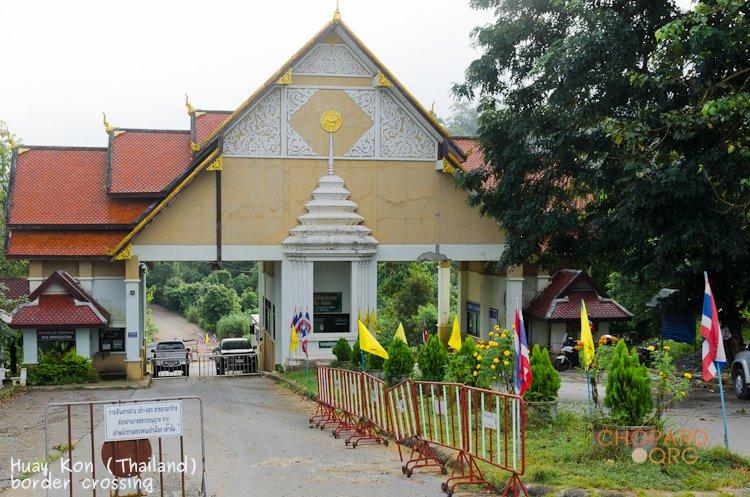 Passing friendly Thai immigration and customs took twenty minutes (they need 2 copies of the passport and bike's green book, and 70 THB). For the last kilometer, I switched to the right side of the road, and strolled down to the Laos checkpoint.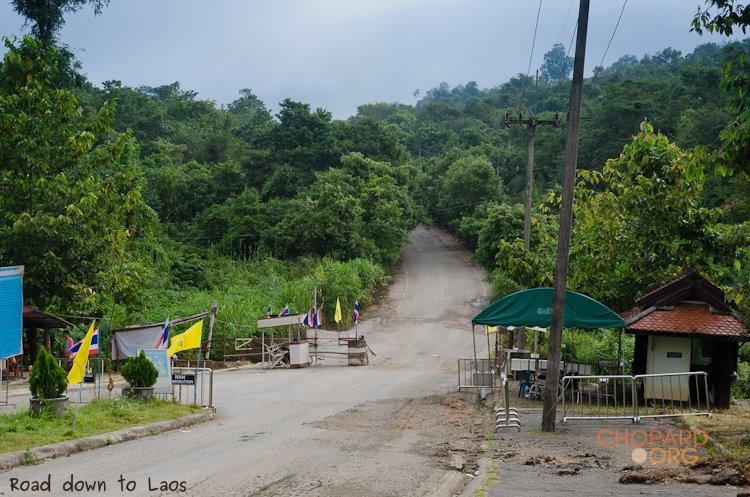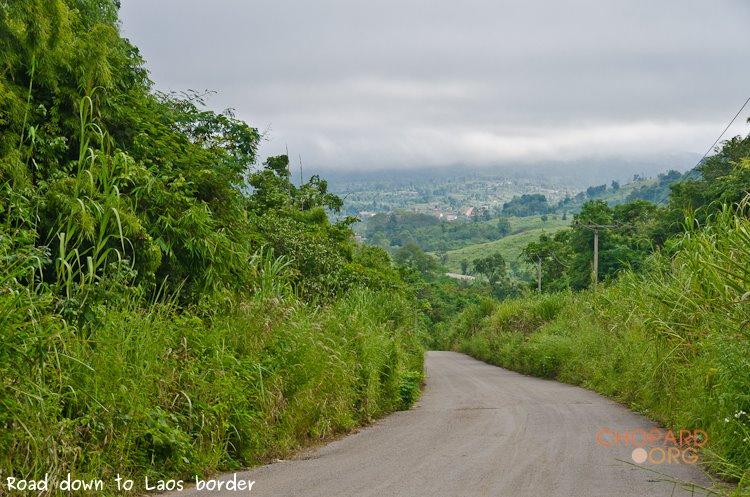 Twenty more minutes (Swiss nationals do not need a visa), 70 THB fees for the bike, another 100 THB for custom, and Laos formalities were done. The insurance booth is on the opposite side (200 THB for two weeks) and mobile-phone sim cards, or refills, are sold on the same premises.
Before taking the road to Pakbeng, I hesitated and discussed with locals the merits of the dirt trail to Hongsa and Luang Prabang. It seemed feasible, but the shortcut over Khiu Ngiew and Nang Lew crosses knee high waters, and the pavement's information, on the Xayaboury way, was unclear; certainly dust and rocks for a fair share.
"Asian Highway 13", toward Oudom Xai, is "route 2W" in Laos. The first sector is new and in good conditions; apart from some landslides and rolling stones, usual in mountains.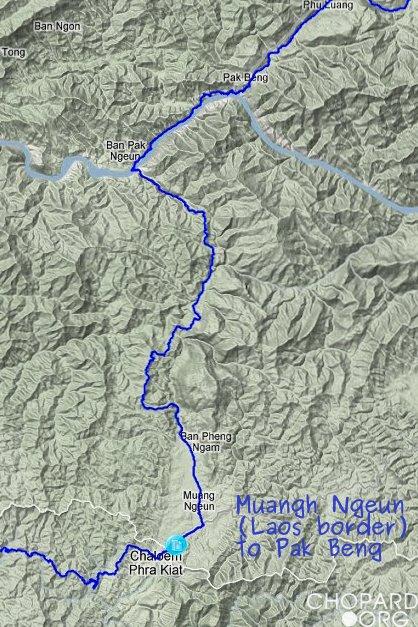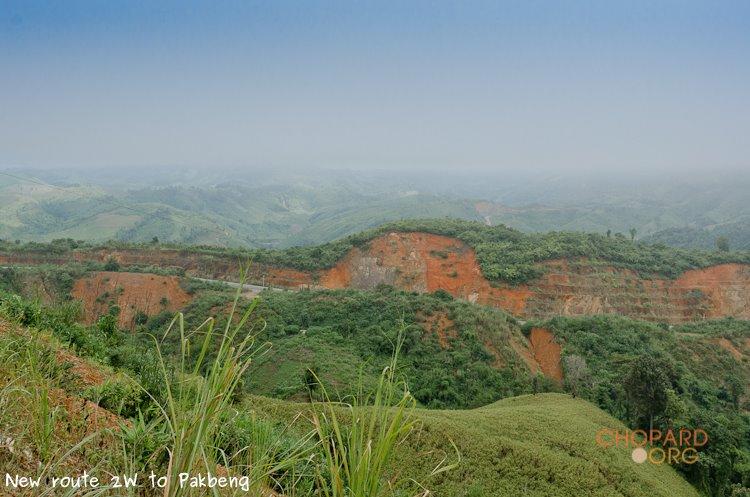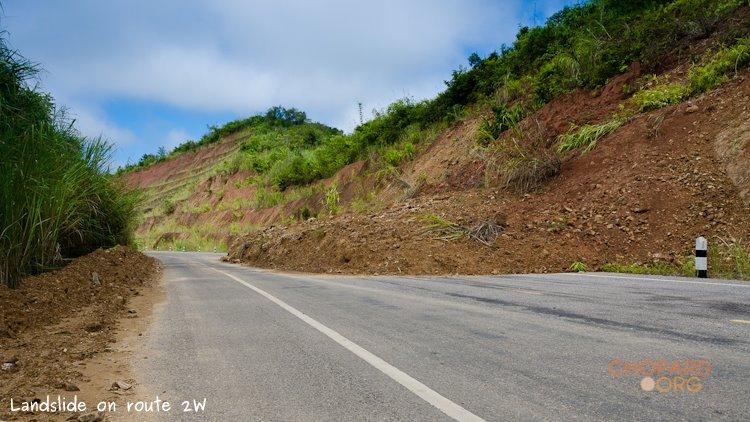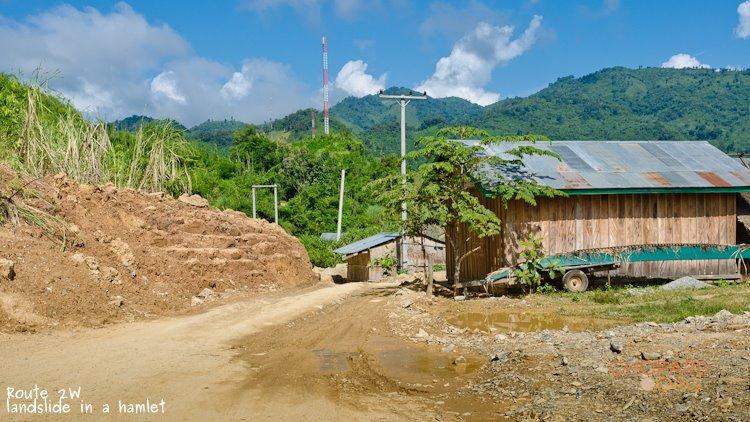 The road cuts through hills, and, just after a curve, the sight suddenly opens toward the majestic Mekong. It is a delightful encounter, despite the muddy access leading to a ceaseless ferry.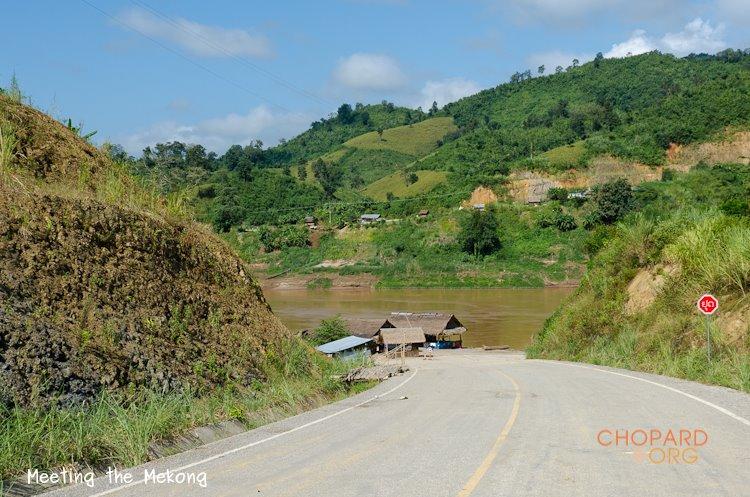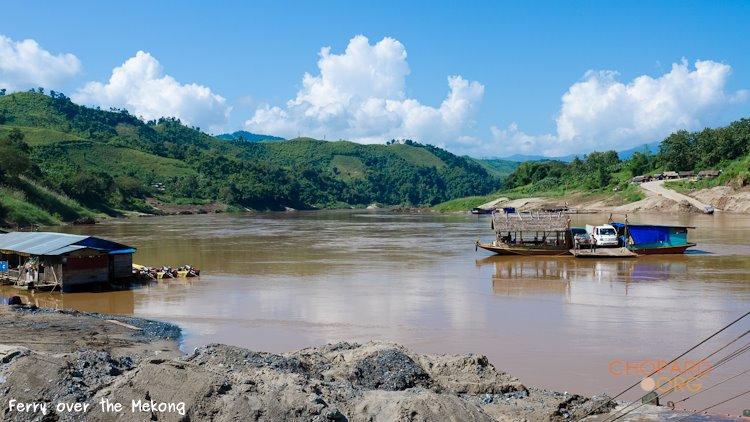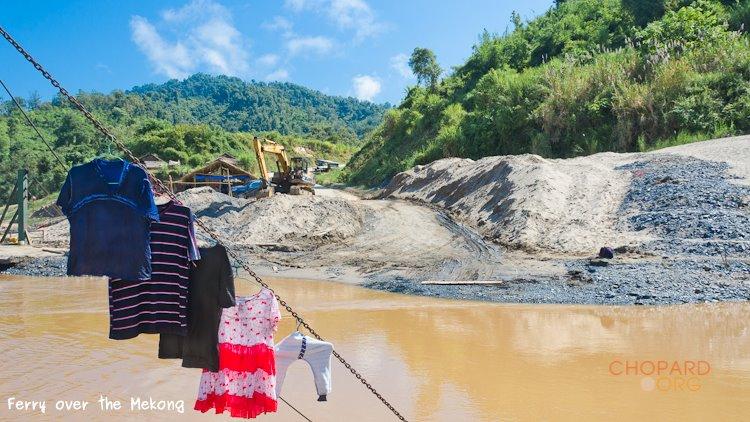 Soft and winding, route 2W, on Mekong's north rim, offers gorgeous panoramas; it is a biker's dream.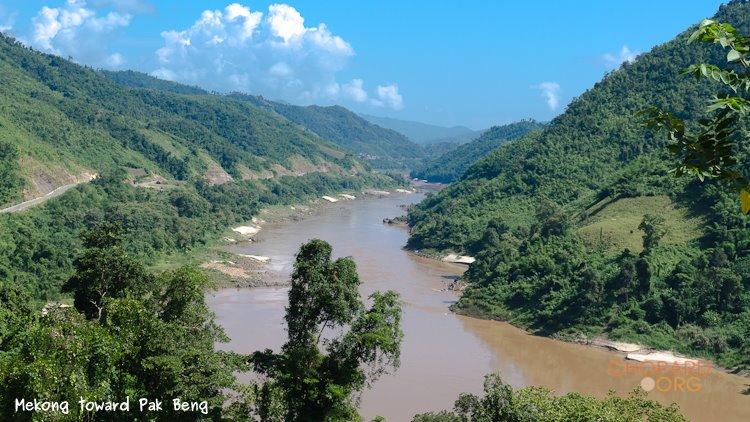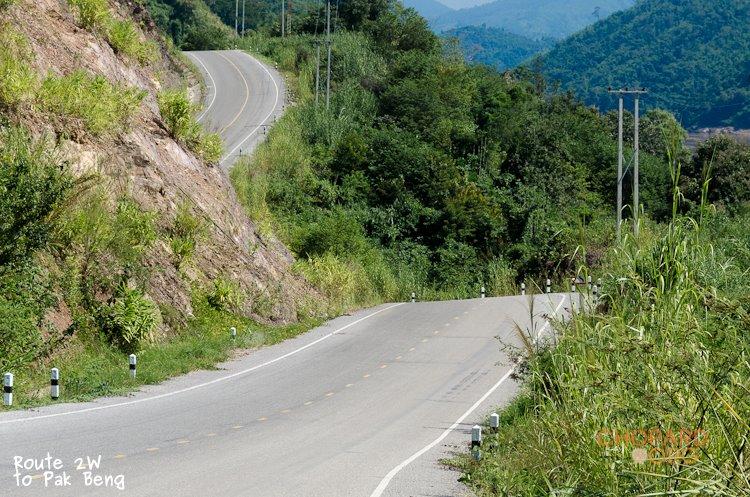 I stopped shortly in Pak Beng, to assess the transport possibilities for a motorcycle on a passenger's boat. The steep and muddy access made me pessimistic and confirmed my decision to stay on the road. Back on route 2W, I left the little Mekong city and glided on the last stretch, toward Oudom Xai.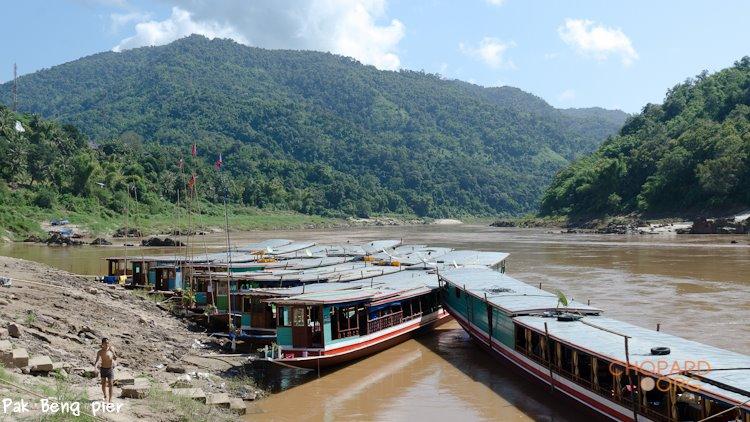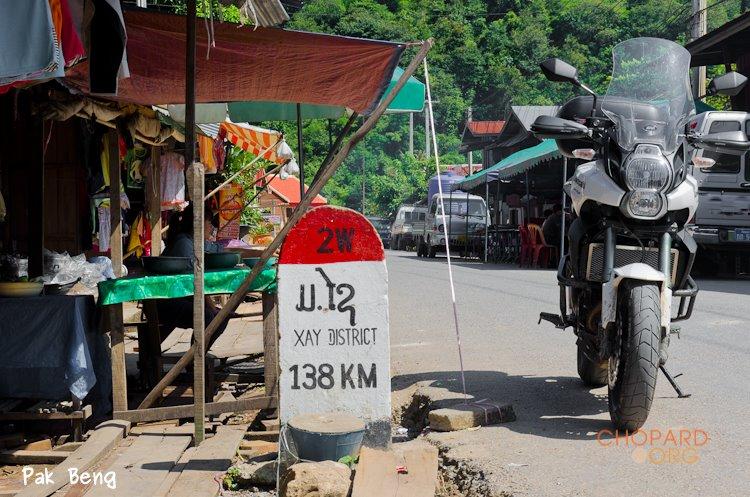 After Pakbeng the pavement is still in fair condition, with some destruction, some deformations, and enough deep potholes to remain alert.
As "cultural villages" preserve traditions, this itinerary should be declared a "cultural road". It is cut on a mountain slope, meanders through hamlets and follows river Beng on a high rim.
Daily chores and errants are completed directly on the pavement, like on a market place. Drying rice or vegetables, working on crafts, or caring for offsprings, the tarmac is used for all kind of activities; it is appropriated by various users, pigs, poultry and working elephants, share the place with local people and their ubiquitous kids, walking to and fro on the way to school.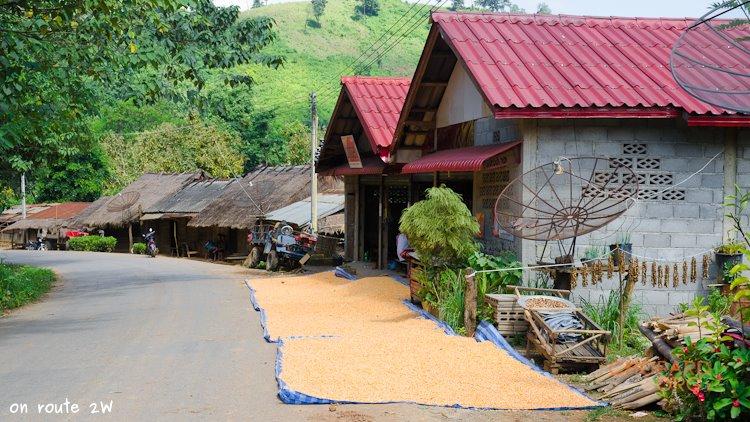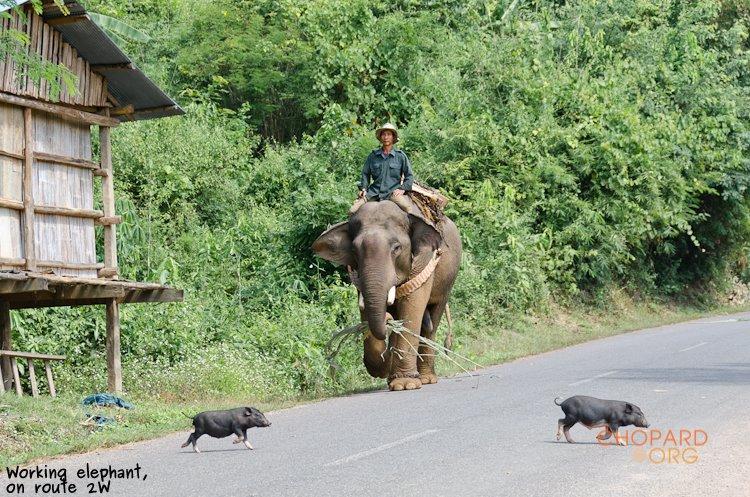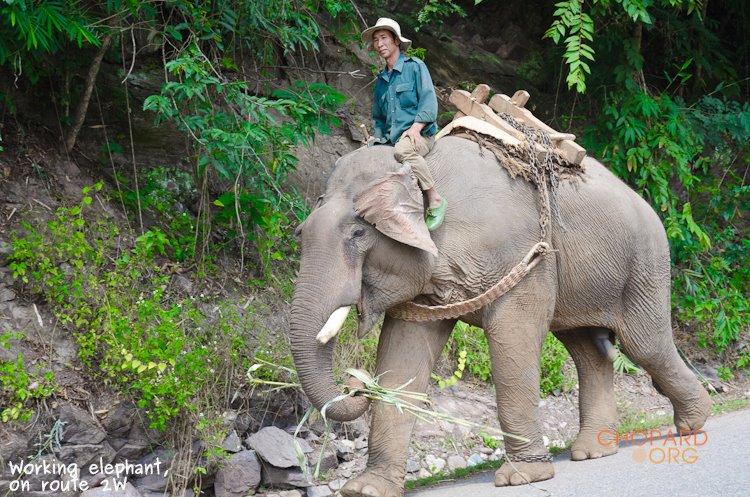 Most settlements are built with light materials, wooden stilts, bamboo walls and thatched roofs -- only when approaching the richer Oudom Xai region does concrete become a more frequent component in home constructions.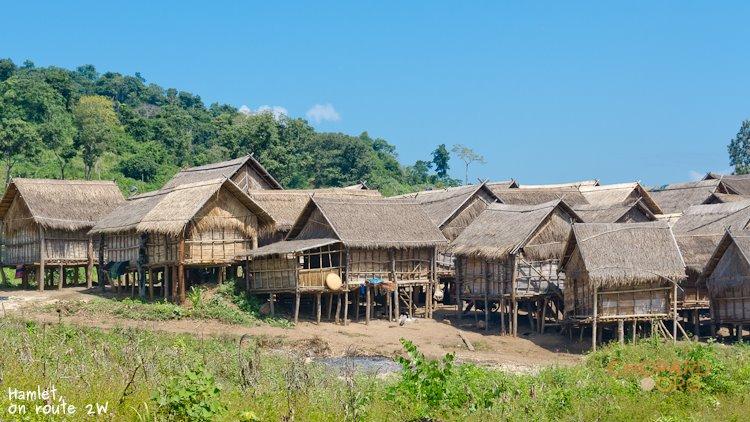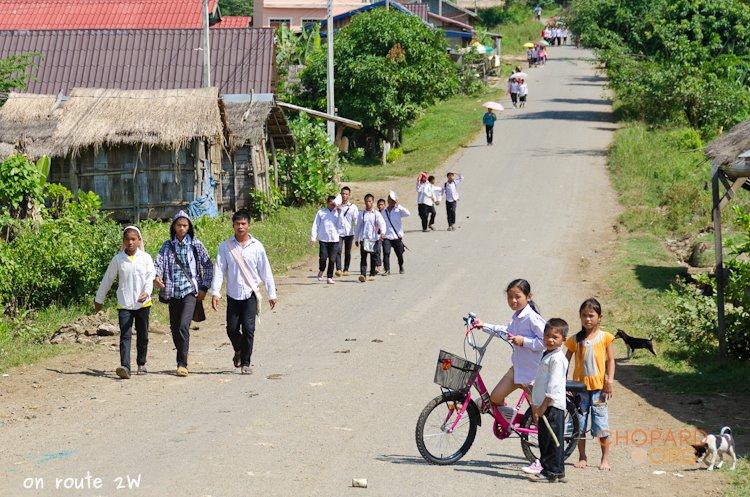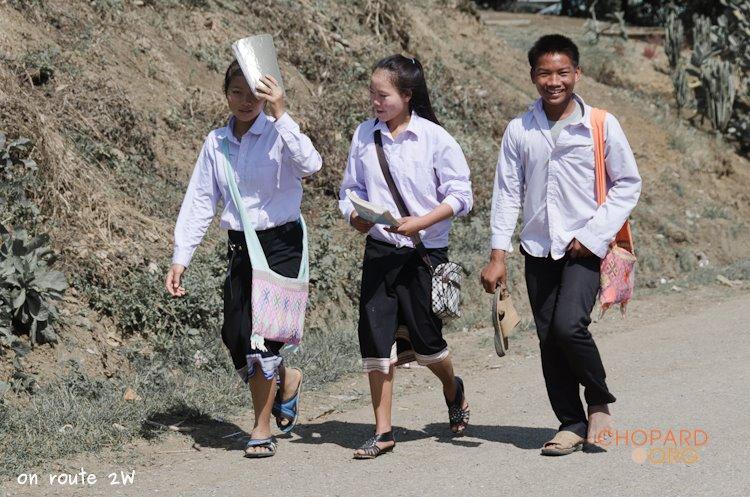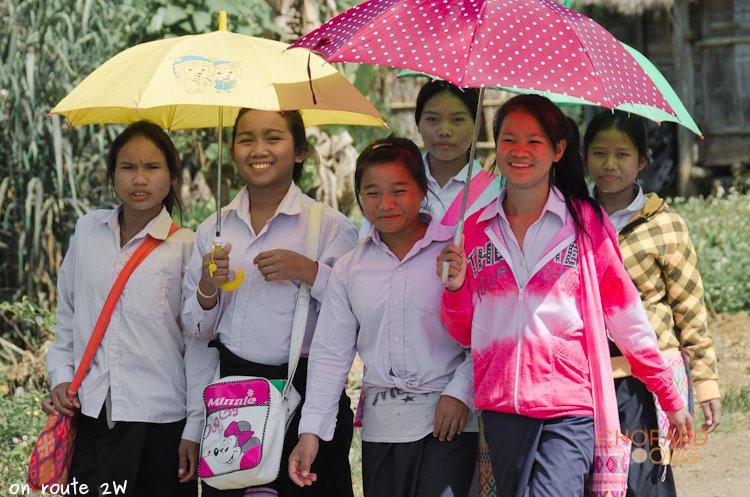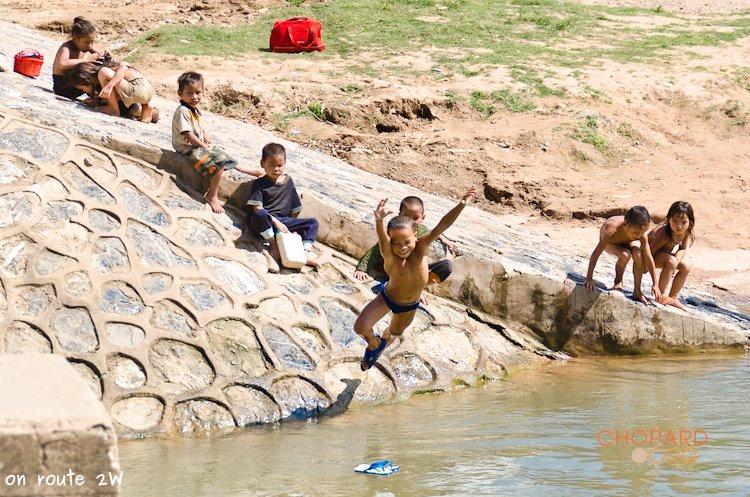 Traffic is still low but enough lorries are biting more than their shares of the curves to command attention.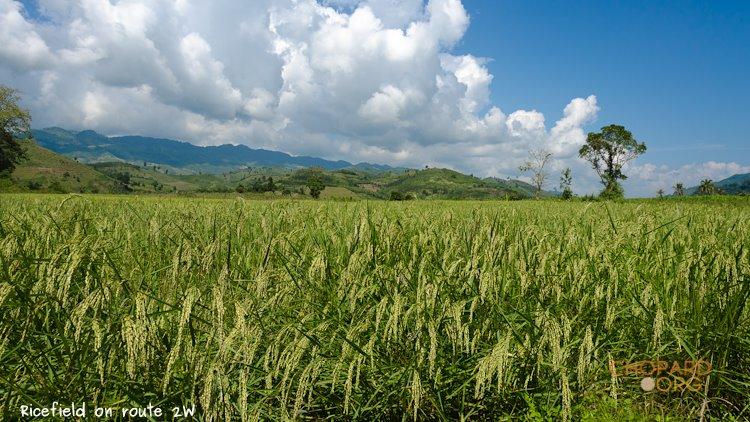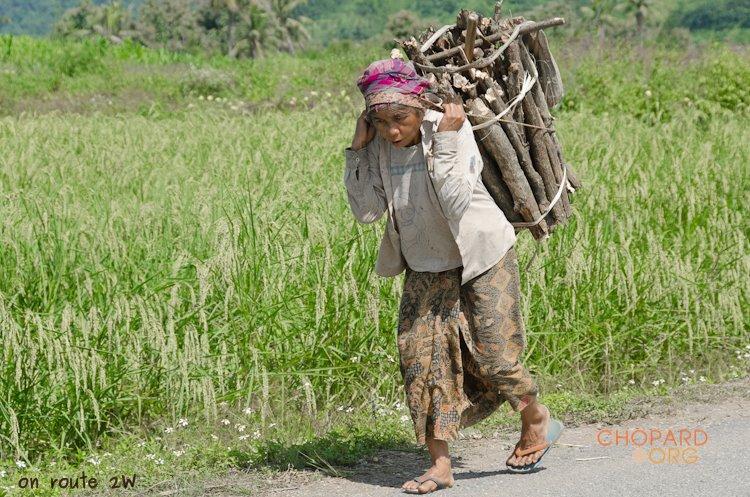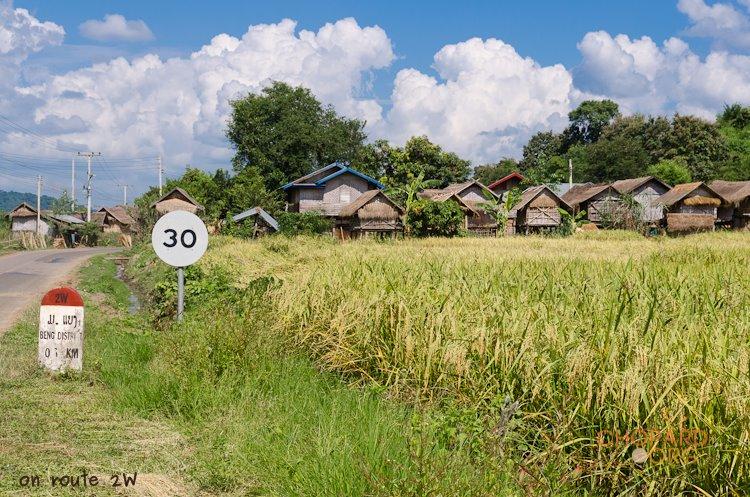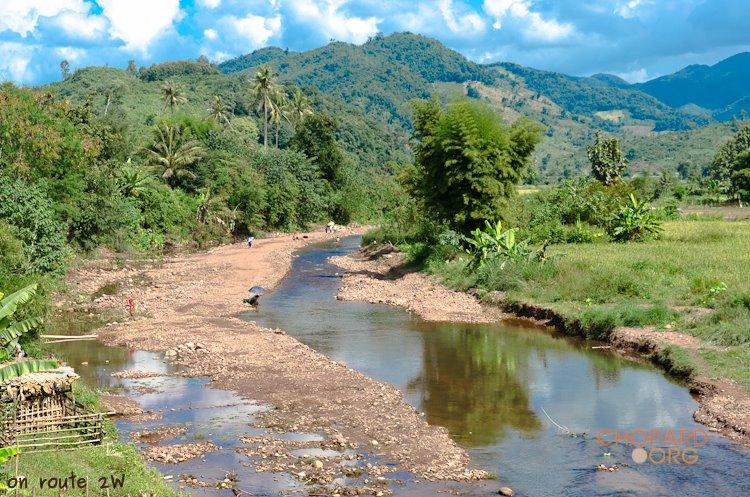 Along the way I passed a funeral convoy, with mourners accompanying a makeshift hearse. The deceased, probably a farmer, would be pleased to be trailed by this "iron buffalo", an ultimate status symbol in the region.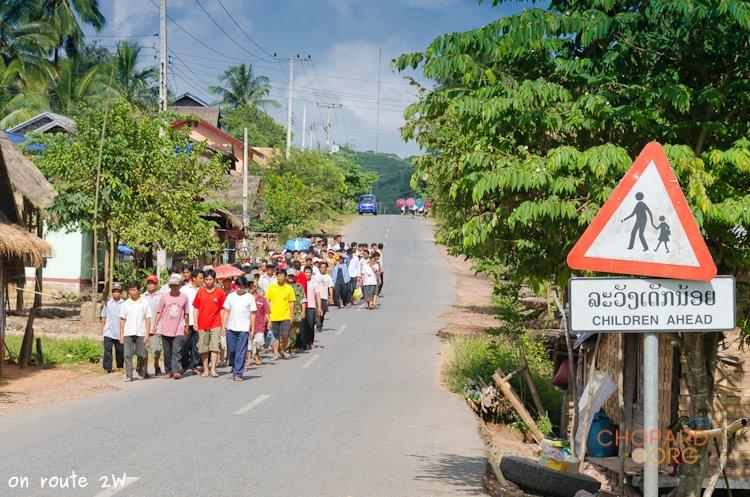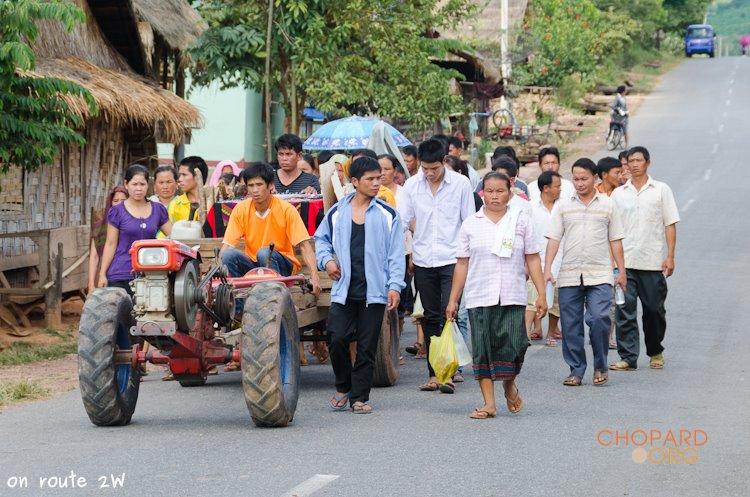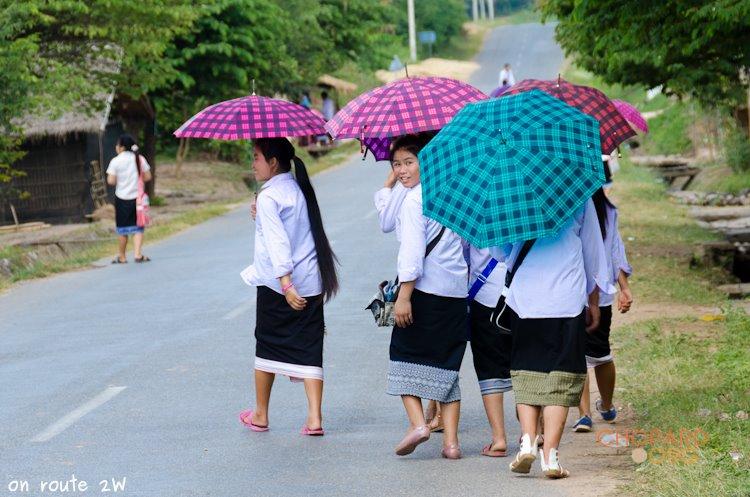 In Oudom Xai, I chose the "Udom Kham Hotel" again. It is slightly at the outskirt, but a good starting block for a south departure, on route 13.
A hilltop crowned by Phuthat Stupa and a large Buddha image provides an ideal spot, to unwind from a day's ride. It is a serene late afternoon vantage point, open toward the northwest mountains and tinted with the sunset's warm hues. Travelers rest on the temple's stairs, next to locals, admiring the spectacular dimming on the day.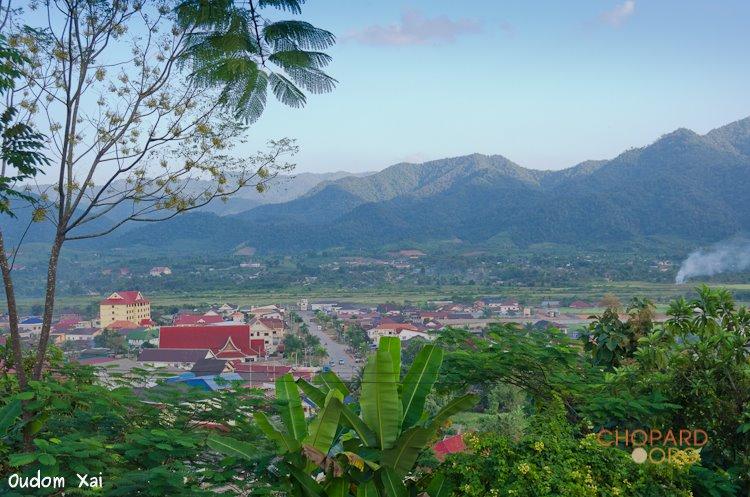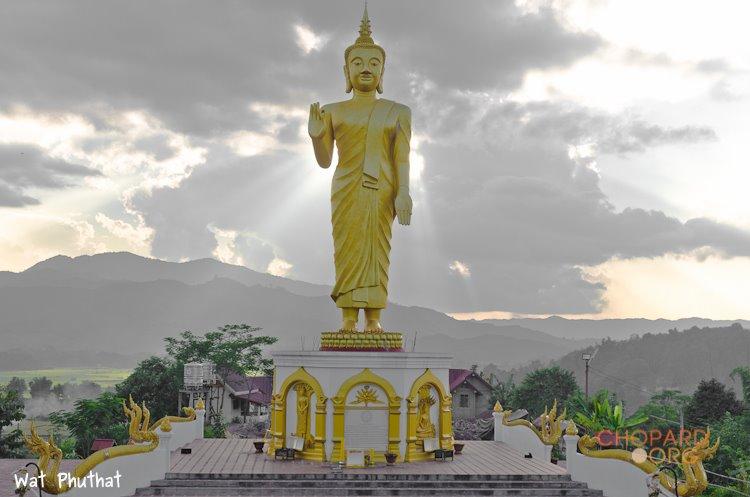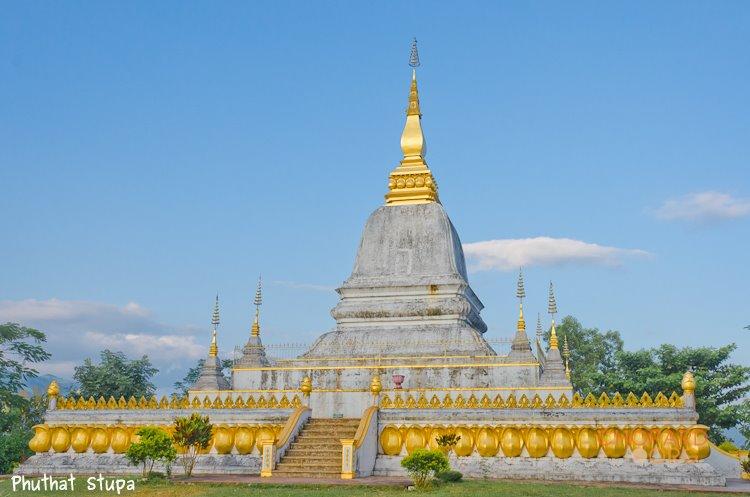 Back to the city's center, I patronized the new restaurant in the "Charming Lao Hotel" for a meal, some drinks and (sort of) live music. This hangout also offers free wifi.
The itinerary from Chiang Klang to Oudom Xai is 250 kilometers (110 to Pakbeng and another 140 to Oudom Xai). I completed the trip in five and half hours, including one hour border formalities and the usual stops for pictures.
Next morning, fog was draping the roads as I drove to "Saso Backery", a recommended GT-Rider place for breakfast; unfortunately it was closed, and I glided further down, to the "Simphet Restaurant".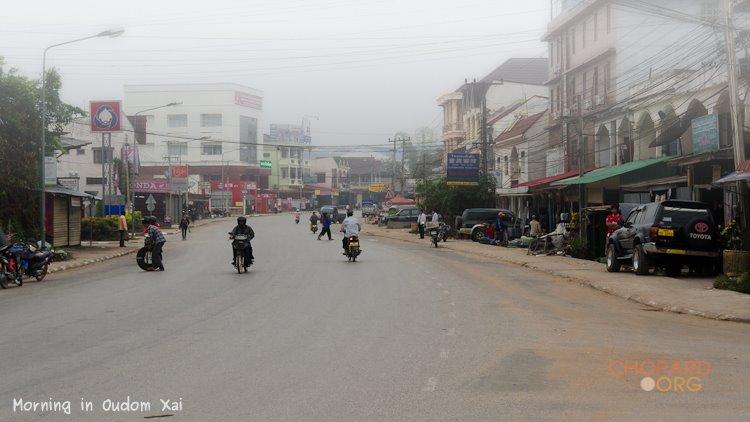 With everything packed; I was set to defeat a dreaded portion of route 13, toward Pak Mong.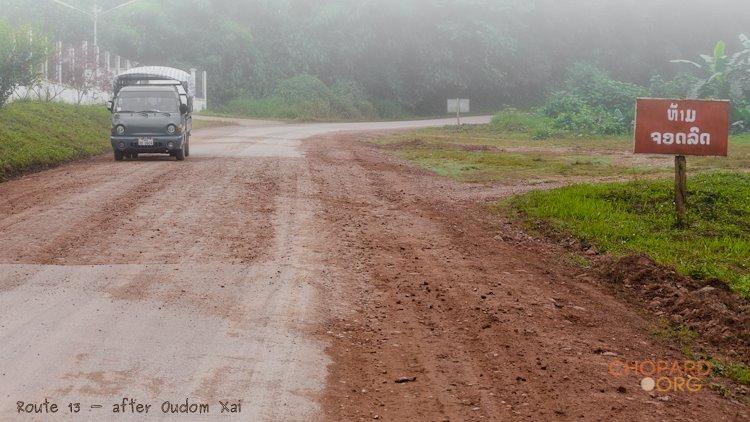 Half full or half empty; is this road mostly (still) paved or mainly covered with rocks? The answer is partly subjective, partly associate with the mount's adequacy. My Versys coped well with the destructions, as had the ER6, one year earlier. Of course, in the meantime, traffic and atmospheric conditions have taken another toll on the asphalt.
With mutual sufferings and casualties, lorries and pavement are engaged in a brawl for survival. Victim of their own potholes, trucks often end their journey in an oil bath; the lost lubricant adding another slippery nuisance to the trail.
On a gentle slope, I climbed the mountain and poked my way through the cool haze, over the sea of mist. The gorgeous panorama, covered with lush forests, helped to forget the crumbled and crunchy road, as I progressed at a regular, albeit reduced, speed.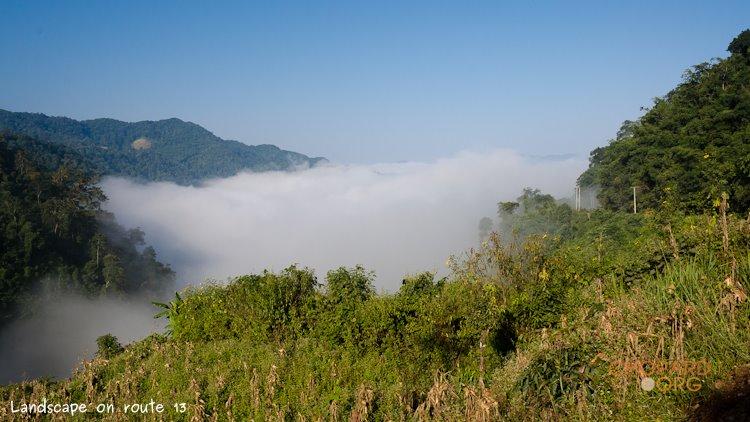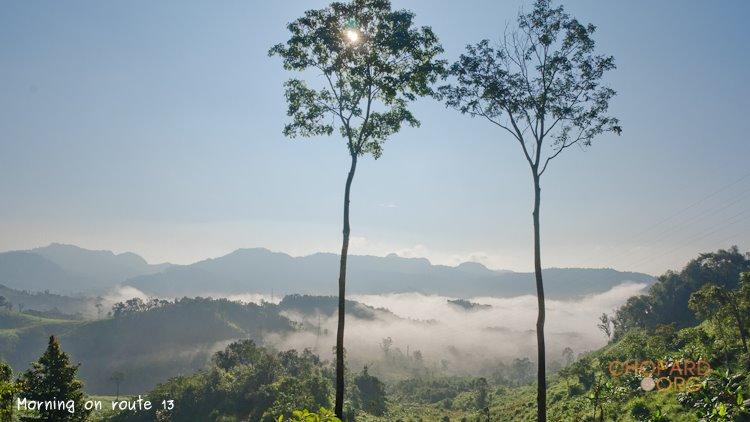 Circling the larger holes, slowing down through landslides, I passed busy hamlets, with worn out asphalt as speed breakers. Watching out all the time, I eventually reached Pak Monk, after a two and half hour ride, for 80 kilometers.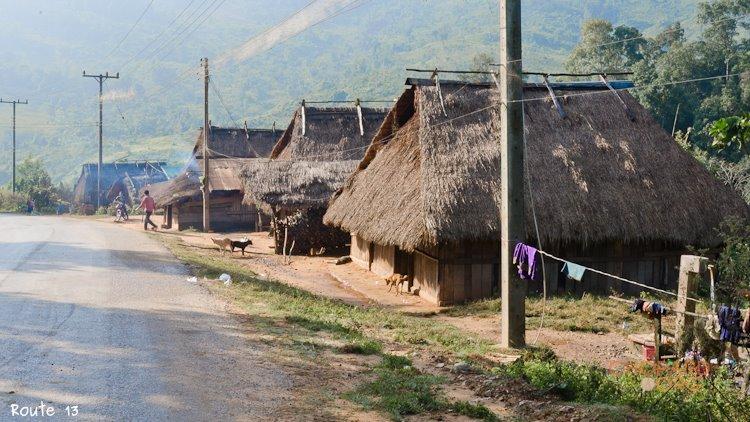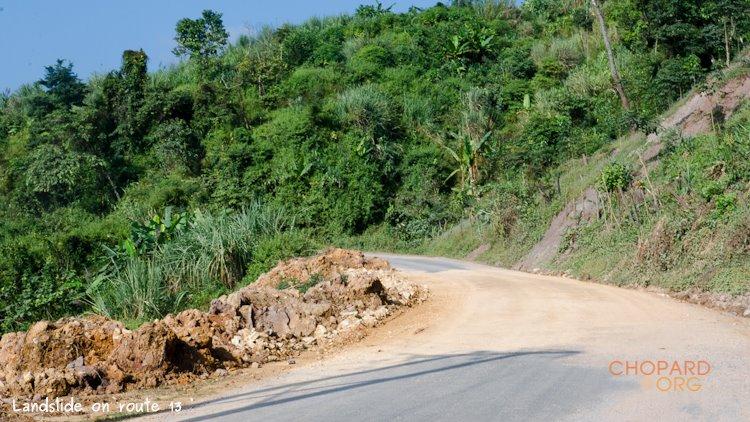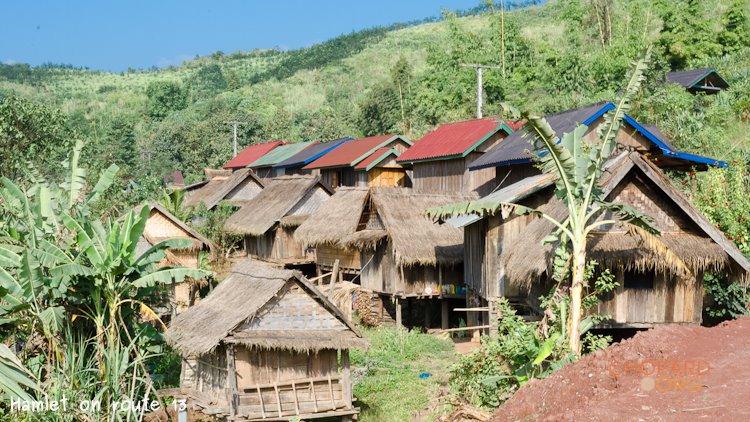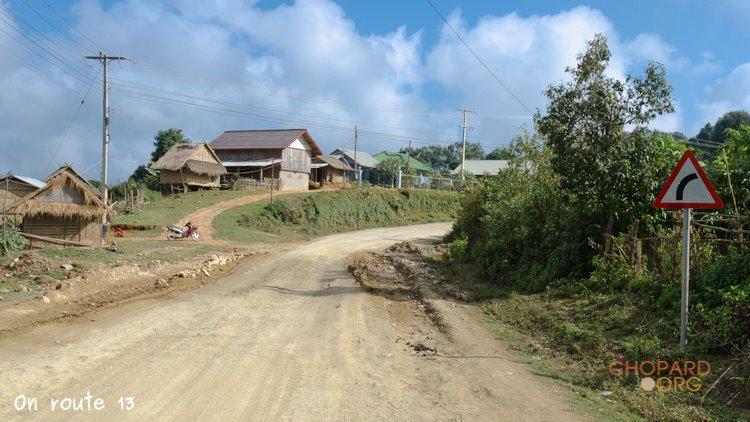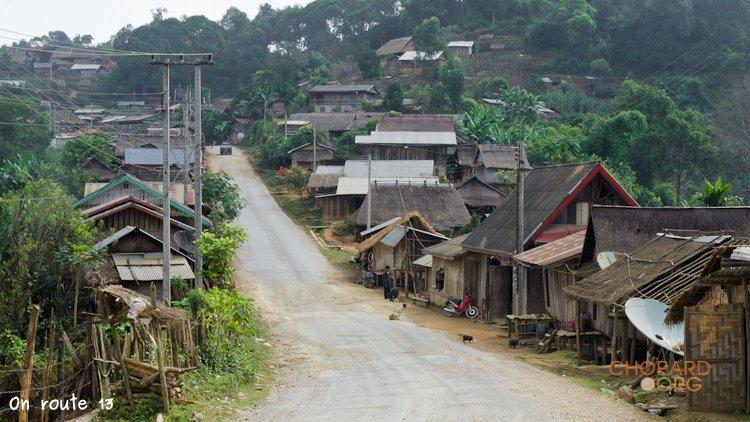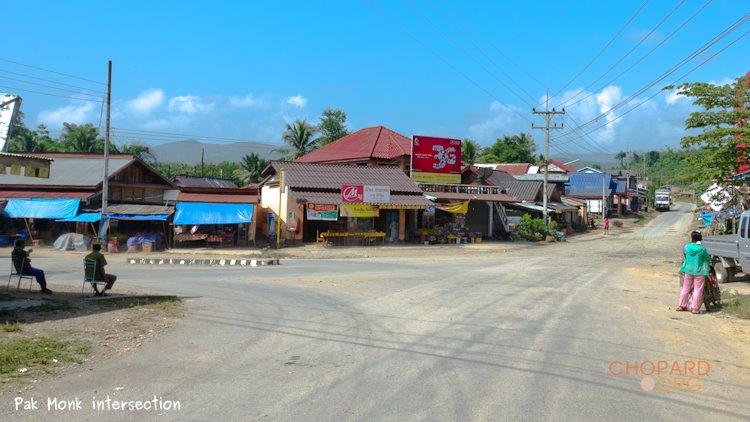 The next sector, the remaining 110 kilometers to Luang Prabang, is in better shape. Scattered potholes, often too large to jump over, still punctuate the way. Steering clear of them is easy, as traffic is low and escaping space available. I passed only 4 buses and 10 trucks, overloaded with big tree roots; the logs seemed long time gone and I wondered about the remaining stumps' the destination. Bearing such heavy-weight convoys is a major factor in the asphalt's degradation.
When the forest is not yet felt clear, or burned to ashes, it is a pristine backdrop for the meanders of route 13, on Ou river's rim.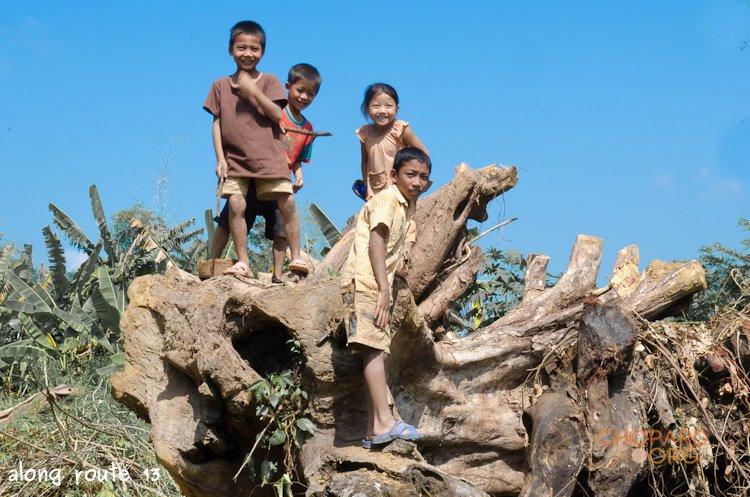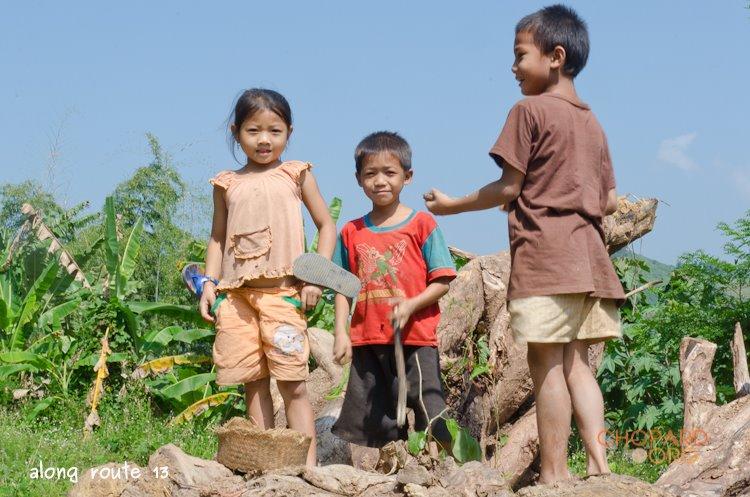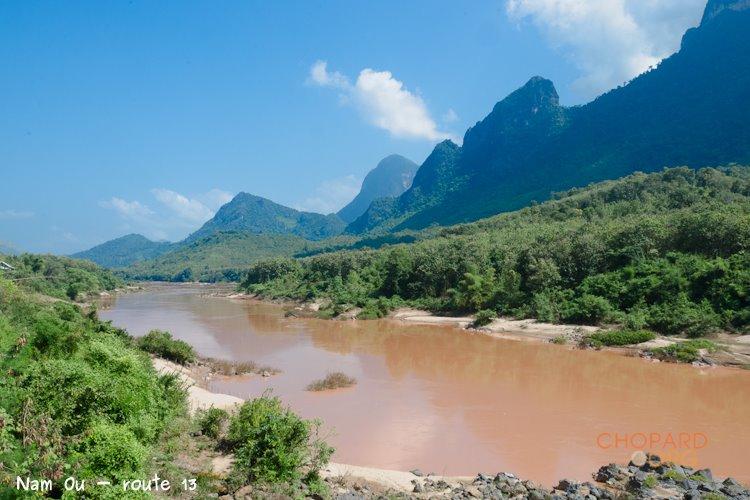 A last bridge, a last stretch, it's already Luang Prabang. Following the Kham river and the Mekong, along Souvanbanlang, I reached the small byroad to "Udom Suk", my usual guesthouse. On that day, it was fully booked; a Thai nuns' congregation had quartered in the neighborhood. Halfheartedly, I took shelter, for a night, in a shack on the opposite roadside.
Royal Luang Prabang
In her book "Ant Egg Soup" (1), Natacha du Pont de Bie makes a poetic statement about the "Royal City":
"..., everything they say about the enchantment of Luang Prabang is true. The gauzy tranquility of the place puts a languid drift into your step and causes you to forget to breathe. As the silvery haze that envelops the town softens your vision, a diaphanous cloak of dreamy carelessness descends upon you, and you just have to give in to it."
For my second stopover, I was at ease, and without pressure to make an exhaustive visit, I strolled through the historic city, on small roads lined up with colonial edifices. Most buildings are renovated and updated to restaurants, cafés, guesthouses or souvenir shops. Some French language inscriptions also bring to mind the protectorate's time.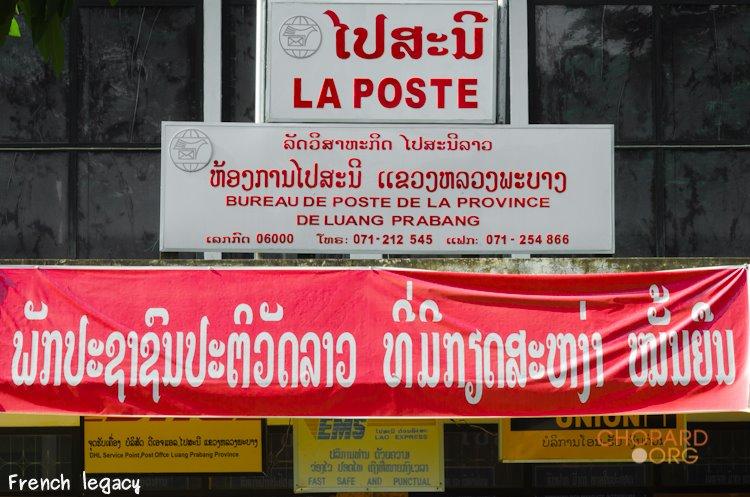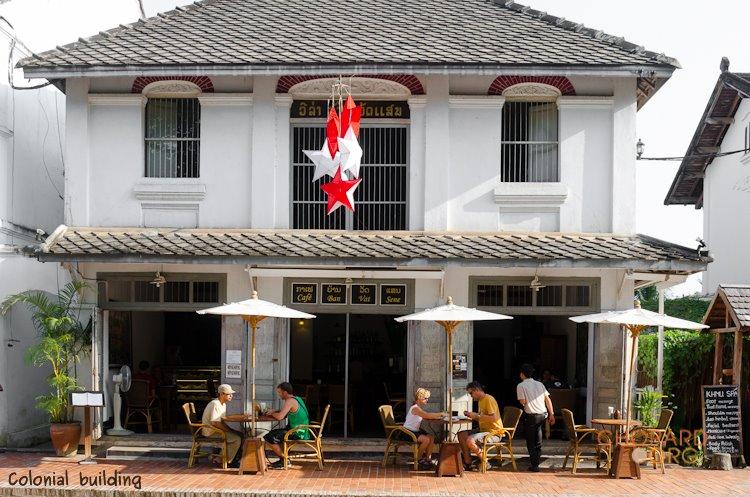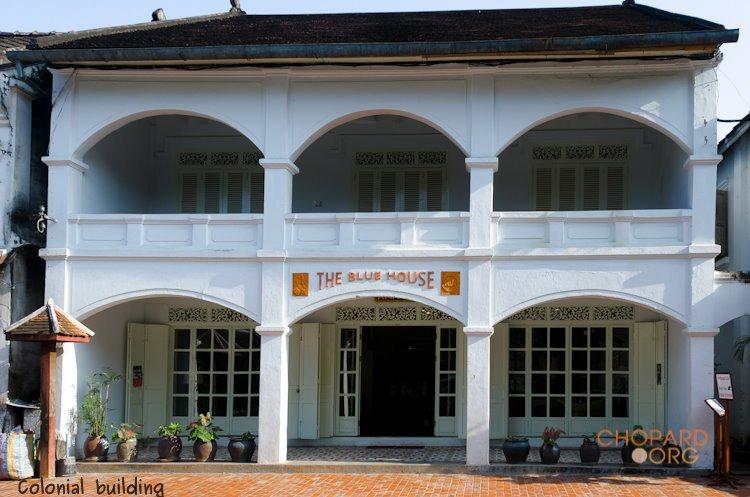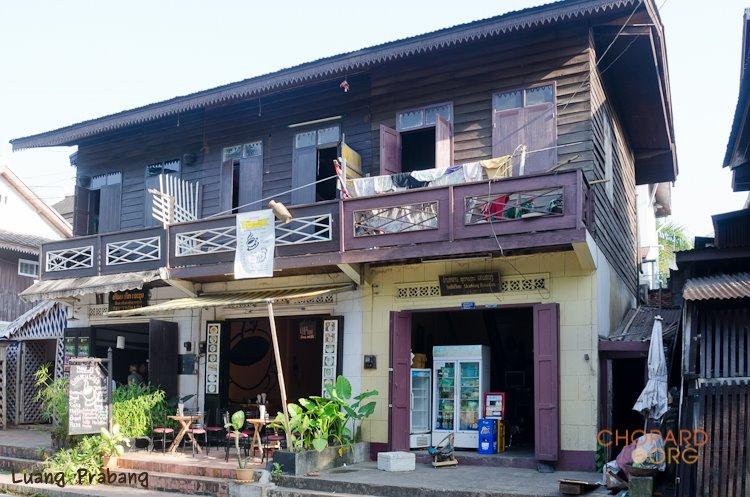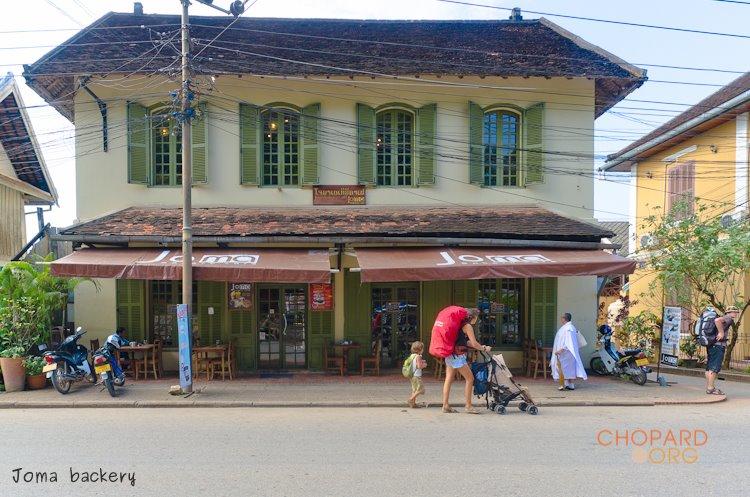 Eventually, I stopped at l'Etranger for a late lunch. It is an addictive corner, a vantage point to observe the slow pace of time. High season had begun and tourists dawdled through the neighborhood's streets.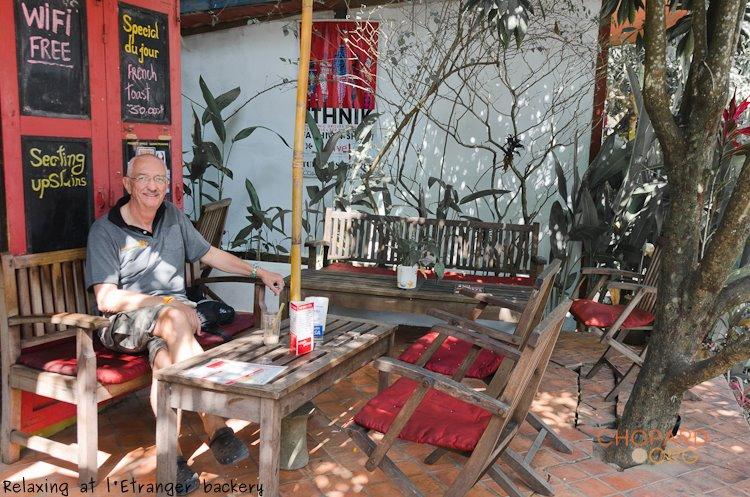 On my return journey, I passed the confluence of Nam Khan and Mekong rivers, Luang Prabang's peninsula apex. At the boat landing, motorcycles where unloaded from a bark, and I asked the captain about transport possibilities. The price quoted, for a two days private cruise to Huay Sai, was 10'000 Thai Bath. This would be interesting, if 3 or 4 bikes share the expenses, for a "joint adventure".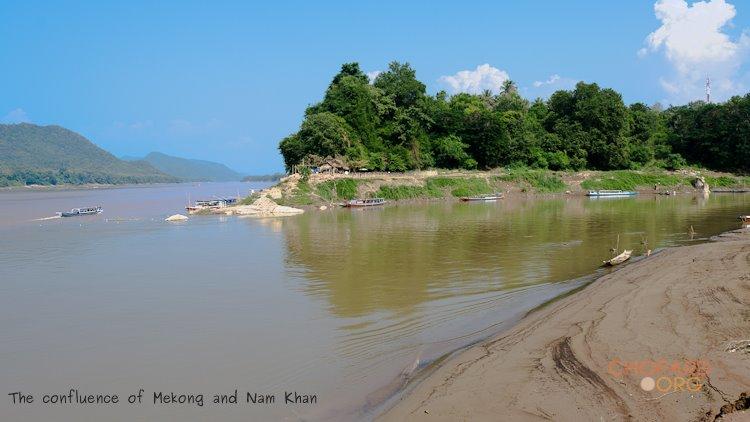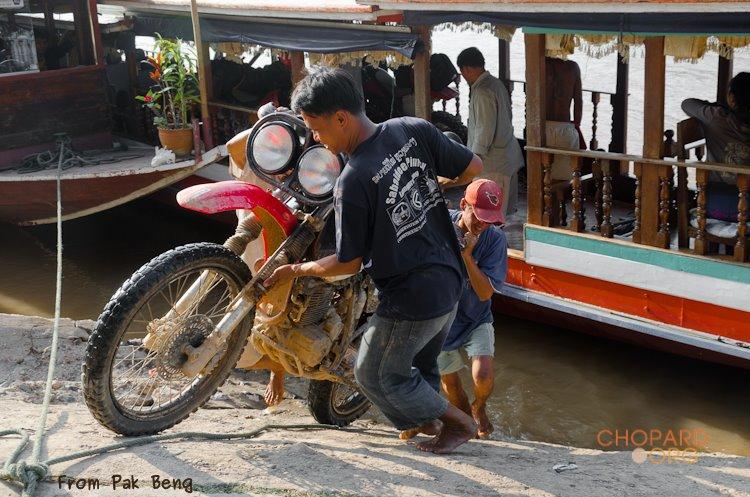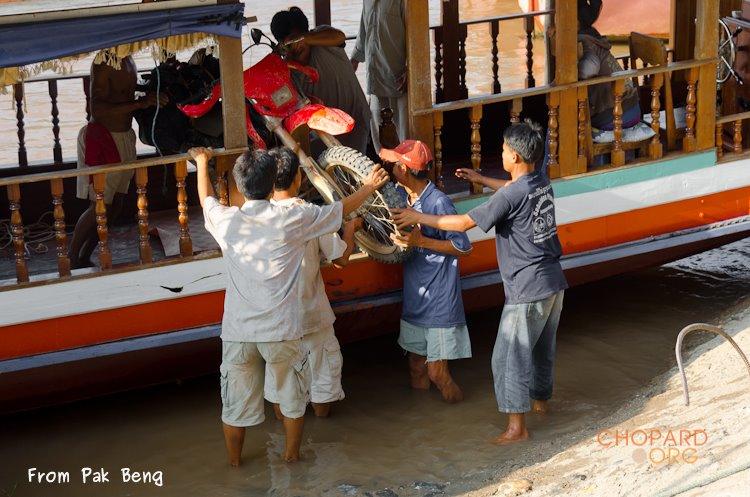 At twilight, in the Royal Palace's compound, I visited the new Haw Pha Bang temple. It was built to eventually host the Pha Bang Buddha image, kept at present in the nearby museum. This venerable gold statue gave its name to the city.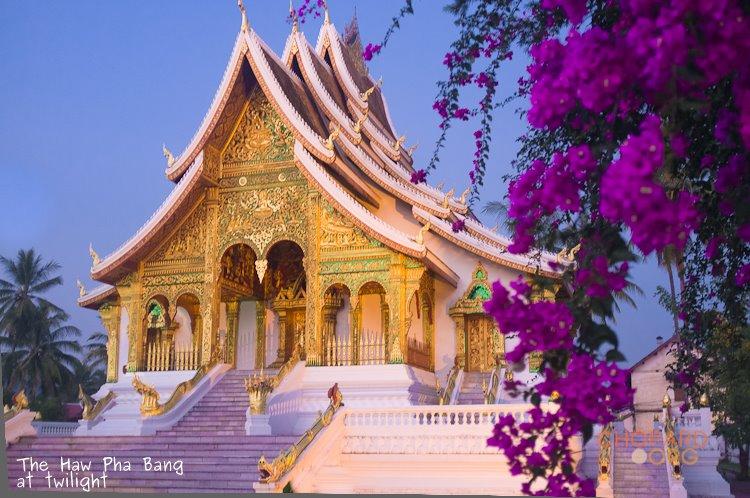 Luang Prabang's main night attraction, is the market, a colorful venue with hassle free shopping distractions. Restaurants, open toward the street, provide relaxing observation points, well stocked up with food and drinks. As I got caught in the evening's torpor, I drifted home later than intended.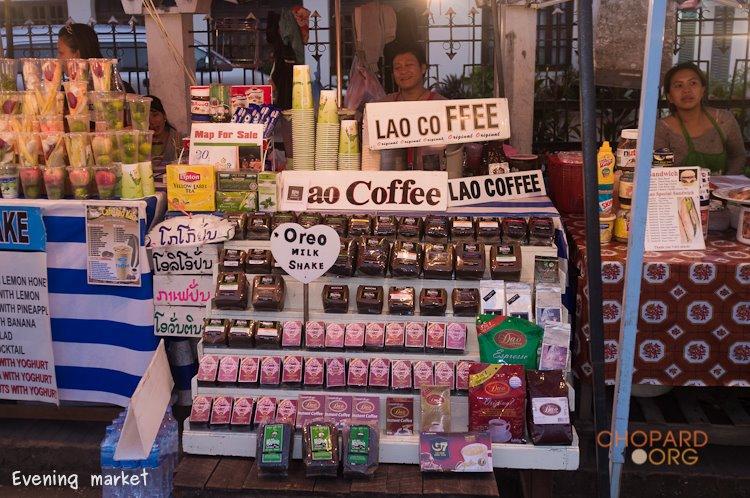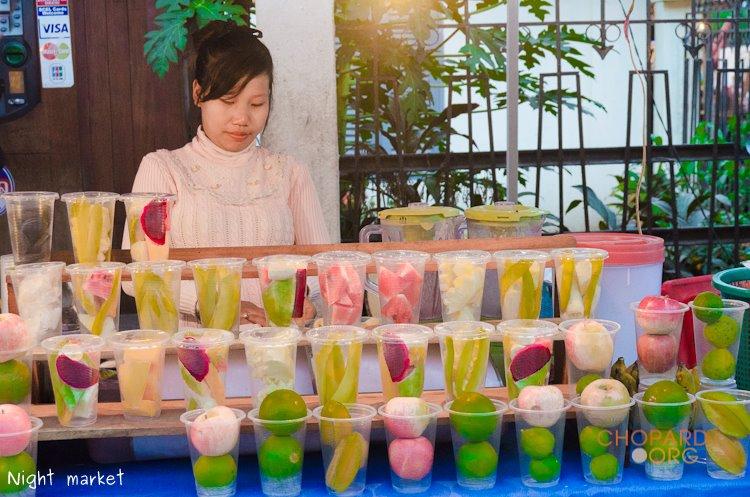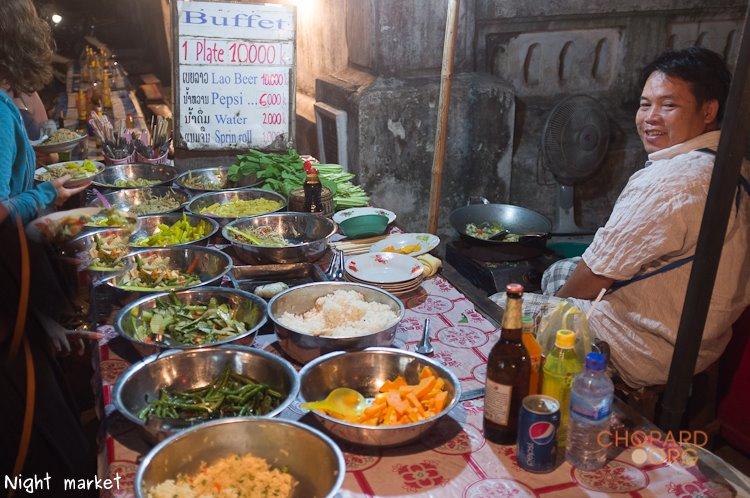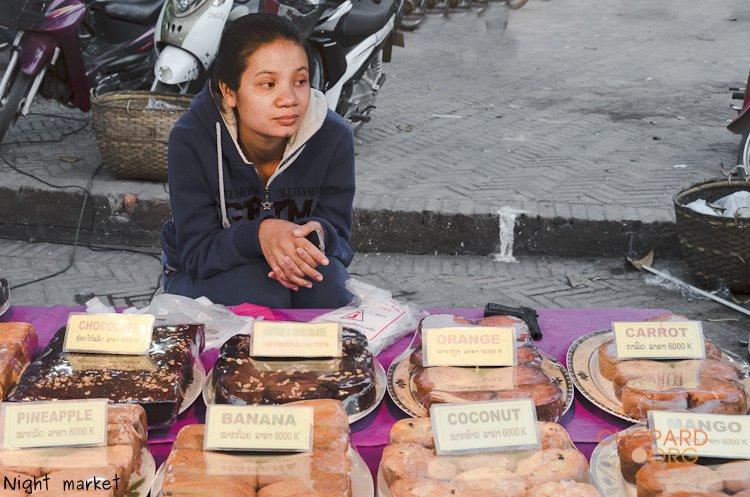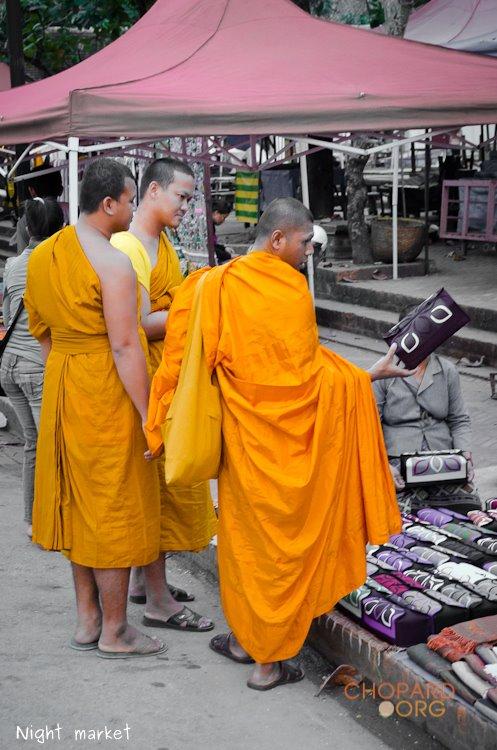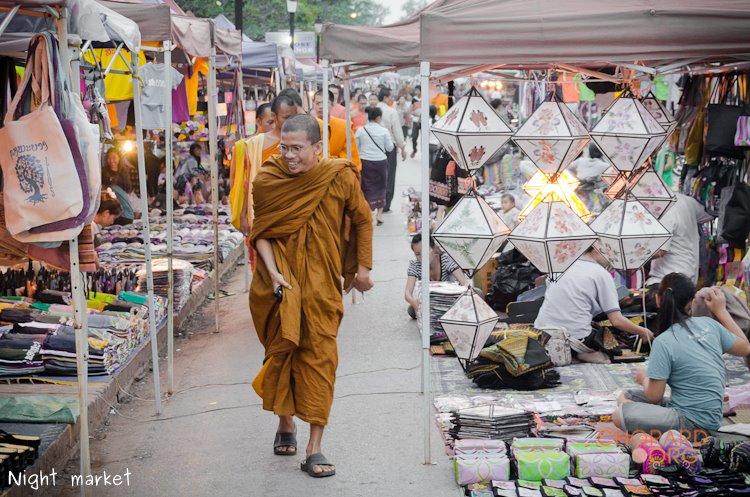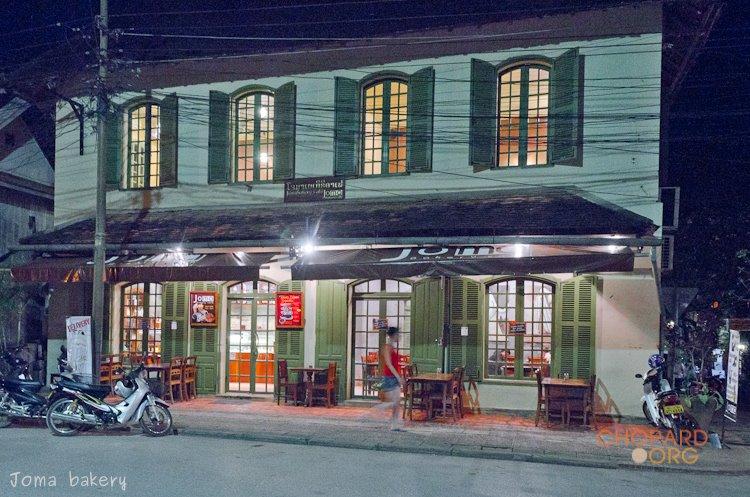 My early alarm clock threw me out of bed, and I braved dawn, to be in time for the monk's alms round. This daily ritual is an over-photographed Laos "cliche", but I am fascinated by its serene charm. It is a meaningful tradition, a profound expression of faith, despite the tourist crowd, attracted by the sight of a colorful morning procession.
In C.Kremmer's words ("Bamboo Palace" (2)), this ceremony was stimulated by the last king's abduction:
"... Monks are expected to give up all their possessions. They depend on the townsfolk for their physical sustenance, and in return, the people of Luang Prabang rely on the monks to sustain their souls and protect them from evil.

This mutual dependence had deepened since the town awoke one morning to find that the holder of a sacred office, around which their lives had revolved for centuries, had disappeared without a word of explanation."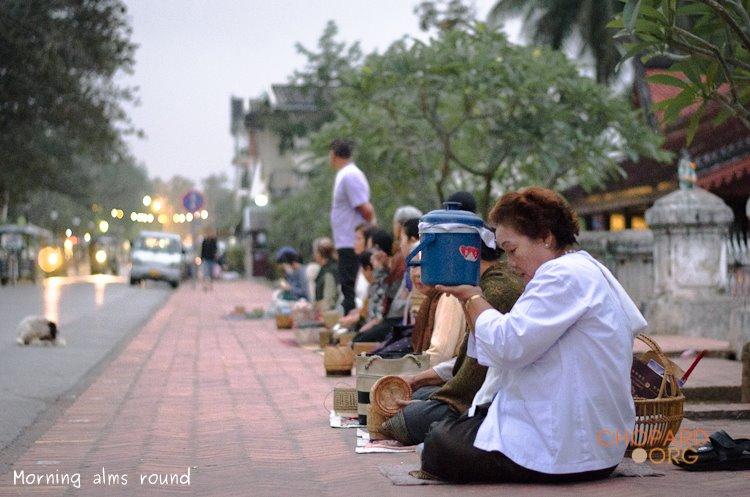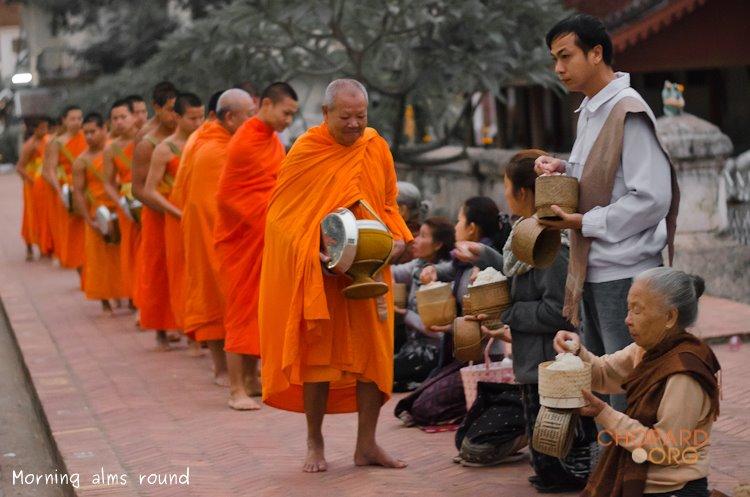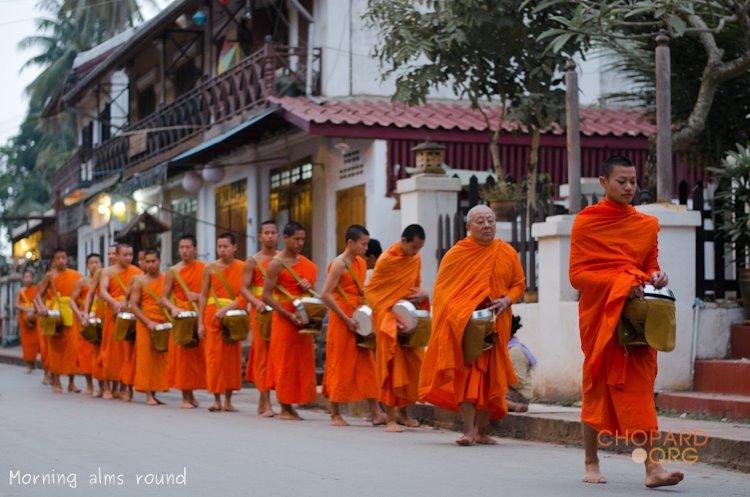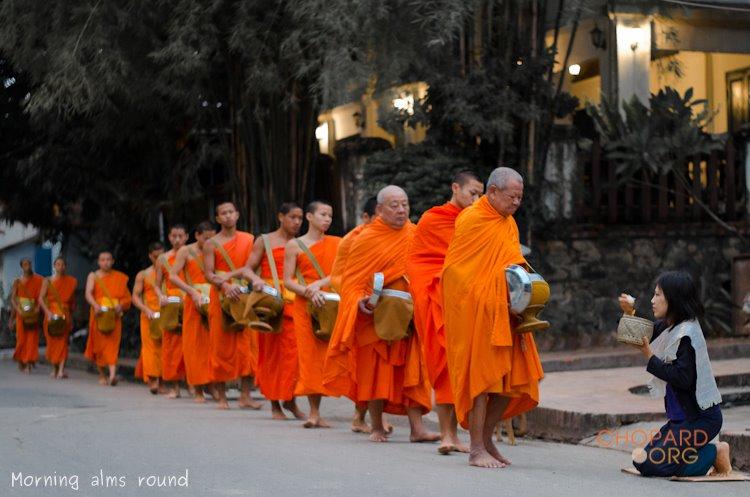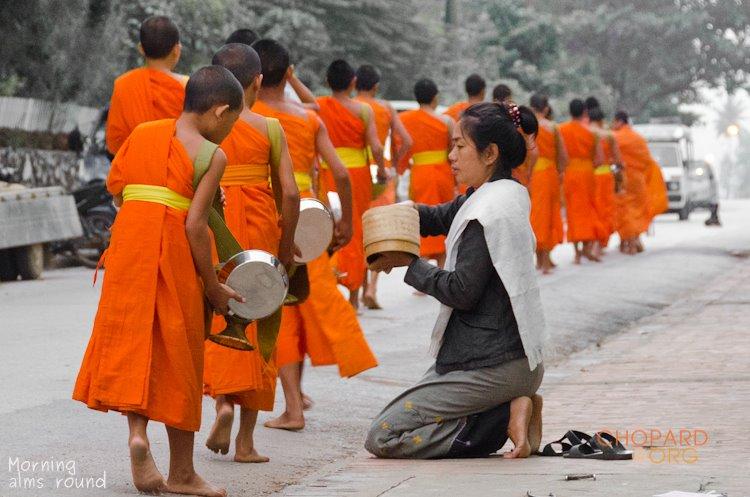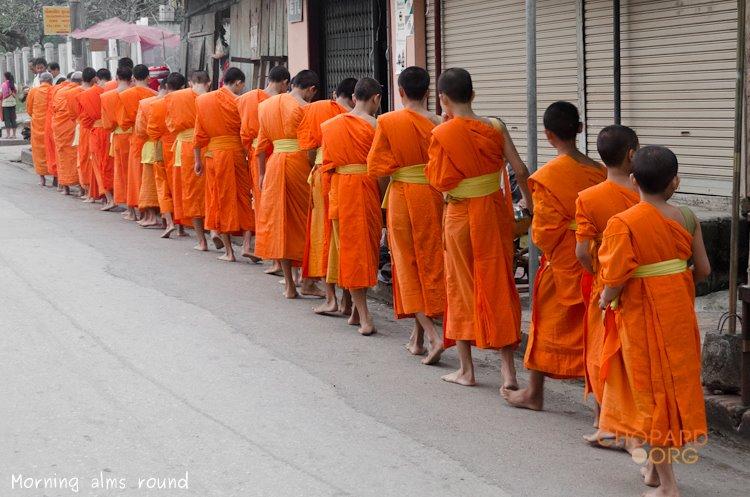 On my way back, I stopped at the "Joma Bakery Café", to enjoy my usual morning feast: a well packed egg bagel.
The next chore was to trail my belongings over the road, from my temporary shack to the "Oudom Suk Guesthouse" (room at 100 000 kip, season price).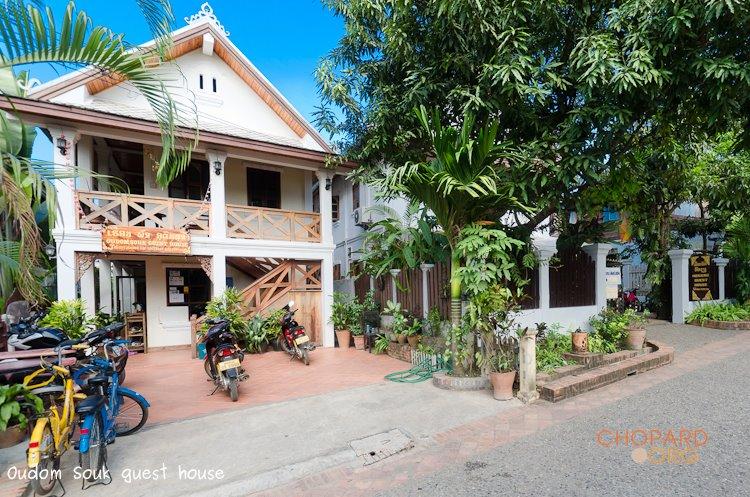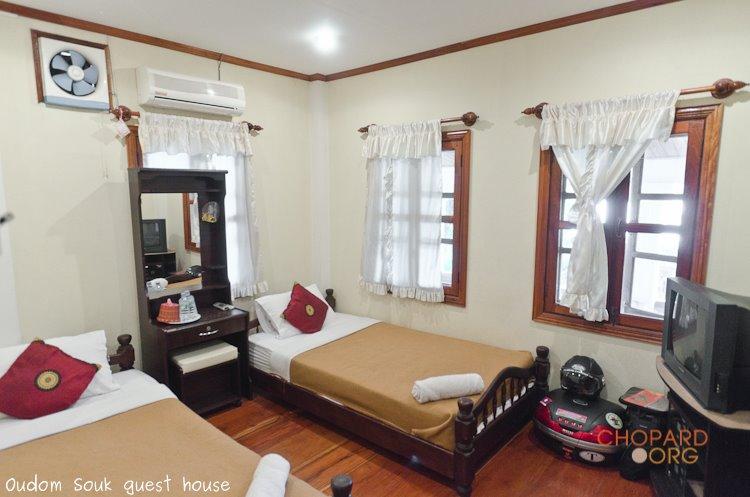 A popular attraction, 30 kilometers outside Luang Prabang, is the Kuang Xi waterfall. While exploring the neighborhoods, in that direction, I stopped at a resort, still under construction, build around the Mad Na Diey cascade. Then, I decided that I had enough water, and drove back to the city.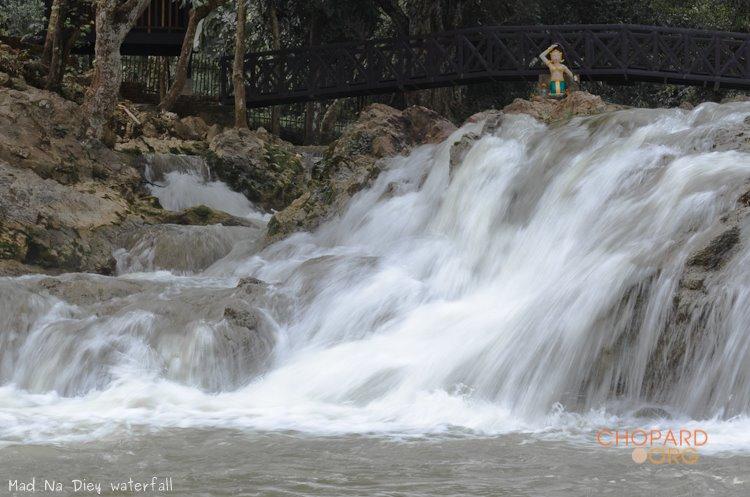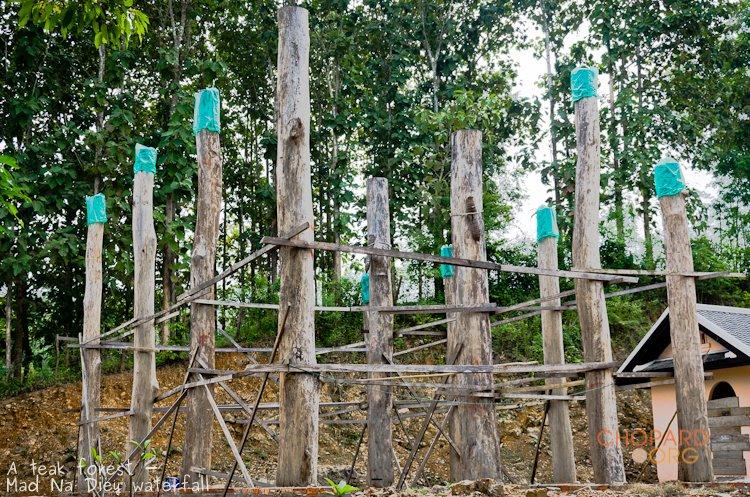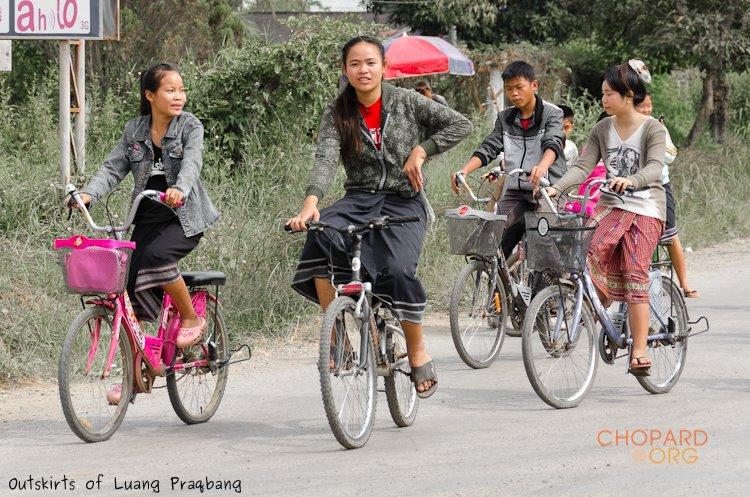 Talat Dala, is a well-stocked day market, in the town's center. It is less appealing than the evening streets, but offers a larger array of merchandises, and, in particular, tools that I needed.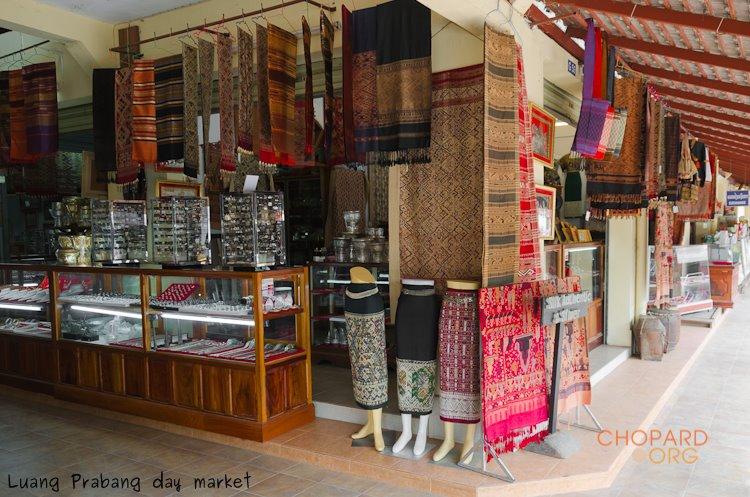 With my bike safely parked in the guesthouse premises, I took a promenade toward Wat Mai Suwannaphumaham, an outstanding temple. The ordination hall hosts a large collection of statues and its pillars, walls and doors, are richly decorated with illustrations, stencil paintings and "bas relief". On a sunny afternoon, its five tiered red roofs contrast with the dark azure and the gilded chedi on Pusi hill.
While listening to novices, energetically hitting a large gong, Thai monks greeted me; I had met them at the border crossing. They invited me to an evening meditation venue, in the same temple.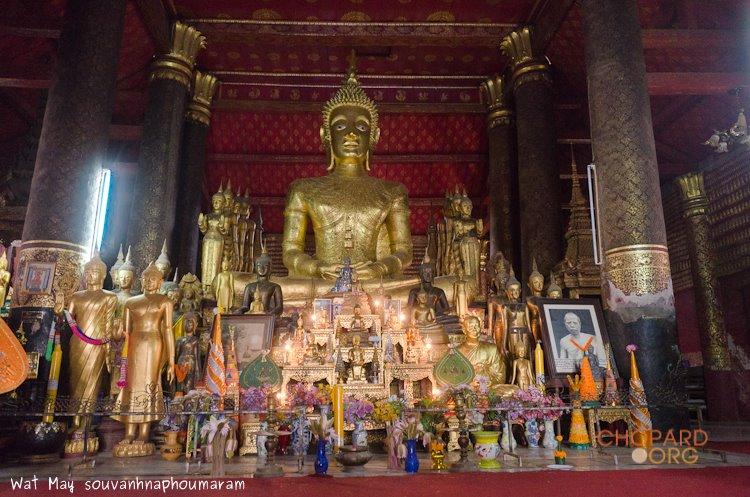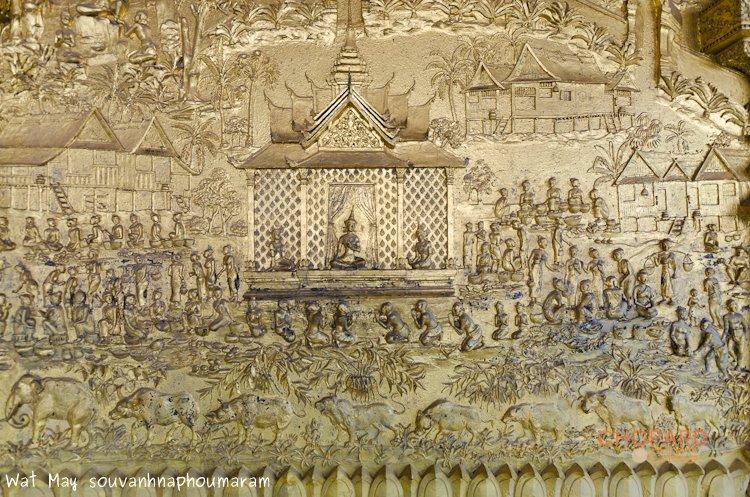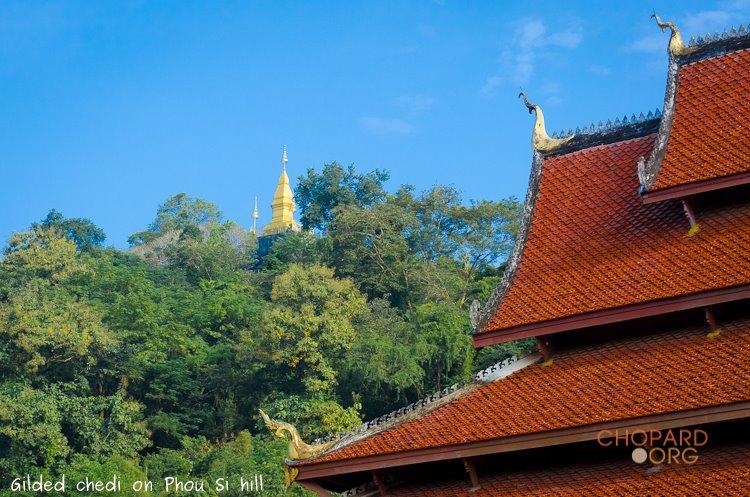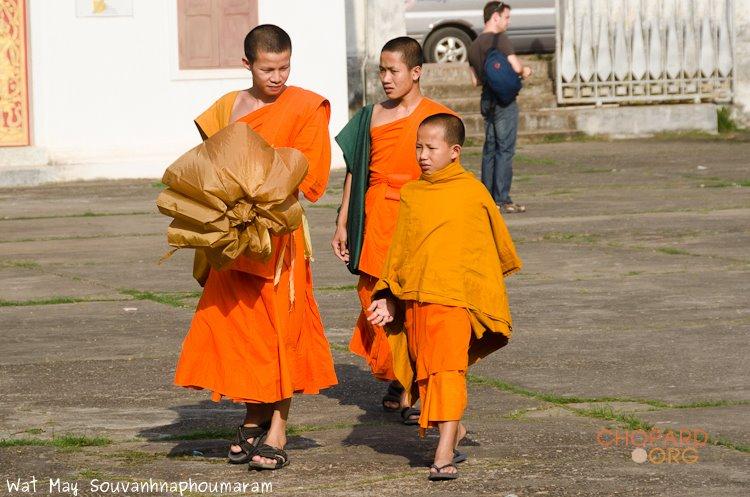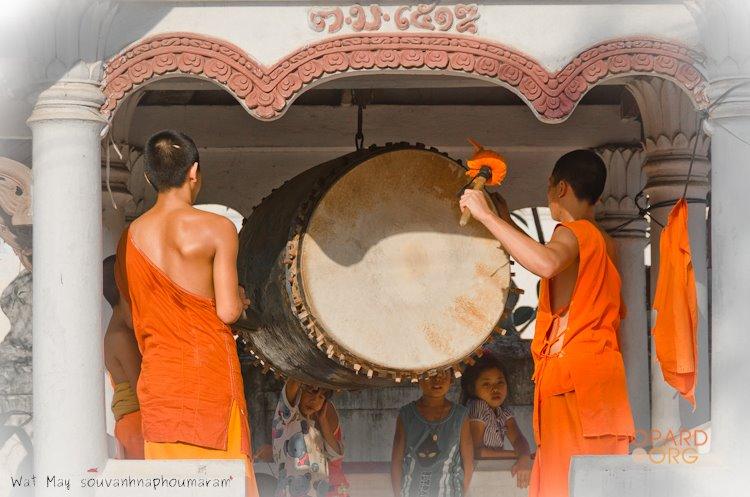 Slowly, with the fall of night, Wat Mai's compound became crowded with 400 monks, from different Buddhist traditions, and white dresses nuns (Thai Maechi), congregated for a common meditation. The ceremony was also an initiation for lay people, as explanations were provided in different languages.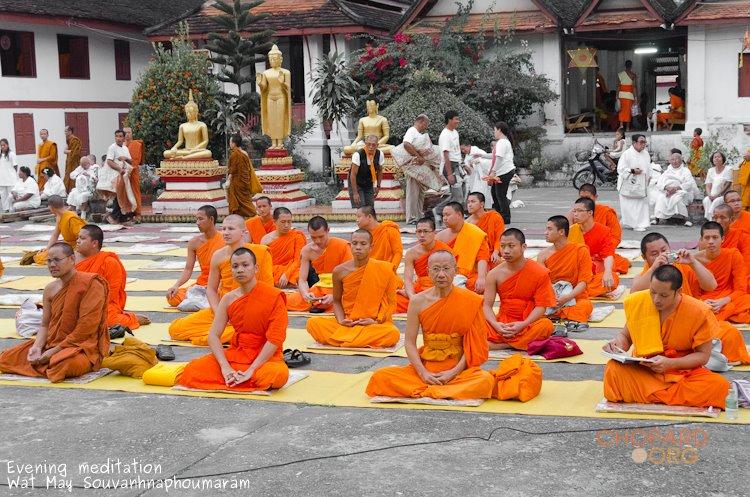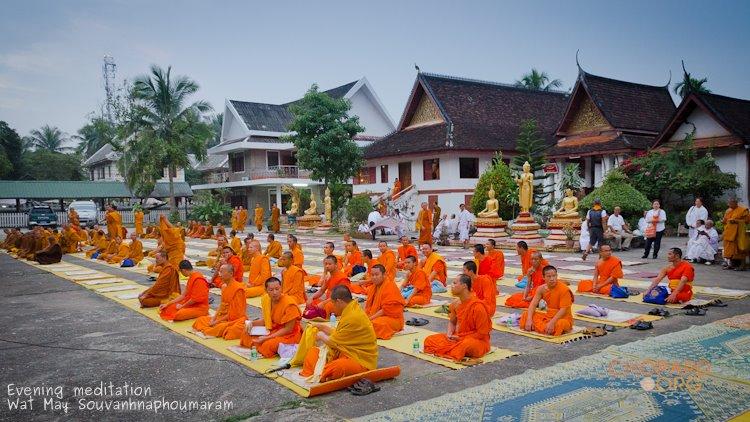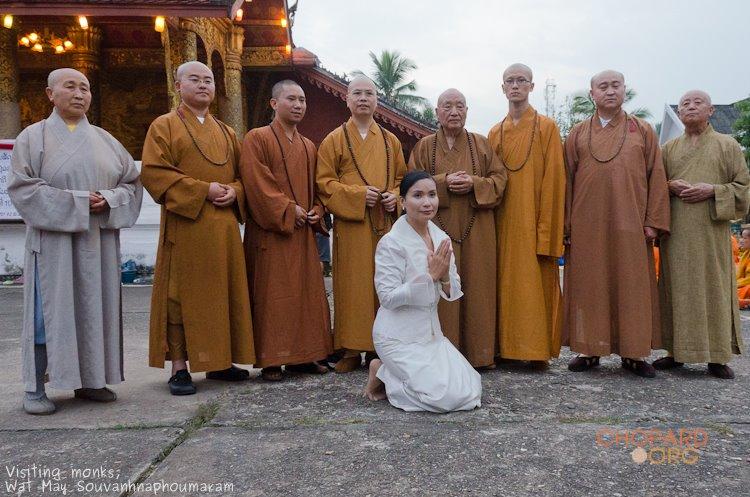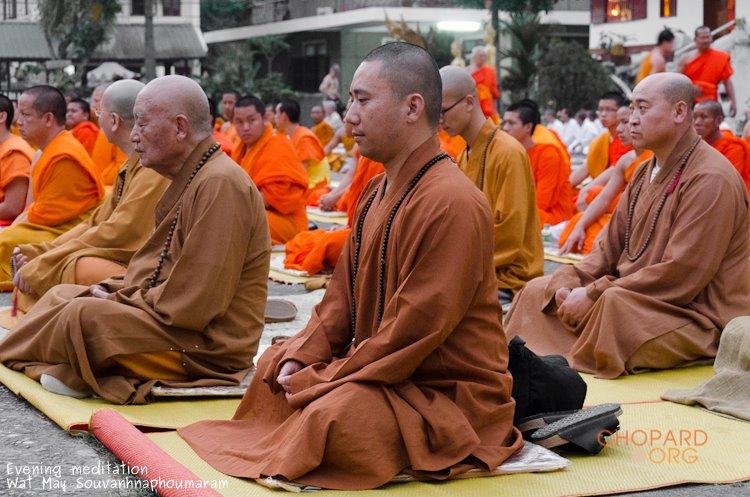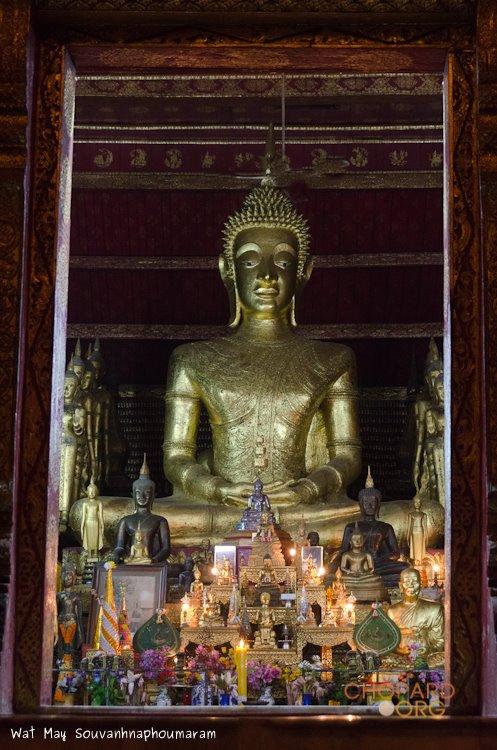 Mountain roads to Sam Nuea
The veil over Laos' recent past is slow to disintegrate. Secret war's classified documents, untold stories about the plight of the royal family, hidden samana camps, Hmong disappearances, and administrative red tape, are blurring the historic reality. On the other hand, local people seem over it, and I have never noticed ill will.
In Xieng Khouang and Houa Phan provinces, scars from the hardship are still discernible, despite the filling of the craters with vegetation and water, and the reconstruction of obliterated villages. This region was my next destination.
Morning fog falling in a bruise and the attraction of another "Joma breakfast", delayed my departure for a while; it was, however, still early when I hit the road and climbed the mountain, south of Luang Prabang. The warning, on a traffic panel, has to be taken seriously; this trail can really be slippery!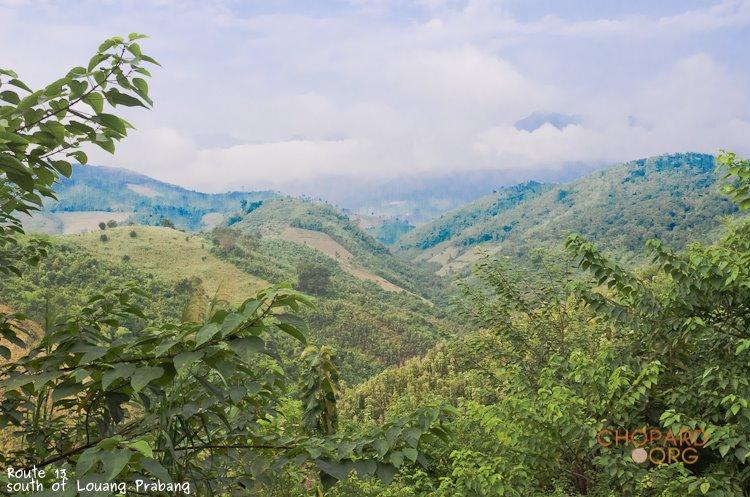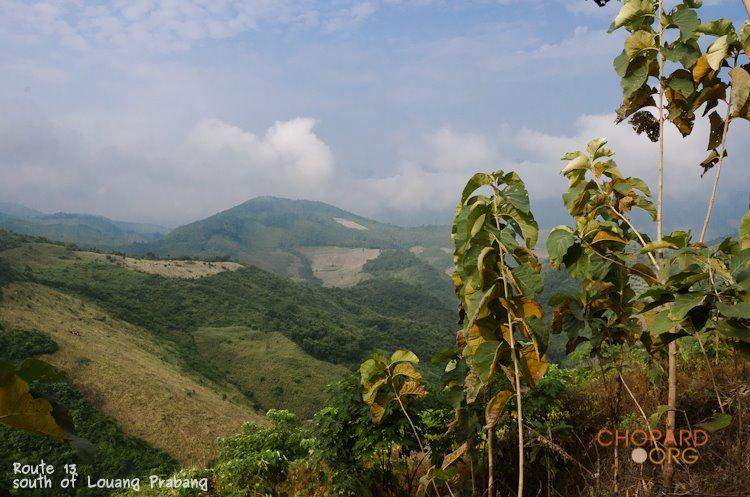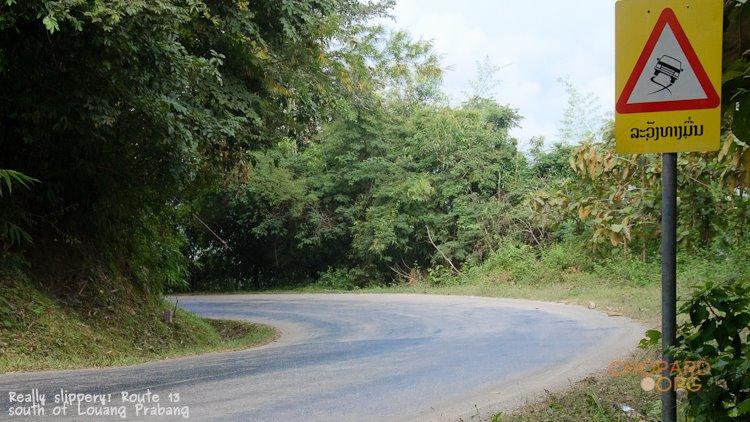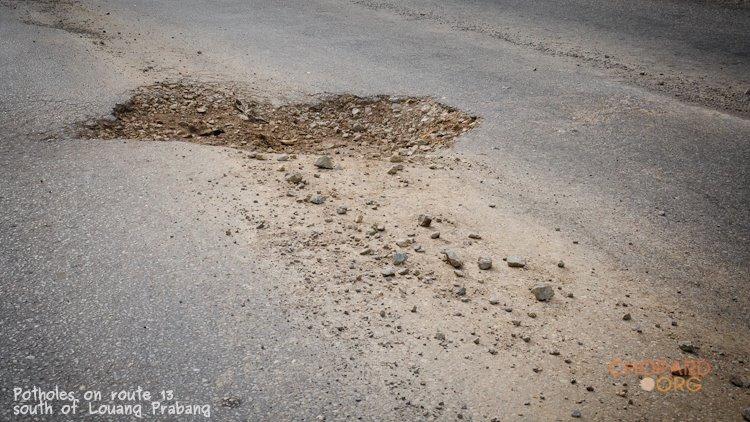 At Kio Muang viewpoint, blue sky contrasted with a hazy valley panorama, an invigorating sight, before the venture on my last sector of route 13.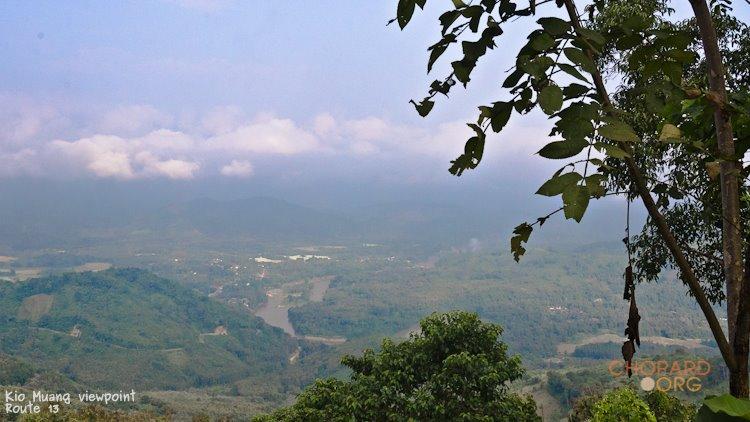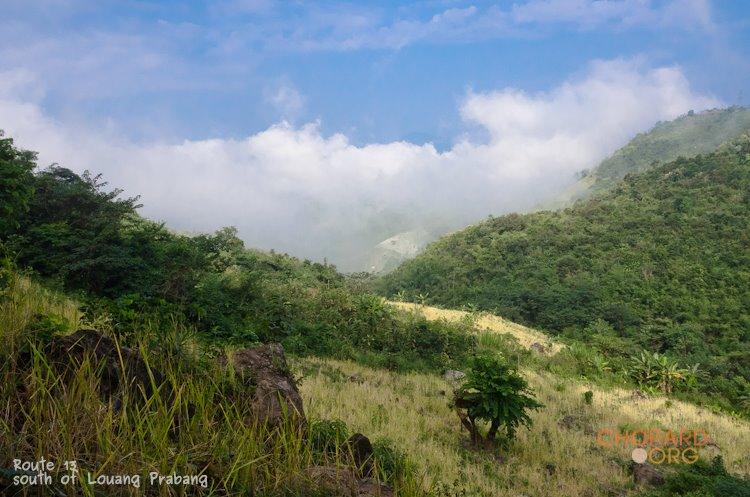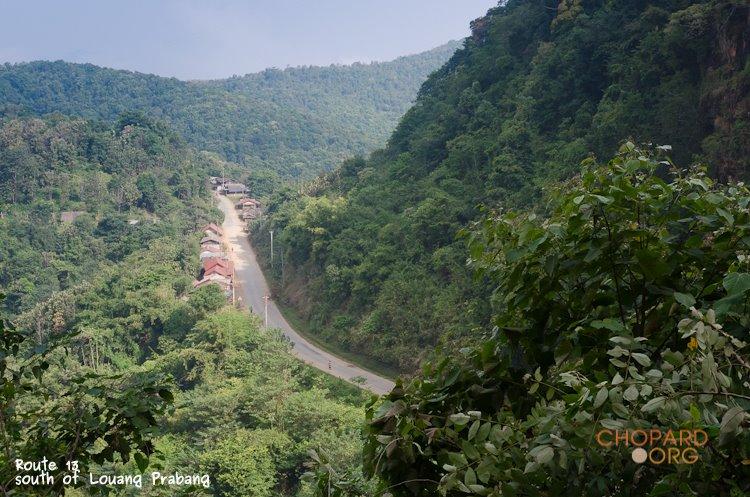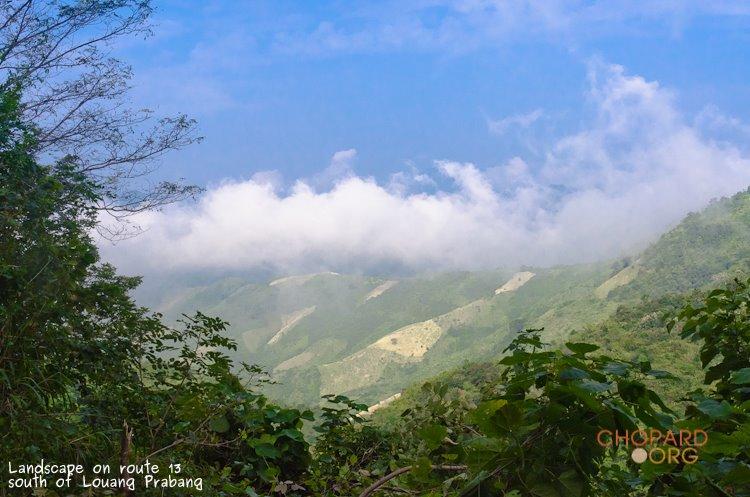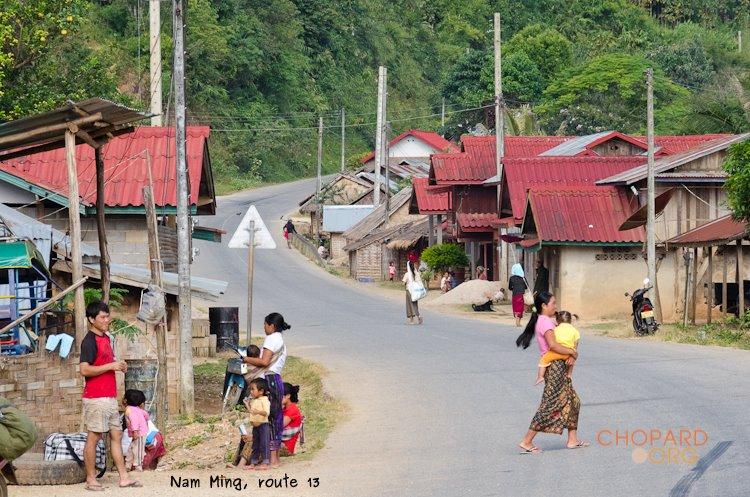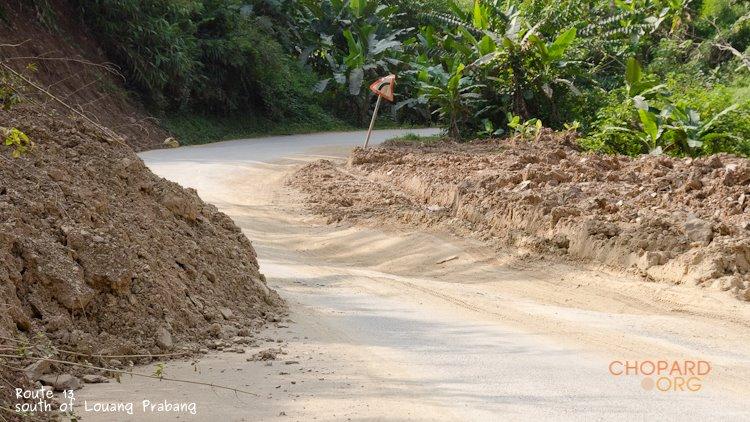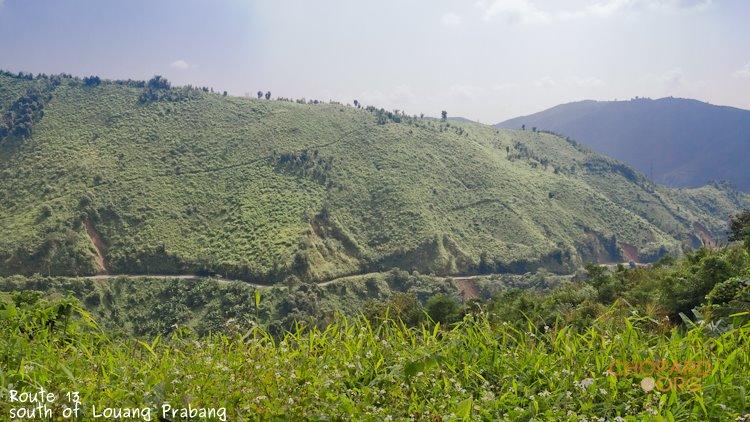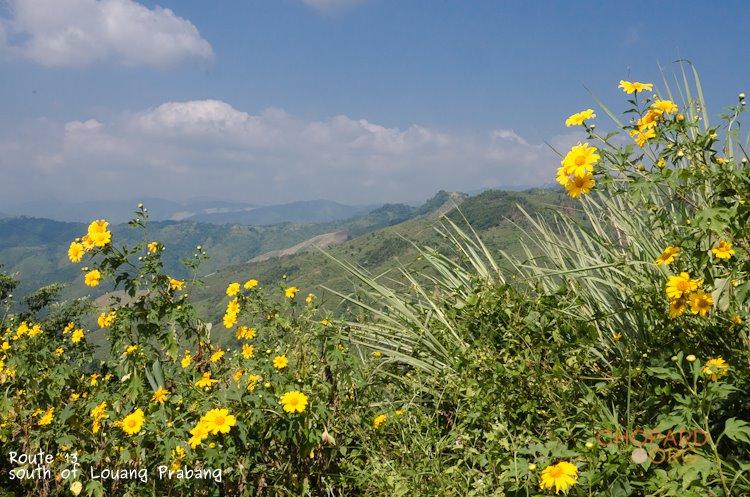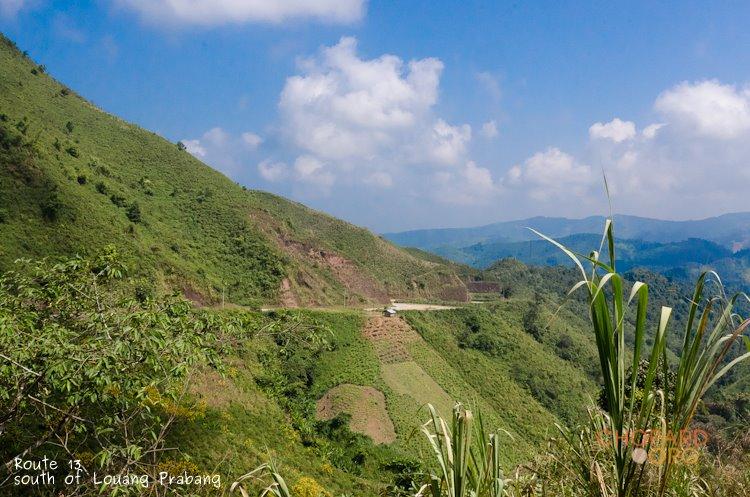 Phou Khoun is essentially an intersection, a small rural square in an important colonial roads carrefour. Its humdrum buildings hide evidences of a strategic past, a decisive key lock in the civil war. It was a bitterly defended crossroad, a cornerstone that collapsed with the Hmong army's defeat, opening a highway to the Pathet Lao victory (Sala Phou Khoun was LS-260).
Thirty six years later, the road is packed with kids, happily sauntering back from school. I wondered if they had any knowledge about their village's history, or, most likely, if they were more attracted toward the latest "soap operas" broadcasted by the Thai TV chains.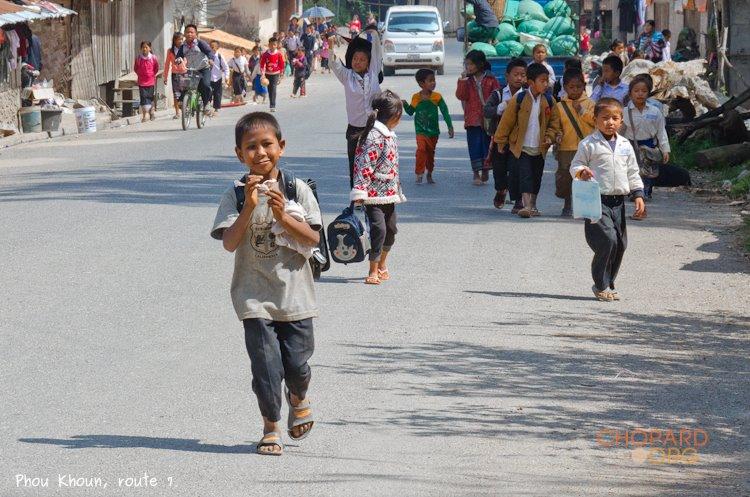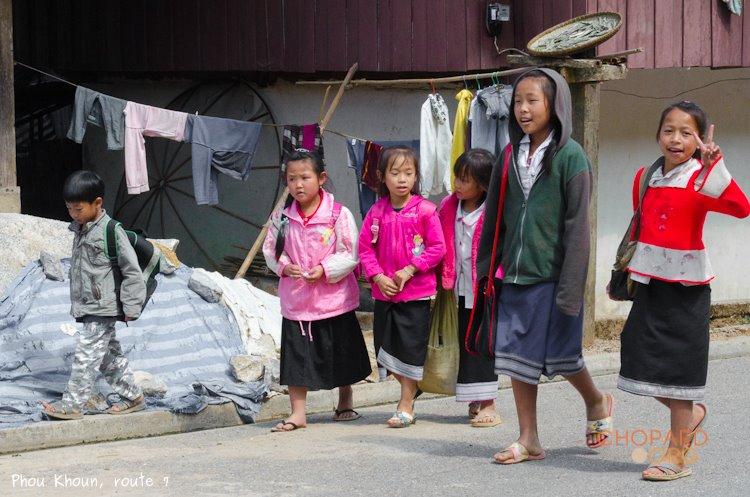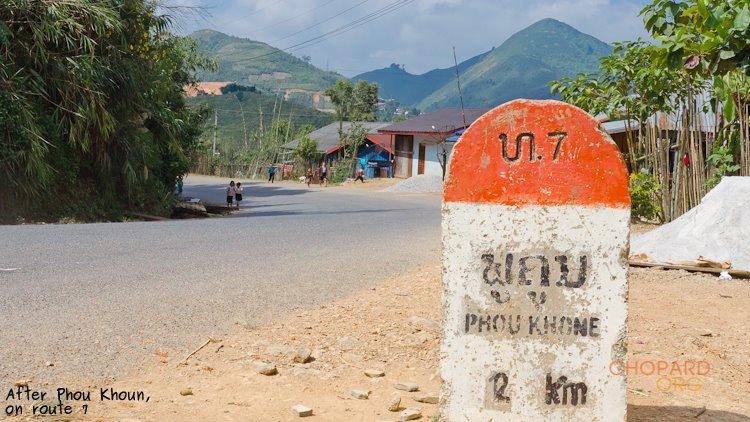 In contrast to the bumps and dilapidated sectors of route 13, the undulating link to Phonsavan is smooth and enjoyable on a bike. It climbs through hills covered with bush size vegetation, passes dark cliffs, and meanders through various hamlets with cheering children.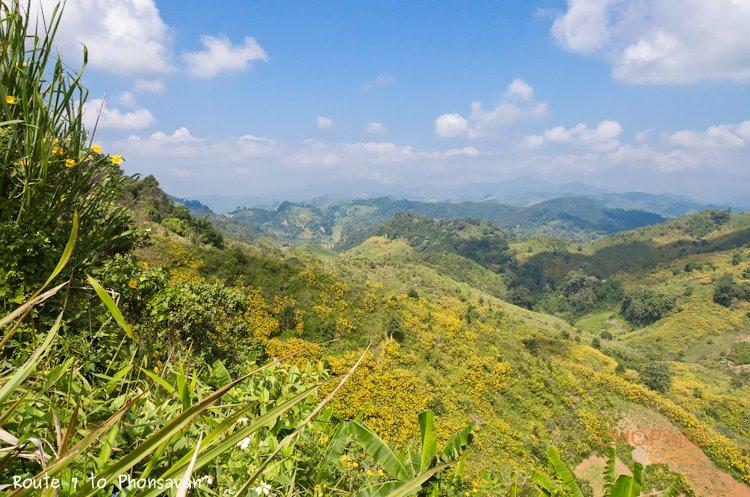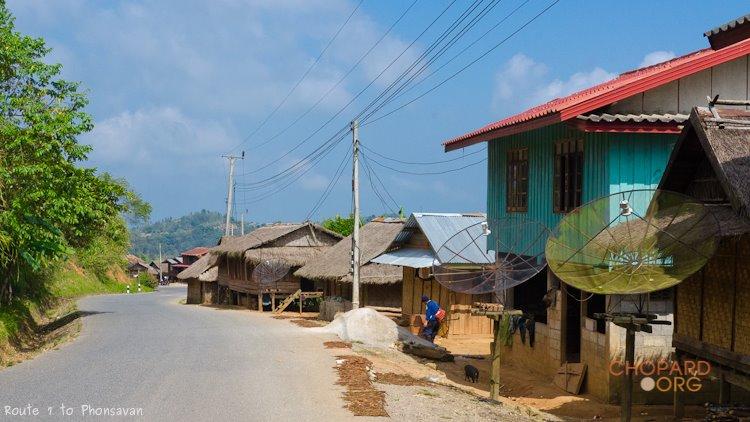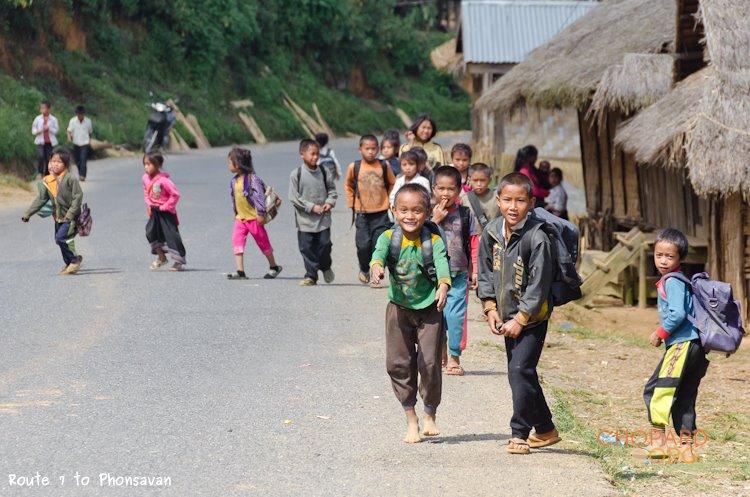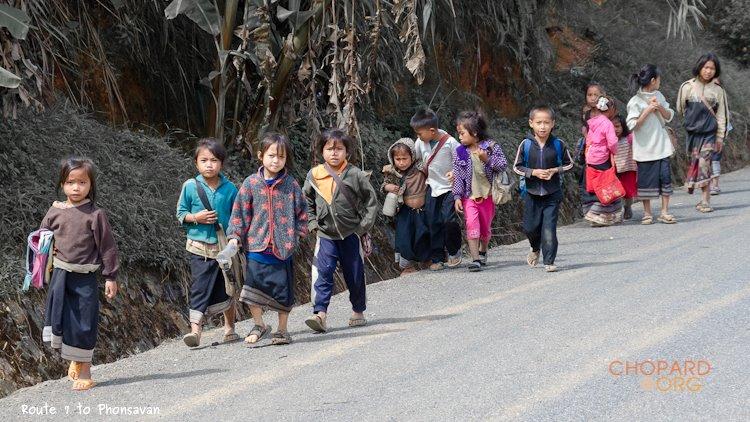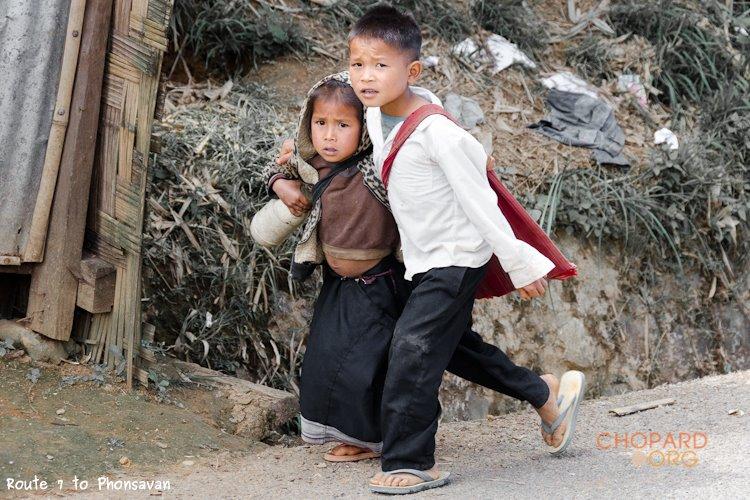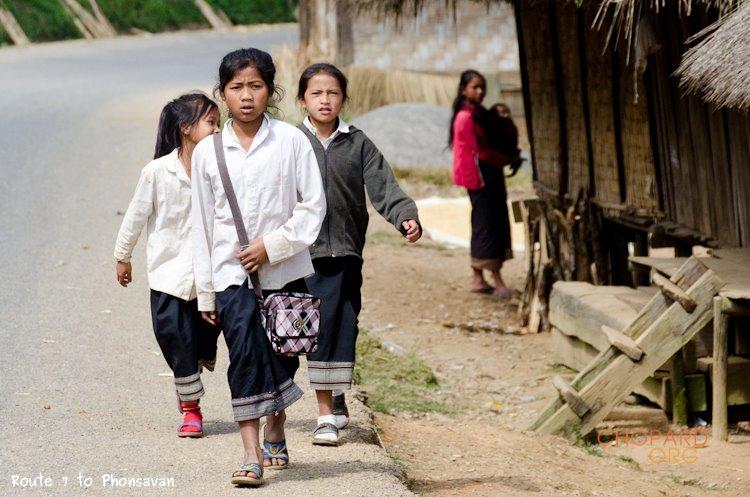 During my former trip, I had noticed peculiar "fish traps" on the rivers. This time, I was better informed, they are actually "Pico hydro" generators. These small turbines belong to a large project providing a minimum of electricity to remote communities. Local people told me that they produced enough power for their TV sets and light bulbs.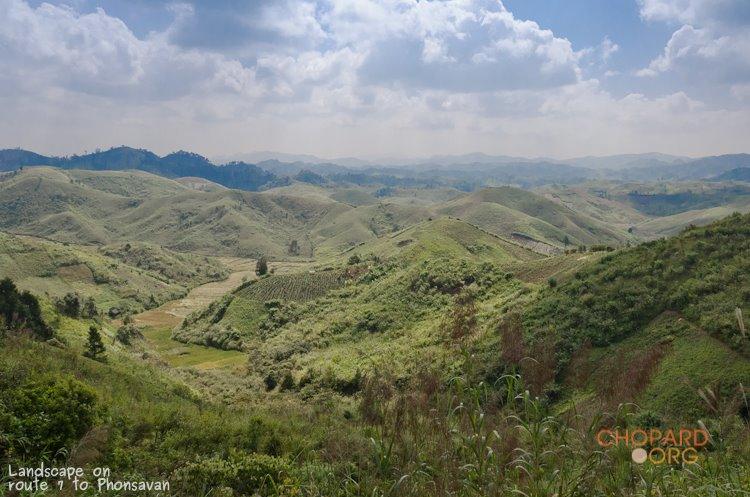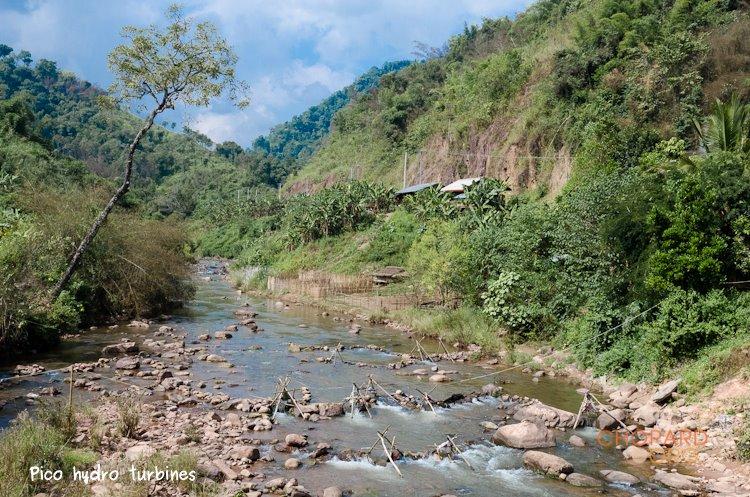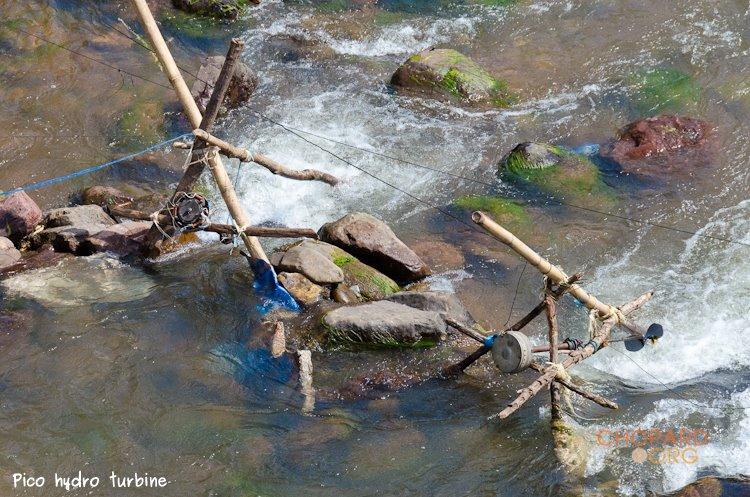 The ribbon of blooming Mexican sunflowers still colored my journey, mixing its yellow hues with the rice fields' tender greens and the darker shades of forests and hills.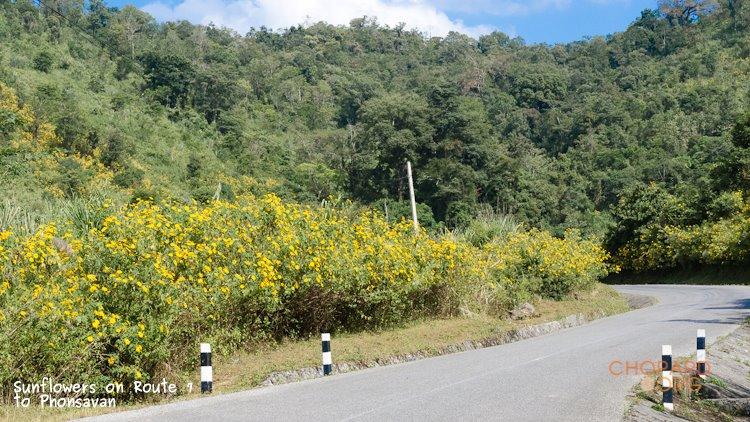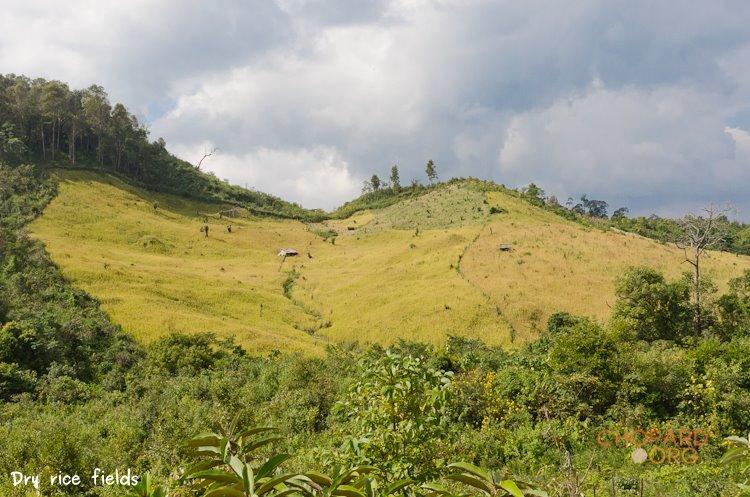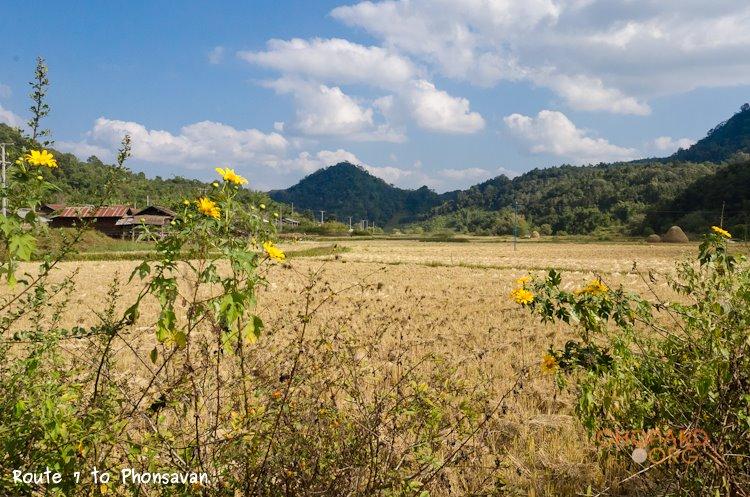 In Ban Nong Tang, a romantic lake is flanked by dark limestone cliffs. It's a calm and picturesque neighborhood, well worth a pause to remember Muang Sui, the former settlement on this location. It was a strategic village, hosting the US landing site Lima L-108; the North Vietnamese army has obliterated and erased it from the map.
On "Google maps", the airstrip's outline is still visible.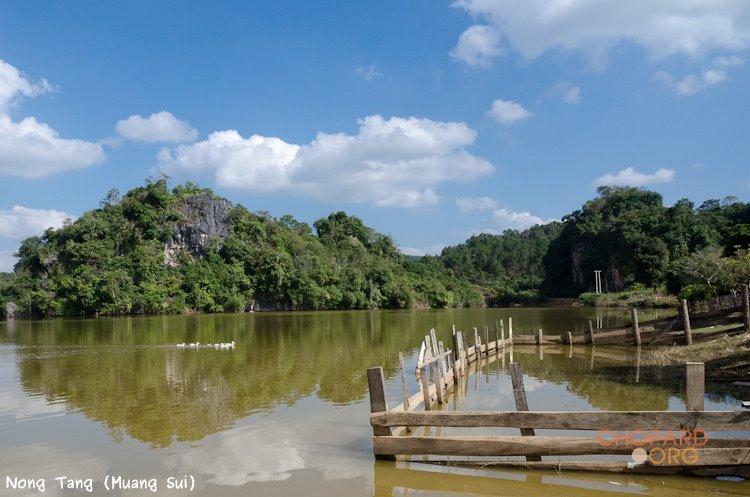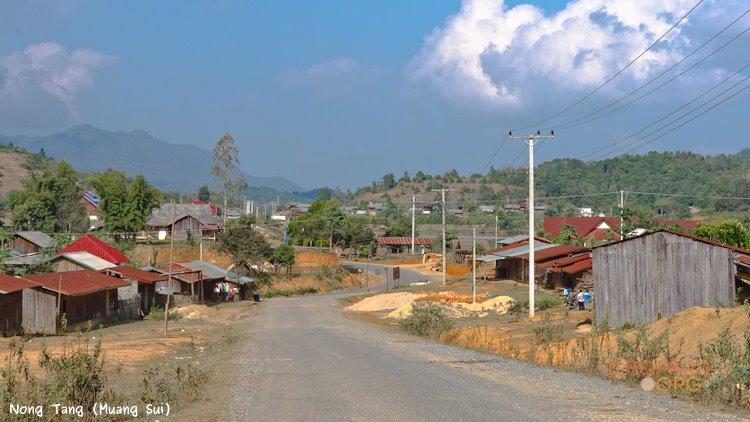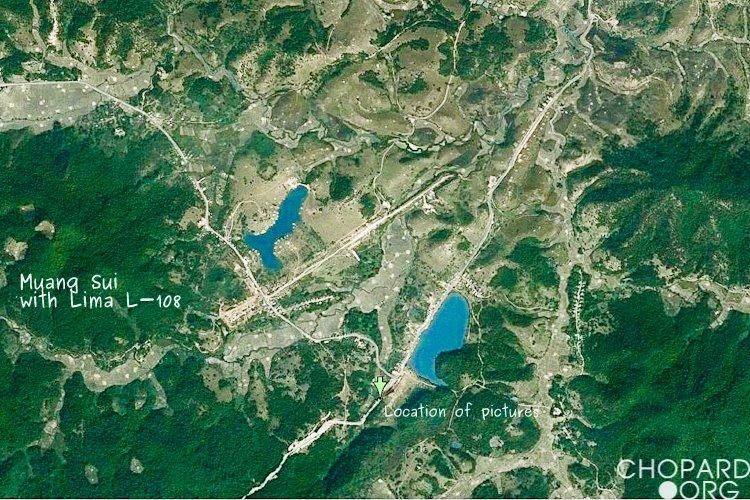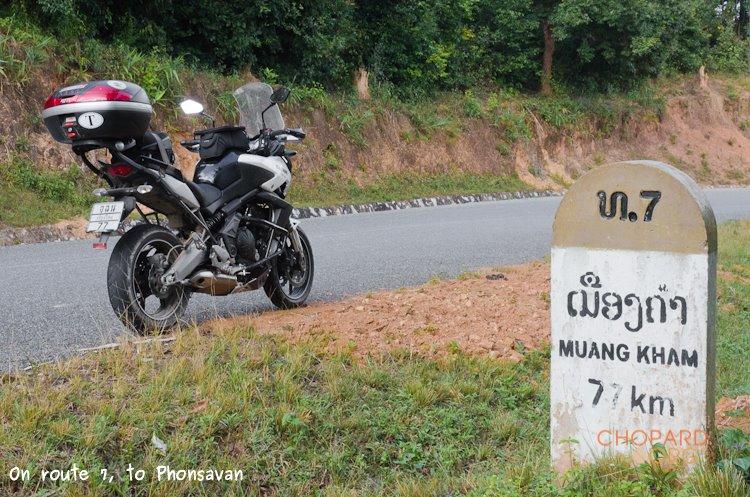 When I reached Phonsavan, Xieng Khouang Province's new capital, I checked in to the "Nice Guesthouse" ( 80'000 kips), the same quarter used during my last visit to this city.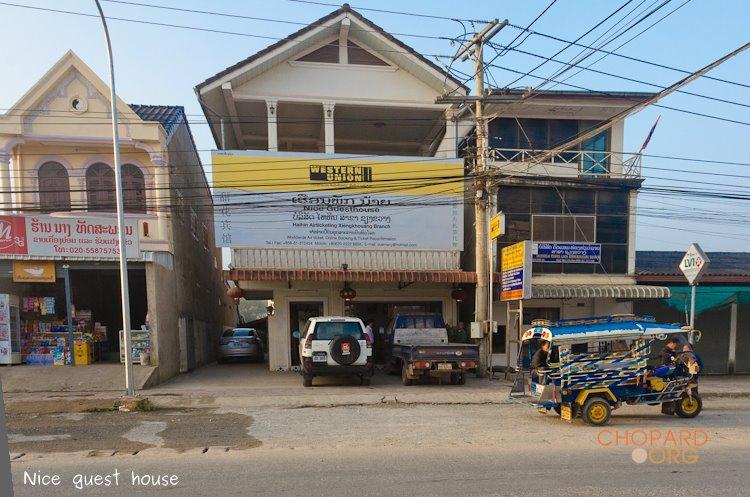 My first call was to MAG's office (Mines Advisory Group), an agency particularly active in Xieng Khouang and Khammoune provinces to clean UXO (unexploded ordnances). They are doing a remarkable work in a country were a lot remains to be done. This is a passage from their documents (3):
"The Lao Government has shown that unexploded ordnance (UXO) contamination still affects more than 25 per cent of Lao villages.

Between 1999 and 2008, there were 2,184 casualties (including 834 deaths) from UXO incidents and more than 50,000 people have been killed or injured as a result of UXO accidents since 1964"
.

"Crater bar" was my hangout for dinner. Since my last sojourn, more bomb shells are displayed on its small terrace; a mean to attract a share of the few tourists rambling around main street.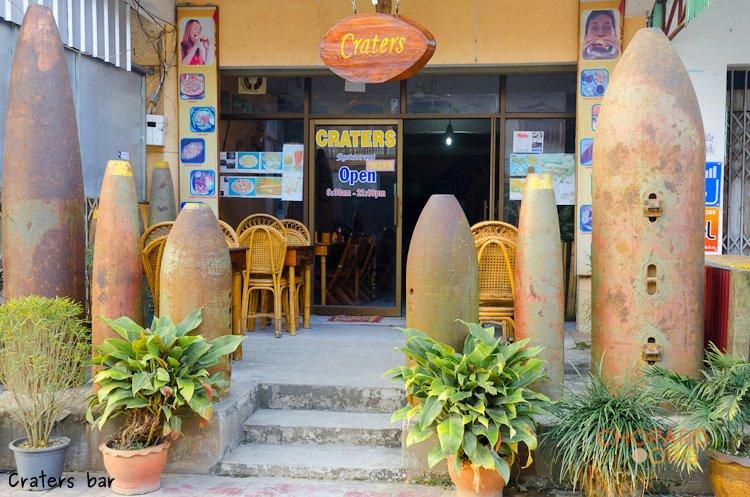 When I woke up, haze veiled the early sun and the morning was nicely fresh. Before starting my journey, I went back to the "Crater Bar" for a hot breakfast, heavy enough to drive through the Anamite mountain range.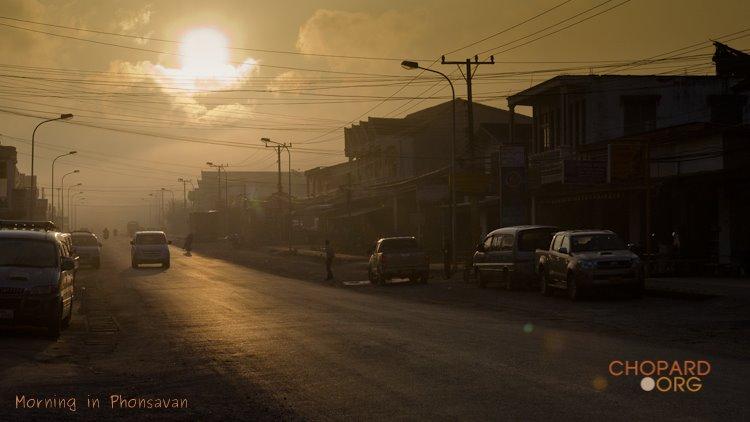 I had jotted the name of the "bomb village" to localize it, some thirty kilometers outside Phonsavan. It is actually a small Hmong settlement, called "Ta Jok", situated along a narrow byroad, on the way to Muang Kham.
This is how Natacha du Pont de Bie's depicts the place in "Ant Egg Soup" (1):
" We'd began to pass substantial villages and the recycled war scrap became more prolific as we sped by fence upon fence made up of bomb casings jammed into the earth in macabre rows and dozens of battered torpedoes recycled to encircle market gardens. Everywhere I looked there were bombs reinvented as pig troughs, window sills, and even flower pots."
I suppose that scrap is gradually recycled and traded for cash, as I found only few shells still displayed or used in buildings.
Nevertheless, I appreciate my visit to this Hmong hamlet, to observe rural life and take kid's pictures.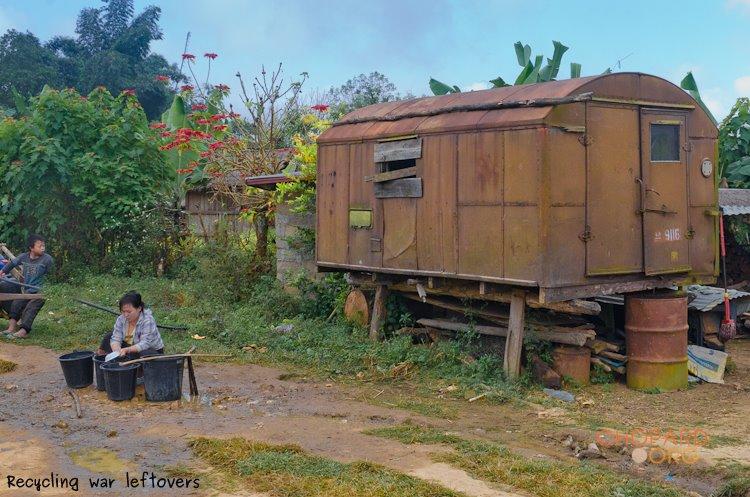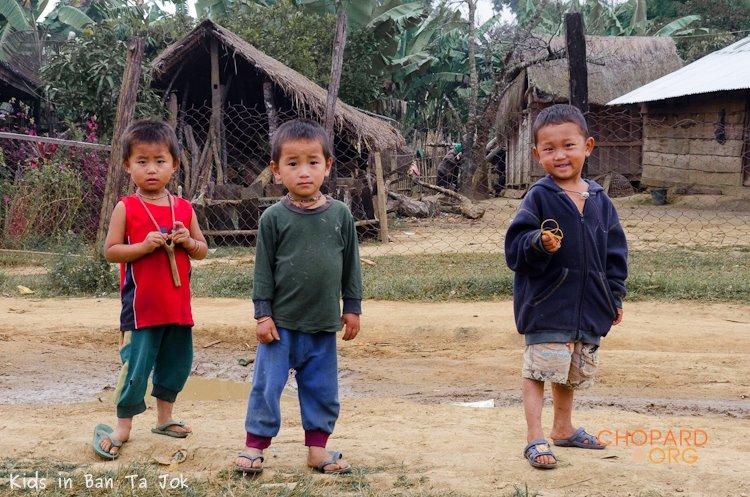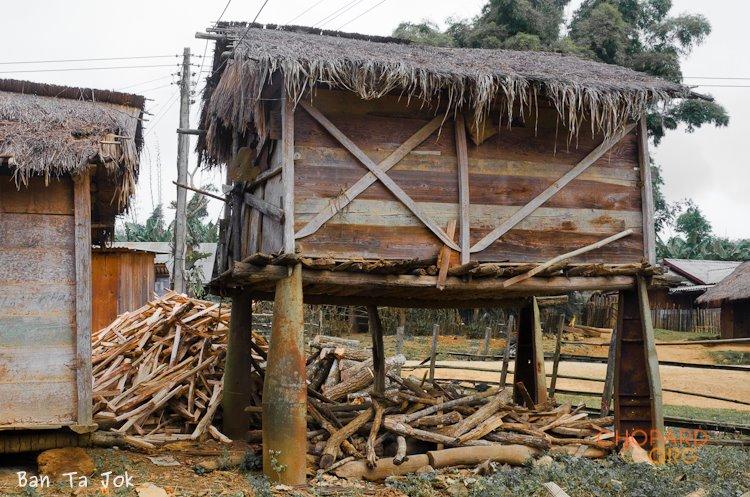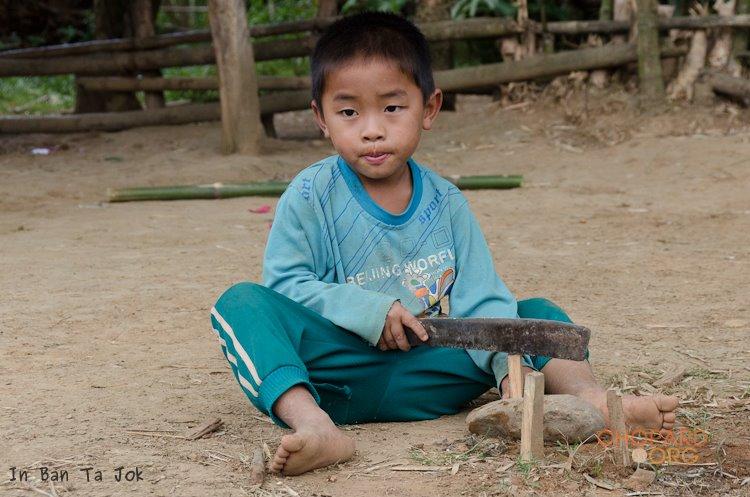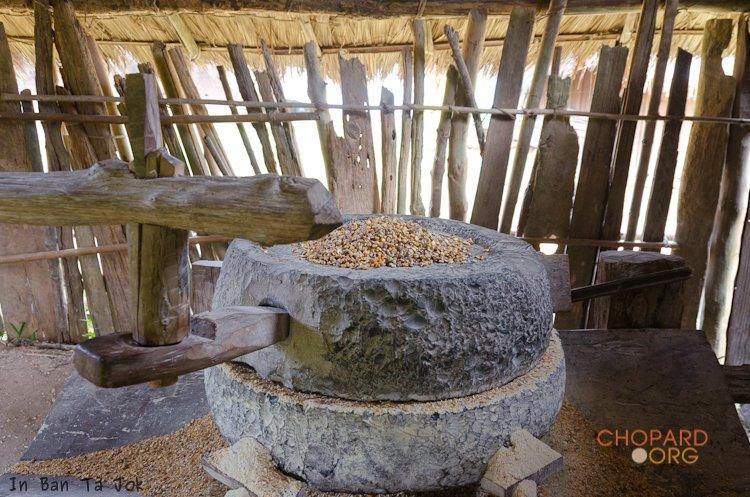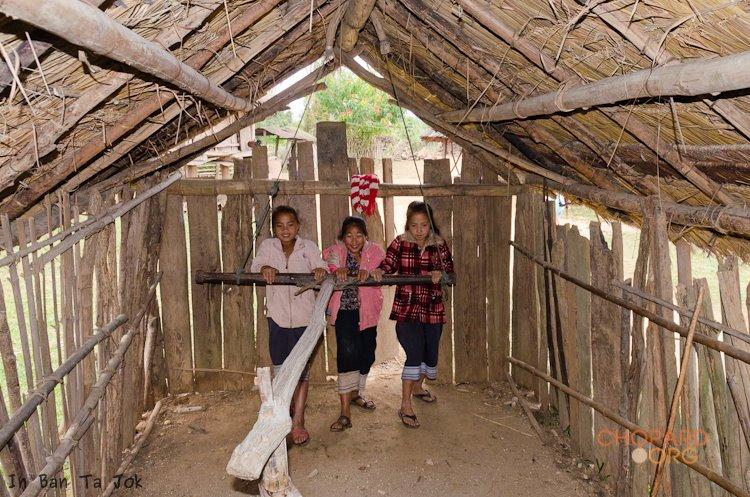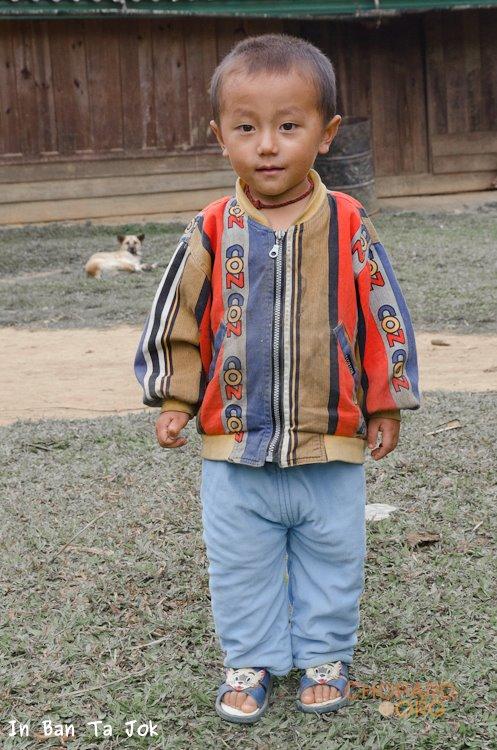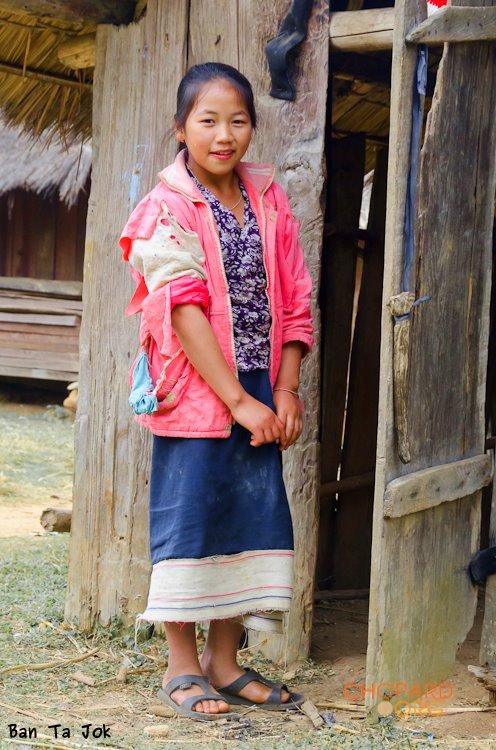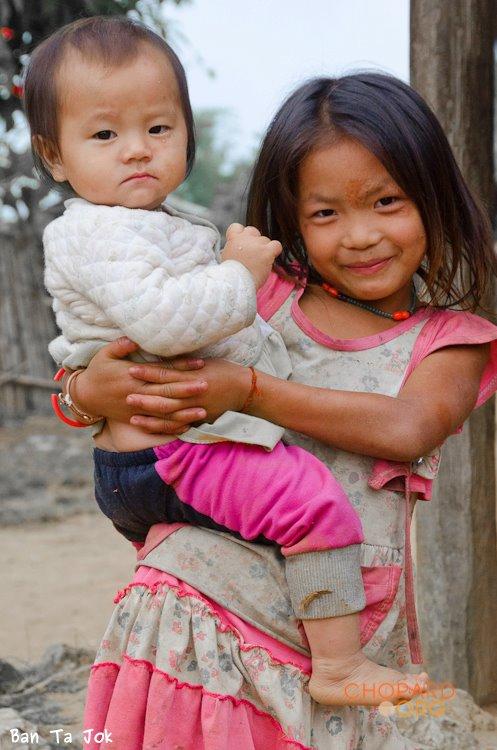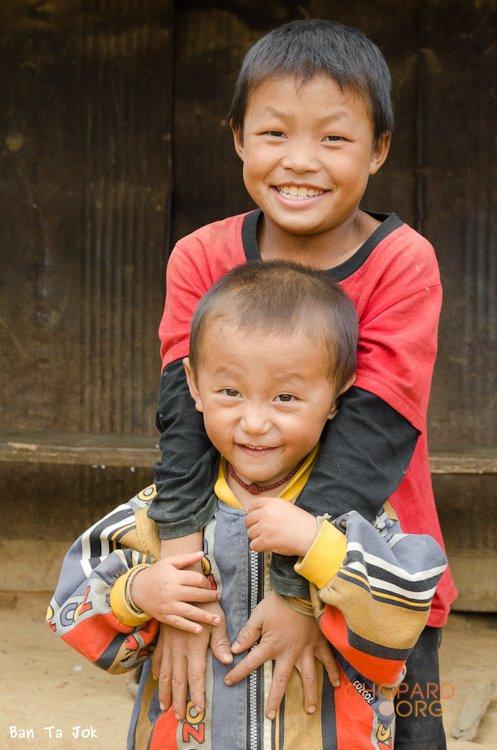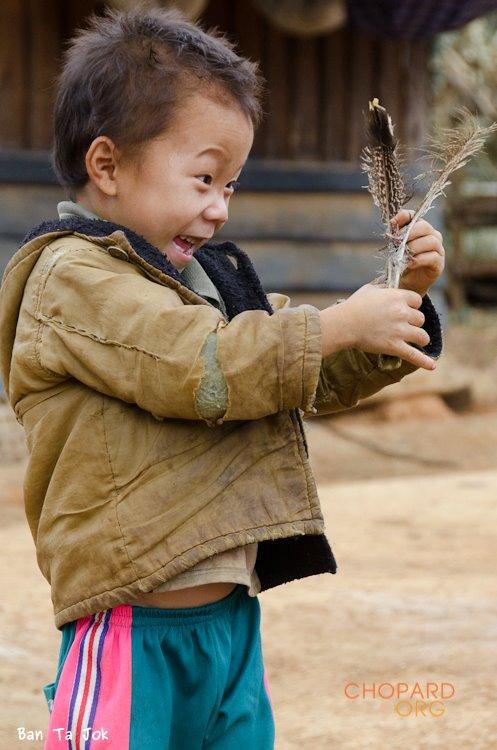 Back on route 7, I still enjoyed the sunflowers' yellow color, sometimes echoed by yellow painted bomb shells, a yellow banana stall and the yellow crops in the rice paddies.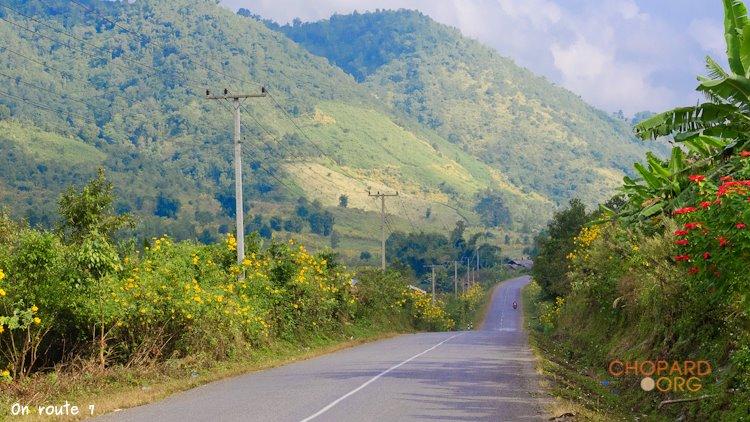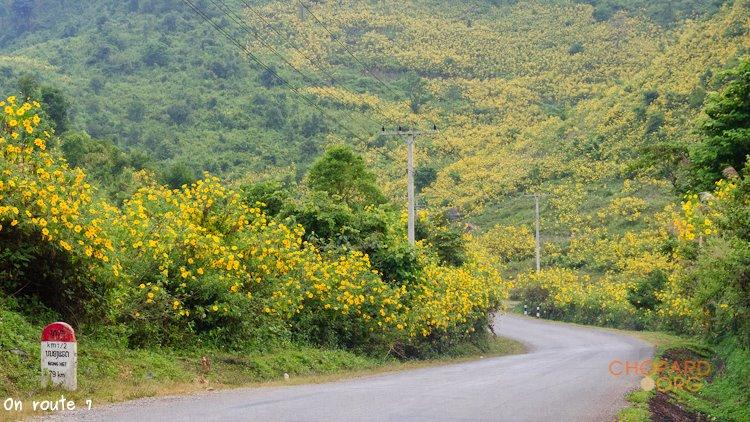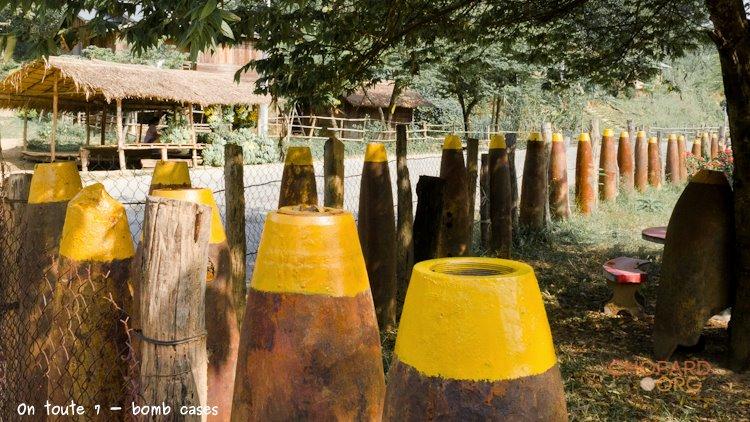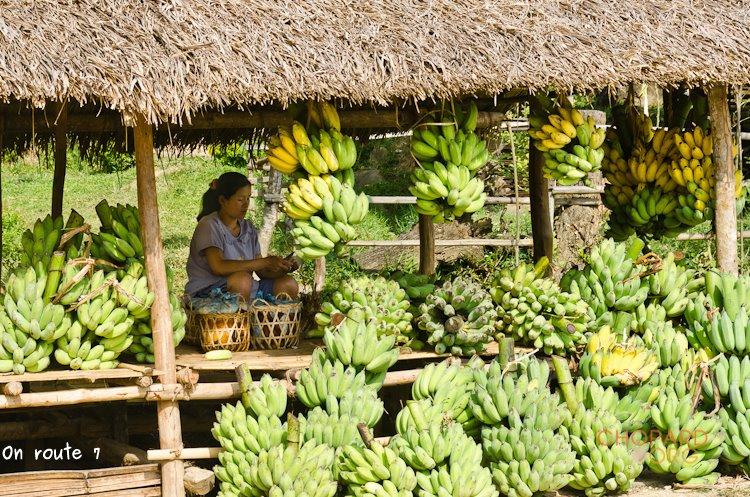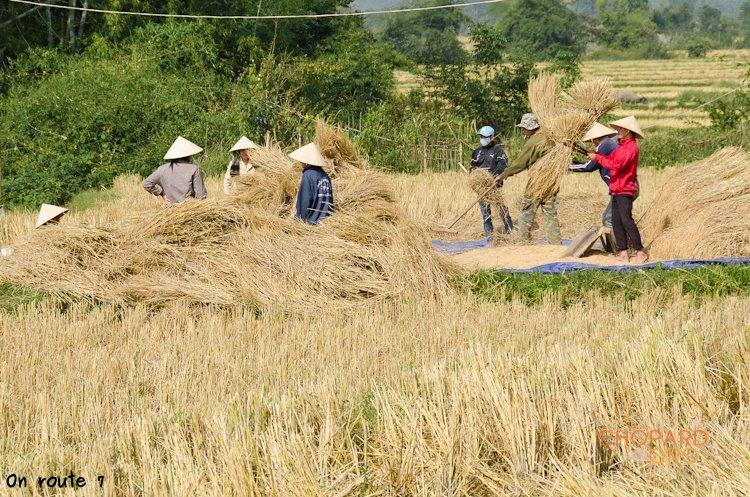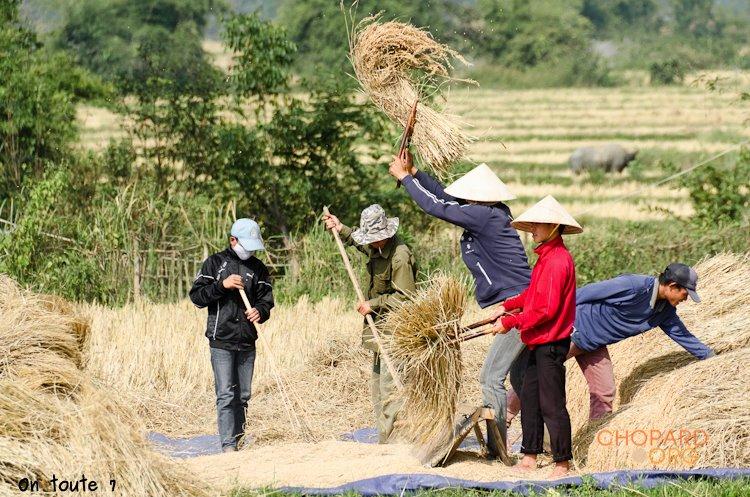 A signboard, pointing to a "Tai Dam Cultural Village", enticed me toward a side road. Unfortunately, nothing was going on, the show hall was closed and the looms, under the houses, were unattended.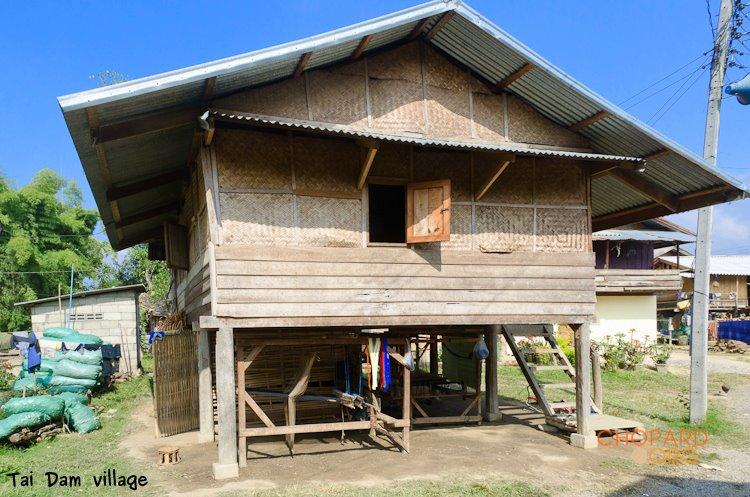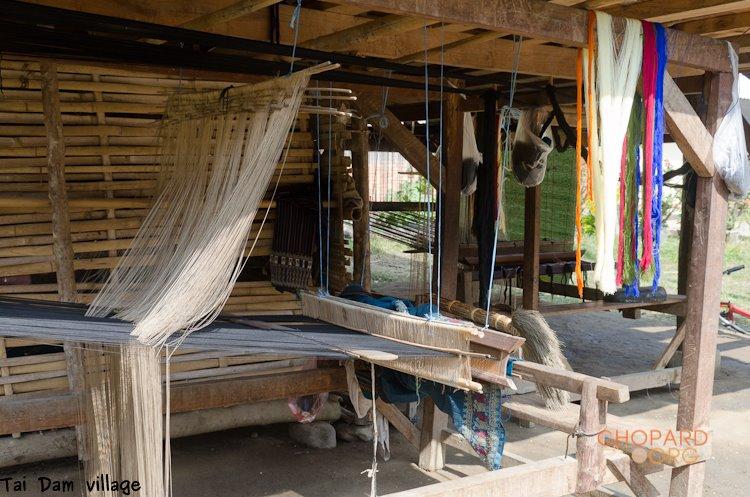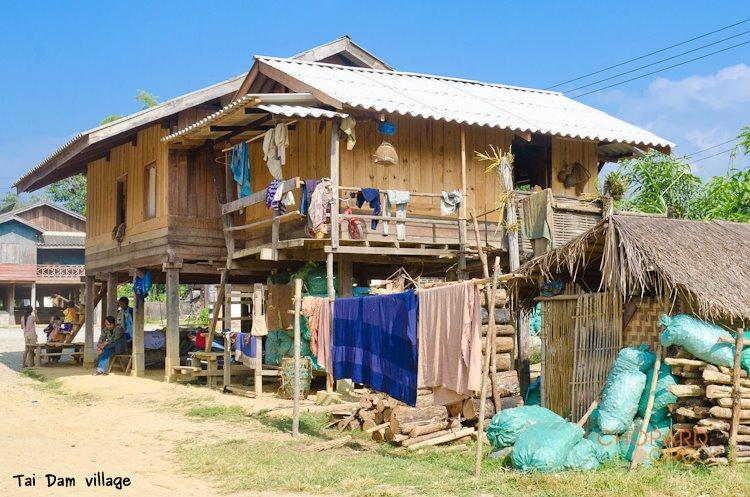 Muang Kham, the former Ban Ban, is another historic location in Xieng Khouang province. A tragic rocket entered the nearby Tham Piu cave and killed four hundred people, apparently civilians, who had taken shelter in the hollow.
This small city is the carrefour of two important colonial roads, and I left route 7 for a northern drive on route 6.
The first kilometer is a straight link, the last uncurled portion before the ceaseless winding road through the Anamite mountain range.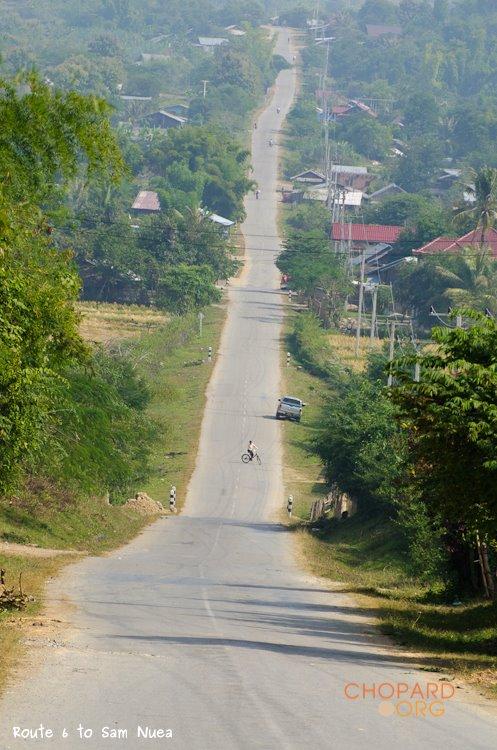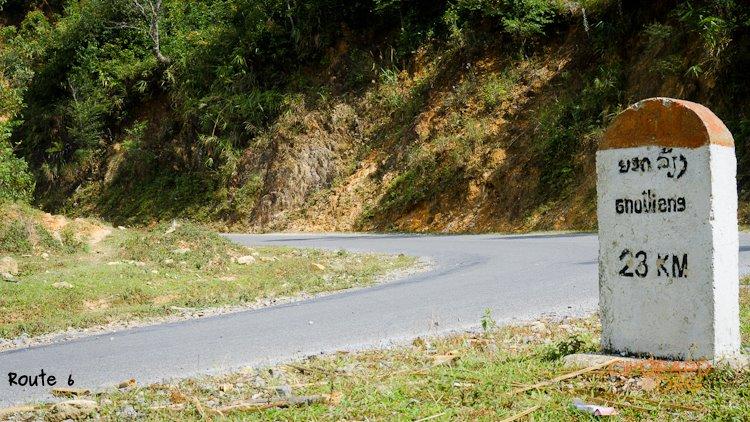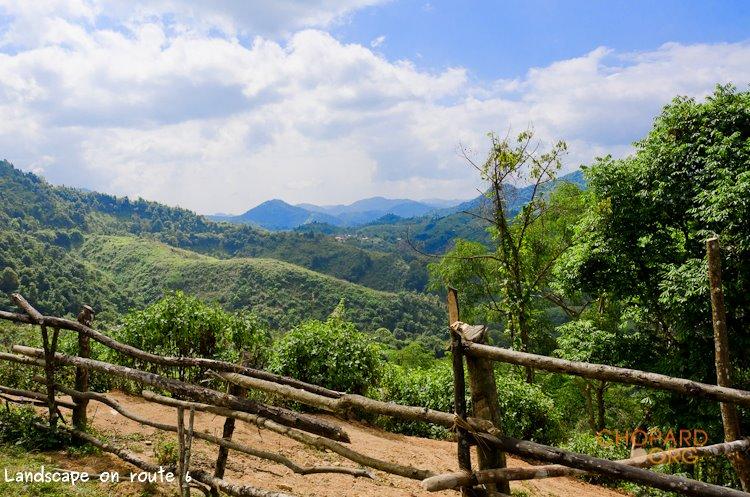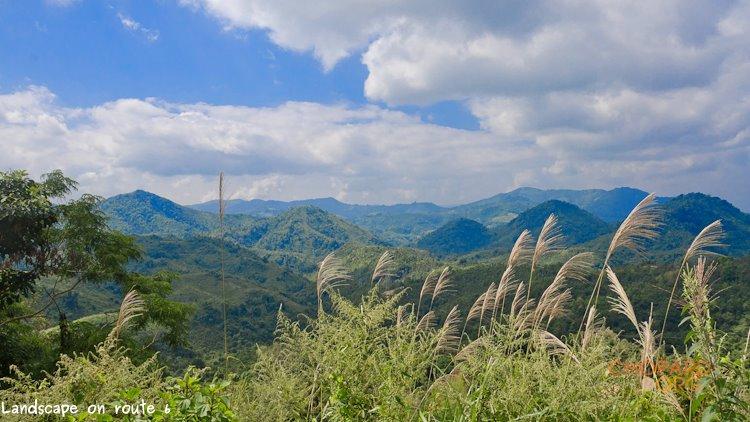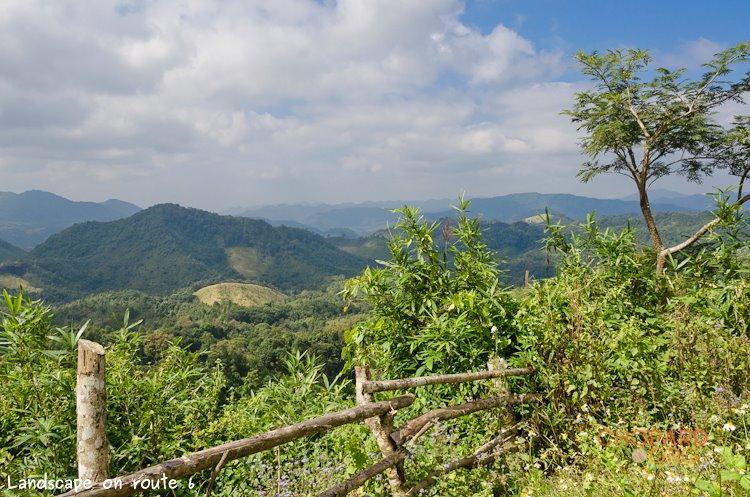 Laos mountain roads are punctuated with interesting villages. Meeting the inhabitants is rewarding, but time consuming. I only stop sporadically, as I did in Thanchong, for some pictures.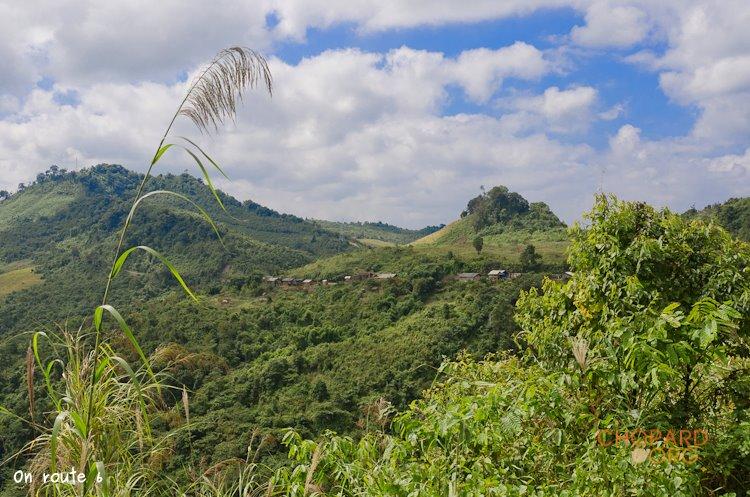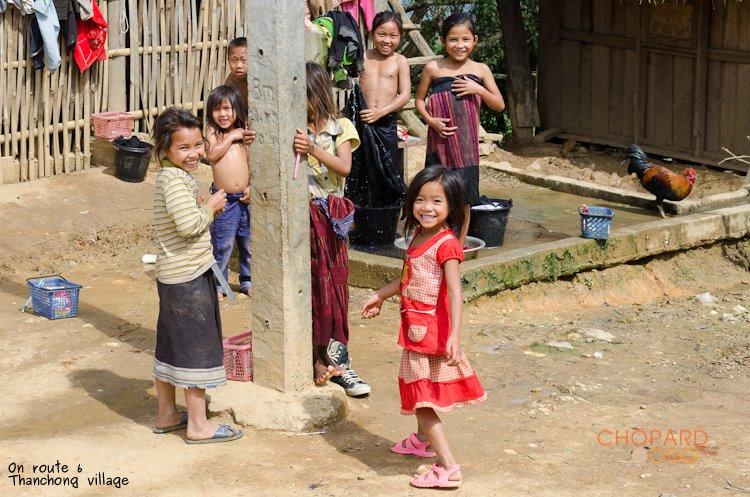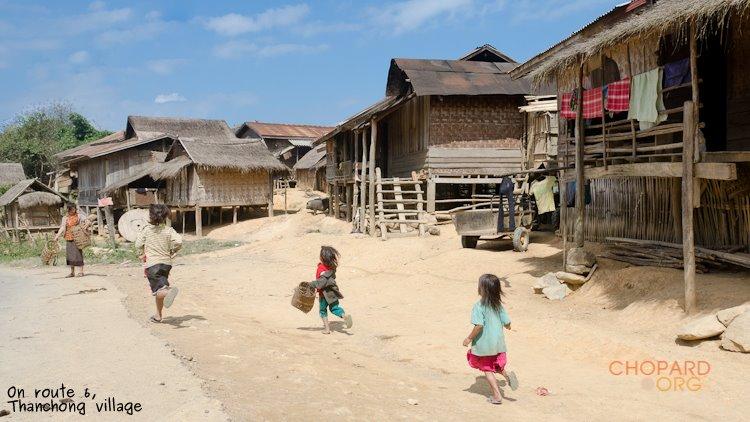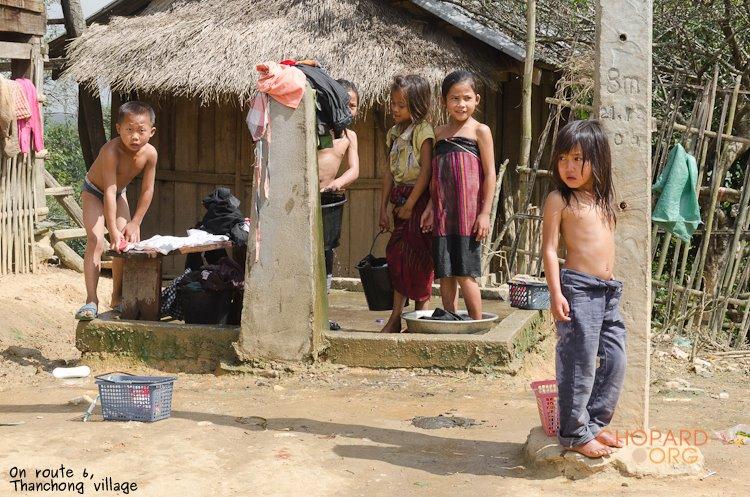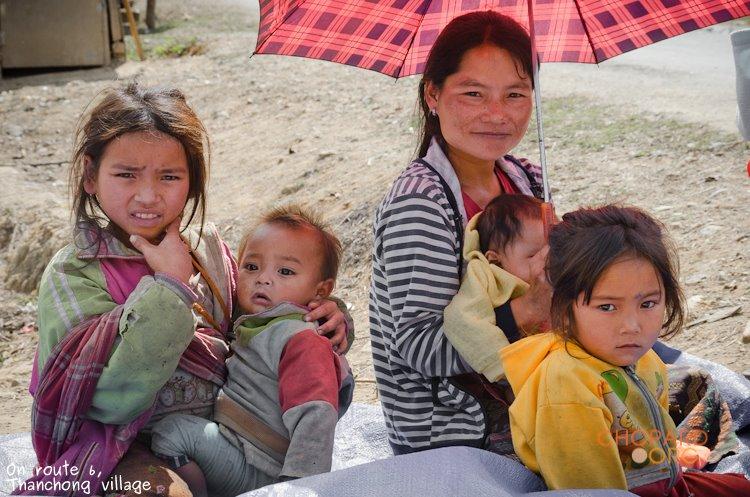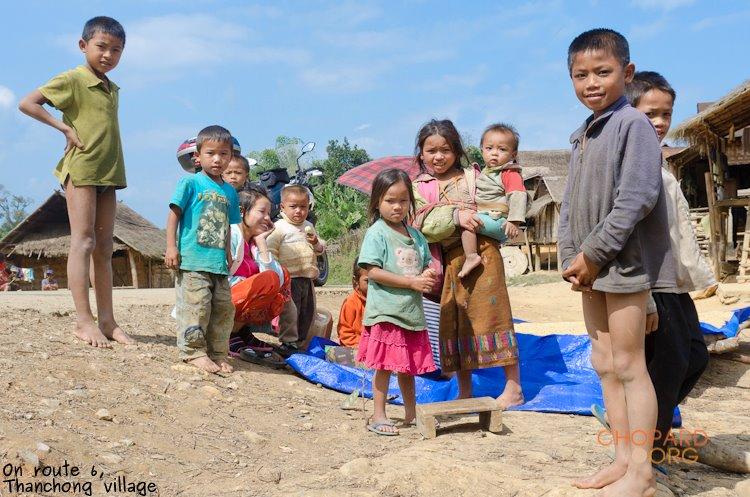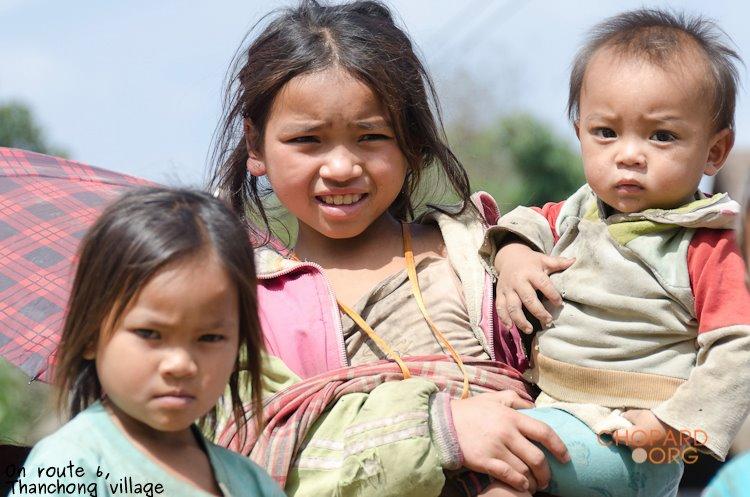 Houa Phan province starts after a bridge over Nam Neun river, in a village with the same name. Then the trail climbs even more, winding through endless scenic mountains.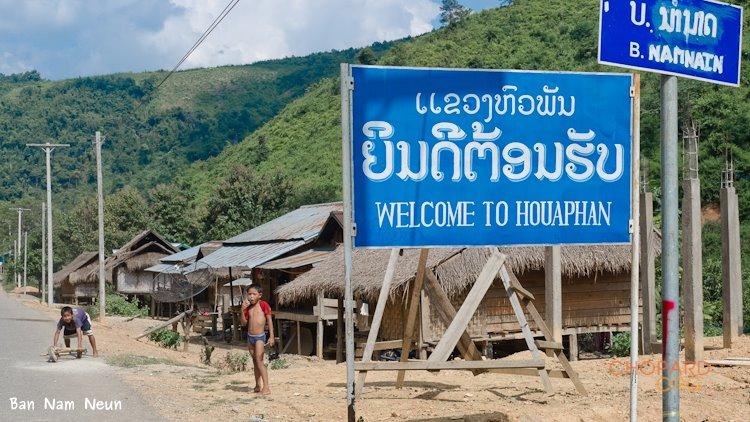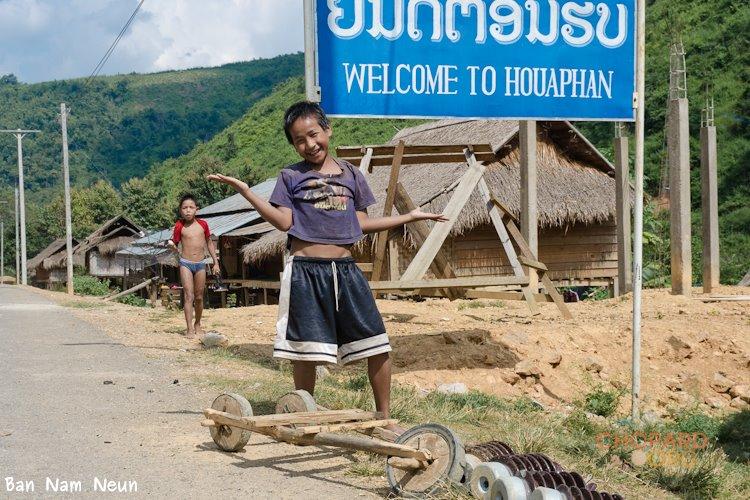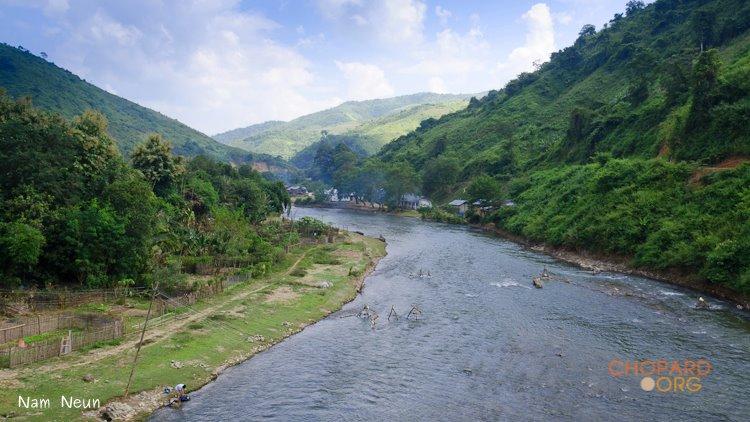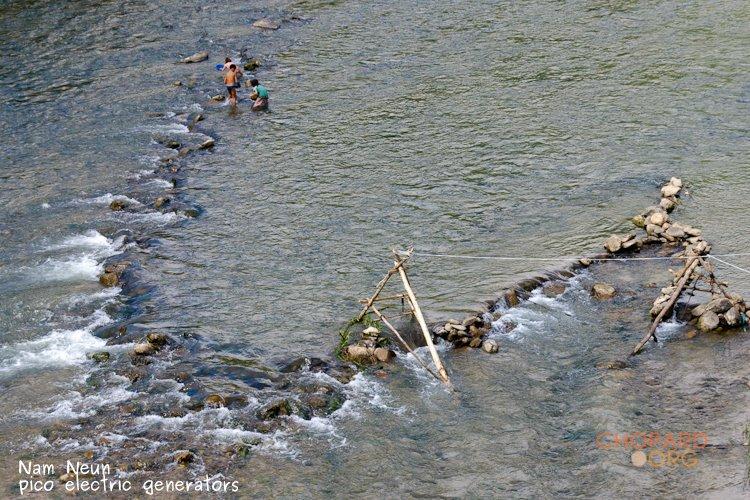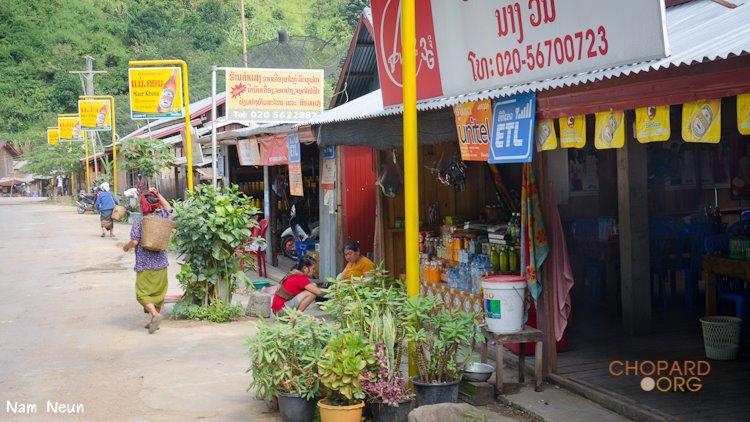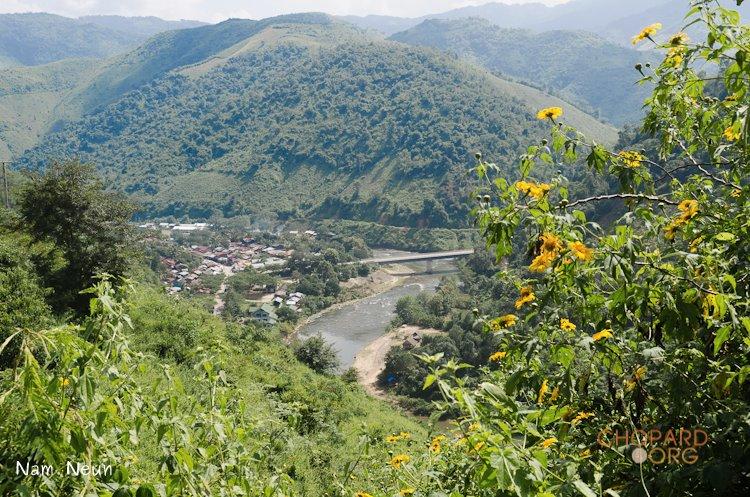 The next intersection is in Phou Lao, a crossroad with route 1C, arriving from Pak Mong.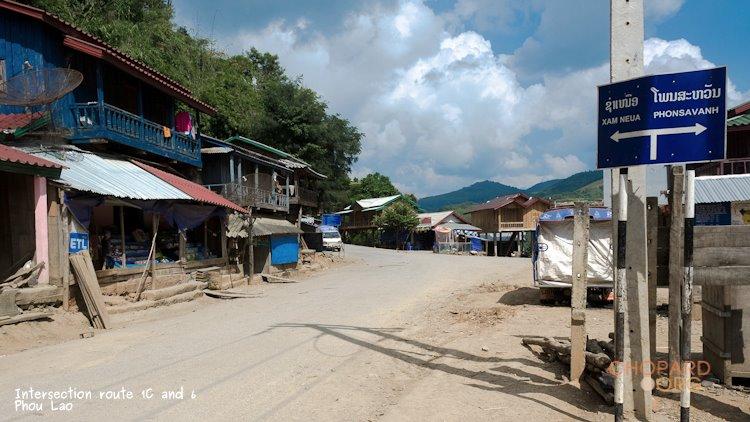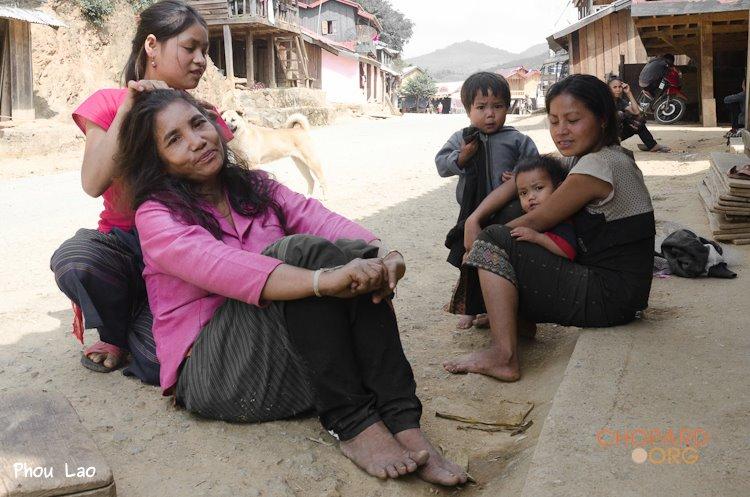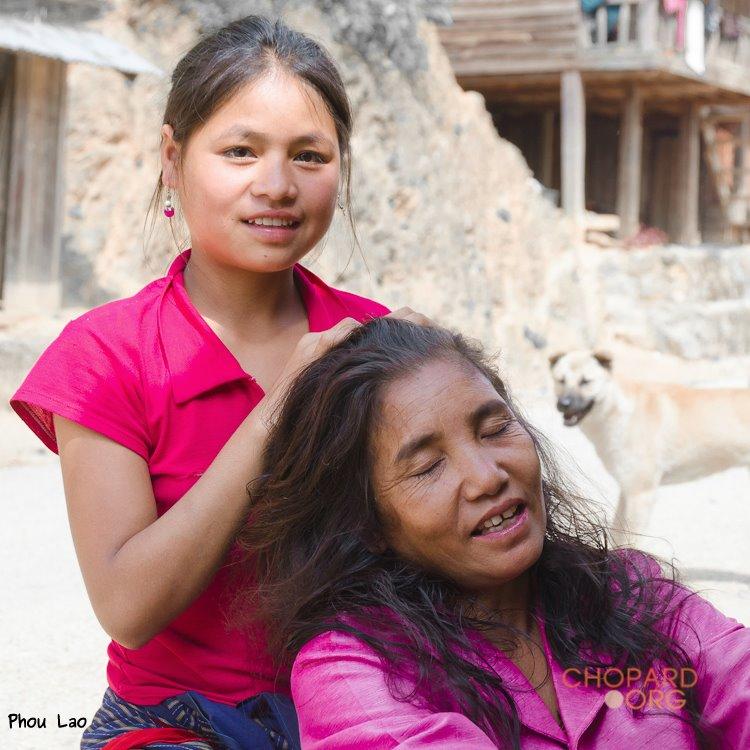 This itinerary is stunning, winding across mountains, enveloped in fresh air and adorned with scenic landscapes. It is, however, not without surprises; potholes are easy to circle, buses usually blow horns to announce their arrival, but lorries race along the way and appropriate the whole tarmac in curves; often a dreaded encounter.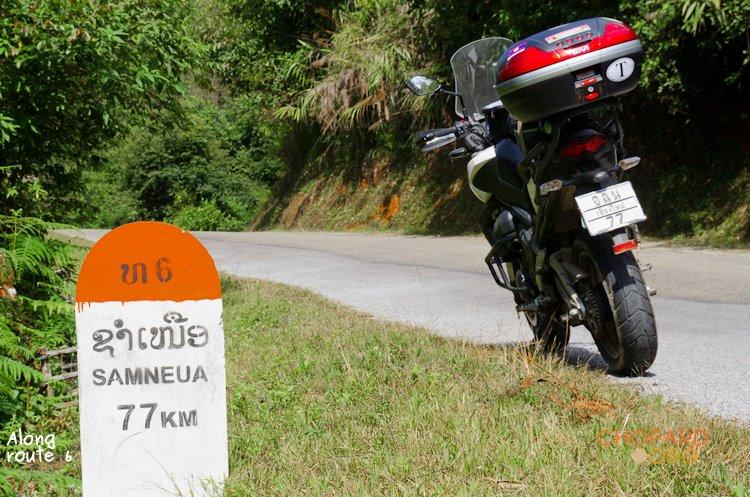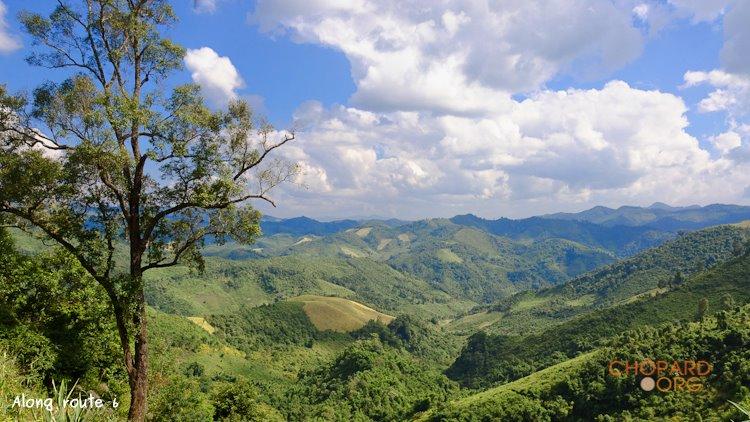 About 70 kilometers before Sam Nuea, a dirt branch out, leads to "Hintang Archaeological Park". It is a vertical stones curiosity, set up by an undefined civilization, as for the jars.
Spending an hour at this site would leave me enough time to reach destination before twilight, and I jumped over the first bumps, while a local lady encouraged me, saying: "fon mai tok" (there is no rain). After one kilometer, however, I turned back. The mud was malleable and slippery, after a recent downpour, the right stuff for a nosedive. Without helping hands and fully loaded with my luggage, I obviated that risk.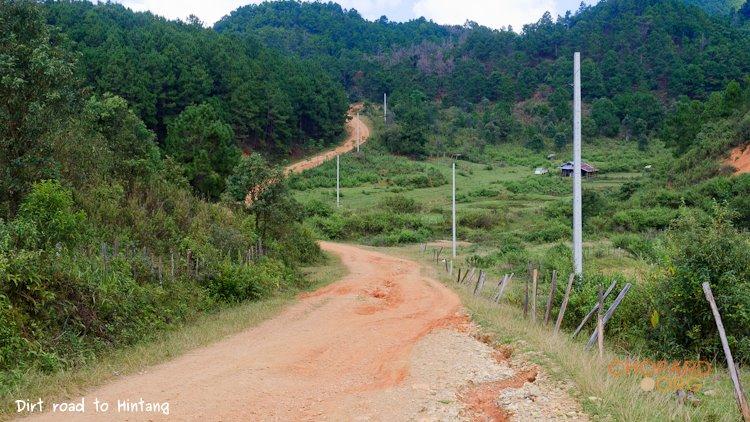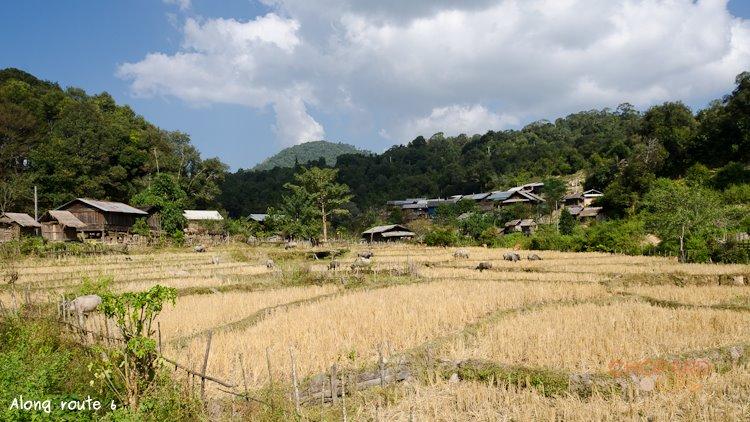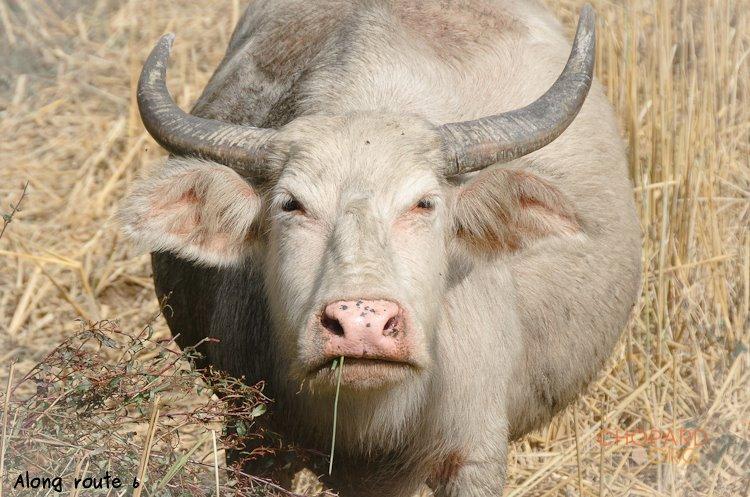 The rare sight of a small temple reminded me that Buddhism is not the main faith in the mountains. The region of Sam Nuea, however, has a large Tai ethnic population and religious practices are thriving again.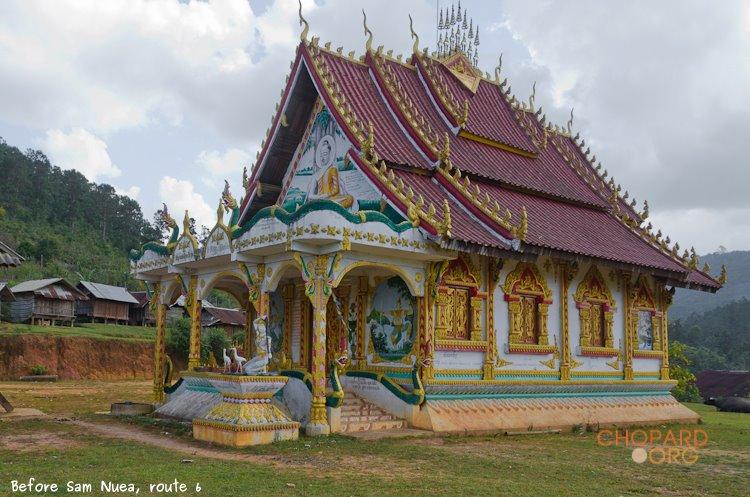 Curve after curve, I cut along mountain slopes and passed fresh forests, shadowed by a cloudy sky. It was difficult to envision the arrival at a large city, when suddenly, the view opened toward a valley, and an arch welcomed me to "Houaphanh".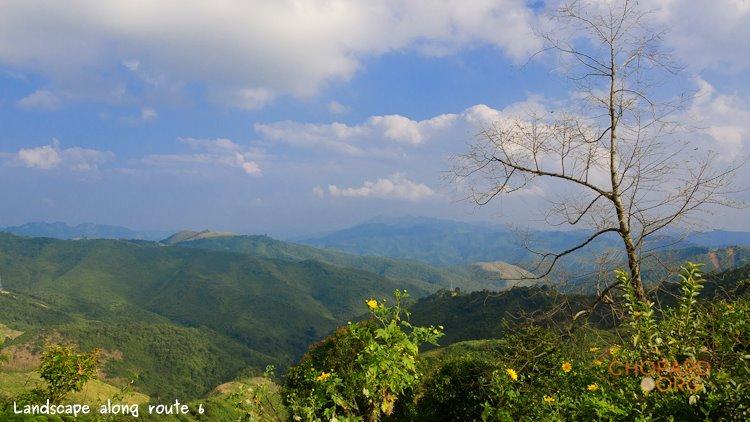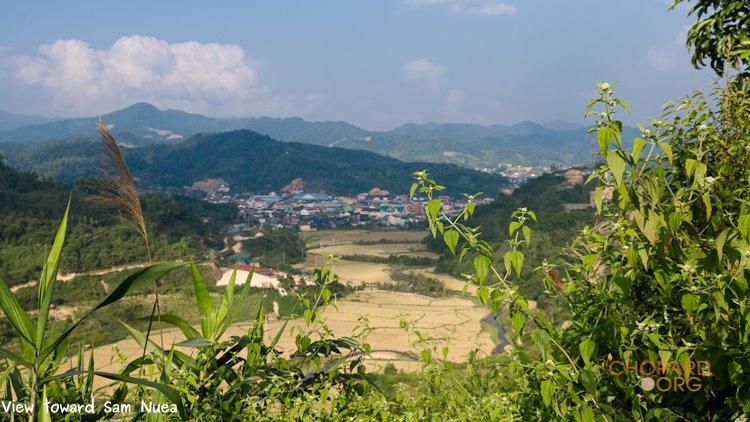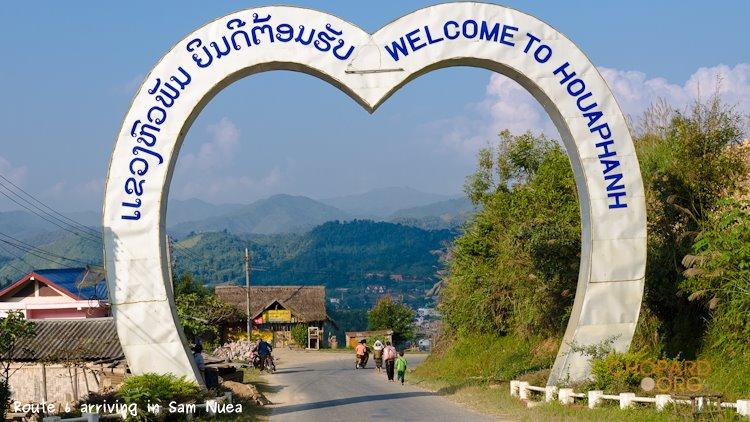 The "Sam Neua Hotel" became my shack for 3 nights (150'000 kips per night). As a solo traveler, I choose a small room, sacrificing some space for a view on the river, toward the northwestern mountains and sunset.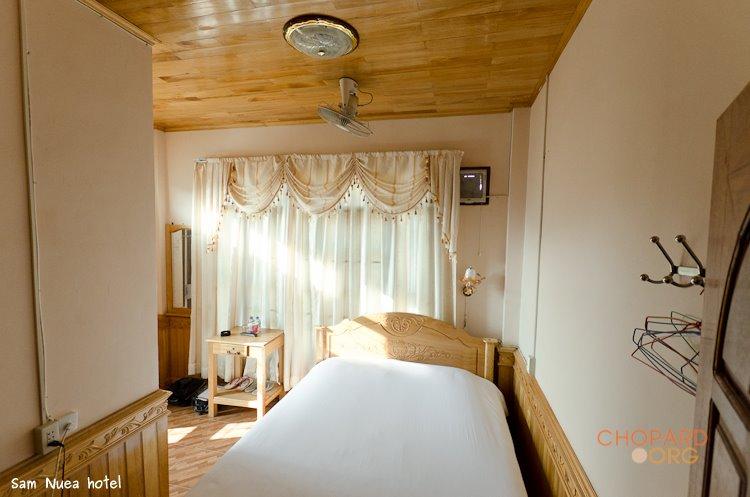 The journey from Phonsavan to Xam Nuea put 240 km on the odometer, it took me 8 hours to complete this itinerary (with the photo stops).
Comprehensive pictures location:
https://picasaweb.google.com/111845057494533452431/LaosNortheast
(1) "Ant Egg Soup"
Natacha du Pont de Bie
Holder and stoughton, 2004
(2) Bamboo Palace
Christopher Kremmer
Silkworm Books, 2003
(3)
http://www.maginternational.org/laopdr
(4) References to my other Laos trip reports. All suitable for road bikes and "solo" driving:
North-Central Laos:
https://www.gt-rider.com/thailand-motorcycle-forum/threads/33280-An-Easy-Road-to-Laos-1-Crosing-the-border
https://www.gt-rider.com/thailand-motorcycle-forum/threads/33379-An-Easy-Road-to-Laos-2-The-Road-to-Luang-Prabang
https://www.gt-rider.com/thailand-motorcycle-forum/threads/33573-An-Easy-Road-to-Laos-3-Plain-of-Jars
https://www.gt-rider.com/thailand-motorcycle-forum/threads/33925-An-Easy-Road-to-Laos-4.-Back-to-Nong-Khai
South Laos:
https://www.gt-rider.com/thailand-motorcycle-forum/threads/34187-South-Laos-1-Ferry-Tales?p=264916#poststop
https://www.gt-rider.com/thailand-motorcycle-forum/threads/35164-South-Laos-2-Around-the-Bolevan
https://www.gt-rider.com/thailand-motorcycle-forum/threads/35381-South-Laos-3-Central-Laos
North-West Laos:

https://www.gt-rider.com/thailand-motorcycle-forum/threads/35288-A-Short-Loop-to-Norwest-Laos
If you appreciate GT-Rider website, "like" the page on Facebook:
http://www.facebook.com/the.gtrider
The complete trip report: Northeast Laos – Sam Nuea loop
Part 1 – Luang Prabang and Mountain Roads

11 From Nan to Oudomxai…
12 Royal Luang Prabang
13 Mountain roads to Sam Nuea

Part 2 – Sam Nuea and a winding drive back

21 Sam Nuea and Vieng Xai
22 Winding roads to Nong Kiau
23 Luang Namtha and back home