Sep 19, 2006
2,290
274
83
After acouple of Days Rest and Service we were ready to go again for the NZ Riders Trip 2:
20th June Day 1:
We left the X-Centre in the morning, crossed the Road and straight off through some Farms and Trails. This is a nice warm up ride that comes out by Prem International School. Up the Road from here to Pa Tung where we turned off and headed behind the Temple On the Dirt Trail coming out at Mokfa Waterfall. We were chasing the Rain here so Wet and Slippery in places, Very Scenic Ride.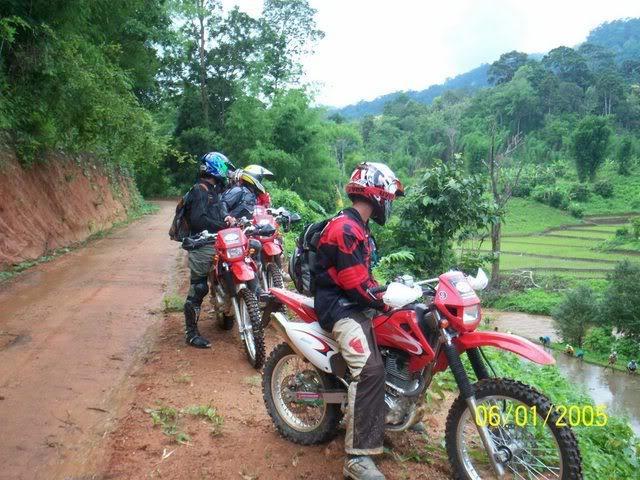 Looking over the Rice Paddies.
We came out at Mokfa Waterfall and headed up the Main Road to
Pa Pae Where we stopped for some Snacks. By Chance we meet up with the Support Truck here so had some laughs with them before the Action started.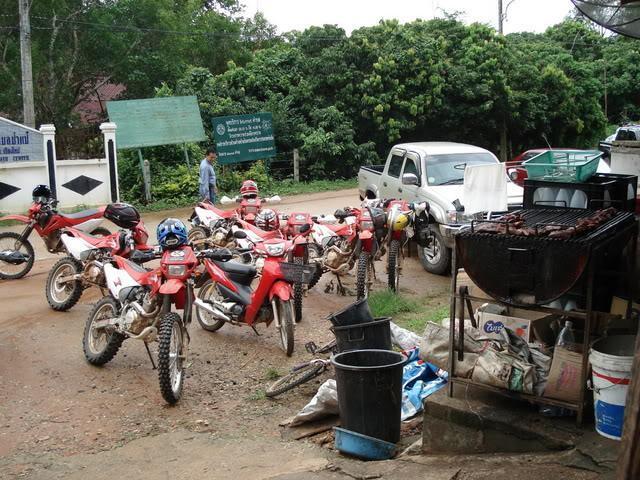 Bikes at Pa Pae
Refueled and Off we went.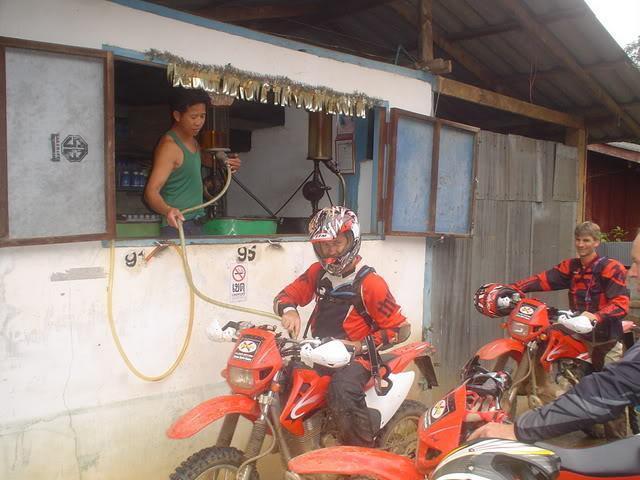 Refueling at Pa Pae.
This Trail is really Fun with lots to see and heaps of different Conditions to contend with. At one stage we came across a Hilltribe Guy with a Musket so we Paid him some money to give us a Demo!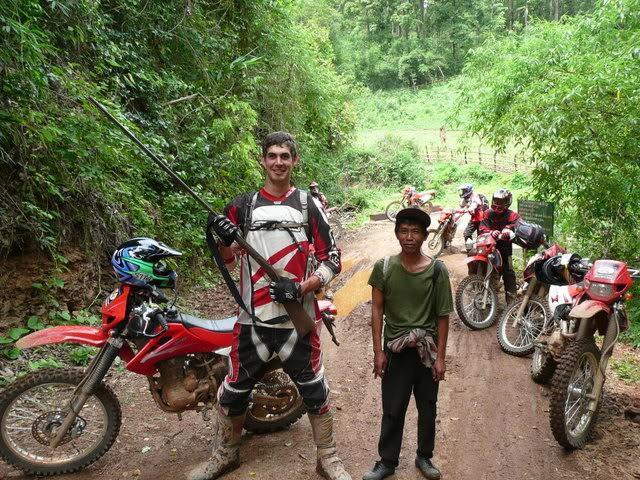 Michael (Who is about 7 ft Tall) with Musket Man!!!
He Fired off 2 Shots, Interesting to see him reload, Really Loud and Kicked like a Mule!!!
Here you can still see the Smoke from the Shot!
A section of this Trail is not on the GT-Rider Map and gets really Steep Narrow and Difficult ( This is where Pikey hurt his Ankle on a Previous Trip of Discovery! ) Also has lots of Forks off so easy to get lost. Eventually it comes out around Dong Sam Mun and onto the Elephant Trail. Down to Wat Chan again.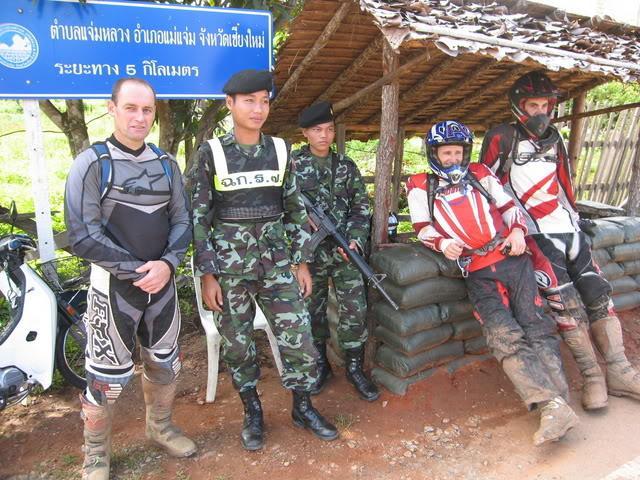 Guys with the Army Boys at Wat Chan Guard Post.
Off on the New Road to Pai. We crossed over the New Bridge near Muang Rae and took the back road into Pai.
Arrived near 5 pm so stopped off at a Local Bike Shop by the Market for some Servicing and a few Beers.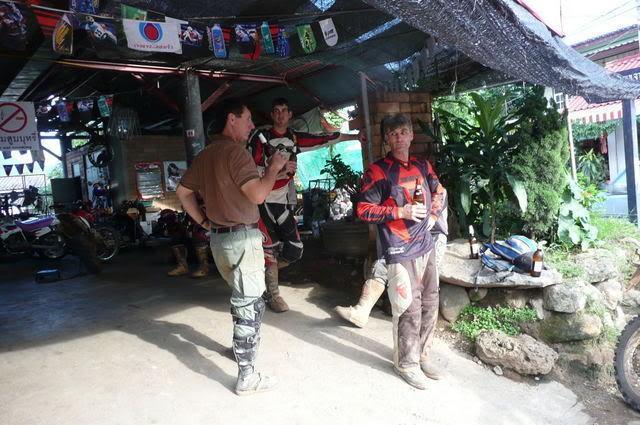 Time for a well Deserved Beer!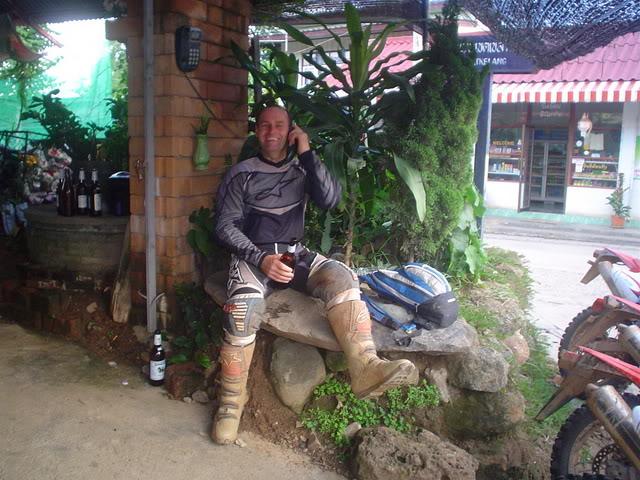 Dean taking the Piss! The Phone didn't even work!!!
Had a few Laughs here and some of the Guys Chatted up some Local Hilltribe Girls who already had a English Hippy in Tow?
Off to "Rim Pai Cottage" for the night. Very nice ( Thanks for that David! ) Out for Dinner at "Baan Pai" after many Beers we seemed to get Split up some opting for a Massage at "Mama Lon's" others off Bird watching? Big Night!
This Days Trip was 179kms, Fantastic Riding and Perfect weather besides the Drizzle at the start.
21st day 2:
Up early, packed and Ready to Go.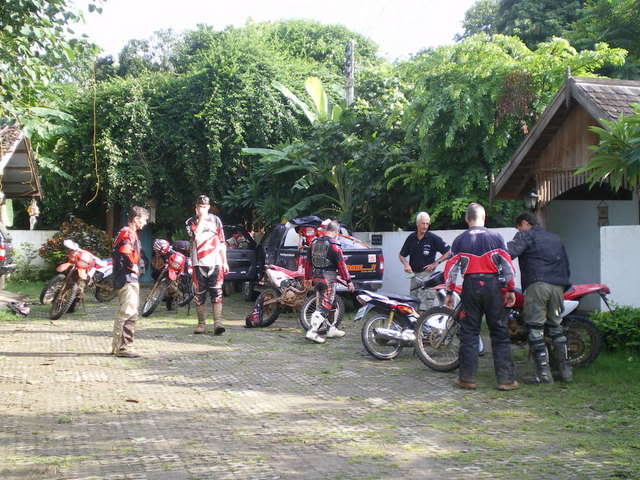 Leaving Rim Pai Cottage in the Morning.
We rode down to Ban Pai again for Breakfast and while there Peter from the Pai Enduro Team came over and Introduced himself to us. Friendly Guy.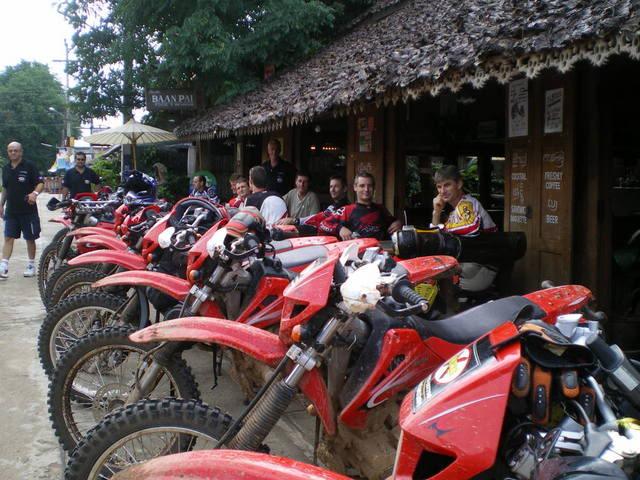 Overrunning Ban Pai for Breakfast!
Off again out the Back of Town and over the Newly Re-Opened Bridge which they have Ramped the ends to provide a Nice Jump for Motorcycles. Great for Bikers and Entertaining for Locals!!! Headed up to the right at "Tan Chet Ton" into the Hills. Refueled again at "Muang Noi" last chance before the Long Haul to Soppong.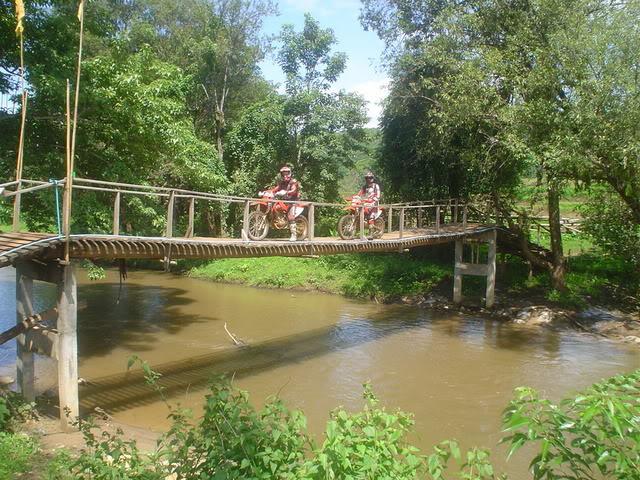 Guys on the Swing Bridge.
Great sights and Conditions all the way.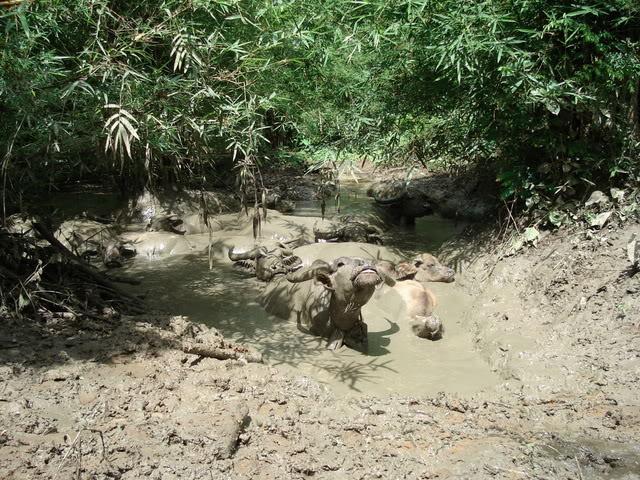 Even the Buffalo were Happy.
Climbed quite High on this Stretch, as we got pretty close to Burma there is the odd Guard Out Post.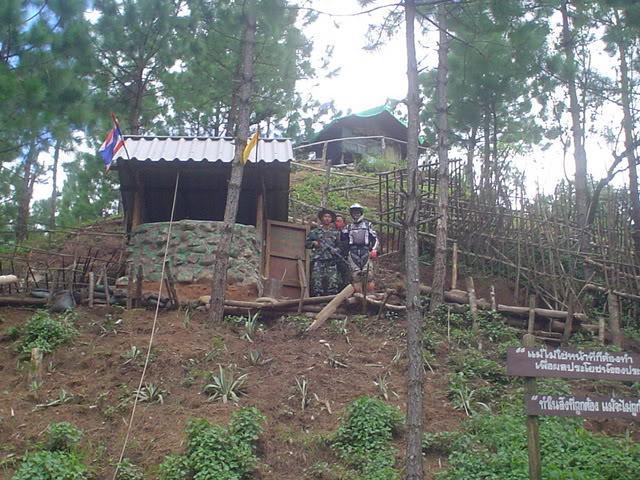 Dean introduced himself to the Guards!
These Remote Posts are Supplied by Helicopters but not sure how often they rotate the Staff, must be a Boring Shift unless they have a Shoot out with Drug Runners!!!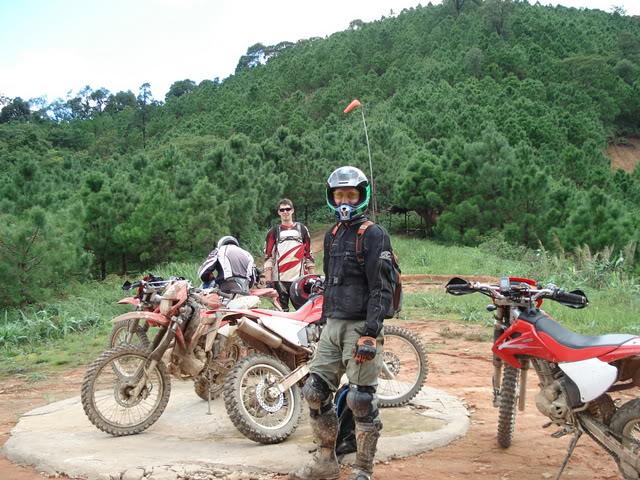 The Helicopter Landing Pad. Windsock out so maybe waiting for the Shift Change?
Stopped along the way in a Pine Forest for some Lunch, Long as always taking care of everyone had brought a bag of Sticky Rice and Pork each as not to many 7Elevens up here!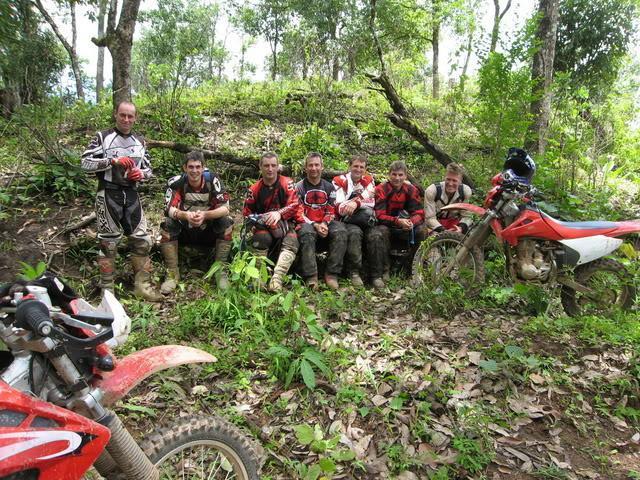 Lunch Time!
We had a few River Crossings on this Trip which were alot of Fun. on some occassions we went through the same one a few times to try and clean the Mud off the Bikes and try to Remove the Smell of Buffalo Piss from some of the Guys Gear. Some of the Mud Holes we went through were also favourites with Buffalo so their Smell was left behind!!! Especially on Roger who decided to Lay down in one with his Bike!!!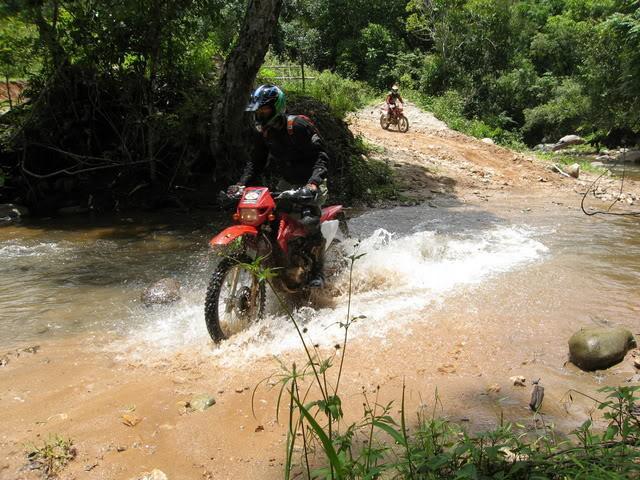 One River Crossing.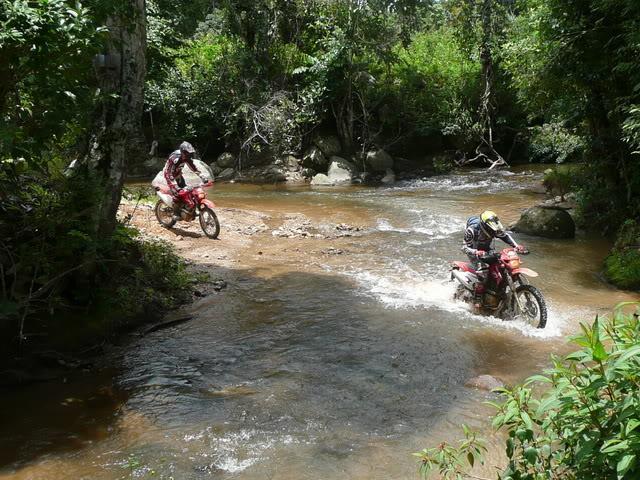 Another River Crossing.
By the time we had got to the Good Roads again there had been a few good Offs but no major damage and no injuries so all still laughing!!! Arrived at Soppong, refueled and off for the nice Ride to Mae Hong Son or at least that is what we thought? Didn't get that far really and a Big Rain storm came over. We took shelter with a variety of locals and others under a long roof beside the Road. When we went to leave one of the Bikes wouldn't start, Checked what we could but No Go so had to tow it the remaining 30 or 40 kms on to Mae Hong Son!!!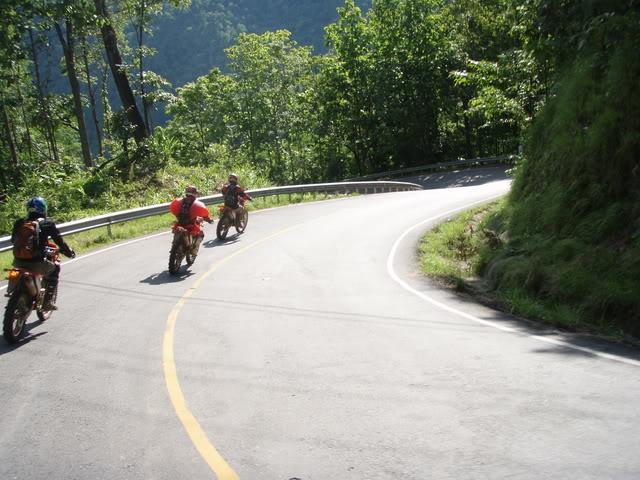 Road to MHS. The second Bike is being Towed.
Got to town and straight to the Bike Shop. Some of the Guys went to our Resort while myself and others who wanted to stayed for a couple of Beers and service any Bikes that needed it! Great Bike Shop right in Town opposite the Mountain View Hotel. They took to everything really quick all of them putting in the effort. We were finished in No Time. On the Dead Bike I tried a New Plug, CDI, etc and it turned out to be the Coil had gone??? Lucky a Honda Sonic one did the Trick and we were off again. I can Recommend this Shop to everyone they went the Extra distance without being pushed, I paid their Bill plus some Extra Tip and a few Beers for the Staff.
We all stayed at the "Mae Hong Son Resort" which is about 5 kms out of Town beside the River. A Friend of My Wife owns it so he looked after us and laid on a Van etc for us to get to Town at night. Must have been Elephant Trekking nearby as saw loads of them in the River.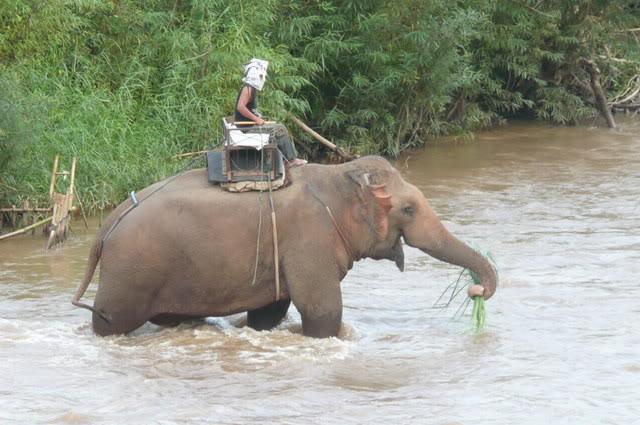 KKK Member on an Elephant in Thailand???
This Day of Riding is close to as Good as it can Get if not the Best. 162kms of every condition there is. A must for anyone who enjoys it
Off Road!!!
That evening we all went in toThe Crossroad Bar and Restaurant for Pizza etc and loads of Beer. This was a hell of a Night and our Last on the Road together. After the Bar some went back to the Resort while others went to Ban Thai for a Massage. This turned into a Big thing as well with Dean Buying 2 Bottles of Whiskey and entertaining the Girls. Not sure what time he got back if at all??? But he did come wailking out to the Bikes the next morning and he still looked OK, Smiling as well?
22nd Day 3;
Left the Resort after a Good Breakfast then into Town to refuel. Was some kind of Special Occassion going on with loads of People and a Helicopter Circling Low Filming. headed back South for a few Kms then turned left onto the Trail to Wat Chan. First Part Climbs up on a Broken up Tar Road to the View Point.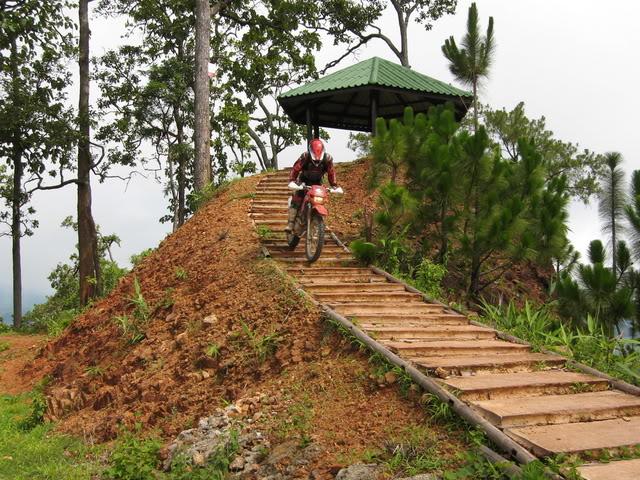 Trevor Rode up & down but the rest of us walked. From here you can look down at MHS and see the Airport far below.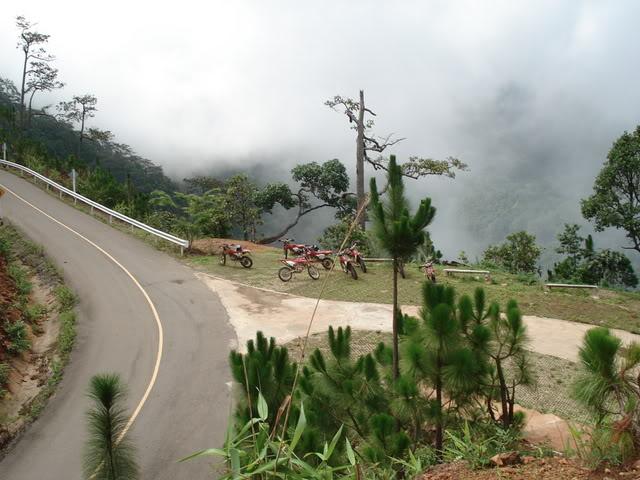 Looking down at our Bikes.
After here it got a bit more Challenging as we headed further in. Again with many Varying conditions. i had a Slowly deflating Front Tyre so we eventually had to stop and change it on the Trail.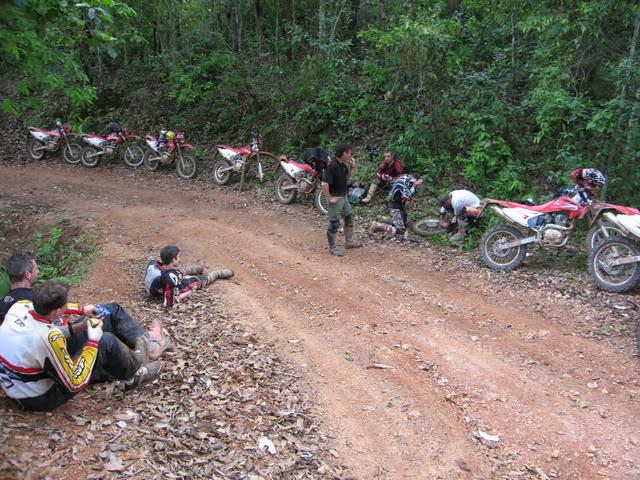 Fixing the Flat Front Tyre. Turned out a Painted Stamp they had on the Tube had made the Rubber Perish in that spot, hense the the only Puntures i had on both Trips were 2 Front ones, May have to check all the Bikes?
We had some real Pace on all the way so Time Flew and we were in Wat Chan in no time. Great trip to there, now for the Long Ride back to Mae Rim. This also turned out to be a bit of Race Flat out on the Gravel section and as fast as Possible on the Tar. By the Time we got to the X-Centre there were No "Chicken Strips" on our Tyres, even the edge of the Knobblies were wearing off!!! We arrived back about 4 pm and that was it. The Guys went straight to work cleaning up all their Gear over a few Beers, while i started going over the Bikes and making a List of what needed doing!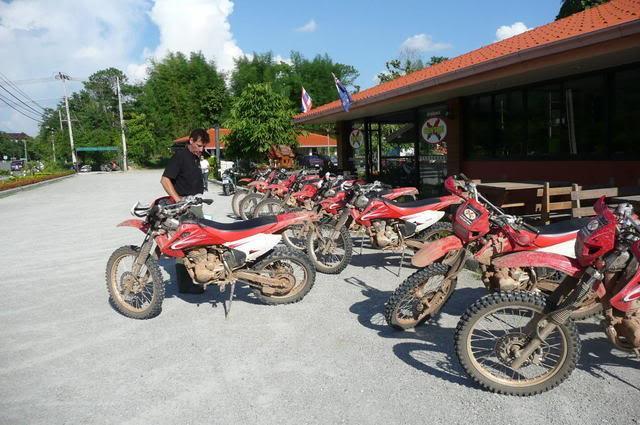 All Back now. So where do i Start???
Great Day and all back safe! 198km the Longest day because of the
Wat Chan to Mae Rim stretch but worth every minute of it.
We had a Fun Night here and ready for the Spit Roast the Next day, Now that was another Story!!!
So thanks to David, Luke and Justin for there Help on these Trips and anyone else who i may have Forgotten. It was real Fun and we couldn't have had it better for the entire Time with the Weather, Very little Rain but Very little Dust as Well, Perfect. Adding Both Trips and the Day Rides we had we did around 1500 to 1700 Kms total and they were Hard Kms, No one Hurt and No real Big Problems so we were all pretty happy. Dean is Talking about coming back end of December for some more, Bugger another Trip Report!!!
Cheers To All,
Ian.