Have you had a motorcycle, no matter how long ago, that you fondly remember? You probably had several bikes over the years, personally I had at least fourty (I'm in my fifties), most of them I bought used.
A lot of those bikes came and went, I had a good time with them and then sold them. Maybe I got bored, maybe I needed money, often I moved elsewhere and had to get rid of everything.
Sometimes one realizes years later that something one had was actually special in some way - sometimes it takes time to compare with newer and more advanced products, and maybe you've said to yourself at one point: "Dang, that old ... bike I had years ago, I wish I still had it - it was actually quite a nice ride!"
One motorcycle I had in the mid-80s was nothing special at first sight. Even the specs were not impressive - not a powerhouse, no radical new designs, it didn't make a splash when it came out. As long as I had it I was happy with it, it did the job, nothing outstanding. I sold it a year later and, as so often, I bought a newer one with a few more cc.
It was what was called in the US the "Nighthawk 450" with a 3-valve parallel twin. It was the perfect around town bike, not too big and heavy; it had enough power and offered good comfort on longer trips. Nice upright seating position, slightly forward, a big seat which was actually comfortable for two, not like these small pads they offer these days. It was so smooth that sometimes at a red light I wasn't sure if the engine was running. Cheap to buy, easy on gas, stone reliable, with okay looks (at least it wasn't as ugly as a Gladius!).
It took decades to realize that this simple bike left a lasting impression on me, and - apart from all the newer bikes I really would like to own - I wish they made a simple, economic standard like that these days, for a price anybody could afford.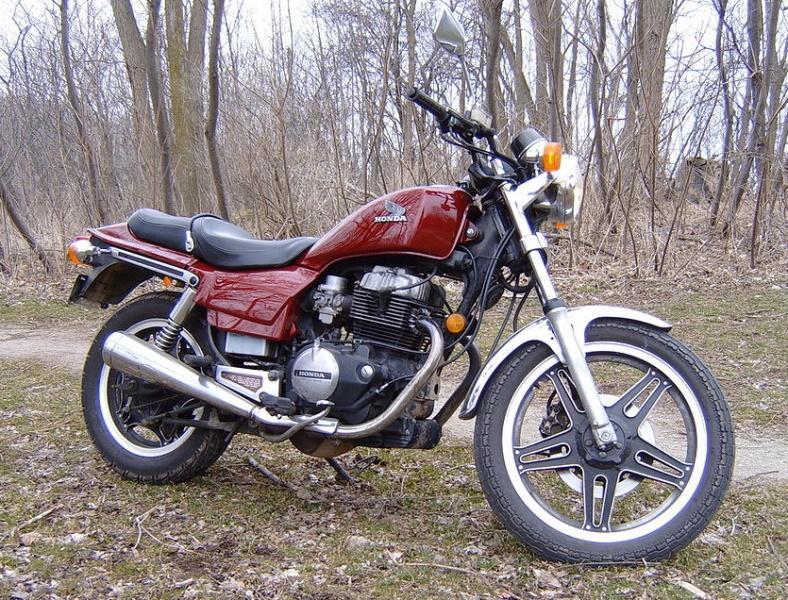 Here's a good article about it, written in 1986 when Honda decided to stop producing it:
http://www.motorcyclespecs.co.za/model/honda/honda_cb450sc_82.htm
Big, flashy, fancy bikes are most often the ones to be remembered. But have you owned a simple, unimpressive bike you still think of sometimes? If so, I'd like to hear about it!