Oudom Xai---Muang Khua.
Had a look inside Linda guesthouse on arrival in Oudom Xai, this place must be the worst guesthouse on the planet. And as dirty and smelly as this fire death trap was, it was only marginally worse than two others I looked at in town. I finally found the Oudonkhan hotel after a fair bit of riding around, and since it was getting late decided to keep my mouth shut and refrained commenting on receptionist's attitude to doing what he was getting paid for.
The Oudonkhan Hotel is about 1km out of town on the right, on the road heading to Pak Beng. Big place, you cant miss it.
The best and the worst of Oudom Xai.
The road out,.................................................................................and Linda guest house.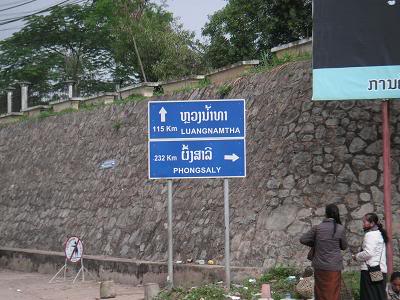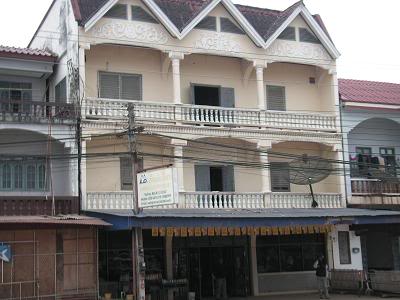 Off to Muang Khua.
The first 30km out of town is great (hwy 2E), hardly a straight bit of road and the tar surface in pretty good nic.
After that its not to bad either but the road and river seem intent on becoming one.
All the way there hundreds like this.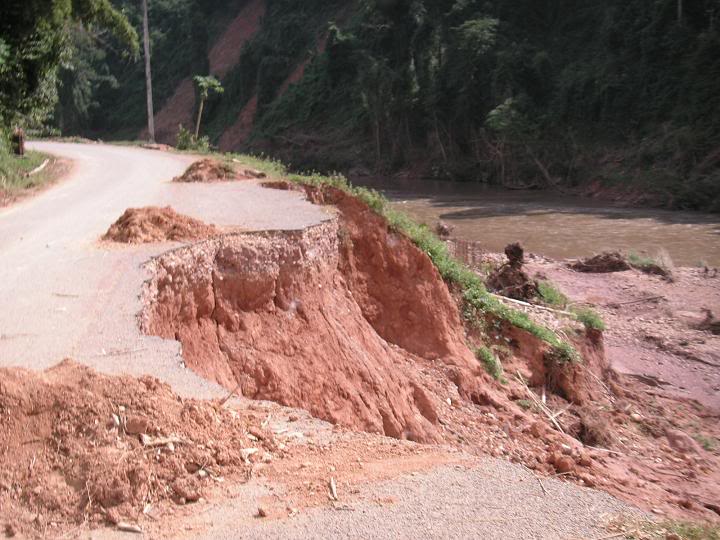 Now this is what you call a big pot hole.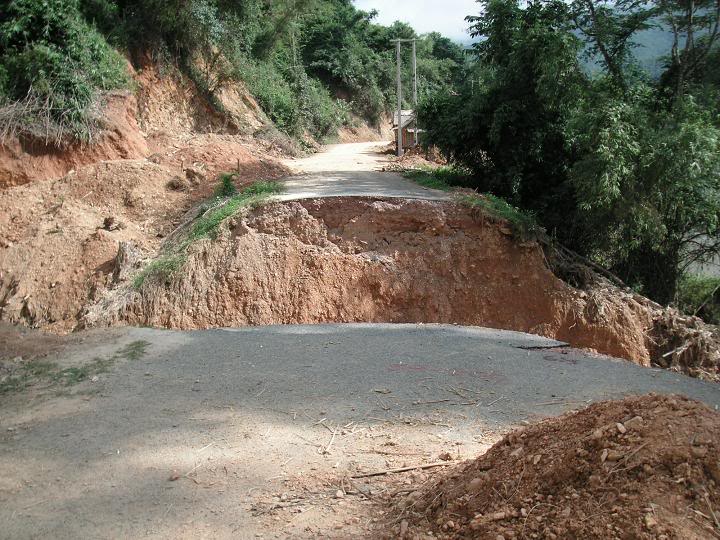 The hole had obviously been cleaned out, but behind me you could see were the water had come rushing down the mountain and taken out the road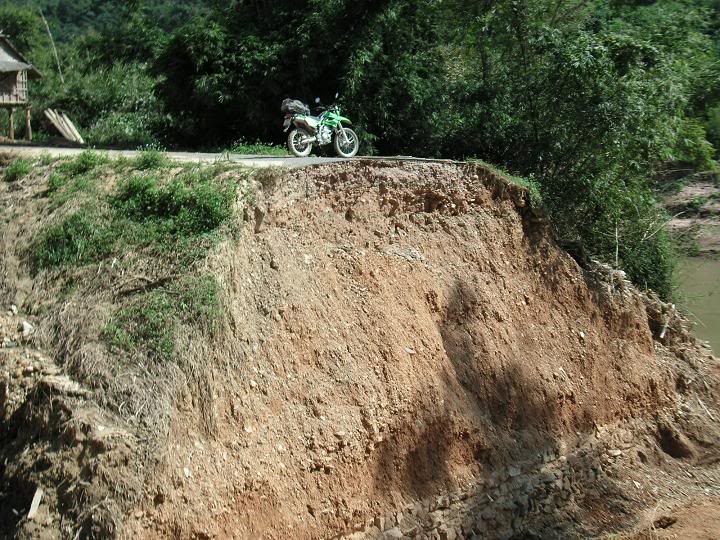 You can just make out my bike on the left, it shows just how far across it is.
In my younger days I mite have given it a shot. Arrrr maybe not.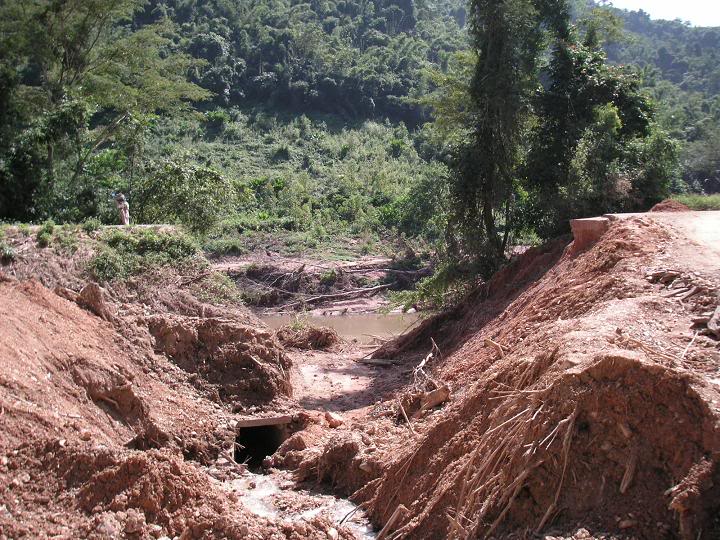 Here's another angle, the shade from the tree hides the canyon beautifully.
And note there's no signs at all to warn you, just a mound of dirt of the other side of the hole.
Imagine the poor Lao guy that's driving home at 1am from an intense night of karaoke, he's pick up having a hard enough time staying to road as it is,
then all of a sudden airborne like the Dukes of Hazard.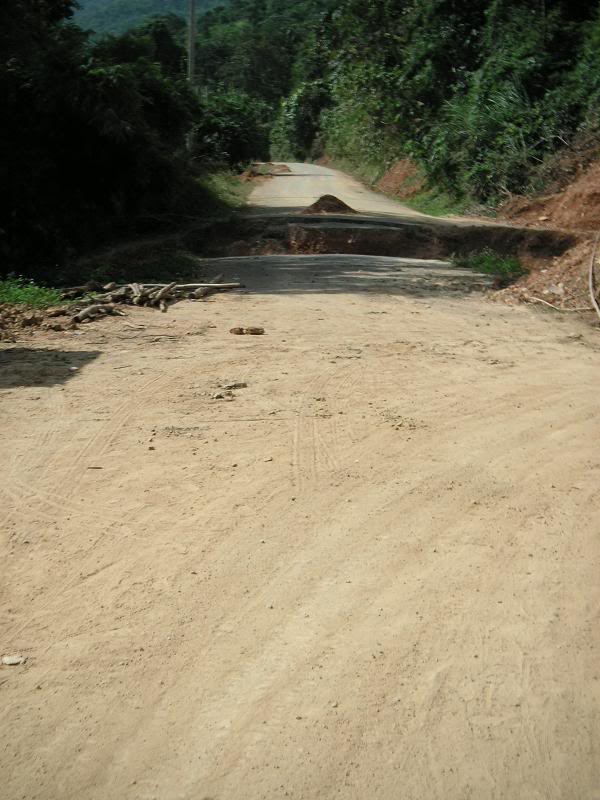 Arrived in Muang Khua without being swallowed up by the road.
Muang Khua…..is a small town with a big thrust.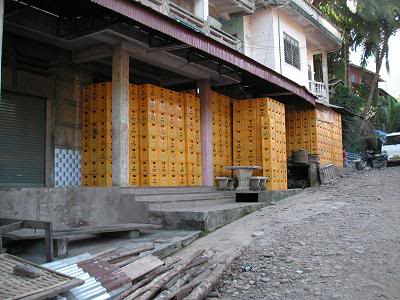 Muang Khua is a good little town to roam around. Its perched on hills both sides of a river, and joined by a suspension bridge.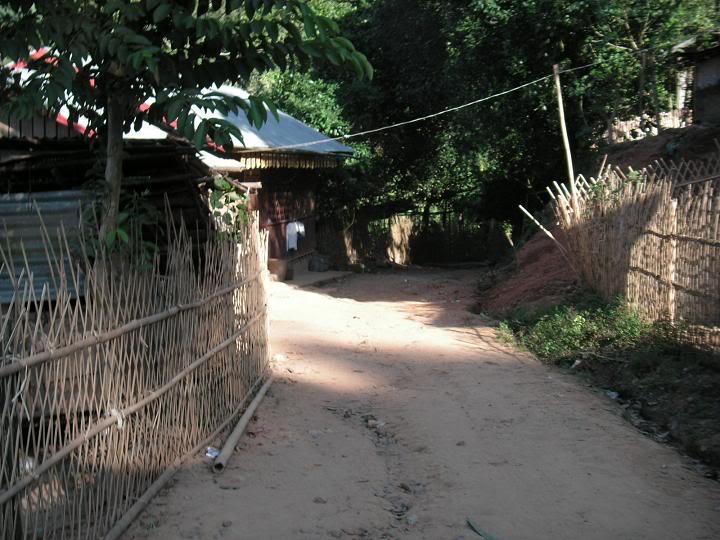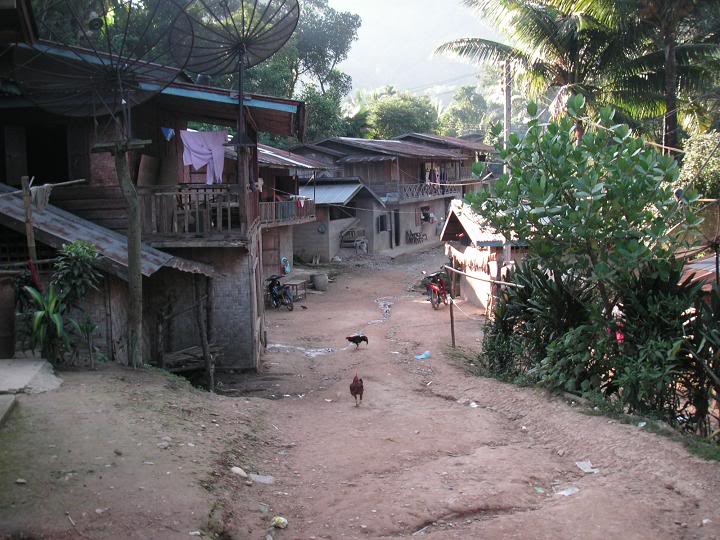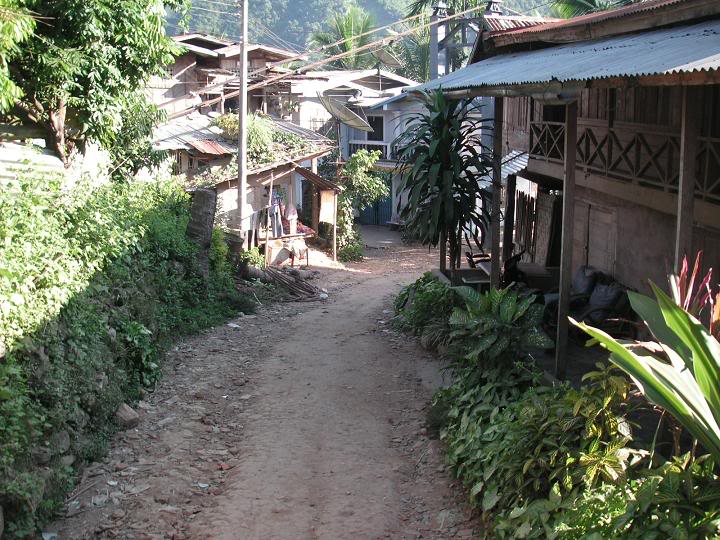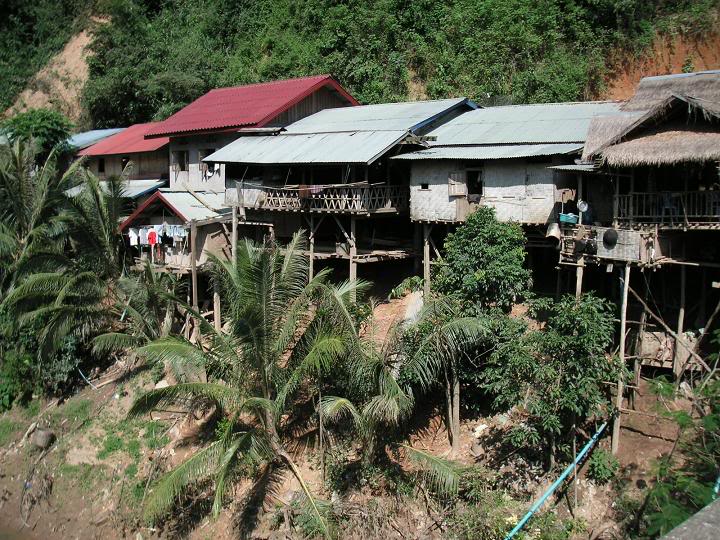 There's a car ferry that crossers the Nam Ou river. This is the road that takes you to the Vietnamese border at Taichang, which is now open to tourists, but not there bikes.
Borders about 50km's away.
The blue boats go north to Phongsali and south to Nong Khiaw. Could go further south to Luang Prabang, but Im not sure.
So with the opening of the border, and all the backpackers from the ferrys. Muang Khua is doing pretty well I think.
The road to Vietnam.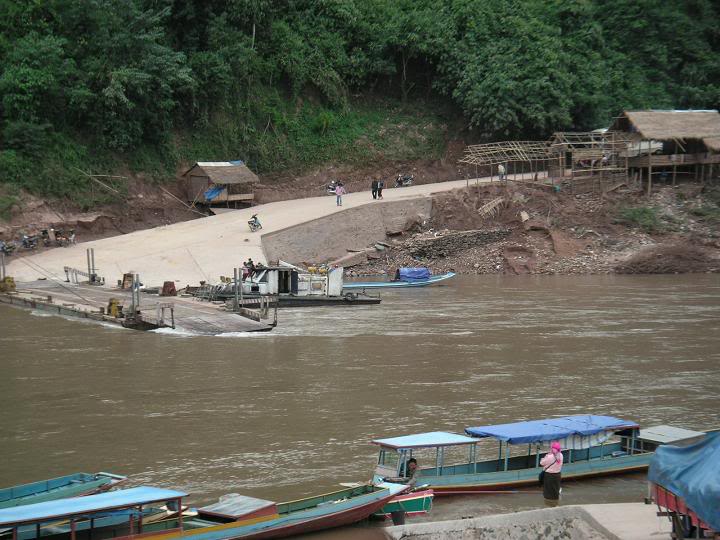 Stayed at here at the Chaluensoak Guest House, great place, brand new, bike locked away at night, and 200 metres to the river.
Good food with a view, only three doors down.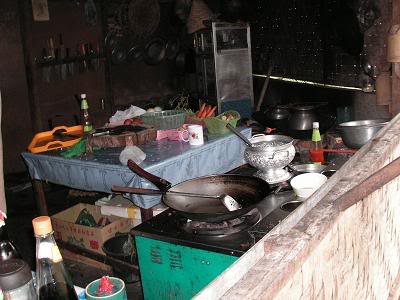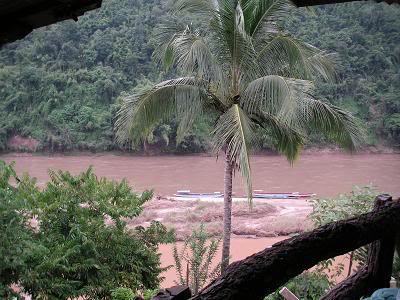 Next day headed to Luang Prabang. Twenty km's out from Muang Khua got a flat.
I got nailed.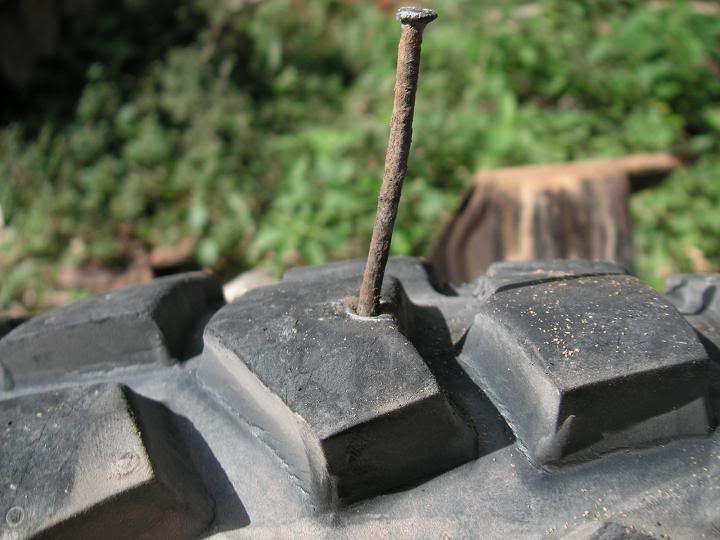 No fixing this one for a spare.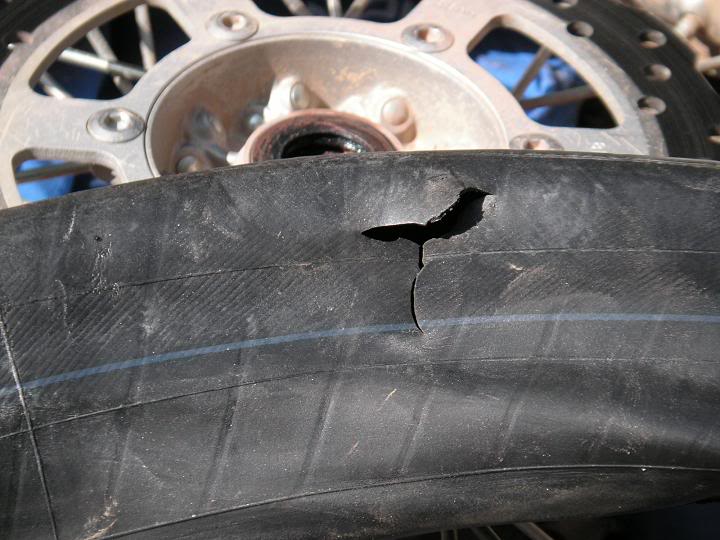 Everything was going fine till it came pumping up the tyre with the new tube in it.
The brand new BETO pump I brought before leaving had one major problem…it didn't pump air. So luckily a lao guy stopped and rode 3 km's to the next village and came back with a pump…thankfully not a BETO, we swapped air for kip, both happy with the deal, and I was on my way again.
The useless Beto pump, or should that be the useless pumpless Beto pump?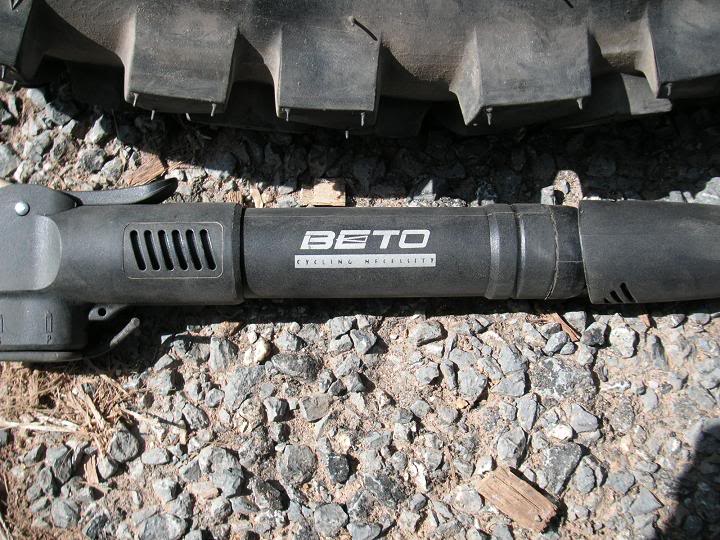 Spotted this sticker on the back on a government ute.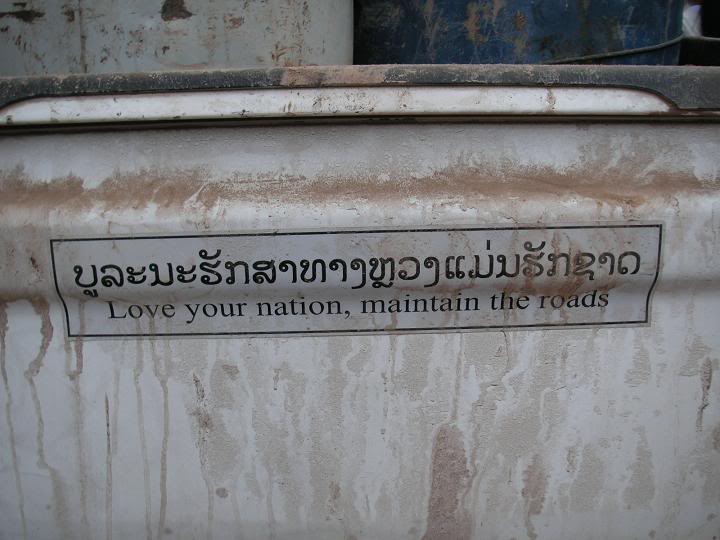 Moto-Rex.