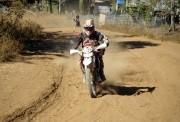 Mar 30, 2010
2,137
278
83
Hi All,
Dropped by Paddock today.. It is the 1 year anniversary since they opened the Alpinestar Shop..
They have a few promos.. Must admit.. There is a very nice touring jacket I will probably get myself for Christmas :->
First of all.. You don't get this too often in Thailand.. or any where for that matter..
When I walked in.. K. Suwae greeted me and then immediately apologised.. for not giving me the correct discount last time I was there 2 months back..
(I had no idea what she was talking about)
Then she reaches in to the cash register and hands me 500 baht and apologises again...
Very nice I thought.. I know not everyone has had a good experience there.. But I have usually found them to be honest and fair.
Then as I am walking around they came up with a plate and the biggest prawn I have seen in years.. So I am standing in the middle of the shop tucking in to a delicious prawn...
All the shops they have there now are looking really good.. 4 last count. Much more professional than the old days when it looked like Steptoe's house in side..
http://www.paddock.co.th/2011/index.php
Cheers
Brian