Administrator
Staff member
Jan 16, 2003
12,343
2,729
113
67
Pakngum bridge construction over 40 percent complete
Construction of a new bridge across the Nam Ngum River between Nabong village and Thakokhay village in Pakngum district, Vientiane, is now more than 40 percent complete.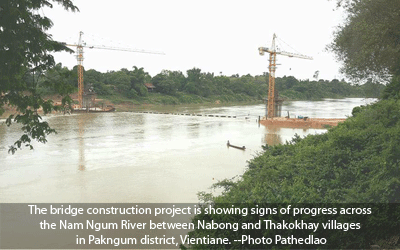 The bridge, which is being built with grant assistance from Lao World Public Co., Ltd at a total cost of 105 billion kip, was expected to take 24 months to be completed from the groundbreaking ceremony in February of last year.
Director of the Vientiane Public Works and Transport Department, Mr Detsongkham Thammavong told Vientiane Times yesterday "Currently, the construction work is already more than 40 percent complete and it is expected to be finished by the end of 2018."
"Now the project is concentrating on construction of the top of bridge pylons and then will continue on to other works. When the bridge is finished it will be toll free to serve the people," he said.
According to the latest plan, the bridge will be 236 metres in length and 11 metres wide with two sidewalks of 1.5 metres each.
Plans for construction began in earnest after a boat capsized at the site on May 26, 2015 leading to the tragic drowing deaths of 10 children.
The finished bridge will provide a direct contribution to Vientiane's development in support of the government's overall socio-economic development plan.​
It will also help to boost trade along the river by providing easier transport access, giving local residents more incentive to be active in agricultural production because the area has the potential to grow a variety of crops.
The bridge will also be important for the economic development of the region by improving the flow of goods between communities and easing transport in general.
A direct benefit for the people in Pakngum will be allowing school students to travel across the bridge between Nabong and Thakokhay villages.
Source:
Vientiane Times
​