Peter's Post seems to be getting in a loop. No idea why but have reposted it here in the hope that this will work better.

Peter, hope you don't mind

Moderator
Sisaket-Chong Mek-Pakxe
Day 1.Dep Sis 0700 arr Pakxe 1230.
Start - 157-border- 46-Pakxe .
We left Sisaket early to arrive at the border at 9 30. My brother and I were traveling on 2 Thai registered Phantoms both registered in my name. I was concerned that we might have difficulty getting my brothers bike across the border even though I was there, so I had a 'Permission to Export' form typed out in Thai and English, had it stamped at the Transport Office in Sisaket and included it with my other documents.
The documents I had were; Passport, Green book, Registration Certificate, Bike Passport, Permission to Export Form Thai & English.
We went first to Immigration and they stamped our Passports out and started the Customs export process for the bikes. They then handed the Customs documents to Customs in the next cubicle and they finished the process and filled out a Temporary Export Form. They required several copies of each form which I had to get photocopied. No payment required. We then left Thailand.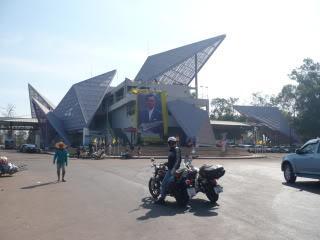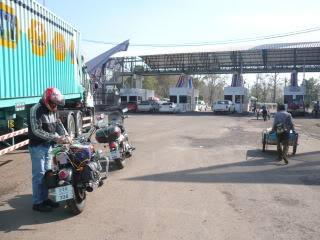 On the Lao side we went first to the customs office and they typed out an entry document on the computer, attached it to the Thai Export Form and the Bike Passport, charged us B100 per bike and let us go. We then got our "Visa on Arrival" for $30, and got our Passports stamped. We then had to register at the check point and then wheeled back to the shops for a drink and away into Laos. This was all a big relief to me because there was a lot of planning and organizing to get a legal second bike my brother could ride in Laos.
Drink Stop at the Duty Free before going on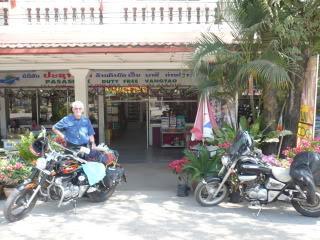 We got to Pakxe around 1230.
In Pakxe we stayed at the Phonsovan Guest house which is opposite the Arda Lan
guage School where my friend is a teacher. (70 000k) with hot water, fan and 2 beds. Clean with secure parking. We had a look through the Language school, checked the town out had a nice meal and were very happy with our day. Pakxe is a nice little town and I notice there is a lot more money and buildings and motor vehicles around compared to when I was there 4 years ago. Hyundai have cornered the market for pickups small trucks, SUV's, cars and small buses.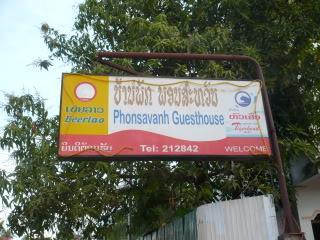 Keeping them fresh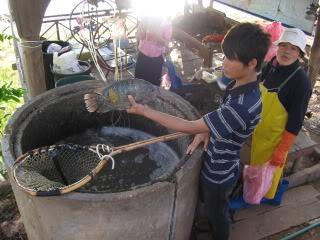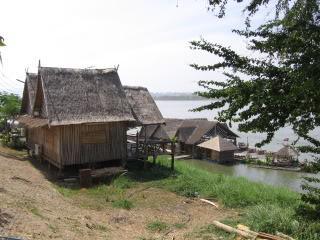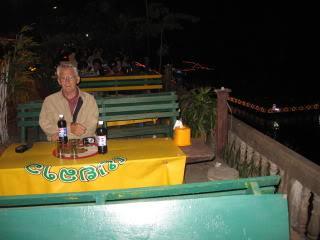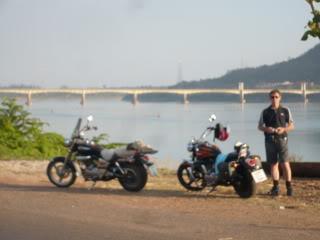 Day 2 Pakxe – 260 -Savanakhet - 143– Thakhek
The road is very good except for a few repaired patches and approaches to bridges which have been done badly and are rough and bumpy. Not much traffic but lots of livestock; cows, buffaloes, goats, chooks and ducks. I think the pigs are the worst because they are stupid and don't react to the horn or the threat of imminent disaster. Not far from Pakxe we came upon a few km of ricefields growing what must be a second crop at this time of year.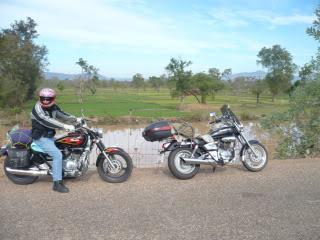 We booked into the Phu Doi GH (70 000k)which is basic with hot water and air, and then enjoyed a quiet meal overlooking the Mekong. We struck it lucky with a Fair going on the property next door with music so loud the walls vibrated, on into the night. The Night Club at the back of the property came a distant second in decibel output and they finally called it a night at about 2-30am.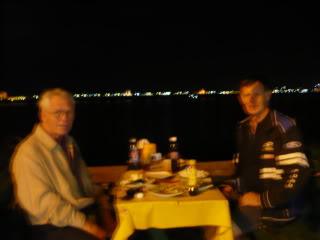 Inside parking for the bikes.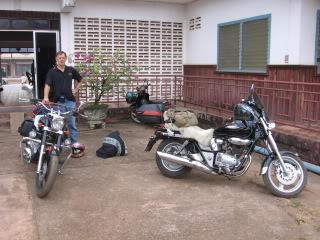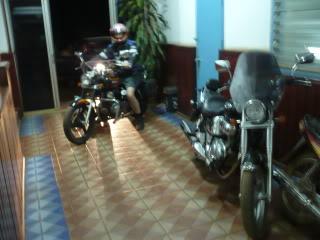 Day 3 Thakhek - 229– Pakxan
We had some trouble deciding which way to go out of town and guessed it was towards Namthone because that was heading in the right direction although I couldn't find it on the map. No other place names were on the signs, only Namthone. It turned out to be correct and on the GT map it is Vieng Kham.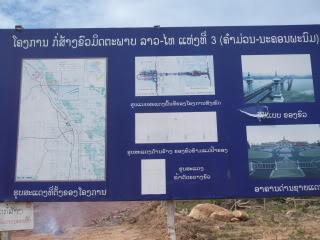 The road is very good. 13km North of Thakhek is the site for the 3rd Friendship Bridge. As you will see from the photos the approaches are being prepared but we couldn't see what was happening at the bridge.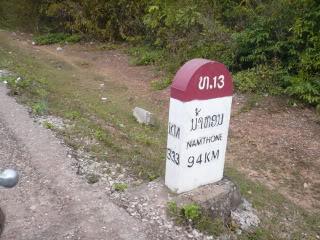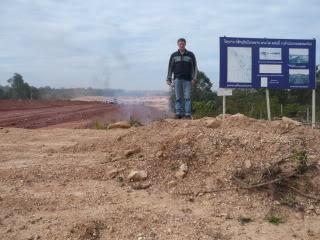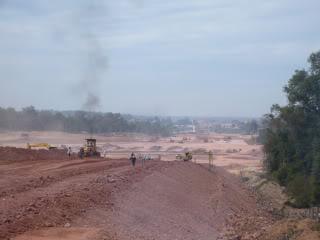 The ferry turnoff is there also. About 20km South of Pakxan we detoured to take a look at the Keng Sa Dok rapids and Catholic community. Not very rapid this time of year.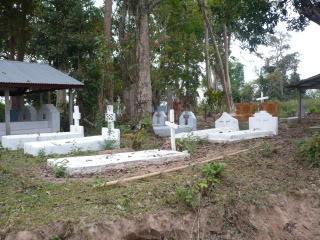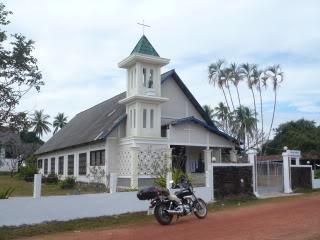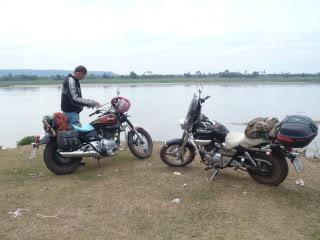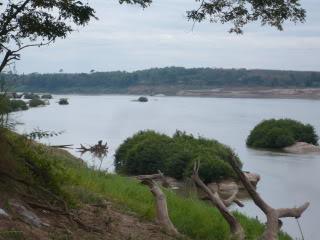 Some road shots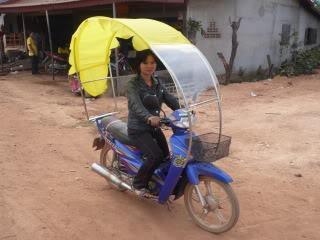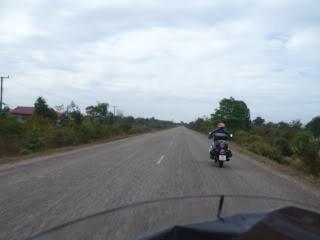 We booked into the Xaysavang Hotel just off the main road(100 000k) very quiet, and had a very nice meal at the "Pakxan Restaurant to Amuse"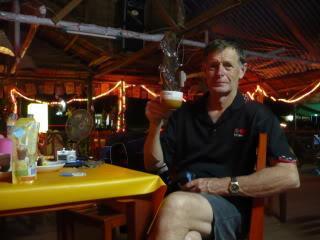 Day 4 Pakxan -311 – Vang Vieng
Today was to be our big adventure day to go the back way to Phonsovan but that didn't happen. The weather closed in and it rained during the night and was still raining at 8am. It looked very black in the hills where we were going so we sat around for a while, drinking coffee with some Thai Policemen and helping them eat their soggy doughnuts, to see if it would clear.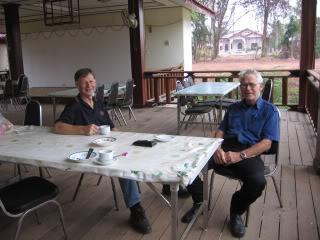 By 10am the rain was heavier and looked like setting in for the day, which proved to be the case, so we abandoned our cross country plan. Instead we headed off toward Vientiane with the plan of bypassing VT and heading for Luang Prabang. The road was very slippery, often with red topsoil which sprayed up from traffic and covered our bikes and us. Lost my camera case because it flew away when I was getting some photos on the run. We missed the bypass for VTE and ended up in the middle of the city.
Wet and lLost in Vientiane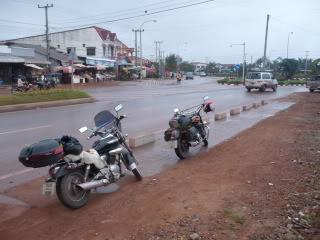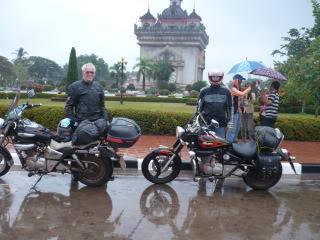 We had lunch and then fought our way back to hwy 13 and on to Vang Vieng. The road out of the city is narrow and congested and quite slow in the wet and after about an hour we saw our first real hills for the whole trip.
This guy was very lucky. Stopped just in time before going into a deep crevasse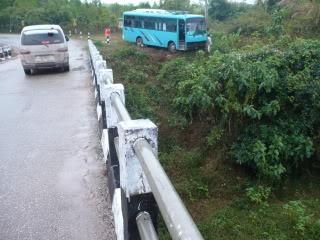 By the time we got to Vang Vieng we were wet and cold and booked into the first GH we saw which was the Amme on the main road. They didn't have single beds so we negotiated 2 rooms for 60 000k. Basic, no TV but the hot shower was very welcome.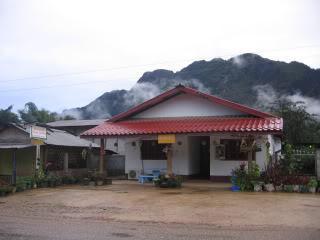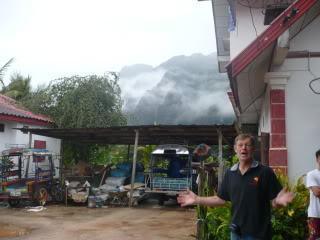 We ate dinner at a small restaurant on the main road opposite the bus station and watched all the Farungs catching the buses
Around Van Vieng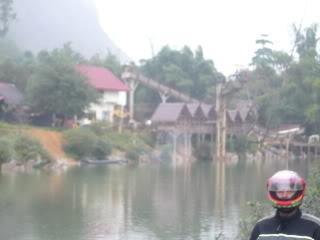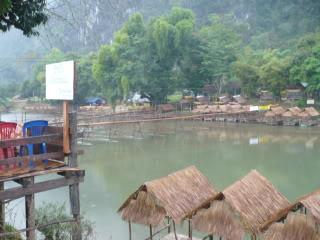 Day 5 Van Vieng -228 – Luang Prabang
Well I am glad we are traveling in the dry season, I would not like to see what it is like here in the wet !!. We put our half wet clothes back on and slipped down to the market for a soup breakfast and then on the road. We were completely soaked after the first half hour and stayed that way all day. The rain set in and it got quite cold. The road was very slippery and we both had a few little slides, so progress was quite slow. Very twisty and they are digging drains beside the road so there is top soil over the road adding to the slick surface, and in many places it reduces to one lane. Not many photos because it was such an act to get the camera out in the rain.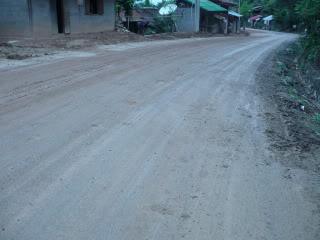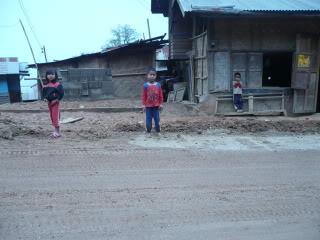 About an hour out from LPB the rain eased off a bit and it got a bit warmer but we were very happy to see LPB and booked into the Vannaphone GH on the road to the airport. Clean, hot water, laundry, and pleasant. LPB has been covered many times and it really is a nice place with a good feel to it, good for a rest day. Plenty of Restaurants and Guest Houses and heaps of Farungs from every country you can think of.
[imghttp://i138.photobucket.com/albums/q270/ajarn06/Laos%202010/Laos2010Peters070.jpg][/img]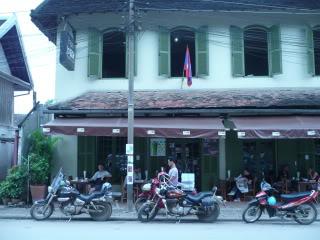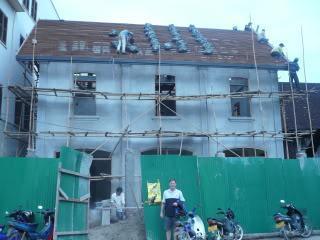 We ran into Lachlan an Australian on an ACT registered Suzuki DR650 who had just come across from Nan through the Chiang Khong check point. He said he left Nan at 7am and we were talking to him at 4pm. Note the 32 litre long range (600km) fuel tanks.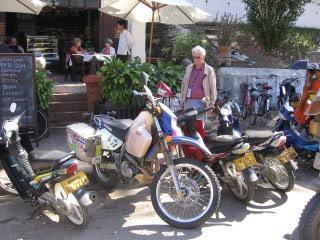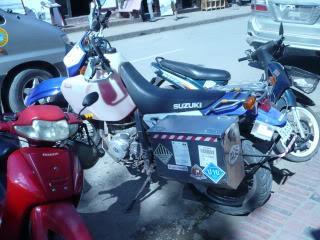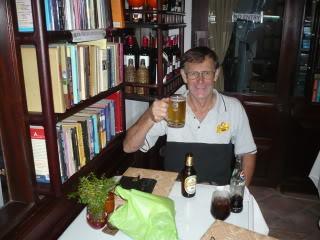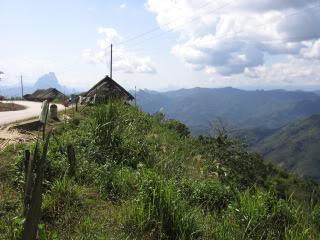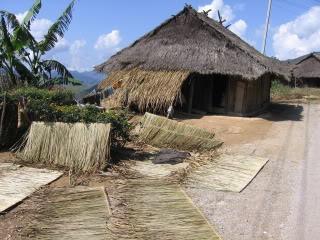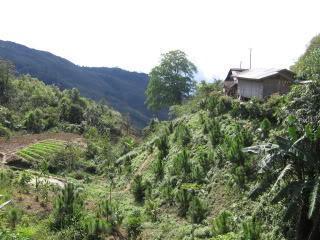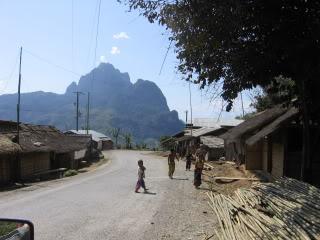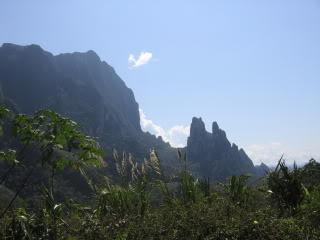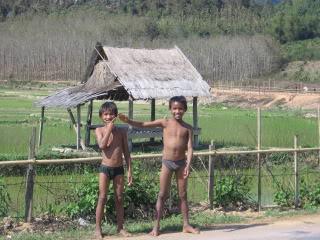 Day 6 Around Luang Prabang. It really is a beautiful old Heritage town and there are many beautiful buildings. There is a lot of renovation going on also. Lots of farungs here so every kind of food and not badly priced and big markets. We took a ride out to the Tadthong waterfall and walked forever but there wasn't much water.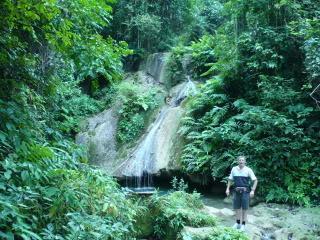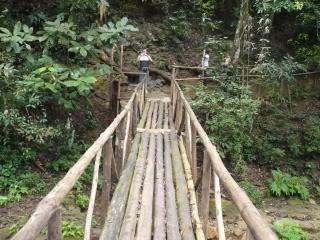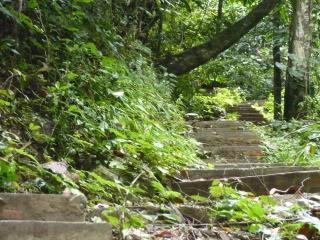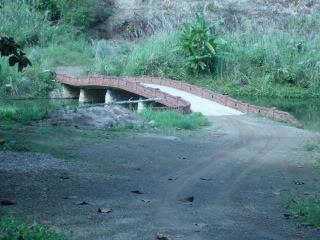 Day 7 Luang Prabang-131(3 hrs)- Phou Khoun -136(3hrs)--Phonsavan.
Booked into the Nice GH (100 000k – 2 beds. Quite nice. The road is very lumpy and uncomfortable coming out of LPB and most of the way to Phou Khoun and they are digging up the sides and laying cable making it very messy but it improved on the PKhoun section and is really good.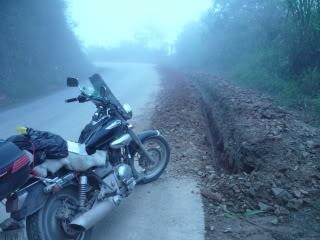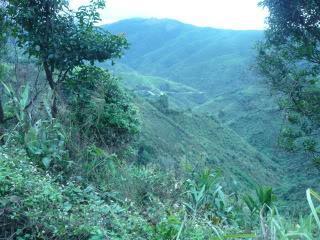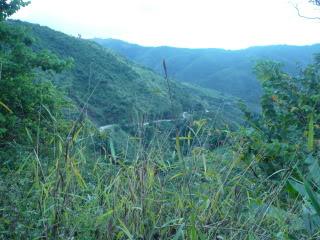 About half way from PKoun to Phonsavang We came across a young couple on a step through and they had run out of fuel. To add to their woes they had no money because they put it down and forgot to pick it up, They coasted down to a fuel hut and we bought them a tank of gas. They would probably still be out there if we hadn't come along.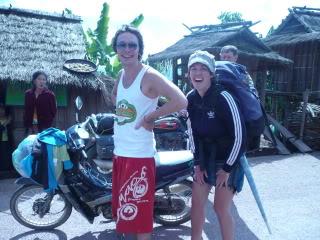 Phou Khoun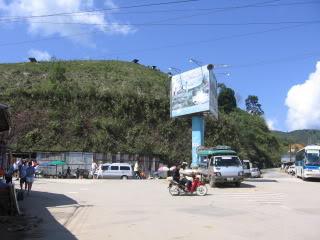 Around Phonsovan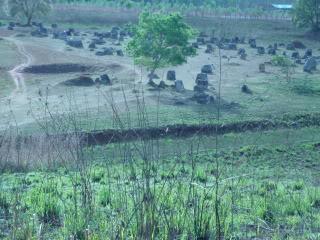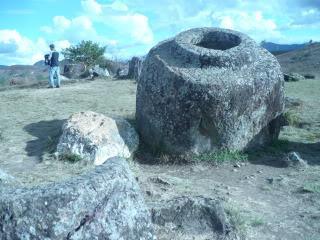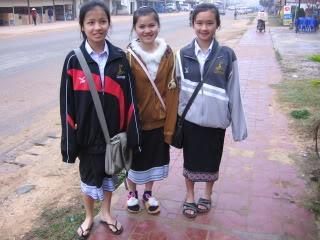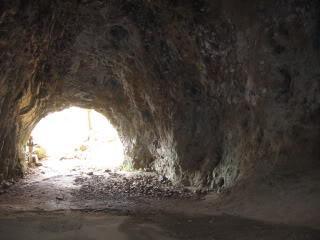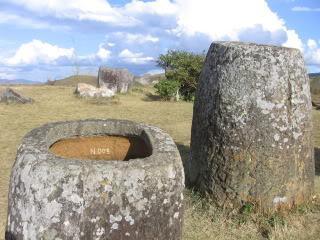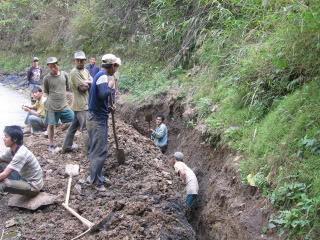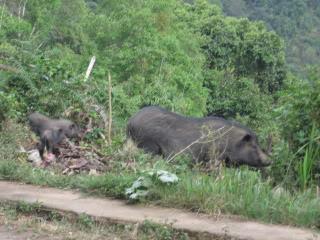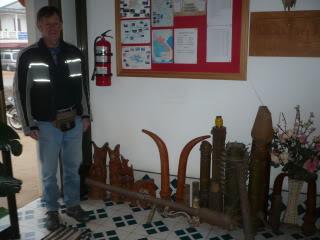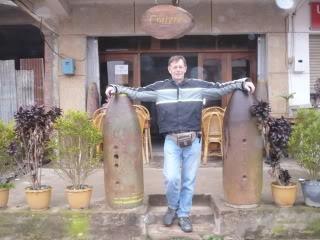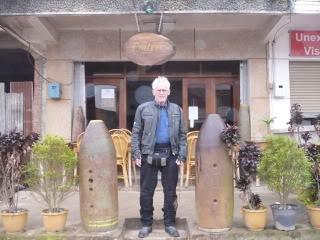 If I ever do a motorbiking the Alphabet this sign could come in handy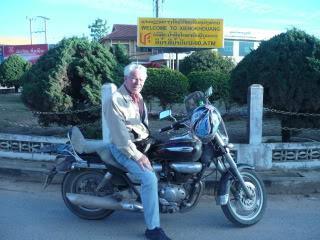 Day 8 Phonsavan --135-- Phou Koun --105-Van Vieng. Very cold. We made our way over the mountains, often in heavy fog/cloud with visors misting up. This section of road would be my favorite in Laos with spectacular views a good surface lots of twists and it was dry.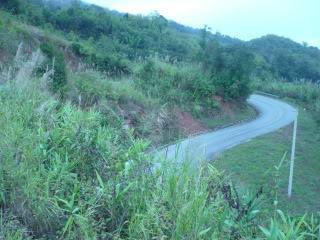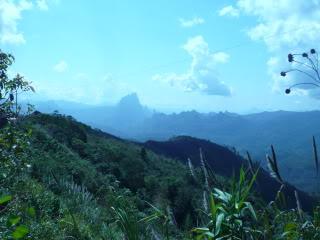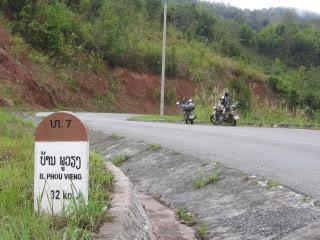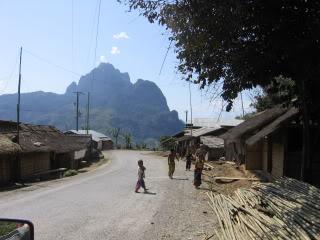 We booked into the Dok Khoun no 2 GH for 60000k. Very comfortable. This time we found the chill out area where all the Farungs gather and there were heaps of them. Had a great hamburger which was so big I could hardly eat it.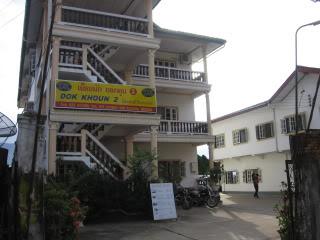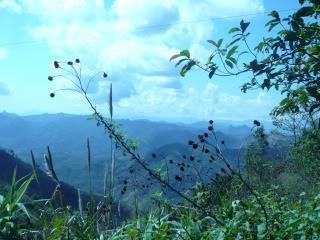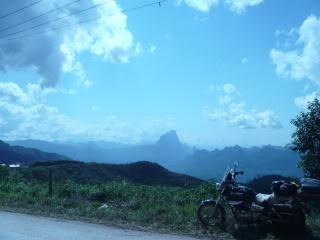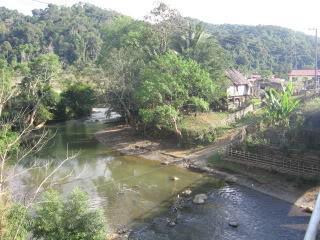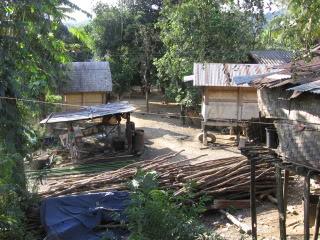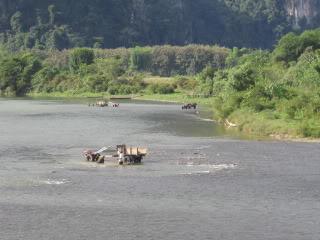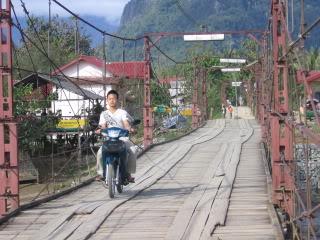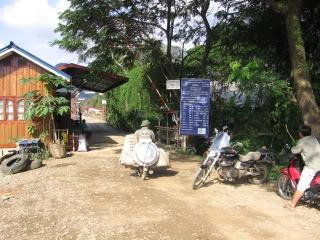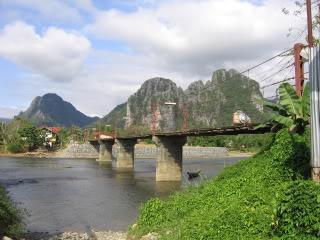 Next Part II