Myself my girlfrend Napa and my longtime rideing buddy Sean left Chang Mai to start our trip to Lao.
DAY 1: Chiang Mai - Chiang Khong
We take the 118-120-A2-1022-A2-1022-A3 to Chiang Khong.
We stay at Rimnam guesthouse 350 baht. Nice room great view of the mekong.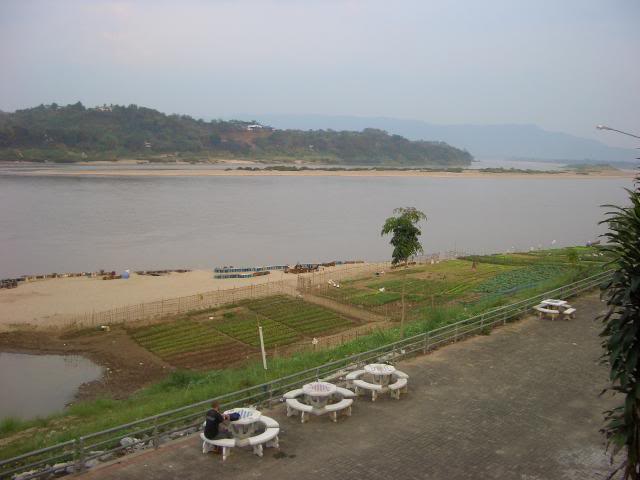 We arrive to late to start our paperwork so we just kick back and enjoy the view.
DAY 2: Chiang Khong - Houei Xai
We get up and start our paperwork on the Thai side.Thanks to Silverhalk and David for there great reports, it makes it pretty easy for a first timer like me.
Then off to load the bikes onto the boat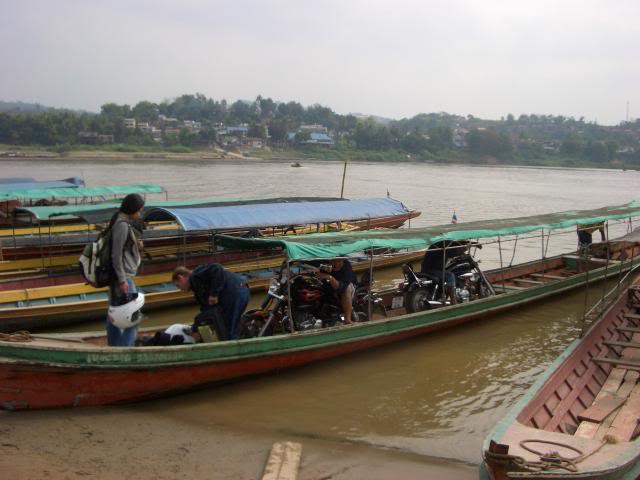 we paid 550 baht for each bike,riders free. We got the small boat, no waiteing. A short ride and we are at the unloading ramp in Houei Xai.
We do all the paperwork and get insurance then off to get our visas. Not to much hassle but it was nice to have the Thai GF along.
By the time we finnish the paperwork its 1pm and we decide to get a room at Oudomphone G.H. 300 baht nice room and we can pull the bikes in a locked room at night.
We have lunch and enjoy some beer Lao on the river.
DAY 3: Houei Xai - Luang Namtha
This is the new road and its nice and twistie with new pavement, but I have the gf on back so we are just putting along.
We get passed by about 15 BMW GS riders they are easily doubleing our speed. Ride it fast or slow its a fine road.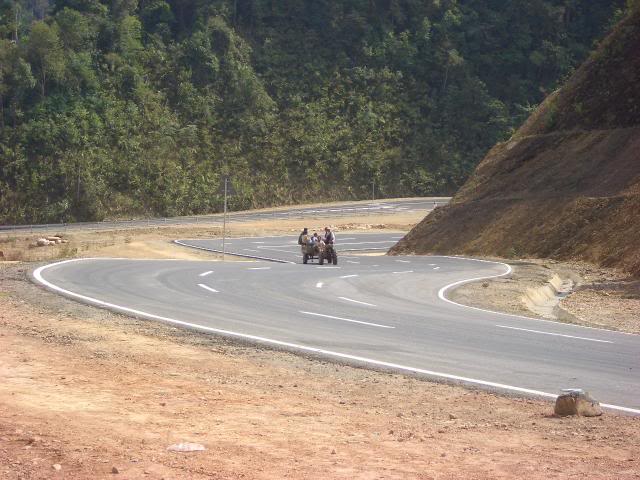 Lots of happy waveing kids in the small villages and nice mountain views today. Its cool even in leathers,but no rain.Yahoo nice day!
In Luang Namtha we stay at Khamking G.H. 22o baht its also a sells honda motorcycles and we pull our bikes inside next to the new waves and dreams. Its cool here and it rains overnight.
DAY 4: Luang Nam Tha - Boten - Oudom Xai
We take our time and wait to see what the weather will do this morning here is a photo of Luang Namtha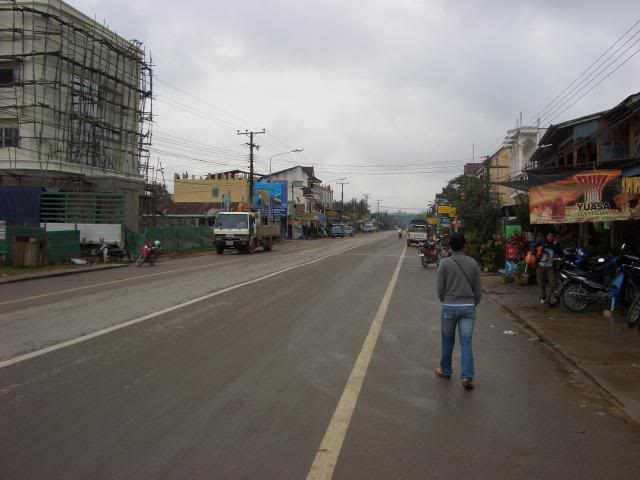 We get a break in the weather and get on the bikes and ride up to Boten this is a ok ride and we stop for a few photos.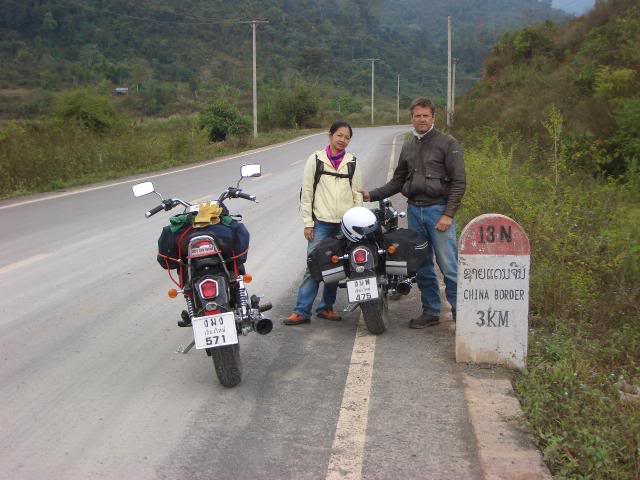 We head back to Na Teuy and turn right on the 13 and start off to Oudom Xai.
I have read the reports about this road and I agree this is not a fun road 2up with bags on a Phantom. Many pavement breaks with rough dirt sections but on the bike you can weave your way through much of it.
I remember asking Sean what he tought "That kinda sucked"was his reply.
Napa said "Bumpy a little" ha ha.
It was not that bad but a slow section on a road bike for sure. Sorry no photos of this road it was getting late and looking like rain so we did not stop much.
We arrive in Oudom Xai and stay at the Phoxay G.H. 50,000 kip and a short walk to dinner and beer Lao!
DAY 5: Oudom Xai
Rain today, so we just hang out and walk around town. Here is a photo of downtown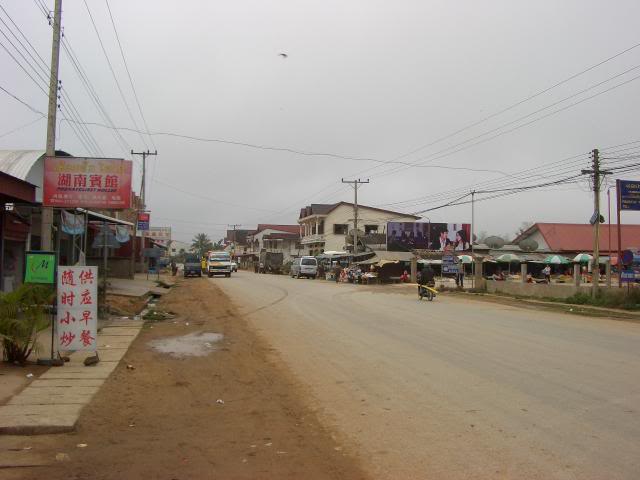 DAY 6: Oudom Xai - Luang Prabang
No rain today so we get a early start. The road to Pak Mong is bumpy a little but not a bad ride through the mountains.
The road from Pak Mong to L.P. is just beautyful with good pavement and great mountain views.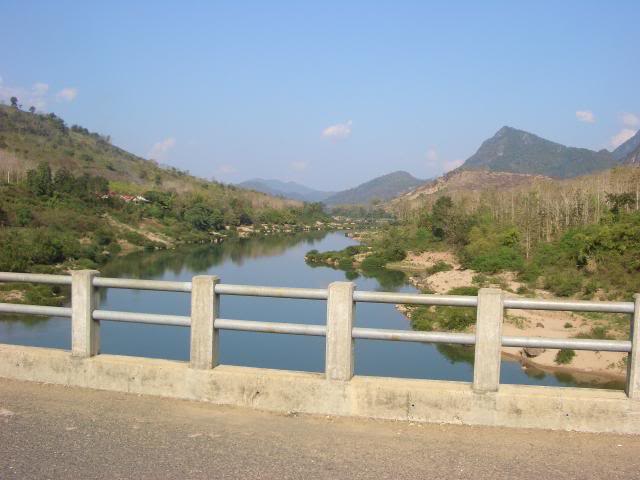 It was nice to use 6th gear again!
We arrive in L.P. and stay at Sokdee guesthouse 25 usd a nice place 1 block off the Mekong.
Day 7: Luang Prabang
We walk and ride the bikes around town.
Day 8: Luang Prabang - Vang Vieng
This is one nice ride on good pavement. Just a great day to be rideing a bike. Sunshine, beautyful views and good pavement=good time.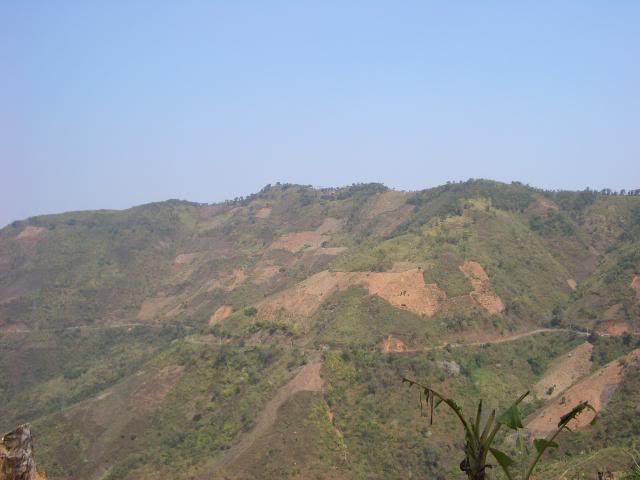 Allow extra time for sight seeing.
We make it to Vang Vieng and stay at Phaserday guesthouse 50,000 kip its ok.
DAY 9: Vang Vieng
We stay in V.V. for the day and enjoy walking around town and seeing the river. Next time we will have to try the innertube bar hop on the river.
Day 10: Vang Vieng - Vientiane
Light rain this morning. I look at the internet and it says sunny in Vientiane. The vote is to go, we put on raingear and ride through it in an hour or so. When the sun comes out its a straight shot to Vientiane.
While in the city rideing around looking for a hotel we get flagged over by a cop. OK now what did I do? He said we tryied to run a red light and that we now were parked in a crosswalk. Bull S... he just wanted some beer money. Anyway he had our paperwork and I paid the fine on the spot lol.
So be careful when rideing aroung Lane Xang area. Later that day we talked to some Lao women and they said this is commen here. O well much cheeper than a real ticket in the states.
We stay at Ekalath Metropole hotel 700 baht and a nice big room with everything.
Later we go eat on the river and have more beer Lao!
Day 11: Vientiane.
Walk and ride around town.
Day 12: Vientiane - Udon Thani
Make it out of town to the border, a stop at the duty free. Some quick paperwork ,cross the bridge and we are back in Thailand. All today easy and fast. Once back in Thailand the roads are so nice, ha ha.
Anyway it was a great trip I look foreward to going back. Dont hesitate to do this ride on any bike....Cheers,Al[/img]