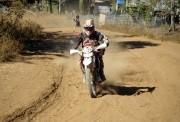 Mar 30, 2010
2,139
278
83
- Bangkok Weekend Warriors preparing to visit one of the least visited National parks in Thailand.
Phu Toei National Park.
http://en.wikipedia.org/wiki/Phu_Toei_National_Park
Phu Toei National Park (อุทยานแห่งชาติพุเต&#3618
is a 319 km2 (123 sq mi) national park located in Dan Chang, Suphan Buri, Thailand. It has been a national park since September 30, 1987. On 26 May 1991, Lauda Air Flight 004 crashed after one the Boeing 767's thrust reverser deployed in mid-air.[2]
The recorded monthly visitor statistic is 300, during the peak of the high season. The Daily Xpress of Singapore states that the park "goes down as one of Thailand's least known and least visited national parks. So much so, that most Suphan Buri folk don't even realise that their province has a national park."[3]
One feature of the park is Khao Thevada (Angel Mountain), a 1,123-metre (3,684 ft) mountain[citation needed] that is the highest in the province. The mountain is on the borders of Kanchanaburi and Uthai Thani provinces.[3].
- This park is not only special for being one of the least visited national parks in Thailand. Tragically the deadliest aviation accident on Thai soil.
Lauda Air Flight 004
http://en.wikipedia.org/wiki/Lauda_Air_Flight_004
Lauda Air Flight 004 was an international passenger flight operated by a Boeing 767-300ER that crashed on 26 May 1991 due to an uncommanded thrust reverser deployment of the No.1 engine in mid-flight, killing all 213 passengers and 10 crew members on board. To date, it remains the deadliest aviation accident involving a Boeing 767 and the deadliest on Thai soil. The crash also marked the aircraft type's first fatal incident and first hull-loss.[1]
It was the third serious accident involving an Austrian aircraft, after the crash in 1960 of an Austrian Airlines Vickers Viscount and the crash on 23 September 1989 of a Turbo Commander 690 aircraft which claimed the life of Alfred Dallinger, the Austrian Minister of Social Affairs.[2]
Lauda Air was founded and run by the former Formula One world motor racing champion Niki Lauda. The crash of flight 004 was notable for Lauda's personal involvement in the accident investigation.
More to come....