Administrator
Staff member
Jan 16, 2003
12,521
2,944
113
67
Lao Officials Tell Chinese Company to Take Down Illegal Wall Along Major Roadway
Lao officials have asked a Chinese construction company to destroy a brick wall it illegally erected along a major roadway as part of a dam project in northern Laos' Luang Prabang province, a provincial transportation official said.
The wall extends from a bridge across the Nam-Ou River on which the company has built the Nam-ou 1 dam.
The Chinese Nam-Ou Dam Company Ltd. erected the 600-meter (1,970-foot) long, two-meter (6.6-foot) high wall in Pak-Ou district in 2015 much closer to highway Route 13 than the distance stipulated by law, said Fasanan Thammavong, director general of the Public Works and Transport Department in Luang Prabang.
The areas on both sides of national main roads are reserved for possible future expansions and upgrades, and nothing can be built on them, he said.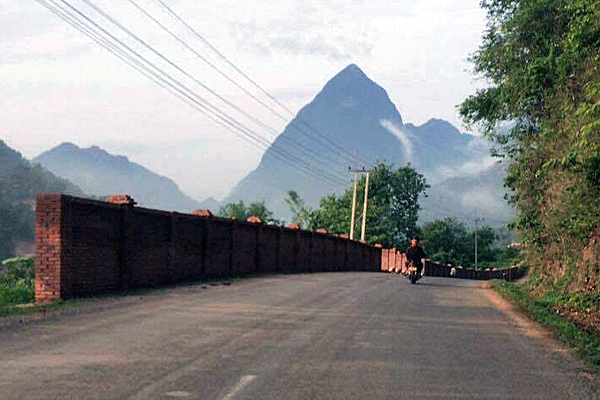 "We informed the Ministry of Energy and Mines to cooperate with the Chinese [company] to strictly implement the law pertaining to national highways by destroying the wall because there must not be any buildings within 25 meters [82 feet] on either side of the roadway," Fasanan told RFA's Lao Service on Wednesday.
"The Chinese company that constructed the dam has not respected the rule of law," he said.
Provincial authorities have ordered the company to destroy the wall along the part of the main road which is under the provincial administration of the Luang Prabang Public Works and Transport Department, he said.
The national main road is under the administration of the Ministry of Public Works and Transport.
"The provincial public works and transport department had a meeting and told the company to stop building the wall, but the company still insisted on building it because it said the area is included in its land concession," he said.
"The wall violates the law along the national main road and causes barriers for road construction and upgrades," Pheang Douang-ngeun, director general of the national ministry's Road-Bridge Department, said, according to a document obtained by RFA.
Building the wall sets a bad example for other companies working on projects because they will also assume that they can build on the reserved areas along other main roads, Pheang said.
The wall is not only illegal, but also obstructs motorists' vision, and sometimes causes accidents, according to local villagers.
A New Zealand man who was touring Laos by motorcycle crashed into the wall on June 13 and was killed instantly, they said.
Source: Radio Free Asia. 22 July 2016.