In the years 1989 to 1996, before I bought my own stuff, I enjoyed the company of rented motorcycles in various places around Thailand. I remember "two wheel chicks" from Pataya, Phuket, Chiangmai, Koh Samui, Mae Hong Song, Hua Hin and Korat. It was not yet "digital age" and I wasted only a couple of slides to record some of the ladies. Looking at my faded picture from that period, I wonder how many of my friends still blunder around Siam. Time has covered the years with the haze of nostalgia. My mind has difficulties to revive precise instants but my heart remembers enjoyable moments of happiness and freedom, spent in the company of these bikes.
Most of the shops were probably called "Big Bikes" and for me the vehicles were great, despite their heavy rental duties. During the years spent with my "temporary companions", I had only minor incidents. One broken chain, in front of a mechanic shop in Rayong, another one on the road between Surat Thani and Phuket and a flat tire on the highway before Cha Am. I was probably very lucky and other riders might have different stories to share.
Small reparation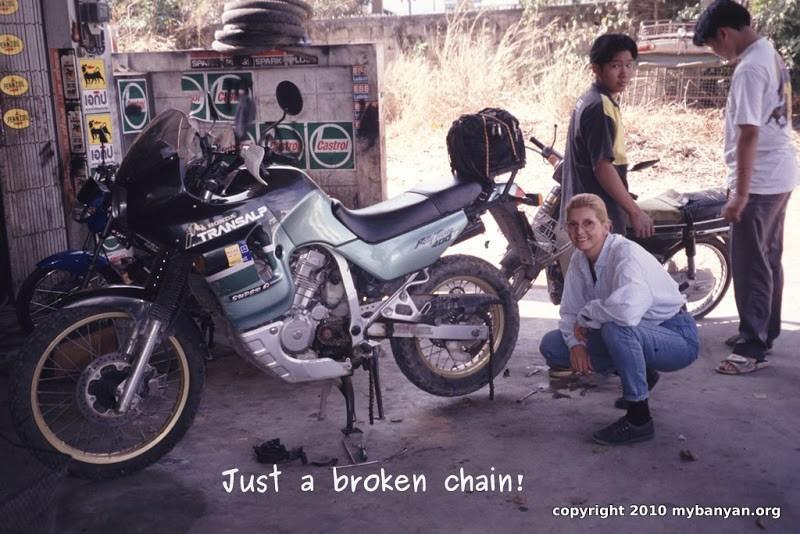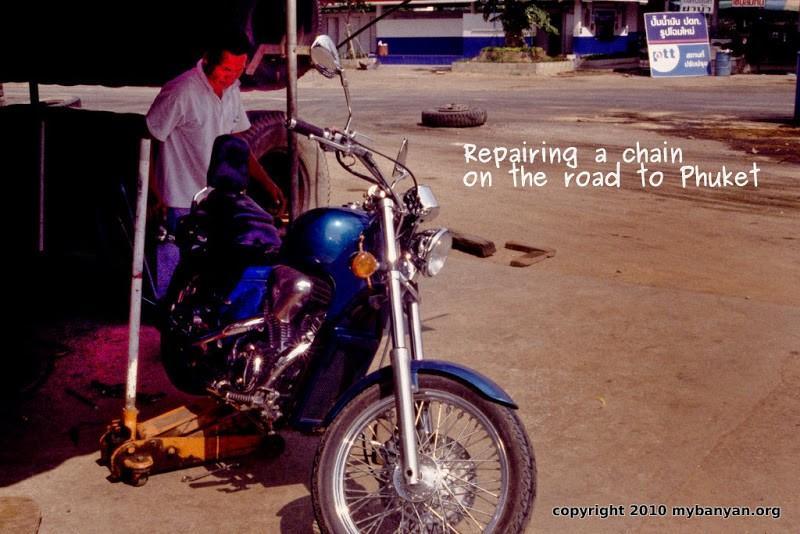 I just remember one amusing anecdote. It happened in Phuket, where I had rented a standard "bar hopping" bike, a Honda MTX 125. At that time there were plenty of them, all dressed in yellow. I parked mine in Patong's night life's district, with a freshly filled tank and enjoyed a couple of happy hours! Much later, that evening, whilst driving back to my hotel, the MTX coughed and stopped! She was as dry as my throat and I begun to swear (wrongly as it came out later) against Thai hooligans who had stolen my fuel. The night was no longer young and I had to circle the city by "tuck tuck" to source a bottle of petrol before plunging into Morpheus's bed.
Later that morning, whilst driving around the island I felt that my bike reacted in a strange way and, in particular, that she did not break well! These were only small annoyances on the lovely roads circling Phuket island. I brought the motorcycle back in time to the rental shop ... to hear the owner telling me that it was not theirs! I had no time to wonder, a young Farang jumped out of nowhere, shouting "my bike! my bike!". He put his key inside and disappeared without any comment ... too happy to get his girlfriend back.
I walked straight to the bars and found my own chick, exactly where I had left her. Not only did all the colors of the MTX match at that time ... most of the keys also did.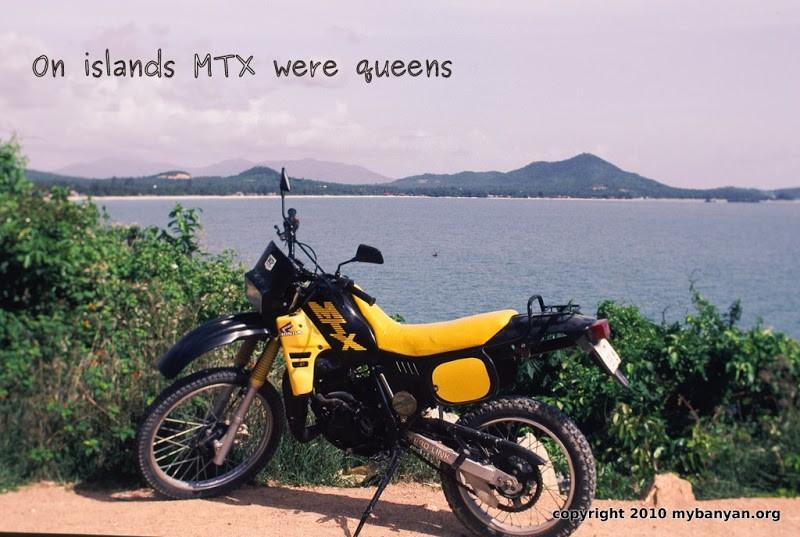 Years later I still remember my old mates. They were "Fair Ladies", but despite some lifting and make up, none had ever won a beauty contest. Gentle and docile, accepting their fate, they were used and abused, with very few maintenance. You would often meet them parked here and there, at the corner of a bar, waiting for a casual owner to take them home.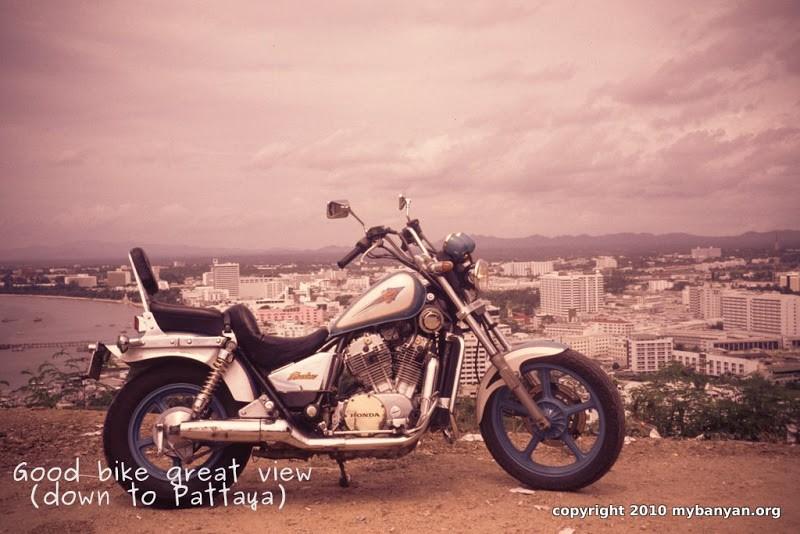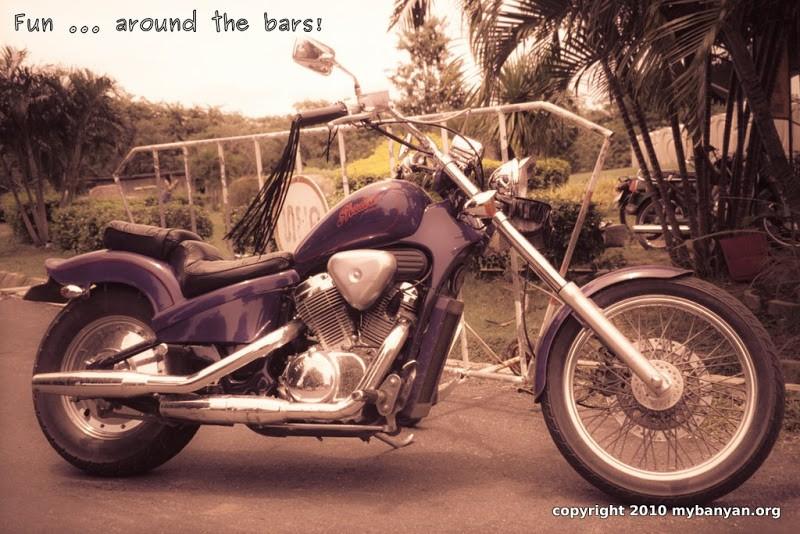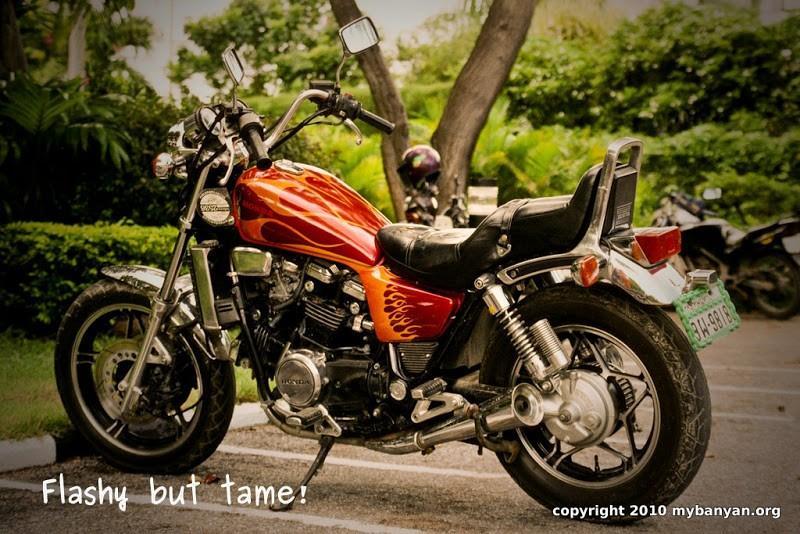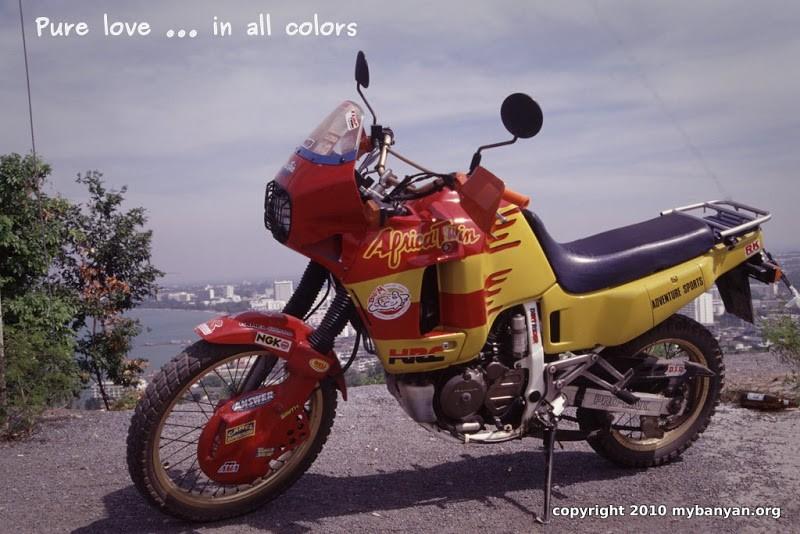 Freedom is what you got during these years in the "Land of the Frees". Few questions were asked and no license required. You just left a passport to make sure that you would be accountable if you harmed your dooly. People mostly went out "uncovered" despite the known hazards, but safety was not yet a national priority.
Nostalgia probably means only remembering the good things from the past. When I watch the old pictures I see the smiles but I am not longing for what is gone, long time ago. Instead, I just go out for a ride with my new companions of the digital age. However, because we shared such enjoyable moments, I wanted to pay them a tribute. Other readers have probably met them or might still be going out in their company.