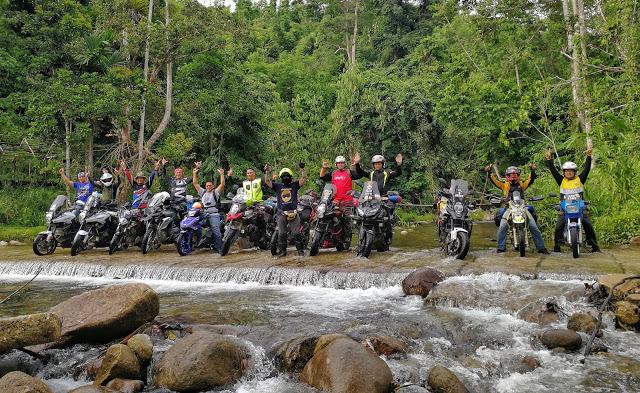 This month's ride was dedicated to Hashim Omar whom had missed two of our recent rides to Pos Titom once due to work responsibilities and another due to a recent mishap at Pos Hau. So when he inquired about the place, I have obliged and planned this ride as a tribute to him.
The original plan was to camp as either Kg Rakoh, or Pos Lenjang but when we arrived at the site, I can't find a suitable place to port so we have camped at Pos Titom. This is the
second time
for me and the third time by our group visiting this place. Located about 126km from Kuala Lumpur with elevation around 550m above sea level, the area has mild temperature and lush green surrounding.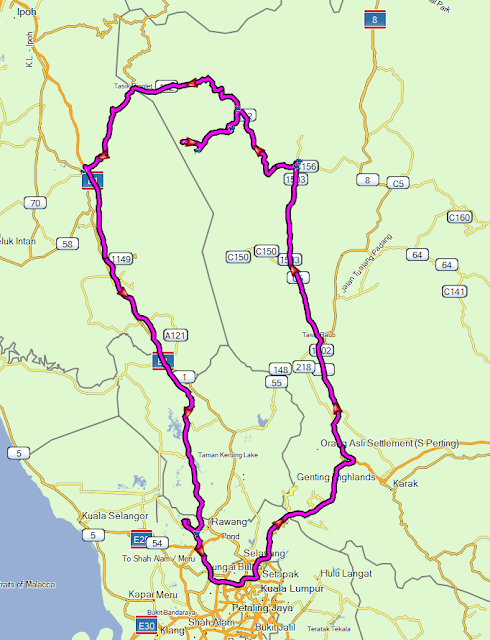 Ross & Khai are two riders joining from Singapore and the rest of the riders are mostly from Klang Valley with Cikgu Jasni & Cikgu Joe are from Perak.
I departed from home around 9.20am with ambient temperature around 30°C and the weather was cloudy. It started to rain at Sungai Buloh and became very heavy towards Jalan Duta. Taking the Duke Highway towards Karak, the rain eased off after Gombak and it was completely dry at BHP Karak. Hashim was already there when I arrived and Alvin arrived slightly afterwards.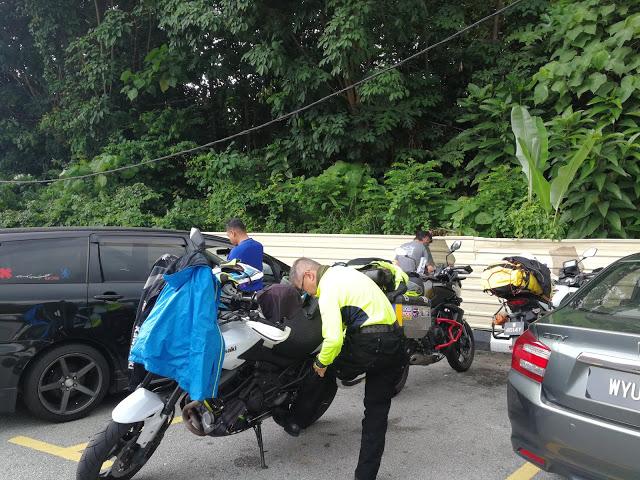 It was getting darker and about to drizzle as we wanted to make a move to RV2 in Sungai Koyan when Ross, Khai, Tom & Ikhwan arrived. We started riding as soon as they arrive to escape the rain and the weather improved towards the tunnel all the way to Bentong.
Traffic was heavy heading towards Raub on Route 8 and we carefully rode in the middle of the road. The area was filled with durian aroma as we rode passed stalls on the road shoulder all the way to Raub. Perhaps that could be it that made people flock to this area during the start of this weekend and created this deadlock. The traffic soon eased off as we made a left turn to C5 heading to Sungai Koyan at Raub.
We rode passed several groups of motorcyclists heading the same way as this is a popular route heading to the famous hill station retreat, Cameron Highland. We made a stop for lunch at Felda Sungai Koyan food stall and Ejoy, Cusco, Jezz with Hasril arrived slightly after. Hasril has invited the group to taste local fruits at his homestay nearby and we waited for Cikgu Joe & Cikgu Jasni arrival.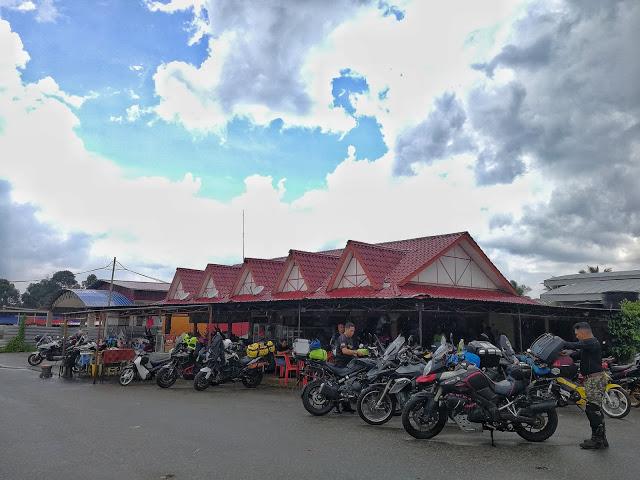 Felda Sungai Koyan Foodstall
GPS N4.21794 E101.79820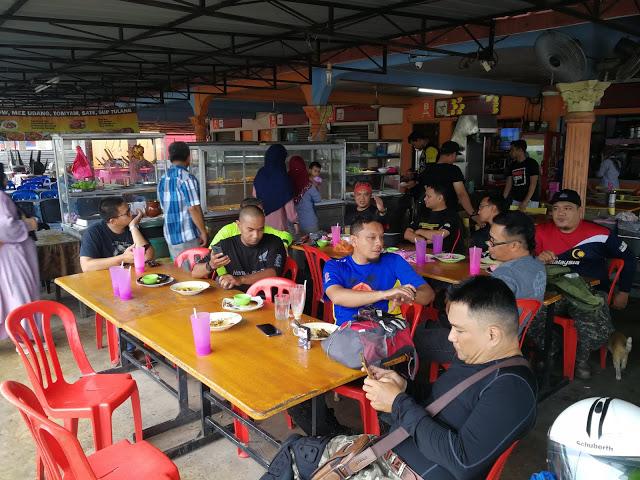 Cikgu Joe arrived and we've decided to wait at Hasril's homestay as we have waited for almost 2 hours at the restaurant. Hasril Rahmat's homestay is about 2km away from the foodcourt and we were presented with a wheelbarrow full of durian and 2 bags of rambutan.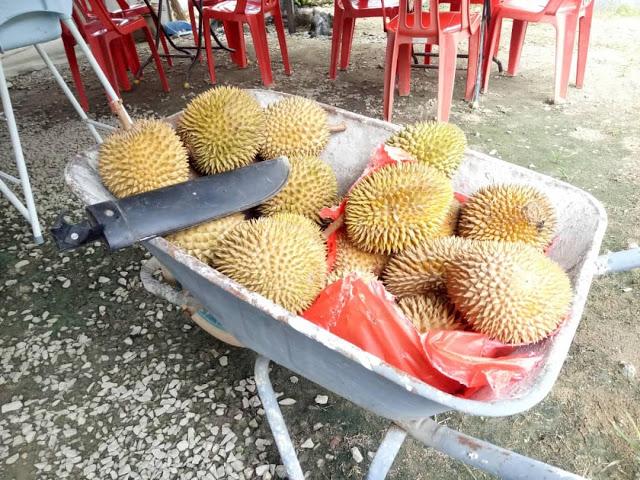 Photo Credit to Tom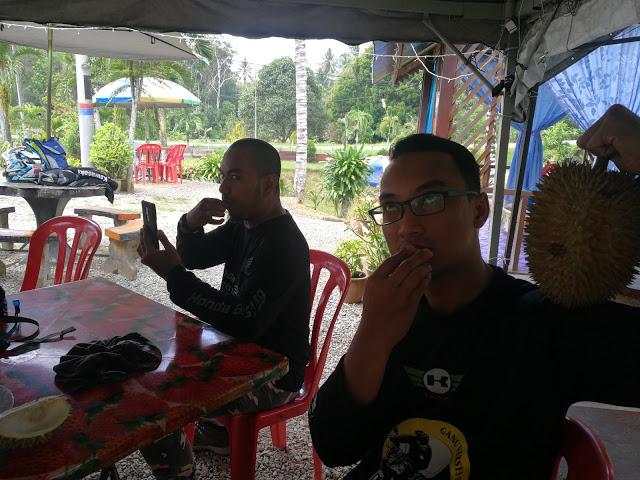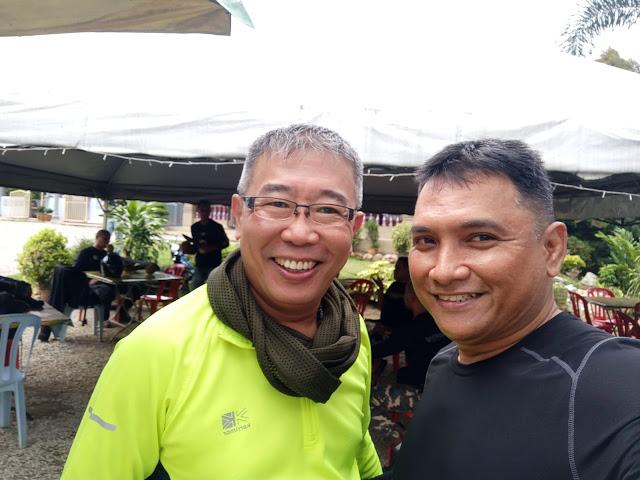 Ross with Alvin
Photo Credit to Ross
Cikgu Jasni arrived after 20 minutes and was told to finish all the fruits : )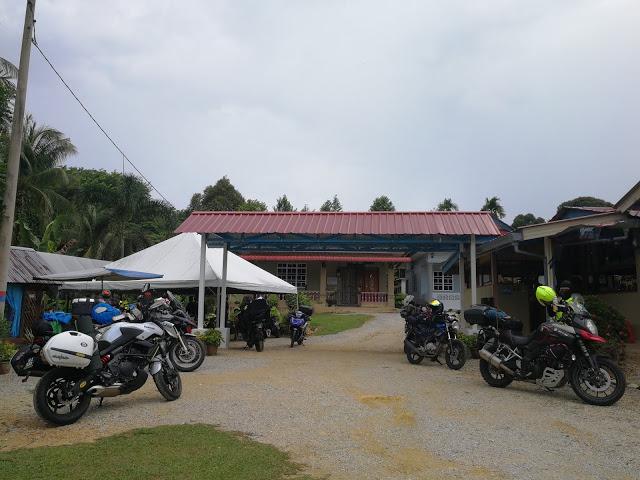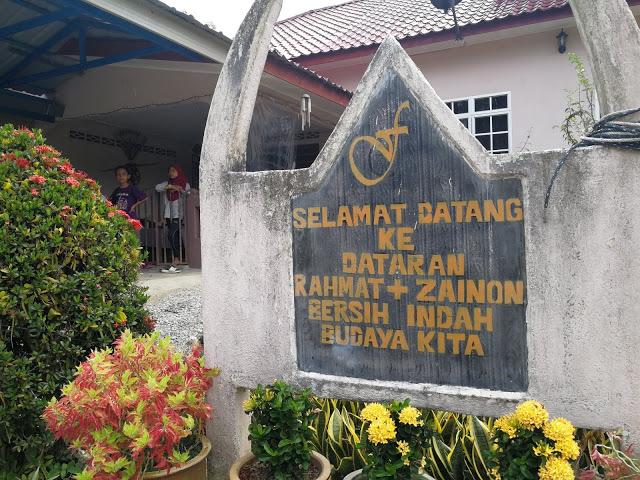 Rahmat Homestay Sungai Koyan
GPS N4.23258 E101.80630
We departed from the homestay around 3pm and head towards Betau Bypass waypoint, which is 39km away on Route 102 towards Ringlet.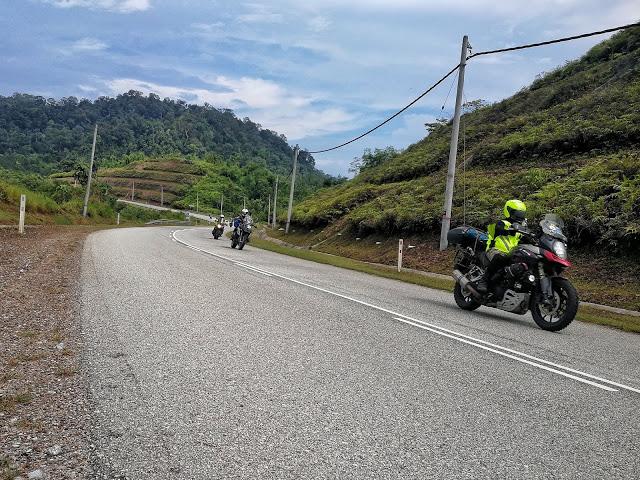 The weather was still cloudy when we make a move to the waypoint and we arrived about 30 minutes later. Route 102 has a few repairs but its wide and fantastic road surface offers a good hip workout for riders taking the long corners but for us with dual purpose tires and heavy load of camping gears with souvenirs, leaning angle are restricted.
Waypoint Betau Bypass
GPS N4.36380 E101.65104
We reduced our tire pressures at the waypoint and started to venture into the logging road. This is the first offroad experience for Cikgu Ikhwan, Alvin and Cusco while this is the first time Khai brought his GS into offroad.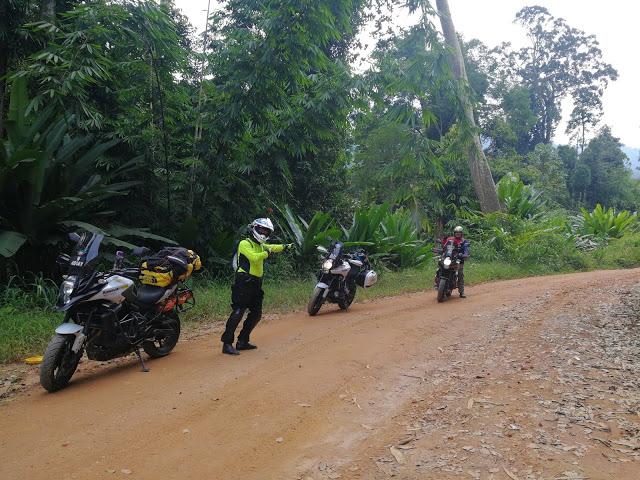 The double trail started with compacted pebble and after the log storage area, it has red laterite surface that could be slippery in wet.
Alvin lost control when he passed one of a mud pools and fell. A few of us helped him to his feet and he gave a thumbs up, a sign that he is good to continue. The 10.4km trail was well managed and one of the deepest mud pool has been cleared prior to our ride and all of us arrived at the raft crossing safely.
I was the first to cross the river on a raft and the river level was slightly higher than my first crossing last year.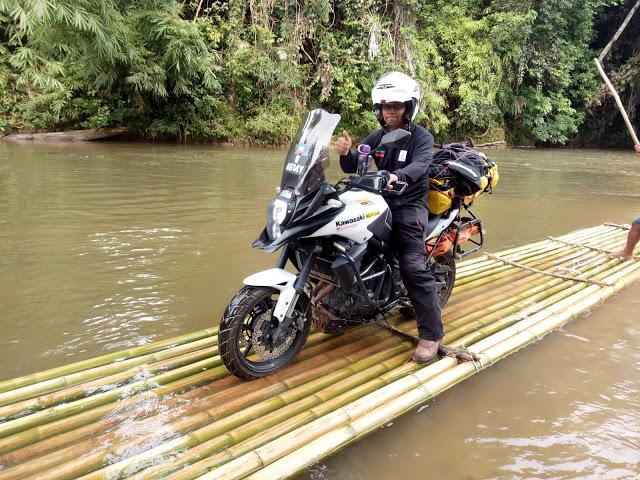 Photo Credit to Ross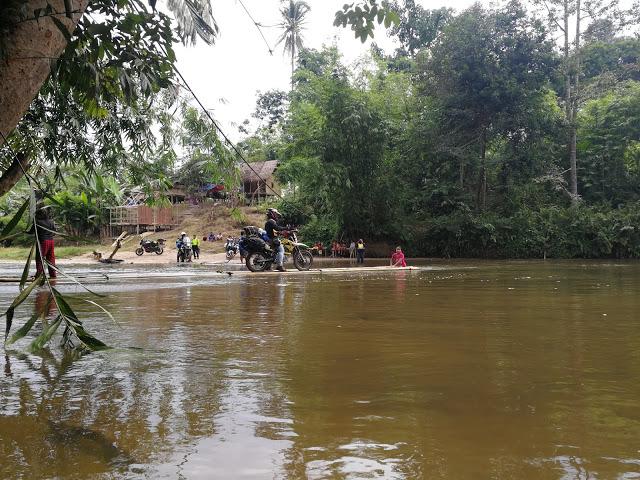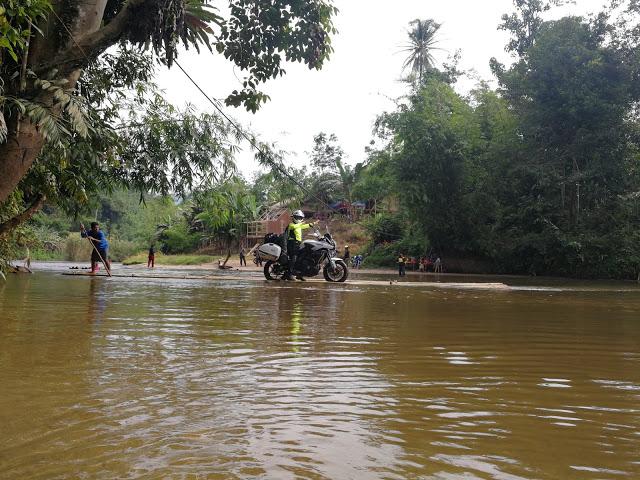 Everyone made it across soon after and our group has attracted the villagers to assemble by the riverside to witness the crossing, as it is not very often they get to see heavy big bikes such as R1200GS and V-Strom 1000 using their mode of transportation. We were told to pay RM10 each for a one way ticket for the raft crossing, quite steep for a 5 minutes cross.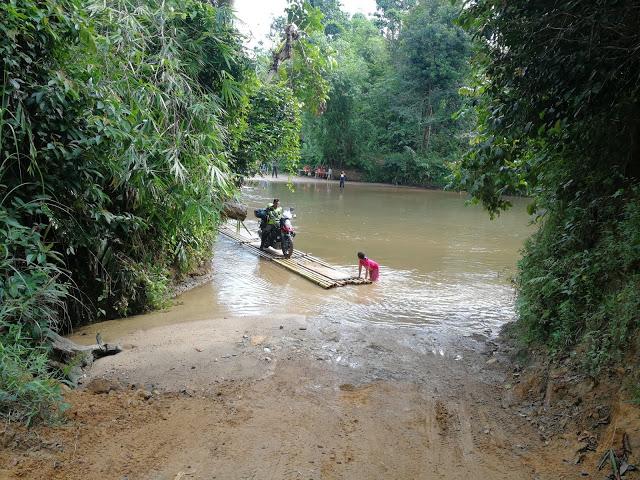 Titom River Crossing
GPS N4.31363 E101.63576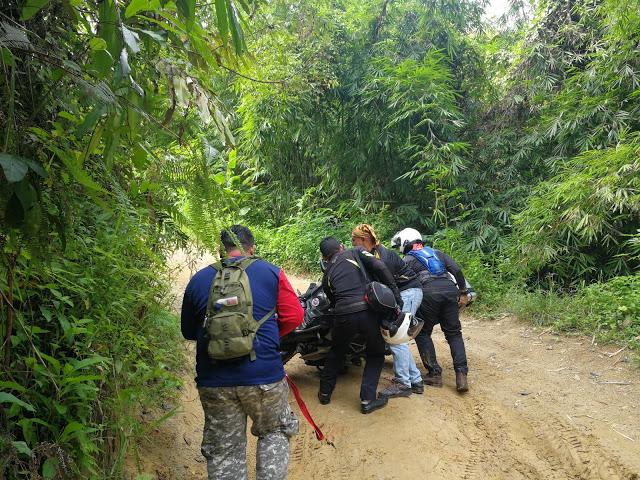 Khai slipped on his way up from the crossing being help to erect his bike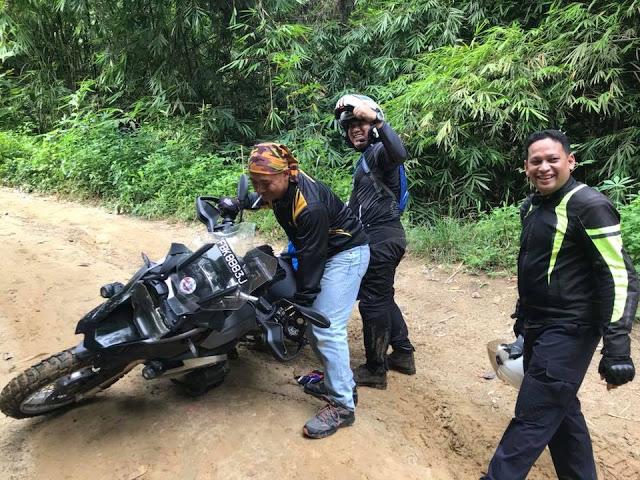 Photo Credit to Cikgu Joe
We took 10 minutes to rest after the cross and continued towards Pos Lenjang. The road surface after the crossing are a mixture of badly broken tarmac, loose pebble and a few mud pools. Several landslide and depression are also presence on the trail.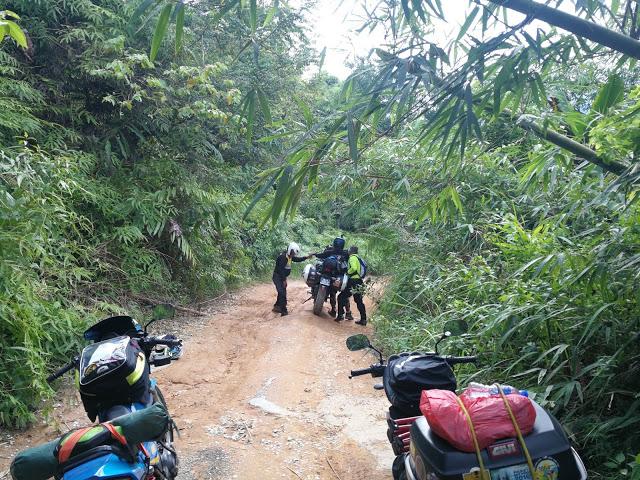 Alvin fell two more times at this section and after the 2nd fall he is already quite shaken to continue. Ejoy came to a rescue and he has offered to ride Alvin's Versys for the rest of the sections so Alvin has continued on Ejoys FZ150, which is lighter and the remaining 7km was easier for him.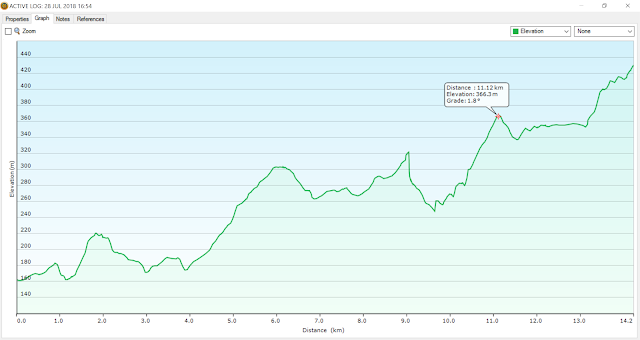 From raft crossing to Pos Lenjang, Elevation vs Distance

When I passed Kampung Rakoh, I couldn't see a suitable campsite and decided to continue to Pos Lenjang. A villager at Pos Lenjang later confirmed that there are no open ground on the side of the river suitable for a campsite there and I've decided to return to Pos Titom.
It was 6.20pm when I arrived and seek Tok Batin Ramli's permission to camp and the local boys are playing football. Cikgu Joe and I later passed some souvenirs for the villagers before we headed back to the campsite to meet the others.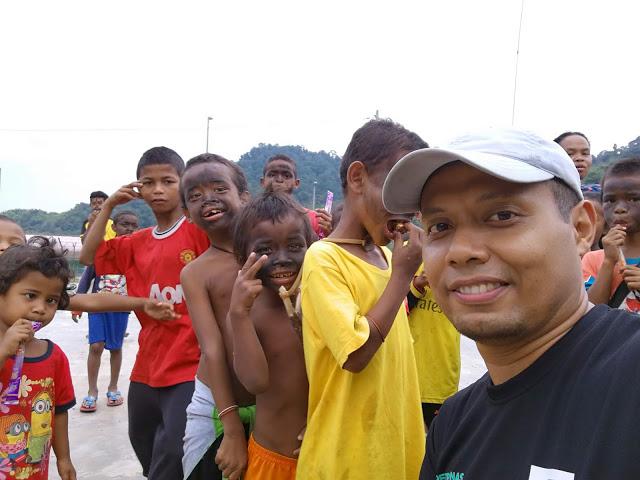 the kids painted their faces black to distinguish opposing side in their football match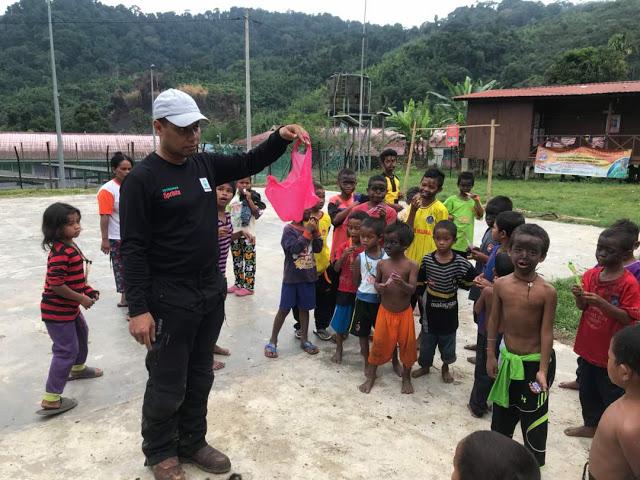 Gone in 60 seconds
Photo Credit to Cikgu Joe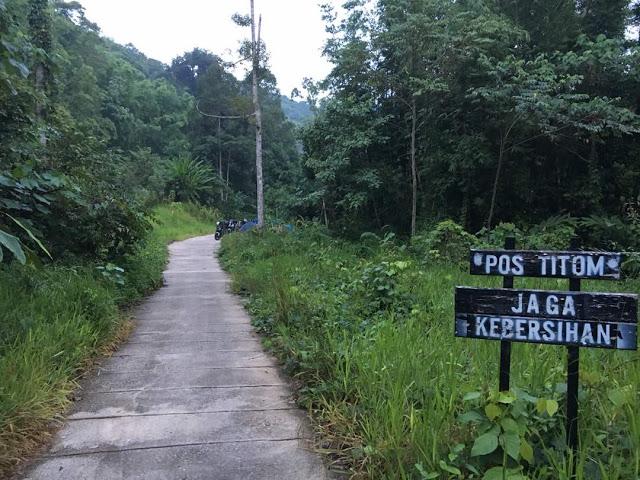 Photo Credit to Alvin
Campsite Pos Titom
GPS N4.28154 E101.51642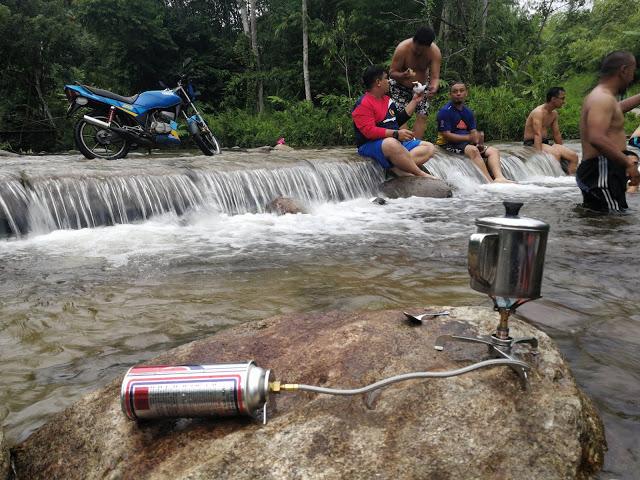 We have finished setting up camps around 7.00pm and went to the river to freshen ourselves. The icy cold crystal clear water is very refreshing and enjoyable. The ambient temperature dropped to around 22°C after sunset and we began preparing dinner.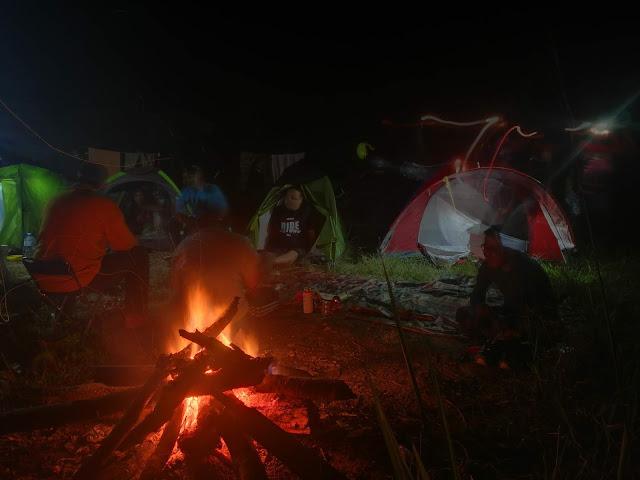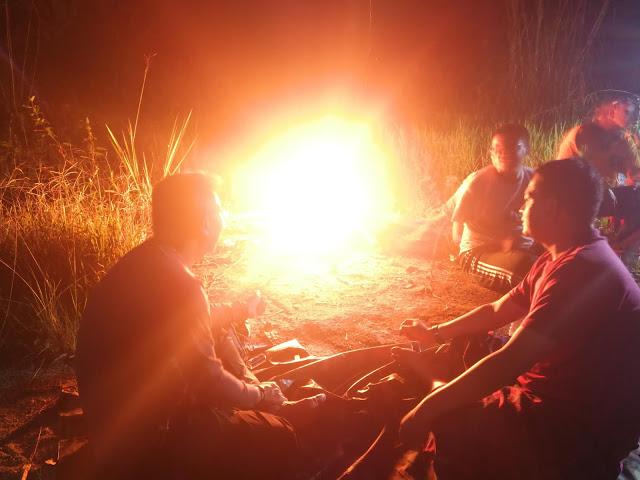 Dinner that night was luxurious as we have marinated meat barbeque, burger slice, sausages, durian and ready-packed Brahim meal with white rice.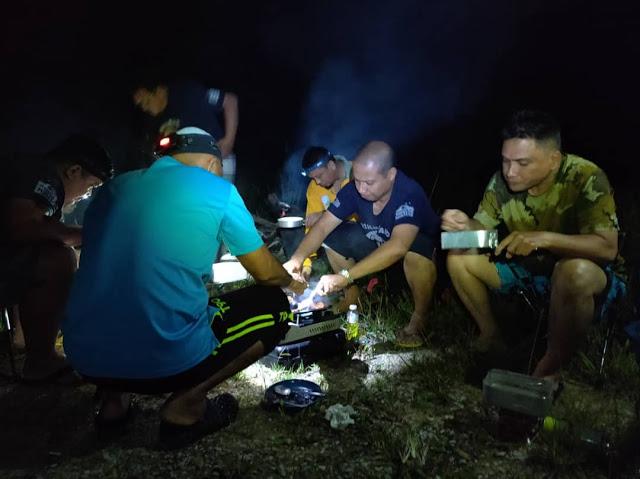 Marinated meat by Cikgu Joe being barbequed by me
Photo Credit to Ejoy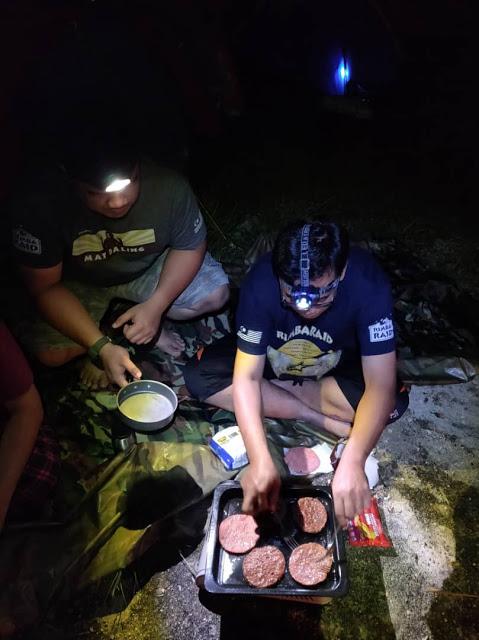 Hashim preparing burger slice
Photo Credit to Ejoy
Hasril also has prepared coffee and we chatted by the campfire throughout the night. By 10pm I have called it a day and retrieved to my tent while the rest of the riders are still chatting among themselves.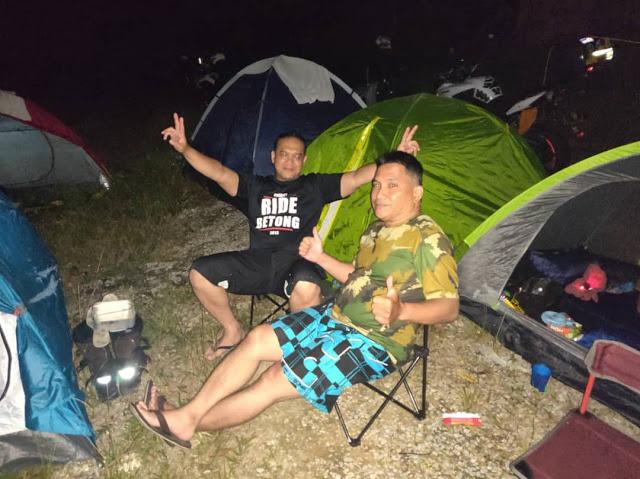 Ross & Khai
Photo Credit to Ejoy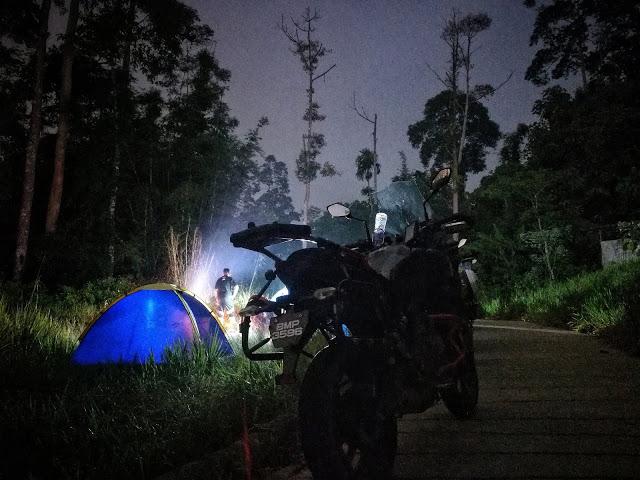 The temperature continues to drop throughout the night and I was awakened in the middle of the night and went looking for a blanket to warm up.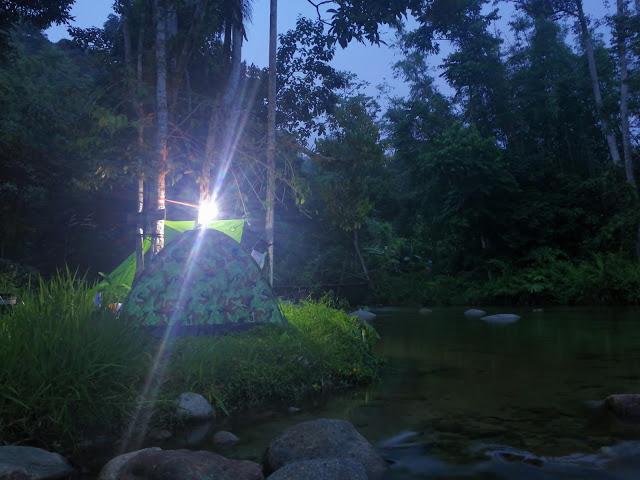 It was a cold morning and surrounding treetops were covered in mist. Everyone prepared their own breakfast and I have instant noodles with sausages.
Photo Credit to Alvin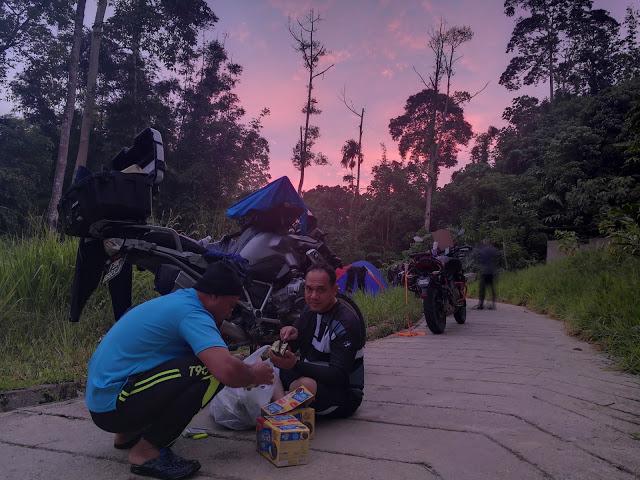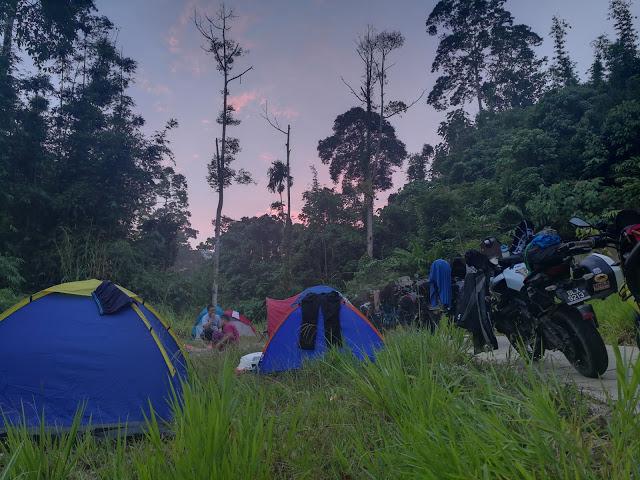 We went to the river for bathing and snap a couple more photos before packing up our equipment.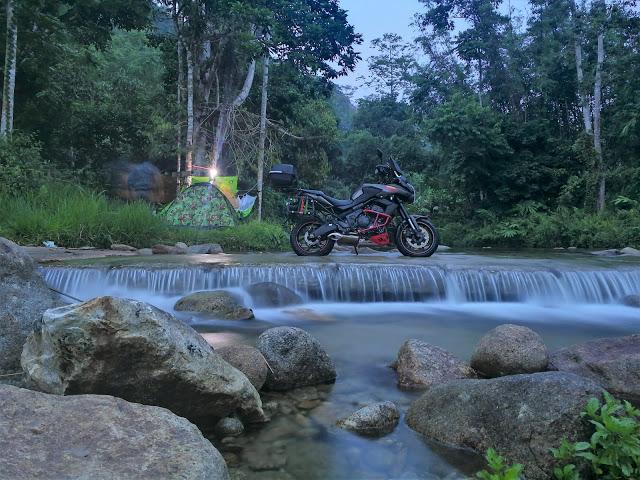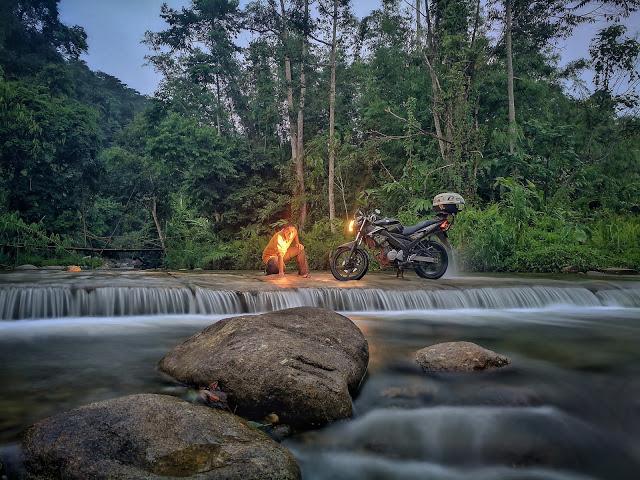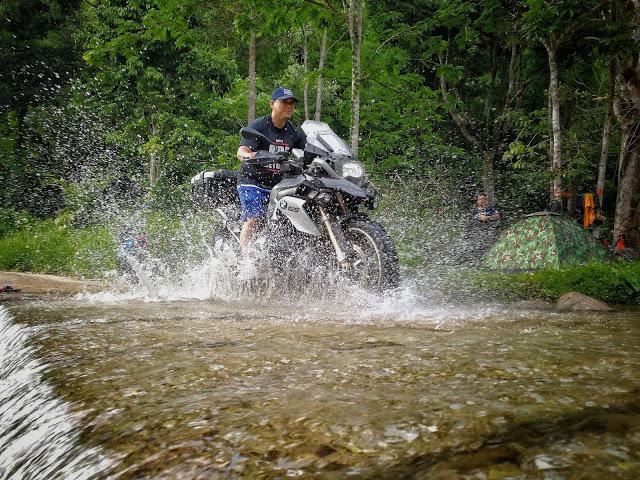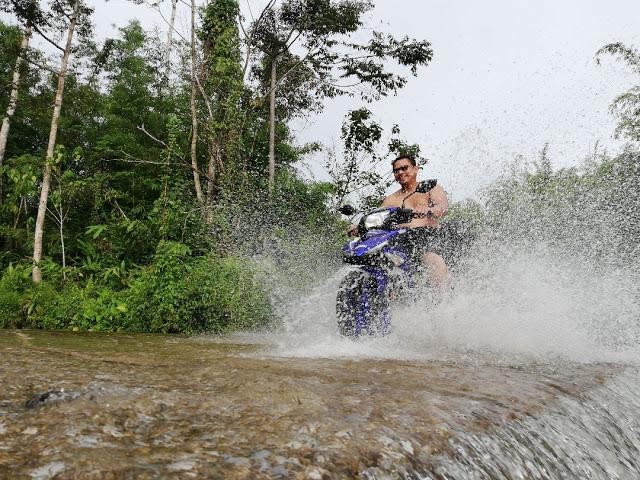 Photo Credit to Jezz
[bcolor=rgb(255, 255, 255)]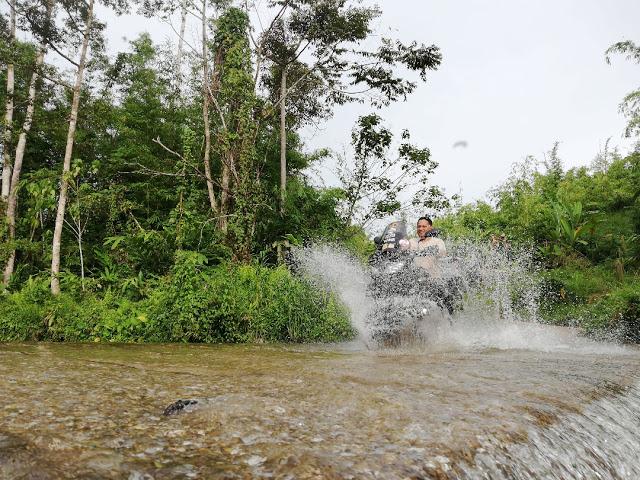 [/bcolor]
Photo Credit to Jezz
We clean and pack our garbage so that the area will not be infested by disease bearing animals, such as rats. By 10am, everyone was ready for a group photo on the river crossing.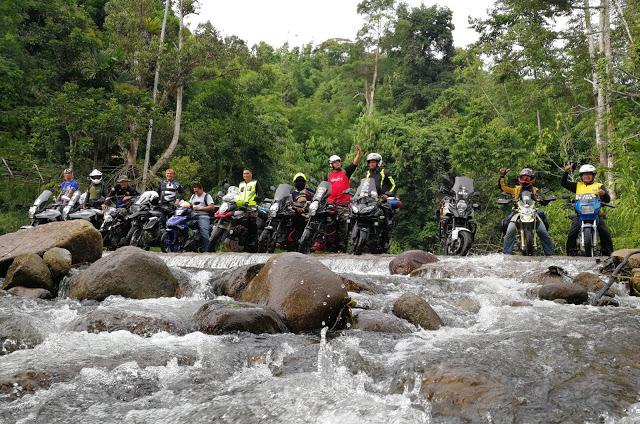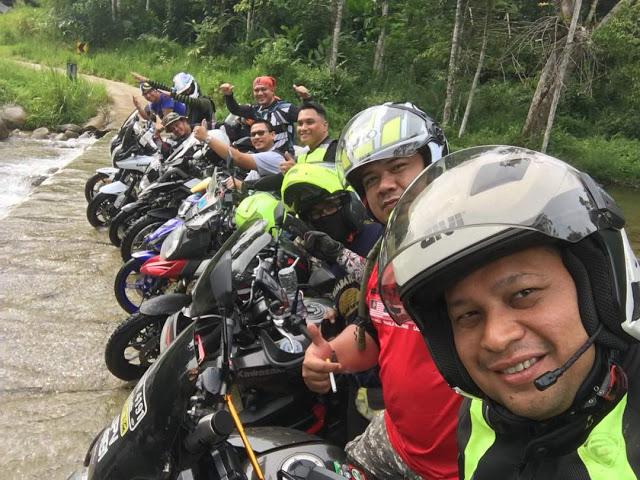 Photo Credit to Cikgu Ikhwan
We went to the village right afterwards to pass souvenirs for the villagers. The children are really happy to receive sweet and chocolates while Alvin passed some color pencil to the kids.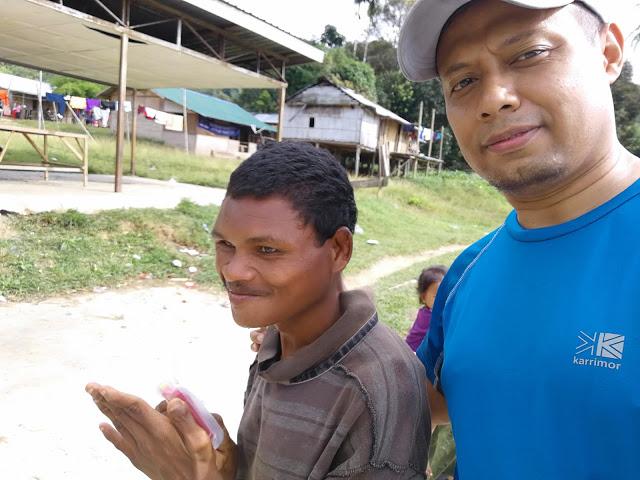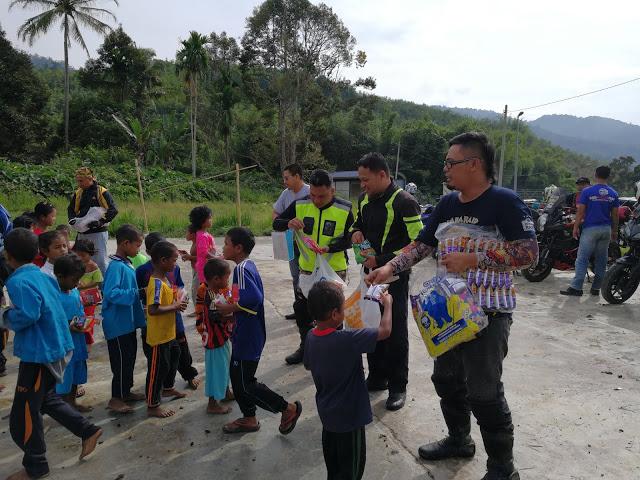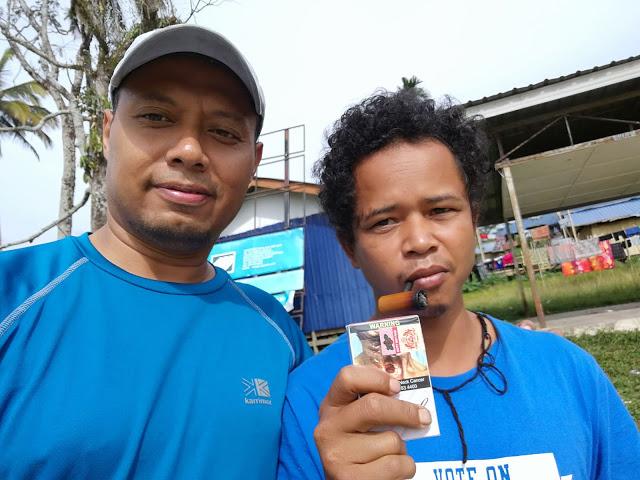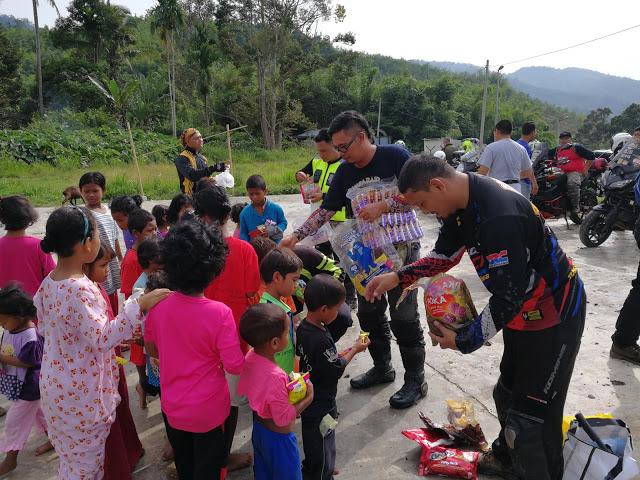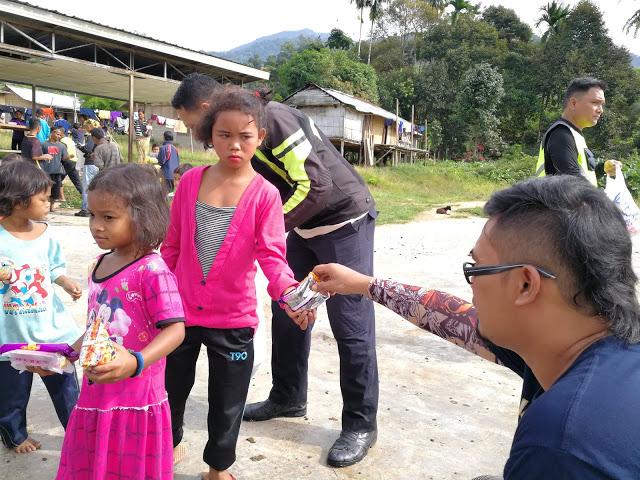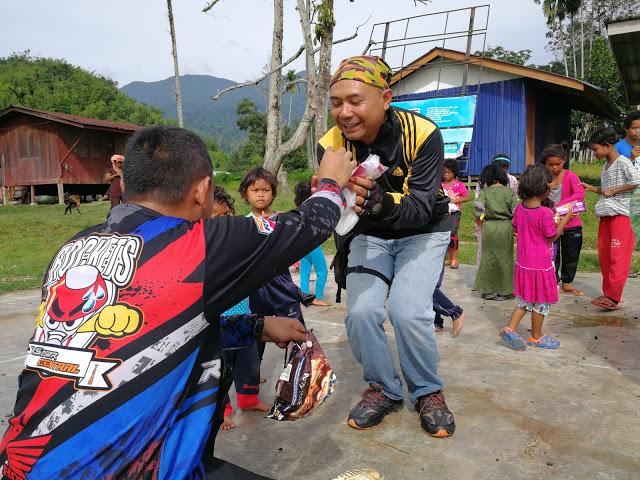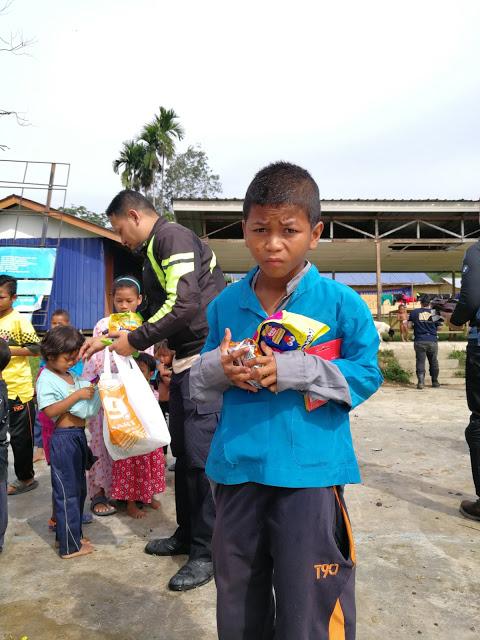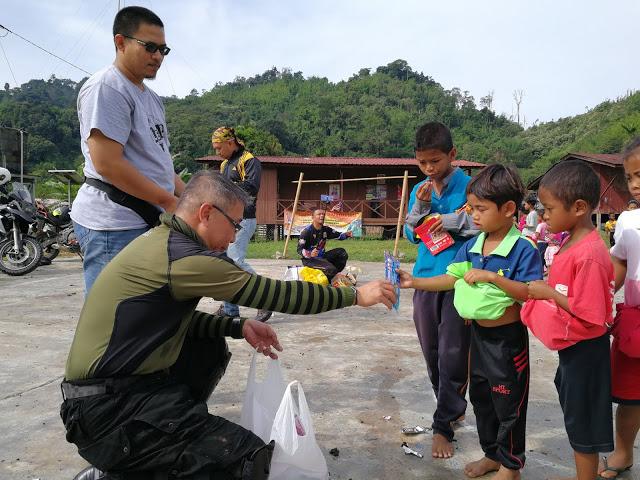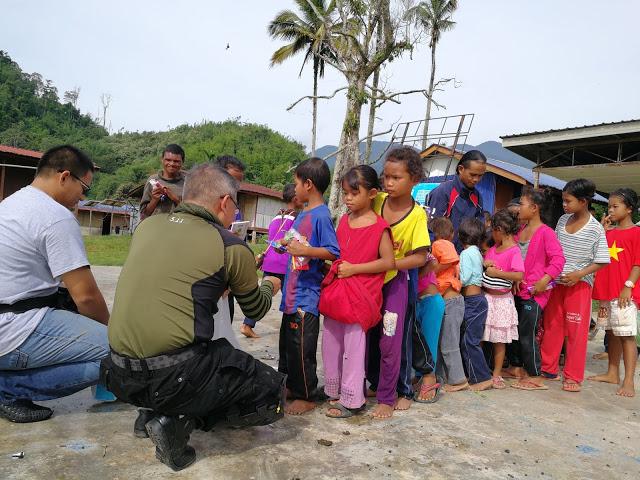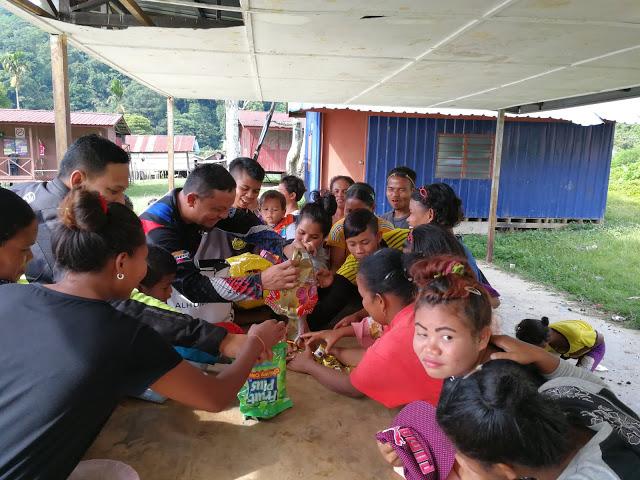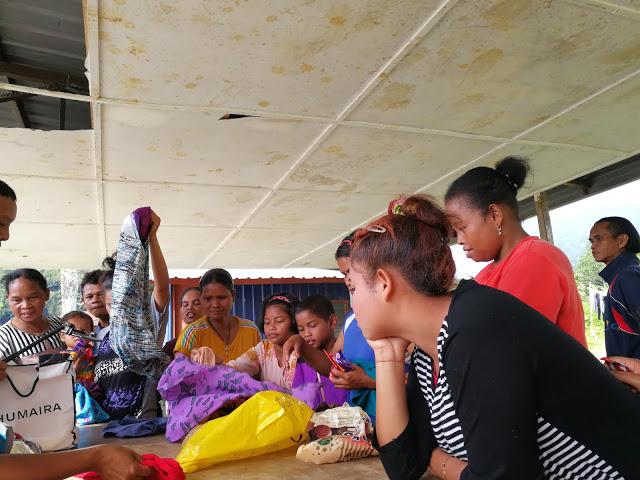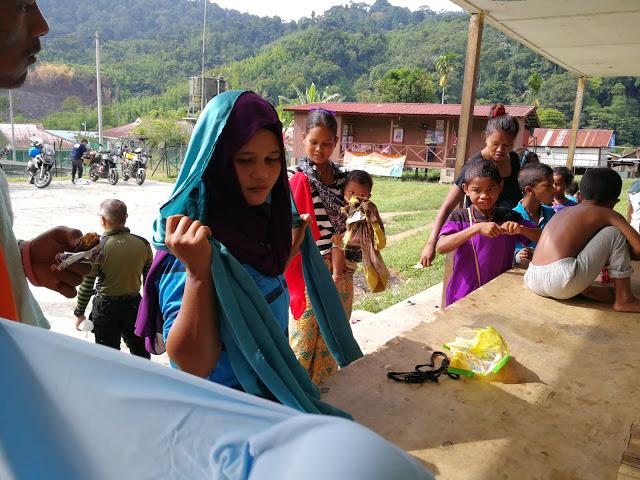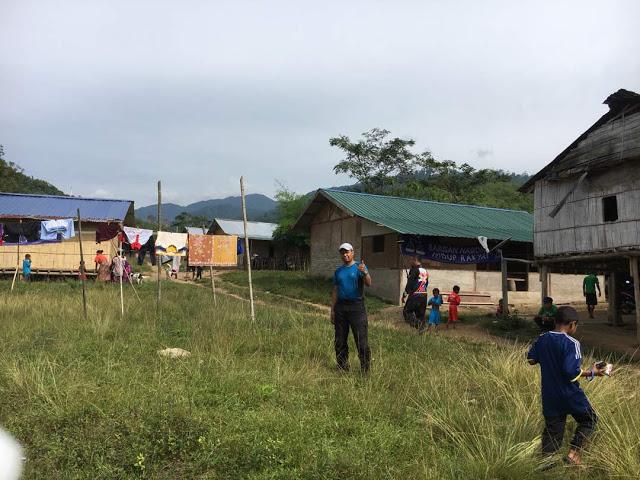 Photo Credit to Alvin
[bcolor=rgb(255, 255, 255)]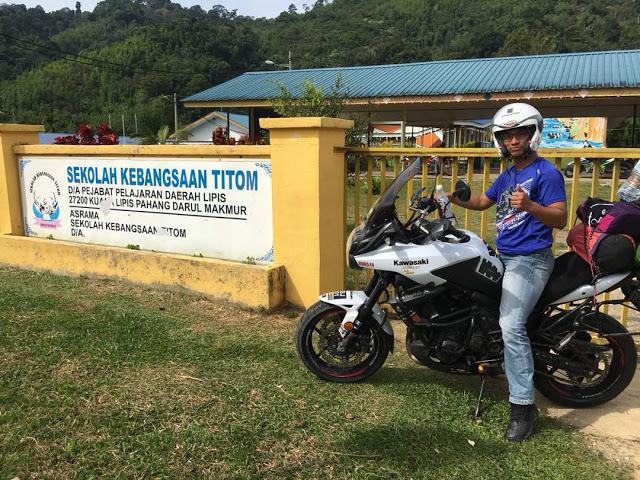 [/bcolor]
Photo Credit to Cikgu Ikhwan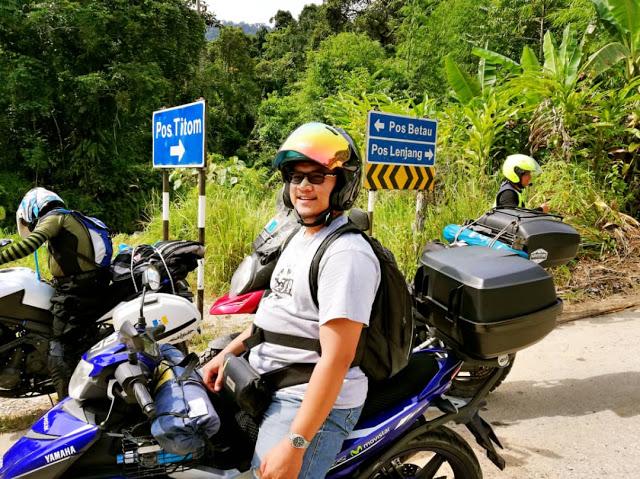 Cusco's first adventure into a jungle
Photo Credit to Jezz
Afterwards we went back to the raft crossing through the same trail as yesterday.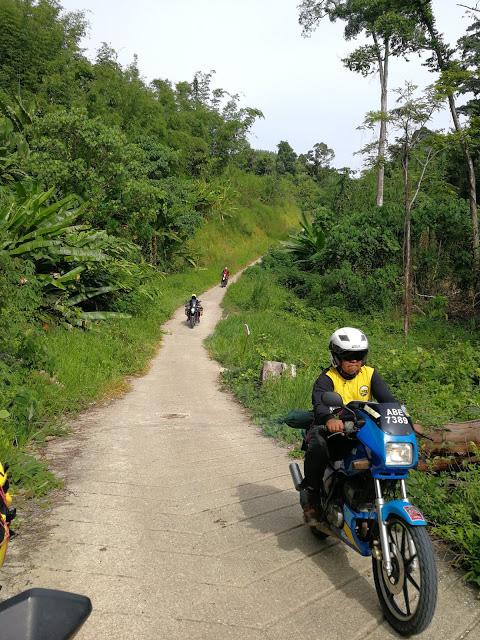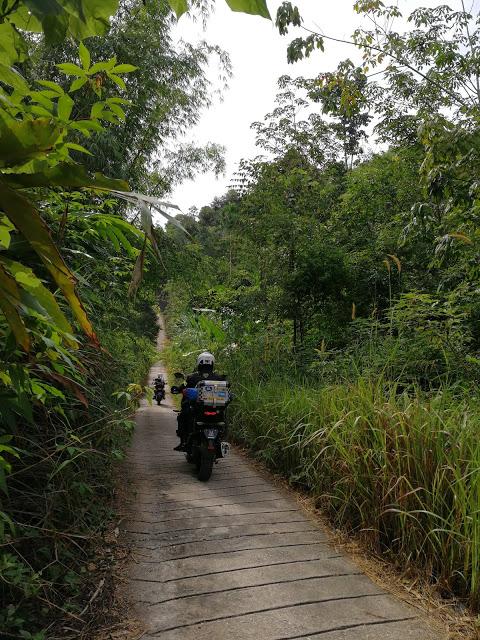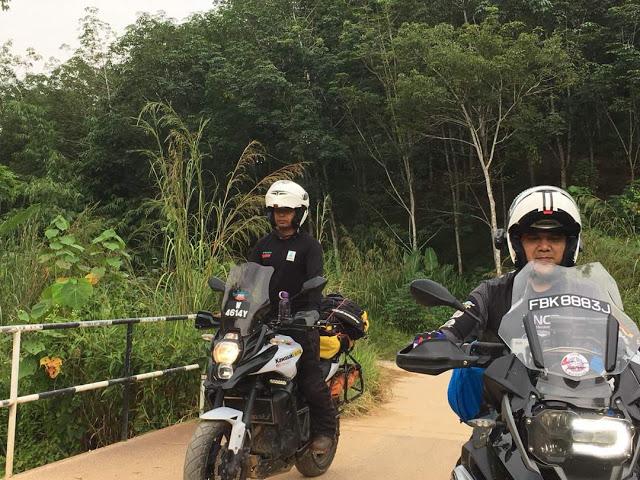 Photo Credit to Alvin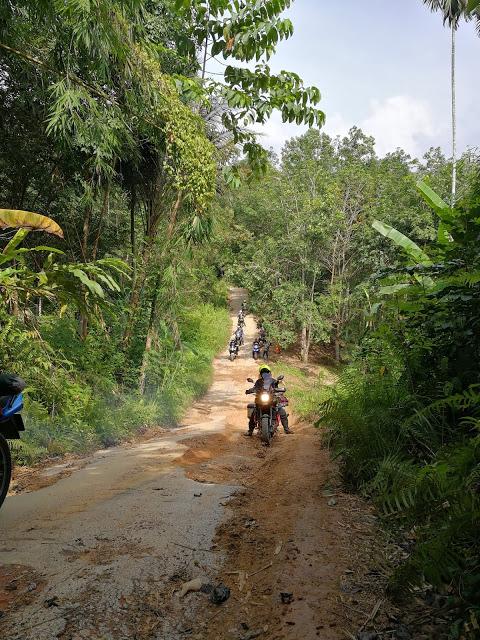 Photo Credit to Ejoy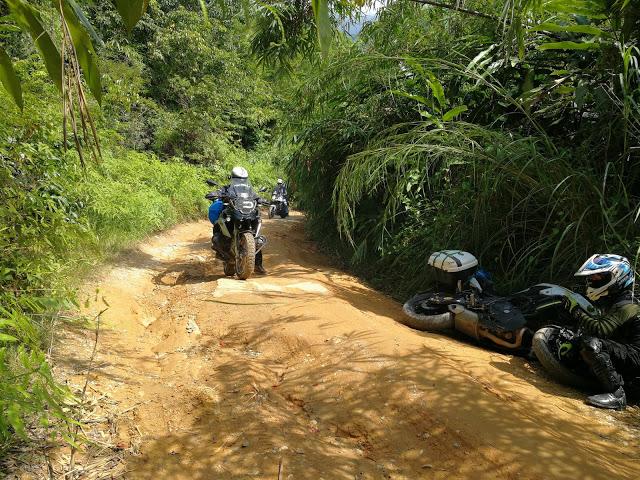 Alvin rode his bike out and fell twice at the same spots as yesterday but was in high spirit to complete the rest of the sections.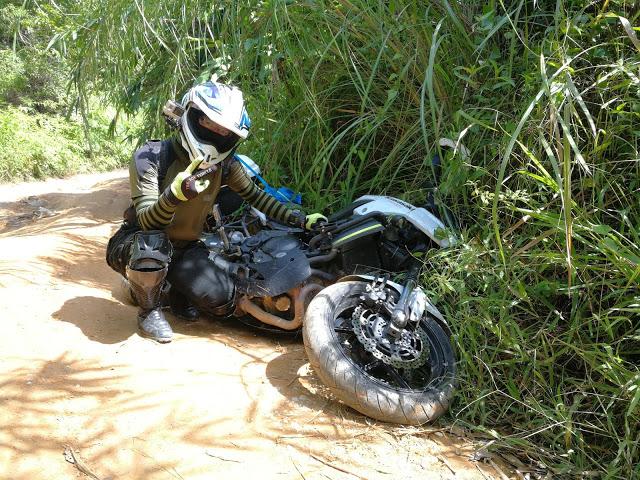 We arrived at the crossing around 11.33am and took some time to rest before boarding the raft.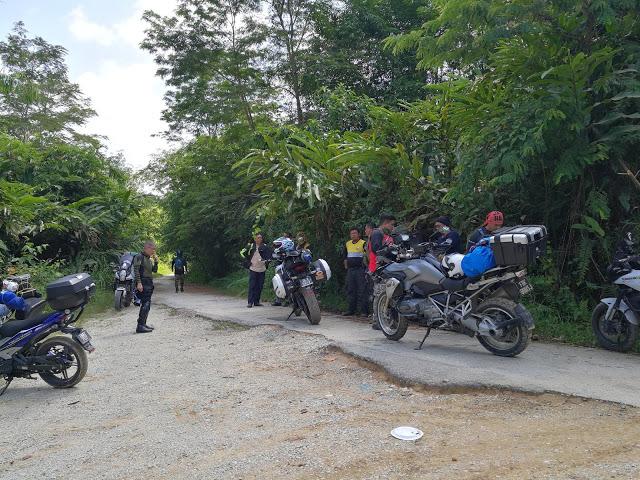 Ejoy found a passable route across the river with depth to 0.5m and crossed the river by himself while the rest of us boarded the raft to cross.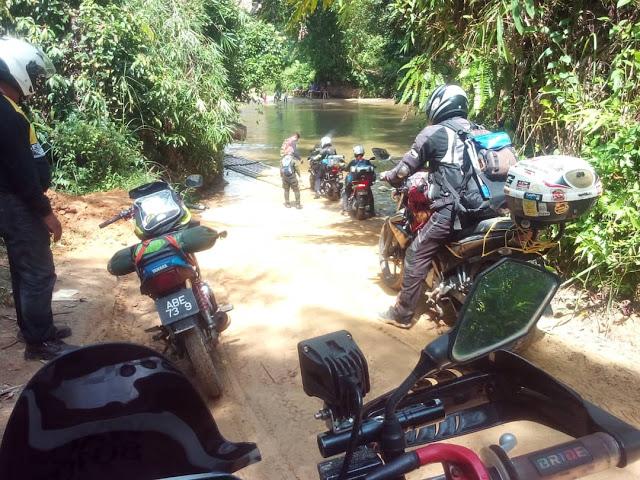 Photo Credit to Hasril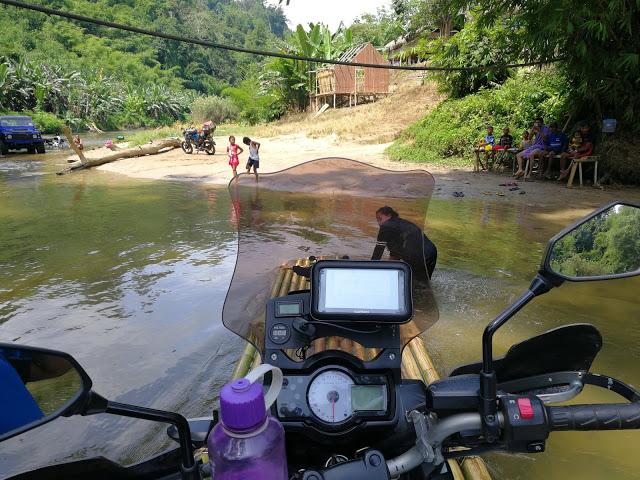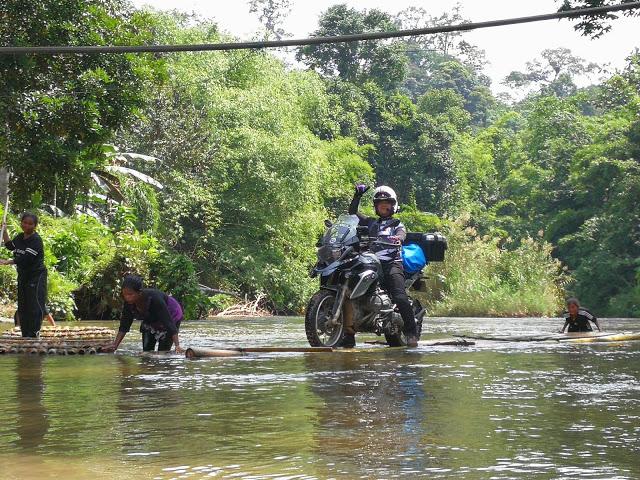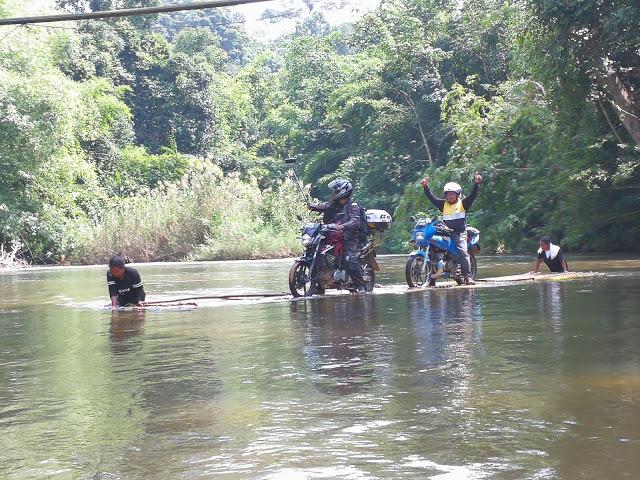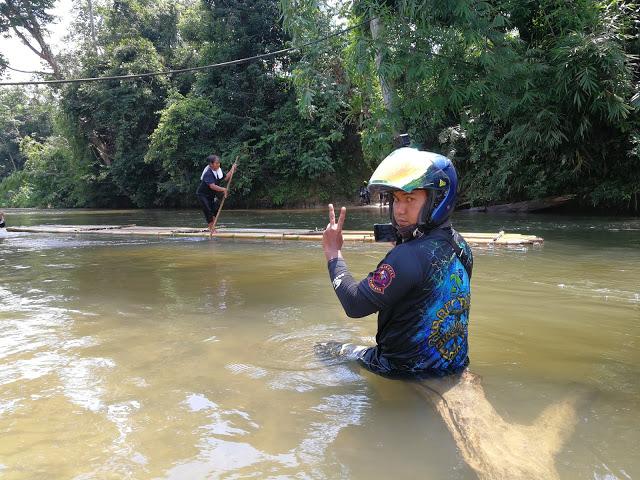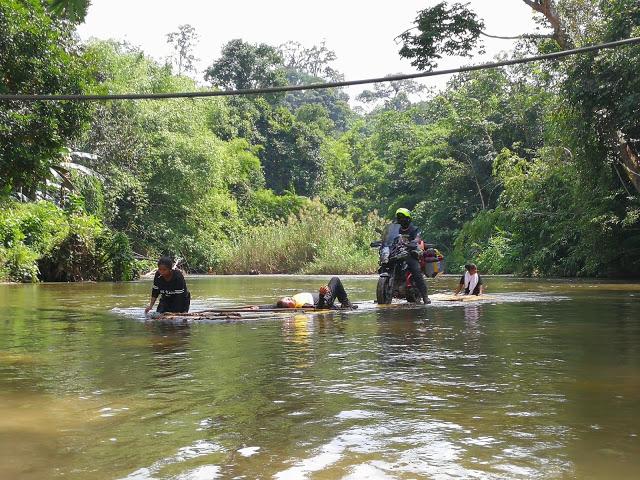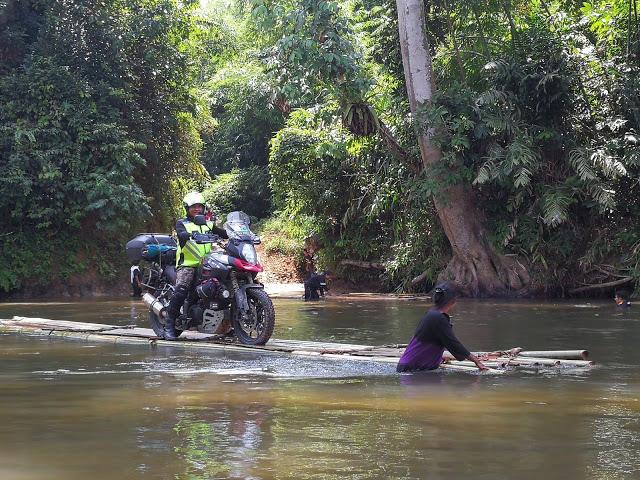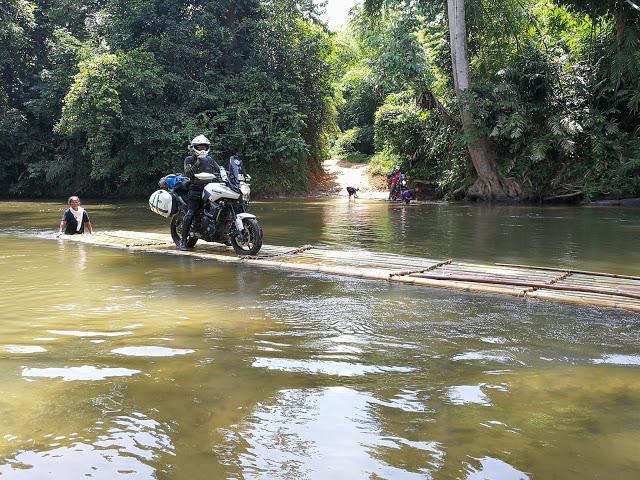 We continued along the logging trail towards Route 102 and it was noticeably drier than yesterday. Alvin fell at the same spot again.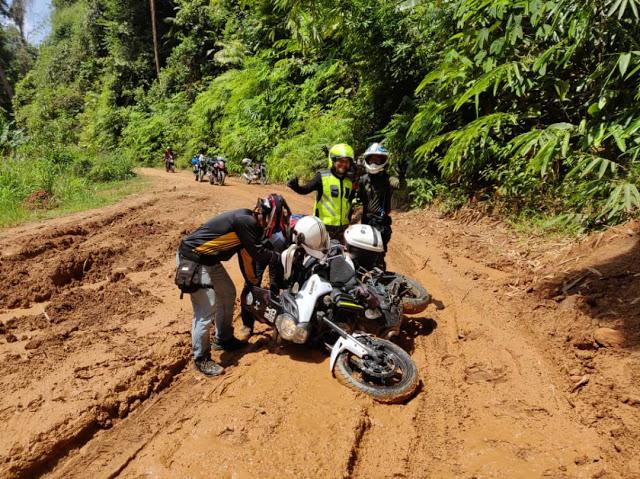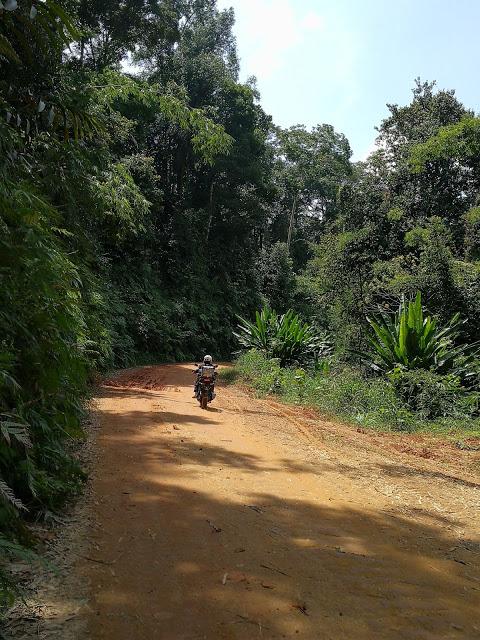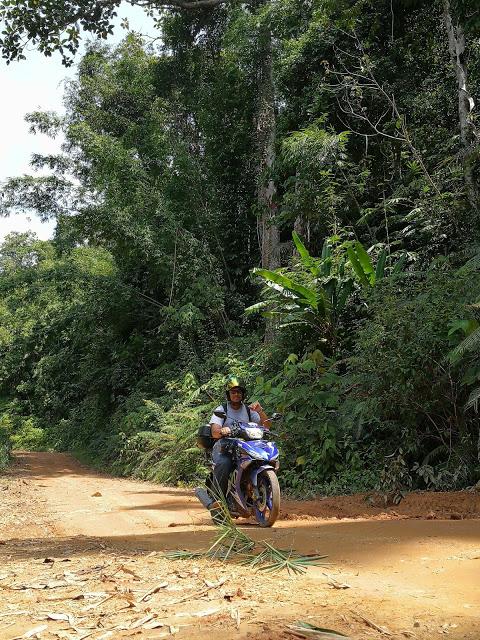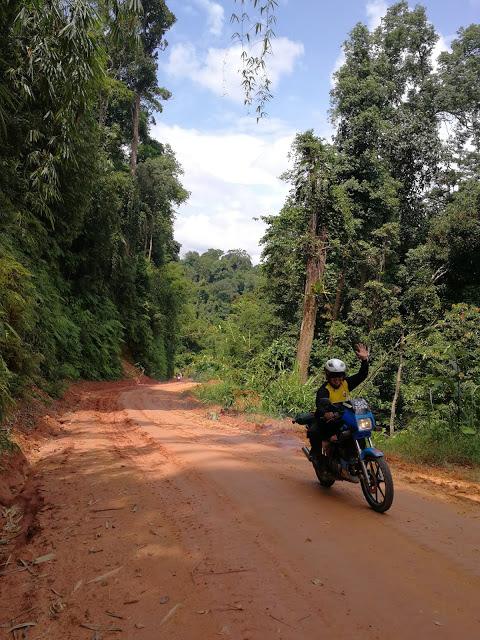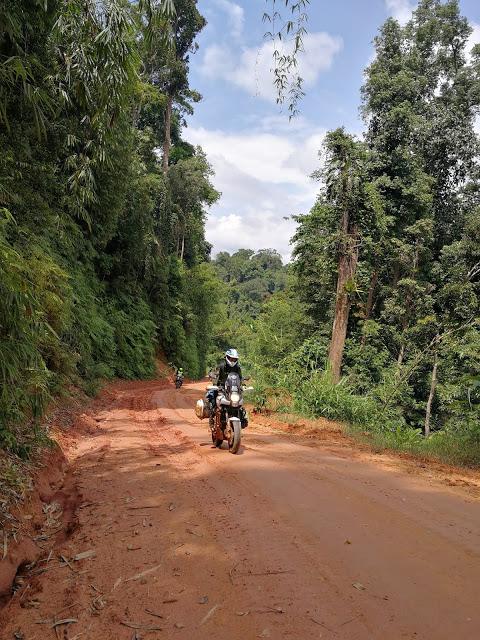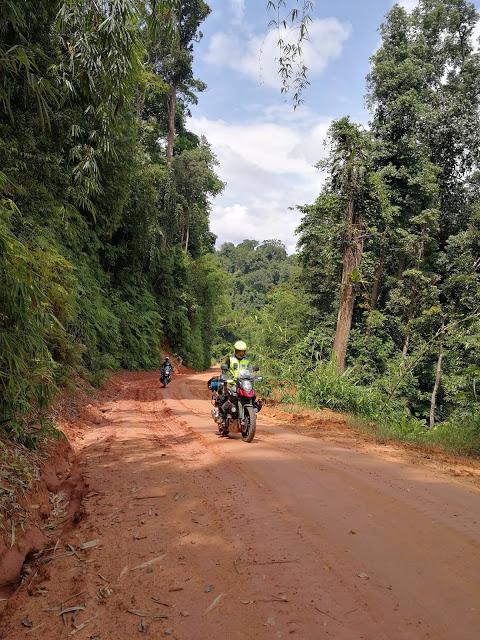 There was also a bulldozer clearing some wet spots. At the last section of the trail, we were blocked by a lori hantu carrying loads of log and we have to wait until it turned to an intersection before we are cleared to pass. We have regrouped at the waypoint to drink and rest.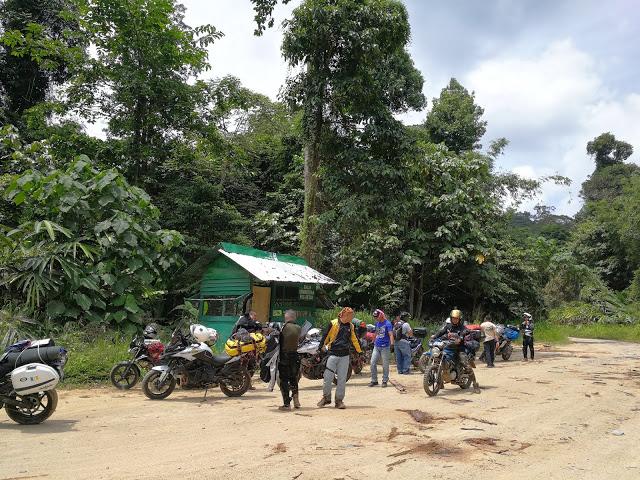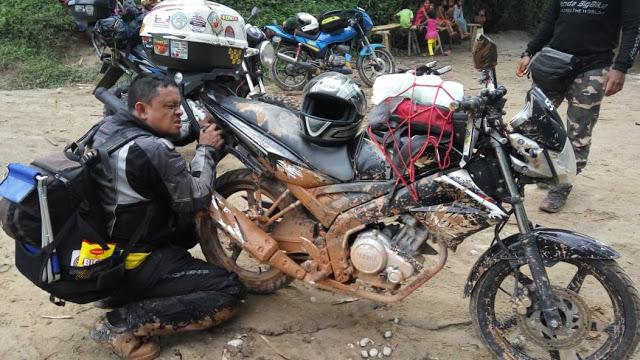 Photo Credit to Cusco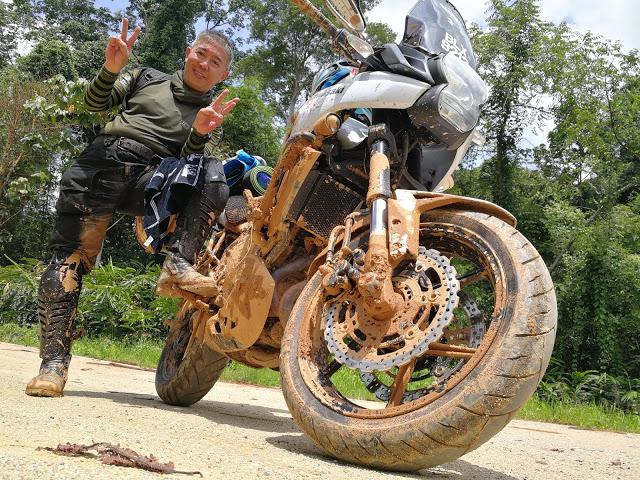 Alvin has done it!
Everyone cleared the offroad section without any injury or damage except for Ejoy that has a damaged ECU unit. Lucky he brought a spare and we continue towards Ringlet via Route 102 in hot and dry weather.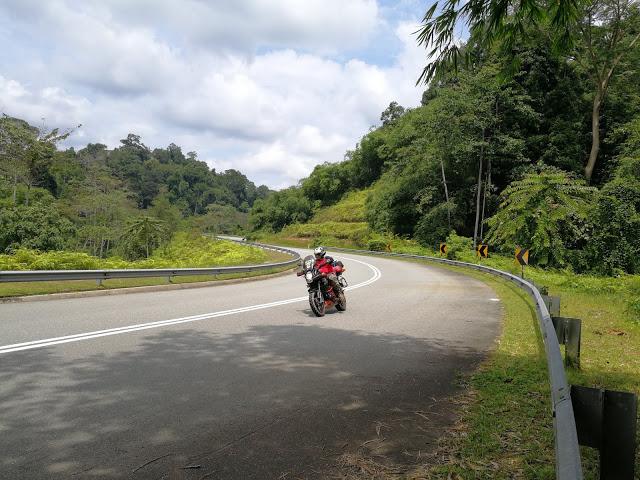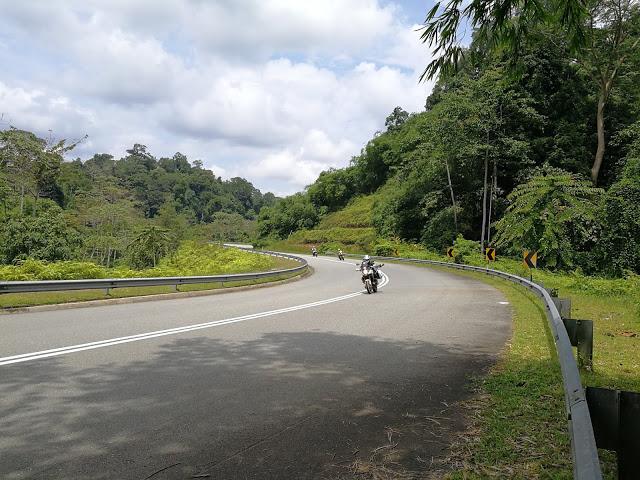 It turn cloudy and grizzly just before Ringlet and we stopped at Shell Ringlet for fuel and refill our tire pressures.
The original plan was to have lunch at Tapah but since it was late and everyone is hungry, we have lunch at the nearby Ringlet food court.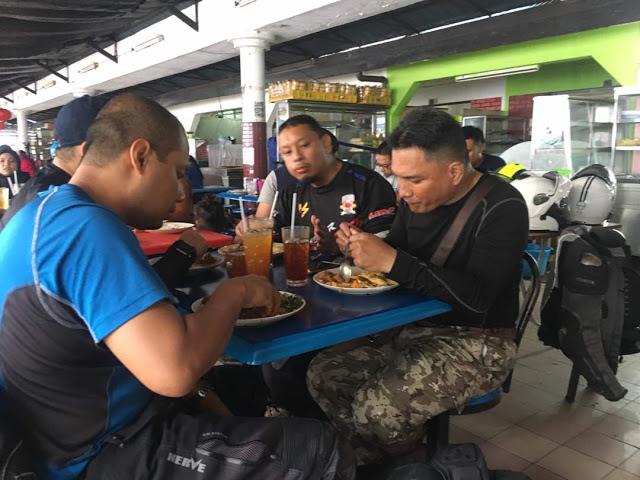 Photo Credit to Ejoy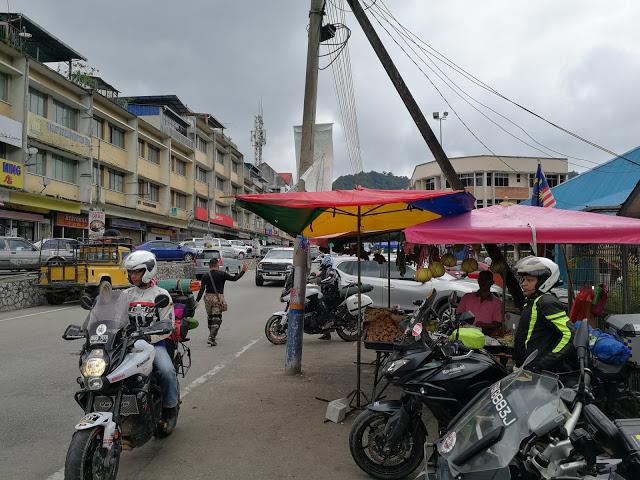 We said goodbye to each other here as Cikgu Jasni with Cikgu Joe will head north while the rest of us will head south after Tapah.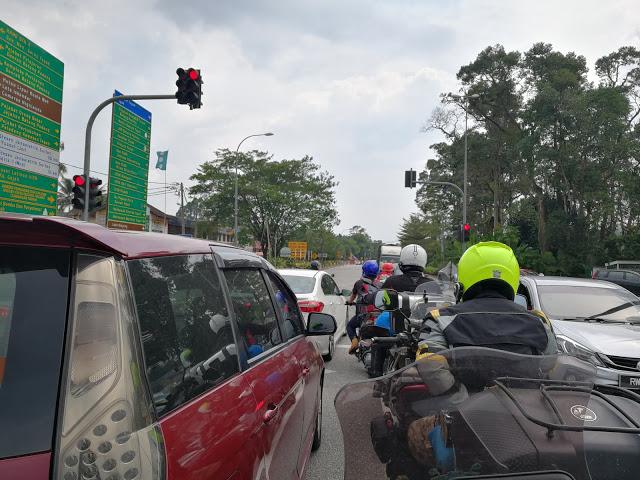 It was raining heavily just after Behrang and it was dark & wet when some of us stopped at Ulu Bernam R&R.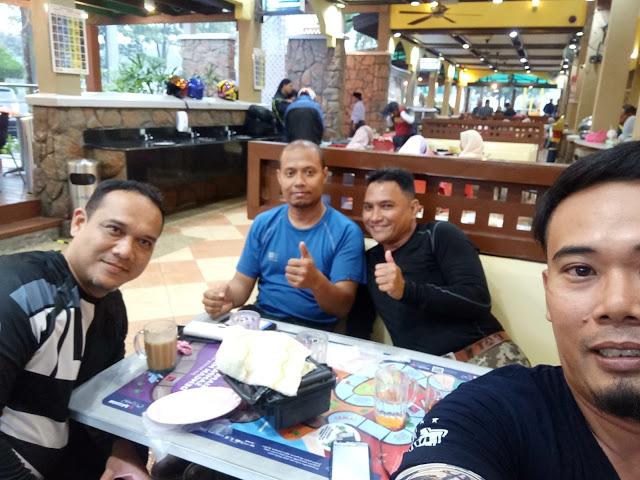 Photo Credit to Ross/Hashim
I made a move around 6pm and arrived home about 30 minutes later in wet & cold.
***************Originally posted on myridinguniverse.blogspot.com**************************************************************