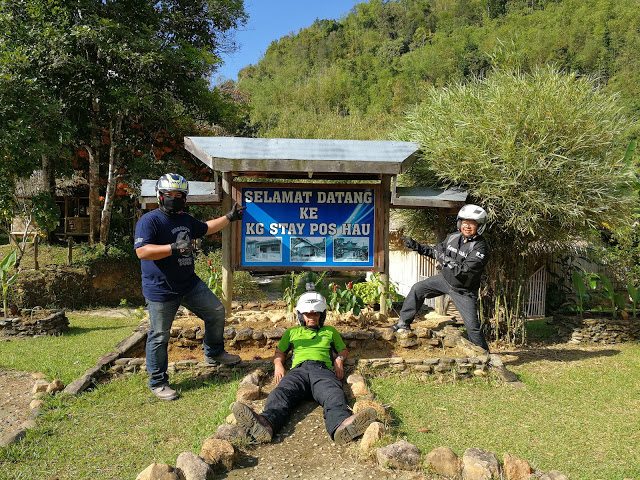 This is my second offroad adventures to Gua Musang after
the adventure in 2015
. Honestly, I am still having a mild phobia to venture into the tracks of Kuala Betis, as I recalled the bad and muddy trail condition during the monsoon season. However knowing that we are riding into it during a dry season, it would be a different game altogether this time.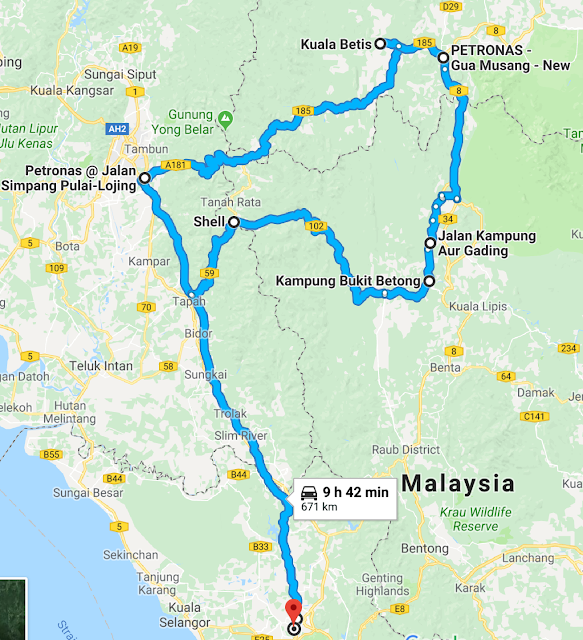 The information regarding this settlement is coming from Yayasan Al-Khalifah, which has visited the place with IIUM undergraduates volunteers about 4 months ago and reported the trail is passable on our motorcycles (light offroad). So the plan is to ride to Kuala Betis from Simpang Pulai and coming back through the inner road of Aur Gading, Kampung Bukit Betong, Sungai Koyan and Ringlet. Joining me in this ride are Hashim & Ejoy from Klang Valley and Cikgu Joe Min with Cikgu Jasni from Central Perak.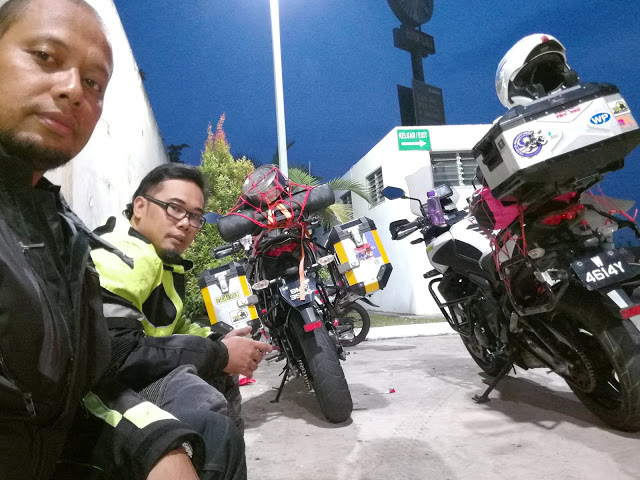 I departed from home around 6.40am on Saturday morning and the weather was hazy but clear with ambient temperature around 28°C. I have met Hashim at R&R Rawang around 7.00am and we departed shortly after. Ejoy was already waiting for us at our second rendezvous point in Petronas jalan Simpang Pulai – Lojing.
The E2 north-south highway heading to north that morning was still shrouded by fog when we passed through Tanjung Malim and Behrang. The fog soon clears as the sun rises and by the time we crosses Slim River it was clear but the sky was still cloudy with a slight overcast. The traffic heading north was plenty but still smooth and the highway surface was excellent.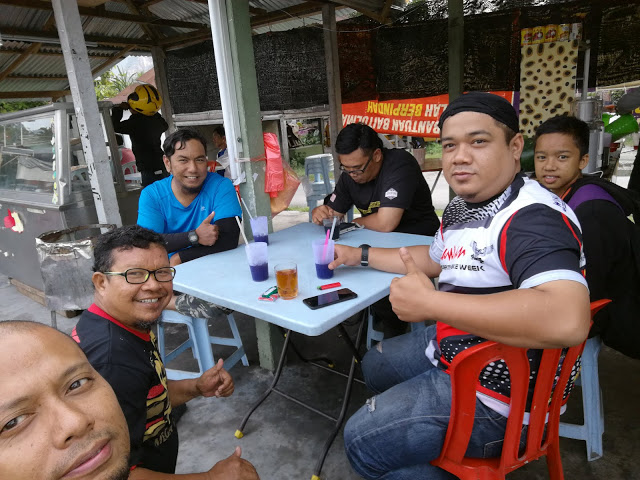 We arrived at our second rendezvous point around 8.40am and Ejoy and Cikgu Joe Min was already there while Cikgu Jasni arrived shortly after with his son Muhamad. We had drinks at a nearby stall and after a short chuckles we continued riding towards Lojing around 9.20am.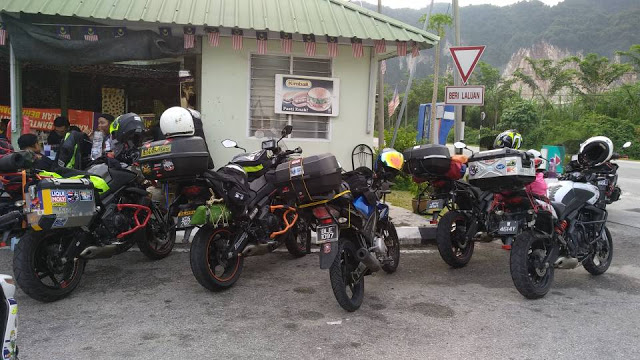 Photo Credit to Ejoy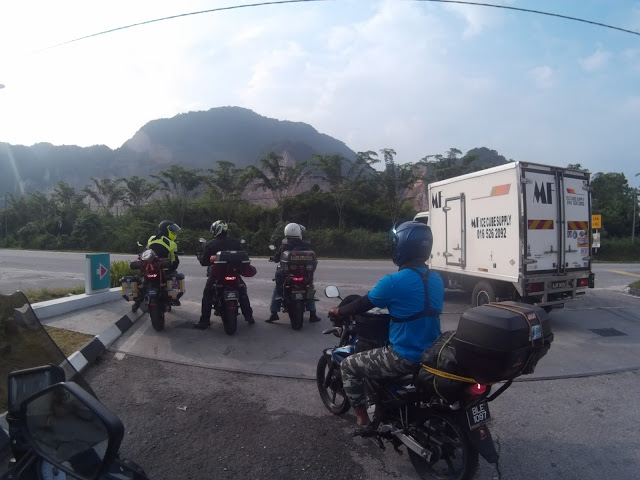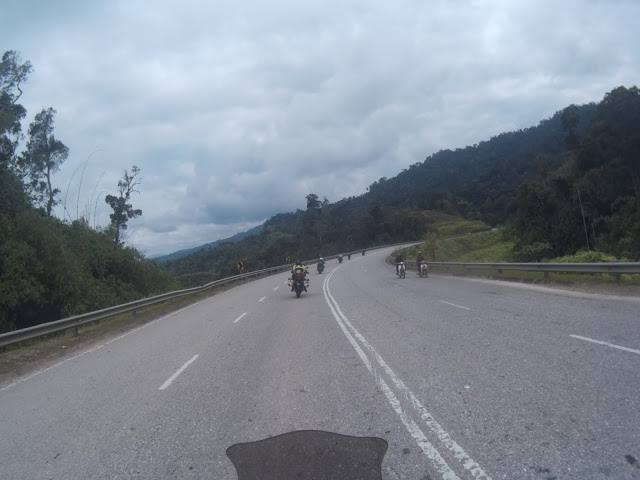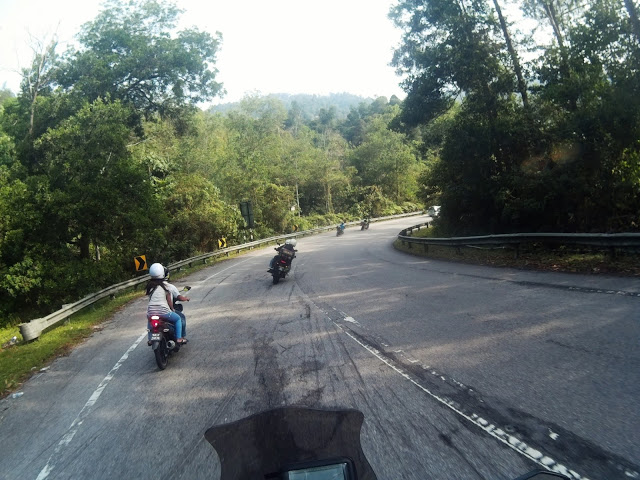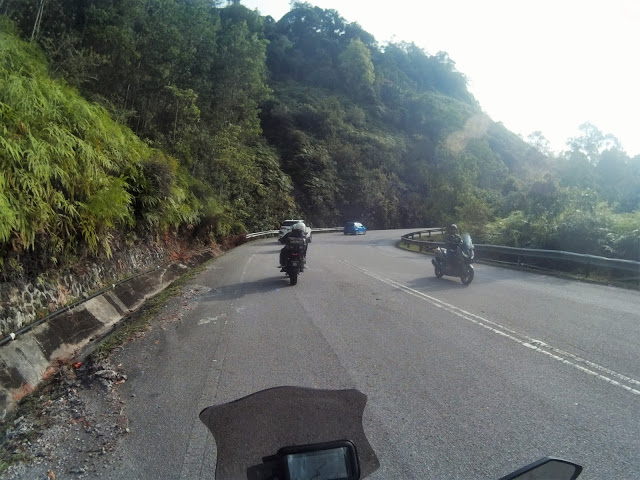 We made another stop at a scenic spot along Route 185 for pictures and we've met with Mr. Jauhari riding an orange Versys.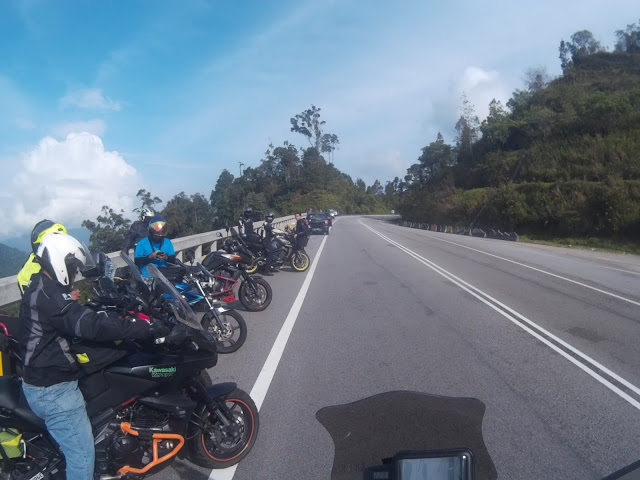 Route A185 (Perak) Scenic Spot
GPS 4.590607, 101.344049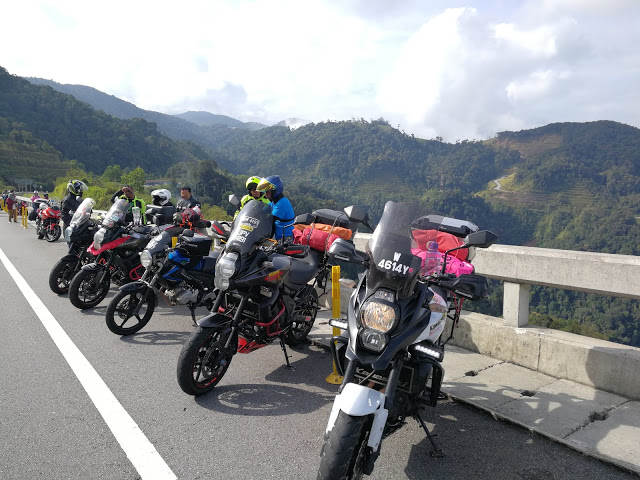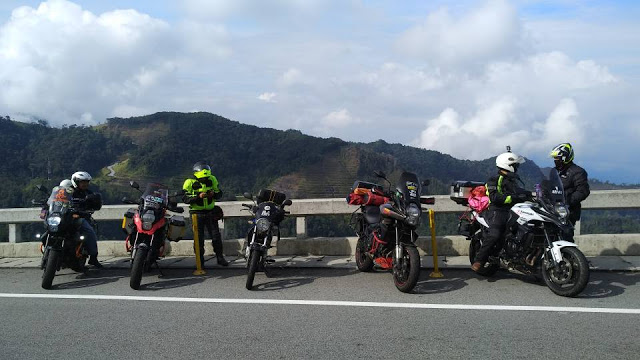 Photo Credit to Ejoy
We then continued towards Lojing with Jauhari whom had decided to follow us to Gua Musang. The ambient temperature dropped as we climbed up to Blue Valley with elevation around 1000m and I could feel the cold air gushing into my jacket despite the sun was shining brightly.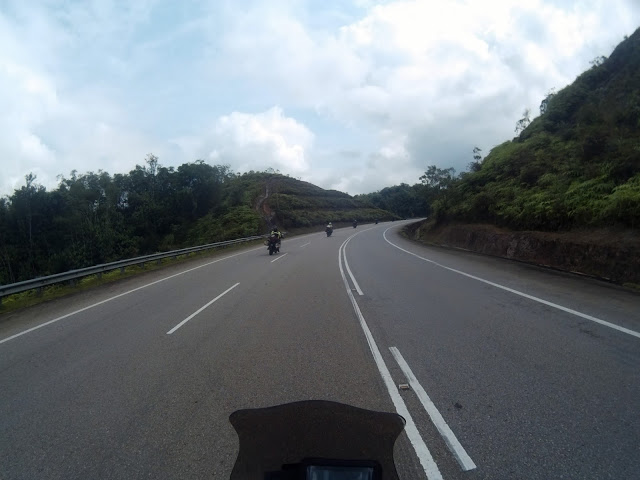 As we crossed into Kelantan state border, the road condition deteriorates and view of the 'naked' hilltops around Lojing area made me sad. We stopped again just before Kuala Betis for more pictures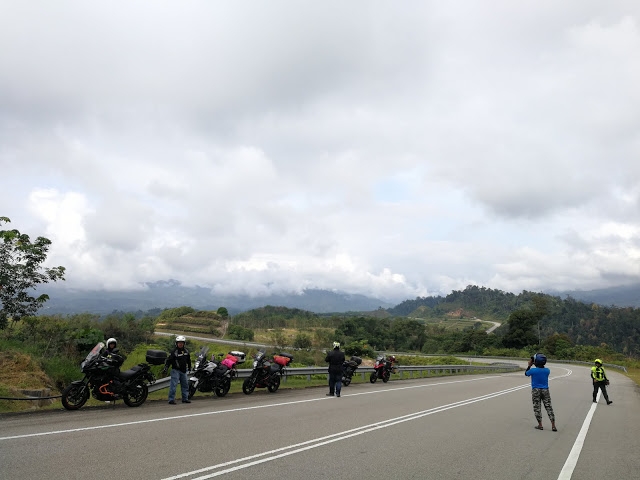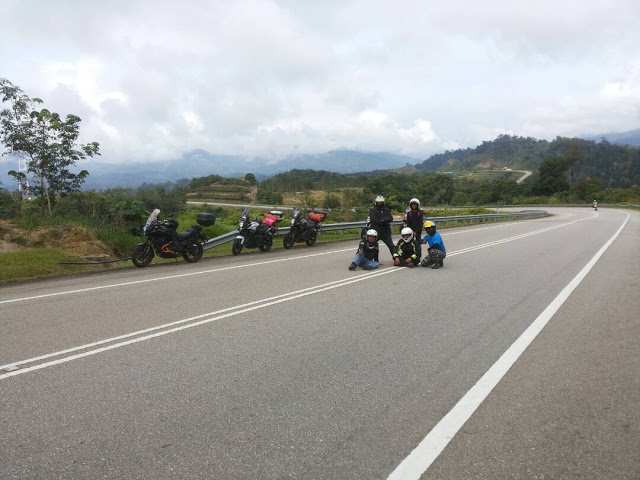 Photo Credit to Hashim Omar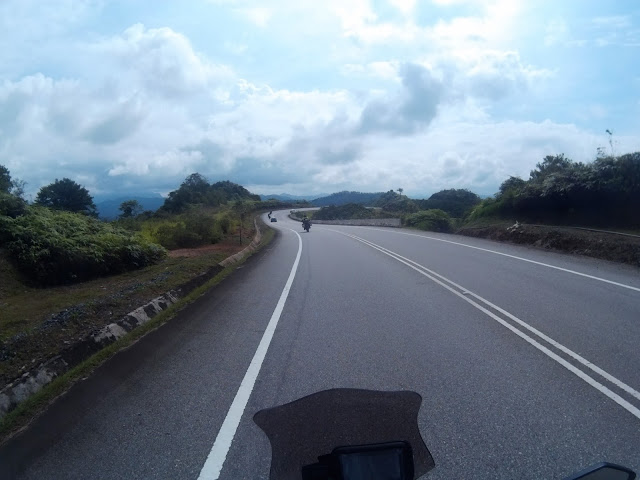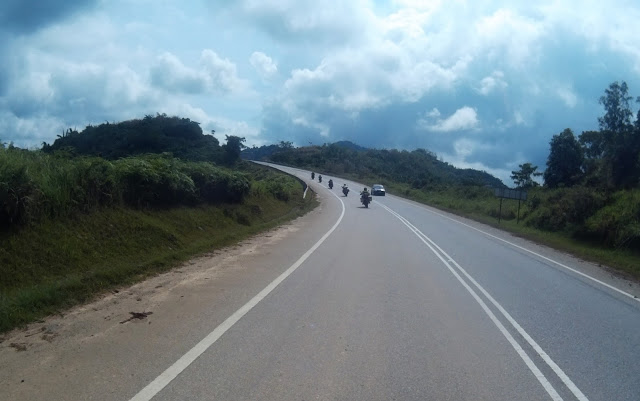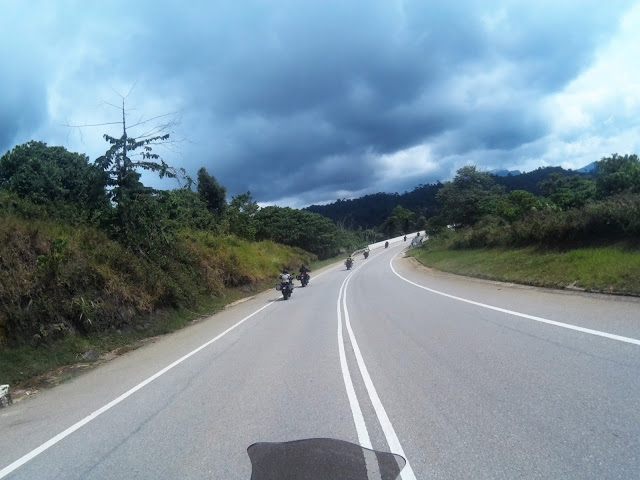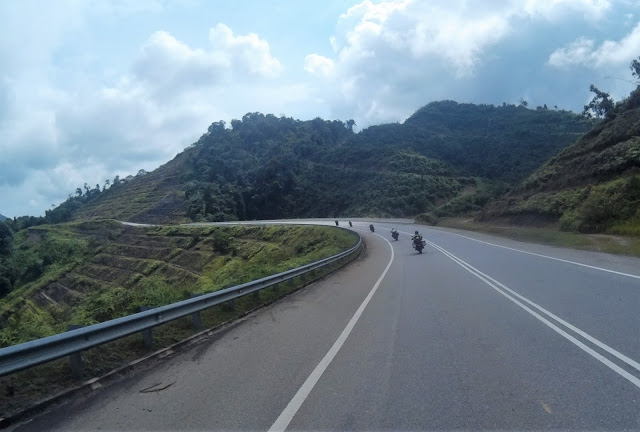 We arrived at Kuala Betis around 11.45am and we turned right to Gua Musang for petrol and lunch.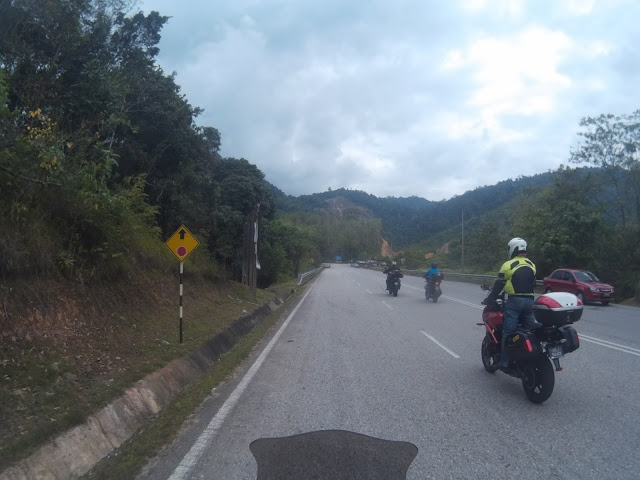 As we descend to lower ground, the temperature rises and the heat makes me sweat a lot. It was scouring hot and half past noon as we had lunch at Kedai Makan Pokwa after petrol refill at a nearby Petronas station. I bet it was still early for lunch as there are not that many choices for lunch although having roti canai as one of the selection there.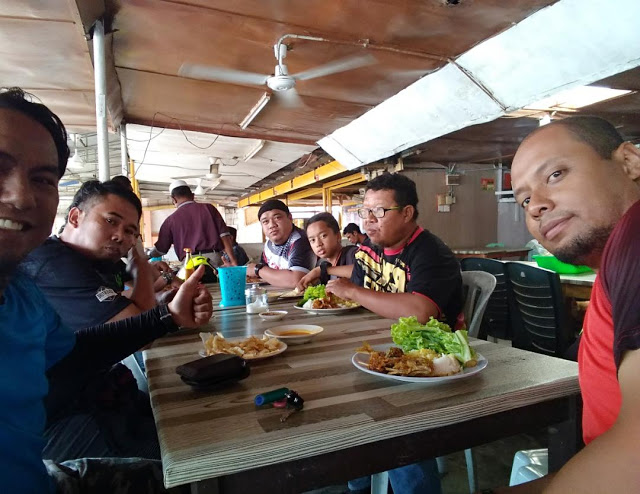 We said goodbye to Jauhari here
Photo Credit to Ejoy
After lunch, we headed back through route 185 and 484 to Kuala Betis and ambient temperature was around 34°C. We have arrived at Kuala Betis waypoint around 1.00pm and stopped for pictures after buying a few bottles of mineral water at a nearby grocery shop.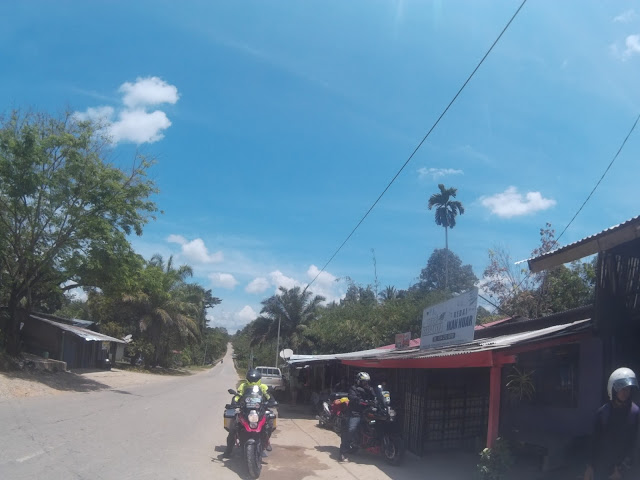 Riding 3km into the small kampong road, we stopped again to reduce our tyre pressure and the offroad trail begin.
Waypoint Kuala Betis Offroad Trail
GPS N4.89857 E101.78632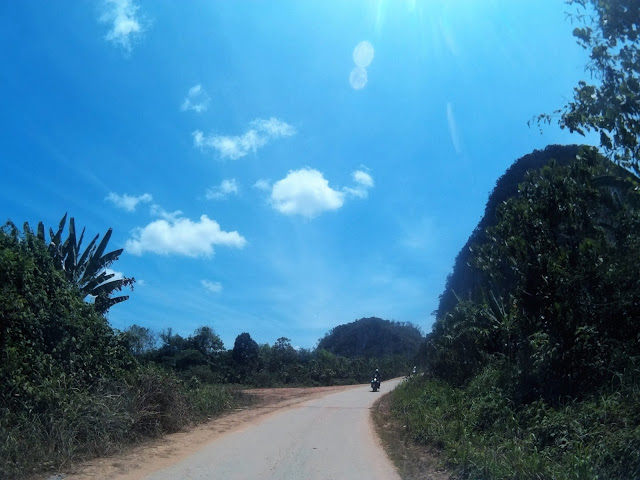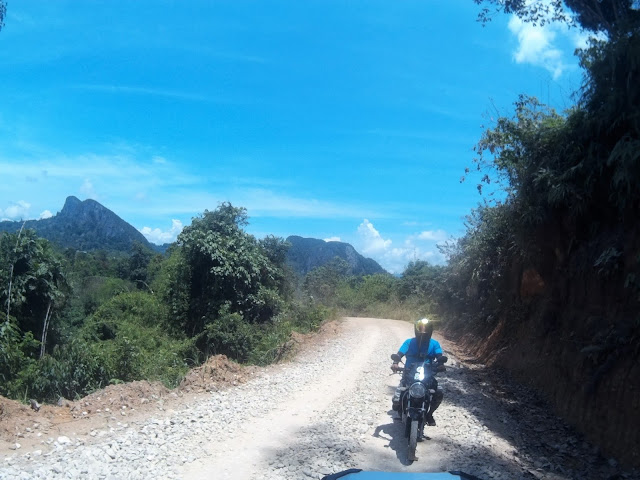 The track was on compacted white rocks with sand and plenty of dust. Riding into the trail during dry season means the dust will be thick with up to 3 inches at some sections. Most climbing sections has loose gravel rocks.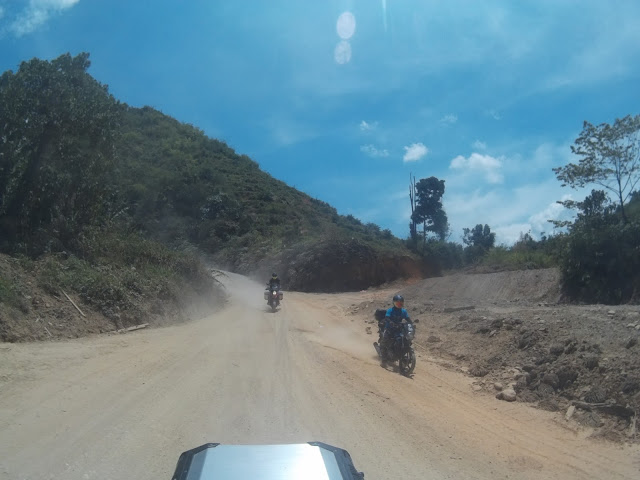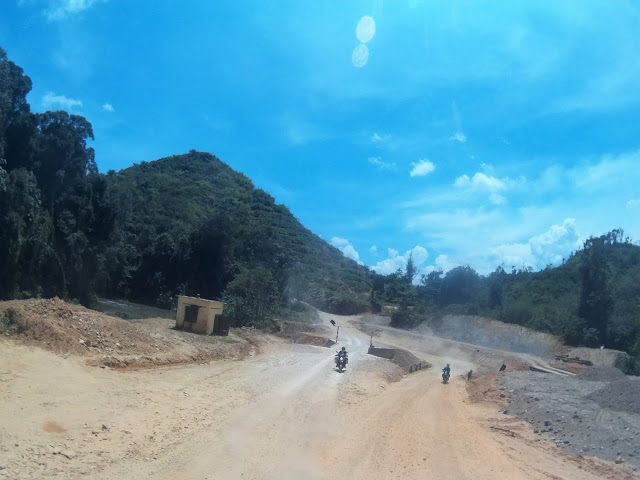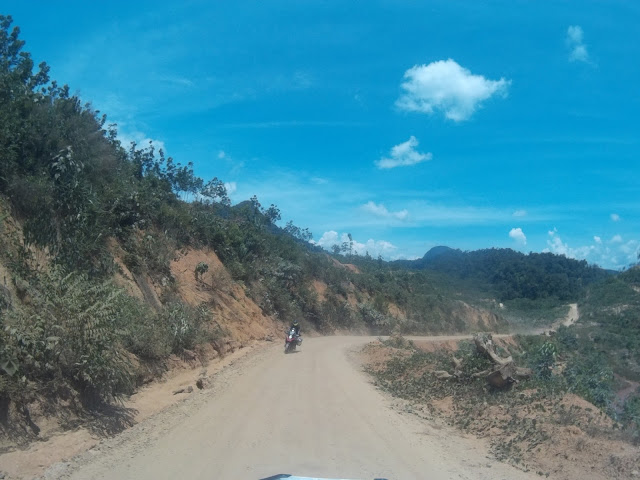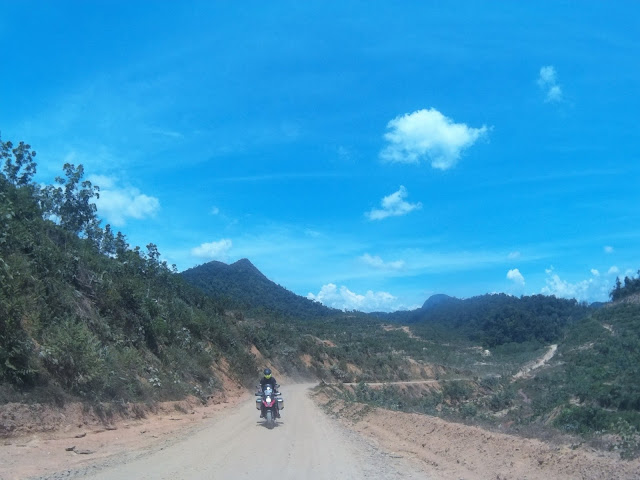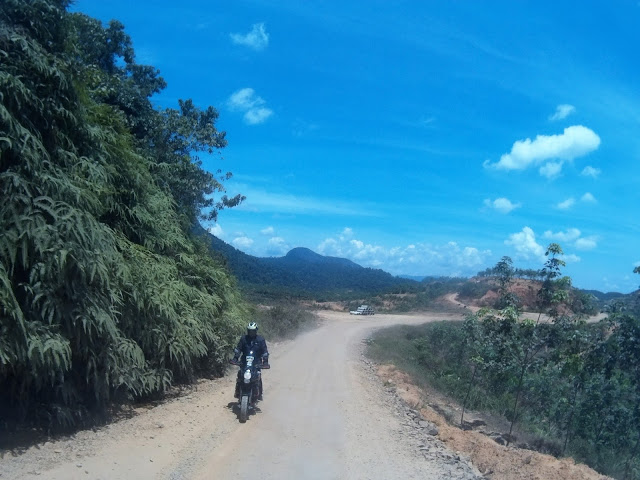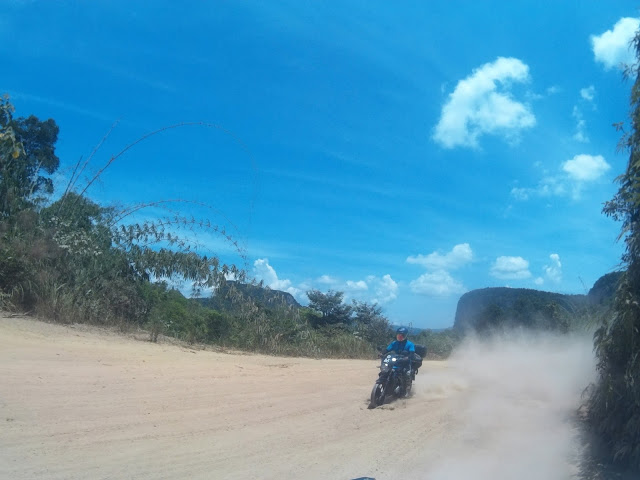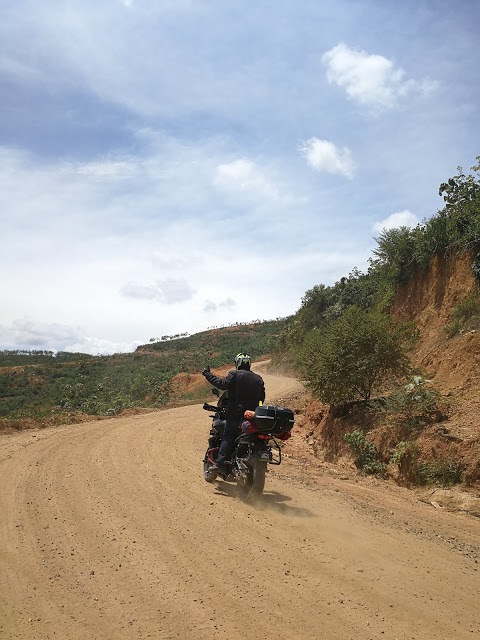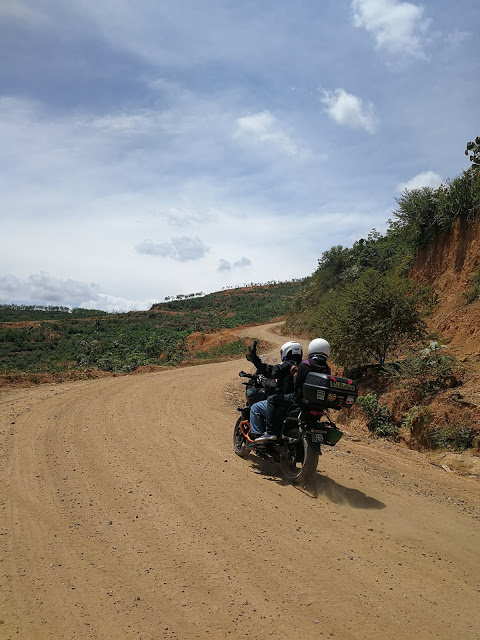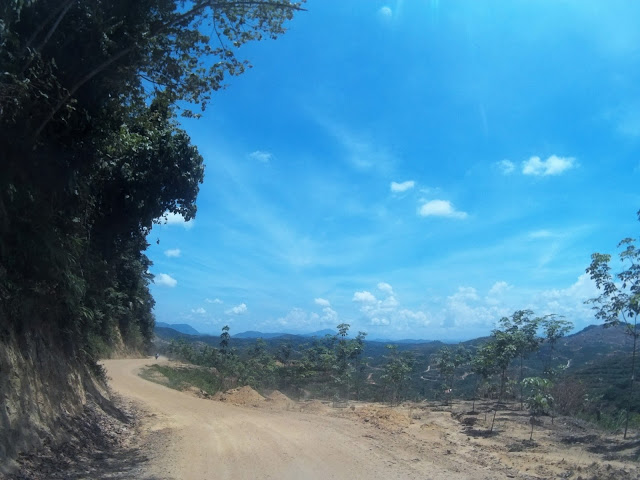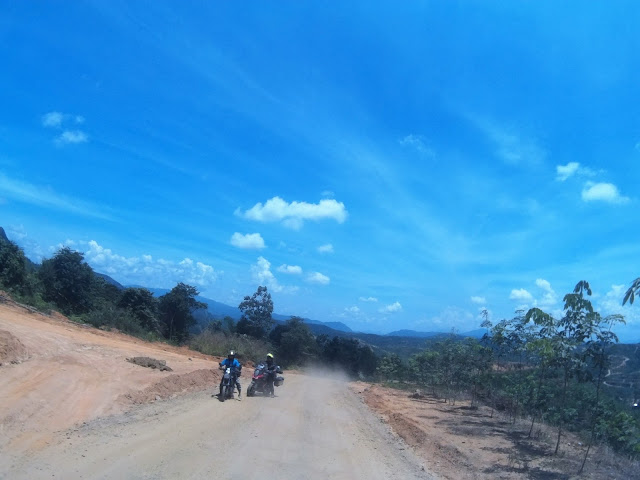 I was riding in-front of Cikgu Jasni and Cikgu Joe Min was the last rider. 5km into the trail, during one of the descending and cornering section, Hashim slipped and somersaulted into the rocky road surface, a few feet from the edge of a cliff.
His hand was pressed hard into the bike handle and was swollen badly while his bike top front-end deformed, pressed against the ignition key. Cikgu Joe Min took almost 20 minutes to remove the broken windshield, speedometer and head cover to get to his ignition key to turn the battery off.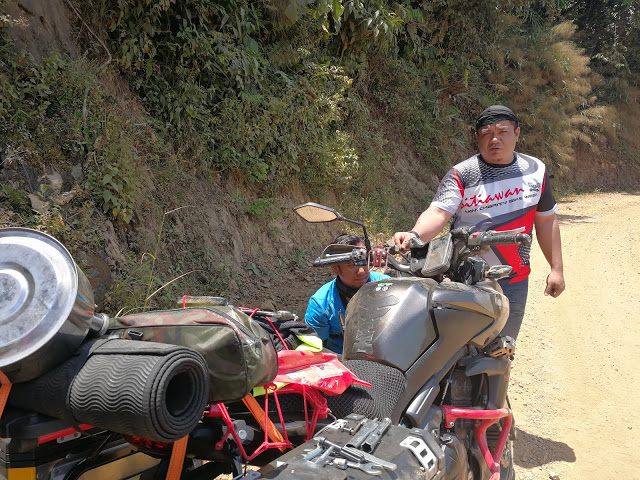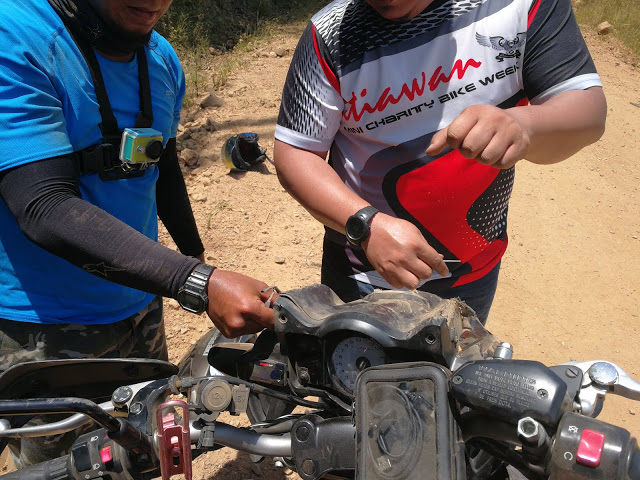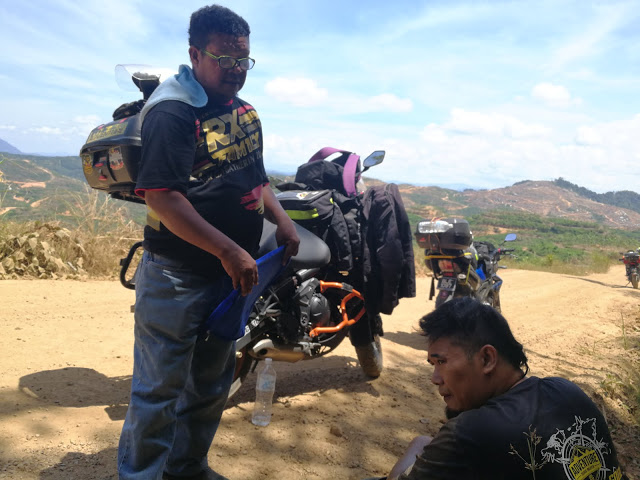 Hashim wrist and palm was swollen and we have placed cold water on it to ease off the swell and we sat by the road for a while.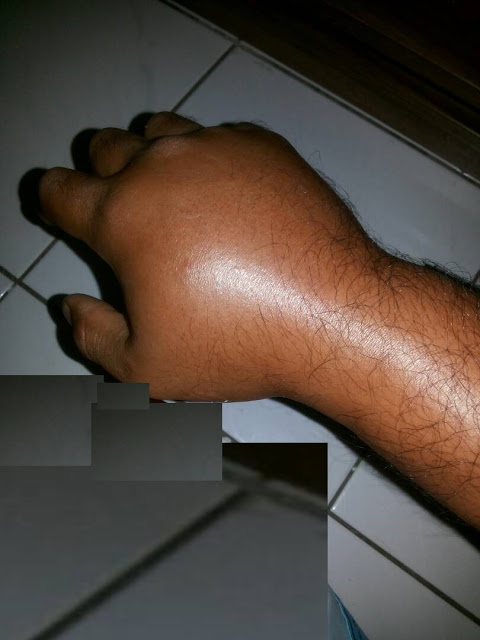 Photo Credit to Hashim Omar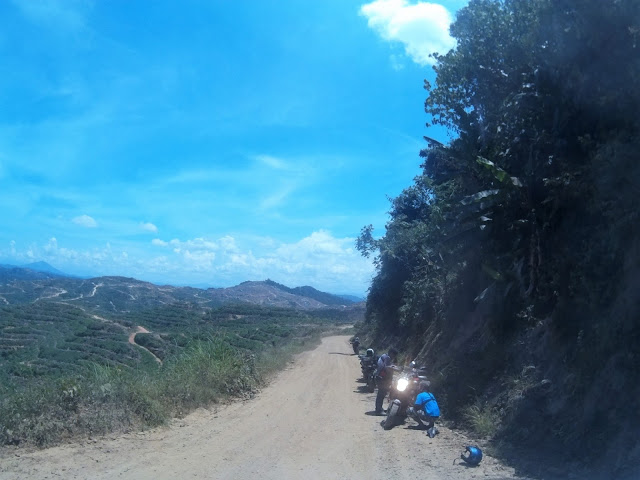 After a while and exploring a few options, it was decided that I'll escort him back to Kuala Betis as his bike was still rideable and he was still able to use his hand to ride.. well barely. The rest of the team will continued to Pos Hau and I'll try to join them back afterwards.
Hashim and I rode back slowly (as his bike can only engage 1st and 2nd gear) towards Kuala Betis and arrived at a workshop in Kampung Panggung Lalat. He wants to check the clutch line as we suspected that the line was bended and the gear couldn't properly engage. It is here that Hashim said, he was able to ride to hospital alone and asked me to return towards Pos Hau.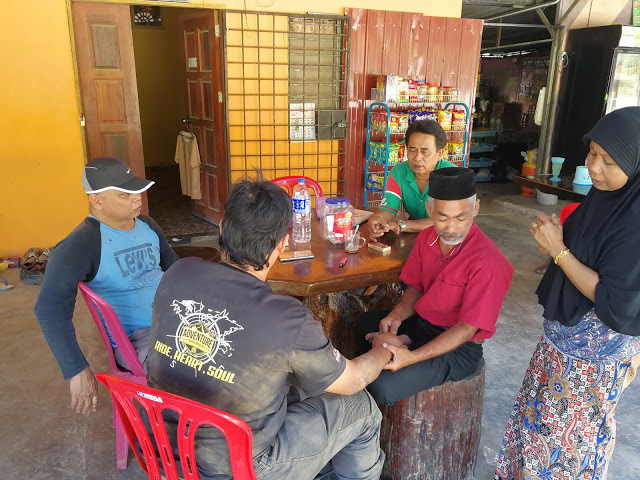 Hashim's hand being inspected by a local shaman at Kampung Panggung Lalat. I leave him here after I am satisfied he is in good hands
It was 3.30pm when I rode back towards Kuala Betis waypoint and into the track that leads to Pos Hau. The trail was a climbing trail with elevation up to 550m from sea level.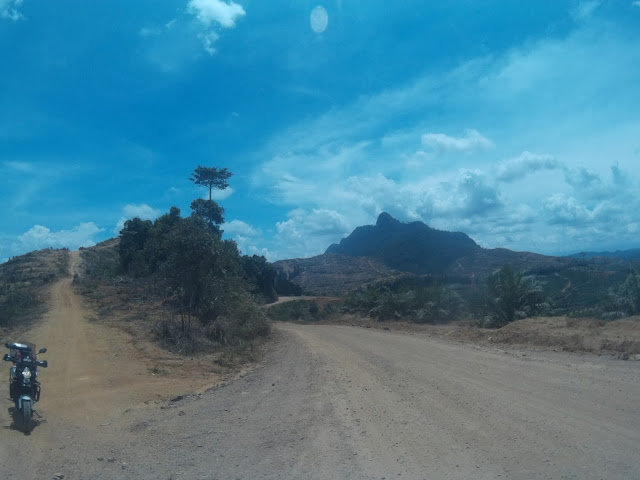 I have to ask a few people that I have met on the trail about the other three riders ahead as me as I need to make sure that they are on the same track as me.
The trail was a logging and plantation track, with active plantation of rubber and palm oil was seen. After about 29km away from the point where Hashim fell, the track lead into jungle trail and descending from 550m to 290m elevation where the settlement is located.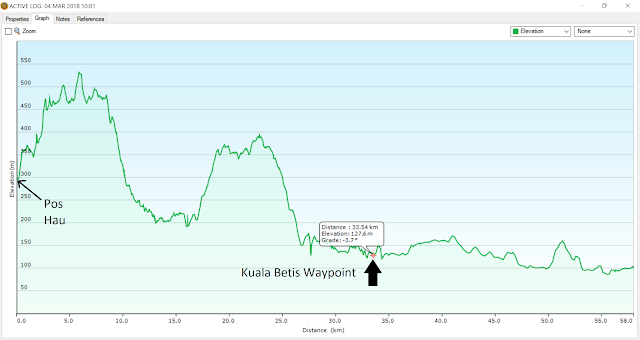 Around 5.15pm I have arrived at Pos Hau and I have met with their leader Anggah Assang (seen below was holding a book).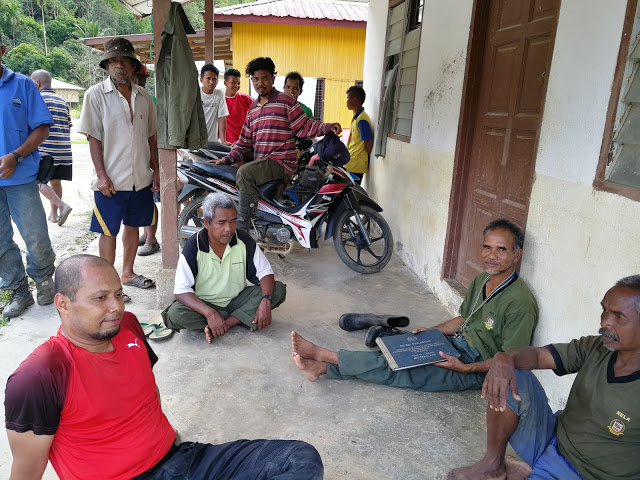 He had then informed me that they had a death in the community a few hours earlier so we are not allowed to sleep at the chalet, but I am so relieved that we are allowed to camp by the river as it was too late to return and we will not be able to make it out before sunset.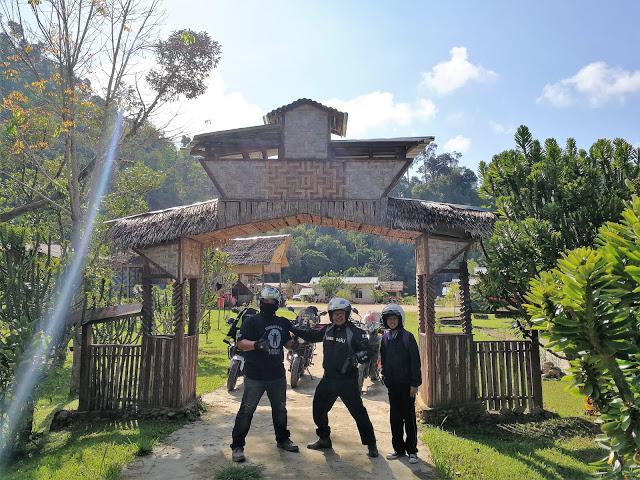 Pos Hau
GPS 4.82392, 101.61289
This settlement has chalets like this beside the villager's house, fully operated by them and that is why the settlement is called 'Kampung Stay'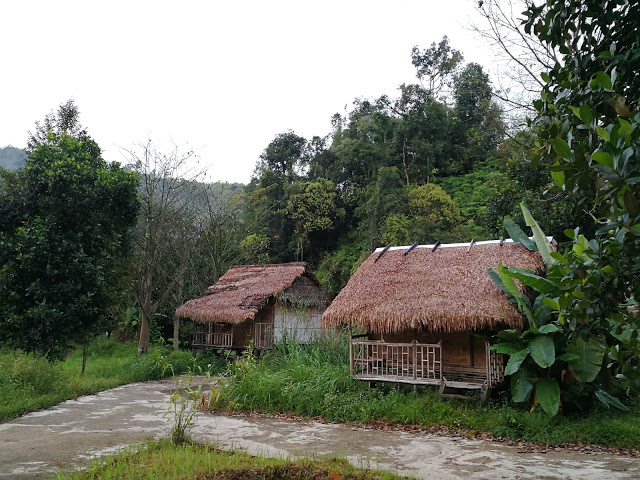 As I have just finished setting up my tent around 6.00pm, it was raining heavily and we took shelter underneath a nearby hut.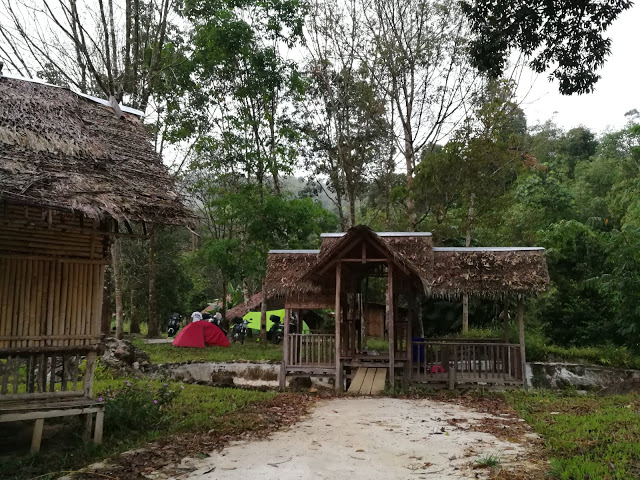 the hut where we have our dinner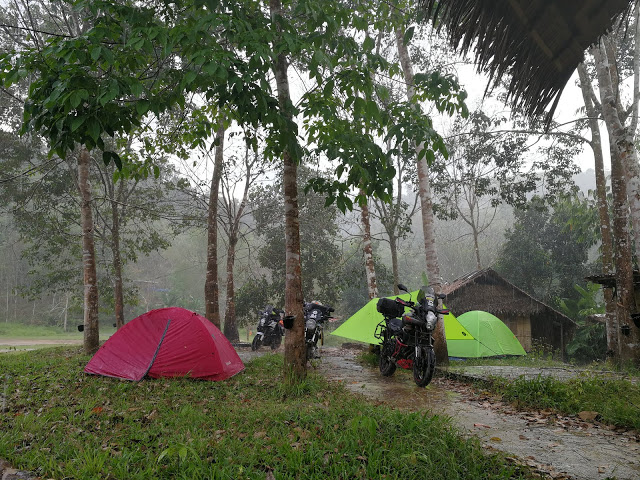 It was my turn to prepare dinner and I have prepared Gulai Nenas Ikan Masin, cucumber with sambal belacan and white rice.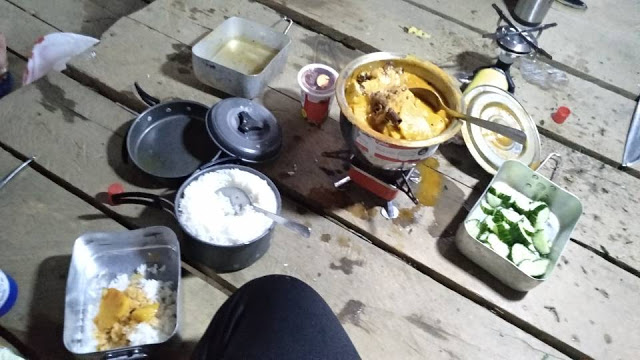 Photo Credit to Ejoy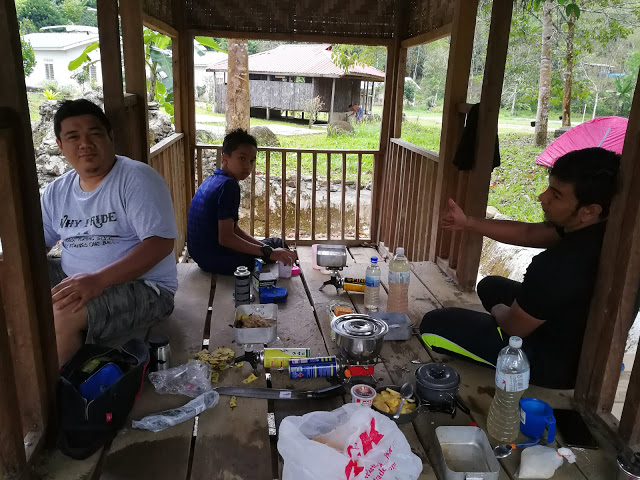 We had lunch around 7.30pm and chatted among ourselves afterwards.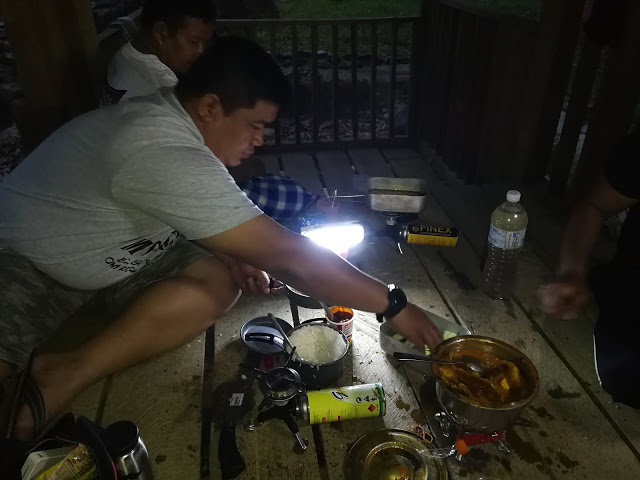 The rain continues until around 8.30pm and I was afraid that will make our exit tomorrow harder. By 9pm, everyone was tired and retrieved to our tents. Cikgu Joe Min however, opted to sleep in a hammock, tied in-between rubber trees.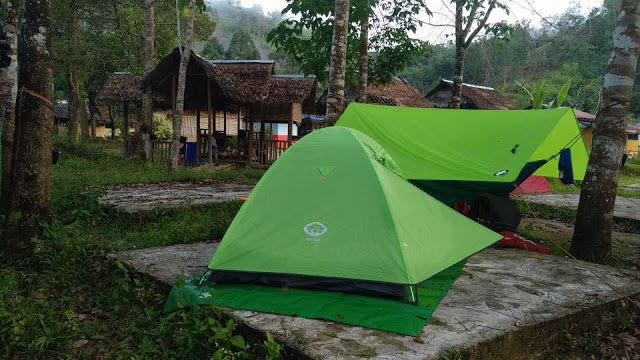 Picture Credit to Ejoy
The night sky soon cleared and it was a full moon night over Pos Hau.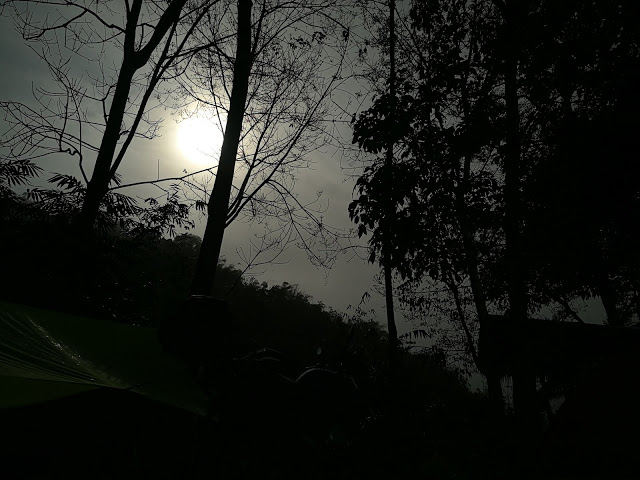 The next day started around 6.30am and I took a walk around the village after Subuh. The village is located in a valley surrounded by high grounds, covered in mist.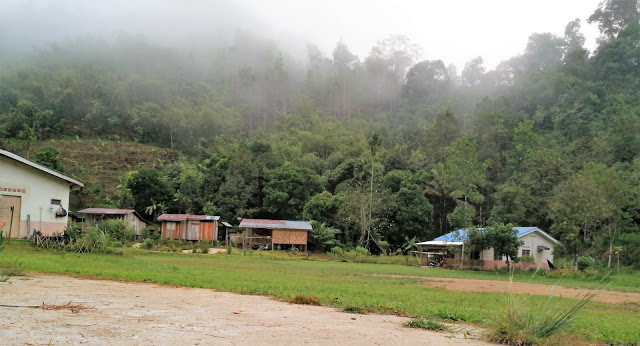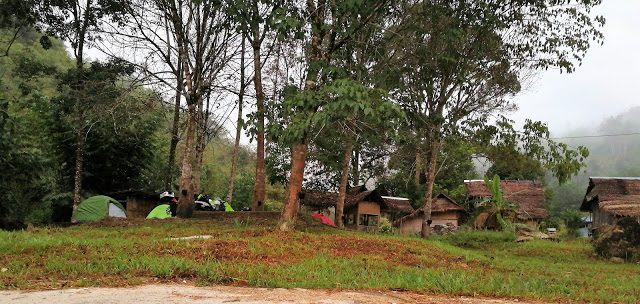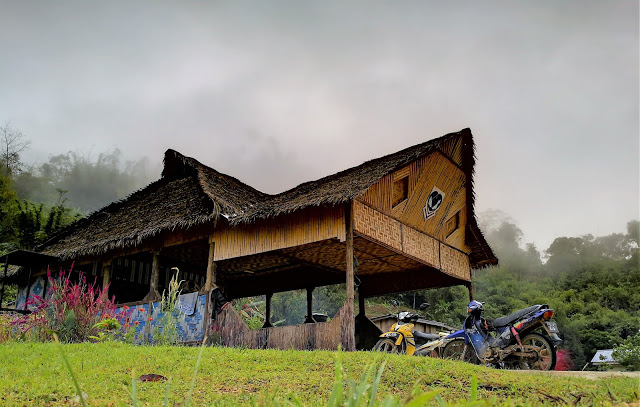 Along the village is Betis River flowing rapidly with clear and cold water, despite the rain last night.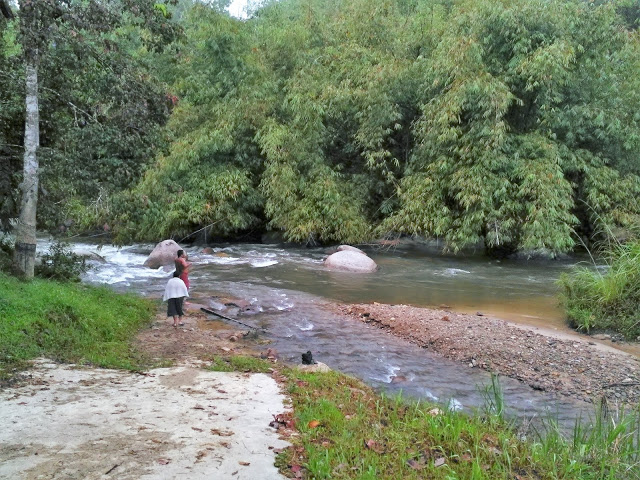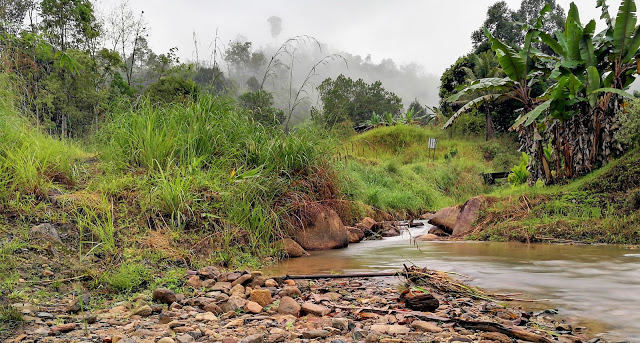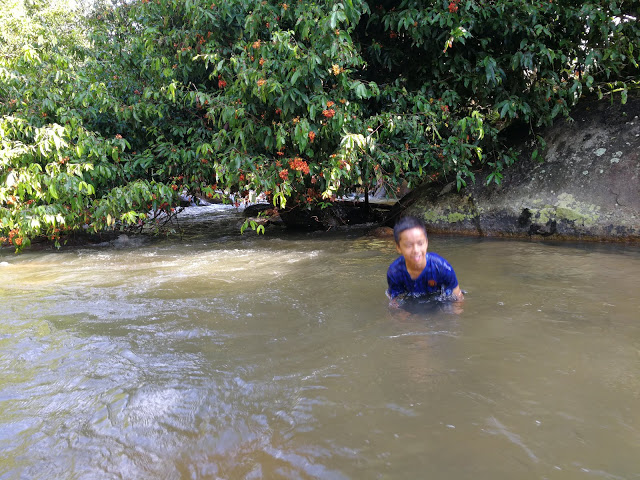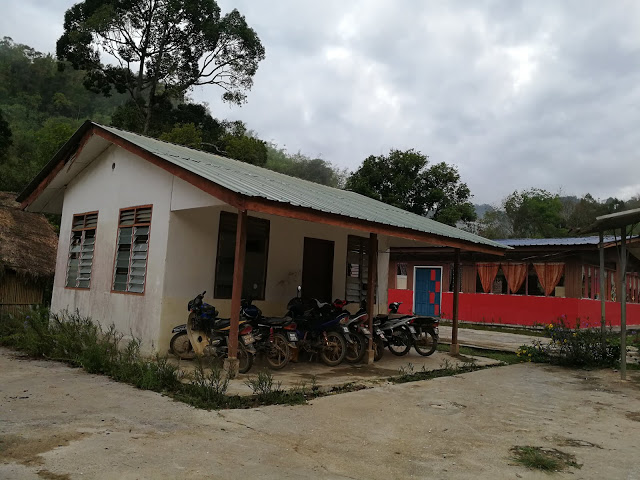 Cikgu Jasni prepared local pancake (cucur ikan bilis) while Cikgu Joe Min prepared instant noodles and sausages for us.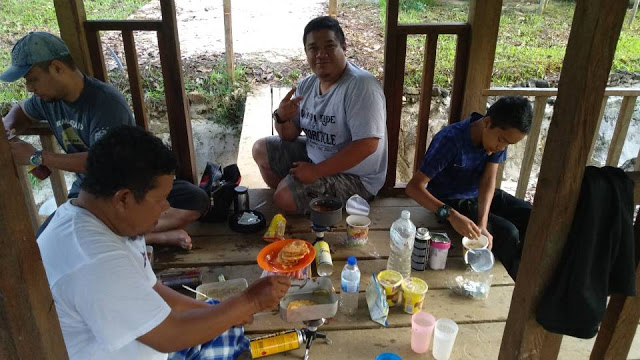 Photo Credit to Ejoy
Ejoy packed up earlier as he had to attend a wedding in Puchong so he departed around 9.00am. We took our time to pack and swim in the river. By 10.00am we have finished packing and went around the village to pass some condiments.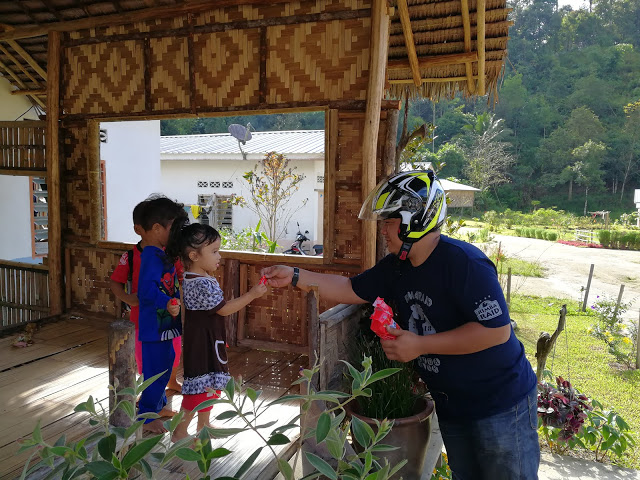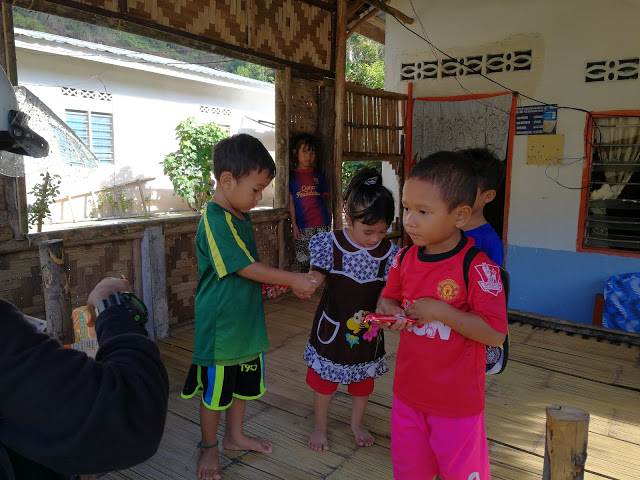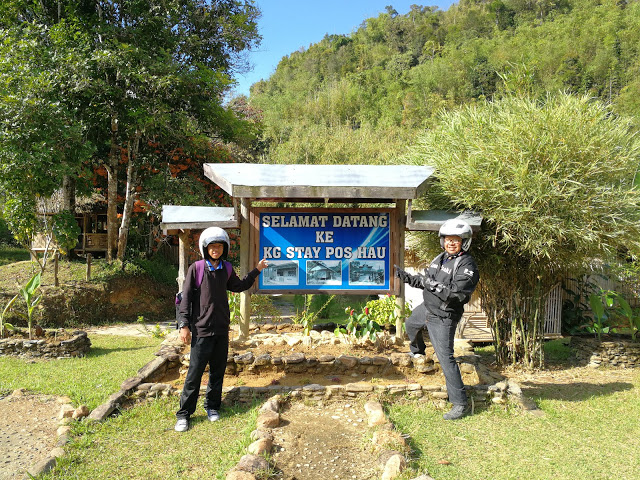 Cikgu Jasni was accompanied by his son Muhammad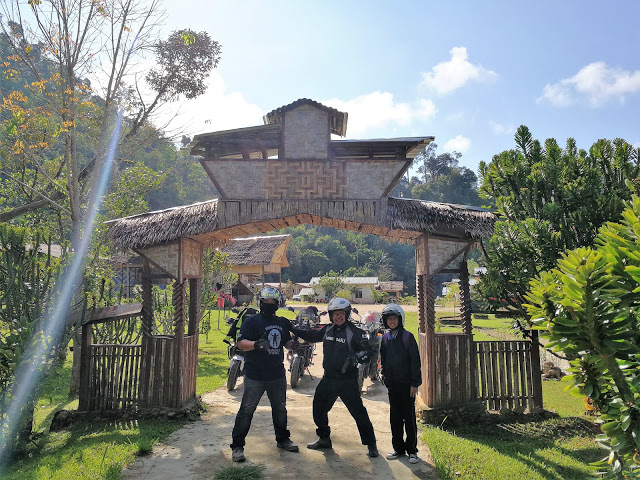 Entrance to the village with Cikgu Jasni striking a pose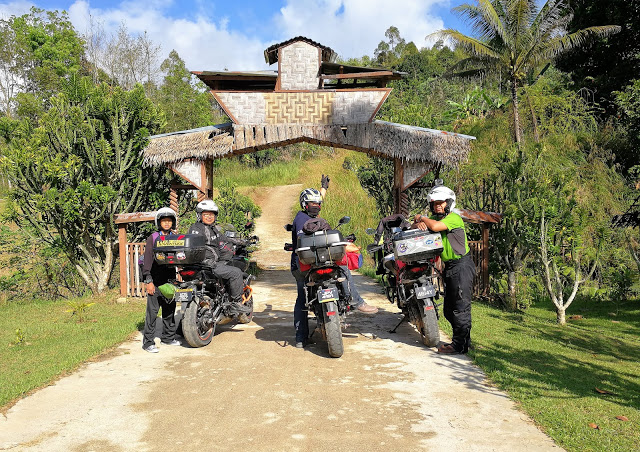 We departed from Pos Hau around 10.20am and began ascending the trail towards Kuala Betis. Just after 1km from the village Cikgu Jasni fell as he lost footing.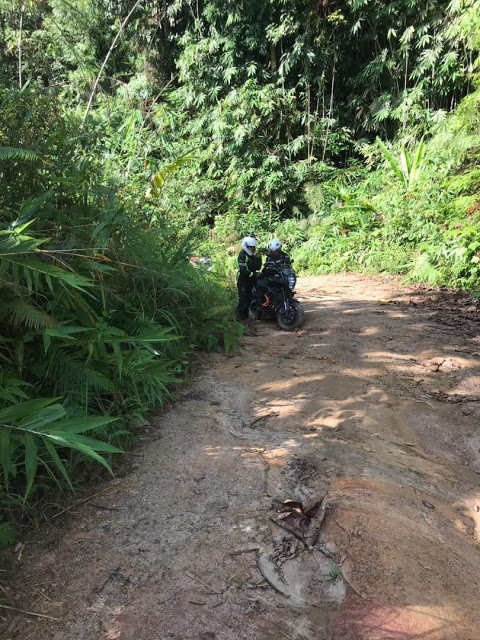 I helped Cikgu Jasni while giving him some tips on offroad riding.
Photo Credit to Cikgu Joe Min
He'd fell again 500m afterwards and this time because he can't control his bike when it was reversed unintentionally. He said this is his 5th fall during our trip and he is still in high spirit. His son was sent walking through some difficult sections and that has helped him riding pass difficult terrain as this is his first attempt.
We were then back on the logging & plantation trail and everyone was riding with ease. Our scare last night when it was raining for almost 4 hours in the village that may turn the trail to mud was proven wrong as the track was dry as we came in a day before.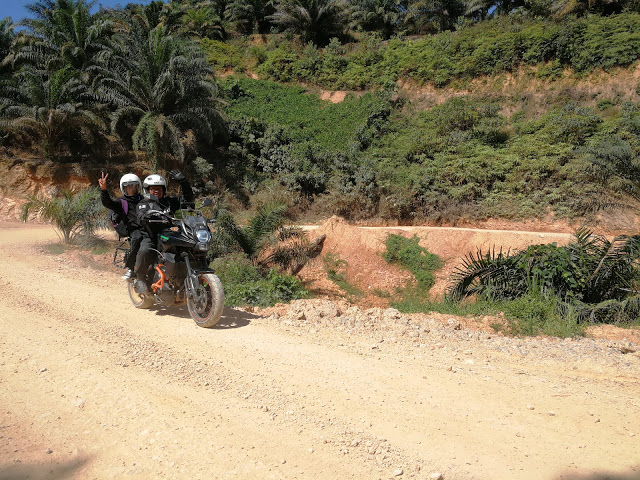 All smiles on board.. a good sign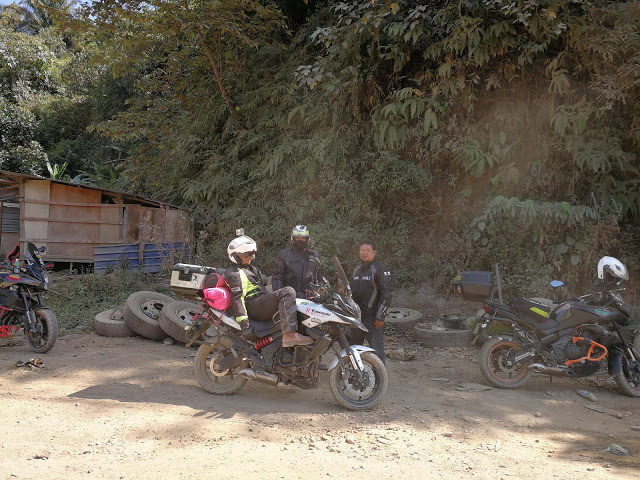 Resting at one of the kongsi by the roadside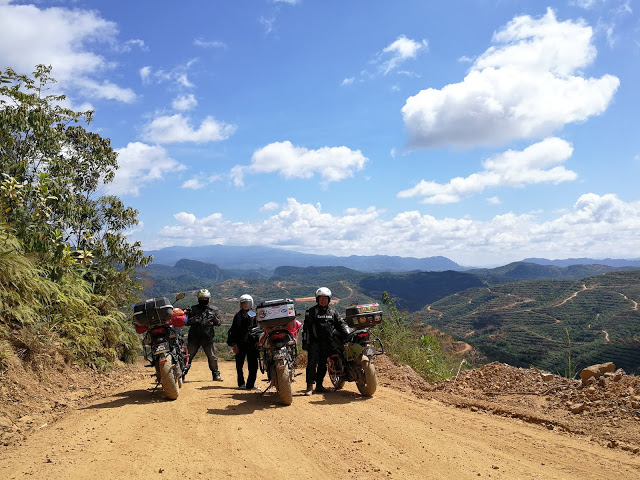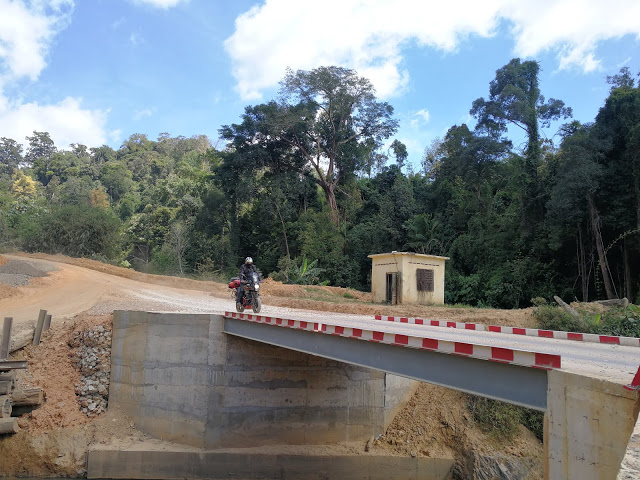 We arrived at Kuala Betis around 12.05pm and stopped by a grocery shop for cold water. We then continued riding towards Gua Musang to fill up petrol and pushed on to Kampung Aur Gading, Raub.
When we arrived at Kampung Aur Gading, we found that the main bridge across Sungai Tanum was closed as it is still construction. We've returned back asking one of the villagers for alternative route towards Sungai Koyan and were directed to a small road along the railway track. The temporary road has a metal bridge across Tanum River and leads back to the original Route C158 after the bridge.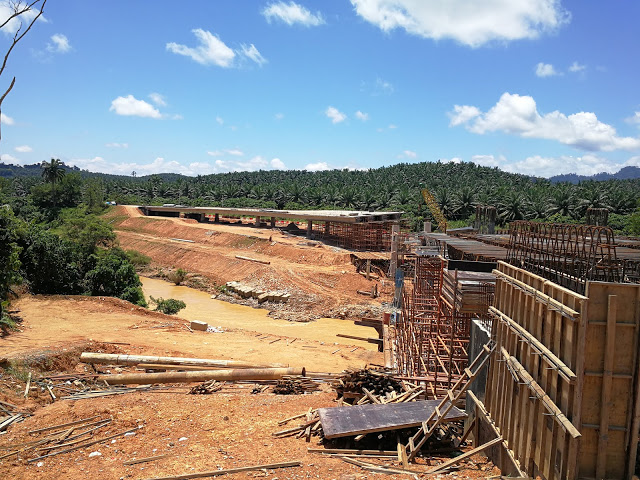 A bridge across Tanum River under construction. The original bridge collapse during the big flood in 2014.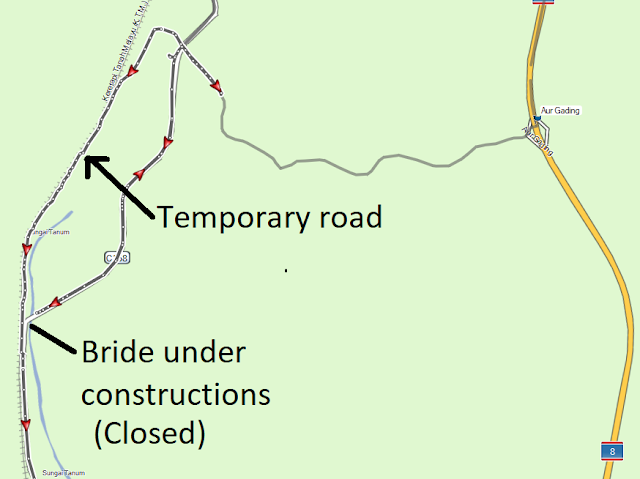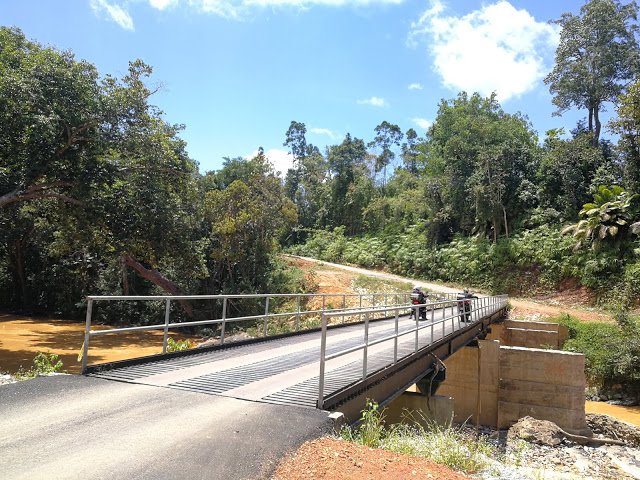 Temporary bridge through temporary road
We finally arrived at Sungai Koyan around 2.30pm and we had lunch there. At the stall, I have met two James on the bike from Australia to Scotland!
From Sungai Koyan, we've rode up to Ringlet through Route 102 and the road surface was excellent with minor repairs and only one landslide.
About 5km towards Ringlet, it started to rain and its get heavier as we've arrived at Ringlet's Shell petrol station. It was still raining when we descended from Ringlet towards Tapah. We've arrived at Tapah around 4.45pm and I said goodbye to Cikgu Jasni and Cikgu Joe Min there.
I continued through E1 from Tapah and made another stop at Ladang Bikam Lay-By for prayer and coffee. The rest area was bustling with travelers and the parking spot was crowded. I continued riding around 5.45pm towards Rawang and the sky was cloudy with winds blowing from the north. The traffic before Sungkai was slow but eases right after the three lane opening. I have arrived home safely around 6.40pm
It was unfortunate that one of our riders, Hashim had an accident 5km into the offroad track. However I am relieved he is safe despite suffering a broken palm bone (metacarpianos) and bruises around elbow area. I hope he will have a speedy recovery and hopefully will be able to join us again in our future rides. Cikgu Jasni fell 5 times and only suffered bruises and knee pain. All of our bike is good condition with an exception of Hashim's broken top front end.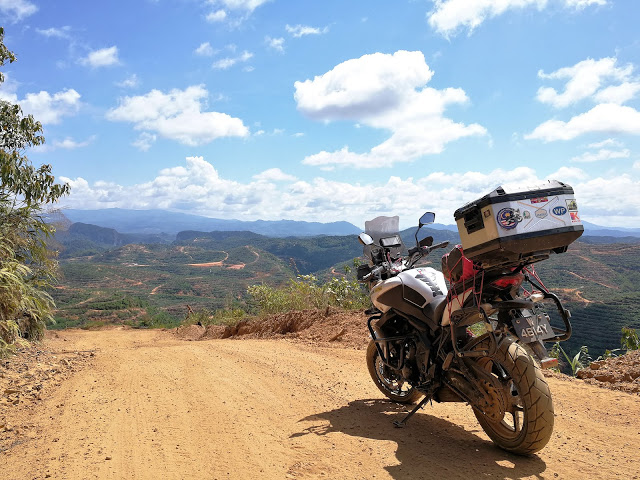 My advice to other riders contemplating to ride to Pos Hau is to maintain the cleanliness of the track and the site by bringing back your garbage out. It is important to maintain not just the environment but also the condition of the local surrounding for others to enjoy in the future.
Also, try to communicate with everyone you've met on track as we do not know if they will be the one who will come to your aid when help is needed.
*********************Originally posted on myridinguniverse.blogspot.com***************************************