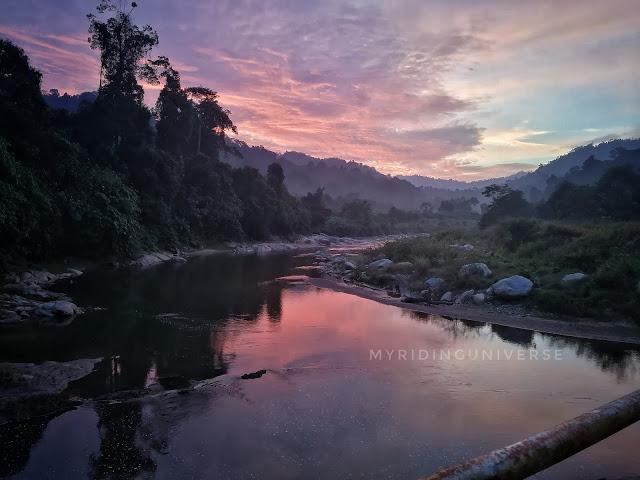 Sungai Singor is one of many rivers that feed water into Temenggor Lake. Flowing from Temenggor Forest Reserve, the river flows in between Bukit Kabut (1320m) and Bukit Baring (1270m) on the Titiwangsa range. Located about 260km north of Kuala Lumpur, it can be accessed through Lebuhraya Timur-Barat FT4 that connects Gerik to Jeli. Entrance to this area is through RPS Air Banun, a Jahai community settlement. The plan is to ride through 15km of logging trail of Bukit Kenandong and find a suitable campsite near Jambatan Besi.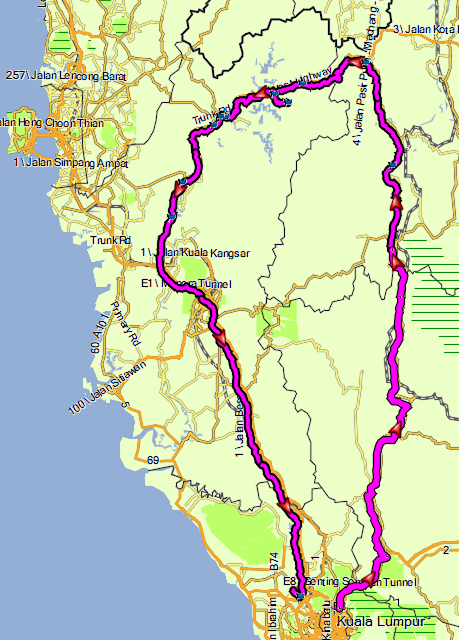 I will be joined by KW Mark from Alor Setar, Cikgu Jasni & Cikgu Joe from Perak and 8 other riders from Klang Valley. The first rendezvous point is at BHP Karak and the next rendezvous point will be at Titiwangsa Rest Area in Perak.
It was a lovely Saturday morning with ambient temperature around 25°C when I departed from Rawang. The traffic heading to Gombak is smooth and I was the last rider to arrive at our RV1 around 7.45am. Ikhwan, Tom, Jimm and Syahril were already on the scene and after a few chuckles we departed towards Bentong around 8.15am through E8 Lebuhraya Pantai Timur.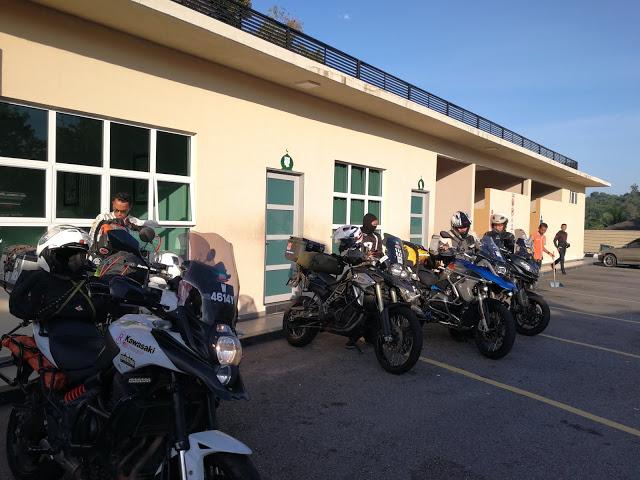 At RV1 BHPetrol LPT Karak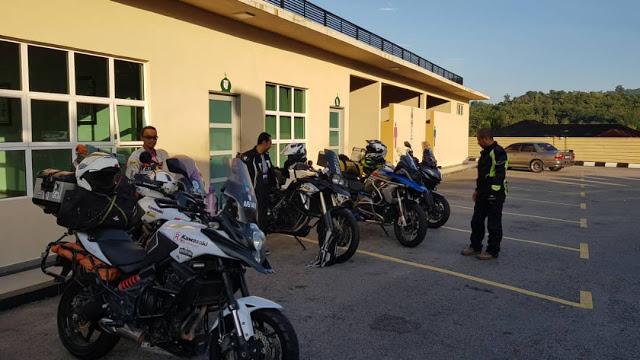 Photo Credit to Syahril Zulkifli
Syahril was back on the trip after almost 3 years of absence after he sold his previous bike. This time he is bringing his spanking new GS to the wild, to join our trip.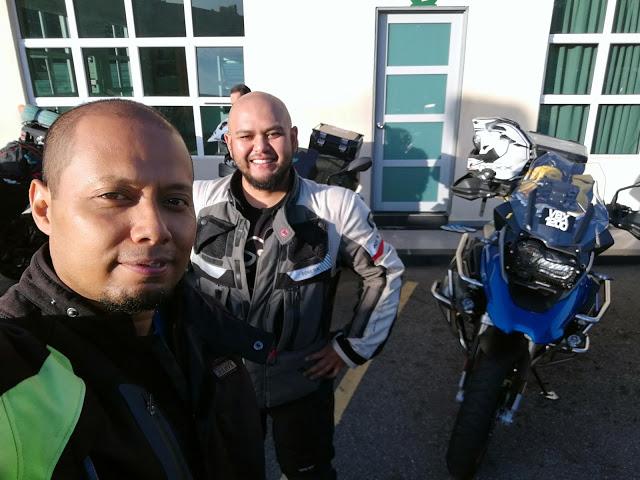 Syahril's new bike, congrats bro!
We rode through Bentong in smooth traffic heading to Raub but incoming traffic heading to KL was heavy. This is the last weekend of school holiday so city folks start to make their way back after a week long holiday. This time, durian stalls on the roadside were noticeable lesser than our trip last month and a lot less durian aroma.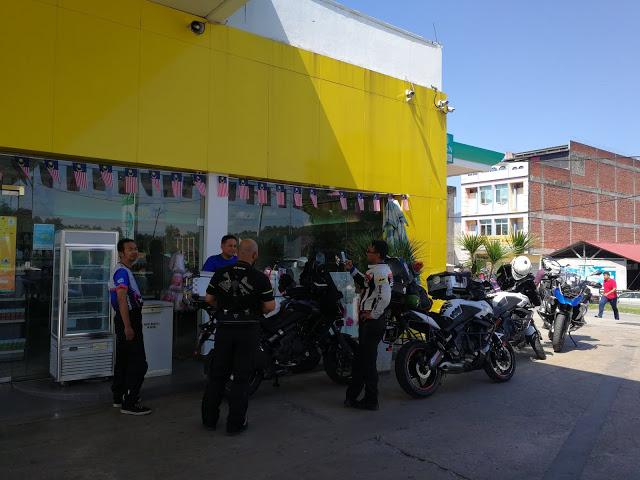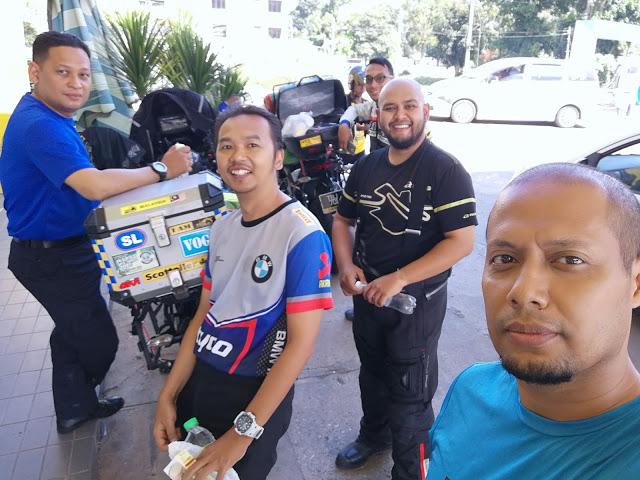 We arrived at Petronas Gua Musang for our petrol refill around 10.45am and the weather was clear and hot. We took about 30 minutes of rest and rehydrate ourselves as I can feel the heat penetrating through my double visor helmet burning my face. The air flowing through my jacket ventilation was also warm and it get worst when we have to stop at Pulau Setelu temporary bridge.
The temporary bridge is just wide enough for one way traffic so we have to wait until the incoming traffic to stop before we can cross. Afternoon heat was burning our faces and our sweat pores were working extra hard pumping sweat to cool down our body making the 25 minutes wait a nightmare. My original plan to stop for a group picture on the bridge was also scrapped as too many people and too much is happening at the bridge.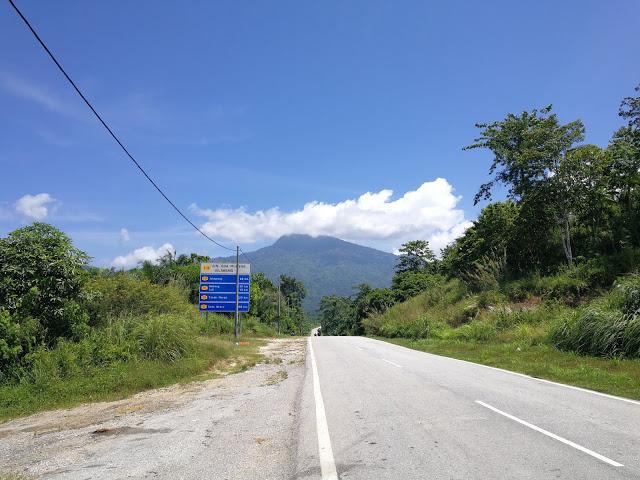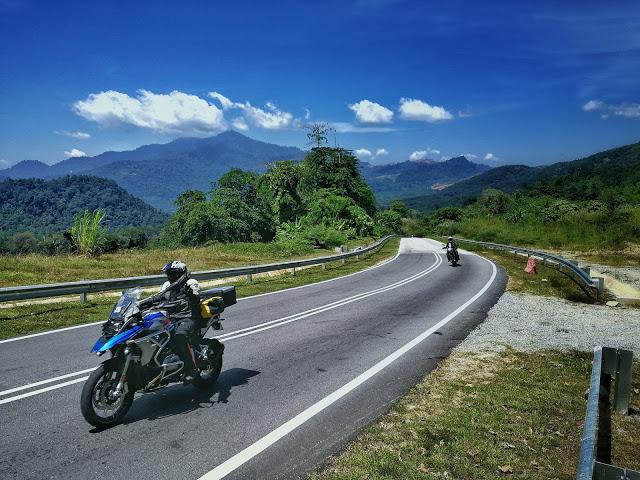 We continued riding on D29 heading to Jeli with magnificent views of surrounding hilltop and variation in ambient temperature. We went passed a few weddings circumnavigating Gunung Ayam (1400m) with Gunung Stong waterfall from D29 to route FT66 through Kampung Stong and Kuala Balah. We have arrived at Shell Jeli around 1.00pm only to find out that the station is closed for maintenance. Hence we went up further through FT4 Lebuhraya Timur Barat heading towards Gerik until Caltex station at Batu Melintang. This is the last fuel point before we embark on the offroad heading to Jambatan Besi at Air Banun.
The traffic on the FT4 was heavy with a lot of cars and busses heading to Gerik. The road surface is also not in good condition with rough tarmac and uneven patches are plenty. We passed by an accident involving two cars with head-on collision on a winding section on the road.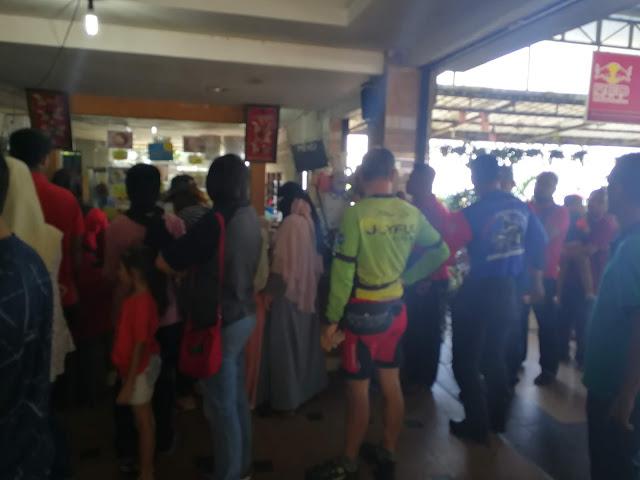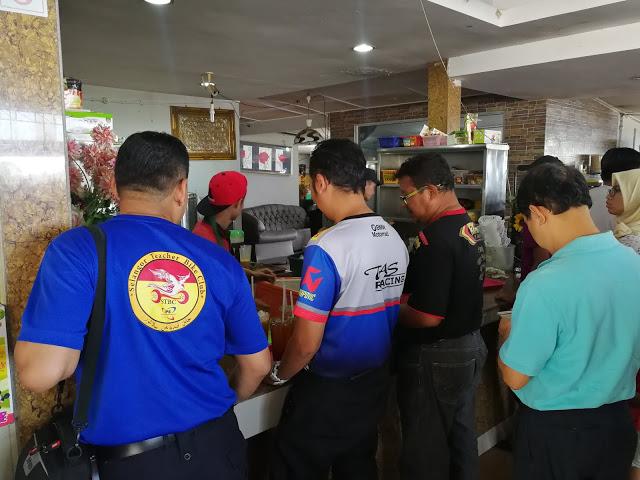 Around 1.45pm we have arrived at Titiwangsa rest area and the place were filled with visitors. KW Mark, Cikgu Joe and Cikgu Jasni were already there. There are too many people around so we have to queue to get food. Yusuf arrived slightly later and Jezz with Cusco arrived 20 minutes after. Din said he will be joining us slightly later so we have to depart without him to the waypoint. We had a quick lunch there and stop again to pack for dinner at Air Banun rest area.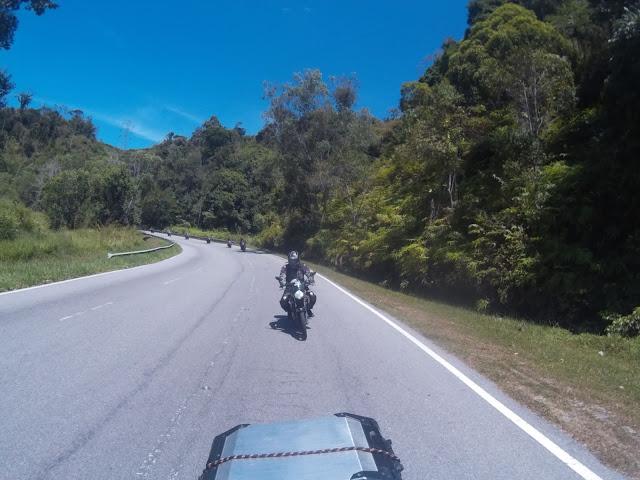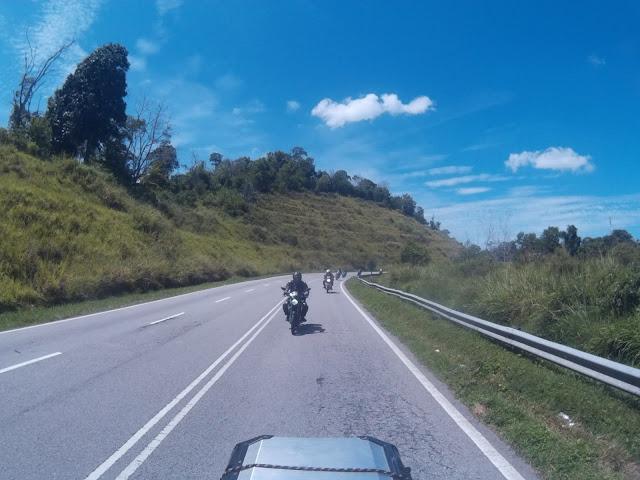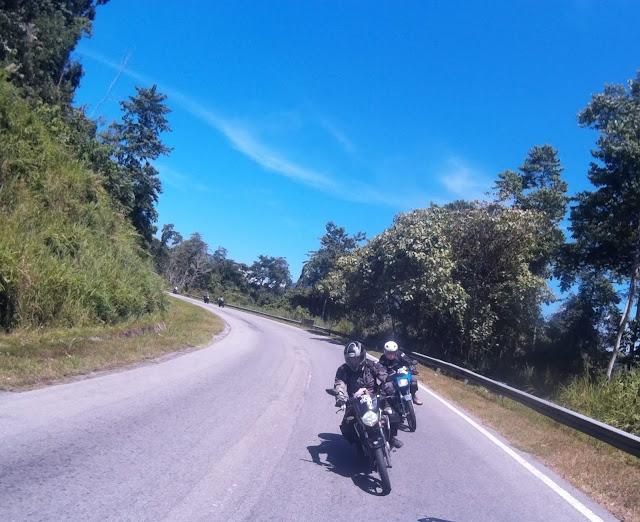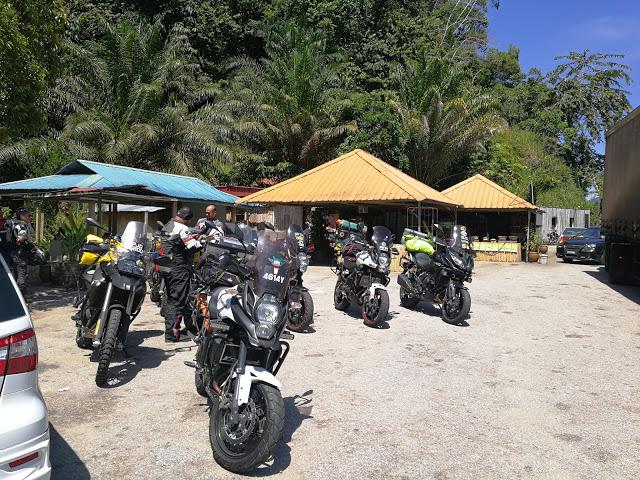 at Air Banun R&R, packing dinner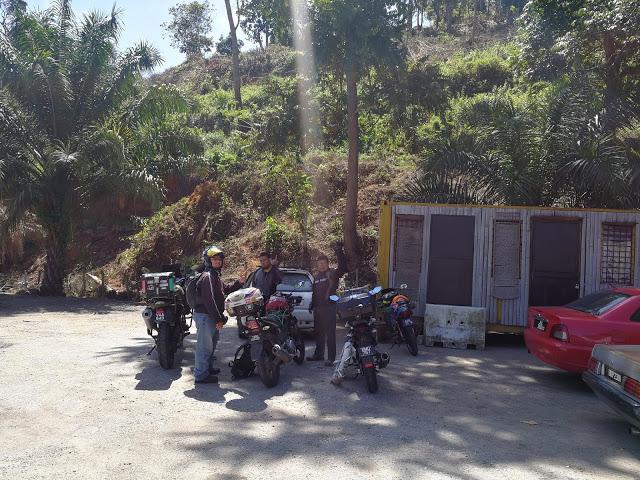 We have stopped to reduce our tire pressure at the waypoint and this time, Syahril was particularly nervous as this is the first time his new bike will be ridden off-road. Jimm seems to be more relaxed although he is concerned with the dusty road surface.
Waypoint Sungai Singor
GPS N5.56048 E101.41293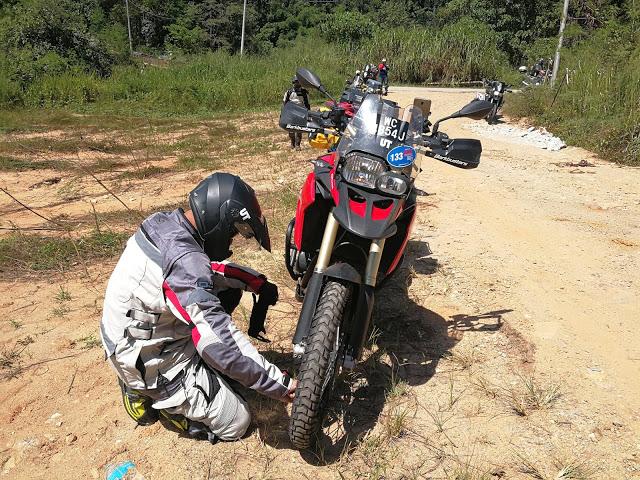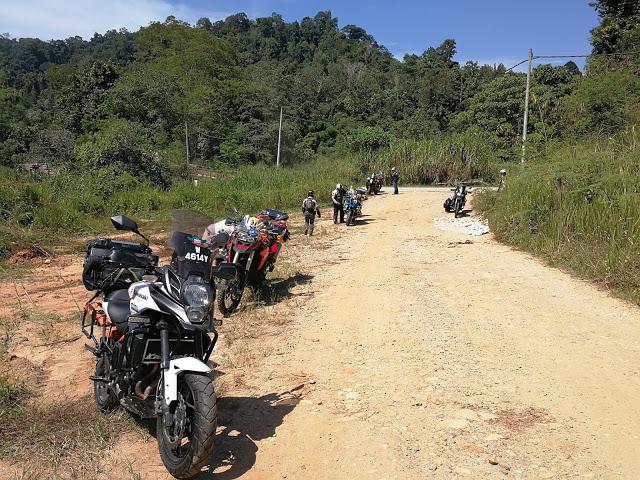 Around 3.10pm, we started riding into the 14km track leading to Jambatan Besi. The track is an active logging track used by lori hantu to transport logs into a collection area just beside RPS Air Banun. The surface was made of thick red fine dust with rocky bottom and in some areas hardened laterite soil. We have to space ourselves to let the dust settled between riders but it quickly became worst and blinding when we passed incoming lori hantu.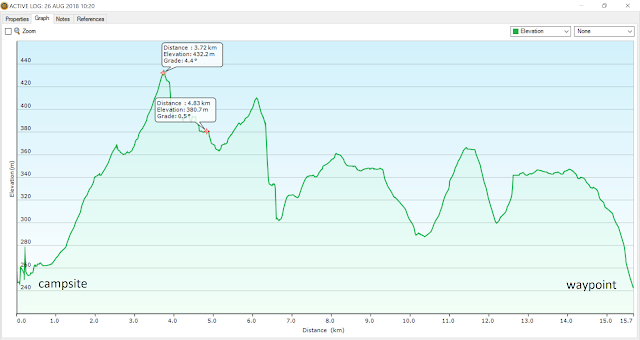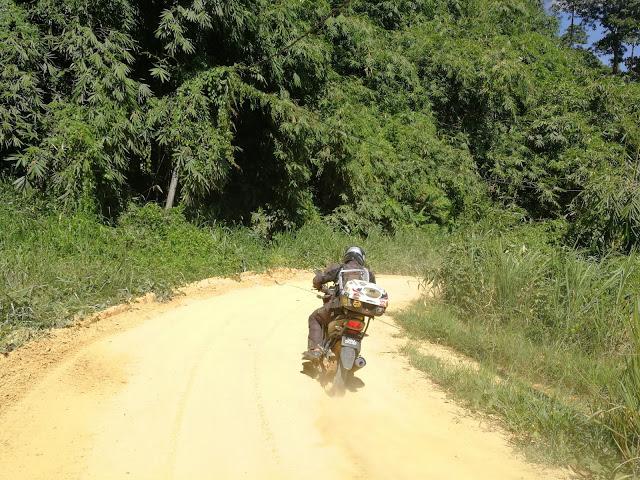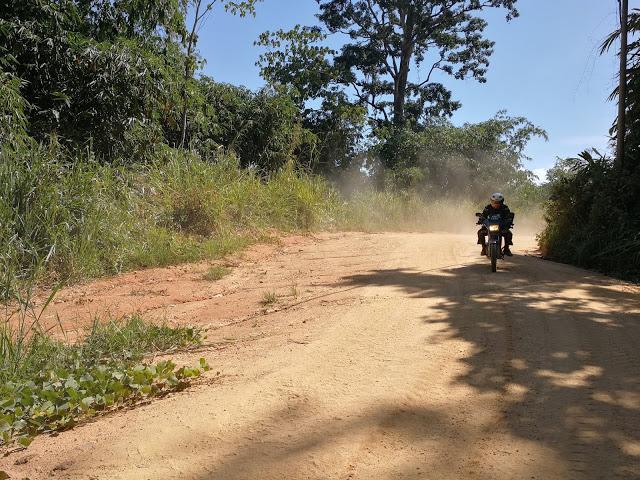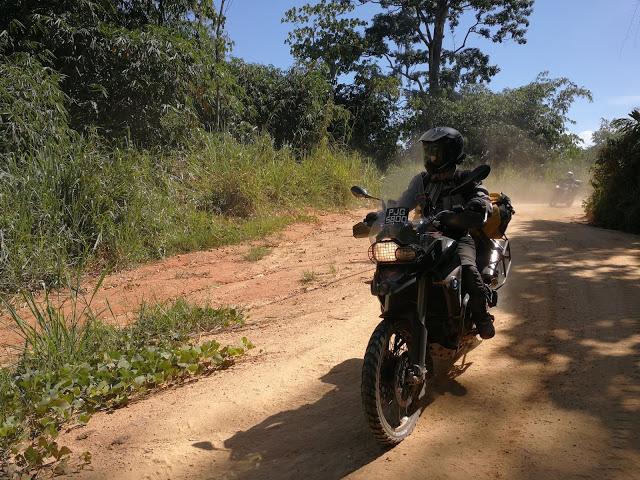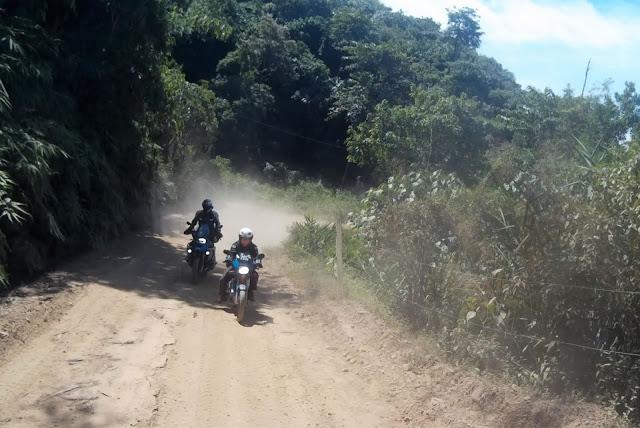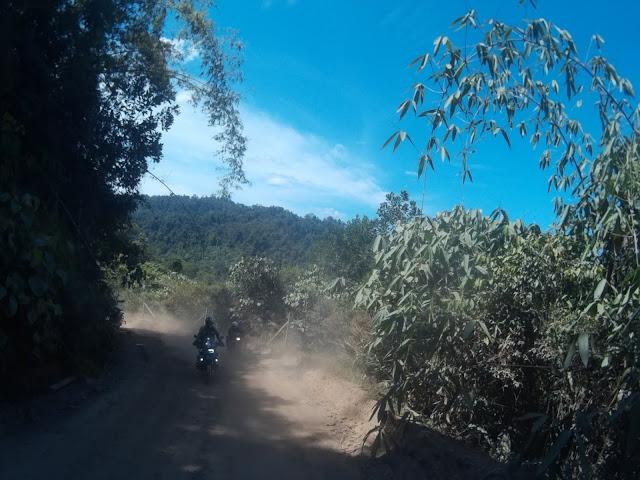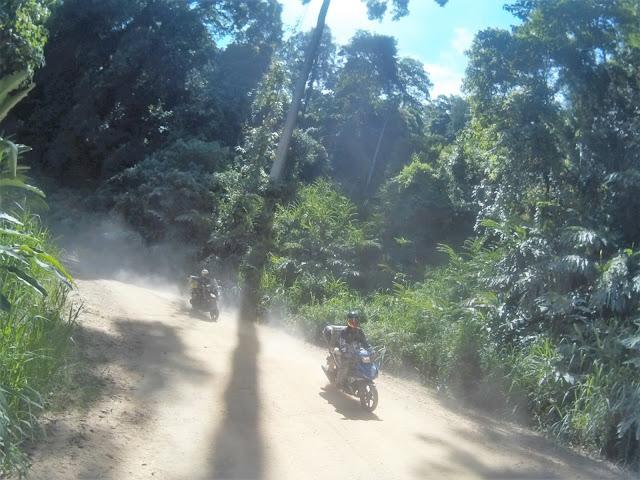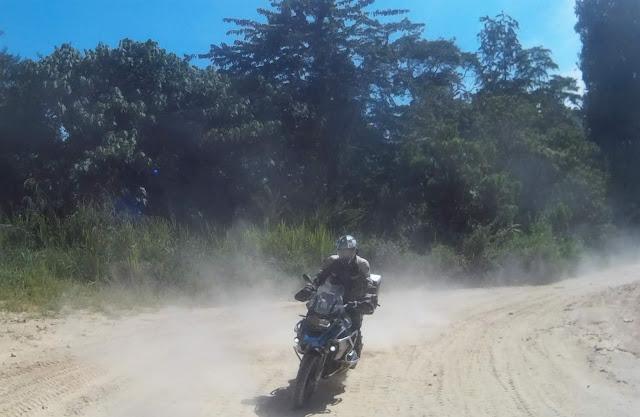 It took us slightly over an hour to reach the bridge after a small river crossing. Just before the cross, Jimm fell after losing his footing when he stopped at an uneven spot.
Cikgu Jasni dig deep into the water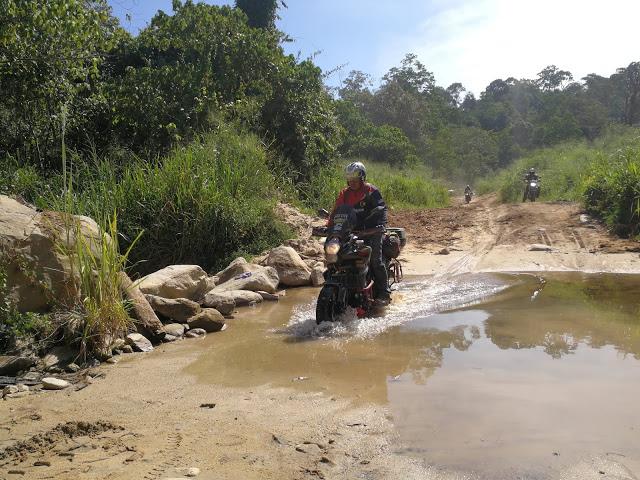 We went looking for a suitable campsite nearby and I went even deeper into the jungle reserve alone. About 800m from the bridge, there is a log bridge to cross a stream and I decided that it was too extreme for the whole group to pass so I double back to Jambatan Besi. We have finally settled by the river among the tree line with ready-made wooden frames and tree-cut racking.

Campsite Jambatan Besi Sungai Singor
GPS 5.521510, 101.476480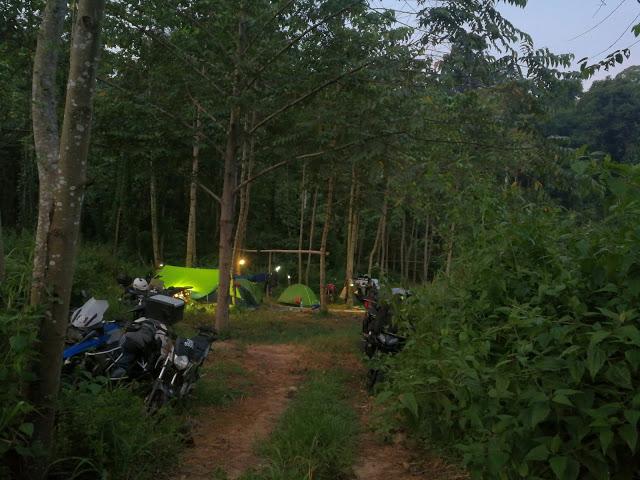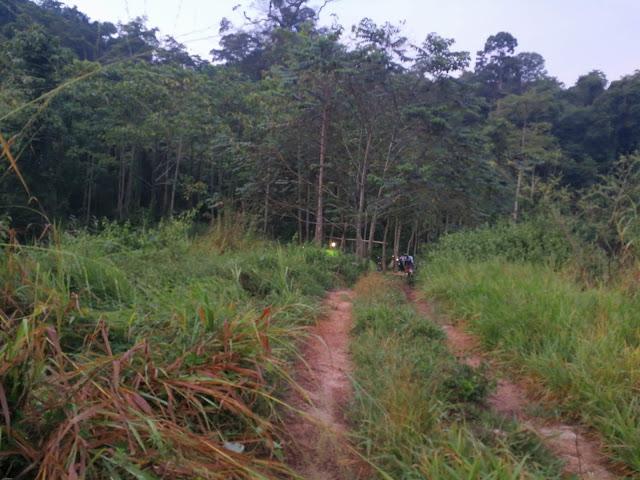 Cikgu Joe and Jezz resorted to hammock while the rest were pitching up their tent at the campsite. While Yusuf and I immediately went into the river to cool down, everyone else were busy unpacking.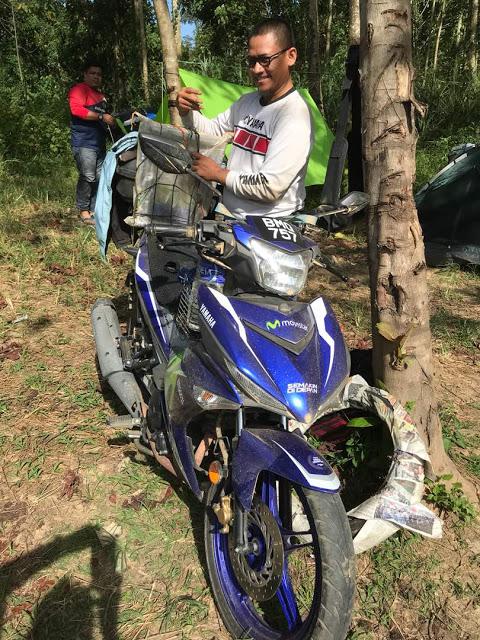 Cusco unpacked
Photo Credit to KW Mark
The plot to bring fishing rod, net and whatnot remains fictitious as no one who were involved in the plot brought items in the discussions ( ;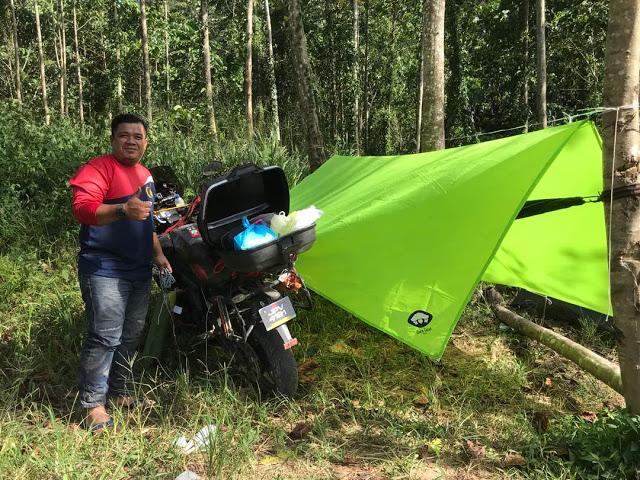 Photo Credit to KW Mark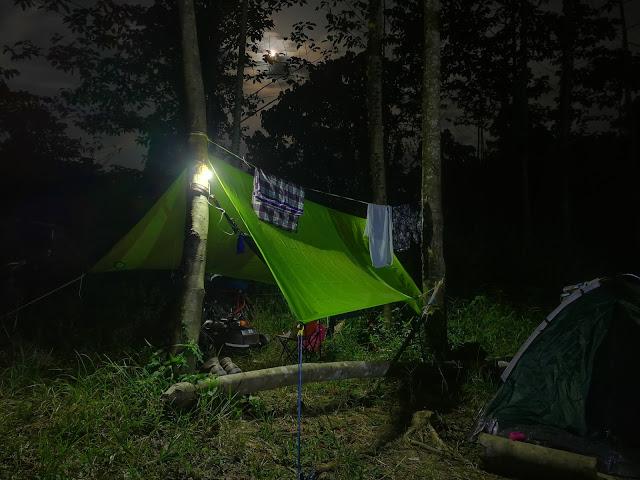 Cikgu Joe's tent setup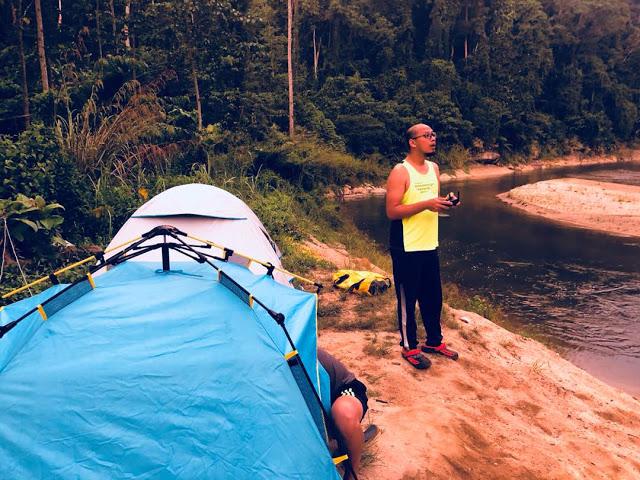 Drone pilot in action
Photo Credit to Jimm
Around 5pm, Din arrived at the campsite alone on his Tenere while most of us were already in the river.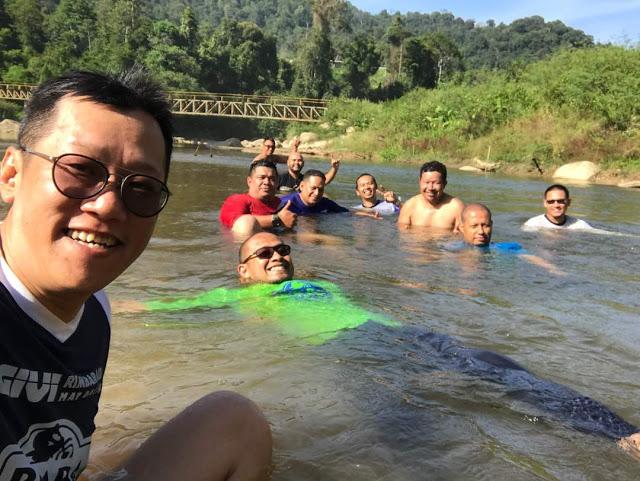 Photo Credit to KW Mark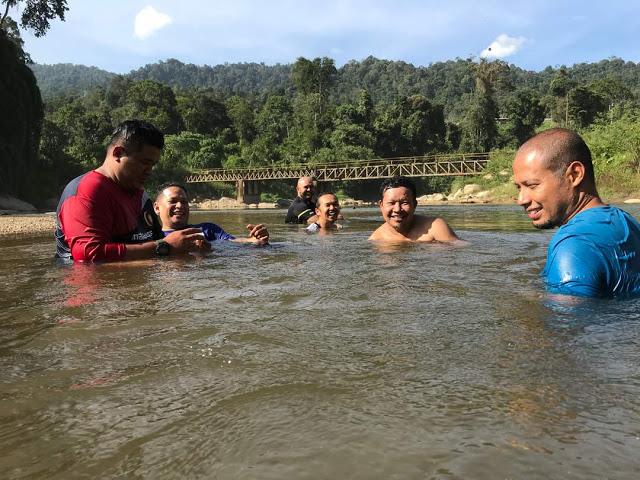 Photo Credit to KW Mark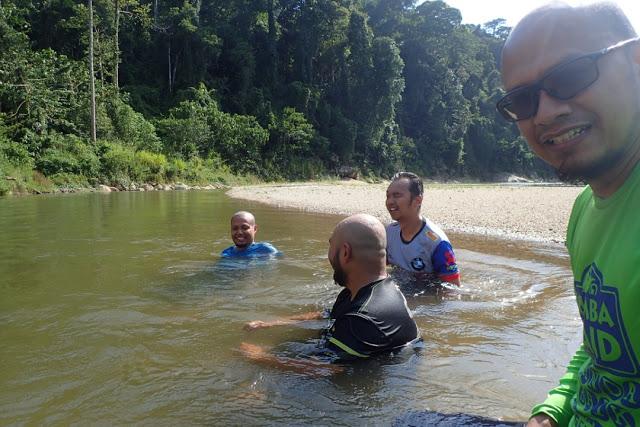 Photo Credit to Yusuf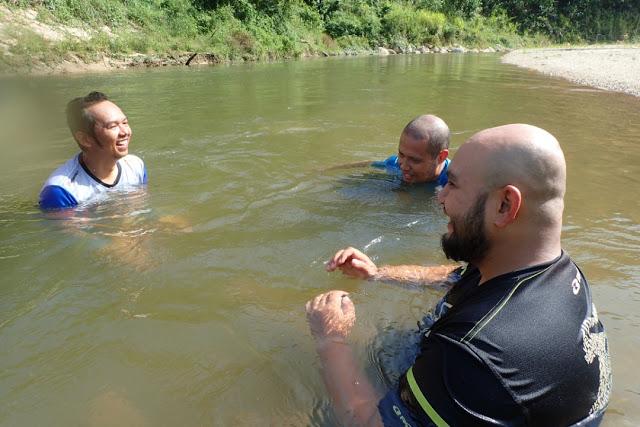 Photo Credit to Yusuf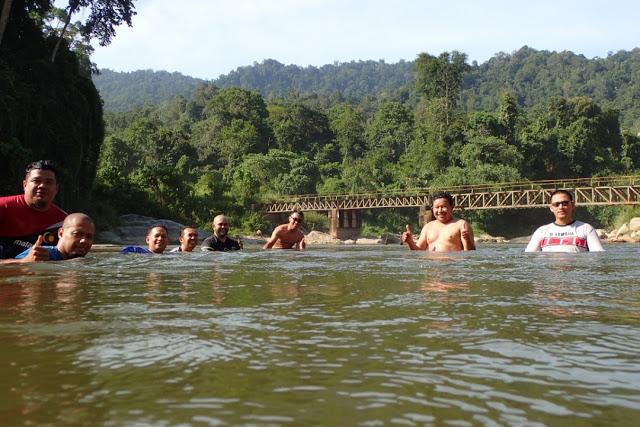 Photo Credit to Yusuf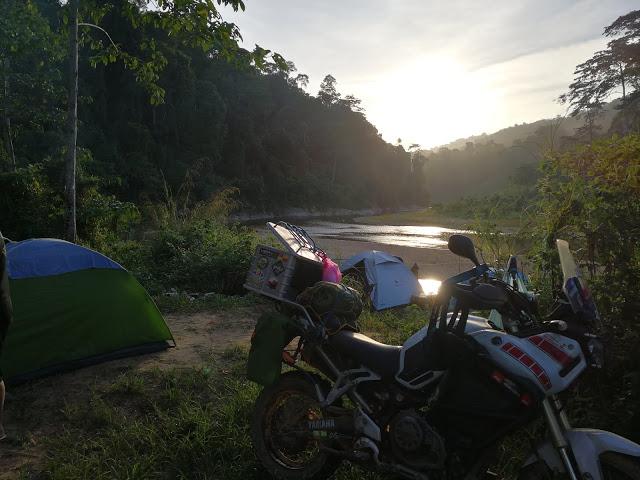 After he had settled down pitching his tent, he had prepared fried jackfruit for all of us and we sat on the riverbank enjoying coffee with fried jackfruit.
Photo Credit to Syahril Zulkifli
Photo Credit to Jezz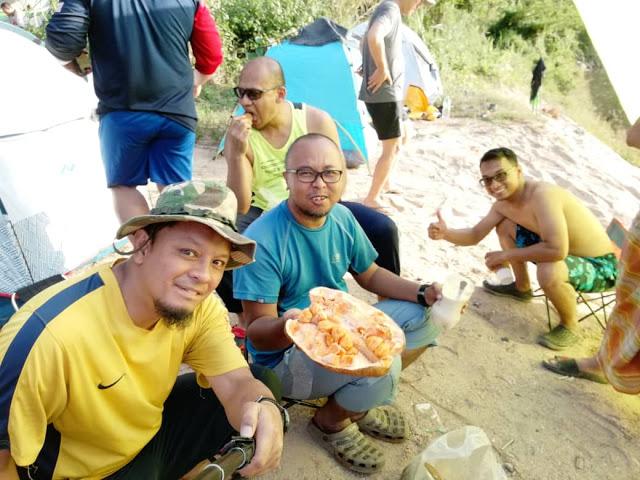 Photo Credit to Jezz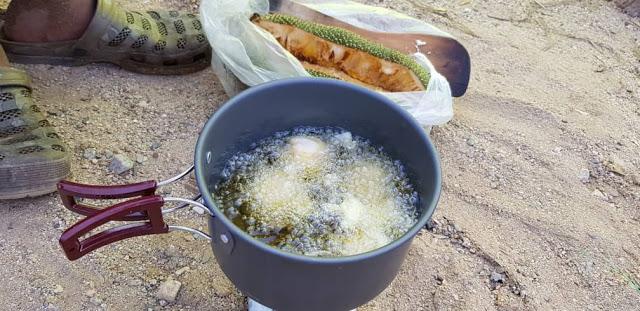 Photo Credit to Syahril Zulkifli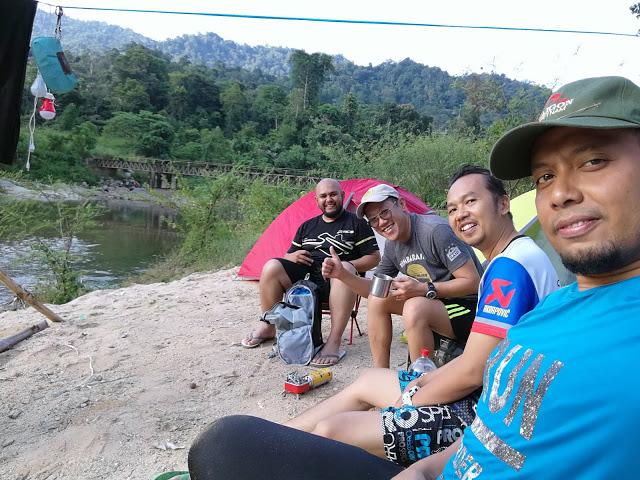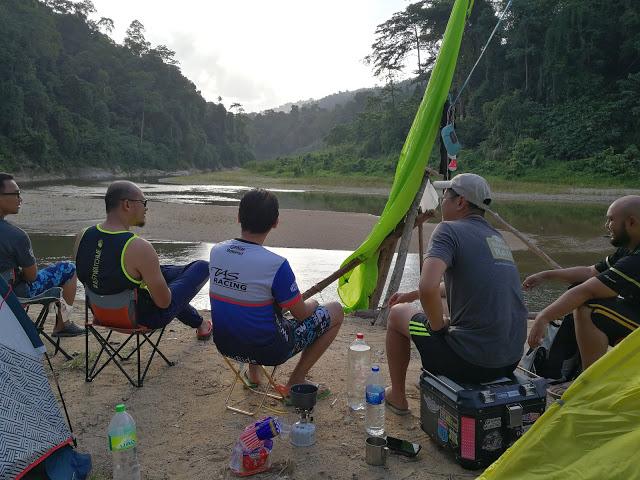 A quick chat between Jezz and a few local orang asli revealed that the area had wild boar and elephant population so we were advised to light up campfire.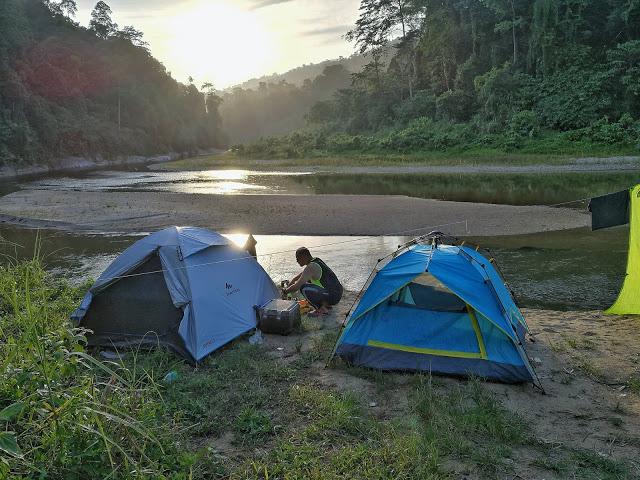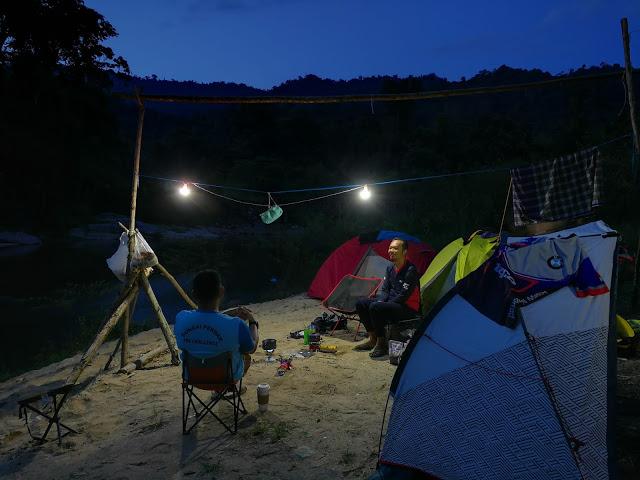 Dinner by the river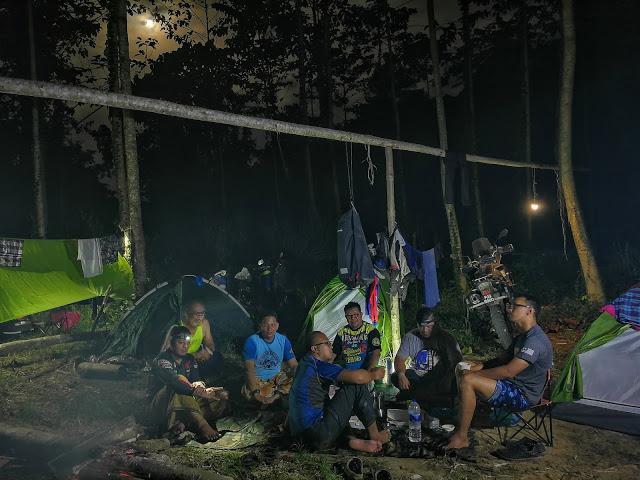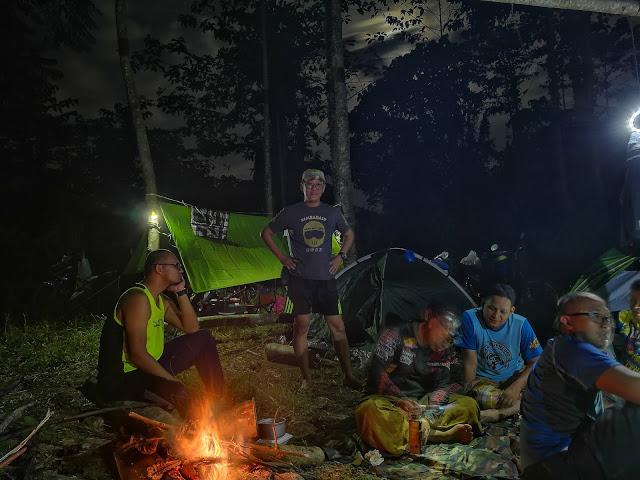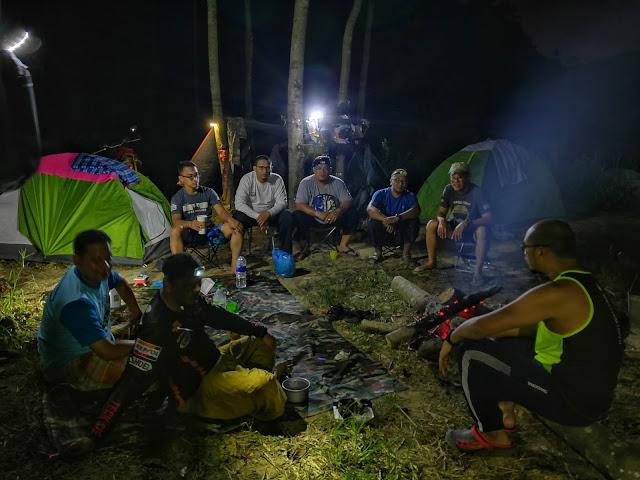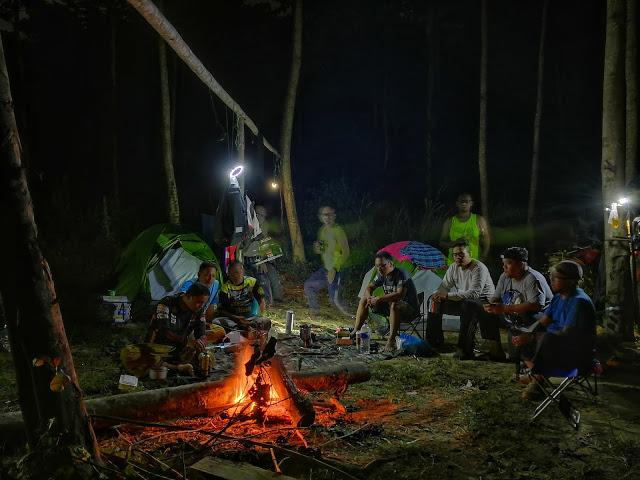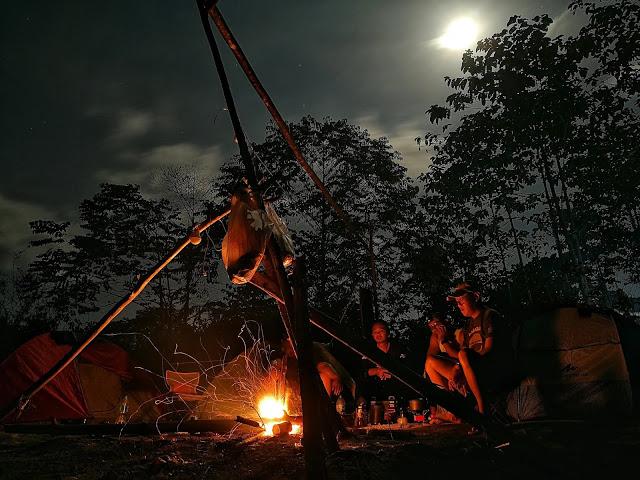 campfire #2 by the river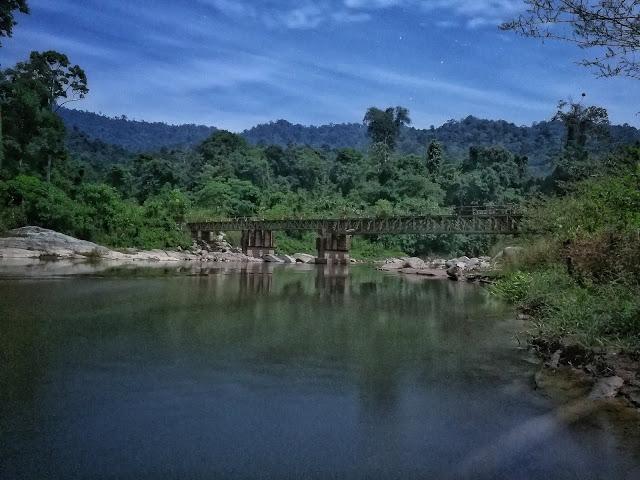 night by the bridge
All of us went searching for firewood and by nightfall we had dinner by the campfire. It was a full moon night and by 10am, the area was bright. We chatted through the night and topic of discussions ranging from riding, history and economics. By 12am, I had retreated to my tent and called it a night. It was a cold night and I was awakened in the early morning looking for my blanket.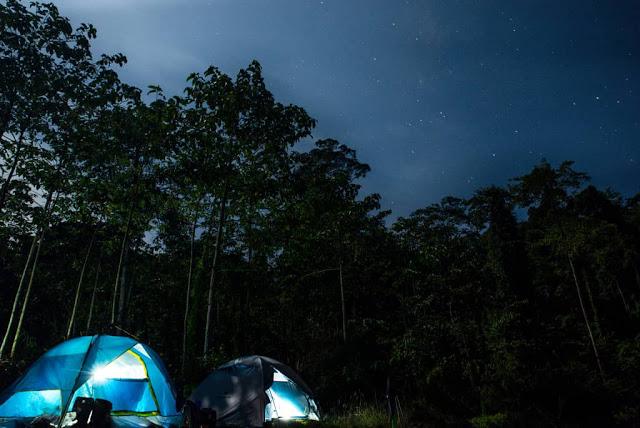 Photo Credit to Saharudin Jumali
I woke up around 6.10am and the outer layer of my tent was wet from the night's dew. After prayer, I went around to snap a couple more pictures of the surrounding.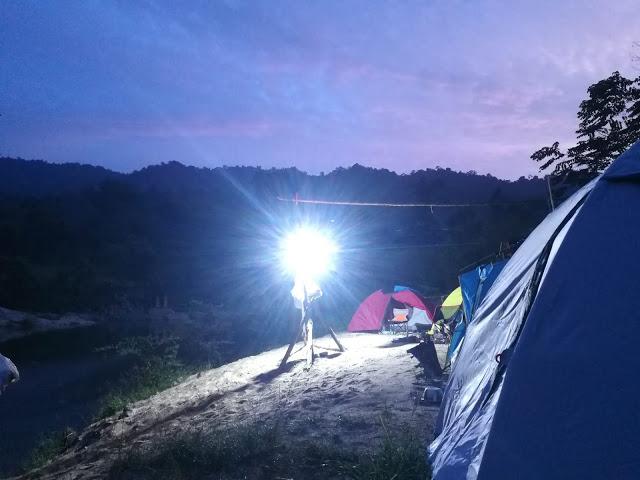 Morning by the river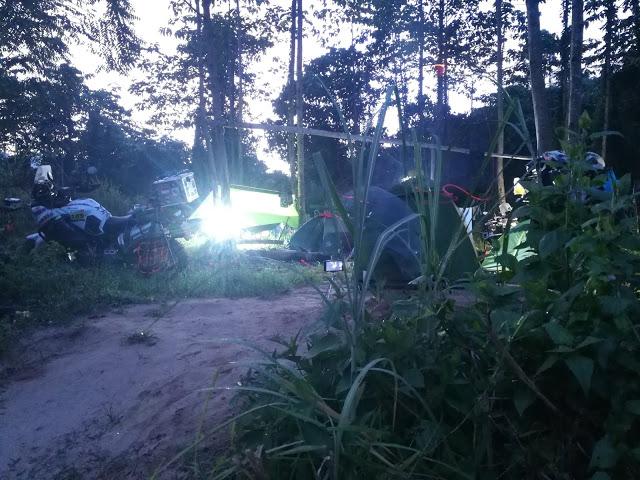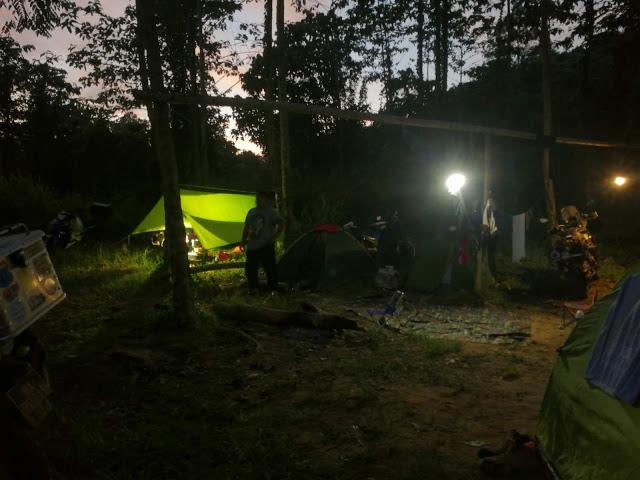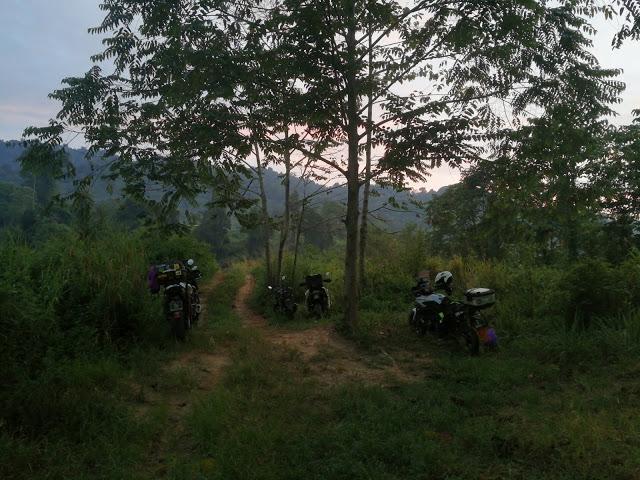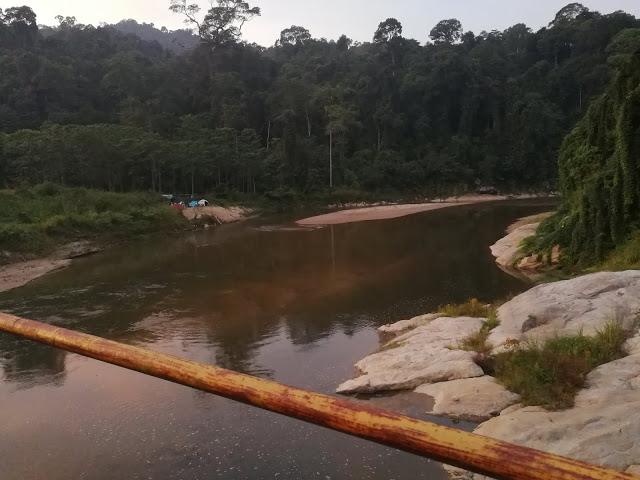 Our campsite view from the bridge
By 8.00am, I had instant noodle for breakfast with egg and sausages brought by Din & Cikgu Joe. We went into the river to freshen ourselves after breakfast and the water was very cold.
By 10am, everyone has packed their equipment and we gathered on the bridge for a group photo.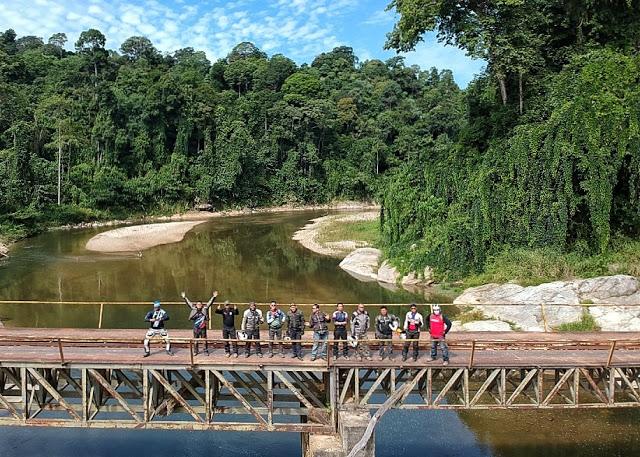 Photo Credit to Yusuf
The weather was clear and hot when we have gathered at log collection area for another group photo.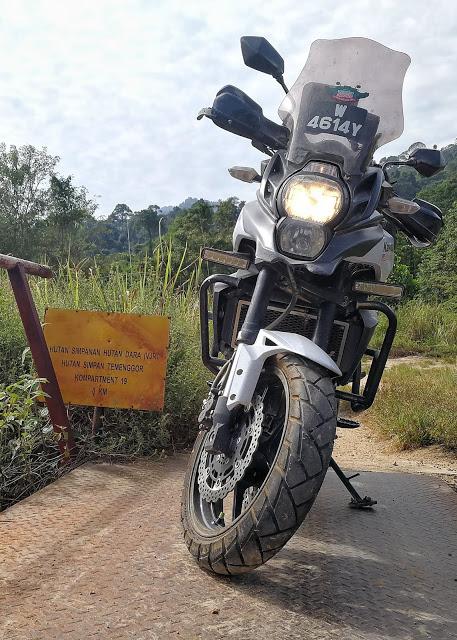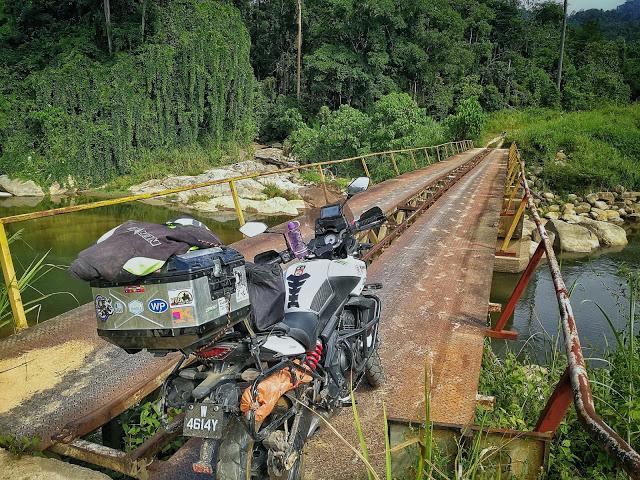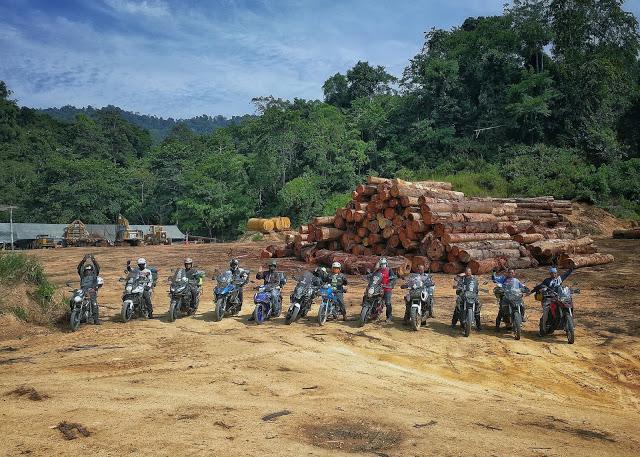 Well done guys!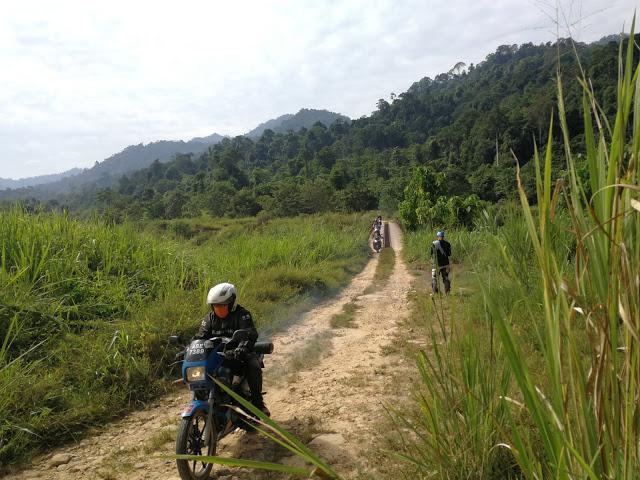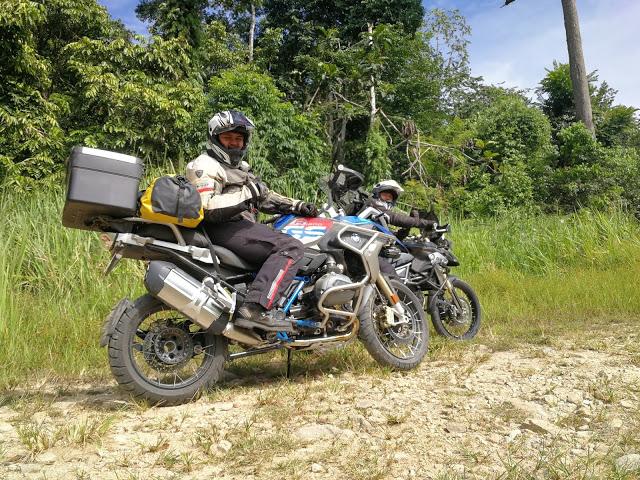 We departed from the area around 10.40am heading to FT4 through the same trail as yesterday. It is here that Din found his bike unable to start, so a couple of us pushed his bike for a kick start.
The fine dust covered the trail and it gets worst as we passed by at least 2 lori hantu carrying log loads.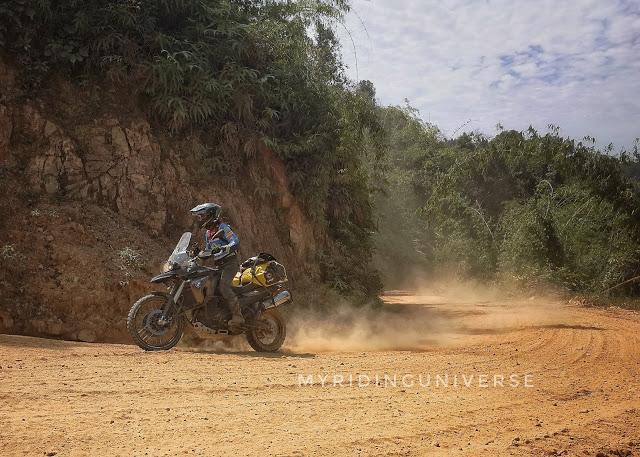 KW Mark on F800GS
Syahril met an incoming Hilux on one of the bending descend and accidentally locked his front wheel in the effort to stop and fell. The rest of the team face no issues on our way out and we have gathered at the waypoint to rest. We helped Din again to bump-start his bike here.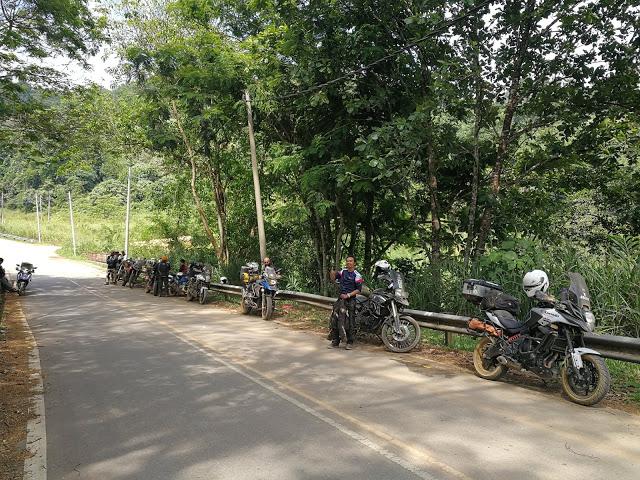 After 15 minutes we were on the bike riding through FT4 Lebuhraya Timur Barat heading towards Gerik and arrive at Shell Bandariang around 11.50am. It was scouring hot around 33°C and we took shelter underneath a shade while waiting the entire team to finish refilling petrol and tire pressure. Tom helped Din to remove his headlamp, hoping to aid the starting process but over here we still have to help to push his bike to start. We said goodbye to KW Mark here as he will proceed to Butterworth.
From Bandariang, we when into Kuala Kenderong route A170 before crossing a small steel bridge over Sungai Kendering to bypass the Gerik town before joining route A76 heading towards Lenggong.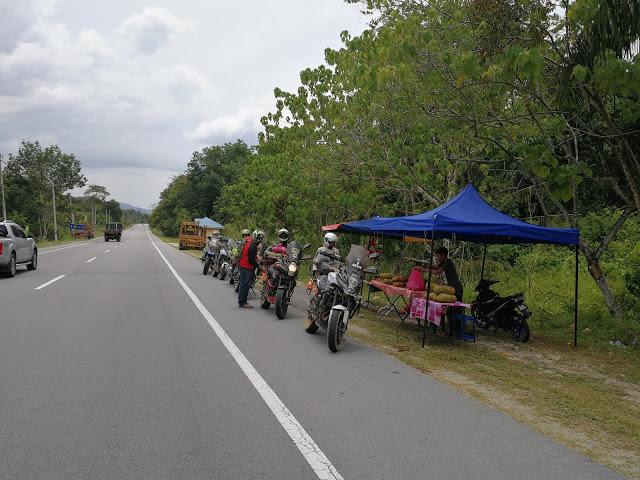 We stopped by a small stall on the roadside to buy jackfruit and continuing towards pitstop A76. When we arrived at the pitstop, Din and Cikgu Joe were already there. We spend about 3 hours at this spot for lunch and chatted with the owner, Mr. Wbh Yeop. We said goodbye to Cikgu Jasni & Cikgu Joe as they will head through inner road from here.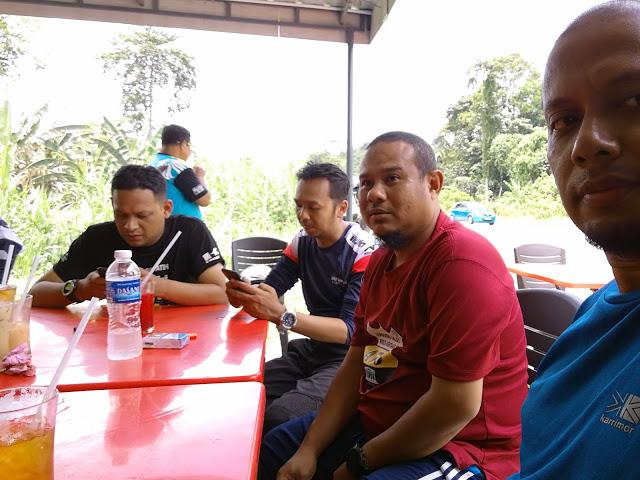 I have fried Bawal fish with rice set for lunch.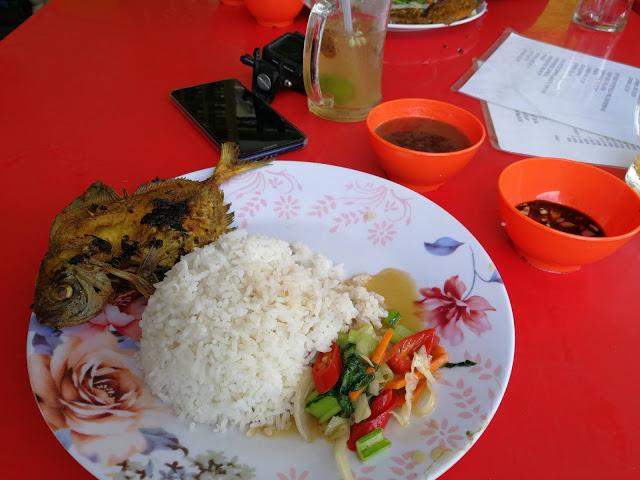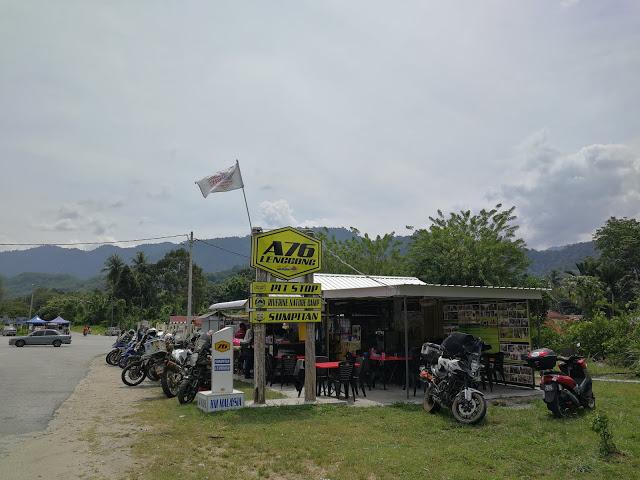 Around 3pm we made a move towards Kuala Lumpur through E1 North South Expressway and the weather was hot with ambient temperature around 31°C. Traffic was heavy heading to Kuala Lumpur on E1 and we rode cautiously south. The weather turned cloudy around Gopeng to Bidor but still no rain. We made another stop at R&R Ulu Bernam for drinks and petrol refill but we missed Yusuf at this last stop. We bid farewell to each other here as all of us will go separately from this stop.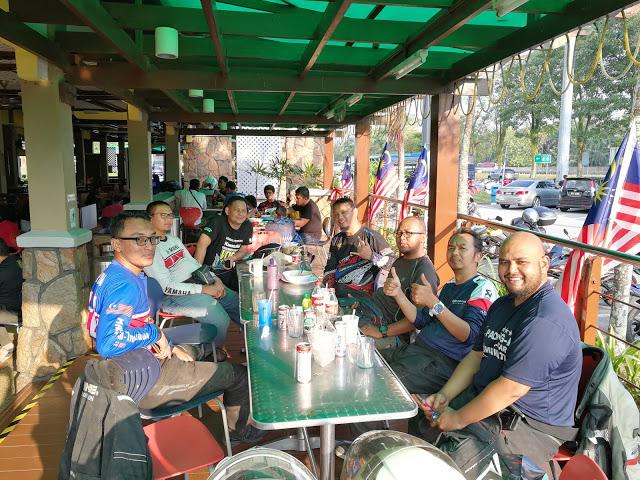 One last drink
It was a very good trip with a superb location and blessed with a perfect weather throughout the two days ride. We rode around Titiwangsa range and spent a night in one of its northern point where at the point of our visit is very picturesque.
We have helped to clean up the campsite where we have stayed and it is in better condition before we moved in. It is our duty to ensure we leave nothing but footprints and we take nothing but photographs if we want to do this in the long term.
Ride snippets:
Riders:
1. Saharudin Jumali (Din) Yamaha XT1200Z Super Ténéré
2. Jezz Nazim Yamaha FZ150
3. Hafiz Cusco Yamaha Y15
4. Cikgu Jasni Yamaha RXZ 135
5. Jimms Shahrul BMW F800GS
6. KW Mark BMW F800GS
7. Yusuf BMW F800GS
8. Syahril BMW R1200GS
9. Tom Muhamad Kawasaki Versys 650
10. Ikhwan Kawasaki Versys 650
11. Cikgu Joe Kawasaki Versys 650
12. Rashidin Kawasaki Versys 650
Distance: 832km
Date: 25th – 26th August 2018
Average moving speed: 78km/h
Lowest temperature: 22°C (Campsite)
Highest temperature: 34°C (Gua Musang)
Expenditures:
Petrol: RM90
Food: RM10 – Lunch & Dinner
Jackfruit – RM10