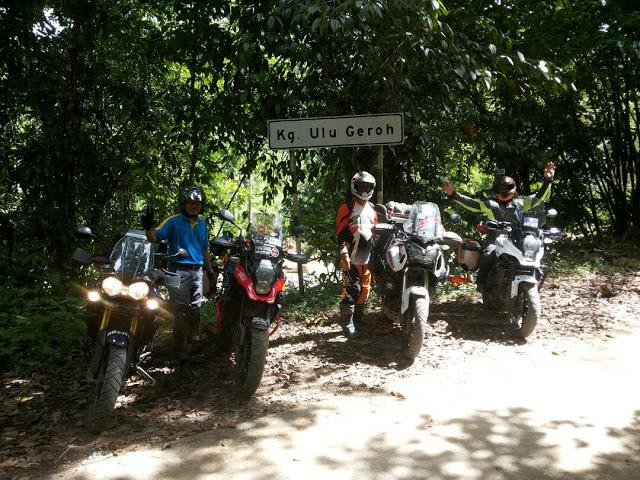 A settlement at the foothill of Titiwangsa Range is a famous eco-tourism spot, well known for its Rafflesia flowers, butterflies and white water rapid activities. A constant promotion and conservation effort from Malaysian Nature Society (MNS) has helped brought throngs of visitors which include tourist, students and researchers to this area, which is situated about 150km northeast of Kuala Lumpur.
One of the benefiters of such influx is Kampung Orang Asli Ulu Geroh, which has been the center of this eco-tourism activities where most of the guides to the rafflesia sighting and butterflies trips originated. Another orang asli settlement in this area is Kampung Orang Asli Hulu Kampar which is situated right at the start of a hiking track leading to Cameron Bharat's tea plantation. It sits on the riverbank of Sungai Kampar and it is within Bukit Kinta Forest Reserve which holds 950ha Kinta Nature Park established in 2001.
This plan is to ride to Gopeng through a shortcut around Gunung Tempurung from Sungai Siput Selatan and search for a campsite on the riverbank of Ulu Geroh River. Shah, Hashim and I will meet at R&R Rawang and we will meet Ibrahim at Exit 132 Tapah. Ibrahim is riding alone from Bertam.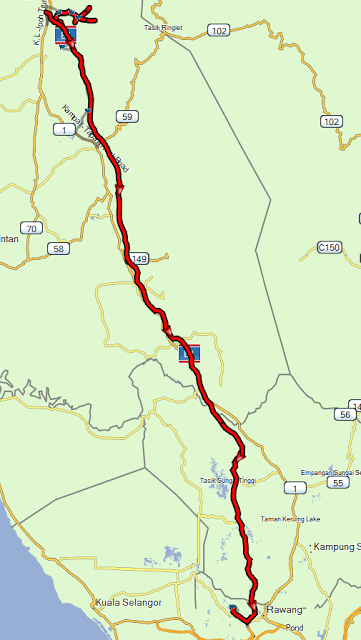 It was a cloudy Saturday morning when I started from Rawang. Continuous rain for the last couple of days prior to the ride has worried me but the team insist that we pushed on with the plan.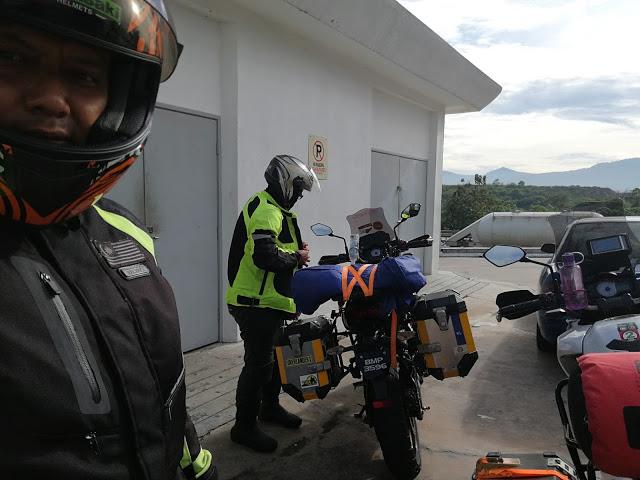 It was 9.00 am when I reached R&R Rawang and Hashim was already there. Shah called me earlier and informed that he will be slightly delayed and will join us later at RV2 so Hashim & I departed after my arrival. The weather was clear with ambient temperature around 28°C when we entered E2 heading north.
Traffic was slightly more than average as it was a school holiday weekend but still smooth even after Slim River's three to two lane integral. There are many riders group heading north as well, as riding is becoming more popular nowadays.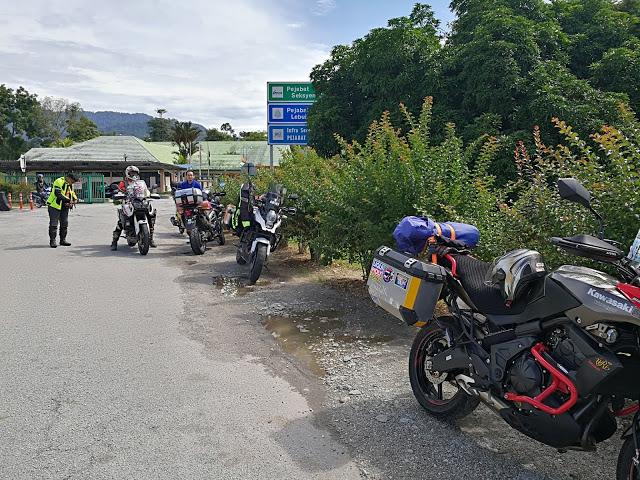 We arrived at Exit 132 Tapah around 10.10am and settled underneath a tree while waiting for the rest. Ibrahim arrived around 10.20am and followed by Shah shortly after. After a short chuckles among us, we made a move around 10.53am and headed to FT1 towards Chenderiang after a quick refill at Shell Tapah. The weather was clear and road condition was excellent.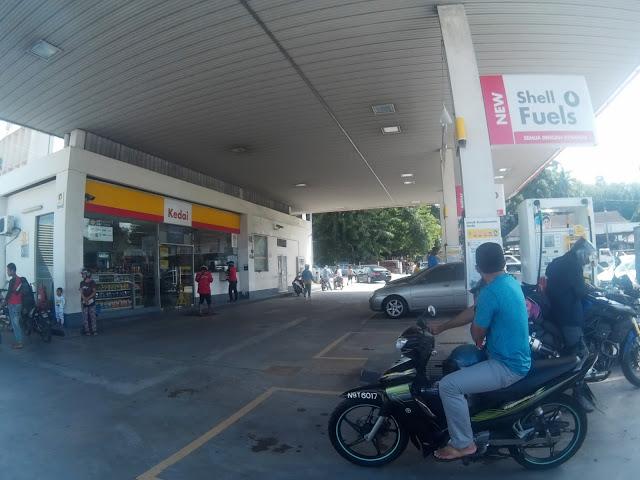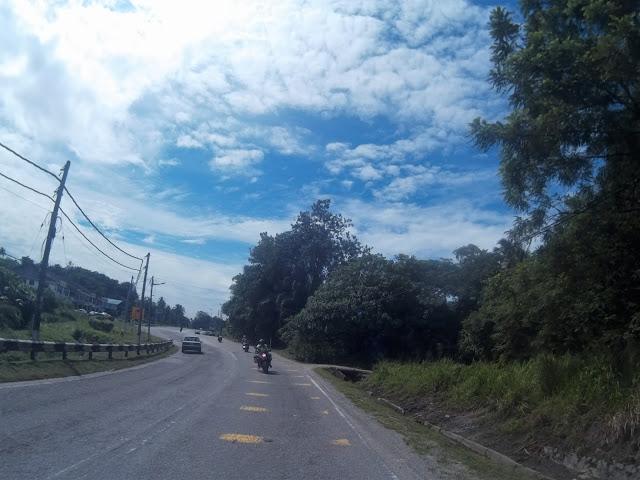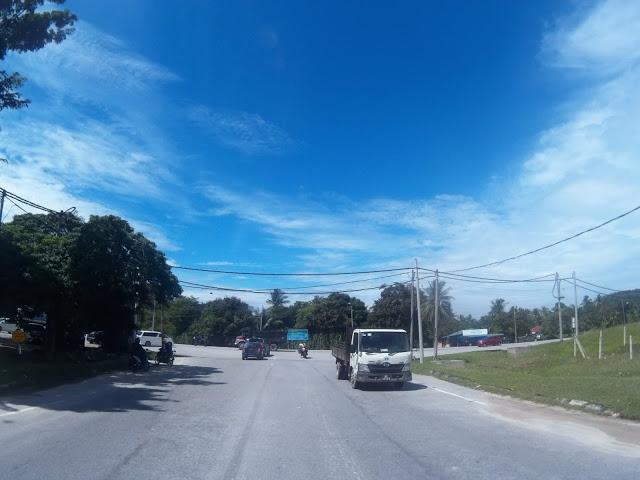 We made a right turn to A118 towards Chenderiang and later a left turn to A119 towards Kampung Lah and Lata Iskandar.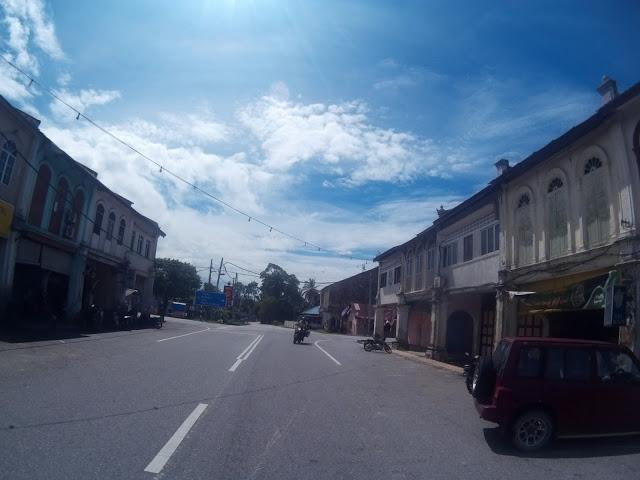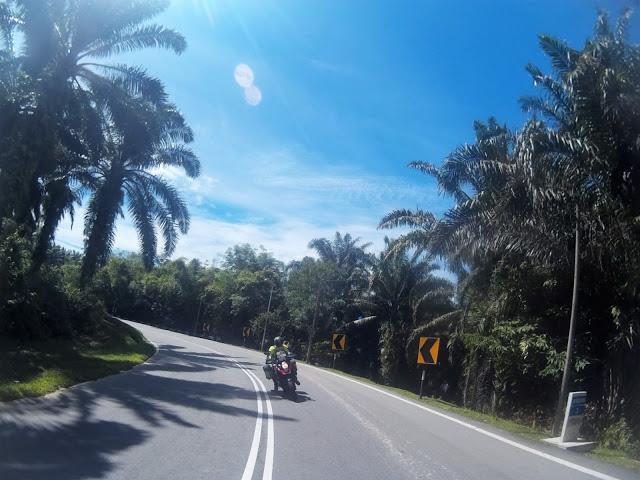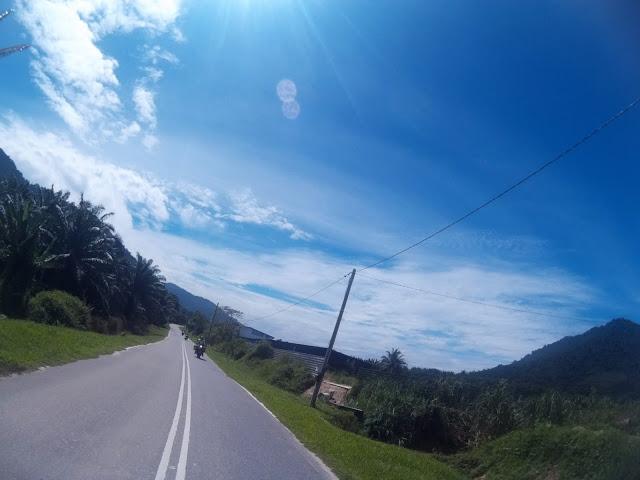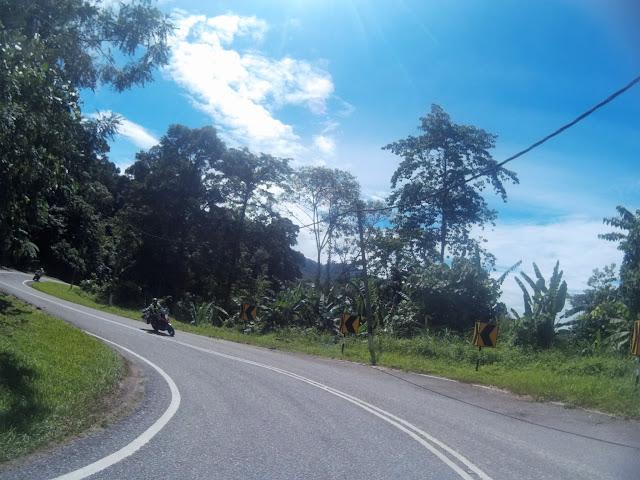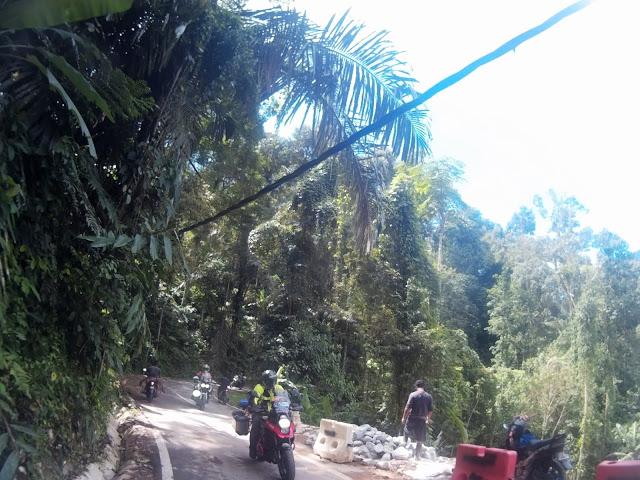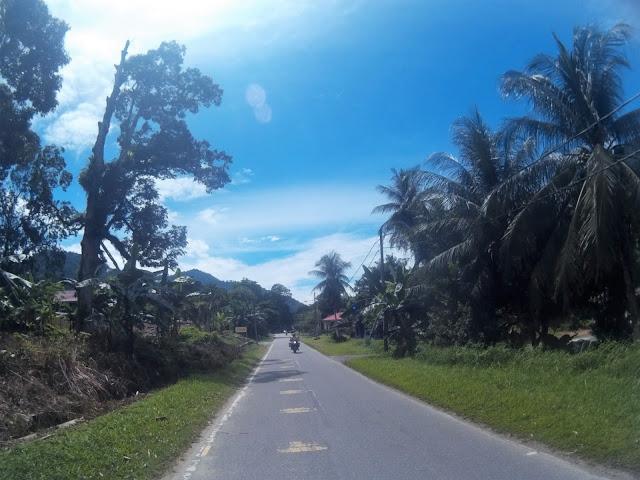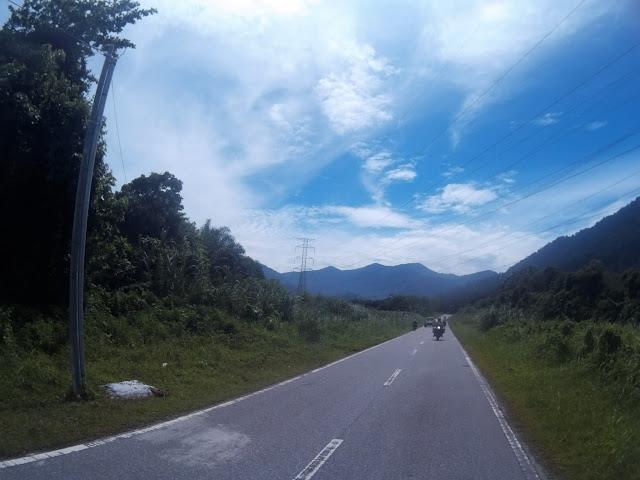 This route runs parallel to highway E1 and we passed underneath it a couple of times. Just before Sungai Siput Selatan, we made a right turn to a waypoint for Gunung Tempurung offroad shortcut.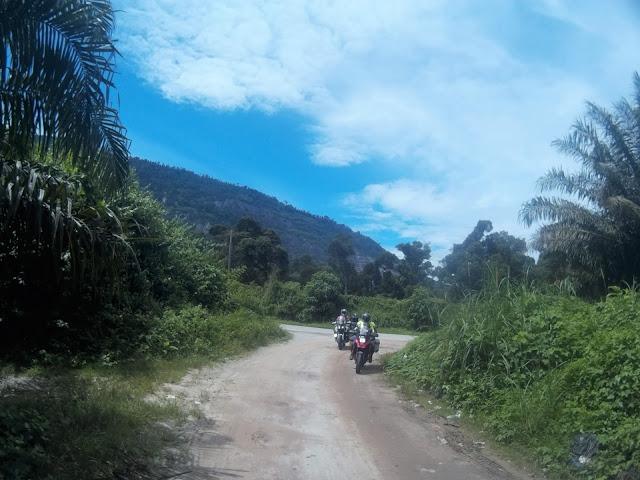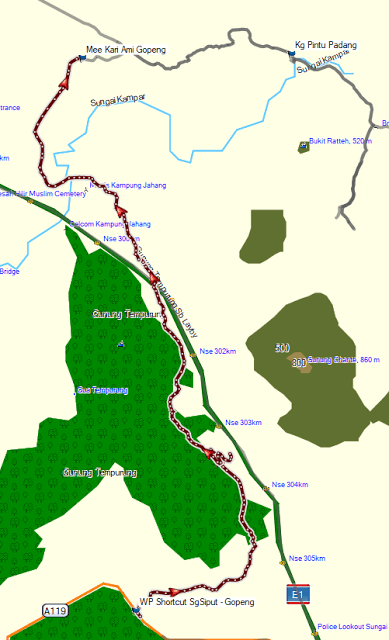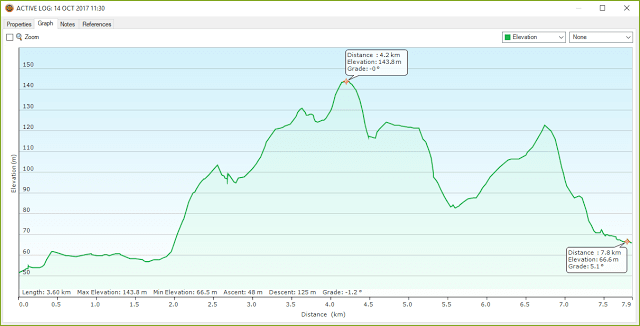 Waypoint Sg Siput Selatan – Gopeng Shortcut (Distance 8km)
GPS N4.39133 E101.19475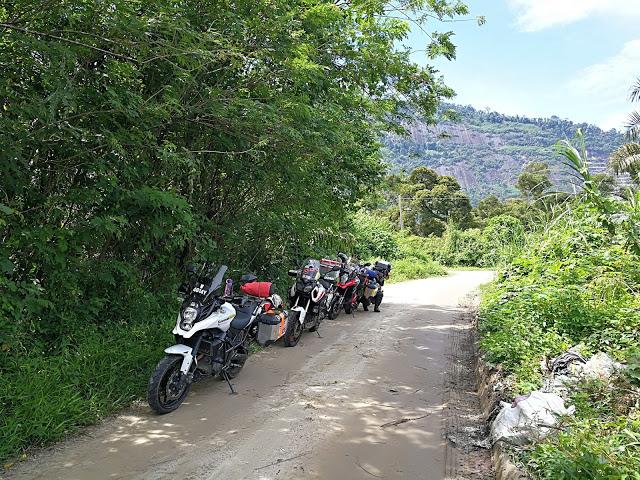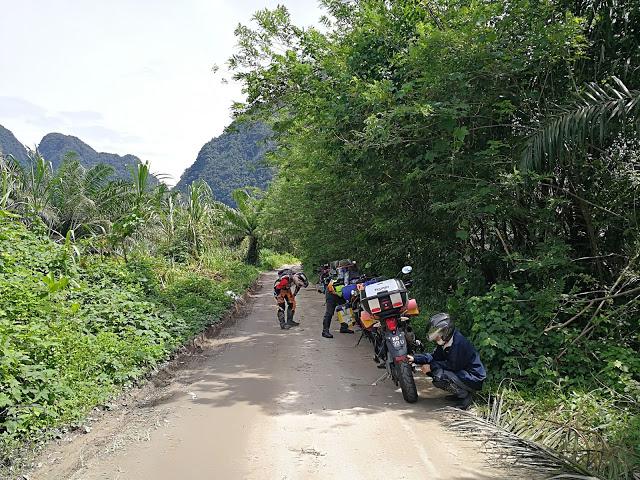 We reduced our tire pressure here and started venturing into the offroad trail towards Gunung Tempurung. The trail surface was made of compacted sand, small rocks and red soil. There are at least 3 stream crossings before the trail crosses underneath E1 highway.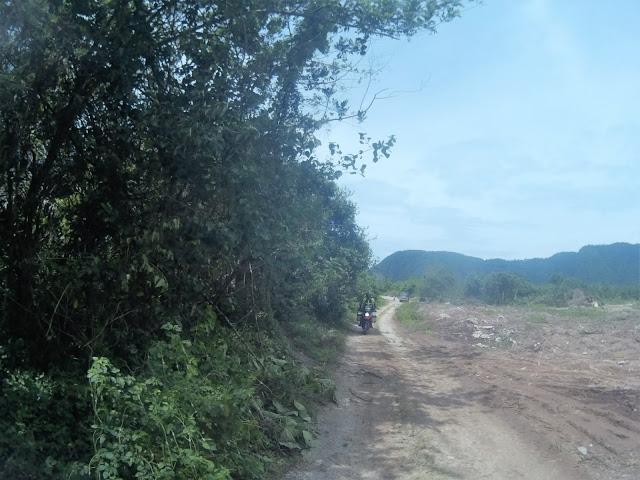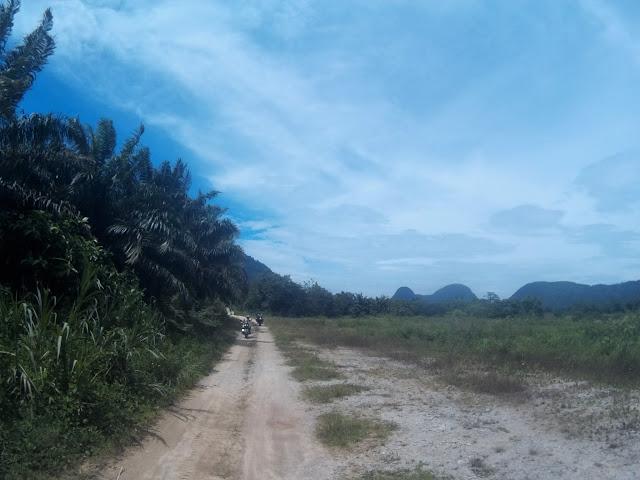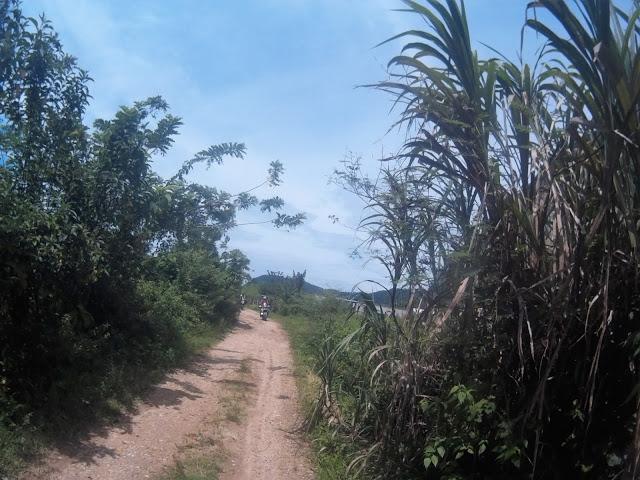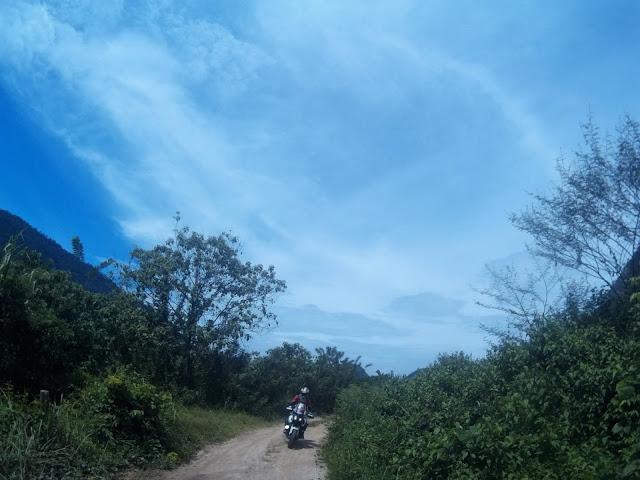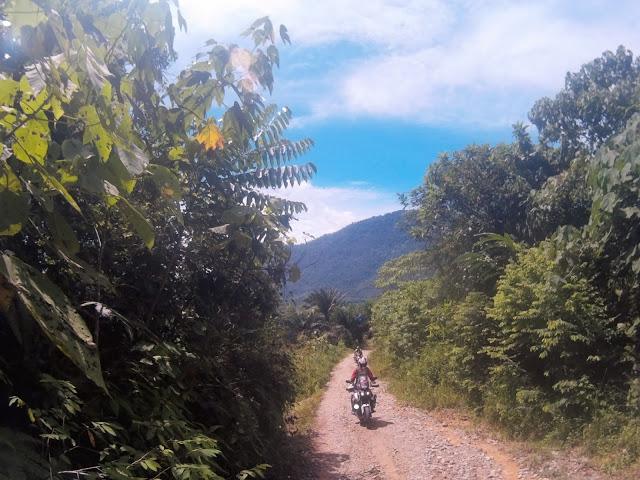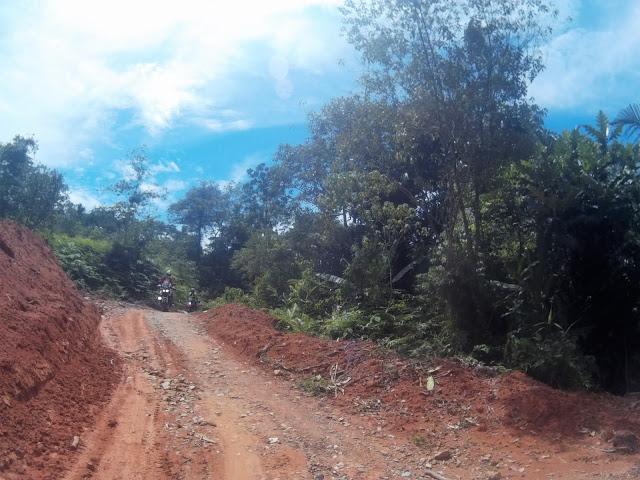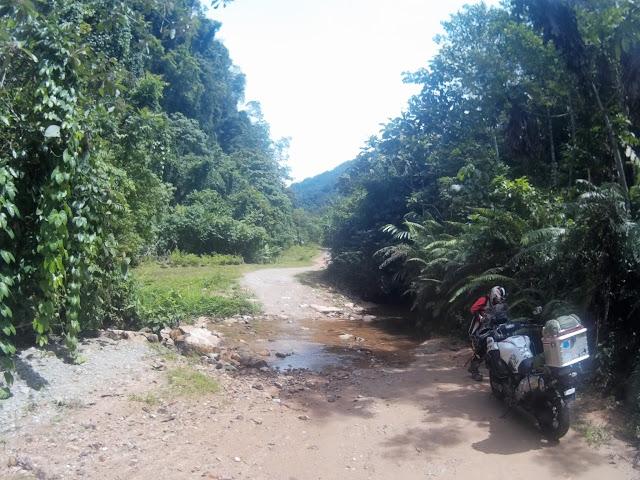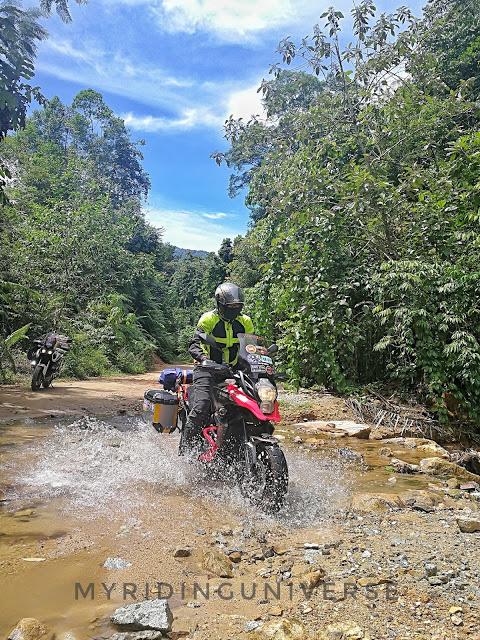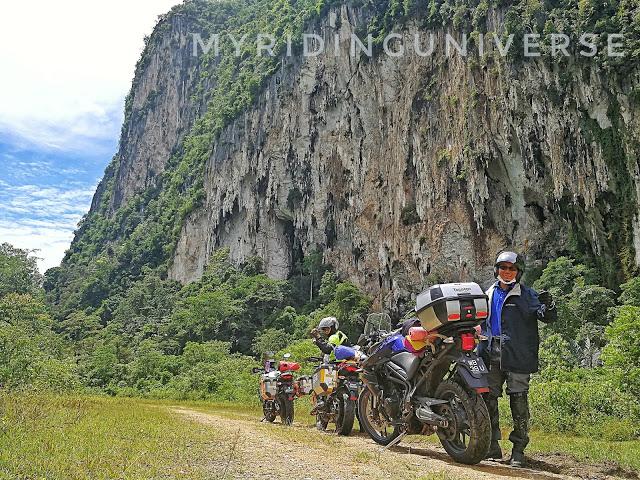 the magnificent Gunung Tempurung in the background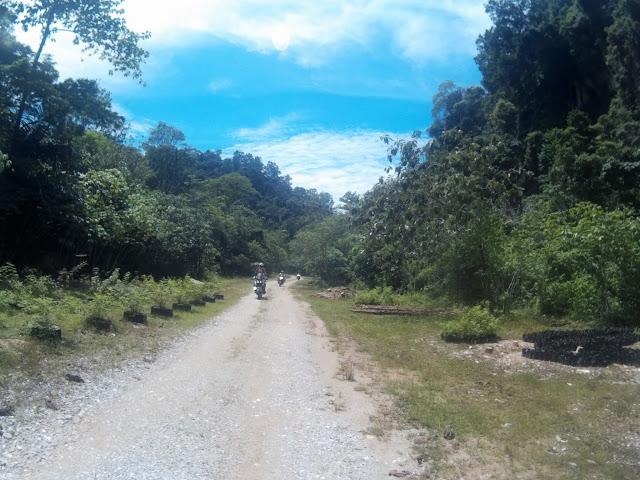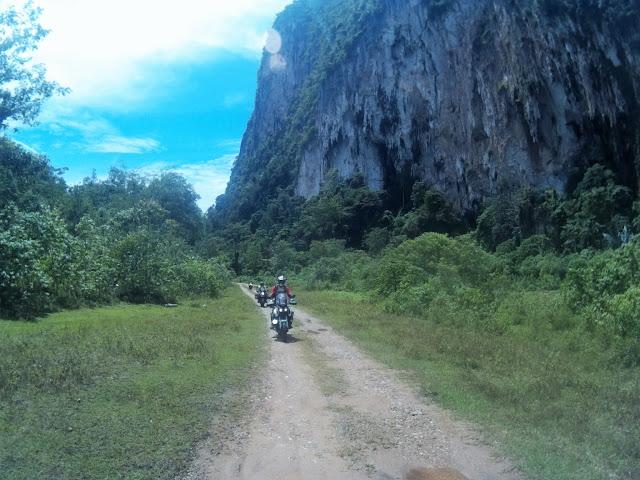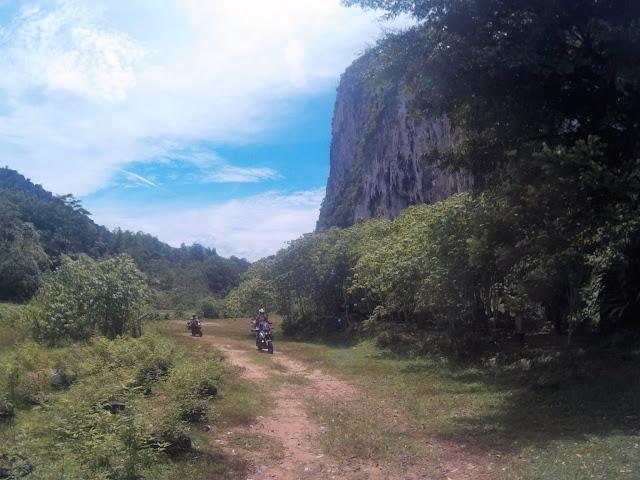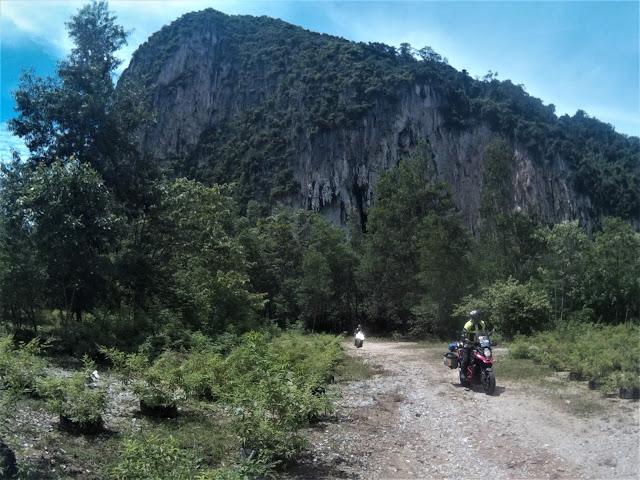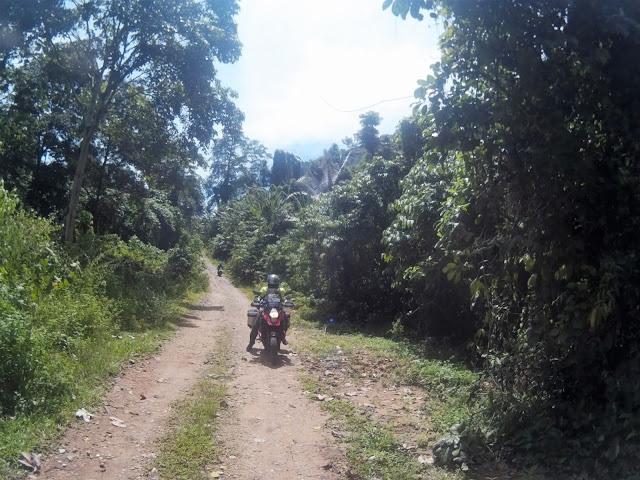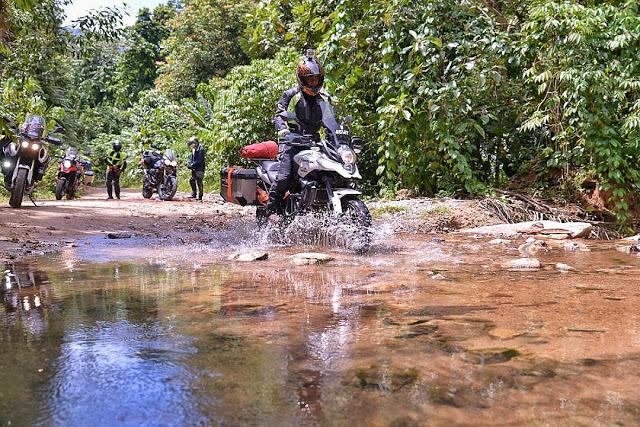 Photo Credit to Saharudin Jumali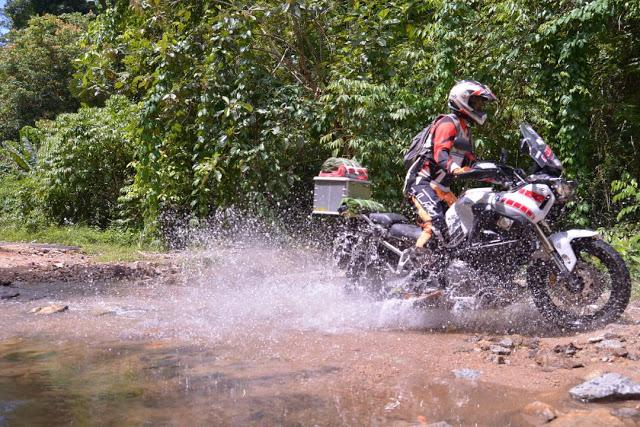 Photo Credit to Saharudin Jumali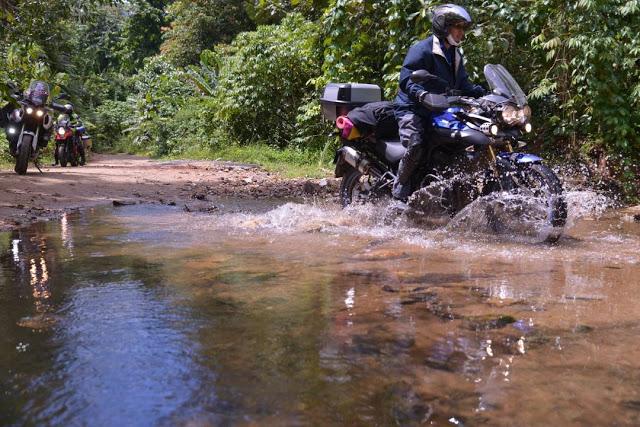 Photo Credit to Saharudin Jumali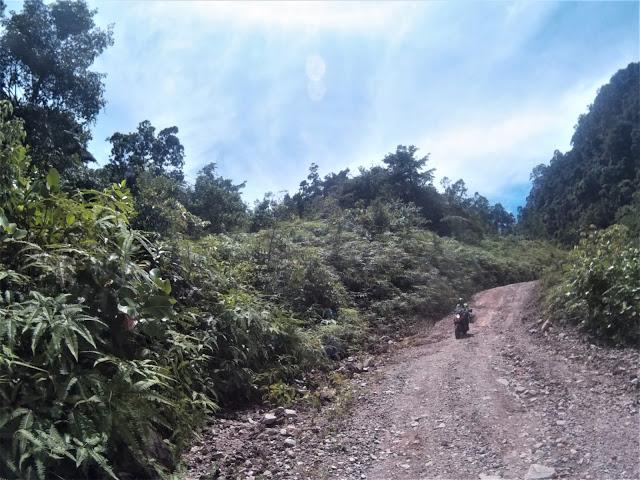 The last section of the trail after the underpass runs parallel with two streams.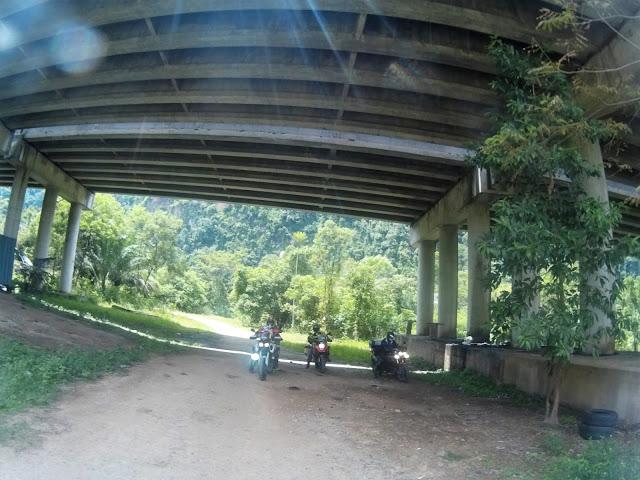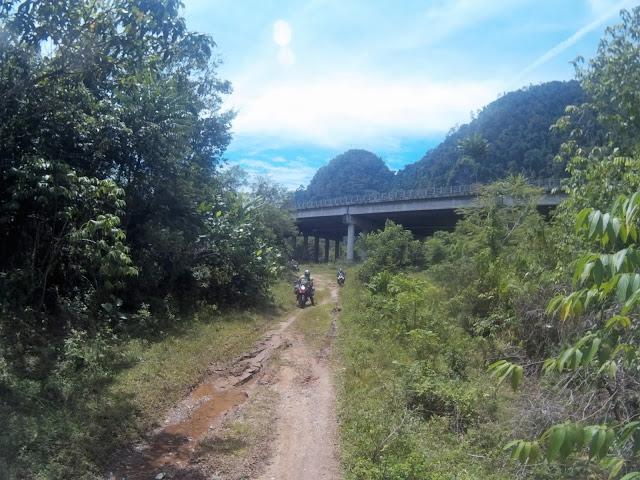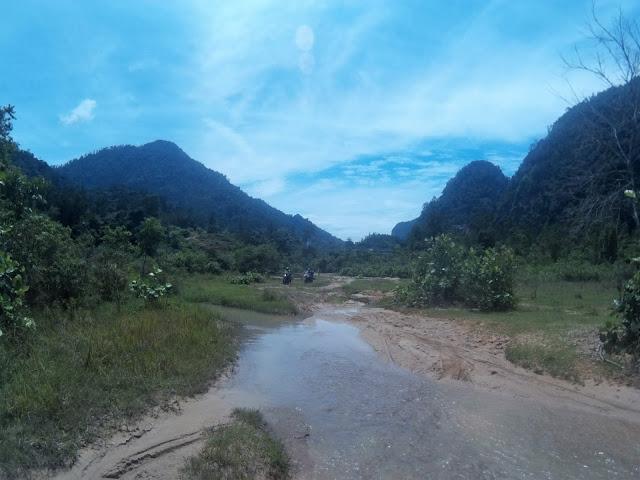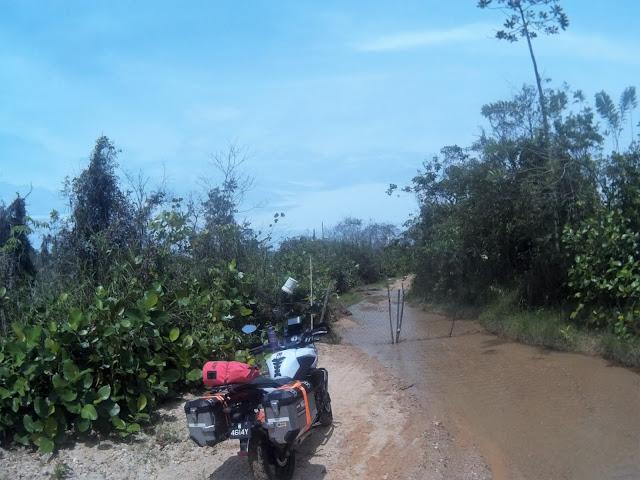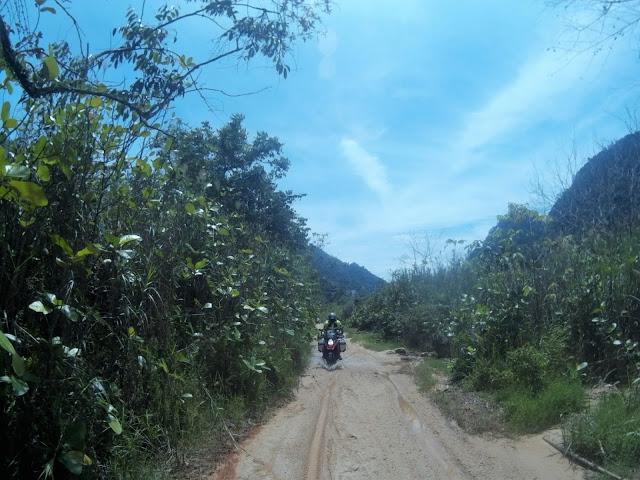 Ibrahim's front wheel sank into the soft sandy bottom and we worked together to clear that. In the process, I was sprayed with sand mud but it was fun, especially for Shah who made a few runs in the stream.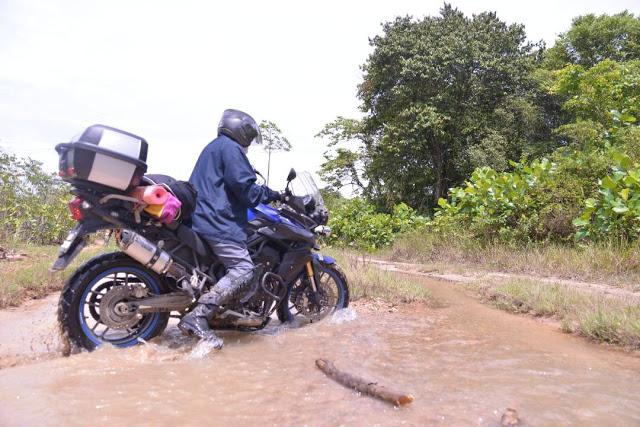 Photo Credit to Saharudin Jumali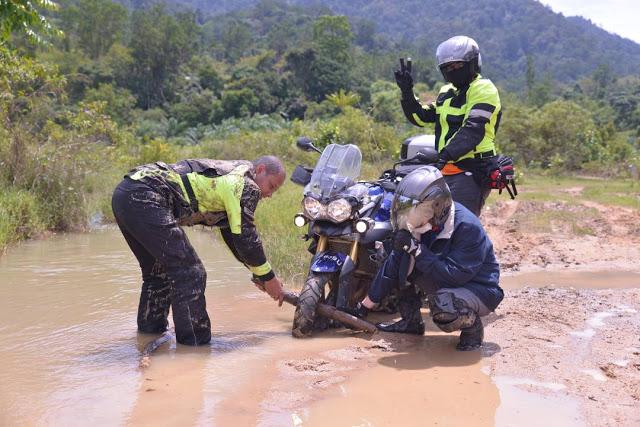 Photo Credit to Saharudin Jumali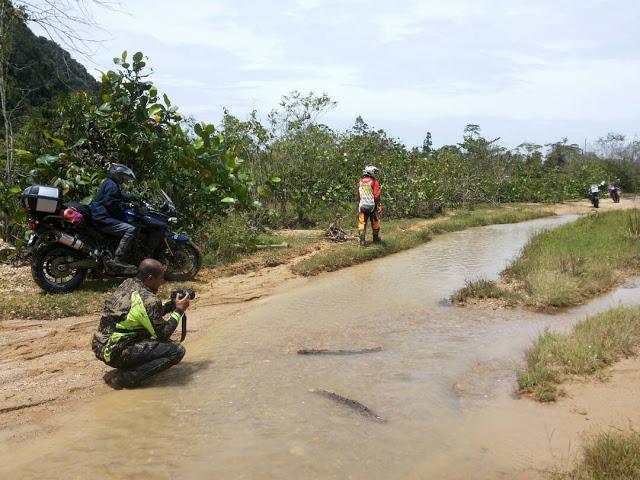 Photo Credit to Hashim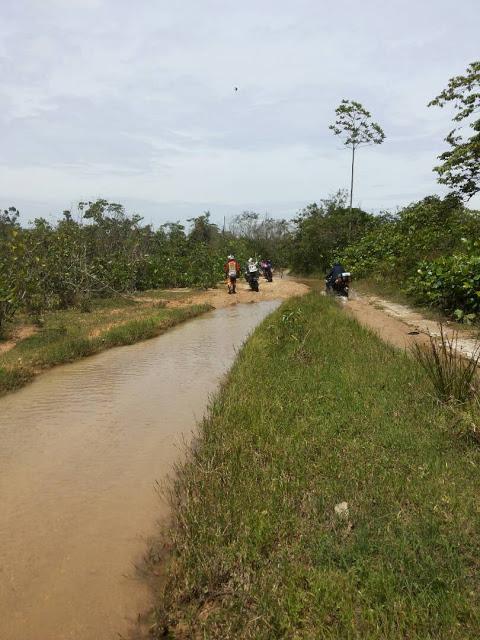 Photo Credit to Hashim
Photo Credit to Hashim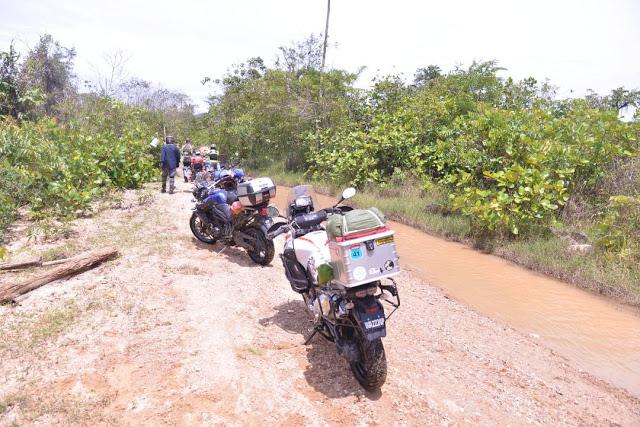 Photo Credit to Hashim
Photo Credit to Saharudin Jumali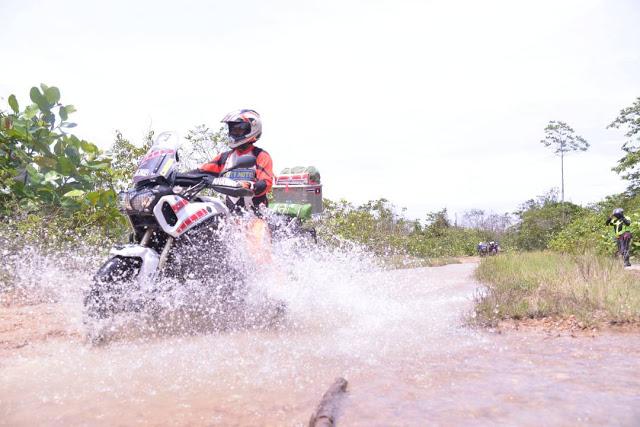 Photo Credit to Saharudin Jumali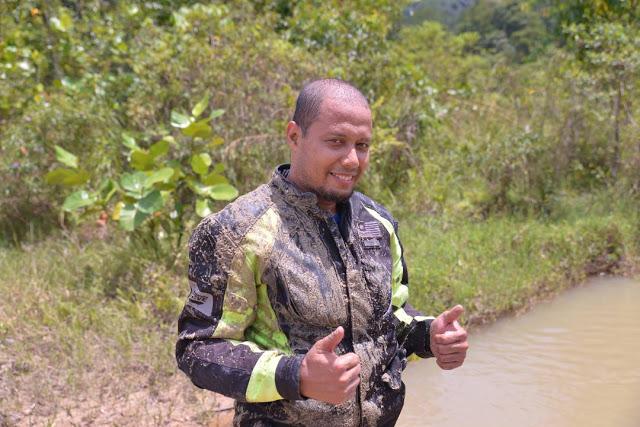 Photo Credit to Saharudin Jumali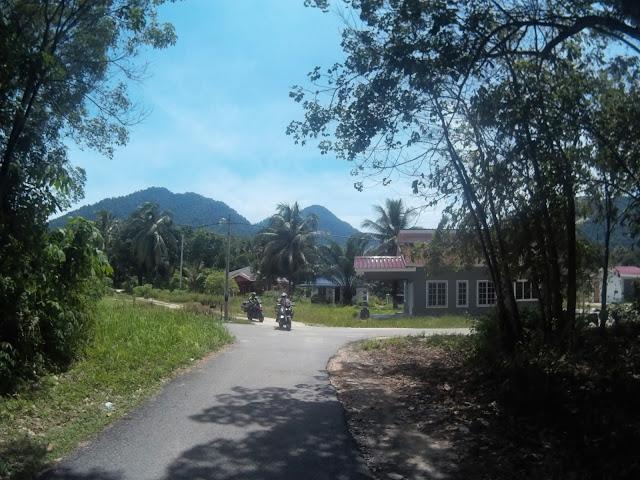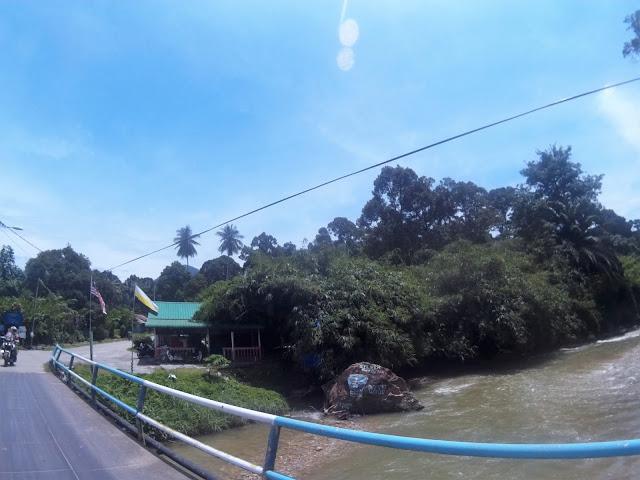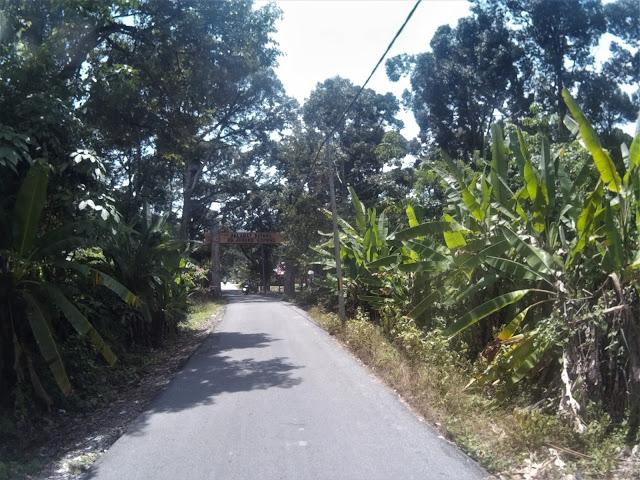 The trail ends at Kampung Jahang and we made a stop at Mee Kari Ami restaurant for rest and lunch.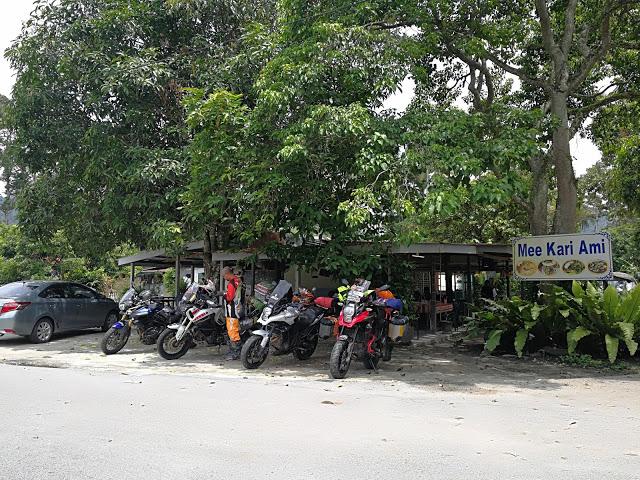 Mee Kari Ami
GPS N4.45534 E101.18846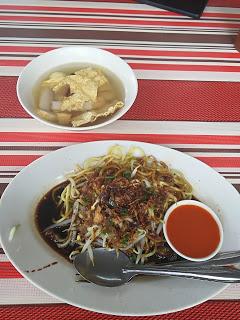 I had mee kicap for lunch
Right after lunch we made a move towards Kuala Razila as Ibrahim was searching for mineral water and Shah was looking for a sandal.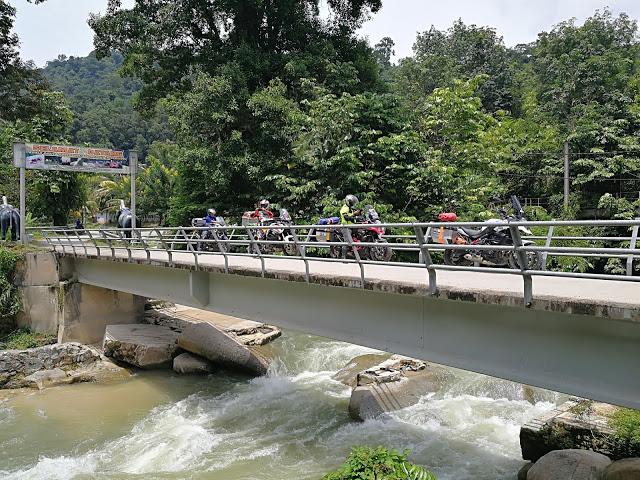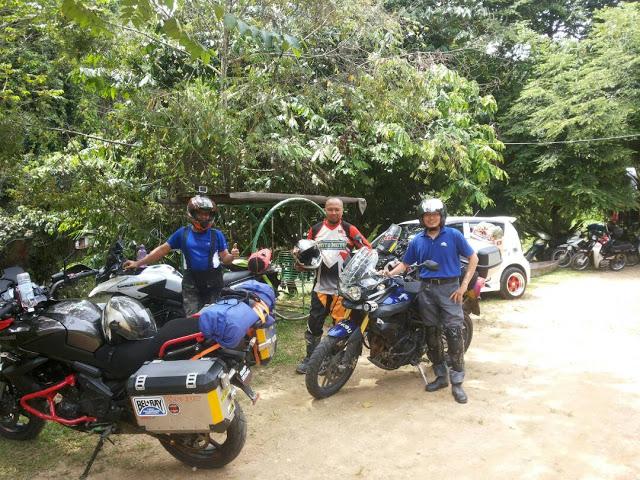 Photo Credit to Hashim
We arrived at Razila Adventure & Resort around 1.38pm and we chatted with the owner, Mr. Razak. I had a chance to speak with his son and he suggested that we find a campsite at Kampung Hulu Kampar.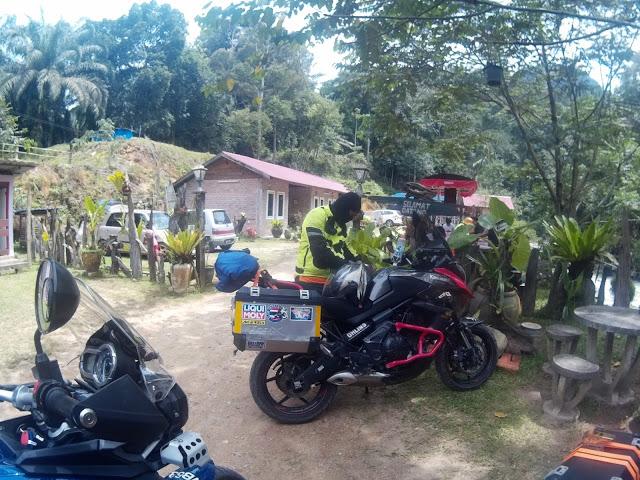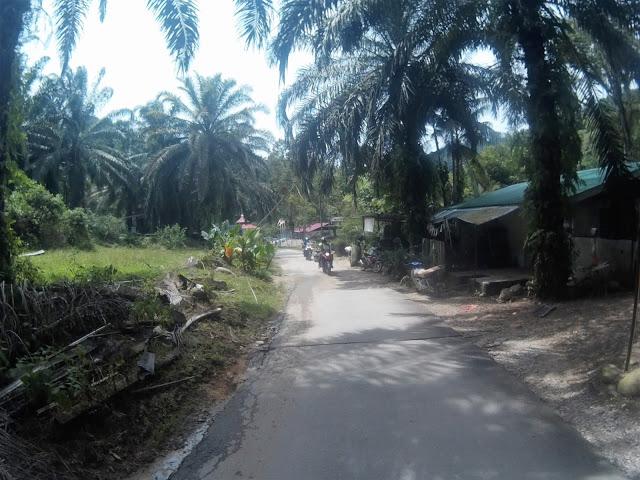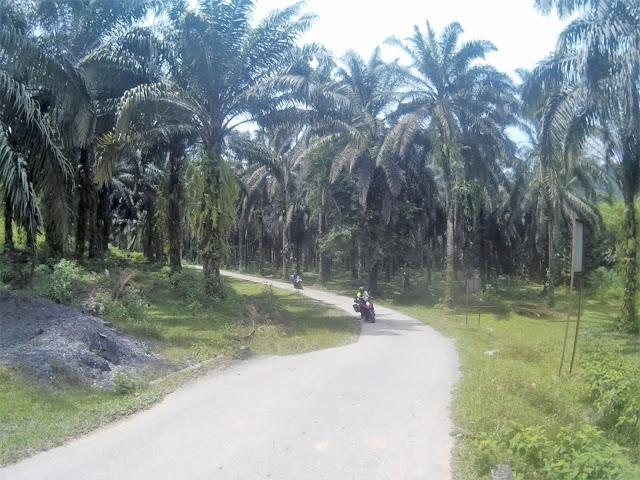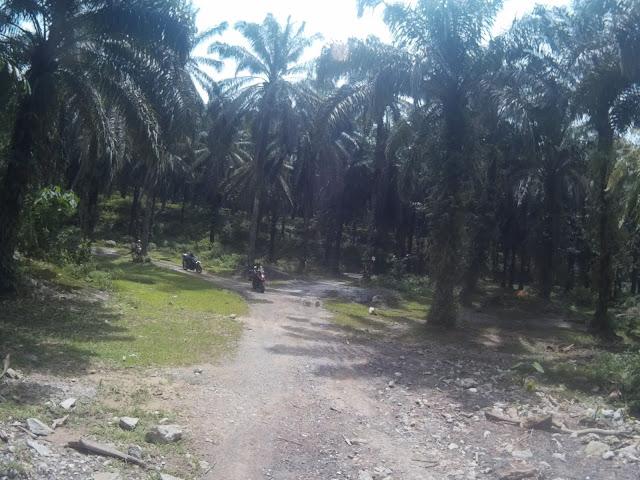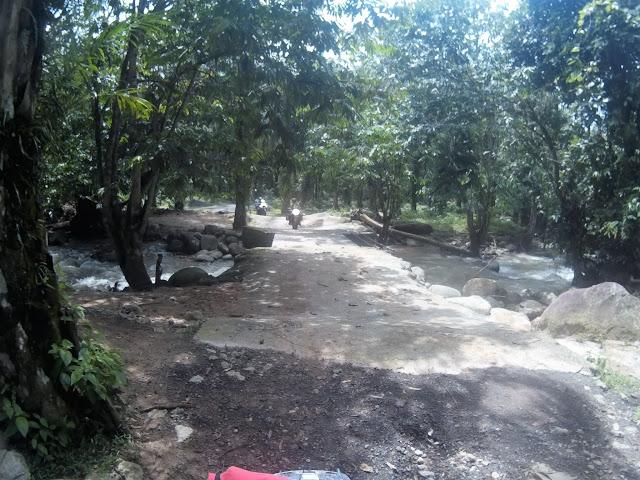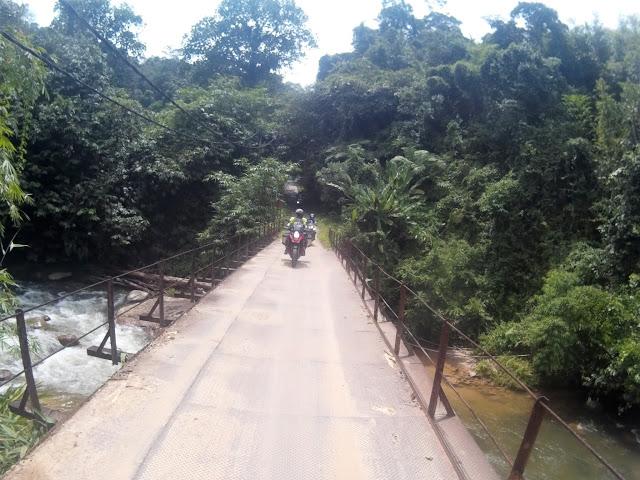 We departed to Kampung Hulu Kampar around 1.54pm and it was a clear and hot afternoon. The road leading to the village is a nice gravel surface road in the palm oil plantation and we went all the way to the end of tarmac road to the village's assembly hall.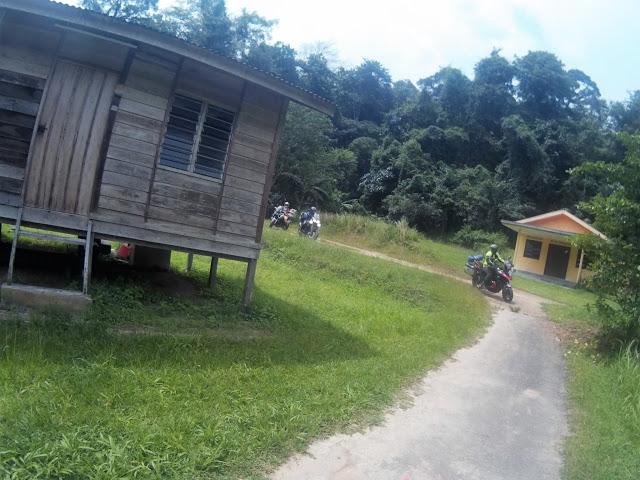 We were then told that Tok Batin's house is located by a bridge downstream, so we had to double back.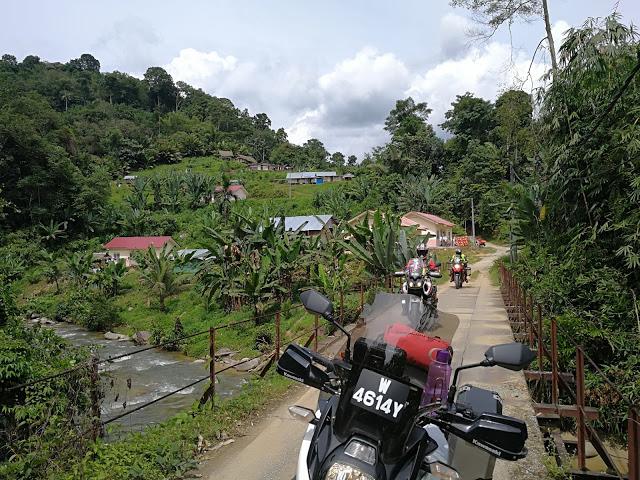 Tok Batin Pandak house by Hulu Kampar River
Luckily, Tok Batin Pandak was home when we arrived and we passed some snacks to his family. We have asked his permission to camp at the village compound but he said without a proper black & white consent from the authority he is reluctant to give his permission.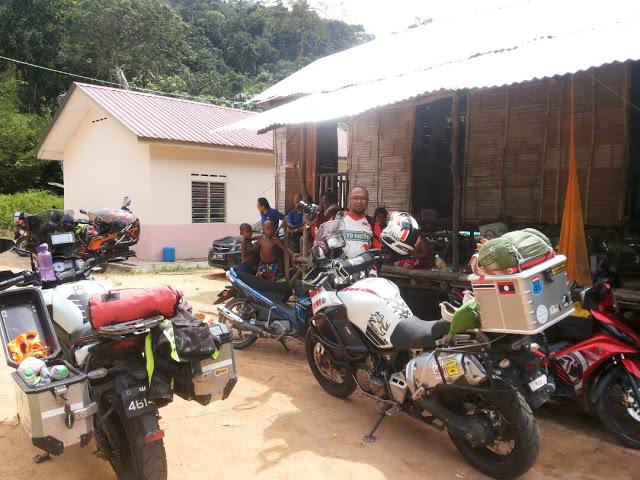 Photo Credit to Hashim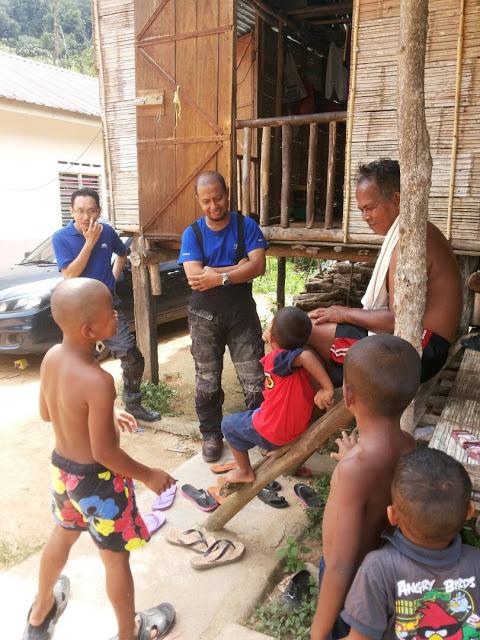 Photo Credit to Saharudin Jumali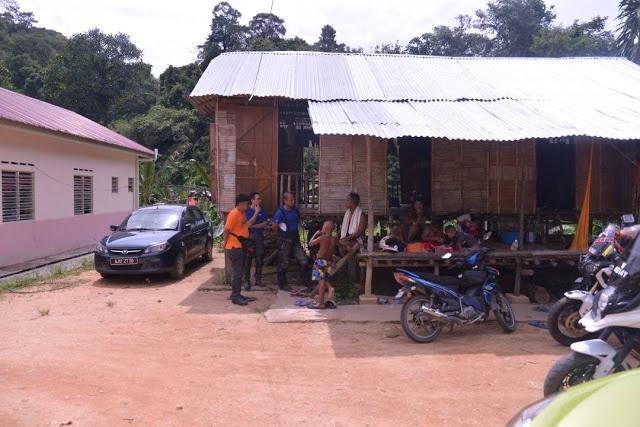 Photo Credit to Saharudin Jumali
Tok Batin Pandak's family
Photo Credit to Saharudin Jumali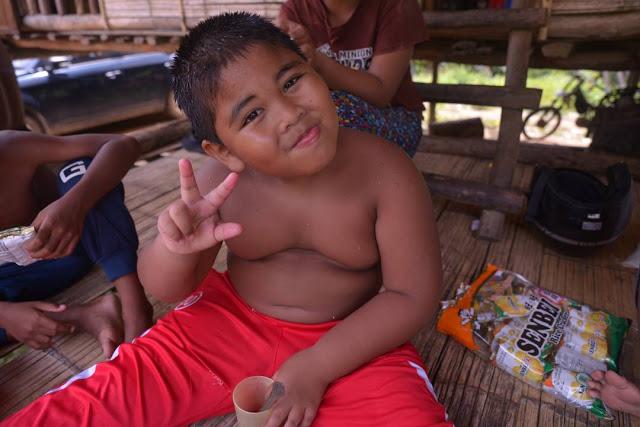 Photo Credit to Saharudin Jumali
After failing to get permission from Tok Batin Pandak, we went to another village, Kampung Ulu Geroh, about 3km south of the first village.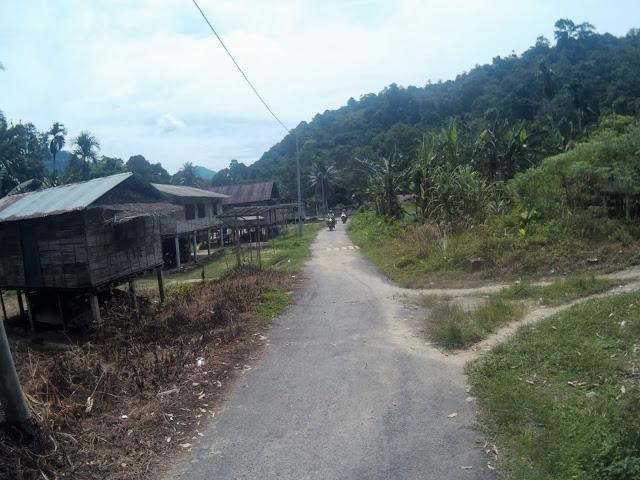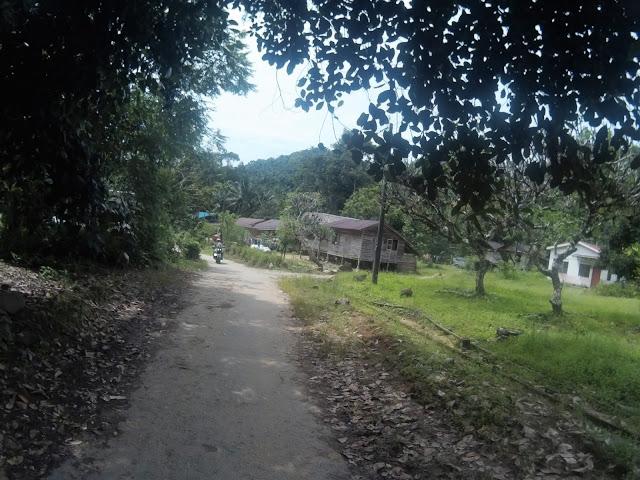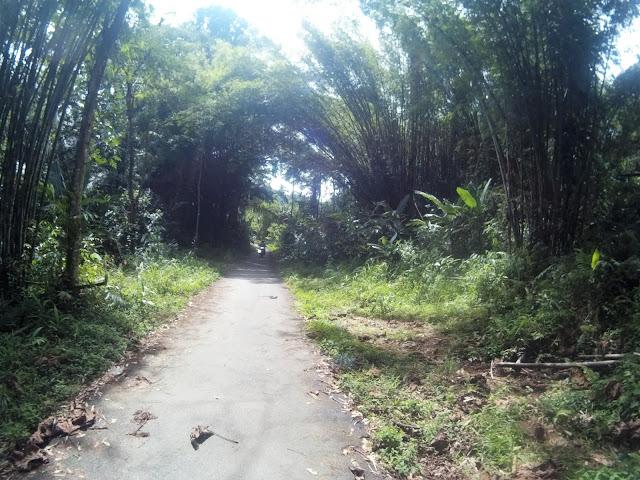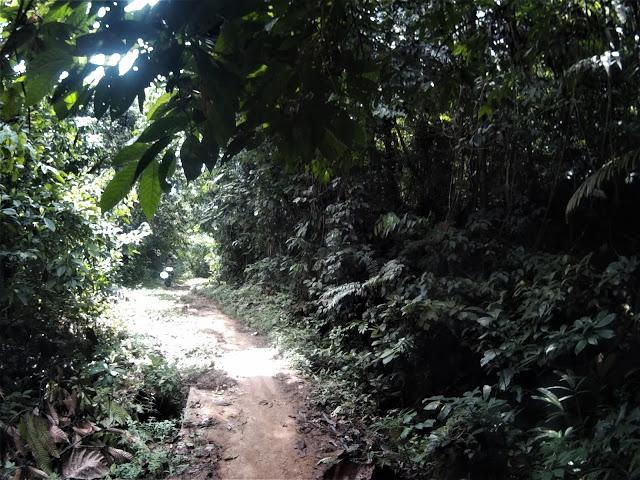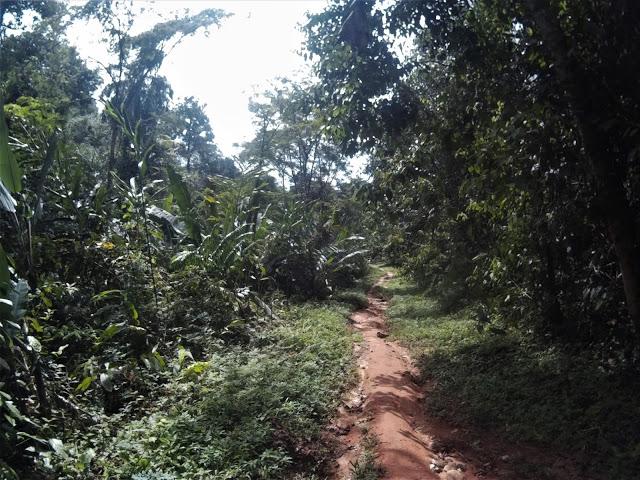 We went all the way to the end of the road and decided to camp there. The campsite was right on the trail to Damak waterfall and it is about 50m to Geroh River.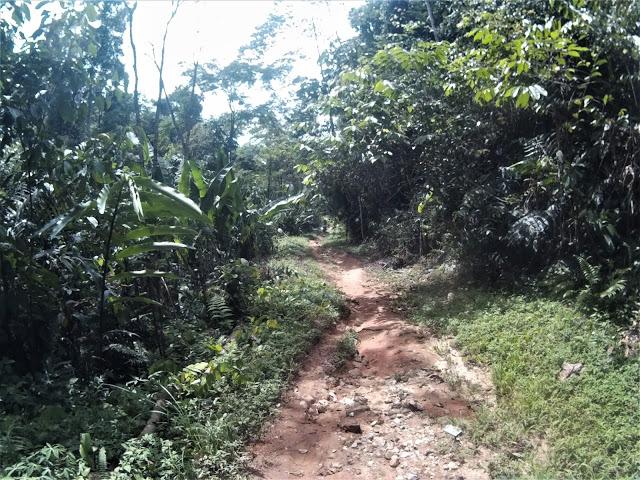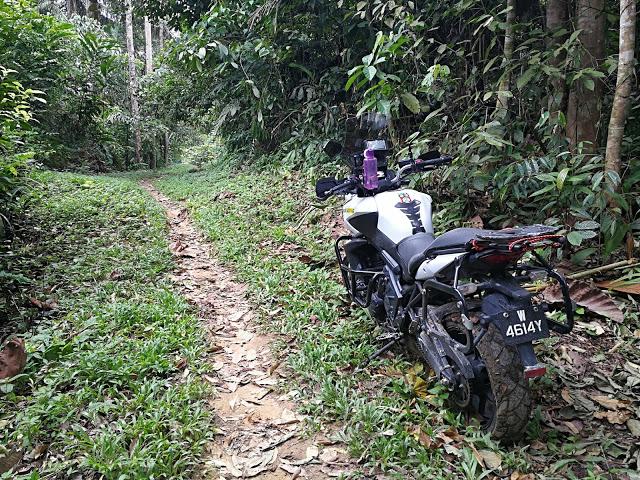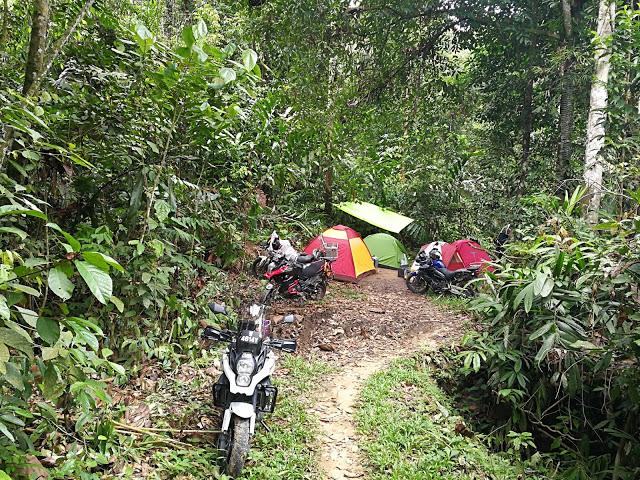 Ulu Geroh Campsite
GPS N4.44184 E101.25706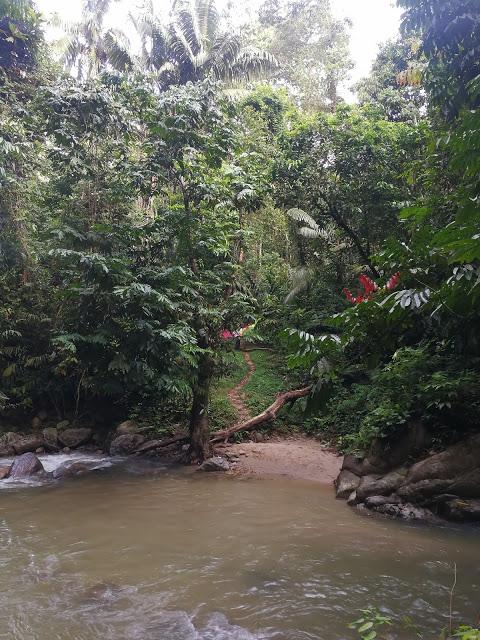 Our campsite from the other side of the river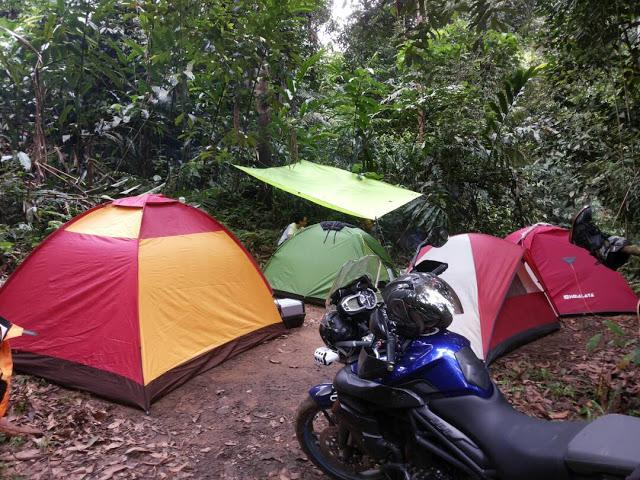 Photo Credit to Saharudin Jumali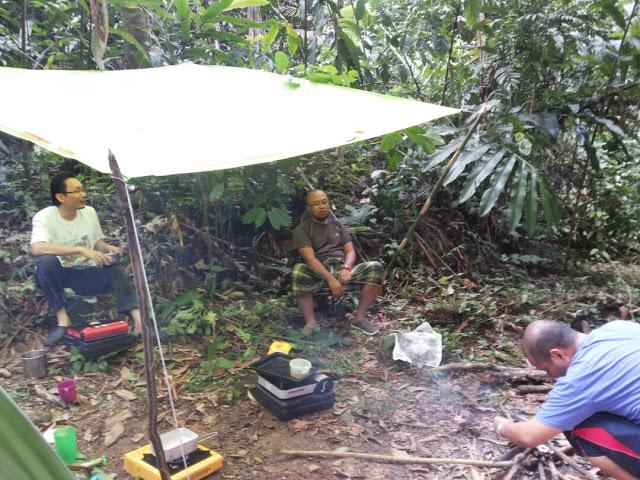 Photo Credit to Hashim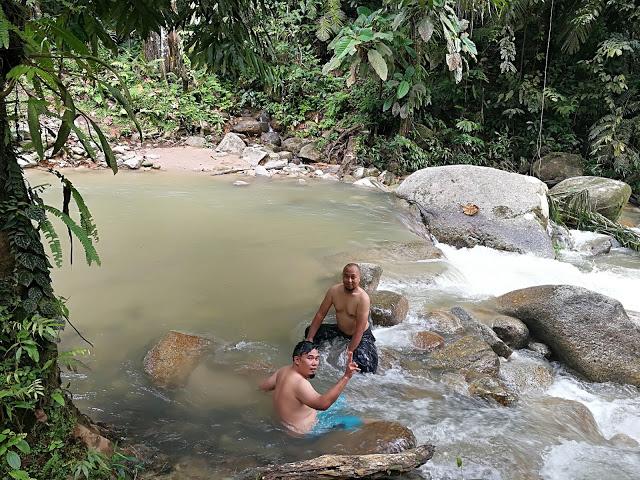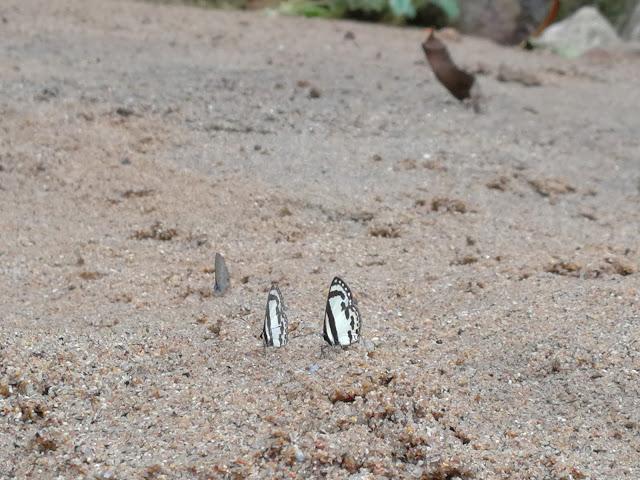 Butterflies of Ulu Geroh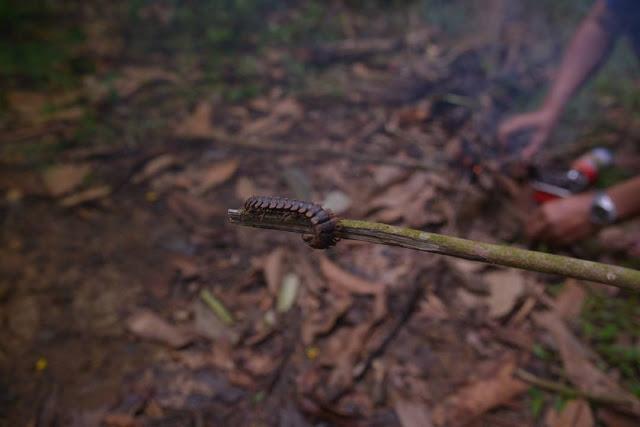 Just after we finished setting up tents, a local guy, called Ngah on his way to observe his trees passed-by and we chatted. He is from Kampung Ulu Geroh. He had recommended us to visit the waterfall, about 10 minutes further along the trail on foot.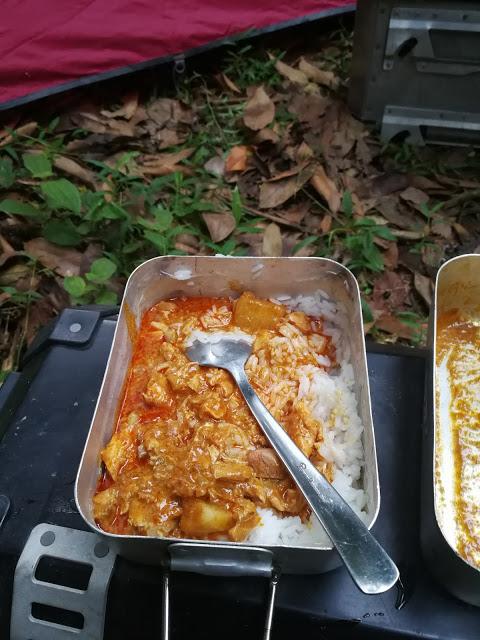 my dinner that night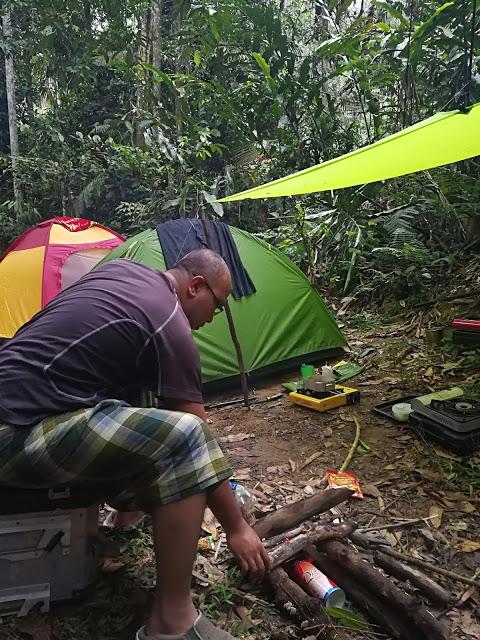 firewood are all wet. All of them had to be heated with a stove
Later that night, Hashim prepared BBQ of sausages and meat burger and we chatted around the campfire.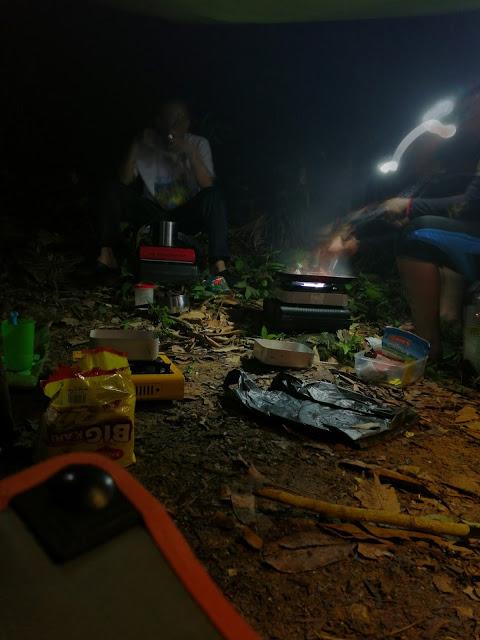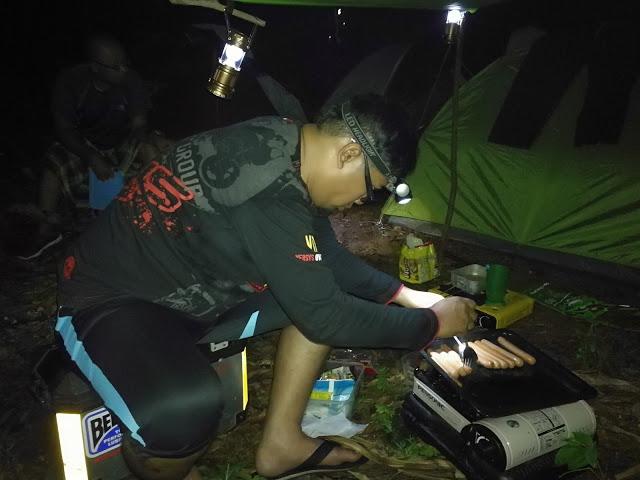 It was quite a challenge to lit the wet firewood and we managed it with a bit of struggle.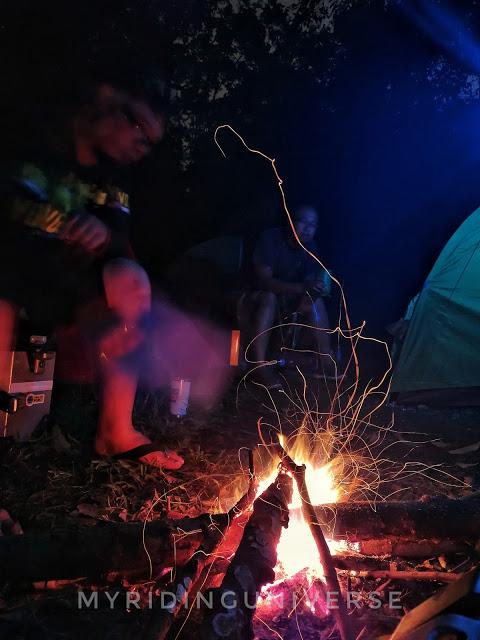 Around 11pm, I retrieved to my tent. It was chilly night as I was awaken in the middle of the night and slipped into my sleeping bag. I woke up around 6am, when Hashim & Ibrahim was performing morning prayer. Later it was my turn to prepare breakfast and I prepared Carbonara spaghetti with spicy tuna.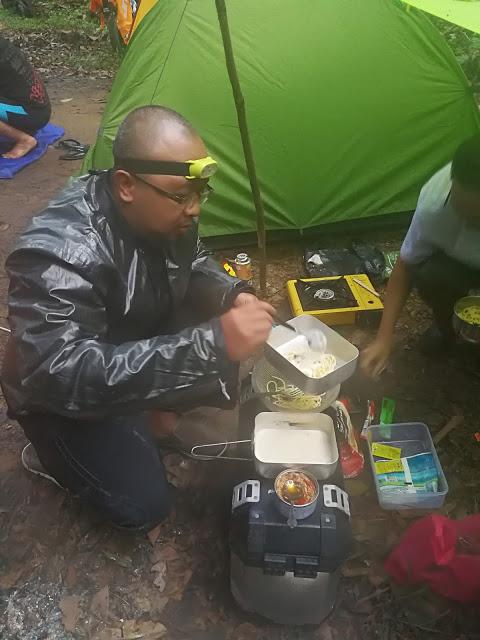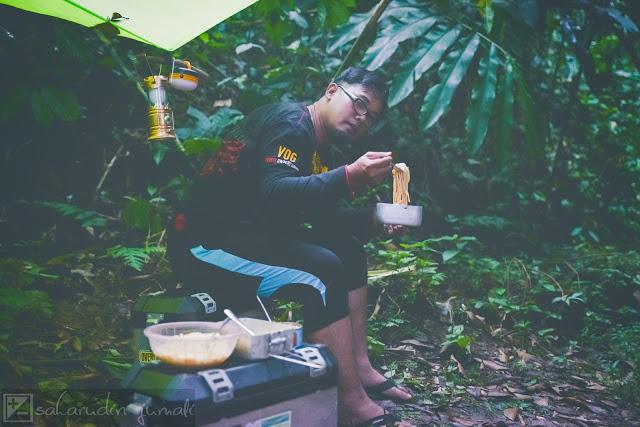 Photo Credit to Saharudin Jumali
After breakfast, we have decided to track the trail to Damak waterfall and we started walking around 8am.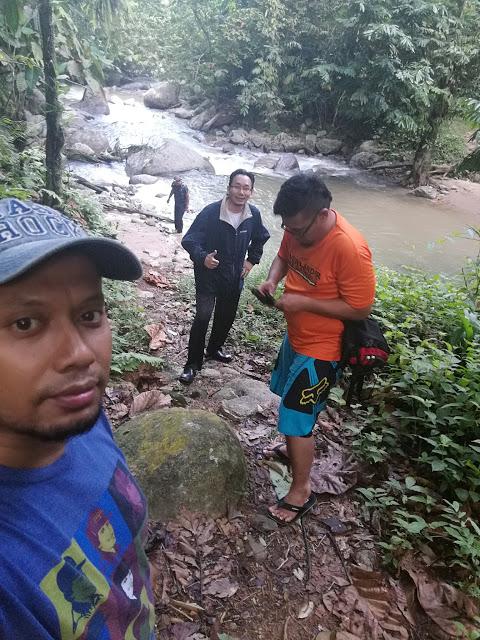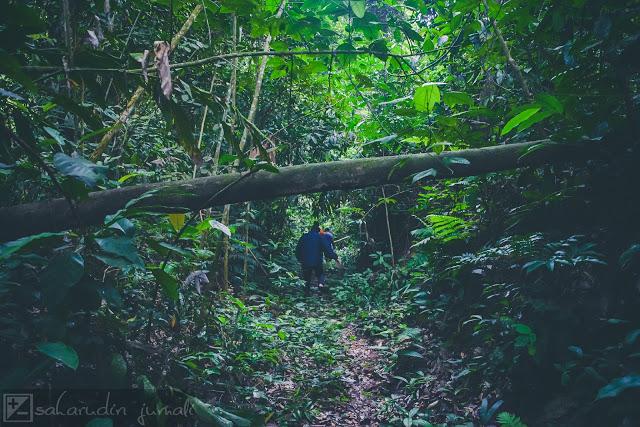 Photo Credit to Saharudin Jumali
After around 10 minutes on foot, we made a left turn on the trail and ended up at a river junction, at this point I'll just called it 'anak sungai Geroh'.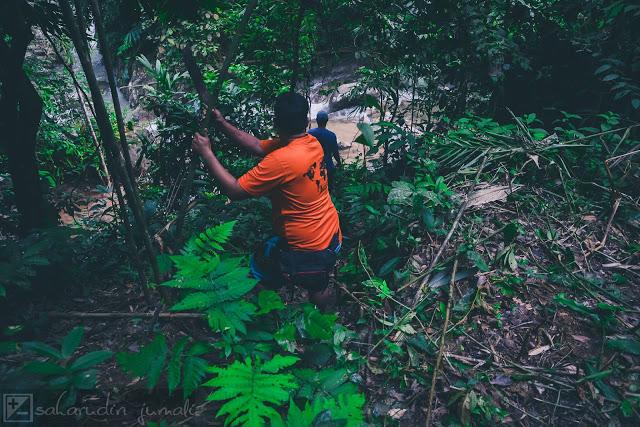 Photo Credit to Saharudin Jumali
It has an abandoned pole bridge for pipe crossing and according to Ngah, it belongs to an old mining site downstream of this river.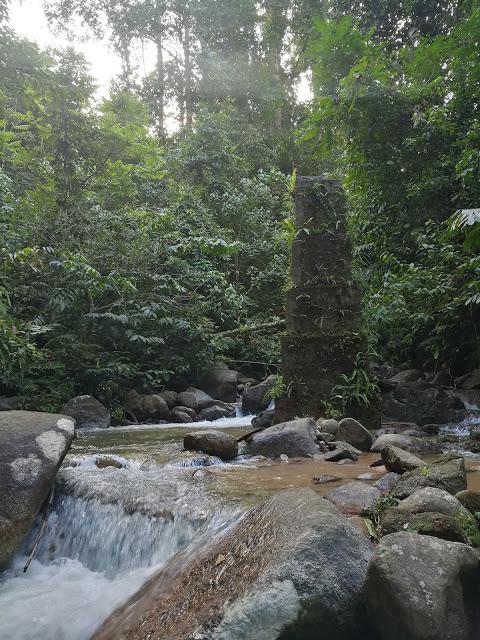 The plan to track to the waterfall was scrapped and we spend time here instead.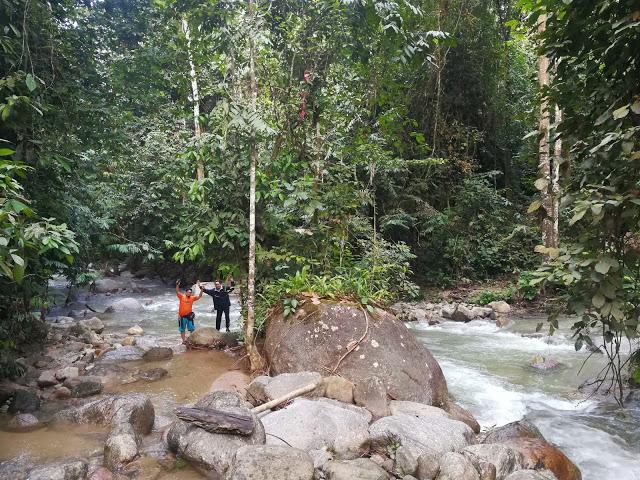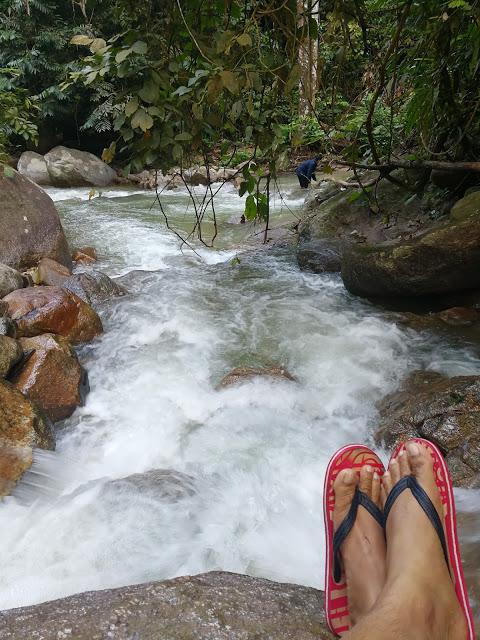 Anak Sungai Geroh river confluence was beautiful with both stream has a steady current of fresh and cold water into the main Geroh River.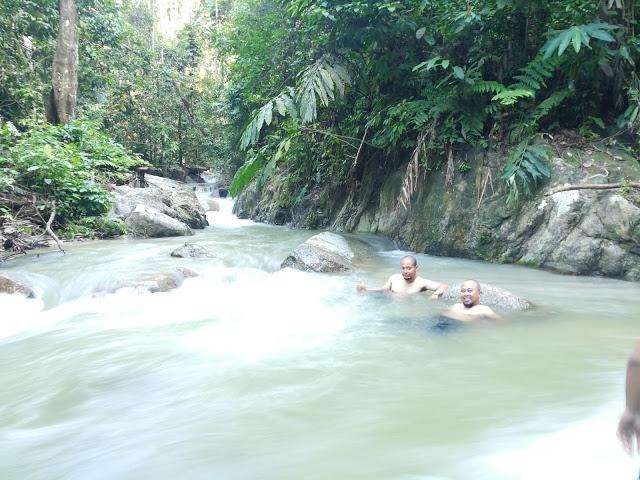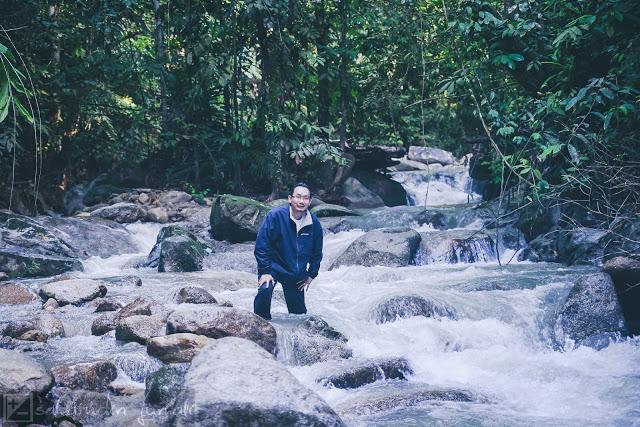 Photo Credit to Saharudin Jumali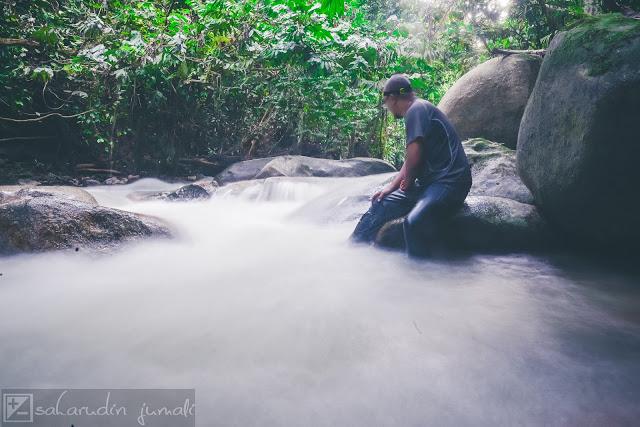 Photo Credit to Saharudin Jumali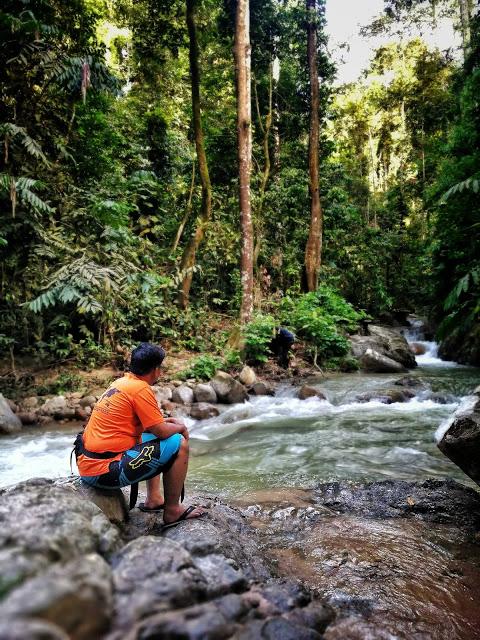 After spending about an hour here, we started to track back to campsite.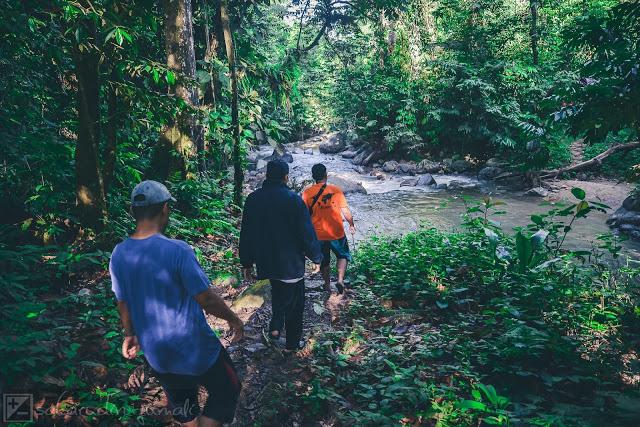 Photo Credit to Saharudin Jumali
We started packing and right after we finished, Ngah came again. He told us that there is a track that connects directly to Gunung Tempurung and we decided to follow that lead.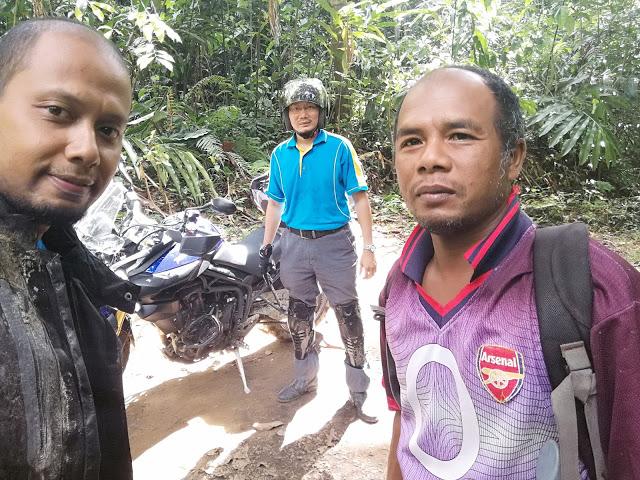 Ngah - our local consultant
On our way out, we made a stop at the Ulu Geroh community hall and met with Tok Batin Ngah Sidin, the village's chief, who was having a meeting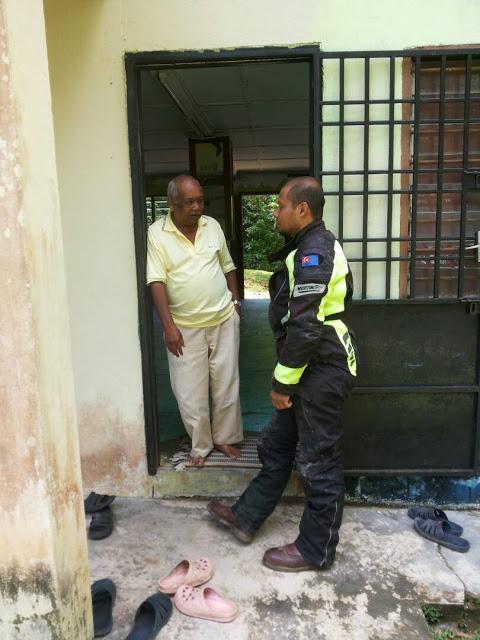 Tok Batin Ngah Sidin having a chat with me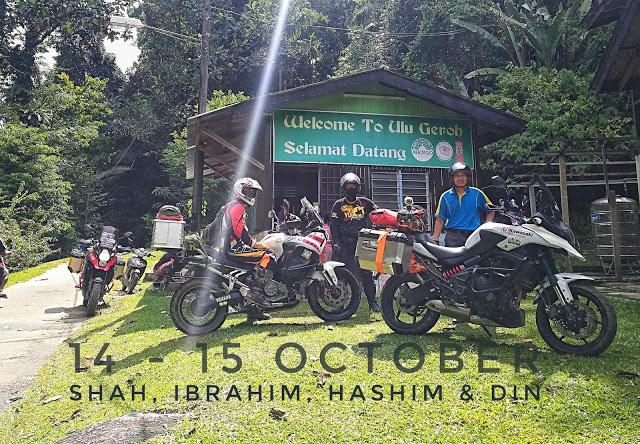 The shortcut trail is going through a palm oil plantation area and we have to stop and asked for a direction until we are finally on the right direction.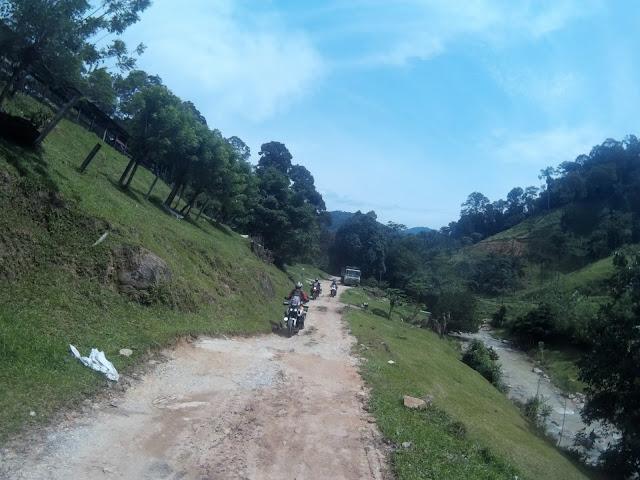 the hilux driver showing us the right direction to climb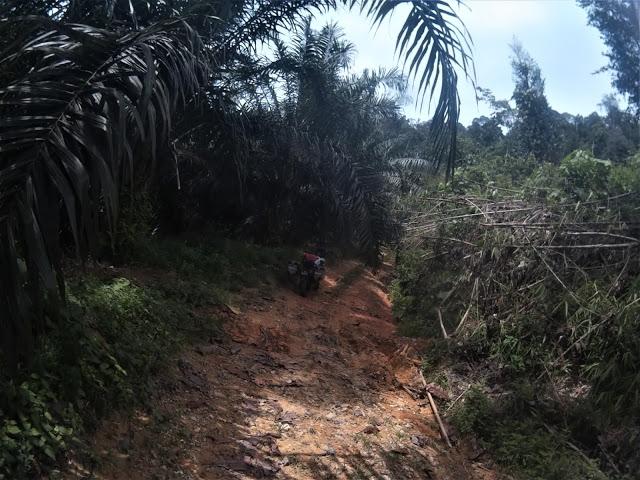 the last climb before the roadblock
The trail leads up to a climb to 220m elevation and to our disappointment, it was closed by a pile of dirt.
Shah being helped to cross a ditch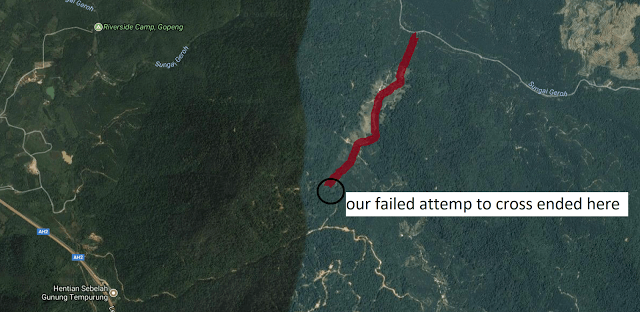 maps from google
We returned to the same route as we took yesterday and about 1km from the main road, I lost sight of Ibrahim. After waiting a few minutes and still can't see him, we all decided to continue to lunch and wait for Ibrahim there.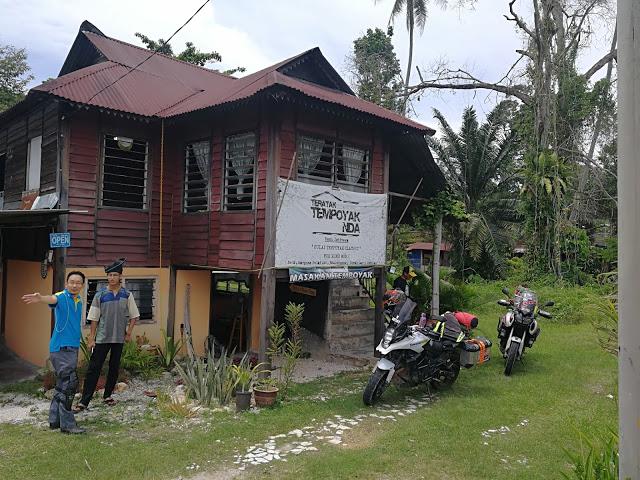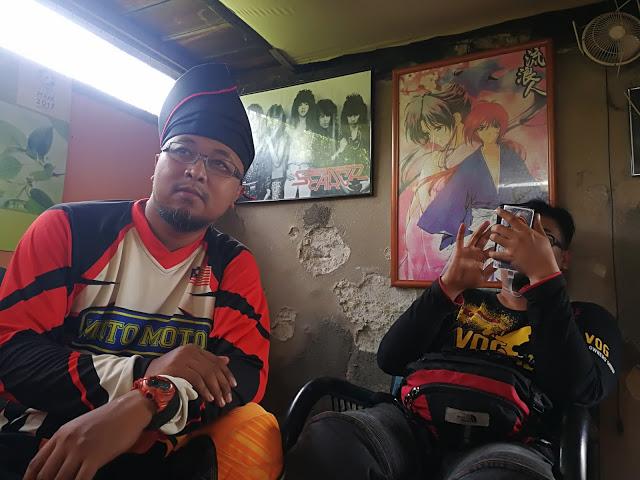 Tengkolok are available here for cosplay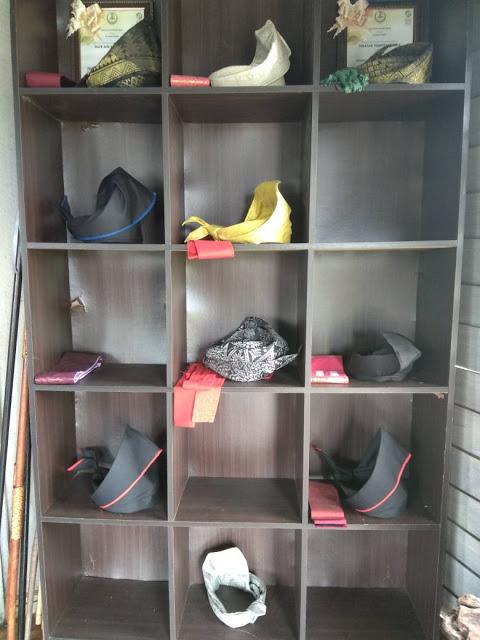 Photo Credit to Saharudin Jumali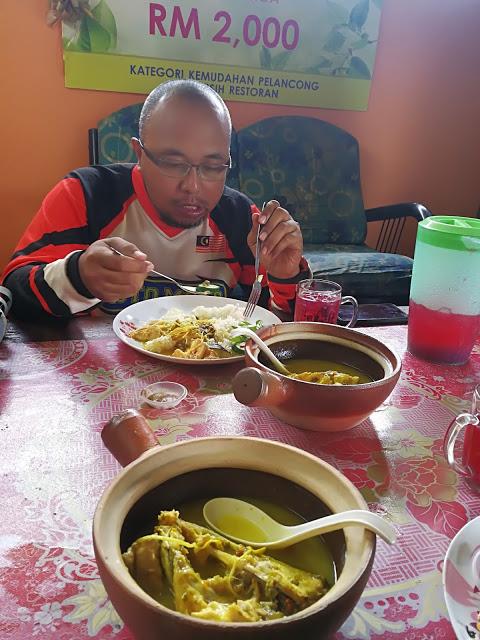 we had ikan patin masak tempoyak for lunch
We had lunch at Teratak Tempoyak NDA, Gopeng and Ibrahim arrived about 30 minutes later. He said his clutch is giving him problems and his bike is unable to climb. (more updates on his bike problem later). We said goodbye to Ibrahim here as he said he'll make a stop at his grandmother house, near the restaurant.
After lunch, we have a quick refill of petrol and tire pressure at Petronas Gopeng and we entered E1 highway around 2.00pm. We then entered the highway, I lost sight of Shah at Tapah area, as Hashim and I rode south towards KL together. I was stopped by Hashim at Ladang Bikam as my strap on the rear dry bag was loose and we made a quick stop to rectify that. I said goodbye to Hashim there and we continued to ride south. I made an exit at Exit 116 and arrived home around 3.20pm.
It is good to note that sustainable eco-tourism is an important step in a win-win situation between the environment, villagers and visitors alike. Places like Ulu Geroh which has been blessed with exotic flower, butterflies and crystal clear water rapids and we are lucky to have the opportunity to visit the place. It was an enjoyable weekend as I had to ride adventurously and having a good circle of friends to accompany me. A good weather throughout the weekend is also a blessing to us as it was a rainy week prior to this ride.
***********************Originally posted on myridinguniverse.blogspot.com*******************************************************