The Eagle Riders and Slow Riders put a short ride to the Tamboon at the Police Station here in Udon. Short ride but sure is fun to blow the lights :lol:
Sorry wife stored the camera away so no moving photos.
I put this guys photos first retired French Military. I don't know what happened to him, I didn't ask. What impressed me is what he is doing with the crap hand dealt to him. He built the side car to carry his wheel chair. Modified the gear shift and rear brake to operate with his stubs.
Really made me think about how many times I bitched moaned and groaned about my injuries. How many times I got ticked off just because I didn't like what was going on around me. Pretty Humbling experienced really.
I wish had just a bit of this mans courage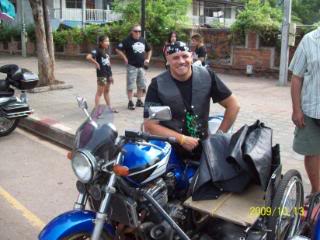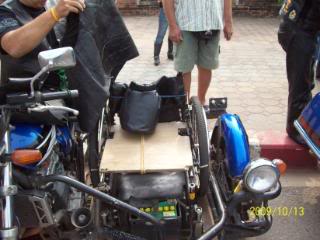 Really a nice custom owned by one of the slow riders.