Pokhara-Hetuada-Daman-KTM
(Day 5) Pokhara-Hetuada
I started my day with a nice Meal and a nice Lake view
Tibetian Bread
Then i went to the Bullet Base camp In Pokhara city to get some repair on front fork
It was really a pain in the neck riding this Enfield . It was falling apart . It sounded like it was going to break in to thousand pieces when
I going fast...........er
After I got out of Pokhara , I decided to go to back to Kathmandu but taking a detour via Chittawan and Tribhuvan Highway
I was going to do it all in one day but the Enfield wouldn't go faster and the road was horrible . So i decided to stay in Hetuada ,a town to the south of Kathmandu.
Bridge repairing
Me
More suspension bridge and kids having fun XD
Back in Chittawan area again
, I spend a night in Hetauda and got bitten by thousand of mosquito
Day 6 Hetauda to Kathamandu
Riding via Tribhuvan Highway , the oldest highway of Nepal 's highways . WOW!
On this road , people say you can see a range of Himalayas from a little town called Daman which is half way between
Hetauda and Kathmandu.
This is foto from wikipedia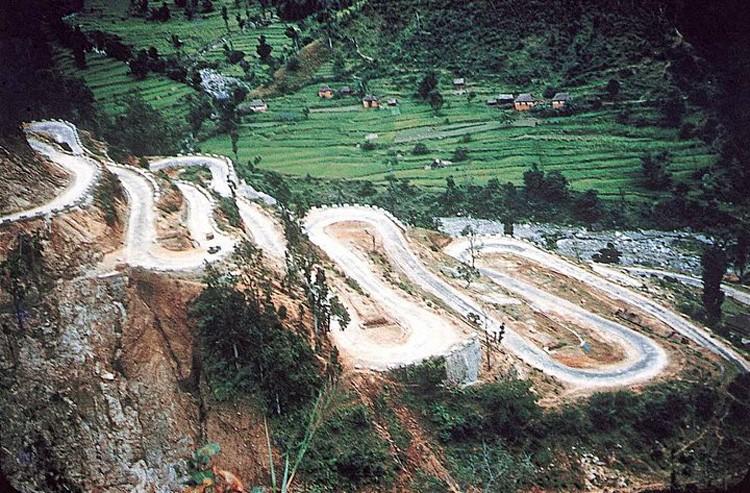 nice bends :SZSZSZSZS
Love this pine tree
It was cloudy still ,I kept my eyes open for Himalayas,wishing that I might see a full range of Himal .
"Lover's Chair"
Simbhanjyang, 2488m above sea level , by this height the bike started breathing wrongly .The bike got less power
It stalled a few times. I missed FI at that time : ...
@Daman
No luck at seeing the Himalayas
Hetauda down below
Dal Bhat , Nepali tradition meal . I didn't like it at first but now i miss it !!
Small road /
And finally i got back in Kathmandu . . .. .aahhh
I met this two cool and crazy Kiwis , they rode all the way from New Zealand to Nepal . Their plan is to go to Eurpoe on 100cc
Honda something ;D
Day (-1) Before starting the trip
I rented a Bajaj Pulsa 150 to ride around Kathmandu just to get use to the traffic before setting off or a longer ride
and here are some picture around Kathmandu
http://a1.sphotos.ak.fbcdn.net/hphotos-ak-ash3/s720x720/534893_3520727430093_97547780_n.jpg[/img]
There were some Maoist gathering around Thamel , gathering on the 1st of may , labour day
Not biking related picture
Atlast i see the Mount Everest ....