There seems some confusion about this crossing, several reports on HUBB or Thaivisa of riders ( or drivers ) getting a little lost.
I found it quite an easy crossing, if you can speak a little Thai.
Step A:
Insurance
Despite some people missing it completely, Kurnia Insurance do have an agent.
Pull into the border market, and look to your right hand side as you get about 100m away from the border post, you will see an open front shop, painted green outside with a yellow sign outside, this is the agent. ( N6.69718 E100.17745 )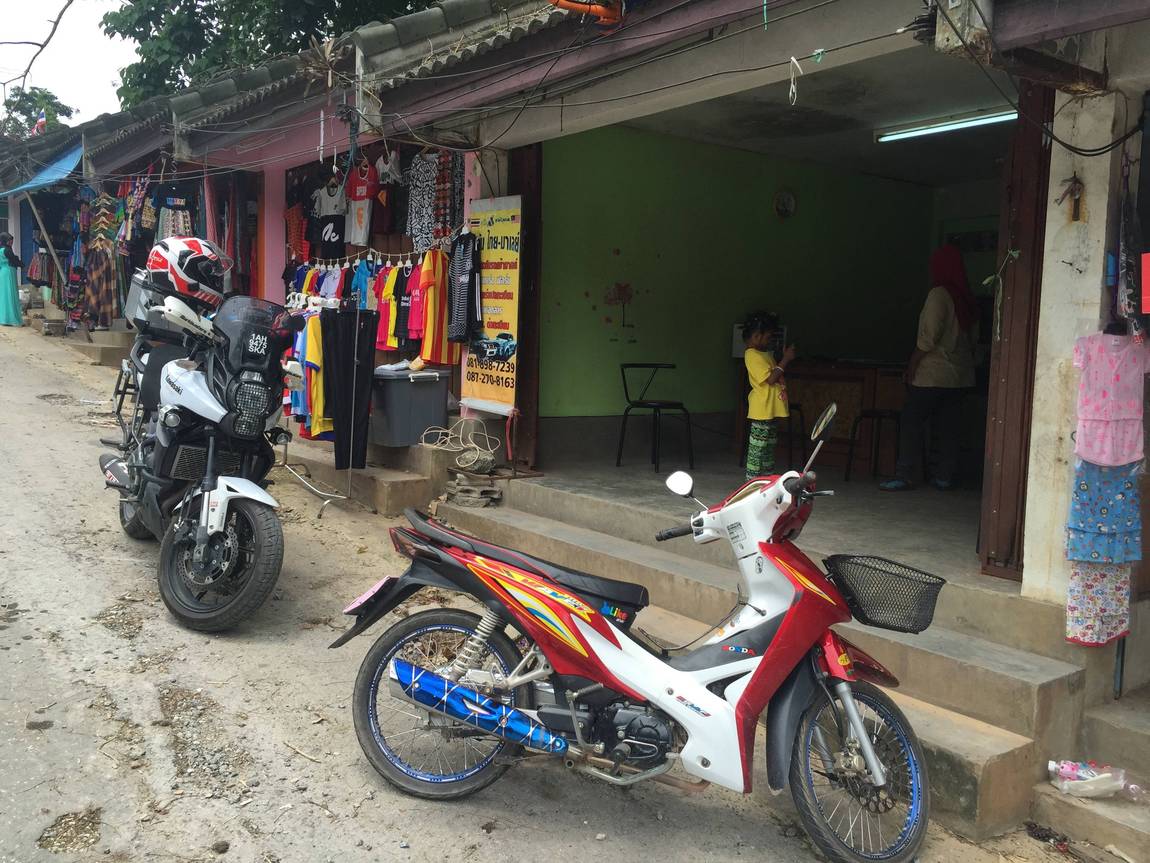 You will notice a larger, more substantial building than the other market shops opposite the insurance shop - a restaurant.
The young muslim girl was super efficient, but was just there to keep the shop open, she phoned the computer operator/agent and in the meantime completed my JPJ paperwork. After about 20 minutes another girl came along, and recalled my information from the Kurnia database, and after 5 minutes i was on my way.
You will require
a) your Thai driving license ( its supposed to be a 5 year license, but the girl hardly checked it when completing the paperwork ) or an IDP from your country.
b) Translation of your green book from your local DLT in Thailand - I questioned her, if it was a problem not to have, would a green book suffice ? She said, mmmmmm, Yes - because she copied my document and attached it to the JPJ paperwork, along with a copy of the insurance document.
c) Money - I thought i took a shot of the tariff, but seems like it deleted itself. The price for cars depends on CC, age of car and duration of insurance. Bike insurance comes in 1 / 3 / 6 month packages - 700B for 250cc, 800 for 650cc - I recall the same fees at Sadao with a 1200GS costing over 1000B for a months ticket.
The price for a 3 month is pretty reasonable a 250cc was 1300B so, for my Versys I presume 1400-1500B.
Number plate: If you haven't already got one, the girl will "construct" one for you and cut it down to give you a fighting chance of attaching it somewhere.
Opening hours: 8.00 am - 5.00 pm
Tel: 081-8987239 / 086-9539237
email:
[email protected]
I asked if they could speak English, "yes, I s-peak a little, was the reply" and she said she doesn't often get western customers.
Step B:
Thai immigration
Motor straight through, and park at the entrance to the gate. If you, like me stopped just outside the office to the left someone will shout at you, as you run the risk of getting your bike ploughed down.
Immigration checkpoint is behind you. Departing Thailand, on the right, arrivals to the left.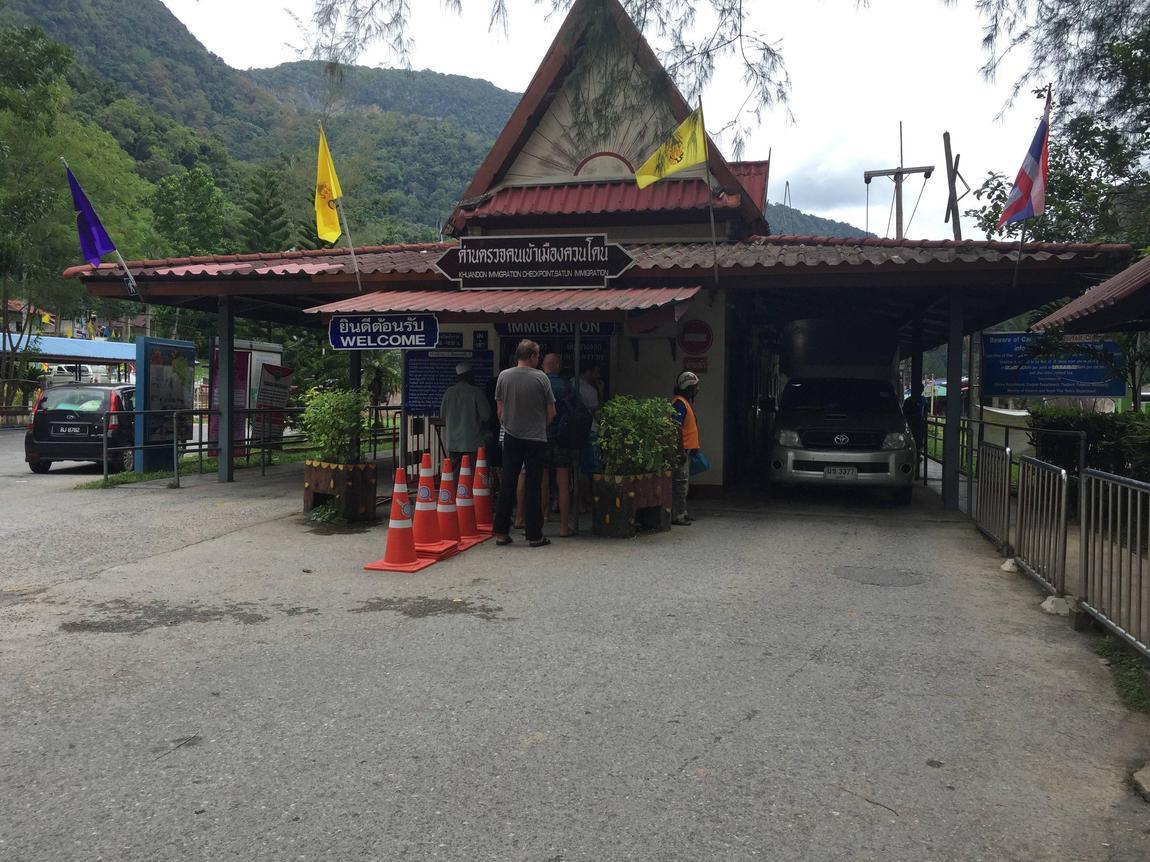 I have never seen so many westerners together in a long time .. On a Saturday there were many mini-vans arriving and departing from Krabi and Phuket, it seems a pretty slack border and many of the stories of visa crackdowns, having to stay 24 hours out of the country, showing 20,000B on entry - most obviously don't apply here.
The overstay office is to the left before the gate - On this occasion, I stupidly overstayed 3 days, paying the fine of 1500B and losing 45 minutes for the captain to finish his lunch and complete the police report. Maybe not the best place to come for an overstay, many of the westerners had to pay overstay fines.
Step C: Malaysian immigration
Join the queue, there is only one window for departure, the guy was swift and the process as painless as usual.
Step D: Malaysian JPJ
I'm never too sure of the process when dealing with these people, I always seem to upset them.
There is nowhere to really stop in front of the office, same at Padang Bezar. So I pulled into the car parking at the end of the immigration building. I tried the door, it wouldn't open, I spoke to the army guys, they told me to knock and wait .. no one came. I continued and some guy appeared.
"Wheres your bike ?" .. well I'm not going to block up the way to Malaysia waiting for you open the door.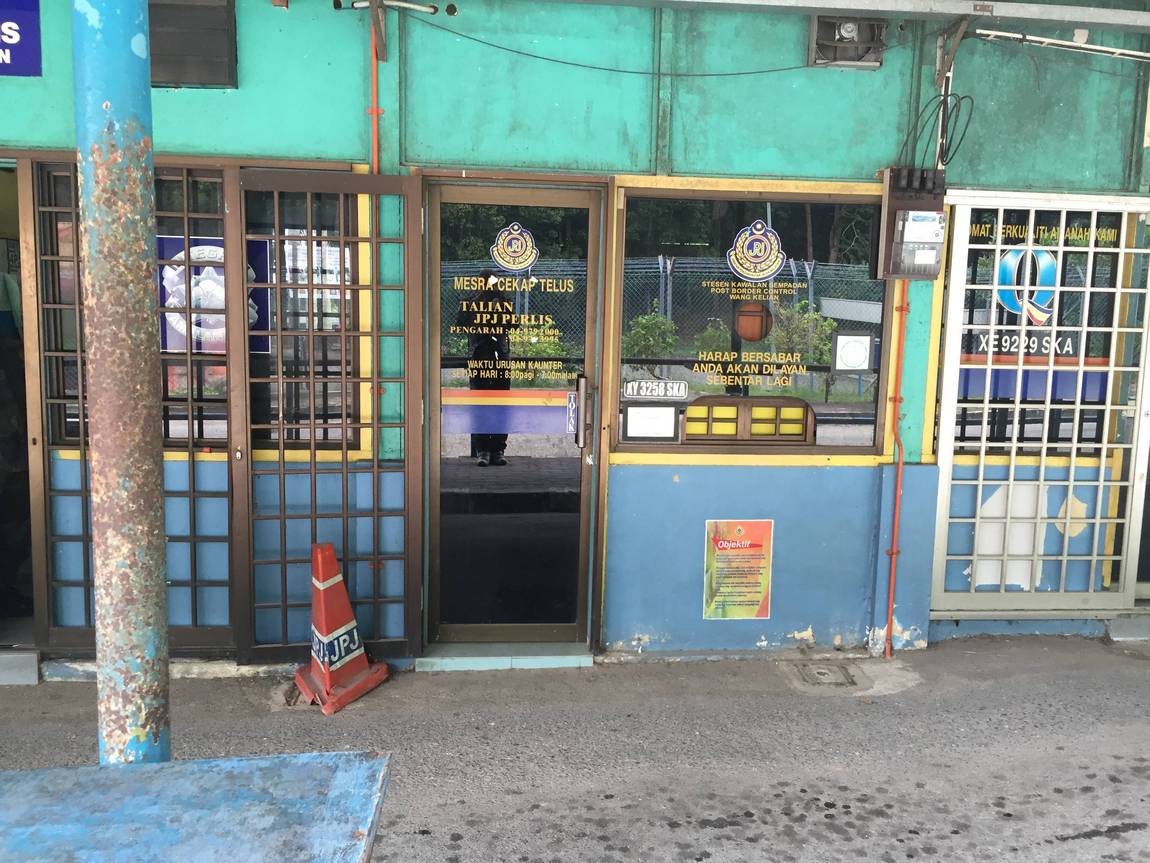 I pointed and handed in the paperwork .. Where is your roman numberplate, on the rear .. oh, crap - My lovelly custom made sticker is attached to the rear of my side box, which is in my office, at home .. I tried to convince him to ignore it but he wasn't having it and made me walk back to the insurance office to pick up number plate sticker. The girl didnt charge for one sticker, I heard others saying they were 100b ( each ? pair ? )
The border controls are pretty slack, I just walked in and out of Malaysia, and thought it better to notify the customs police ( blue uniform ) when I was entering Thailand and gave them the nod on the way back, but the whole process wasted another 25 minutes.
On returning to the JPJ office, it took another 5 minutes to get them out of the office, and they forced me to install my ugly sticker across the back of the box, before accepting my paperwork and slamming the door.
After 15 minutes he appeared clutching my paperwork and ICP ( international circulation permit ) valid for the duration of my Malaysian insurance. He then walked me back to the bike, and took photos of the sticker and checked the front. ( As he knew there was a good chance I was just going to rip the ugly new sticker off when I got round the corner. If I didnt have the top box on, where do people put their rear plate stickers ? )
Interesting to note: I made my own stickers in photoshop, first in the regulation font and size then scaled them down to fit on my screen and boxes. Then got a local shop to cut them, but he accepted the front sticker without any problems.
There were reports on ThaiVisa of the stickers had to be the EXACT size or they wouldn't be allowed, this didnt seem to be the case.