Bueng Kahn to Paksahn by ferry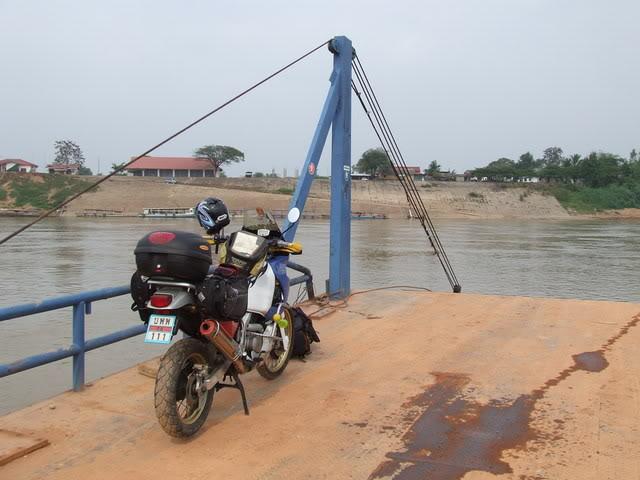 Well it is Saturday and I don't know if the border will be open for me today. I'll try anyway, what do I have to loose? Arriving at the Bueng Kahn Immigration everything looks pretty damn dead. I find to ladies, that I ask for some help, they refer me to another guy who sits in his booth and watches TV. He says today nothing's going and tells me to come back on Monday. Anyway I still hang out a little and one of those ladies approaches me. She's very helpful and tells me, that the fruit truck shall be here shortly and that the ferry will go anyway today, that means they have to work even if they don't want to. Both ladies help me a lot and try to process all the paperwork for me. Later her boss comes and says, no leaving without a motorbike passport. What the f… - I try to convince her with very little success. So I move back to my two brave ladies. Never mind we will do that for you anyway. After an hour or so I got my exit stamp the permission from the big boss and my exit stamp. Shortly after the ferry is leaving – wow I made it. Hopefully Immigration on the Lao side will be more easy. No problem here, everything takes less then 15 minutes and I sit on my bike direction Vientiane. It's 4 pm by now so I speed up a little to catch up some time. At 6 pm I check in a guest house in Vientiane.
Vientiane-Vang Vieng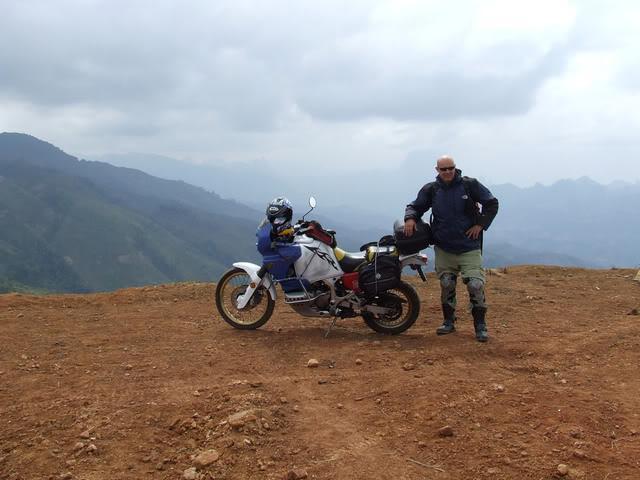 Around 2 pm we left Phuarks Motocross Shop on T2 road, leaving VTE behind us and hitting direction Vang Vieng. Great to be on my own bike again, riding in Laos.With me is George my old friend and off-road veteran, which I share the greatest enduro experiences with. He rented a xr 250 from Phuark. Memories keep coming back, while we're riding this road. The beauty is breath-taking as always. 2 and a half hours later we're in Vang Vieng. Oh-has it changed. The last time I was there it was a remote little village to relax and chill out. Now it's just another tourist hang-out, that's overwhelmed by tourists from all over the world. The guest house is quiet o.k.
Vang Vieng – Luang Prabang
We started quiet early today, around 10 pm. The weather is cloudy, but we're lucky enough not to catch one raindrop during the whole ride. One curve chasing another for 240 kms of pure fun. My AT is a little overloaded – I should have left my laptop and keyboard at home. The AT is still maneuvering right, but sometimes I can't keep up with the XR. I took a lot of pictures this time while riding and some turned out pretty good, will be posted later on. 3pm we arrived in Luang Prabang. The prices have gone up drastically since my last visit-but that's how it is. Still could find a nice guesthouse for 350 Baht. George and I decided we will go to see the plain of jars tomorrow.
Luang Praban to Phonsavan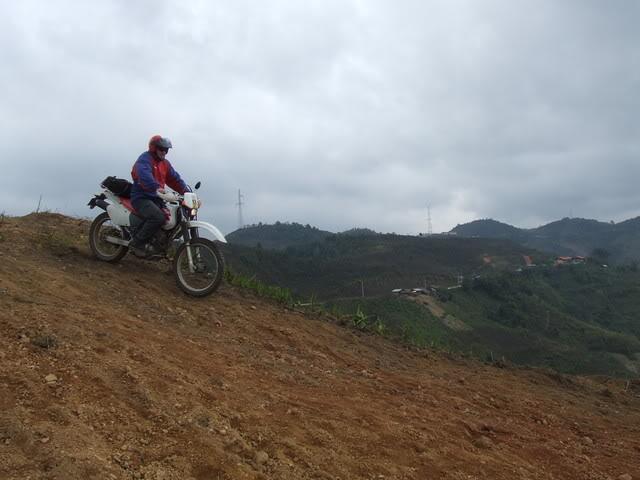 . The road to Phu Khoun nice and easy. Little stop-over there and then down to Phonsavan. The ever-changing landscape is truly unique in this area to hard to explain with words. The temperature went down every kilometer we moved closer to phonsavan. 5 pm we arrived in Phonsavan, by now it was only 14 degrees Celsius. We're not enough equipped for this kind of cold. After a huge dinner in one of those road-side restaurants we searched the local market to upgrade our winter gear. The guest house was very nice and the hot shower was a welcome gift. The next morning we rushed to the plain of jar site one to take a few pictures. We're the first to arrive at the spot and walk around this former war field with those mystic jars. One hour later back on the bike and taking the road to plain of jars site 3.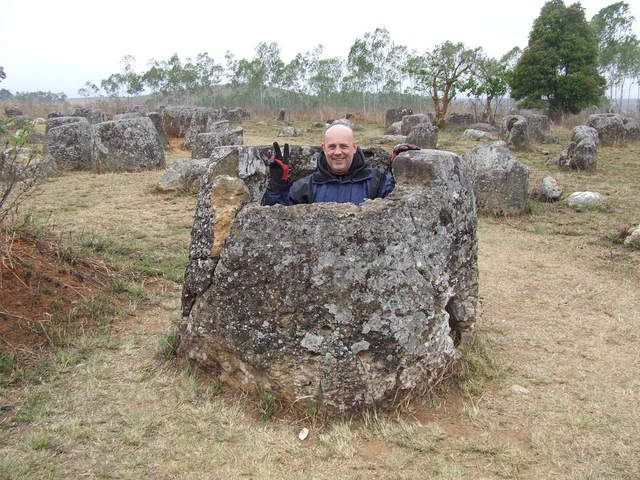 This was some fantastic nice off-road here, with some high speed passages that were lot of fun to ride. George off-course a little faster with his XR, but the AT wasn't that much slower. With all the luggage I was happy not to drop the AT, how much would I have wished for an XR now – but the AT is also a very capable off-road bike. At site 3 we got a little bit lost, we didn't find the tank and the air plane and walked around the unmarked area, which was quiet dangerous, but non of us got blown away. Anyway I wouldn't suggest this to anybody else. It was a stupid mistake not to stay in the marked area. Later we spoke to the local guys there and they told us the airplane is about a 10 kms walk from the site here. We didn't have the time anymore, because we had to leave before 1pm. So back to town fill up the bikes, fill up the boys, quick visit at MAG office and back on the road again.
Phonsavan to Tha Heua…..
We managed to drive pretty fast today and we arrived at Phu Khoun at 3:30 pm. Quick stopover and moved on toward Vang Vieng. Riding in the warming afternoon sun was a very welcome thing after, those almost winterly moments in Phonsavan. The mountains were dunked in deep blue colors and the brushlike plants beside the road were glistening golden in the sunlight. The further we approached Vang Vieng the slower I became. I just had to take more pictures. Coming down from Kasi out of the mountains my bike suddenly stopped and wouldn't start again. I checked gas, cables and buttons, but it just wouldn't start So I pushed the AT half a kilometer down the road and was lucky enough to find a bike shop beside the road. There I tried starting the bike again, but now the electricity was gone. Immediately – I thought I've found the problem. Taking off the topcase then the seat, unscrew the battery box cover and there it was…..the problem. The battery pole connection was loose, as so many times before. Quickly tightened the screw again, put everything together and the bike was running againg. I was so happy nothing else was wrong with the bike. My friend George was far in front of me and I didn't get to see him until I almost reached the final destination Huoy…… There we checked in a little guest house beside the road. It seemed to be the red light district of this little village just at the gates of Sayaburi. We went in one little karaoke bar just to get ripped off big times. The girls wanted us to stay with them, but we were to tired to have a little fun.
The next morning we left Huoy direction Vientiane. Just before the bridge there a nice road side café with a Laotian owner who lived in Gera, Germany. He spoke fluently German and is a nice talk. From Hin Heub the road started to become boring again, to many cows, chicken, dogs etc. crossing the road and actually we weren't happy about the fact, that our tour had come to an end – at least for George, who had to pick-up his passport at the embassy. The night in Vientiane was o.k. accept those ridiculous prices you have to pay there, I know it's the capital, but out in the villages life's so much cheaper.
Vientiane to Nong Khai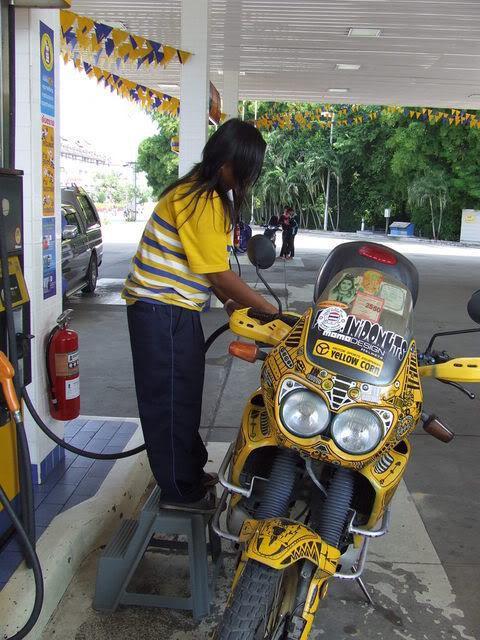 The last day has arrived and it's time to say good bye to yet another great journey thru this beautiful country. My next trip will be long away. As I mentioned on the board before I don't have as much paper as all the other riders coming from Thailand. So I'm not sure if they will let me go just like that. I give it try anyway. It was really worth to give it try and I had no problems whatsoever – great.
Ban Phue- Ban Klang Yai and Nang Usa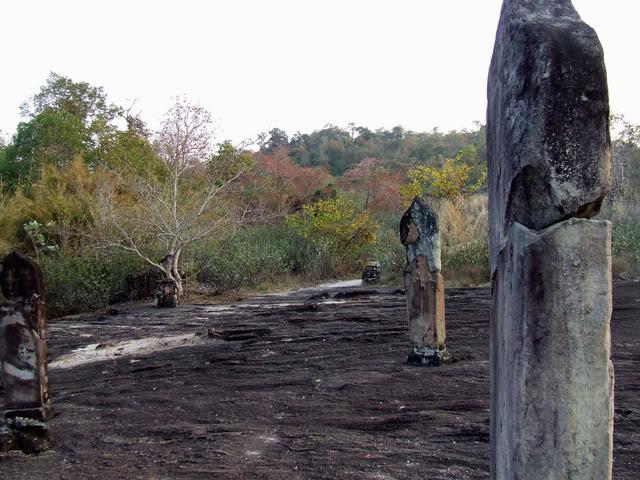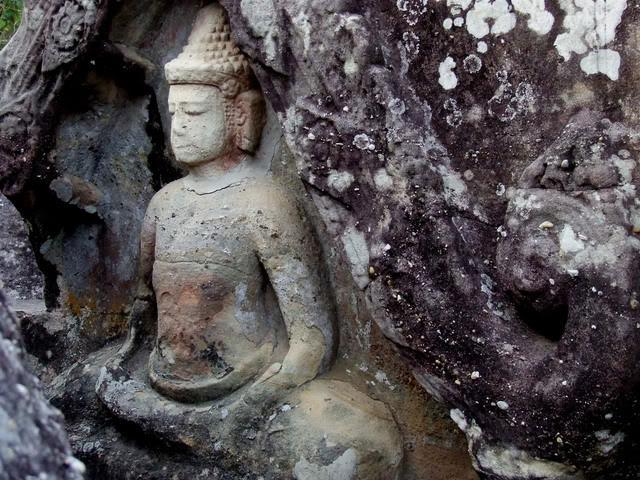 While my girlfriend was still working on her house I took the chance to break away and explore a little bit the area around Bang Phue. Ban Phue is about 70 kms from Nong Khai.
First I went to Phra Buttabat National Park with the Nang Usa sight. It's always great around here.
[/img]