M-Technik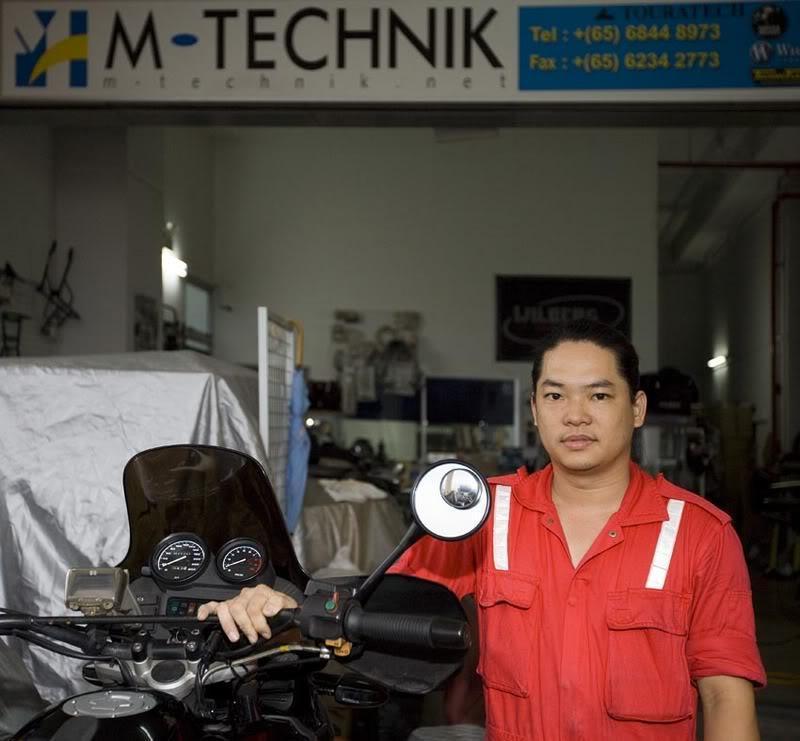 Mr Chan at M-Technik is rightfully well-known in helping GT Riders out in a fix or finding the unobtainable part at reasonable prices.
Located just north of the PIE expressway in an industrial park it can be confusing at first.
But on arrival the preponderance of GSs – R100, R1100 & R 1150s tell you you have arrived at the correct place.
A stockist of Wunderlich, Touratech & GT Rider maps & shirts he is a must stop on any visit to Singapore.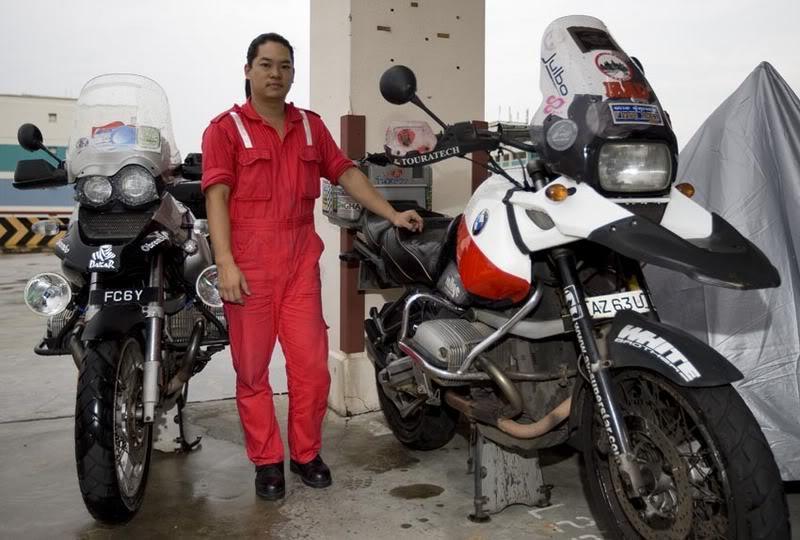 Mr Chan is a rider himself – has an Africa Twin in Phnom Penh at the moment and rides around Singapore on a DRZ650.
He can arrange shipments to you in Thailand if needed.
M-Technik
51 Ubi Ave 1, #05-08
Paya
Ubi Industrial Park

Singapore 408933

Tel : +65 6844-8973
Fax : +65 6234-2773


email : [email
[email protected]
]
[email protected]
[/email]
http://www.m-technik.net/index.html
JR PTE LTD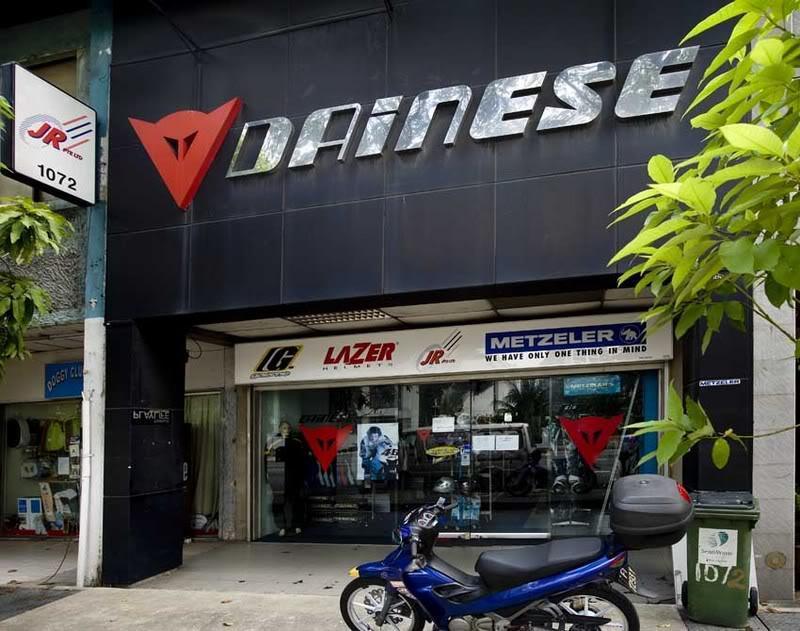 Dainese & Gaerne Stockists.
Have a large selection of heavy duty jackets that would be too hot in Europe! Their stock size ends at Large – though they will order lager sizes for those with a little added plumage – expect 2 months as they receive shipments by sea.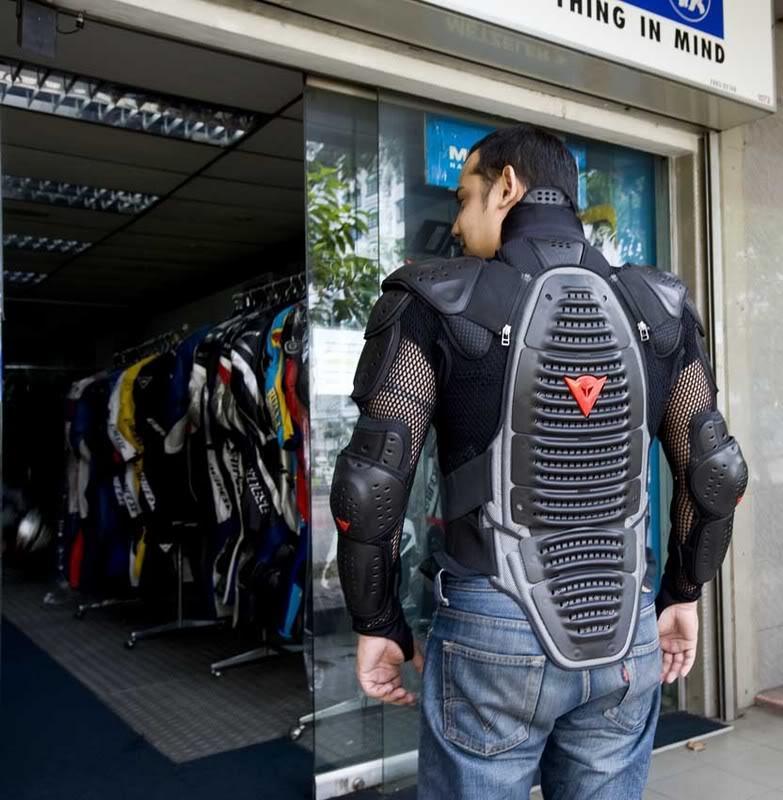 Here's the new Dainese Wave armour safety jacket 520SGD.
JR PTE LTD
1072 Serangoon Road
Singapore 328178
Ph + 65 6293 6440/ 6293 6092
Fax: + 65 6296 9201
Website:
www.jrsingapore.com
Regina Specialties
On Ian Bungy's recommendation of "Best Bike Shop with the Best Range and Prices. I would Suggest Going Here first, don't be fooled by the Shop Front they have a few different Store Rooms and constantly run away to come back with what you want. Just Ask and You Shall Receive!!! I got everything from here."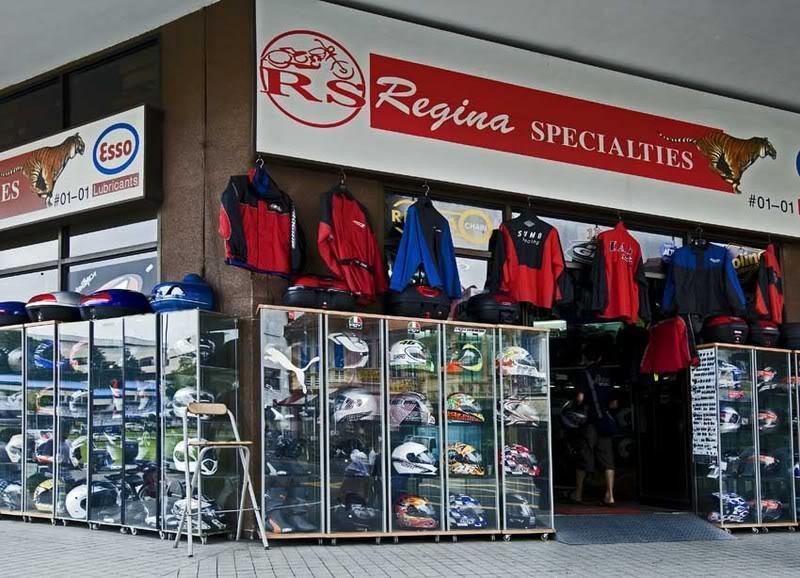 I dealt with Doris who was really helpful.
Give her a call if you know what you want and she'll save you a journey.
Regina Specialties
No. 152 Jalan Besar
#01- 01 Coyuco Building
Singapore 208870
Tel: 65 6295 5449
Fax: 65 6295 5433
Moto World
Again one of Ian's recommendations:
"I wrote down what i wanted from this and ended up with Nothing, Out of Stock etc?
They still have some Good Stuff like HJC Helmets amongst other things but the other shop is better."
Moto World
89 Short Street
#01-11
Singapore 188216
Tel: 66 6336 1126
66 6336 8528
Fax: 66 6336 0654
Website:
www.partsforbike.com
LOOI's Motor
David Unkovich choice:
"5 floors of gleaming motorcycles, accessories, parts & workshop!
A great place to spend a weekend visualizing your dream machine and lifestyle.
New motorcycles of all makes can be found on one floor while used machines pack another.
There's also a whole floor dedicated for accessories and riding gear. The workshop occupies the ground level in front of a spacious parking lot."
I dealt with Ahmed who was really helpful and had some tasty new bikes in. He said they were moving away from accessories as they were carrying too much stock.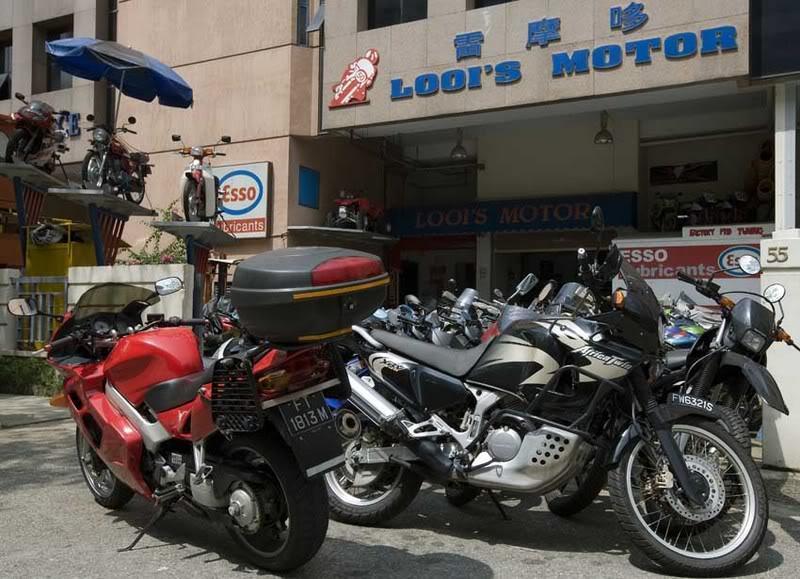 The 2003 Honda Africa Twin was for sale at 12,000 SGD.
Looi's Motor
No. 55, Kaki Bukit Road Place.
Tel: 67431072,
http://www.looismotor.com