THE WAY: Sisaket - Singapore - Sisaket
DATE: 30 AprIil – 5 May 2005
CONTENTS: Day 1, Day 2, Day 3, Day 4, Day 5, Day 6. General notes. For the Older Rider. Summary. Preparation.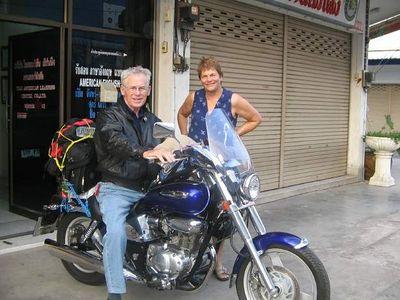 DAY ONE
Sisaket – 226 -214 – 24 – 2 – Saraburi – 1 - 9West – 35 - Samut Songkhram – 4 – Petchaburi.
Speedo Time Place
2915 0620 Sisaket At last it's time to go. This trip has been a dream for over a year now. I teach in Thailand and return to Aus to visit wife & family every 6 months. Looking at the map there is land with roads that cover one third of the distance so why not go by road ? It's a long way and it's a long time since I rode a motorbike for long distances. My previous longest was a 1000 mile weekend with a friend in NZ in about 1962 on my Ariel Square Four 1000cc. Now its 40 years later and 200cc and it is with some apprehension I set out. I would much prefer to have a traveling companion but that is not possible so I am doing it alone. I have written a bit on my preparation and philosophy at the end which may be of interest to some.
The first hour always seems the longest, very alert to all the noises and smells and traffic – "only an hour gone, and I'm going to sit on this bike all day ?". The landscape from here to Bangkok doesn't change much, all flat and rice fields. The road is good single lane but a lot of local traffic encroaches on the highway as is the case through most of Thailand.
3399 1300 Take the Outer Ring Rd W 9 to bypass Bangkok. This road has mainly dump trucks on it and the surface is very bumpy especially in the LH lane. Rice in the fields is showing green. They haven't even planted in Sisaket yet
3471 1430 Junction 9 & 35, This junction is very poorly marked and I made a couple of wrong turns. Each time I was able to back up. Couldn't do that in a car. My bags have come loose and started to fall off so time for lunch and a tie down. Because I am doing the second half of my journey by air I have a small wheeled suitcase and a backpack tied to the seat behind me. This also helps as a backrest but awkward to secure.
Stop for photos of the Sea Salt ponds near Samut Songkhram . Quite extensive with odd looking windmills to pump the water.
3581 1700 Petchaburi
Stayed at Khow Wang Hotel 123 Rajavitee Rd on road into Petchaburi. B250,Fan.TV.
Secure inside parking.
Summary
2915 to 3581 = 666km 10hrs 40mins.Less 1hr 25mins 3 long breaks. = 9hrs 15mins traveling*. Av 72.7kph
Pic below: Salt Anyone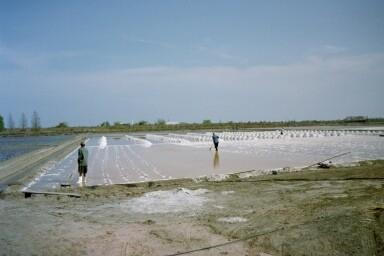 DAY TWO
Petchaburi – 4 –Chumpon -41 – 401 – Takua Pa – 4 –Khao Lak –Ban Khok Ploi - - 402 – Phuket.
3589 0610 Petchaburi
3786 0845 Near Thap Sakae stopped for delicious egg & noodles b'fast, oil chain. 4054 1219 Bypass Chumpon. The landscape has turned more tropical here with coconut trees and rubber plantations. Smell of burning rubber was fortunately workers having a cook up and not related to me.
4230 (est) Turn West off 41 onto 401 at Surit Thani turnoff. Road works atintersection, almost missed it. No signs.
4285 (est) 401 Intersects with 415 stop for drink at fish market
4370 (est) 1515 Takua Pa. This last 100km has been the most enjoyable so far. It winds on a good surface over hills and between unusual rock formations. Not much other traffic. Good speed and gear work and good fun. Nothing like it in Sisaket. Had to estimate the last 3 km readings as I forgot to check. From Takua Pa it was a sightseeing tour down the coast past the tsunami devastation, displaced persons camps and reconstruction efforts. They have got a long way to go. A thunderstorm started and I sheltered for an hour in a Sala. Headed off but feet got a bit wet off the road as I headed past the previously luxurious but now deserted resorts at Khao Lak and right down to Phuket. The only ones still operating are those built high above the waves. .
4314 Phuket Bridge
4356 1830 Phuket Town
4366 Around Phuket
Stayed at Thara Hotel, 148/24 Thepkrasatri Rd. A/C. B350. TV. Modern. Secure inside parking.
Summary
3589 to 4366 = 777km 12hrs 20mins. Less sightseeing from Takua Pa to Phuket and 3 long breaks and wait for storm to pass est total 2hrs 20 mins = 10 hrs traveling. Av 77.7kph.
DAY THREE
Phuket – 4020 – Patong – 4233 - 4030 - Thalang – 402 – 4 – Phang Nga – 415 – 4 - Krabi – Trang –Phattalung – 43 – 4 - Hat Yai - Sadao.
4366 0607 Dep Phuket,
4381 0630 Patong. There is still much evidence of wave damage in Patong and along the coast.
In many cases businesses have patched up premises to trade but will need ongoing upgrading. The beach is back to normal but many access ramps and paths need repairs. This applies to the whole west coast of the island.
Pic below: Patong beach 7.00 am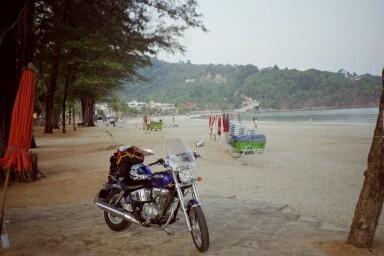 Pic below: Tsunami victims crosses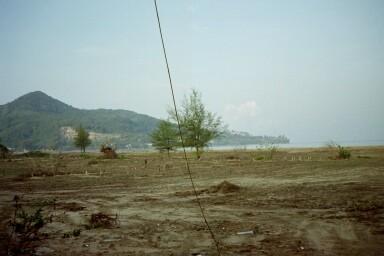 I went past at 7am and there were hundreds of construction workers going to sites all along the coast. Because there is so much happening at once it's going to be a long process. On the plus side employment should be good.
4430 Sarasin Bridge. The road from here to Krabi is part excellent dual road and a greater part uneven surface.
Pic below: Into the valley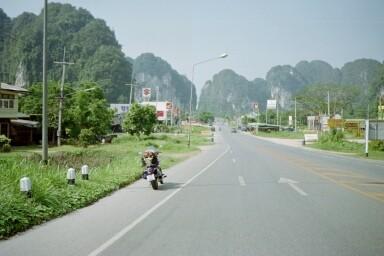 Quite interesting near Phang Nga with high strange shaped outcrops rising straight from the flats.
4560 1000 Krabi. Look around town. The boat operators are feeling the pinch of lower tourist numbers and I got touted several times for boat tours. Had a repair done to my windscreen which developed a crack from the support bracket -disappointing.
4698 1230 Trang Lunch. Really hot. The tuk tuks here have a fully enclosed drivers cab and rounded fronts. Look like the old Mazdas.
4850 1500 Hat Yai. Hid in the 7/11 for drinks
20mins.
4900 1600 Sadao
Stayed at the ST Mansion 16 Rumjai Rd (New), B450a/c, B250fan, secure undercover parking. Walk to 7/11 on corner and night market nearby.
Summary
4366 – 4900 =534. 9hrs 53mins.Less long breaks 1hr 20mins.= 8hrs 33mins. Av 62.4kph
DAY FOUR
Sadao - 4 – Border – E1 – Penang – E1 - Ipoh – E1 – Kuala Lumpur.
4900 0615 Dep Sadao. I stayed at Sadao because I didn't realize there was a town with hotels on the Thai side, right on the border. It is probably Ban Khlong Phruai and looks a bit rough .
4917 0640 Arr Border, Though Thai Immigration – Passport 10mins Customs – they took my Green book and filled out the new "Simplified Customs Declaration Form"( For motor car & motor cycle temporarily imported or exported) on the computer. I asked them about my main concern which was length of time my bike could be out of the country. The Officer said there was no limit which was a great relief. I signed the form and made a note on it that I would be returning in July.
Pic below: Sadao Immigration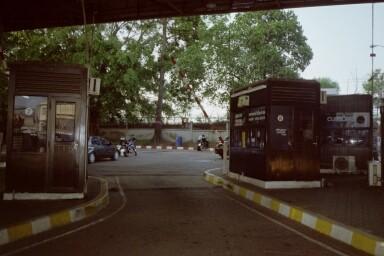 No Mans Land is fenced off - there is a big Duty Free Shop and office where you can buy Malaysian 3rd party Insurance. They required my English Translation of the Green book and the Roman translation of the Number Plate (from the Cert of Registration issued by Sisaket Tpt Dept) Cost for one weeks Insurance B350. It covers unlimited personal injury and vehicle repair for the 3rd party – not me. They also changed B5000 to RM469.40.
I then attached the new Number plate and went to Malaysian Immigration who stamped my Passport and sent me on. Malaysian Customs didn't want anything and I just drove into Malaysia with a sigh of relief. At the border there was a group of 5 Singaporeans on Gullwings. They said they had just blasted up to Hat Yai for the night and were headed back - a midweek break from the office.
4917 0740 Dep Border. Took wrong turn and headed east to the university at Sintok
4942 0804 Refuelled – back on track. 7.9L @1.43 RM11.42**
5043 0917 -1017 bfast, oil chain, 1hr. It's a bit strange to see these people who look like Thais but speak in a strange language I don't understand. Lots of rice fields here, about a foot high.
5095 1145 Penang. Crossed over to Penang Is on the Penang bridge, RM 1.40 toll. This was the only toll I paid in Malaysia. Returned to the Mainland on the Ferry for RM2.00(but nobody collected it). Lunch and the Indian guy in the restaurant can't understand a word I say in English – I can understand him – can't get used to this eating with the fingers. No spoons. Thank goodness for King Rama V. The bridge and approaches is about 8km long and a great piece of engineering, must make a huge difference to the Penang Butterworth area.
Pic below: Bridge to Penang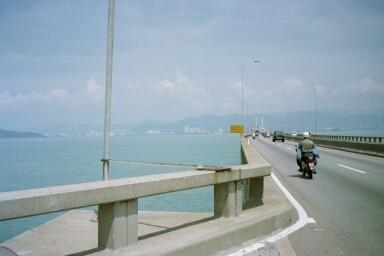 Pic below: Ferry from Penang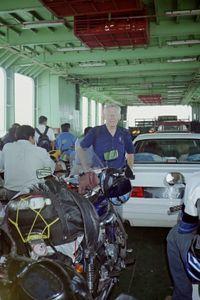 5105 1400*** Dep Penang
5302 1615 1/2 hr Donuts/coffee. Spoke to 2 riders from KL, one on a Gullwing the other on a Honda 850. They had just been into Thailand for the night and were in a hurry to get back to the office because they had been called. I asked them what sort of speeds they did and they said it depended on the weather but usually between 160 and 200kph. Now that really is turning up the wick.
5450 1830 Kuala Lumpur
Stayed at First Business Hotel RM 69.a/c Covered parking off Street with security guard.
Summary
4900 – 5450= 550km. 12hrs 15mins. Less long breaks/time dif 5 1/2hrs. 6hrs 45mins. Av 81.4kph.
DAY FIVE
Kuala Lumpur – Middle Ring Rd –E2 - Seremban – Jahore Bahru(Skudai).
5450 0745 Dep Hotel
5452 0745 arr Petronas Tower. These are the highest twin towers in the world. They are 80 stories and there is a linking observation bridge on the 40th floor. One tower was built by the Japanese the other by the South Koreans. It's really worth a visit. A higher single tower has just been built in Taiwan. Free entry but you have to queue.
Pic below: Hazy View from Petronus Tower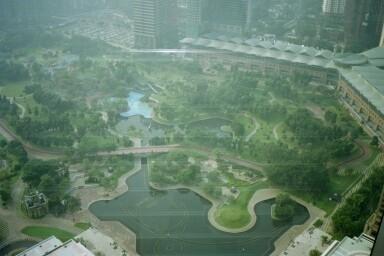 5452 1000 Dep Petronas
5769 1338 Skudai, Jahore Bahru cooler than Thailand
5793 Tudors House
Stayed at friends house(Tudor) in JB suburb of Skudai.
Summary
5450-5769 = 319km. 3hrs 38mins. Av 87.7.
DAY SIX
Skudai – Jahore Bahru – Causeway – Singapore – Woodlands Rd – Upper Bukit Timah Rd – Clementi Ave – Sentosa Is –Beach Rd – Orchard Rd –Raffles Hotel – Bukit Tima Rd – Upper Bukit Tima Rd – Woodland Rd 8 – Causeway – Jahore Bahru – Skudai
5793 1030 Dep Skudai. Down Skudai Rd to the Causeway. Follow all the other motorcycles past Malaysian Imm, to Singapore Imm where I am told I should have gone a different way to have my Passport stamped to depart Malaysia. She gave me the option to do a big loop and back to M or go on to S and explain it when I leave. I chose the latter so on to S Customs who check my bags and chat for a while interested in my trip and send me through. I was expecting to pay $25 or some fee to enter but I paid nothing and produced no papers apart from my Passport. The high standard of roads continues in Singapore and after clearing the causeway traffic is light. Lots of big bikes in Singapore and Phantoms everywhere. They import them from Thailand so no trouble for parts if needed. I pass a few well known names and then finally to my destination – Raffles Hotel. I first came here in the Army in 1967 and admire the timeless architecture. Raffles has been an icon in Singapore for over 100 years and to me is a symbol of Singapores Colonial History, and a fitting end to my long journey. Took a photo of me and the bike if front of the Hotel and then looked through the tasteful foyer but reluctantly declined the offer of high tea.
5860 1200 Raffles Hotel End of outward journey.
Pic below: The Goal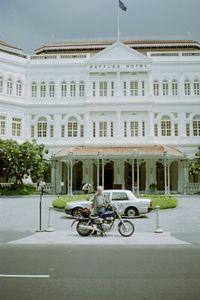 Pic below: Well earned rest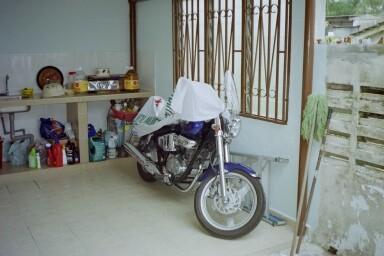 Summary
5793 – 5860=67km 1hr 30mins. Av 44.6kph.
5860 1200 Raffles Hotel. Start of return journey
5876 1230 A thunderstorm started so I took shelter in a small shopping centre and had lunch for an hour while the storm passed. All clear and I am on my way to the Causeway. There is a designated motorcycle entrance and I can't find it. The signs start and then run out. I go round in circles for a while and then ask directions, still lost. Then the thunderstorm catches up and I am soaked. Wait under cover for a while and then ask directions again. I go past the same sign 4 times and then end up miles away. All the way from Sisaket without getting wet and I wore only a light jacket to come into the City. While holed up in a Bus Stop I ask another guy if he is going to Malaysia and he is and said I could follow him. Around the circuit again and then to some obscure road which I would never have found especially as it is still bucketing down, visor up so I can see my guide and needles in the face from the rain – O the joy of it - and onto the Causeway, thank my deliverer, through Imm & Customs and home to Skudai. Because my passport showed no stamp out of M they didn't stamp it for entry either.
5949 1600 Skudai. The bike has done a good job without a hitch or anxious moment, so will now have a rest for 2 months while I holiday in Australia, then I'll do it all again back to Sisaket. Clean/polish/oil chain. Stored Bike at Tudors House
SUMMARY
Start of homeward journey
5860- 5949 = 89km. Lost and sightseeing around Singapore return to Skudai. 4hrs
*Traveling. Time I have shown is total time on the road less long breaks for meals or sightseeing.
**Malaysian Ringet (RM) 1RM=10.25B about 1RM to 10baht
***This is now Malaysian Time. I hr ahead of Thai. ie 1300 became 1400.
GENERAL NOTES
Roads. The E1 & E2 are super dual highways – if a little boring - and move very quickly all the way from the Thai border to Jahore Bahru. The signs show 110km but traffic moved a lot faster than that. I was doing 120-130 and many cars & buses passed me. The only Police I saw were assisting motorists. Didn't see any radar. They do have accidents of course but I don't think speed is the cause. There is a Toll Booth every 50 km or so but motorcycles are not required to pay the toll and there is a special lane to the left to bypass the toll gates. The entrance starts well before the gates and I missed a couple. I slipped in behind a car once and nearly got clobbered by the boom which came down real fast.
Directions. I made a couple of mistakes in Malaysia because I didn't know the names of the intermediate towns between the main centres. This cost me a bit of time and a 20km detour.
Fuel. In Thailand there are gas stations everywhere but this is not the case on the E1 & E2. At points there was a 30km gap between fuel outlets so refueling needs to be done soon after switching to reserve. I left the E1 a couple of times to eat in small towns.
Consumption. Total 3034km traveled – 120 Litres used = 25km per litre
Visor. My visor is dark blue and great for the sun. However when you are in the middle of a thunderstorm you can't see a thing so have to lift it and then the rain hurts. I will buy another one with a lighter tint.
Wet weather Gear. They have some great stuff in the M/C shops here in Brisbane but it's very expensive. Eg $3-400 for a Dri Rider jacket. $100 for a waterproof overall. Haven't decided what to get yet but I definitely need something.
Daily Average. It is interesting to note that on the long days the average kph covered in a day is lower. I guess this is because you need to take more breaks at the end of a long day. On shorter trips you can last out. The average is much higher on roads in Malaysia because of the dual carriageways and clear runs, whereas in Thailand you are always winding through small towns. For me a comfortable day is about 600km.
Start Times. I got up at 0515 had a snack & drink & was away just after 0600. There are several advantages in this. 1. You're packing and putting riding gear on in the relative cool. 2. You've done a couple of hours before traffic gets busy and the temperature rises. 4. Breakfast at 0900 is a good time to break. 5. At the end of the day you have daylight to look around for accn.
FOR THE OLDER RIDER
Don't read this if you're under 60.
Glasses. Bi focals are great but make sure you get the bottom part (reading) as low as possible. If it's too high you have to keep your head tilted forward to look through the distance part which can get painful after a few hours.
Back. I wore a builders back support which is something like a weightlifters brace. It has vertical plastic ribs which fit in the small of the back and has a Velcro fastener. It was a bit warm but felt good. I had no back pain or tiredness at all.
Backside. After a few hours it was hard to get comfortable on the seat so I had to shift position often to relieve the tired feeling. I will get a sheepskin for the return journey to try to relieve this.
Hand. My right hand got tired and ached from gripping the throttle and I had to do all sorts of excercises to change position. At the end of the trip I found it was half numb for 3 days. All I could think of was how great a cruise control would be, especially on the Malaysian section. My old Indian had a hand throttle!
Energy. At the end of Day three I was feeling really washed out. After 2 Pepsi's a lot of water and a good meal I came right. Felt great for the rest of the trip – must have let the fluids get too low.
SUMMARY
Day 1 666km 9hr 15min/555mins 72.7kph
Day 2 777km 10hrs /600mins 77.7kph
Day 3 534km 8hrs 33mins /513mins 62.4kph
Day 4 550km 6hrs 45mins /405mins 81.4kph
Day 5 319km 3hrs 38mins/218mins 87.7kph
Day 6 67km 1hr 30mins/90mins 44.6kph
SPEEDO / KMS
Start 2915 Sisaket
Finish Singapore 5860
Distance covered = 2945 kms
Finish Skudai 5949 total traveled = 3034 kms.
PREPARATION
For me this is an adventure in travel and endurance. I got back into Motorcycles when I came to Thailand about 2 1/2 years ago. My young days in the NZ Army were spent on Army Indians, a Norton Dominator 500, And an Ariel Square Four 1000cc. My two brothers had Triumphs and all three of us still bear the scars of our escapades.
My new Honda Phantom is a nicer and safer bike than my past ones and what it lacks in top speed it makes up for in comfort and riding pleasure. (It doesn't leak oil either)
Planning. 3 areas. Bike,- Regulations,- Personal.
I had no doubts about the bikes ability to do the trip. The other 2 areas are less certain.
1. Bike. Being a new bike the Honda required only a Service, Oil change, Chain adjust and general check over. Baggage also had to be thought through.
2. Regulations.
After a lot of checking and contacting Government Offices, I came up with the required paperwork to get me and the bike out of Thailand and in to Malaysia and hopefully back again without penalty or delay.
3. Personal.
For me this was the area that took the most planning & I approached it on 3 levels;
a. Physical. To sit in the saddle for long periods of time without pain and maintaining concentration takes some training and for the last 6 months I have been excercising 6 days a week about an hour a day. I spend 20 minutes on the push bike for aerobic fitness and leg strength and hardening up the rear end. Then about 20 minutes on stretching and strength excercises, mainly in the upper body area. After many years as a Rugby front row forward my neck gets stiff and requires special attention also.
b. Spiritual. As a Christian I believe that life is to be lived and that we are to make the most of opportunities we have, to both improve our own lives or to help others improve theirs. The motorcycle has been like therapy for me and provided an acceptable outlet and interesting hobby. Planning this trip has been therapeutic.
c. Relational. I have had to reconcile the time spent on the bike against time spent on work demands and with family and friends, the chief of which are 3 beautiful grand daughters asking where Granpa is.
With all of the above in place I was ready to go
Do it all again in July !! The journey really is the destination!!
Sorry to be so long winded, spent nearly as long writing this as I did on the bike !
Cheers, Peter
"The Journey is the Destination"