0
Staff member
Subscribed
Jan 16, 2003
13,947
4,920
113
69
As some of you probably know I've spent most of my life riding motorbikes, being in the sun & being guilty of not always using sunblock; & as life goes on it's finally starting to catch up to me - my skin is not the best as you all should have noticed.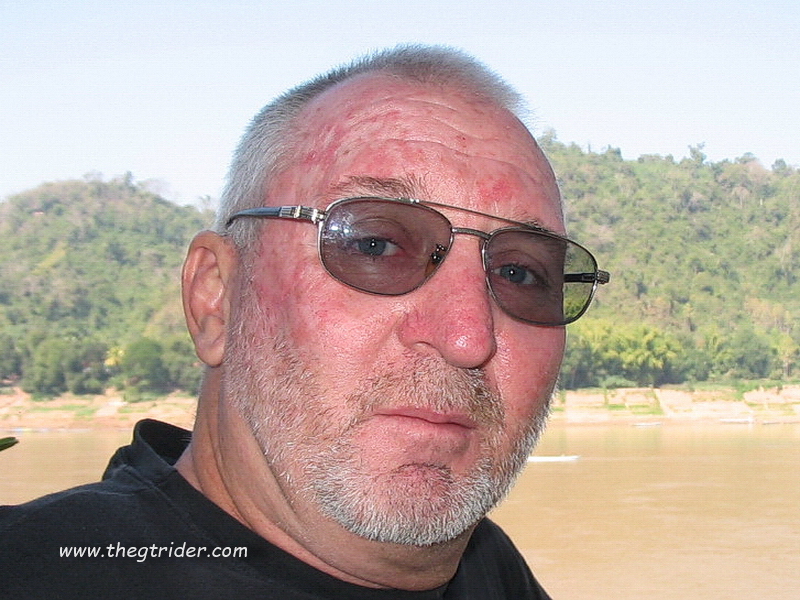 So I finally popped along to Ram hospital to get it all checked up & ended up with the duty dermatologist, who performed a biopsy on the 3 worst spots.
A couple of weeks later the results are in & as to be expected they are all positive.
No big deal the doc says we just cut them all out, but the big lesion on your temple needs a skin graft & the plastic surgeon doctor is all ready to do the work.
I was ushered straight across the corridor & sure enough there was a plastic surgeon all ready to go (next week) if I agreed.
Now I was a bit taken aback, because the doc had already decided it was all go without seeing me. The deal must have been done with his mate the dermatologist.
Not impressed I decided to do some research & find out who the best doctors were - you want the ajarns who teach at Suan Dok Hospital, but have a clinic at Ram or outside even.
The nursing staff at Ram were too Thai (greng jai) to suggest another doctor or who was the best.
So I got onto my mate Dr Sudhee, the bone doctor.
His recommendation was Dr Somboon Chaisrisawadisuk, the Associate Dean of Chiang Mai University Faculty of Medicine.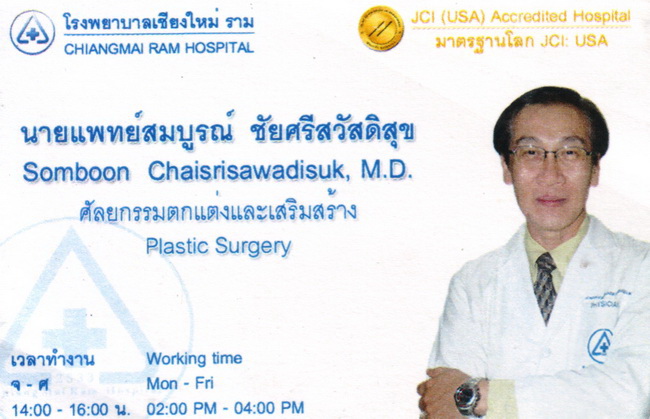 Dr Somboon has been in Japan & the USA.
After consulting my file & skin Dr Somboon says that in his experience the skin graft & surgery on the big lesion is a waste of time.
I have so many future lesions coming on that I would need to cut up my whole face eventually.
Surgery for this in your case is only a last resort.
There is a cream for treatment which should work given time.
So I need to go back to see a dermatologist again, but I don't want the same original doctor I consulted.
You have 3 dermatologists at Ram who is the best?
Oh that would be Dr Vachiraporn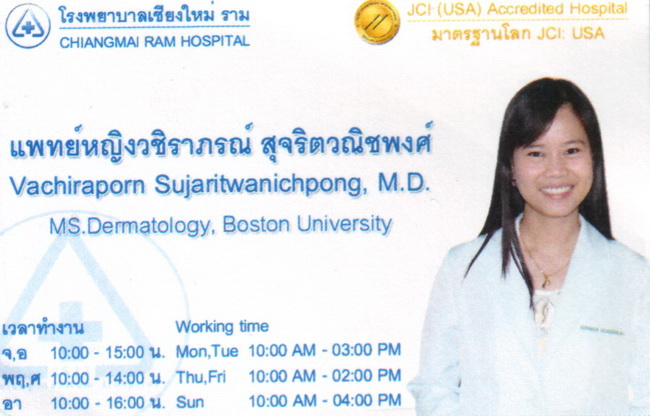 she has trained in the states.
But it would be better if you saw her at her private clinic & not here now, because it will cause conflict with the other doctor - poaching patients. I will ring her & make an appointment for you at her clinic.
Somboon rings Vachiraporn & she is at Ram now & if you wait she says she will see you now.
OK I'm happy to wait & get it all sorted.
The 2 doctors & I get together for a joint consultation.
Vachiraporn takes a close look & agrees with Somboon that there is NO need for surgery & skin grafts on the big lesion - Bowen's disease.
Bowen's disease:
Bowen's disease is a very early form of skin cancer, which is easily curable. The main sign is a red, scaly patch on the skin.
The abnormal growth takes place in the squamous cells – the outermost layer of skin – and Bowen's disease is sometimes referred to as "squamous cell carcinoma in situ".
Sometimes, the cancerous cells spread along the skin's surface, but it is usually very slow-growing and may not change for years.
Only occasionally (in 3-5% of patients) does Bowen's disease invade the deeper layers of skin and turn into a more serious type of skin cancer. However, this is only a risk if it's left undiagnosed or neglected.
The other 2 spots, yes we need to cut them out.
Somboon says Vachiraporn can do the surgery but she then defers to Somboon & says no, you are# 1 you can do it. I will look after the Bowen's disease & you (Somboon) do the surgery.
So now all good news as far as I'm concerned.
Next week I'm under the knife for a couple of hours.
Somboon is a gem of a doctor. Very similar to Dr Sudhee. He takes his time with his patient, explains exactly what is going on & what all the options are.
Vachiraporn too, took great care to examine & explain clearly what is going on.
So I'm highly impressed & very happy with what is going on.
I post this because I know there are a few guys going to Ram hospital for skin cancer treatments & it's good to know who the best doctors are.
Fortunately for me I got the inside line on who were the top guys there.
Dr Vachiraporn for dermatology.
Dr Somboon for plastic surgery.
Highly recommended. Consult with them if you need skin cancer treatment.
You all take care out there.
Last edited: