Today I just finished my another solo motorcycle travel in Lao. Since 2013 I rode my Honda CRF250L twice a year in Lao. I have been almost everywhere in this beautiful country. So I would like to share my experience and suggest some fantastically great trails for enduro ride that I have found during these years.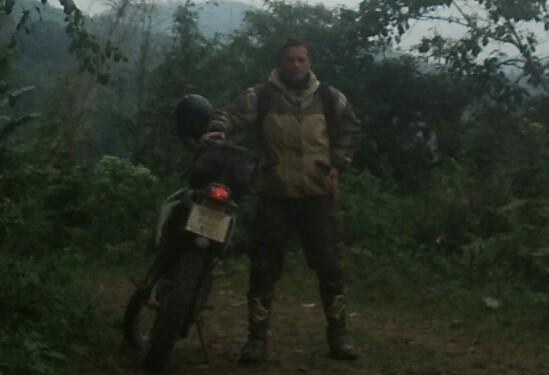 1. My ever best trail: Muang Long to Vieng Phou Kha. 83 km long. Luang Nam Tha Province.
I rode it two times in 2016 and once recently in december 2018. Since the monsoon of the summer 2018 the trail is entirely possible only on foot or on motorbike. Incredible deep wilderness and remoteness. Sometimes hard enduro.
2. Boun Tai to Muang Samphan. Phongsali province. 20km south from Boun Tai begin the 86 km long mountain dirt road to the lake, where you have to take a small boat to carry you and your bike to the tiny Muang Samphan. After few kilometres of navigation you can ride 50 km a good gravel road to Muan Khua. In Muang Samphan there is a very basic accomodation as well. Lot of nice mountain scenery and hill tribes villages. Be careful -The last boat arrives at 17.00.
3. Nan Nern to Suan Hin archaelogical site. Hua Phan Province. From Nam Nern (there is a good by Lao standards guest house and a few good restaurants) follow 27 km dirt road on a riverbank of Mae Nam Nern. After that do not cross the bridge but follow the same dirt road to the north until you reach the abandoned military camp. Over there you will find a very tough almost 12 to 18 degree steep ascent. 7 km on the stones. Climb on a motorbike to the top. Enjoy a great scenery and a hill tribe village. Before me as the villagers said ( I speak and understand Lao) they have never seen a foreigner. It is very wild. After the village the trail continues some 30 km through the jungle to the crossroad that leads you to the Suan Hin archaelogical site. At all from Nam Nern to the archaelogical site it's around 70 km. After Suan Hin it is only 7 km ride on a good dirt road to the sealed road linking Hua Phan (Sam Neua town) with Xien Khoang Province (Phonsawan town).
4. Nam Bak to Muang Khoua. Oudomxai and Phongsali Provinces. Lovely 80km forest trail. Not so difficult. But be ready for a 8 km steep descent approaching Muang Khoua. Take plenty of water with you not only for drink but especially for the brakes! During descent there are no streams or small waterfalls to take care of the brakes.
5. Huai Sai to Xien Khok. Bokheo Province. Follow the riverbank trail of a Mighty Mekong. First 30 or 40 km of a trail after Topheung there is a road construction. After that it is a pleasant nature trail. 2km after the bridge over Nam Kha river there is a dangerous recent landslide with a fallen giant tree. You can take a big risk to cross it and after 8 km you arrive in Xien Khok. Wonderful guest house with a great Mekong River view is no longer available (late 2018). It is better to ride 22 km further to Muang Long witch is the best base to attempt the next day a wonderful and extraordinary beautiful Muang Long - Vieng Phu Kha enduro trail. You also have another option. - Do not cross the fallen tree and a landslide, but go back and take a detour to Muang Mueng. Very basic accomodation is available.
6. Boun Nuea to Lantoui. 140 km. Phongsali province. It is not a dirt road anymore. Now the road is sealed and is in good condition (late 2018). Good news for enduro riders is that Lao government have create plenty of new trails over there. (between Boun Nuea and Gnot Ou). Before 2017 those trails were possible only on foot. Now it is a paradise for enduro bikers. Be ready for landslides and unexpected encounters.
7. The road to the volcanic crater in Attapeu province.
I rode a lot of enduro trails in South as well. However by my opinion Northern Lao is by far more beautiful and intresting then Central and Southern Lao. Also, after the july 2018 flood lot of trails (like road 18 for example) is not possible to ride anymore.
The roads 4B in Luang Prabang province and 6A in Hua Pan province are no longer intresting as enduro adventure trails. They are almost entirely sealed.
I have found more enduro trails in border areas with China, Myanmar, Vietnam, Cambodia and Thailand, but I don't recommend it because sometimes I entered restricted zones. Xaisombun province as well.
Lao is a ultimate destination for adventure enduro motorbiking. You can spend years to explore and still find new trails and unexpected links.
Last edited by a moderator: