Best Biker Action Camera?
Riding a motorcycle requires your undivided attention with just a few inches of rubber keeping you on your bike. And tires are designed with safety in mind for grip and stopping power. Equally, manufacturers of motorcycle accessories from GPS to action cameras try to keep things as easy and straightforward as possible to keep your attention on the road. For adventure or insurance, which helmet cam can you rely on?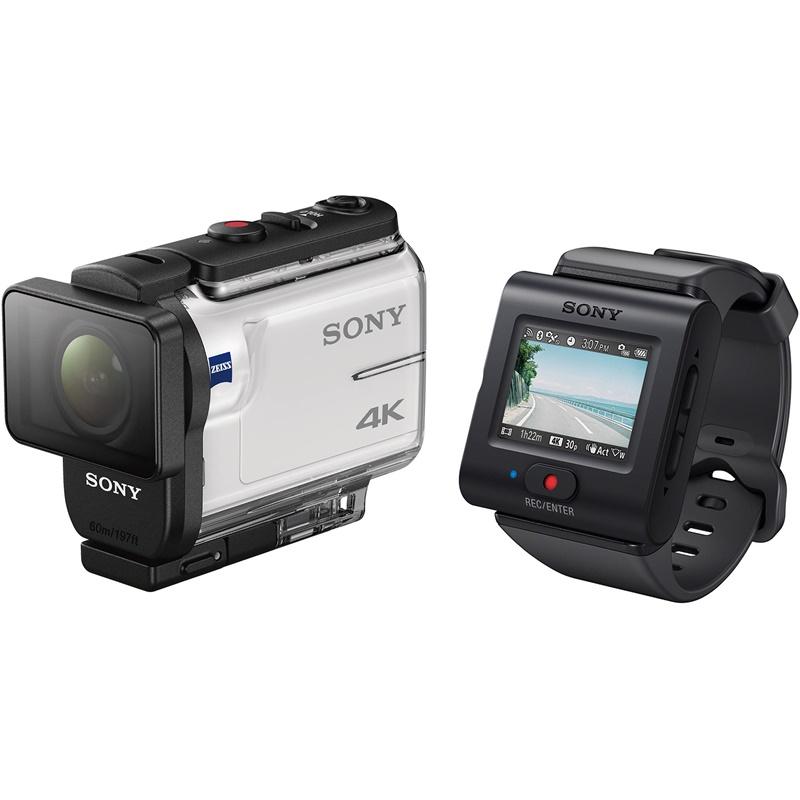 A Cornered Market
Three manufacturers stand out from the rest for motorcycle use: GoPro, Drift and Sony.
GoPro, the market leader and the 'dudes' favourite have cornered just about every aspect of the action camera scene. Clever marketing and a very good product have caught the attention of surfers, adrenalin junkies and bikers alike. GoPro has since come a long way from the Woodman Labs era, and while not the first action camera to capture thefirst-person action, they certainly influenced the market we see today.
GoPro perfectly timed their explosion into the extreme sports world as the World Rally Championship (WRC) gave us onboard views that amazed TV viewers, the rush of downhill skiing and fear - certainly from a viewer's point of view, with adrenalin sports such as base jumping. But like many other manufacturers in other industries, the timing was their key to success, and to use a 'HERO' now, is almost a religion.
But let's forget surfing, skiing or scuba diving for a second, and let us focus on the all-important features required for a rider. And while we've covered action cams in the past, Sony's new FDR X 3000 R has raised the question again, and perhaps the bar. But does it cut the mustard and fill in the blanks that GoPro and Drift left empty?
Sony FDR X 3000 R Action Camera
This write-up won't go into the technical information of the Sony. Youtube reviewers such as Iphondo can do a much better job than me with that. This is to review the ease of use, press and go on a motorcycle.
Sony is well known for the action camera game, but like others, they've lagged behind GoPro not for being lesser in quality, but fashion has dictated what has been a GoPro domination. But the new Sony FDR X 3000 R has some very useful feature that should have GoPro and Drift quaking in their boots, but has it? And does it fair better than the Drift Ghost-S for motorcycle use?
Out of the waterproof case, the Sony FDR X 3000 R is pretty sleek and slim and water resistant. Its operation is easy with little faffery when powering up and cycling between settings. Most of the time I tend to use 1080 despite it having 4K for the motorbike, and use 4K for personal family trips etc. The link between the remote control screen is fast with a little delay which is equally easy to use. Despite having the remote control, as yet, I've given it very little use as I prefer to set the camera up using the mobile phone. Using something like
'playmemories'
via my iPhone allows me to level the action camera and capture shots that I want. All straightforward and thus far, great for setting up on the bike.
The Sony FDR X 3000 R has a standard camera mount leaving the door open for many mounting options other than Sony's. While the Sony version is adequate, It limits the ability to position the camera in various spots if you need sturdy. So for this test, I was using Ram Mounts with the optional ball join when fixing to the bike frame, and Sony's optional helmet mount kit.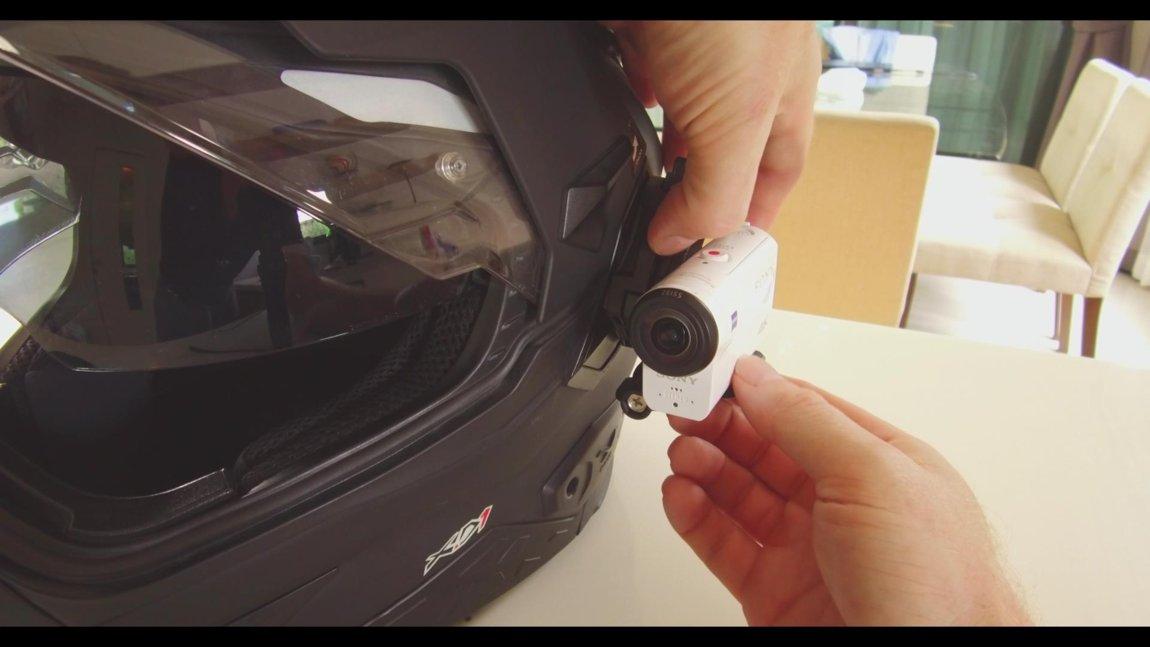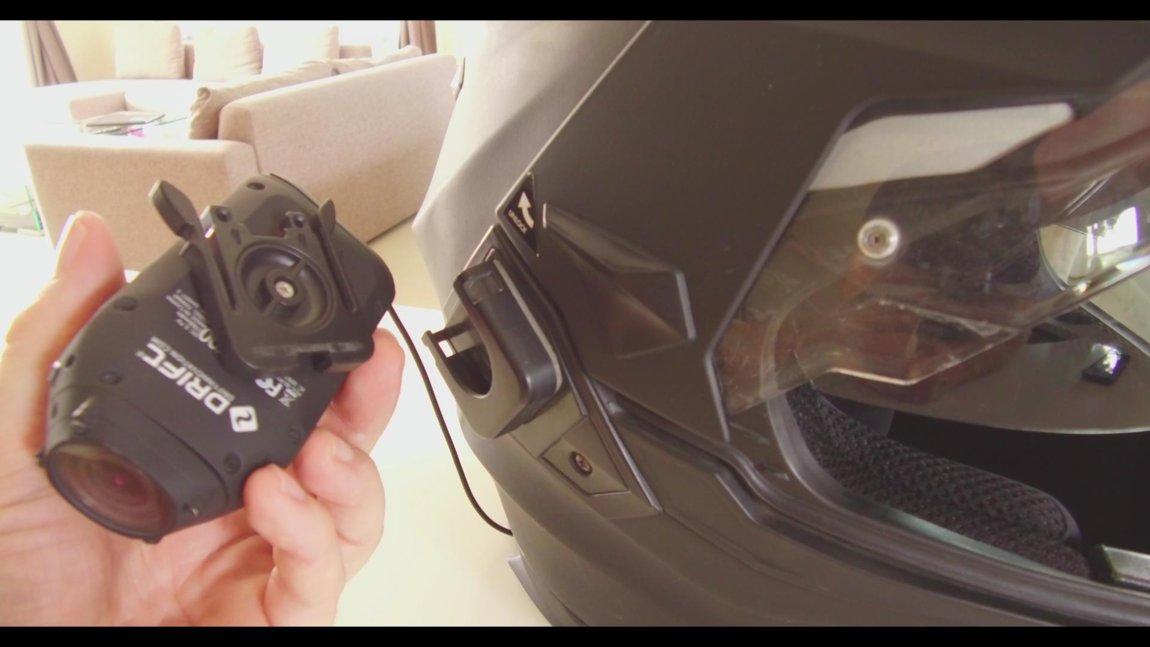 Sony FDR X 3000 R requires 3 adjustment for setting up. Threaded nut to secure the camera. Tilting hinge to level it left to right and a rotating pad to lift and lower front image.
The Drift has a single, screwed clamp. Once the desired angle is selected, the rotating lens makes setup easy and complete withing seconds.
Below, Sony's push wedge still doesn't secure the camera firmly enough.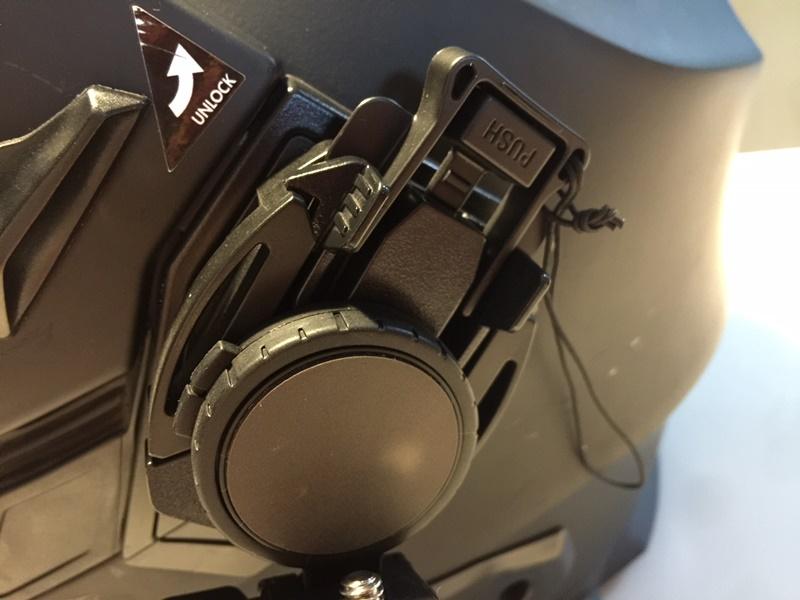 Last edited: