This is a cleaned up version of my first posting....
Soppong to Pai, off-road – Part 1
I'm about to try and describe a ride I did on the 4th December 06. On a number of occasions I'd been told it was possible to do a "back route", all off road, between Cave Lodge and Pai. To go by road from Soppong (AKA Pang Mapha) to Pai by road is only a touch over 40km. Don't get me wrong, it's a nice ride, but when someone tells you there's an off road alternative route of about 100km instead, it's got to be worth a look one day hasn't it?
On a number of trips I've wanted to try this, but for various reasons it's never happened. Rider fatigue, bikes playing up, too much of a mixed ability group, or simply the sheer unknown has always prevented me from doing it. After all, the route doesn't appear to be marked on the maps I've seen, it's right up against the dodgy Burmese border, and no-one I know has ridden it before, so it's all a bit of a guessing game.
Anyway, on this occasion I was blessed with a group of very competent trail riders, all of whom wanted to give this a try.
It was John Spies who runs Cave Lodge (at Ban Tham Lod) who first told me about the route. So, I collared him a week or so back and said, "tell me more about this off-road route John, and please draw me a basic map". He'd done the route in his 4x4 pick-up before, and reckoned it took about 4 hours. Steve, also of Cave Lodge, estimated it might be covered in about 2.5 hours on a dirt bike.
People have their own likes and dislikes when it comes to choosing somewhere to stay. Personally, I like Cave Lodge, and it's as good a place to start this ride as anywhere. So check in here the day before your planned ride, and enjoy the great cooking and steam room. Better still, stay here 2 nights, and do the fantastic ride up to Eyla as a warm-up the day before the route to Pai. (Caution though, the trail to Eyla has some steep slippery sections which can scare novices!)
John will happily pass on his knowledge to you, as guests at Cave Lodge, and will probably describe it better than I can do here.
He drew this map for me on the eve of departure...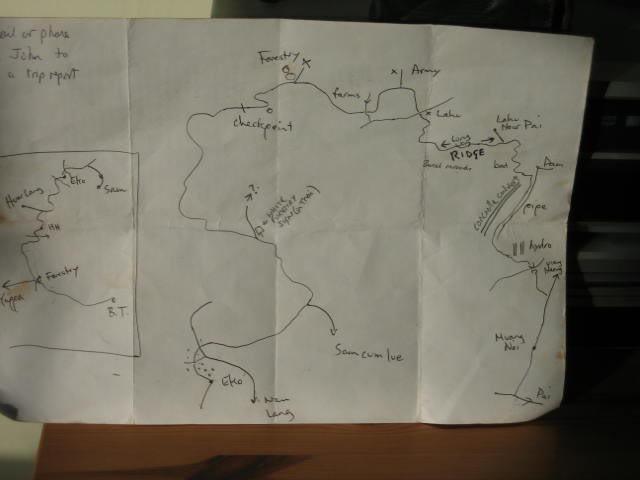 We planned to leave at the crack of dawn (i.e. around 10:00am in Vtrman language) in order to allow plenty of time to cover the distance, especially if we were to get lost or have any mechanical problems.
The map is pretty good, and worked well for us, but at this resolution, it might not be clear enough, so I'll need to describe it.
We started from Cave Lodge (clearly marked on David's MHS loop map), but you could begin from the 1095 / 1226 junction instead.
The route crosses the space between Ae Ko (which John writes as Eko on his map) to Muang Noi on the current version of the MHS loop map. The new map might have this route marked on – I don't know.
The ride to Eko is a good little jaunt in its own right, and is marked on David's MHS loop map, as well as the very detailed photo-copied sheets you can get from John at Cave Lodge. However, the lines drawn on maps, although accurate, don't always seem to match the reality that confronts you when you're out on the trail. There always seems to be extra junctions & turn-offs to throw you off the scent, so I'll try and describe the start of the ride like this. From Cave Lodge, retrace your steps to the "square" - the junction in Ban Tham, with a phone box (?). Turn right - away from Soppong. Descend the paved hill (only about 1/2 kilometre), then immediately after crossing the first bridge, turn left (you're on red dirt now). There's a T junction after a few hundred metres, go left again. Climb up a loose dusty trail (1-2 km??) and at another T junction head right (?). Hope this is correct - none of these junctions are sign-posted at all. You'll head along a fairly level ridge, which takes you to a junction of 3 options, which has a Forestry checkpoint just before it - sometimes manned, sometimes not. This section is covered in the inset, of the map above, BT meaning Ban Tham I presume, but the T junctions I described are not shown.
I don't know where the immediate left goes to (just Forestry I think), but the next left would eventually take you past Mae Lana up towards Huai Hea , and eventually to the impassable checkpoint with Burma, beyond Mai Lun. (a separate day ride) Bear right instead, which will take you to Ban Huoy Huang (Huai Hang) and on to Eko (Ae Ko, depending on how you want to spell these places).
The trip starts from Ae Ko!!! We stopped here, partly for a drink but also to ask directions, because the way onward wasn't immediately obvious. A local guy seemed to be doing something slightly unsavoury with a buffalo. He was lifting its tail, and putting his hands in a place I wouldn't have thought entirely appropriate. (I wondered whether what I'd seen was actually real – no-one else seemed to spot this). I know the Thais don't shake hands with each other, but I avoided this guy, just in case he decided to offer me a Western style welcome. We retreated to a safe 400m away and bought some cans of Sprite etc. A lady gesticulated the exit route we needed. Photo here (no the lady - not the buffalo fondler) Dtoon is holding the hand drawn map.