0
Staff member
Subscribed
Jan 16, 2003
13,850
4,814
113
69
Southern Laos & 10 days with the GF – "Madam Champa."
10th -20th January 2016.
On an extended ride through Laos it was time to show the GF the delights of the deep south of Laos
Pakxe

The Bolaven plateau – coffee & waterfalls

Don Khong / the 4000 Mekong Islands / Khone Phapeng waterfall

Champasak & Vat Phu world heritage site

Southern Laos is a longish ride from Chiang Mai & it's a bit far to expect the little lady to sit on the back all of the way there, ride around & then ride back again as that would be about 2 weeks gone.
So the solution is to fly the GF into Ubon, she catches a taxi to the border at Chong Mek & you pick her up on the Lao side of the border. Tour around the deep south, then run her back to Ubon to catch the plane home.
Kan Air has a daily flight Chiang Mai – Ubon first thing in the morning & a ticket is about 2600 baht one way. Flight time is approx. 2 hrs, then its 90 kms & an hour and a half to the border in a taxi. The taxi costs 1,000 baht.
Day 1 - the border
Pakxe to Vang Tao / Chong Mek & the border is 46 kms & about 30-45 mins fast travel time.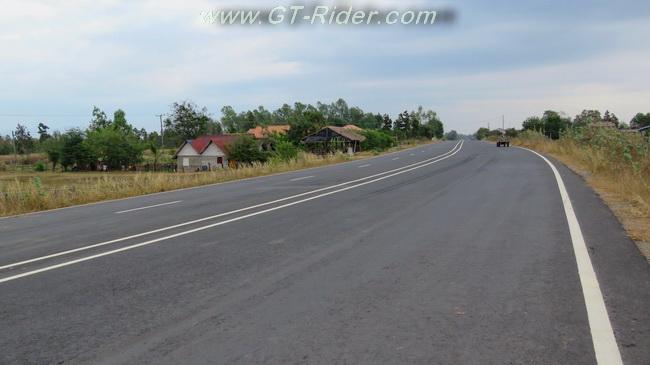 Pakxe - Vang Tao / Chong Mek. The good stuff
Some of the ongoing road improvements on the Pakxe - border road.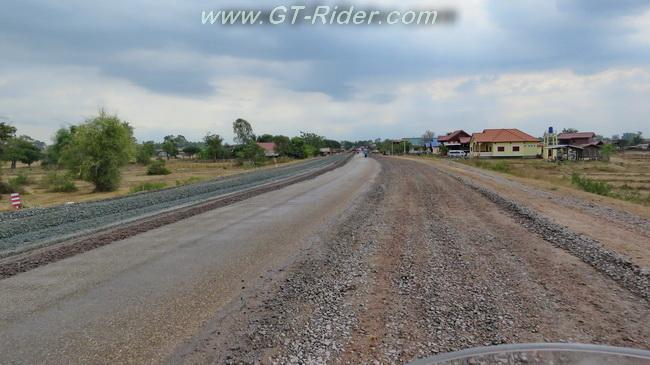 They've been at it for a few years now & the locals complain about the slow progress & the number of companies hired to finish the job that is never quite finished.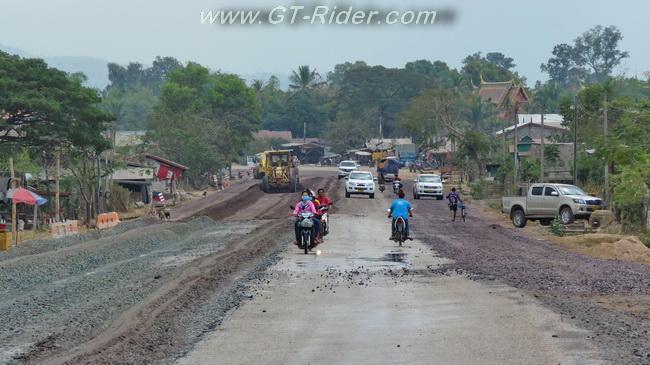 I arrive early in Vang Tao & have 40 minutes to kill before the GF arrives.
She eventually appears walking through the construction site & barrier with no bags & I wonder what the hell is going on.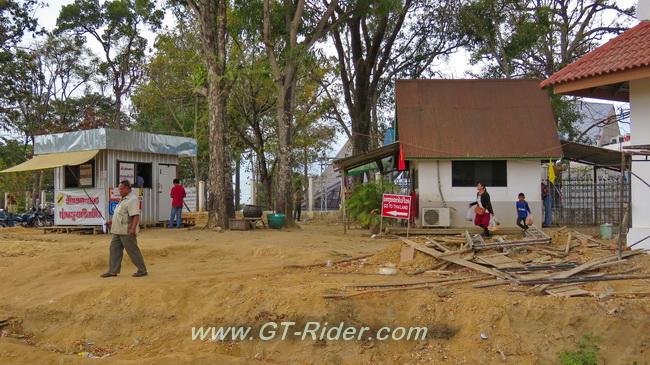 The Chong Mek - Vang Tao walk in / out border crossing
Everything is ok honey she calls out. Pointing to a push cart 50 metres away carrying the luggage & her riding gear. Talk about a good "no questions asked smuggling service" if you ever wanted one.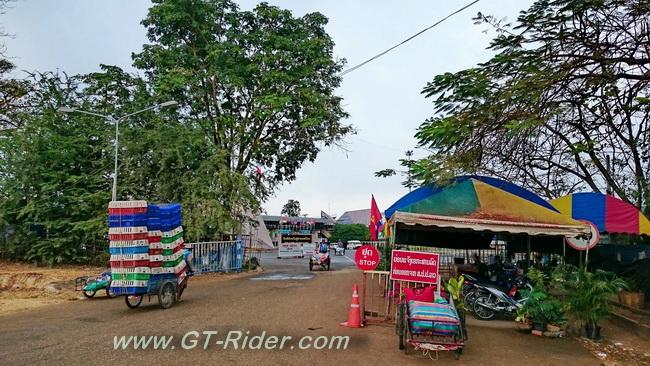 The push cart- vehicle crossing
I ask about her passport & she says yes everything done already. I ask her again "passport stamped Thailand & Laos" and she says yes all done.
The bag is strapped on the bike, we kit up & are set to ride off. Then an official walks over & asks her if she has stamped her passport at the Lao immigration office. Well no, I did it back there at the border. Yes maybe, but that is only Thailand. Oh dear, now I know. Get down from the bike, riding kit off & on up to Lao immigration she goes.
Lao immigration Vang Tao
15 minutes later we are on the road, lung is damn hot & sweaty; but there's still a twinkle n his eye. It's definitely good to be back together again with the little lady.....this is gonna be another amusing fun trip.
More to come.
Last edited: