Wednesday, 23 Nov – 26 Nov 2006
RIDERS: Silverhawk (Dave E. & Thim)

WEATHER: Absolutely perfect.
ROUTES: 108 to Hot, Mae Sariang, Khun Yuam, Mae Hong Son. Return 108. Khun Yuam, 1263-1088 Mae Chaem, Rt 1192 to Doi Inthanon-108 -Chiang Mai.

Sunflowers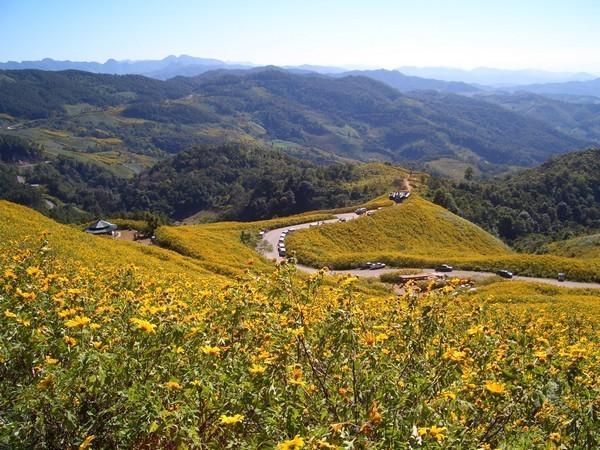 The
Sunflower Festival
near Khun Yuam runs from Nov.1st until Dec.1st. Subject to weather, the whole area is loaded with multi-colored wild flowers. Sometimes if there is a late rain it knocks the petals off the flowers and it is a bust. This year, despite a two day rain last week, the flowers were still in pretty good shape.
Road Conditions:
Although I had reports of the 108 between Hot and Mae Sariang being in poor condition, it was actually the best I had seen it in some time. There are patches of road work from Hot to Ob Luang where flood damage is being repaired but they are short in duration. Previously when making this run there always seemed to be long stretches of road construction which was absent this time. Some bumps here and there but not bad (B & T, you need to get a bike with some suspension travel).
Mae Sariang to Mae Hong Son was very good, again except for a few places where landslide damage is being repaired but that is normal this time of year.
Khun Yuam to Mae Chaem had a lot of landslide repairs for about the first 20km but then cleared up.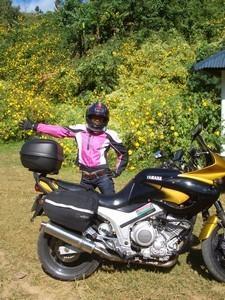 The Trip
We had just beautiful weather. It was cool enough after leaving ChiangMai that you were comfortable in riding jackets and hardly a cloud in the sky. It was an uneventful run to Mae Sariang where I had made reservations at the Riverside Guest House. Actually this was a mistake as I had it confused with the River House Resort. The Riverside is 350bt a night and has a good river view but is pretty shabby. The River House is kept up much better and would be the better choice..
In the morning it was overcast with clouds and fog and quite cool. As we headed for Khun Yuam the sun broke through and it was a glorious ride.
At Khun Yuam we made a right and headed about 30km up to the sunflowers. The road is marked on David's MHS map and shows "Sunflowers". The route up is lined with wildflowers and great mountain views. There was a large number of Asian tourists, mostly traveling in the grey tour vans, but this didn't create too much of a problem other than the usual habit of using both lanes when they round a curve.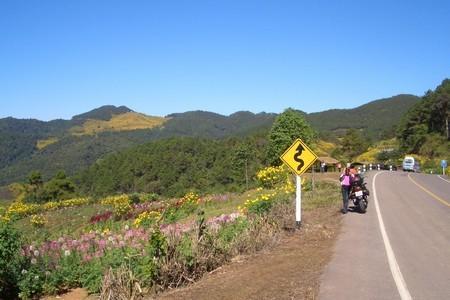 We stopped at the side of the road to take a photo of some wild flowers and we found a lady there who had posted a hand made sign saying "Photos 5bt". I ignored this and took my pictures while she begrudgingly watched. Then I told her I would give her 5bt if she stood in the photo. She shyly refused and then after thinking about it said "10bt". As we were both laughing and having a bit of fun I agreed to the 10bt.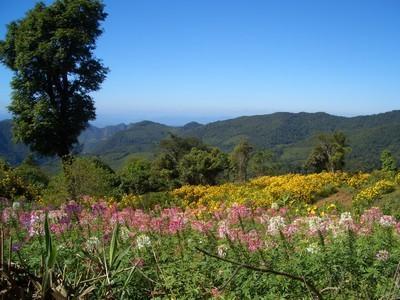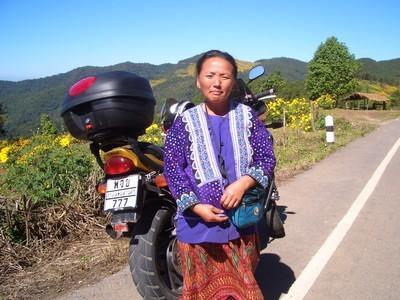 Many photos and a climb up the steps to the upper viewpoint and we headed back toward MHS.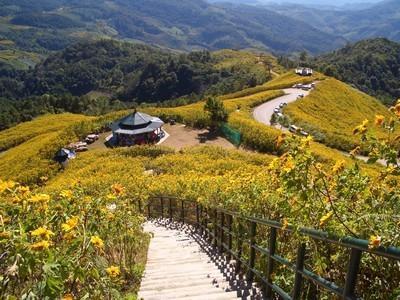 In MHS we met up with David and Mai from ChiangKhong who had booked us rooms at the Mae Hong Son Guesthouse just up the hill from the main road (see MHS map).
Most places in town were booked and full. We paid 500bt for a nice bungalow although she had other rooms for 350bt. The rooms were very clean with nice bathroom and shower. The only drawback was that the girlfriend likes her dose of TV which they didn't have, and she warned us that they were building a new bungalow and work would start at 8AM.
We had a nice dinner with David and Mai who then left early the next morning headed south while Thim and I stayed and did the usual sightseeing things in and around MHS.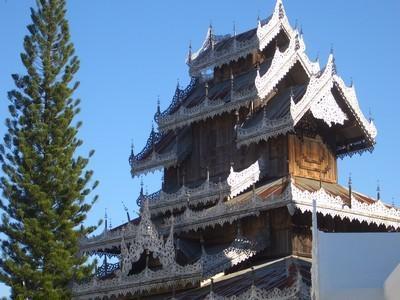 We booked a room at the Palm GH which is just behind the lake so that Thim could do some shopping and walking in the night market easily. The Palm is much newer, with TV and large clean rooms, 500bt. However, being right in town, traffic starts early along with the roosters and barking dogs. The MHS Ghouse outside of town was much quieter even with the construction.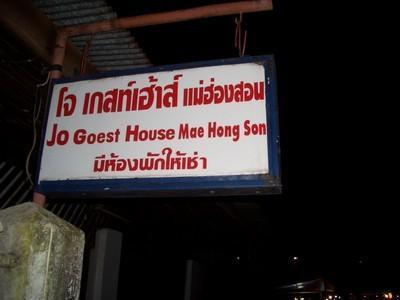 Don't stay here as it is obviously "haunted".
We left MHS Saturday morning and headed back to Khun Yuam. Cool and windy, but perfect conditions. We went back to try and meet up with Thim's friend who was camping above the sunflowers with the
Chiang Mai Vespa Club
. We missed the party and only found what was left.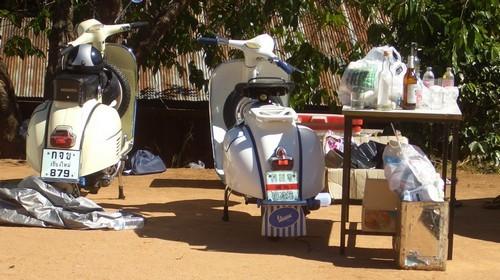 We were told that the group may have gone on to the Mae Surin Waterfall and National Park so we continued on to try and find them. The road was being resurfaced and they had just layed loose gravel all over the mountain road and were also in the middle of dribbling fresh tar all over it. About 9km of tricky riding sliding around on the gravel and avoiding as much fresh tar as possible. Should be a good road when finished.
The Mar Surin National Park wanted the 200bt NP entry fee, but with my Thai drivers license I entered for 40bt. A nice camping area but I don't think I would go just for the waterfall.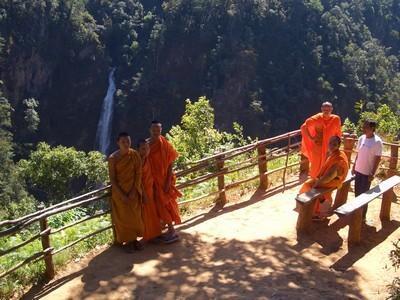 We never did find her friend although we met many others on Vespas. Some had returned to CM and others were heading for Pai and completing the loop.
It just shows you that one can do the MHS Loop on virtually any motorcycle. If they can do it riding two up on Vespas, with camping gear, nobody on this board should have a problem.
As I said above the road conditions after the 1st 20km were good. At one point there was a sudden dip and rise in the road which lifted both wheels off the ground and gave us a short surprise flight. Thim didn't think it was as funny as I did as she left the seat, without warning, where she was comfortably listening to her MP3's. Later she did admit is was "fun".
We were also passed by a pickup truck that just couldn't stand the fact a motorcycle had passed him earlier. About 5km down the road he was stopped on the shoulder of the road, his brakes smoking and smelling, and his passenger leaning out the door loosing the contents of her stomach. Couldn't help but wave as we passed.
With loosing time looking for the Vespas we hit Mae Chaem and had a late lunch about 5PM. From there it was a nice cool ride up and down Doi Inthanon. It was rather surrealistic coming down the mountain as the sun was setting behind us. We continually had a long shadow of us and the bike stretched out in front of us. As it switched from side to side it looked like some ghostly Rossi/Gibernau battle.
As I realized I was not going to overtake that damn shadow we rode at a fairly comfortable and leisurely pace down the mountain with little traffic. We arrived back at the Kafe in CM just after dark. It had been a long day of riding due to all our side trips but we were tired and happy after what was a near perfect trip.