Administrator
Staff member
Jan 16, 2003
12,343
2,729
113
67
Thailand International Kite Festival 2017
10 March 2017 – 12 March 2017 all-day
Location: : Cha-am beach, Phetchaburi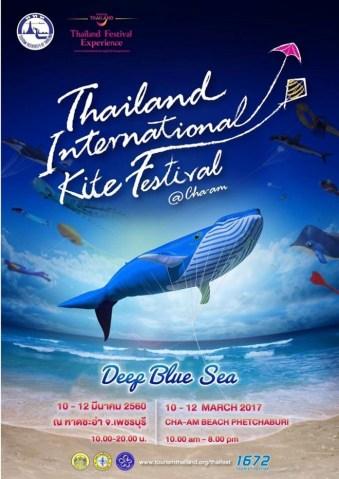 The ever-popular Thailand International Kite Festival 2017 is set to take place from 10-12 March at the famous Cha-am beach in Phetchaburi province.
This year, the event will feature displays of beautiful kites from all over the world. In addition, 20 kite flying teams from 9 countries are coming to participate in the event.
With teams from Kuwait, China, Germany, Malaysia, Singapore, Netherlands, New Zealand, Indonesia and Thailand this has become a truly international event and a great spectacle in the skies above Cha-am beach.
The highlight of this year's event will be a beautiful display of giant whale-shaped kites, some up to 30-40 meters long. Continuing the sea-life theme, there will be a 'Deep Blue Sea' display of colourful kites too, as well as many other flying attractions to enjoy.
Also, there are stunning musical performance of revolution kites, a Deep Blue Sea installation art piece and a show of stunt kites with fliers who'll compete to show off their high-speed flying skills. There will also be popular themed kites such as those with characters from the animated film, 'How to Train Your Dragon' along with several cartoon character kites from famous cartoons.
As well as the exciting displays of aerial expertise, there will be also be activities such as kite-making workshops, exhibitions of traditional Thai kites, music and concerts from famous bands and singers, food stalls and a whole lot more to enjoy. It should be a fun and family-friendly weekend for anyone looking to get out of Bangkok for a few days.
More info Contact TAT Phetchaburi Office
+ 66 (0) 3247 1005-6