This has to be better than India said my mate Chris who was doing this trip 2 months later.
We agreed, so four of us, Myself - the old git, My son - Leeboy, Young Ben - jammin and Richie Rich ended up in Chiang Mai for the 29/12/07.
Not really knowing what to expect, we rented 4 XR250 Hondas and a mechanic/guide (Koom, what an absolute gem!)with a CRM250 for just 7 days.
Chris had said that it was a "good idea" to have the bikes blessed at a temple so we got a bemused Koom to take us to one on the first day.
Apparently the monks were too busy! Oh well, lets just go.
We wanted to get to Nan on the first day to get right into it so after sorting a route out, orf we went. I`d forgotten how painful riding a razerblade with my large arse on it was. I thought I had grown an extra coccyx! But the roads!!! They are like the best roads in UK, + 20 degrees heat and bugger all traffic.(I don`t know why I`m telling you this, you already know)
Ben lost the key from the ignition on a remote road but Koom the Man, rode off into the boonies and returned 20 minutes later with a new Honda key! I am always amazed at the Thai ingenuity!
We went: Chiang Mai-Lampang-Ngao-Rong Kwang-Nan, mostly fast roads but had to use the brakes in a few places.
Nan was having a festival when we got there and the best bit were the bands, I really like Thai rock.
Next day we wanted to go around the Doi Phukha loop and showed Koom were this was. He had never been over this bit if Thailand and we ended up in Mae Charim. As we didn`t want to ride in the dark,and wanted to push onto Chiang Kham, Koom suggested cutting through the loop and onwards. What amazing roads!Wow!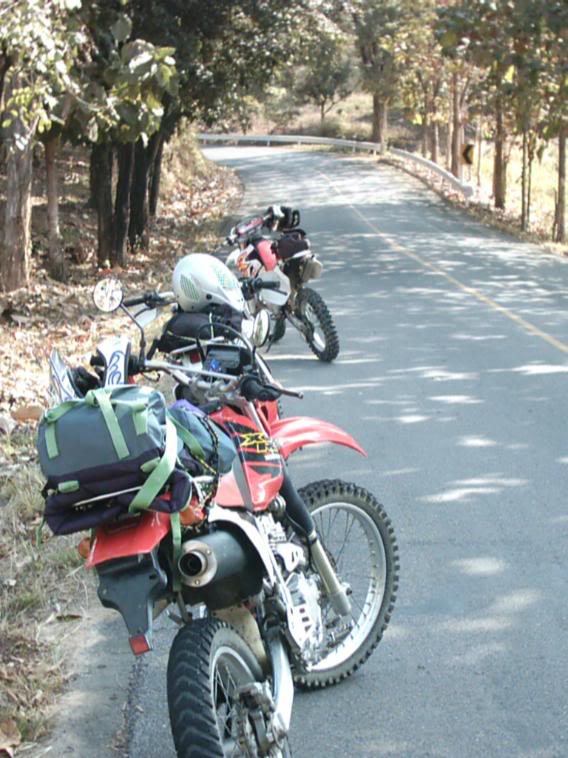 A sweaty Ben and paddy fields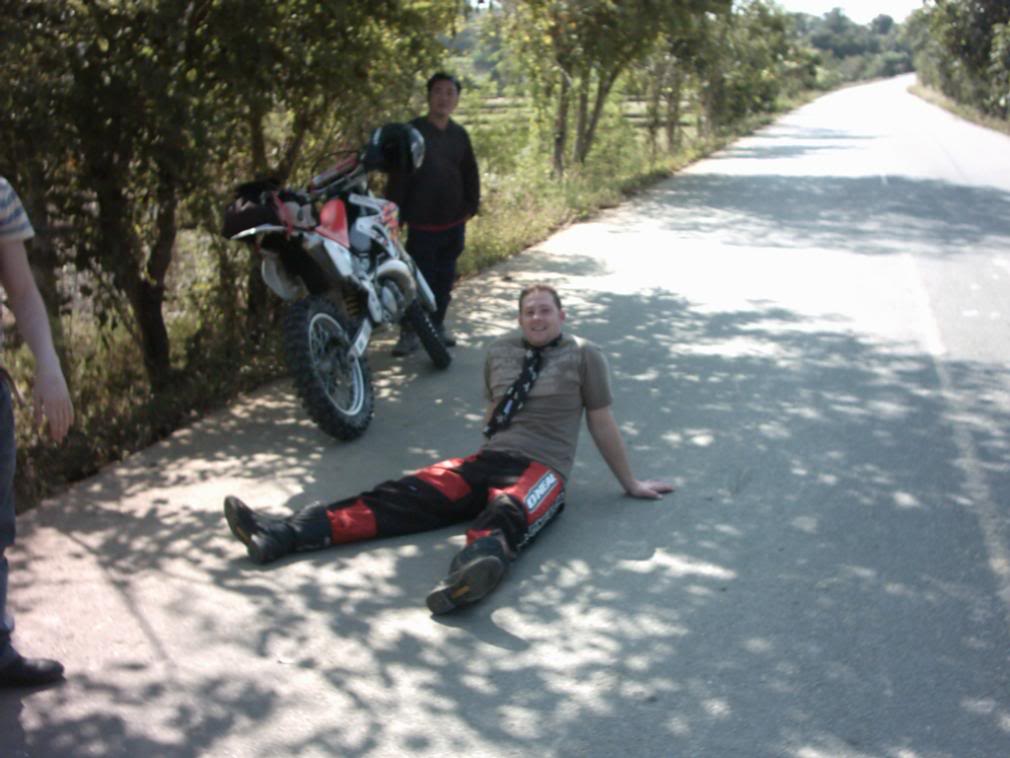 A knackered Lee and a cool Kum
Into the boonies a bit, miles from anywhere, we could hear loud music and looking down from a bridge, there was a village with monster speakers, dancing and BOOZE!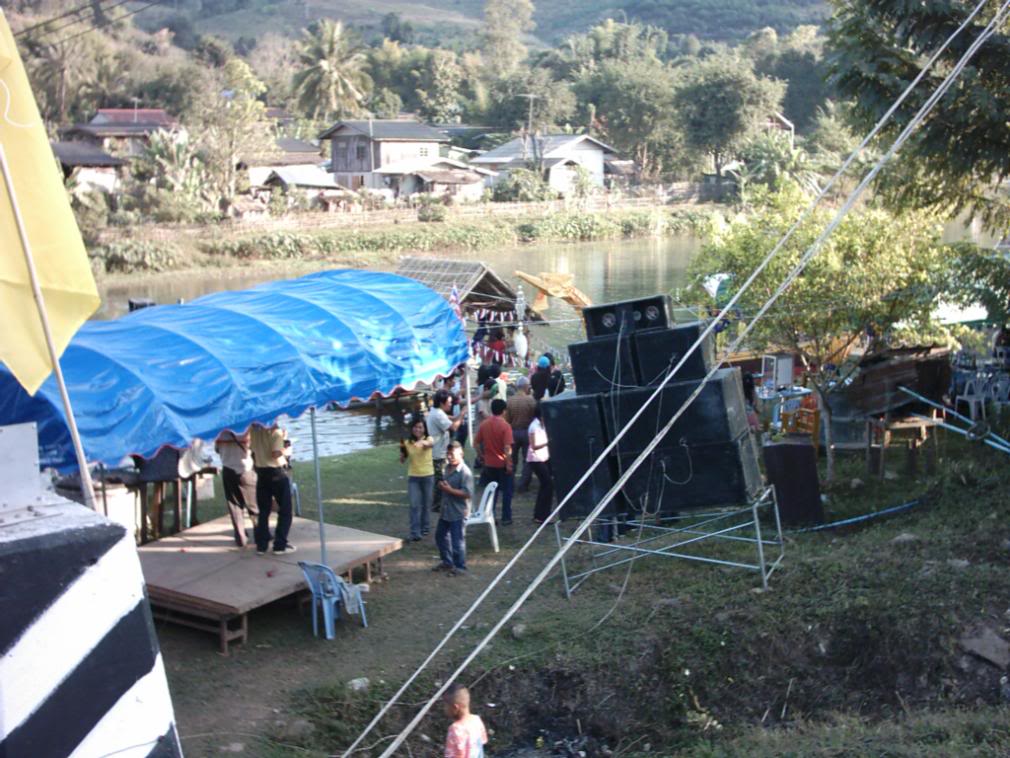 Party Village
It would have been good to take up the villagers offer and stay there for a bit, but it would have probably ended up the last place we went.
The Chiang Kham bungalows we stayed in were brill and even the leeches in the toilet were hilarious. The bathroom door was very low and as I am taller than the average booboo, my head suffered, a lot!
The next day, we gave the map to Koom and asked where we should go.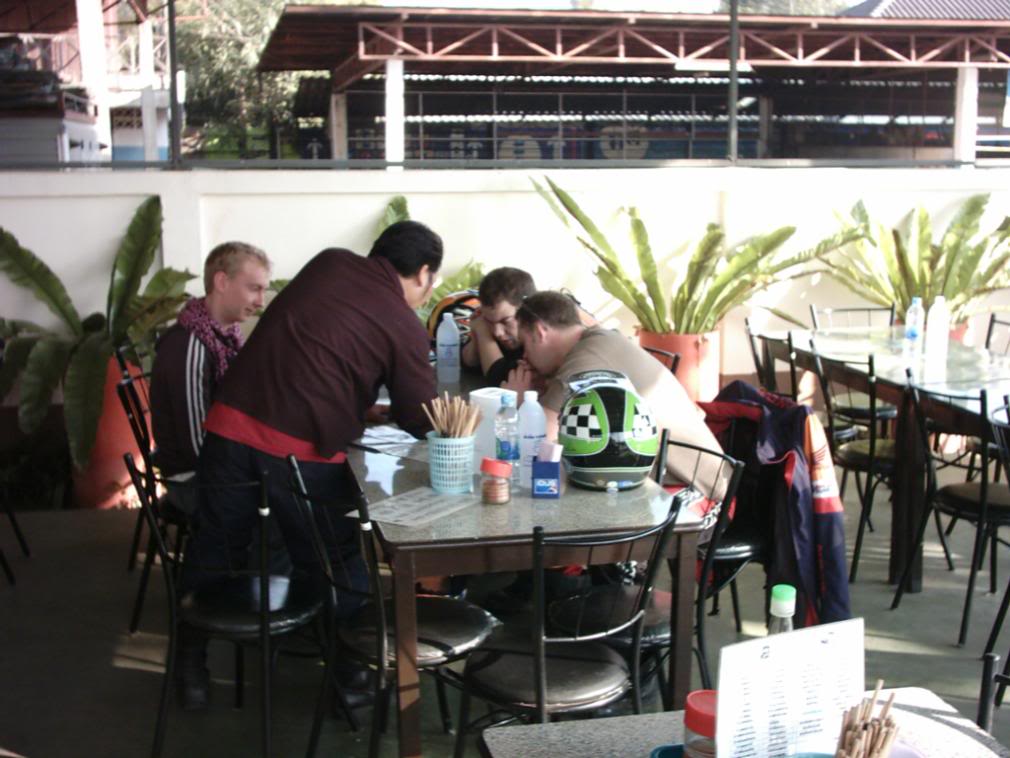 Breakfast discussions.
He suggested Phu Chee Fah and what a road/view! Everywhere he took us and every place we stayed was spectacular! What a top bloke!
Road to Phu Chee Fah
Following Rich was scary as on every bend, he was standing up with one leg behind him and laughing manically. When he wasn`t doing acrobatics, he was trying to get the front tyre off the side of the knobbles. Loony bloke!
The ride up to the mountain was like riding up a vertical brick wall but what a superb view of Laos.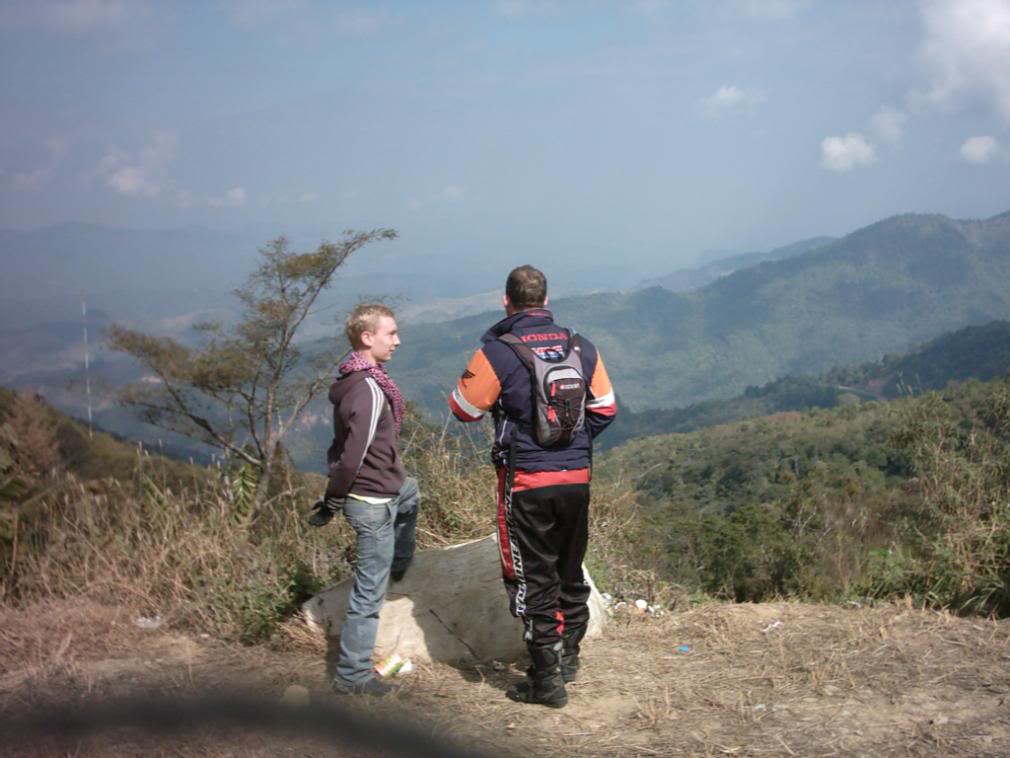 Ben and Leeboy pontificationg
Koom told us quite a few interesting things about the opium fields that can be seen from up there. He was worth his weight in any precious metal.As well as being a good companion, he came out on the razz as often as we did and nothing fazed him.
We followed the border around to the north,onto the mud where the roads had collapsed or across bridges. If you looked down as you were crossing the 2 track bridges,vertigo!
Rich had a scary when the front wheel dropped off a track and he managed to wheelie?An XR250? it back onto the track. Good man!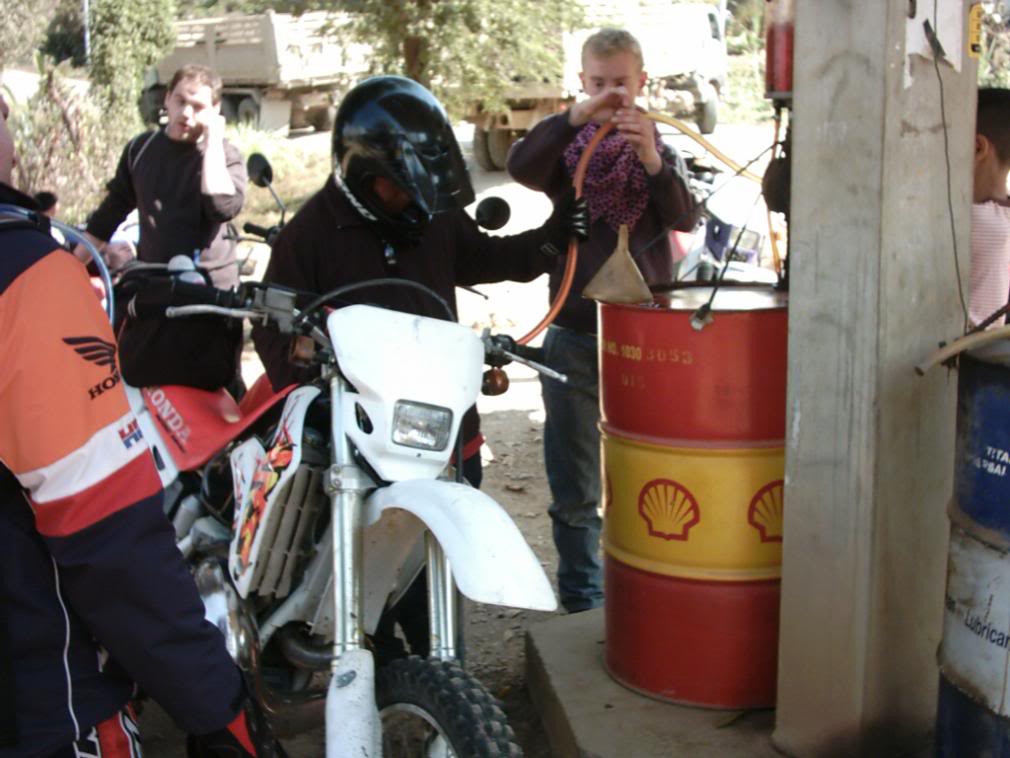 Fag anyone?
Down to Pang Hat and onto Chiang Khong. A lovely place for lunch and watching things go by. It was now New Years Eve and I reckoned it would be a good idea to go somewhere big, so onwards to Chiang Rai.
Just before we left blighty, we saw a report for the Red Rose Hotel and thought it would be the thing to do, and what a place.
We stayed in one of the Spa rooms and couldn`t stop laughing at the decor in this huge marshmellow. New Year was a blur of drinking, racing tuk-tuks,night clubs and pizzas helped by our friend, Koom.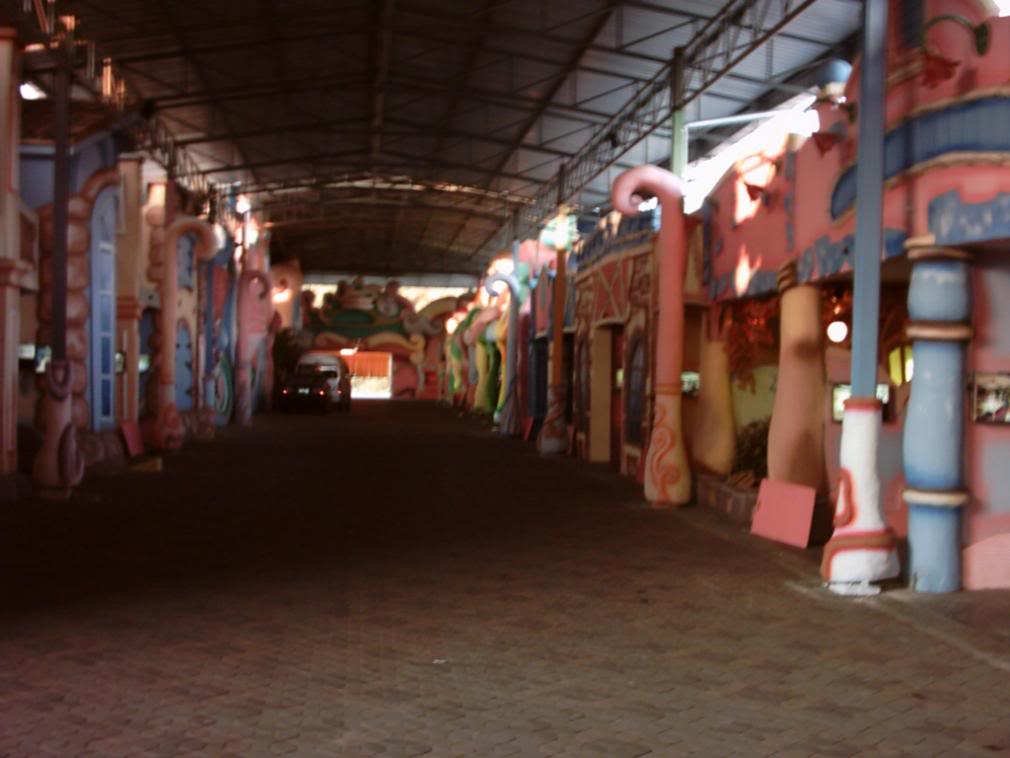 A part of the Red Rose hotel
Feelin a bit fragile the next day, we didn`t go off road but had a gentle ride to Chiang Dao and our guide took Lees bike to visit his family nearby.
He wasn`t going to but we pointed out that his had no lights and insisted he took one with lights.
He took us to the local cave next day and it was truly worth a look, not that I am that much into caves, but!
We wanted to go offroad between Chiang Dao and Pai, through Kariang and Muang Khong but at the bottom of the pass were guards? wanting 500baht for each of us. Koom got the right `ump and told them what he thought of them, so back to the road.
On that incredible road to Pai, I managed to nip the poor little Honda up but after a bit of fiddling and a new spark plug, it was running again, albeit a bit noisier.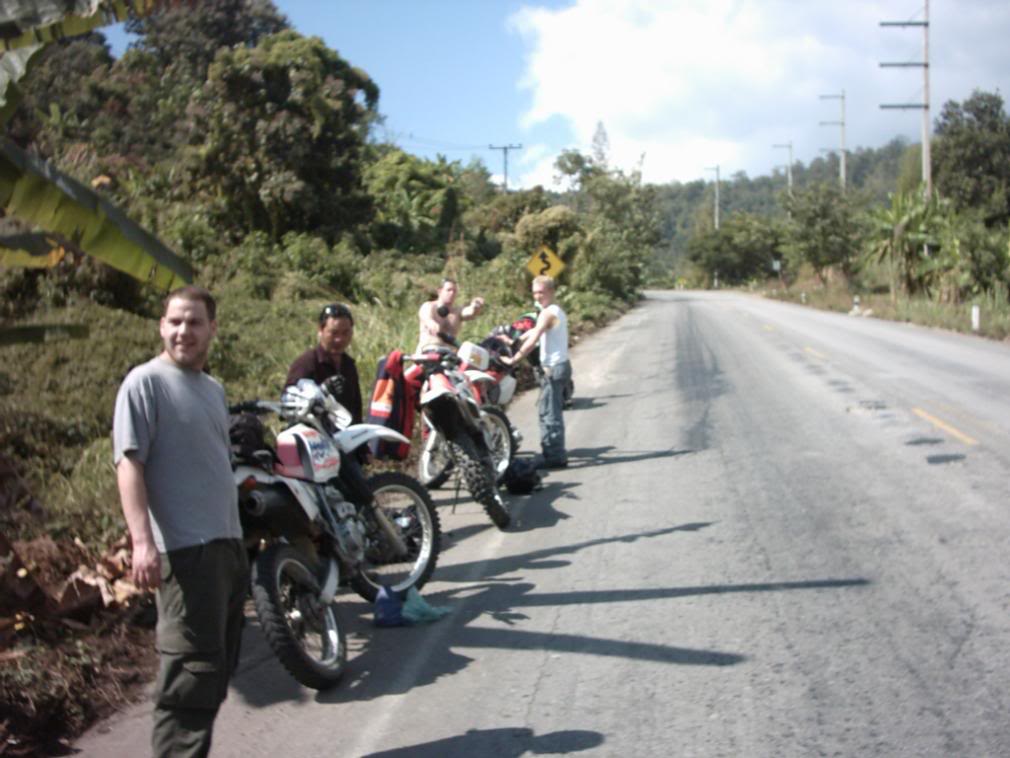 Its steeper than it looks!
Pai`s a strange place. As Ben said,"If hippys want to be so different, why do they all look the same?"
The Retox bar was the highlight with the UK owner doing his damndest to get us as legless as possible and when his bar shut,forcing (Hah) us to go to more bars that were open.
Of course we couldn`t go offroad the next day due to the thick heads and Lees disapearance down a culvert that ripped his leg open. Dangerous this walking malarkey! So a gentile`ish ride back down from Pai to Chiang Mai.
Everyday was magical, everything fresh and funny, what an experience.
Thank you GT rider for helping make this trip the best-ever
We will be back!