Date: 26 January-4 February 2009
Rider: Dave Early (Silverhawk)
Bike: Suzuki DR650se
I planned to do a solo trip to Northern Laos both for my own satisfaction and to get some new GPS tracks that Auke and David needed. As it turned out a number of other riders rode some of the same routes a week or so before me although I didn't read their updated reports until after I returned. It seems they had a lot fewer "dramas" than I did and I can only attribute that to the
"Curse of the Hill Tribe Woman"
. Don't believe me? Read further…………
My first destination was to be the border crossing at the very top of Laos and also to find the village of Bosao which was either at or before the border itself depending on which map you read.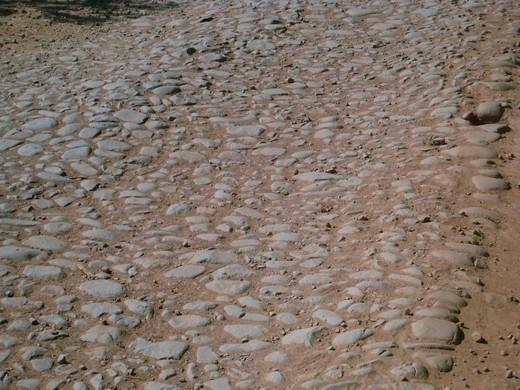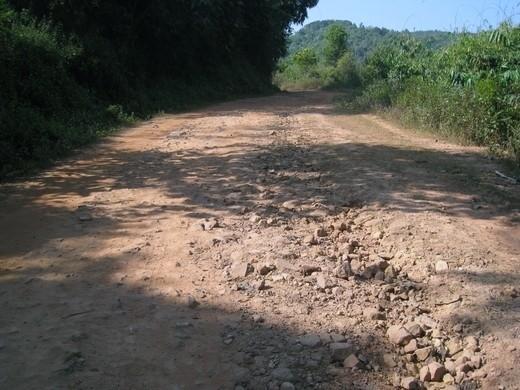 I have been to Phongsali and other areas in the North before and I dreaded the rocky, stony, roads that are prevalent throughout this area. In fact I spent almost 3 days riding exclusively on this type surface. I found the secret to be ride as fast you can so one kind of floats over them, but when you hit some of the obstacles and corners it doesn't work. If traveling in this area allow more time than you would expect to cover the distances.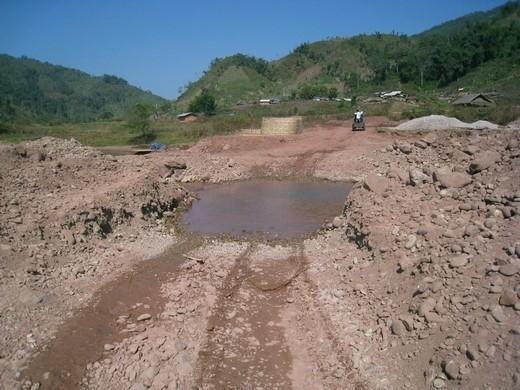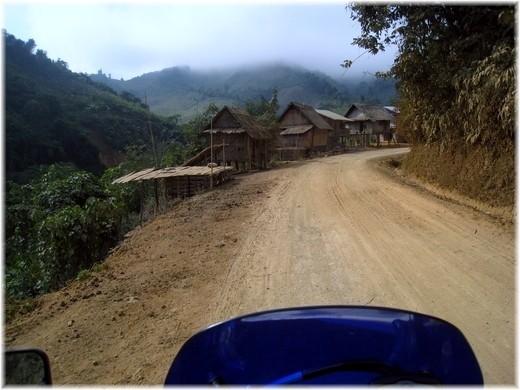 I do enjoy the villages and usually can't resist taking photos of them. Not long after this village I stopped on the side of the road and removed my gear for a break.
Walking up the road was a group of hill tribe girls. They did not wear any ethnic dress that I was familiar with and I though I would get a quick photo. As I raised my camera the girls waved their hands in protest and I am sure were saying "No!". What the hell, press the button anyway, they won't know the difference. Damn! I thought I had turned the flash off!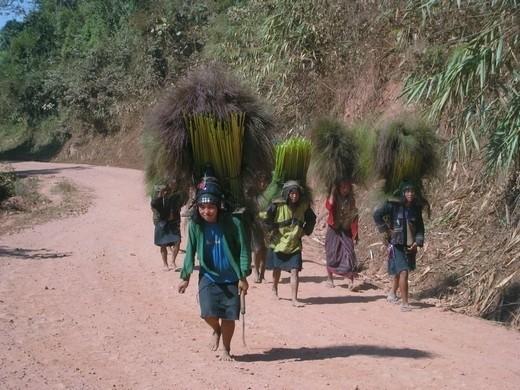 The leader of the pack ran toward me waving her machete and shouting expletives that, although I couldn't understand, I knew were not good. She slashed at me and the bike, not trying to actually hit me but still in a menacing manner. She moved to the back and slashed at my bags and top box. The others joined her and no matter how much I smiled and tried to look friendly, the insisted that I move on. They hovered around me waving arms and frowning. :twisted: I did my best to put my gear on in slow motion but they were not going to change their demeanor. As I rode away I thought of a number of other trips and these other photos I had taken where the subject did not look too happy….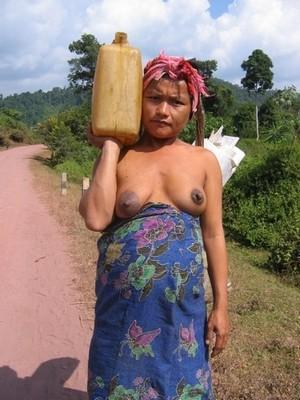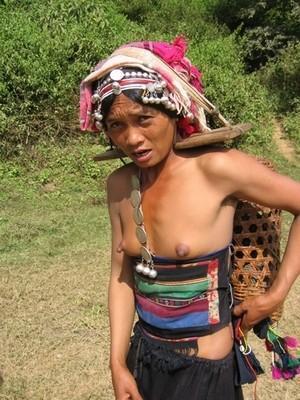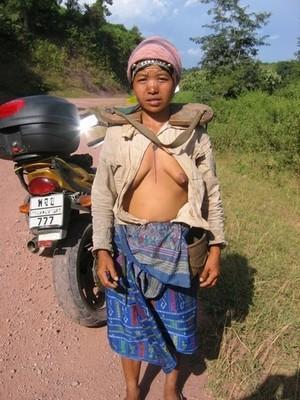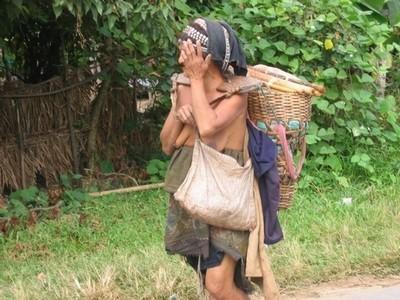 I am told they believe their spirit is taken and put inside the camera.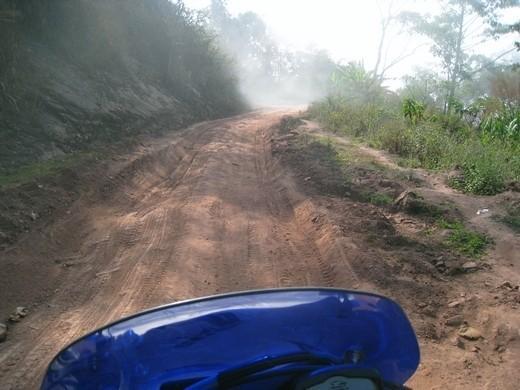 I continued my bumpy ride north and as I rode on strange things seemed to happen;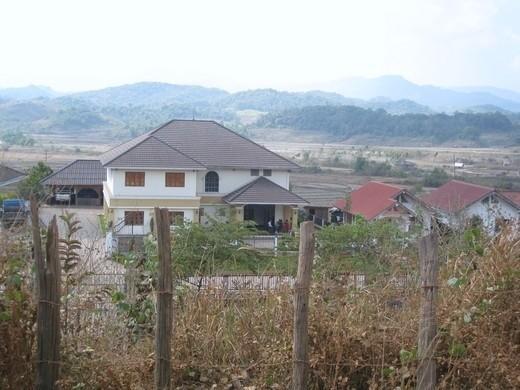 I stayed at this guest house (where I had stayed in 2005) and found it quite nice. This day I was in a room with no windows except in the bathroom. The entire area suffered a total power failure. I never saw a room so dark. :twisted: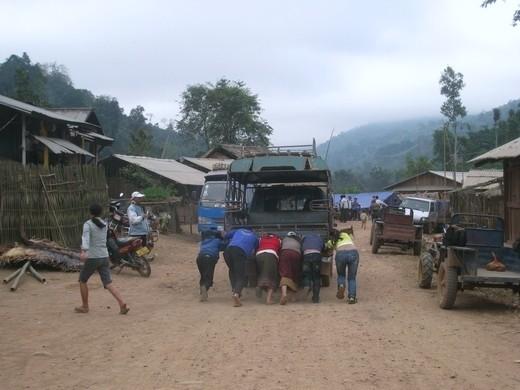 Villages I passed seemed to be having bad luck. :twisted: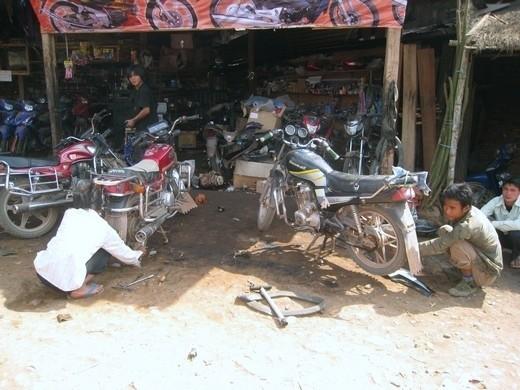 The repair shops were full and I passed at least four motorcycles along the road that had lost their chains. I was able to stop and help one in an attempt to change my Karma. :twisted:
I finally reached the Northern Border.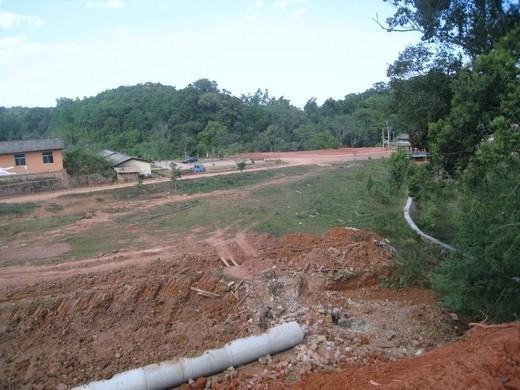 Well almost…just as I approached, from the top of a hill a bulldozer pushed over the edge a huge pile of rocks and dirt. After riding all this way, this was as close as I was going to get. :twisted: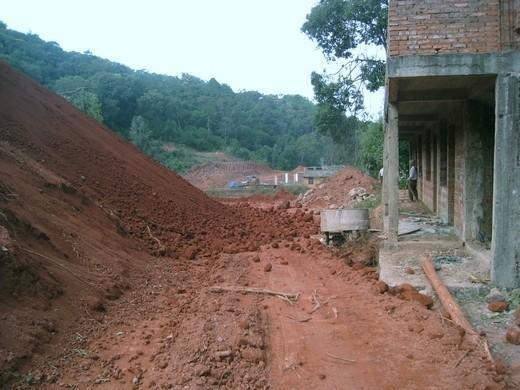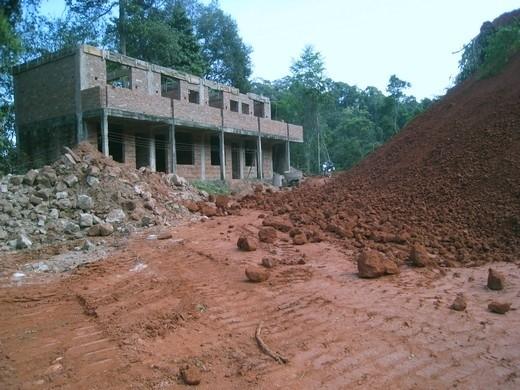 Ok, I have seen borders before, no big deal. I asked where was Bosao as my map says it is here. After they all shared a big laugh, they said "Go back, far".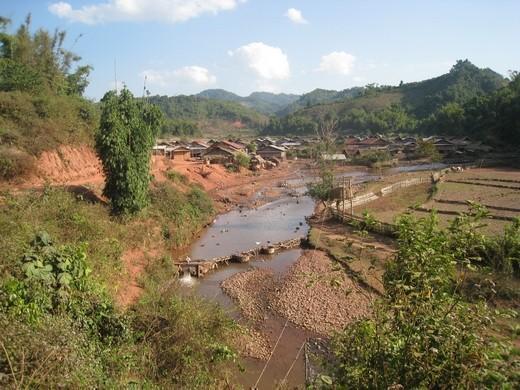 I had to backtrack 21km and then climb a steep, twisty dirt road into the mountains but I found Bosao. A push of the button and it was now and updated waypoint. What excitement huh? As I rode back down the mountain, something kept hitting me in the back. A busted luggage rack. :twisted: I stopped and used a tie down strap I carry with me to secure it to the frame.
I worked my way back to Ou Tai where I found a guy in the village standing next to an Africa Twin. We chatted and he told me he and his friend had been up to the border, no problems. They even went into the Customs office and had there length of stay in Laos extended for the motorcycles. He told me there guest house was pretty good so I went there with them. Of course by now it was full except for one room which did not have a bathroom. Their's did. :twisted:
The next day I worked my way over to Muang Sing by finding a new route out of Boun Tay. A separate report will cover that one.
I went to Luang Nam Tha for the night and planned to head home the next day. But it was as if something was calling me to Muang Sing. There is a post by Pee on the message board about a great mountain road 5km west of Muang Sing that is smooth and runs to the Mekong. I thought I would try that, GPS it and then come back to town and find a guesthouse.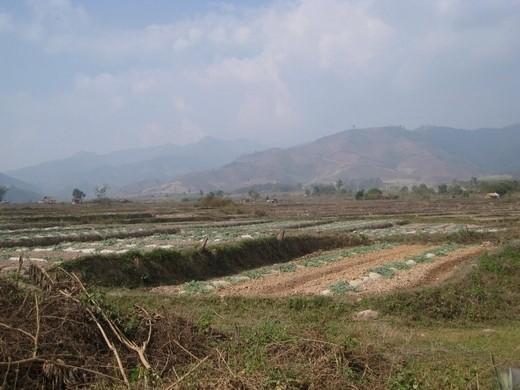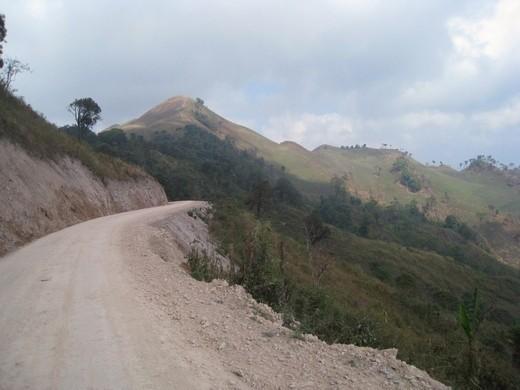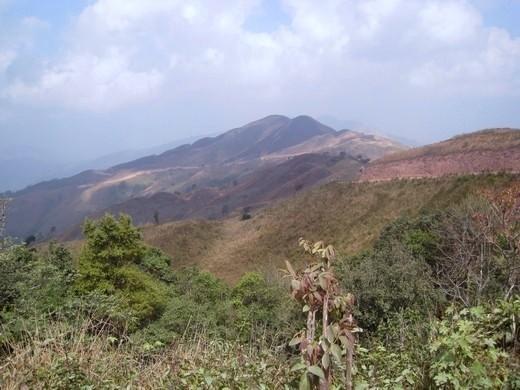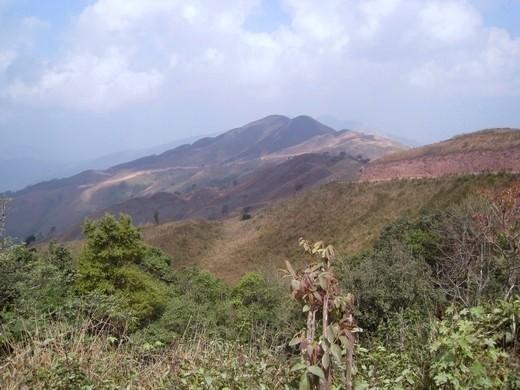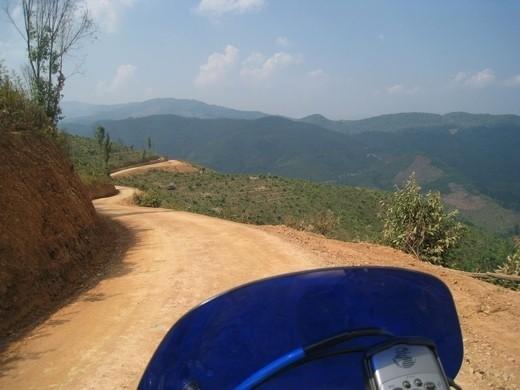 The road was everything he described, seconded by Happy Feet, but it seemed I kept finding unexpected surprises. :twisted: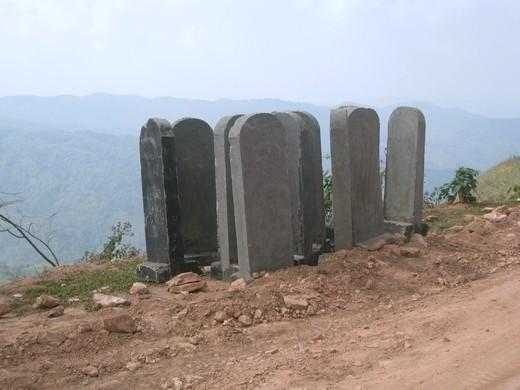 Surely these are not what they appear to be, but are road markers waiting to be put in place.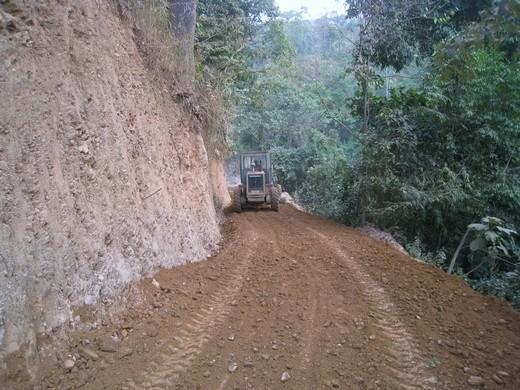 Actually this photo is after I got around him. I came to a sudden stop when faced head on and they insisted I had enough room on the edge of the drop off to ride around.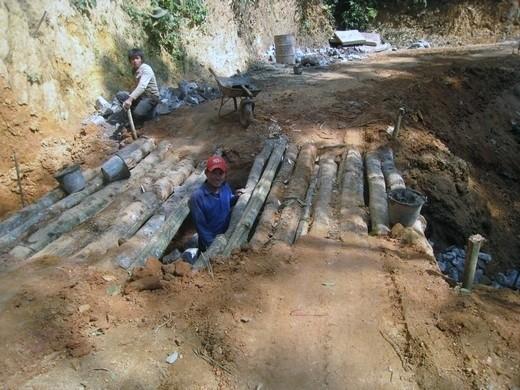 Ever wonder what is under that dirt road holding you up?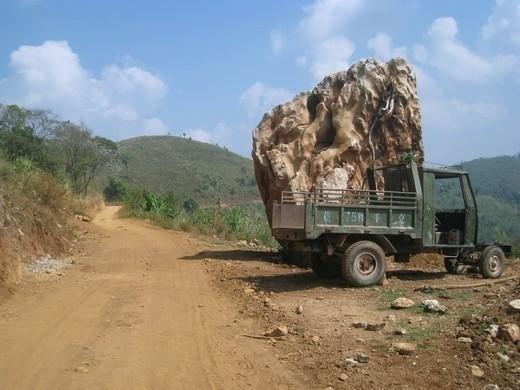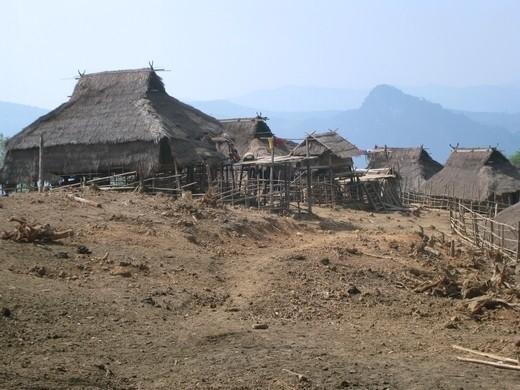 I passed this village and things were good for a few Km and then went down hill fast. Literally.
In the trip reports I read after coming home, the guys talk about a Y in the road that takes you to Xieng Kaeng (see quote below) and the Mekong. Obviously someone moved it for me and replaced it with this (where was the Y guys?); :twisted: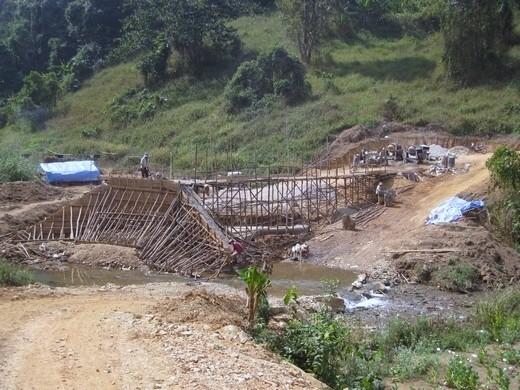 The road ended here;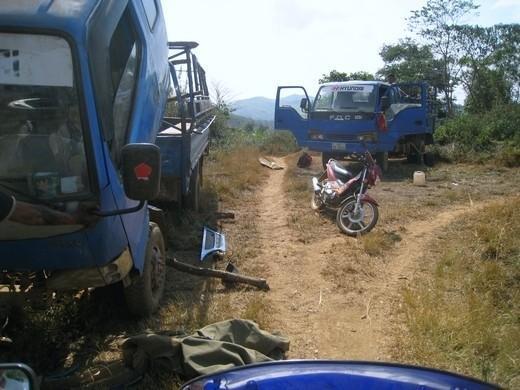 At this point there was actually quite a group of Laos and Hilltribe people (some fled when I took out my camera). I asked where is the Mekong? I also had on my map what looked like a small trail going straight south. To backtrack would be 65+plus kms. My GPS showed it was only 25 kms straight south to the Muang Sing/ Xiang Kok Rd. We had quite a time trying to understand each other and they actually got quite heated with each other. Some said go, others said no. Something was calling me to that road. :twisted: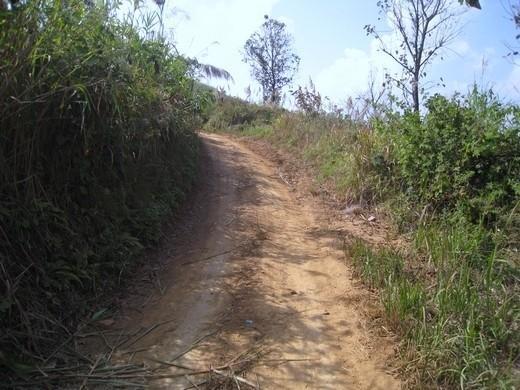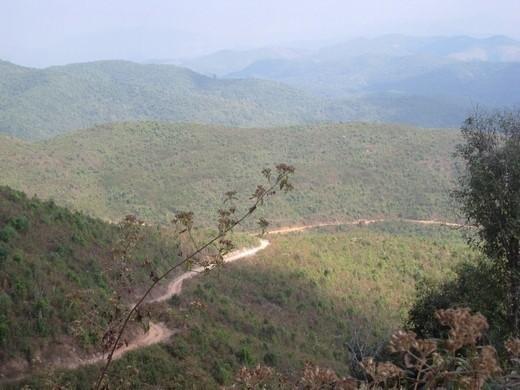 It started out not to bad. Soon my GPS said 23 kms to go and things got much tougher. Water crossing after water crossing and then slippery mud on the other side as the trail pointed up hill….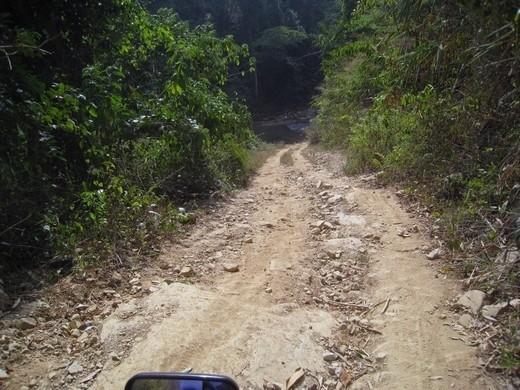 (Not many photos from here as I was just concentrating on getting out).
The other side of this the road climbed and wound around the mountain what seemed like forever. I never had the 650 on a trail this rugged before and I used every bit of the little skill I have to keep it upright. Of course the fact that I still had all my bags and top box on the back didn't help. I found as I came around the side of the mountain that was in the sun, it was dusty and rocky. When I came around the side that didn't receive any sun it was mud and puddles as if it were still rainy season.
I checked my GPS and it said 23 kms to go. What! I had been round and around the mountain for an hour but made no headway toward the main road. This scenario repeated itself many times. :twisted: I stopped for a break.
This can't be good…………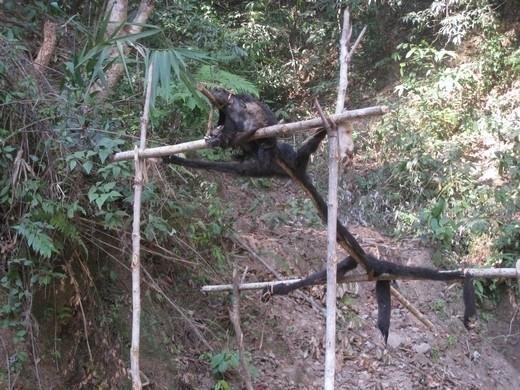 I sat and pondered what was going on and then it dawned on me. That woman wasn't waving a machete at me; she was casting a spell for bad luck. :twisted: Oh don't laugh, I could go on and on but I will try and shorten this up.
After climbing ever more difficult terrain I knew I couldn't go back and it was now 4:30pm. The GPS had said 15kms to go for some time. I kept thinking that I could stay in the jungle for the night if I had too. I had two bottles of water, some crackers and a can of tuna. And yes plenty of clothes, I just didn't want to crash and break either the motorcycle or me.
I also didn't want to get stuck between two obstacles that I couldn't cross in either direction. Then I finally lost it on a muddy, rutted up hill. The back wheel slipped into a rut, caught traction and shot me into the bamboo and down I went. :twisted:
A quick inventory showed I wasn't hurt but I was stuck under the motorcycle. It took me sometime but I freed myself, took off my helmet and set it on the ground and decided that after I caught my breath I would get the bike up.
Now this should be on World's Funniest Videos. I manhandled the bike up and managed to get both wheels into the same rut, facing uphill at least and I was pretty much able to keep the bike from sliding backwards down the hill in the slippery muck. I couldn't put the stand down as it was below the level of the rut, but I would be able to get on and get it started hopefully as long as I didn't let go of the brake. Now where was that helmet again.? :twisted: The contortions I had to go through to get my fingertips on that just out of reach helmet had to be hilarious. Something to remember next time.
OK, enough. Obviously I made it out. My 25 kms turned out to be an actual 60kms. It took me four hours to complete that distance, including one wrong turn which took some sorting out.
Happily, I reached the Xiang Kok road just before sunset and found it to be even more full of "bull dust" and bumps than I had remember.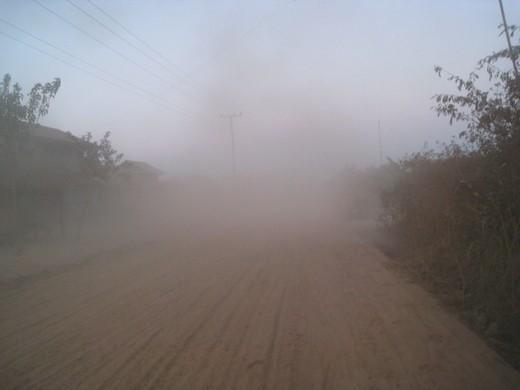 I gunned it for Muang Sing and……
ran out of fuel!
I should still have 60kms left on this tank of fuel. Damn curse! :twisted: I had been riding almost exclusively in 1st and 2nd gear, but I didn't think it would make that much difference. I found a village that I was able to buy some bottles of gas, and tried again.
I did reach Muang Sing after a dirty ride and was just happy to have made it……..
The next day I "exorcised" the air filter and found some of my problem.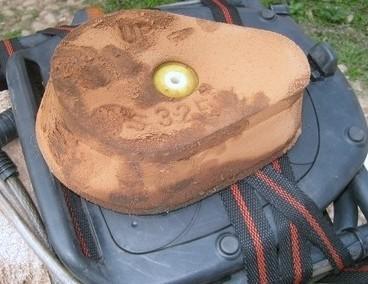 I did a day of r&r in Muang Sing and made a dash for home. I did MS to Luang Nam Ta in about an hour and a half. From LNT I reached Huay Sai in just under 3 hours. That was pretty amazing as before the new road was put in it was an all day ride.
Happily I hurried to the ferry dock and knew I would have time to get across early afternoon and head home. Yup, got there just in time to wave at the ferry as it left the dock. Two and a half hours later I was able to get on the next boat and arrived Chiang Mai after dark. :twisted: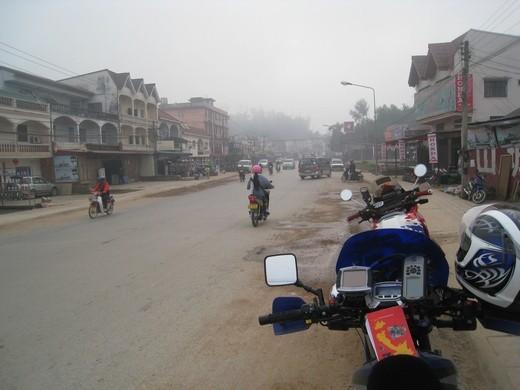 I knew everything was recorded.
The first thing I did was plug in my GPS to the computer to check where I had been. I had two GPS's with me to make sure I got everything right. The Garmin 76cs recorded every track I needed but had stopped as I began the descent into the cursed jungle. :twisted:
No problem my Zumo would have the track as I had reviewed it before leaving MS. I plugged it into the computer, got a message "converting tracks' and then "Error, unable to communicate with device. The track was gone and unrecoverable. Damn curse! :twisted:
Tomorrow I am taking the bike and the GPS to the temple…..
Posted in a Muang Sing trekking company office;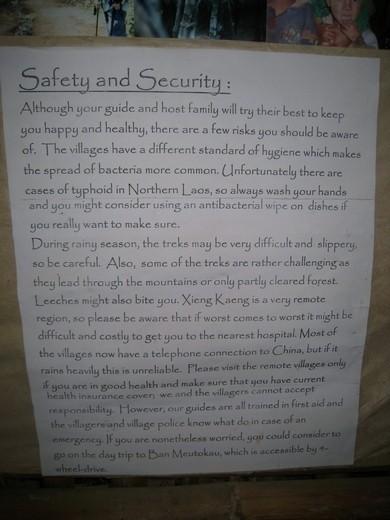 Safety and Security

Although your guide and host family will try their best to keep you happy and health, there are a few risks you should be aware of. The villages have a different standard of hygiene which makes the spread of bacteria more common. Unfortunately there are cases of typhoid in Northern Laos, so always wash your hands and you might consider using an antibacterial wipe on dishes if you really want to make sure.

During rainy season, treks may be very difficult and slippery so be careful. Also, some of the treks are rather challenging as they lead through mountains or only partly cleared forest. Leeches might also bite you. Xieng Kaeng is a very remote region, so please be aware that if worst comes to worst it might be difficult and costly to get you to the nearest hospital. Most of the villages now have a telephone connection to China, but if it rains heavily this is unreliable. Please visit the remote villages only if you are in good health and make sure that you have current health insurance cover, we and the villagers cannot accept responsibility. However, our guides are all trained in first aid and the villagers and village police know what to do in case of an emergency. If you are nonetheless worried, you could consider to go on the day trip to Ban Meutokau which is accessible by 4 wheel drive.
Have a nice trip! :lol:
From this trip also see-

Oudomxay By-pass

Outay-Phongsali-Hatsa-Nam Ou Boat Trip